January 25, 2021 at 10:35 pm PST | by Brody Levesque
Trans ban lifted; Defense Sec. Austin says Pentagon will 'expeditiously' implement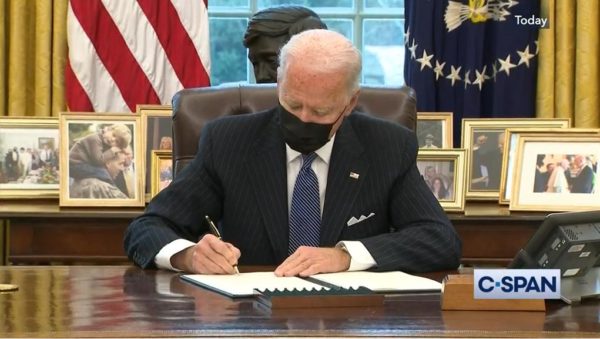 WASHINGTON – With a stroke of a pen Monday afternoon, President Joe Biden affixed his signature to an Executive Order that lifts the ban imposed by President Donald Trump barring Transgender Americans from serving in uniform in the armed forces in its entirety.
The order provides that "all transgender individuals who wish to serve in the United States military and can meet the appropriate standards shall be able to do so openly and free from discrimination."
The order directs the Secretary of Defense to implement the policy and to "take all necessary steps to ensure that all directives, orders, regulations, and policies" of the Department of Defense "are consistent with this order."
The action taken today by the president fulfills a campaign promise made by Biden to lift the ban. Although the president had indicated publicly that reversing his predecessor's would be a 'Day-One' priority, administration sources told the Blade Sunday afternoon that the president and his senior advisors had opted to wait to take action until incoming Secretary Austin had been fully confirmed by the Senate.
Austin, a retired four-star Army general, had been confirmed by the Senate, in a near-unanimous 93-2 vote this past Friday,
Seated behind the Resolute Desk in the Oval Office facing members of the White House Press Corps and flanked by Chairman of the Joint Chiefs of Staff, General Mark A. Milley, Vice-President Kamala Harris, and newly confirmed Secretary of Defense Lloyd Austin, Biden addressed the press corps and others in the room;
Well, folks, thank you very much for being here. I'm about to sign an executive order, but I want to begin by thanking the Vice President for helping this, but also thank Chairman Milley, who has been a great, great help, and then also the soon-to-be Secretary of Defense, who, when we can finish this, will be sworn in in a moment. And so, don't say anything to cause him to change his mind, okay?
But all kidding aside, this is reinstating a position that previous commanders and — as well as the Secretaries have supported. And what I'm doing is enabling all qualified Americans to serve their country in uniform, and essentially restoring the situation as it existed before, with transgender personnel, if qualified in every other way, can serve their government in the United States military.
So that's what I'm about to sign. And I'm going to get a chance, I'm told, a little later on another matter — later this afternoon when I speak to another order — to answer all your questions on a whole range of things. But I'm going to be going to the swearing-in shortly after this. Okay? Thank you, again.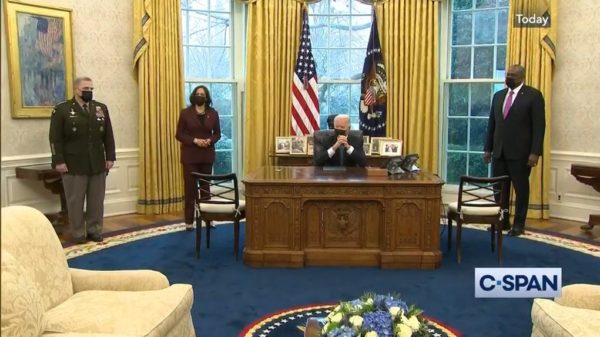 U. S. House Speaker Nancy Pelosi in a statement issued by her office after the president's action took direct aim at former President Trump's ban.
"Today is a day of great hope and progress for thousands of heroes in our military and indeed for our entire country, as the Trump transgender ban is thrown into the trashbin of history. Led by President Biden, America is restoring our proud pledge: that no one with the strength and bravery to serve in the U.S. military should be turned away because of who they are.

"The Trump ban was a cruel and arbitrary decision designed to humiliate transgender Americans who have stepped forward to serve our country. The Biden-Harris Administration and Democratic Congress will continue to reverse this and other discriminatory actions that weaken our military readiness and betray our core American values.

"Democrats' defense strategy will be dictated by the priorities of security, stability, peace and American values – not the hate and prejudice that defined the Trump presidency."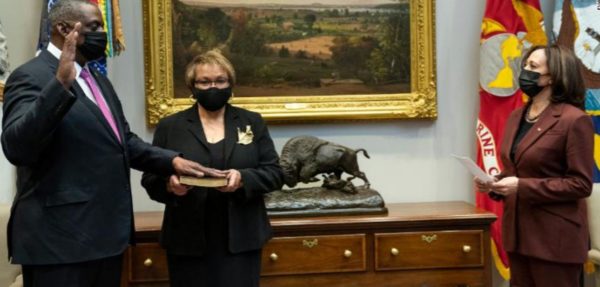 After he was ceremonially sworn in by Vice President Kamala Harris as the 28th Secretary of Defense, Austin issued a statement detailing the implementation of the executive order.
"The Department will immediately take appropriate policy action to ensure individuals who identify as transgender are eligible to enter and serve in their self-identified gender. These changes will ensure no one will be separated or discharged, or denied reenlistment, solely on the basis of gender identity."
"Prospective recruits may serve in their self-identified gender when they have met the appropriate standards for accession into the military services."
"This revised policy will also ensure all medically-necessary transition related care authorized by law is available to all Service members and will re-examine all cases of transgender Service members that may be in some form of adverse administrative proceedings."
Secretary Austin then noted that Pentagon officials over the next 60 day period would "expeditiously develop the appropriate policies and procedures to implement these changes."
The Blade spoke with Shannon Minter, a civil rights attorney and the Legal Director for the National Center for Lesbian Rights, who offered an analysis on what to expect as the process post-ban moves forward.
"In practice, this means that transgender people will once again be able to enlist in the military provided they meet the same fitness standards applied to other recruits. It means that servicemembers who come out as transgender while serving will not be kicked out or otherwise disadvantaged because they are transgender, Minter said.
"Transgender service members will be provided with transition-related medical care, they will be able to change their military records and classification to match their gender, and they will be able to live and serve as their authentic selves."
Commenting on the actions taken today first by the president and then Secretary Austin's statement Minter remarked;

President Biden specifically ordered the Secretary of Defense to immediately identify any service members who have been discharged for being transgender so that their records can be corrected and that those who wish to do so and can meet the current standards have an opportunity to reenlist.

This is a sweeping reversal of the Trump ban and a clear commitment to ensure equal treatment of transgender service members and recruits in every aspect of military service, from enlistment standards to military records to medical care.
In his statement Secretary Austin pointed out;
The United States Armed Forces are in the business of defending our fellow citizens from our enemies, foreign and domestic. I believe we accomplish that mission more effectively when we represent all our fellow citizens. I also believe we should avail ourselves of the best possible talent in our population, regardless of gender identity. We would be rendering ourselves less fit to the task if we excluded from our ranks people who meet our standards and who have the skills and the devotion to serve in uniform.

This is the right thing to do. It is also the smart thing to do.
Minter reflected on the Defense Secretary's statement then told the Blade,
This is a major turning point in the history of transgender rights. We will look back on today's executive order as the foundation of a new era of legal and social acceptance for transgender people in this country. The opportunity to serve in our nation's armed forces on equal terms has been the cornerstone of many other civil rights movements, and will be one here as well.

While nothing can fully undo the damage inflicted on transgender service members by the Trump ban, the determination to reverse that policy has led President Biden to issue the most affirmative executive order affecting transgender people in our nation's history. The policy he ordered the Secretary of Defense to implement is an unequivocal endorsement the humanity and dignity of transgender people, who can now count on the full support of their Commander in Chief, the Secretary of Defense, and the senior leadership of our nation's military. This is a stunning development, and one that will forever change the place of transgender people in our society.
Minter alongside his co-counsel Jennifer Levi, were lead attorney's in the first case to challenge Trump's ban, Doe v Trump, as well as Stockman, a related California Trans military case.
"It is my highest goal to serve my country in the U.S. military and I've fought this ban because I know that I am qualified to serve," said Nicolas Talbott, an aspiring service member who is a plaintiff in Stockman v. Trump. "I'm thrilled and relieved that I and other transgender Americans can now be evaluated solely on our ability to meet military standards. I look forward to becoming the best service member I can be."
Minter and Levi also represent an individual service member named Blaire McIntyre who serves in the Michigan National Guard in another case challenging the ban.
"Our fight to end the transgender military ban was about equal opportunity, fairness and service, and President Biden's order today honors those shared national values," said Jennifer Levi, Director of Transgender Rights Project at GLBTQ Legal Advocates & Defenders. "Transgender Americans can and will bring needed skills to our armed forces at every level, and I look forward to seeing our nation benefit from the contributions of a new generation of transgender leaders and patriots."
Minter told the Blade that today's action by Biden provides the relief that transgender individuals were seeking by suing to overturn the Trumps Trans Military Service Ban. "There is no other way to frame this action," he said.
President Biden has simultaneously put an end to an unpatriotic, discriminatory policy and given hope to thousands of qualified transgender servicemembers and their families," said Rick Chavez Zbur, Executive Director of Equality California — an organizational plaintiff in Stockman v. Trump.

"Today is the result of countless transgender patriots — like Nic Talbott and so many others — speaking up to defend their livelihoods and their country. Equality California has always stood with our transgender troops, but we are especially proud to do so today."