December 22, 2018 at 2:00 pm PDT | by Karen Ocamb
The military #MeToo movement: 6,769 reports of sexual assault in 2017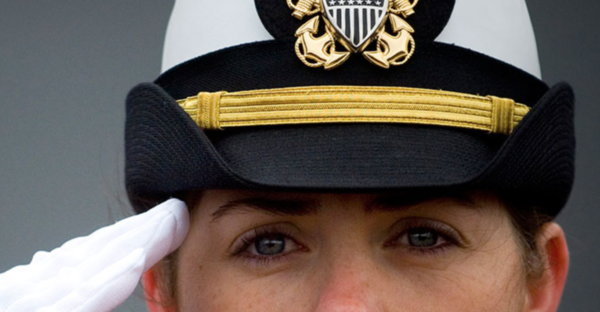 "Preventing sexual assault is our moral duty," Defense Secretary James N. Mattis wrote in an April 18, 2018 agencywide memo for Sexual Assault Awareness and Prevention Month. "By its nature, sexual assault is one of the most destructive factors in building a mission-focused military."
Mattis, who abruptly resigned Thursday, Dec. 20, over principled disputes with President Donald Trump, aligned the issue of sexual assault with military readiness and the ability to recruit and retain the best people.
"While casualties on the battlefield are understood to be consistent with our military duties, I accept no casualties due to sexual assault within our ranks," he said. "Military leaders are to be zealous in carrying out in loco parentis responsibilities and ridding our ranks of such illegal, abhorrent behavior."
According to the Defense Department's Annual Report on Sexual Assault in the Military, released May 1, sexual assault reporting increased by about 10% in fiscal year 2017 in all four branches of the military. The DoD received 6,769 sexual assault reports with servicemembers involved as either victims or subjects of criminal investigation, a 9.7 percent increase over the 6,172 reports made in fiscal 2016.
"Every sexual assault in the military is a failure to protect the men and women who have entrusted us with their lives," Navy Rear Adm. Ann M. Burkhardt, the director of the Defense Department's Sexual Assault Prevention and Response Office, told reporters. "We will not rest until we eliminate this crime from our ranks."
Yeah, but few people believe that. In fact, even when scandals break into the open from Tailhook in 1991 to the more recent Marines United Facebook scandal, the military manages to cover for their own.
New York Sen. Kirsten Gillibrand first introduced the Military Justice Improvement Act in 2013, for instance. The bill would take processing sexual assault cases out of the military justice system—specifically, it would give the decision whether to prosecute serious crimes to professional military prosecutors instead of the commanders of the victims, an inherent conflict of interest if the alleged assailant is in the same unit. Gillibrand's bill has been blocked every year; though in Nov. 2017 it was introduced with 27 co-sponsors.
The military rank structure in the military's 24/7 work environment seems to always receive deference. "You can't just tell the boss to go to hell, you can't not show up to work," said Retired Air Force Col. Don Christensen, a former JAG chief prosecutor, now president of Protect Our Defenders in a Feb. 7 report for Task & Purpose.  "You know that to a degree much greater than in any other industry, this person is controlling your entire future. It's almost like a master/serf relationship in some ways."
"Sexual harassment is quite common in the military," said Andrew Morral, co-author of the 2014 RAND Military Workplace Study, in the Task & Purpose report. "Across all ranks and pay grades, 75% of women say it's common or very common, and it's super highly correlated with sexual assault experiences."
Protect Our Defenders and the Service Women's Action Network (SWAN) support Gillibrand's legislation and effort to reform the military justice system. SWAN was deeply involved in 2013 Oscar-nominated documentary "The Invisible War" which Gilibrand credits with helping shape her bill.
Protect Our Defenders has been serving as a watchdog, calling out the Pentagon's "misleading and unsupported claims" during the contentious July 2013 Senate debate over Gilibrand's bill.
"In testimony and a letter to Congress, Admiral James Winnefeld, Vice-Chairman of the Joint Chiefs of Staff, claimed that there were a number of cases where civilian prosecutors 'refused' to prosecute and military commanders subsequently 'insisted' those cases be sent to court-martial," they reported last April. "Through a Freedom of Information Act (FOIA) request, Protect Our Defenders obtained and analyzed the underlying case documents. Our analysis reveals that the Pentagon exaggerated and distorted the facts in order to undermine fundamental reform of the military justice system. These findings are detailed in our report, Debunked: Fact-Checking the Pentagon's Claims Regarding Military Justice."
The Task & Purpose story "'Continuum Of Harm': The Military Has Been Fighting Sexual Assault In Its Ranks For Decades, But Women Say It's Still Happening" also cites statistics on LGBT servicemembers:
 "According to the DoD, members identifying as LGBTQ are more likely to experience "unwanted gender-related behaviors." In 2016, the rate of sexual assault was 4.5% for service members who identify as LGBTQ, and 0.8% for those who do not. "It's obviously a risk factor, or these people are targeted," according to Morral.

Several women who identify as lesbian told Task & Purpose that they were sometimes treated like prizes whom men would try to "turn" or "straighten out."
The report also cites an instance of "throwing sexist language around" but the lesbian soldier didn't report it because "The guys thought I was on their side." Nor did she report attitudes of sexual harassment because "Don't Ask, Don't Tell was still policy at the time, (the lesbian) said she didn't feel comfortable pushing back against inappropriate comments for fear she might be outed."
"I had another soldier in my unit go to my commander and say, 'You should investigate her because she's the only girl not sleeping with anybody in the unit,'" recalled Christine, a former enlisted Army mechanic, forced to refer to her girlfriend as her boyfriend just to avoid violating the DoD policy.
On Feb. 7 this year, CNN produced a piece "From fellow soldier to 'monster' in uniform: #MeToo in the military" that also challenges the military's statement about taking sexual assault and sexual harassment seriously:
In November, 200 women working in national security signed a letter titled #metoonatsec, stating that this is a problem they also face.

Those who signed the letter included women who have worked as ambassadors, civilians at the Pentagon, military officers, staffers on Capitol Hill and professors as well as women in the nonprofit and think tank worlds.

"This is not just a problem in Hollywood, Silicon Valley, newsrooms or Congress," the women said in their letter. "It is everywhere."
While individual LGBT servicemembers had to figure out whether they would report any sexual harassment or assault during the original gay ban, after DADT went into effect, they had Servicemembers Legal Defense Network to give them guidance and legal assistance. And a proper recording of history will give lesbian attorney and former Army Captain Michelle Benecke the lion's share of credit for persistently forcing the military to even acknowledge they had a severe problem with sexual harassment.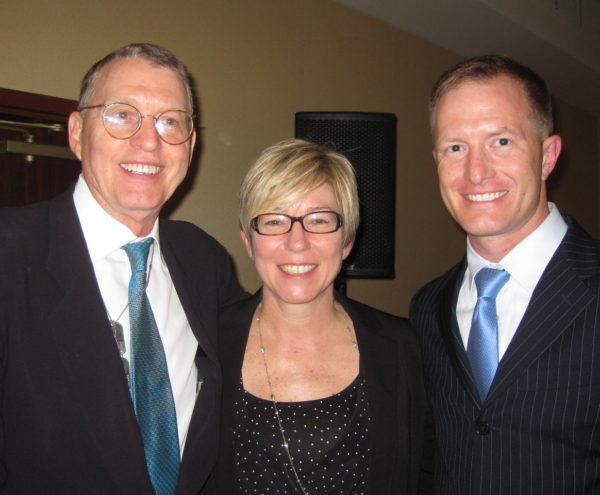 SLDN co-founder and former Army Capt. Michelle Benecke with SLDN executive director Aubrey Sarvis, and former Army Capt. Jonathan Hopkins at first OutServe Conference in Las Vegas in Oct. 2011 (Photo by Karen Ocamb)
As she details in her extraordinary history of DADT—"TURNING POINTS: CHALLENGES AND SUCCESSES IN ENDING DON'T ASK, DON'T TELL"—Benecke and attorney C. Dixon Osburn founded SLDN the day after President Bill Clinton announced he would not lift the gay ban, as he had repeatedly promised, but instead would issue a "compromise" with Congress to allow gay service with a gag rule: any indication that the servicemember was LGBT would be grounds for discharge, including simple statements which had previously been distinguished from gay "behavior."
Often in the case of "he said-she said" where the "she alleged assault and they "he" refuted the assault and claimed the "she" was a lesbian—military commanders would investigate the allegation of sexual orientation rather than the allegation of assault. Benecke repeatedly and very publicly raised the issue of "lesbian-baiting" as a direct result of DADT.
Here's an important extended excerpt from Benecke's footnote-heavy chapter "Countering the Persecution of Women Under Don't Ask, Don't Tell" in her must-read account:
Lesbian baiting is "the practice of pressuring and harassing women through calling, or threatening to call them, lesbians." Women often are accused of being lesbians when they rebuff sexual advances by men or report sexual abuse. In other cases, women are harassed because they depart from gender stereotypes, for example, "[w]omen who are top performers in nontraditional fields are also subject to lesbian accusations, rumors and speculation designed to undermine their professional standing."

In the military, lesbian baiting gained legitimacy and power from DADT and prior gay bans, under which women have been discharged regardless of their actual sexual orientation, and the military's criminal justice system, which was enforced selectively against gay people prior to SLDN's involvement. Too often, commanders investigated military women "under the guise of [DADT] rather than disciplining the individuals" who harmed them.

Lesbian baiting is one of the main reasons why women were disproportionately investigated and discharged under DADT and prior policies. In SLDN's second annual report, for example, we found that "[w]omen were disproportionately hurt by the new [DADT] policy, accounting for 30% of SLDN cases and 21% of DOD discharge figures, despite making up only 13% of the military's active force."

The following fiscal year, in 1996, women accounted for "29% of gay discharges, despite making up only 13% of the active force"; "[i]n the Army, women accounted for 41% of gay discharges, three times their presence in the service." This disparity remained consistent throughout the DADT era.

SLDN pressed military leaders to recognize lesbian baiting as a form of sexual harassment and attempted to bar commanders from initiating inquiries based on retaliatory accusations. In 1997, the Department of Defense, for the first time, officially acknowledged lesbian baiting and issued guidance clarifying that commanders should respond to anti-gay harassment and lesbian baiting by investigating the harassment itself, not servicemembers who report it (the "Dorn memo").
When the Dod didn't distribute the Dorn memo,  SLDN called for it to be reissued.
"An April 1998 Department of Defense report adopted this recommendation:  '[I]t is critical that military service women feel free to report sexual harassment or threats without fear of reprisal or inappropriate governmental response. . . . [W]e recommend that the Department reissue guidance [the Dorn memo] to make clear that when sexual harassment is reported, the focus of the investigation must be on the harassment or threat,'" Benecke wrote.
Congress and an Army Review Panel expressed concern about lesbian baiting and urged action.  The Dorn memo was finally sent out in 2000 as a reform prompted by the murder of PFC Barry Winchell at Fort Campbell, Kentucky.
"Implementation of the Dorn memo in the field was far from perfect. However, recognition of lesbian baiting as a form of harassment was a step forward," Benecke wrote. "[T]here are women serving today who otherwise would have been railroaded out of the military were it not for these developments. On a broader level, SLDN's documentation of widespread lesbian baiting underscored one means by which DADT, like prior policies, perpetuated sexual violence in the military. Over time, this contributed to eroding public support for DADT."
As America and the LGBT community, slip into the New Year, many are asking what the standards for the military will be now that the last "guardrail" on amoral President Trump has been removed with Sec. of Defense Mattis's resignation. Will the center hold?