February 25, 2021 at 1:47 pm PST | by Michael K. Lavers
House passes Equality Act, next up is the Senate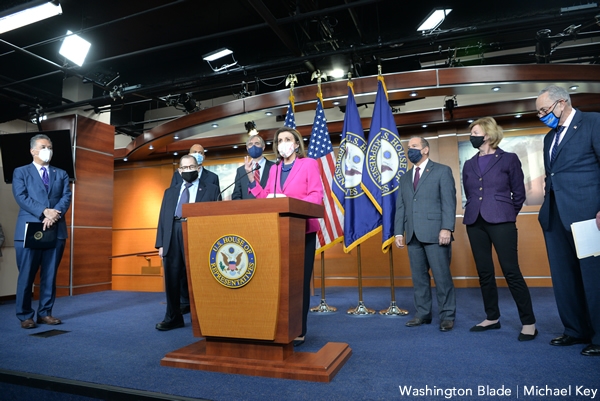 WASHINGTON – The U.S. House of Representatives on Thursday approved HR 5 a bill that would add sexual orientation and gender identity to the Civil Rights Act of 1964.
"This long overdue legislation will provide millions of LGBTQ Americans explicit protections from being denied medical care, fired from their jobs, or thrown out of their homes simply because of who they are," said U.S. Rep. Jerrold Nadler (D-N.Y.) as he spoke in favor of the Equality Act that passed by a 224-203 vote margin. U.S. Reps. John Katko and Brian Fitzpatrick of New York and Pennsylvania are among the handful of Republicans who also backed the bill.
"We rise to tell our LGBTQIA community that not only do you matter, but you are loved and you are cared for," said U.S. Rep. Cori Bush (D-Mo.). "And we got your back."
Georgia Congresswoman Marjorie Taylor Greene is among those who have expressed their strong opposition to the Equality Act. The Washington Blade earlier this week reported U.S. Rep. Chris Stewart (R-Utah) will reintroduce the Fairness for All Act that mainstream religious denominations support.
President Biden publicly supports the Equality Act.
"This is a defining moment in our nation's political history and soon U.S. senators will decide their legacy on equality for LGBTQ people," said LGBTQ Victory Institute President Annise Parker in a statement. "History is not kind to those who oppose or filibuster civil rights legislation and excuses won't pass muster with future generations."
In an email after the final passage by the House, Equality California released the following statement from Executive Director Rick Chavez Zbur:
"Today's passage of the Equality Act is monumental — but we know that hard work lies ahead. As long as LGTBQ+ people — especially our transgender kids — face discrimination and hate in their day-to-day lives, we cannot and will not rest. Now, we urge the Senate to listen to the American people — Democrats and Republicans, people of faith and no faith at all — and pass the Equality Act. We urge the Senate to forget about cheap political points and instead think of the millions of lives that the Equality Act will improve. We urge the Senate to do what is right and pass the Equality Act once and for all.
"America is ready for the Equality Act. Let's get this done."