House passes Equality Act, next up is the Senate
President Biden publicly supports the Equality Act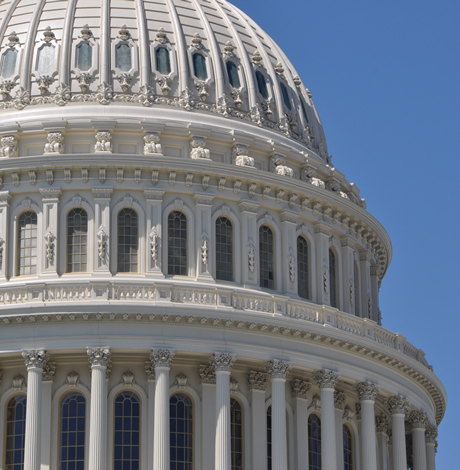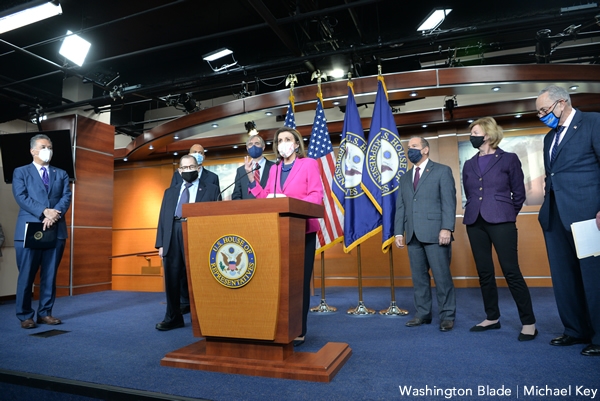 WASHINGTON – The U.S. House of Representatives on Thursday approved HR 5 a bill that would add sexual orientation and gender identity to the Civil Rights Act of 1964.
"This long overdue legislation will provide millions of LGBTQ Americans explicit protections from being denied medical care, fired from their jobs, or thrown out of their homes simply because of who they are," said U.S. Rep. Jerrold Nadler (D-N.Y.) as he spoke in favor of the Equality Act that passed by a 224-203 vote margin. U.S. Reps. John Katko and Brian Fitzpatrick of New York and Pennsylvania are among the handful of Republicans who also backed the bill.
"We rise to tell our LGBTQIA community that not only do you matter, but you are loved and you are cared for," said U.S. Rep. Cori Bush (D-Mo.). "And we got your back."
Georgia Congresswoman Marjorie Taylor Greene is among those who have expressed their strong opposition to the Equality Act. The Washington Blade earlier this week reported U.S. Rep. Chris Stewart (R-Utah) will reintroduce the Fairness for All Act that mainstream religious denominations support.
President Biden publicly supports the Equality Act.
"This is a defining moment in our nation's political history and soon U.S. senators will decide their legacy on equality for LGBTQ people," said LGBTQ Victory Institute President Annise Parker in a statement. "History is not kind to those who oppose or filibuster civil rights legislation and excuses won't pass muster with future generations."
In an email after the final passage by the House, Equality California released the following statement from Executive Director Rick Chavez Zbur:
"Today's passage of the Equality Act is monumental — but we know that hard work lies ahead. As long as LGTBQ+ people — especially our transgender kids — face discrimination and hate in their day-to-day lives, we cannot and will not rest. Now, we urge the Senate to listen to the American people — Democrats and Republicans, people of faith and no faith at all — and pass the Equality Act. We urge the Senate to forget about cheap political points and instead think of the millions of lives that the Equality Act will improve. We urge the Senate to do what is right and pass the Equality Act once and for all.
"America is ready for the Equality Act. Let's get this done."
Ohio hospitals testify against a trans care ban
In a hearing, the presidents of some of the top pediatric hospitals in the United States testified against trans care bans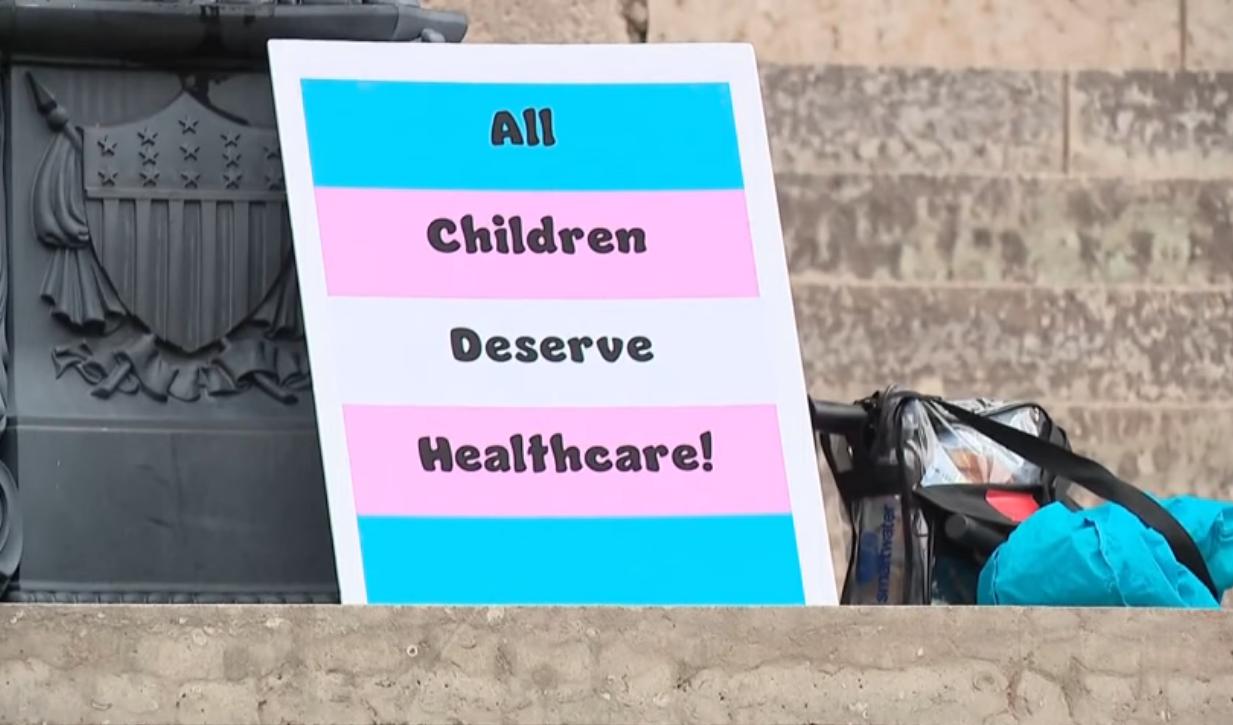 By Erin Reed | COLUMBUS, Ohio – Yesterday, Ohio held a hearing for House Bill 68, a bill that would ban gender-affirming care for trans youth and force those already on care to medically detransition.
The hearing was primarily for opponents of the bill—a prior proponent hearing had already happened a week earlier. Testimony stretched on for nearly eight hours, with those submitting testimony against the bill outnumbering supporters 7:1. Testimony came from a wide variety of professionals and those with lived experience, including transgender kids, their doctors, parents, educators, social workers, and more.
Perhaps the strongest testimony of the afternoon, though, came when presidents and leaders representing some of the top hospitals in the United States stepped forward and unequivocally condemned the bill, stating that it would have drastic negative health consequences for trans youth in their care.
At the beginning of the hearing, three leaders in US medical care testified together: Nick Lashutka, President of the Ohio Children's Hospitals Association serving over 2,600,000 children in the region; Dr. Steve Davis, President of Cincinnati Children's Hospital, the US News #1 ranked children's hospital in the United States; and Dr. Shefali Mahesh, who represented Akron Children's Hospital.
All of them delivered extremely strong testimony, dispelling myths about trans care. They testified that bans on care would harm an already extremely vulnerable population and that gender-affirming care was the best option for the few trans youth who do ultimately get cleared for medical transition.
Perhaps the strongest moment of the night was when Dr. Davis looked at the committee and pleaded, "You trust us on every other condition. Please, trust us on this one."
Watch their incredible testimony here:
When Lashutka spoke, he testified that trans care at Ohio Children's Hospitals is cautious and measured. He stated that in Ohio Children's Hospitals, patients see multidisciplinary teams and often have long waiting periods before they obtain gender-affirming care.
He also noted that the percentage of youth obtaining gender-affirming care in Ohio is only 0.0003%, a tiny fraction not just of youth in Ohio, but also of trans youth in Ohio. He likewise dispelled the idea that teens are getting care without their parents' knowing: "All treatment requires parental consent."
Lashutka, addressing the idea that trans youth are too easily given medical treatments, stated that care is only given to patients meeting rigorous requirements: "Individuals diagnosed with this condition are insistent, consistent, and persistent for a lengthy period of time. The notion that kids declare a feeling and are immediately prescribed at one of our clinics is not true."
Speaking next was Dr. Davis, who testified not just as the president of Cincinnati Children's Hospital, but as a pediatric critical care physician with 35 years of clinical care experience. He stated, when discussing the gender-affirming care ban and its potential profound negative mental health effects on trans youth, "the most harrowing part of my job is informing parents that their child died, especially when their death was from a preventable suicide."
He then stated that the gender-affirming care provided by his hospital is done only after "comprehensive assessments, rigorous mental health evaluations, and screening for comorbidities." He rebuked the idea that hormone therapy in trans youth is done without thorough evaluation, stating that the average time of the evaluation period is "10-12 months."
Lastly, he stated that there is no financial incentive to providing this care and that they do not make money on it – a reasonable claim given that hormone therapy tends to be relatively inexpensive, and that trans youth are not provided surgery in the Ohio Children's Hospital system. He closed, stating, "You trust us on every other condition. Please, trust us on this one."
Dr. Mahesh testified to another aspect of the bill. She stated that increasingly, doctors are having to provide care for patients who have been purchasing hormones off the internet. She indicated that, should a bill like this pass, black and gray market medication might become more common, and that patients would be driven to taking care into their own hands rather than trusting their doctors to administer their care.
Though opposing the bill in its entirety, Lashutka recommended four amendments should the bill pass. First, those already receiving care should be grandfathered in. Second, the "aiding and abetting" clause barring mental health doctors from referrals should be stricken. Third, allowing physicians to provide all information around care, which the bill bars.
Lastly, adding an exception for trans youth who show extreme dysphoria to get care. This last exception was passed in West Virginia's ban on care.
Though hospital administrators have testified in other hearings in the past, this particular panel of healthcare leaders is perhaps one of the strongest seen in any hearing across the United States. The hospitals they represent and the number of patients they serve could give pause even to the most ardent supporters of the bill.
They are also enormously respected voices for all pediatric care in Ohio and even nationwide – many of the legislators in Ohio likely have children who went to these hospitals, and many of the legislators themselves likely did when they were younger. Their presence, along with the massive showing in opposition to the bill, may have made an impact; while some thought the bill would receive a vote immediately after the hearing, those plans appeared to be scrapped.
The hearing adjourned without a vote, and advocates for trans youth care left knowing they had given their all.
****************************************************************************
Erin Reed is a transgender woman (she/her pronouns) and researcher who tracks anti-LGBTQ+ legislation around the world and helps people become better advocates for their queer family, friends, colleagues, and community. Reed also is a social media consultant and public speaker.
Follow her on Twitter (Link)
Website here: https://www.erininthemorning.com/
******************************************************************************************
The preceding article was first published at Erin In The Morning and is republished with permission.