February 25, 2021 at 9:37 am PST | by Brody Levesque
Gaga's dogs stolen in LA shooting- singer offering half million reward for return (video)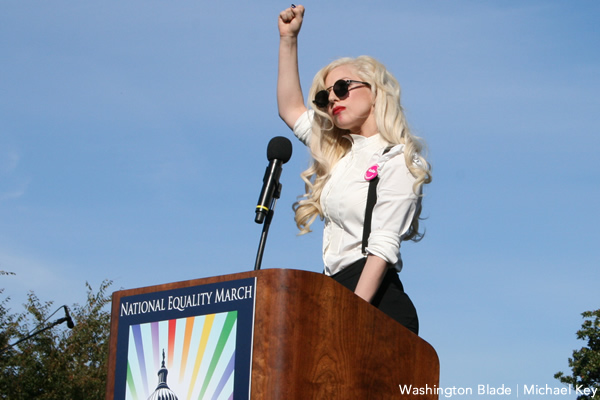 LOS ANGELES – Oscar and Grammy award winning singer Stefani Germanotta, known as Lady Gaga, is offering $500,000 dollars for the return of two of her prized French bulldogs stolen after her dogwalker was shot in Hollywood Wednesday evening.
A spokesperson for the Los Angeles Police Department told the Blade that the victim- not identified by the LAPD but by his friend Steven Lazarav on social media as 30-year-old Ryan Fischer, was walking three of the singer's dogs when the shooting occurred at around 9:40 p.m. in the 1500 block of N. Sierra Bonita Avenue.
An unidentified black male shot Fischer during a struggle over the dogs and along with an accomplice grabbed two of the dogs. The shooter used a semi-automatic handgun and the suspects were observed leaving in a vehicle described as a late-model white Nissan Altima 4-door sedan that headed northbound toward Hollywood Boulevard.
The victim was treated at the scene by LA Fire-Rescue paramedics and transported to hospital where he is in critical condition Thursday. Fischer was shot once and is expected to survive his injuries, according to Captain Jonathan Tippett, commanding officer of the LAPD's elite Robbery-Homicide Division.
Tippett described one of the suspects as a Black male in his early 20s with blonde dreadlocks. He was wearing a black hoodie and armed with a semiautomatic gun, police said. The suspect was also a Black male in his early 20s wearing dark clothing.
UPDATE: An LAPD spokesperson said Friday that detectives are investigating the possibility that attack was targeted because of the fact that the dogs were owned by the wealthy singer.
A neighbor identified as Buck Angel, who lives along N. Sierra Bonita Avenue, told LAPD and multiple media outlets that he had heard screaming "that wasn't stopping." As he opened his door to go out and see what was the matter, he heard a gunshot, he said.
Anyone with information on the Hollywood incident can contact LAPD detectives Marsden and Brown at 213-486-6840, or call 877-527-3247 after normal business hours. Anonymous tips may be submitted via 800-222-8477 or www.lacrimestoppers.org.
A representative for the actress-singer, who is currently in Italy filming a movie, has confirmed to multiple media outlets that the two dogs taken, named, Koji and Gustav are hers and that she is offering half-a-million dollars to anyone who has her 2 dogs, no questions asked. Anyone who has the dogs can use this email — [email protected] — to retrieve the reward.
Below is surveillance video posted by the paparazzi/tabloid website TMZ of the crime. WARNING: The video is graphic and some may find it disturbing: