Gaga's dogs stolen in LA shooting- singer offering half million reward for return (video)
She is offering half-a-million dollars to anyone who has her 2 dogs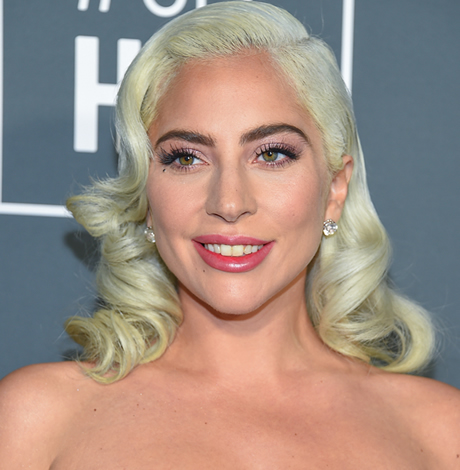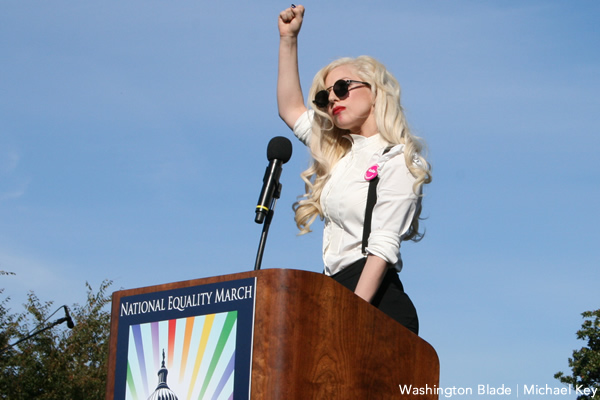 LOS ANGELES – Oscar and Grammy award winning singer Stefani Germanotta, known as Lady Gaga, is offering $500,000 dollars for the return of two of her prized French bulldogs stolen after her dogwalker was shot in Hollywood Wednesday evening.
A spokesperson for the Los Angeles Police Department told the Blade that the victim- not identified by the LAPD but by his friend Steven Lazarav on social media as 30-year-old Ryan Fischer, was walking three of the singer's dogs when the shooting occurred at around 9:40 p.m. in the 1500 block of N. Sierra Bonita Avenue.
An unidentified black male shot Fischer during a struggle over the dogs and along with an accomplice grabbed two of the dogs. The shooter used a semi-automatic handgun and the suspects were observed leaving in a vehicle described as a late-model white Nissan Altima 4-door sedan that headed northbound toward Hollywood Boulevard.
The victim was treated at the scene by LA Fire-Rescue paramedics and transported to hospital where he is in critical condition Thursday. Fischer was shot once and is expected to survive his injuries, according to Captain Jonathan Tippett, commanding officer of the LAPD's elite Robbery-Homicide Division.
Tippett described one of the suspects as a Black male in his early 20s with blonde dreadlocks. He was wearing a black hoodie and armed with a semiautomatic gun, police said. The suspect was also a Black male in his early 20s wearing dark clothing.
UPDATE: An LAPD spokesperson said Friday that detectives are investigating the possibility that attack was targeted because of the fact that the dogs were owned by the wealthy singer.
A neighbor identified as Buck Angel, who lives along N. Sierra Bonita Avenue, told LAPD and multiple media outlets that he had heard screaming "that wasn't stopping." As he opened his door to go out and see what was the matter, he heard a gunshot, he said.
Anyone with information on the Hollywood incident can contact LAPD detectives Marsden and Brown at 213-486-6840, or call 877-527-3247 after normal business hours. Anonymous tips may be submitted via 800-222-8477 or www.lacrimestoppers.org.
A representative for the actress-singer, who is currently in Italy filming a movie, has confirmed to multiple media outlets that the two dogs taken, named, Koji and Gustav are hers and that she is offering half-a-million dollars to anyone who has her 2 dogs, no questions asked. Anyone who has the dogs can use this email — [email protected] — to retrieve the reward.
Below is surveillance video posted by the paparazzi/tabloid website TMZ of the crime. WARNING: The video is graphic and some may find it disturbing:
20K runners cross 'Rainbow Mile' in WeHo for LA Marathon 2023
KTLA telecast the marathon on "The Rainbow Mile," so the scene was festive as runners crossed WeHo between miles 14 and 15 of the course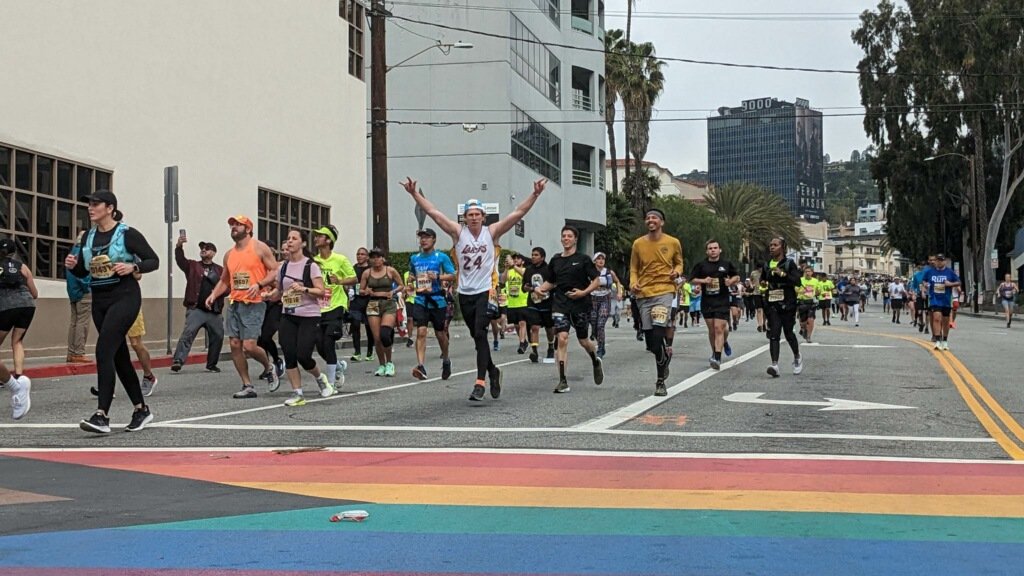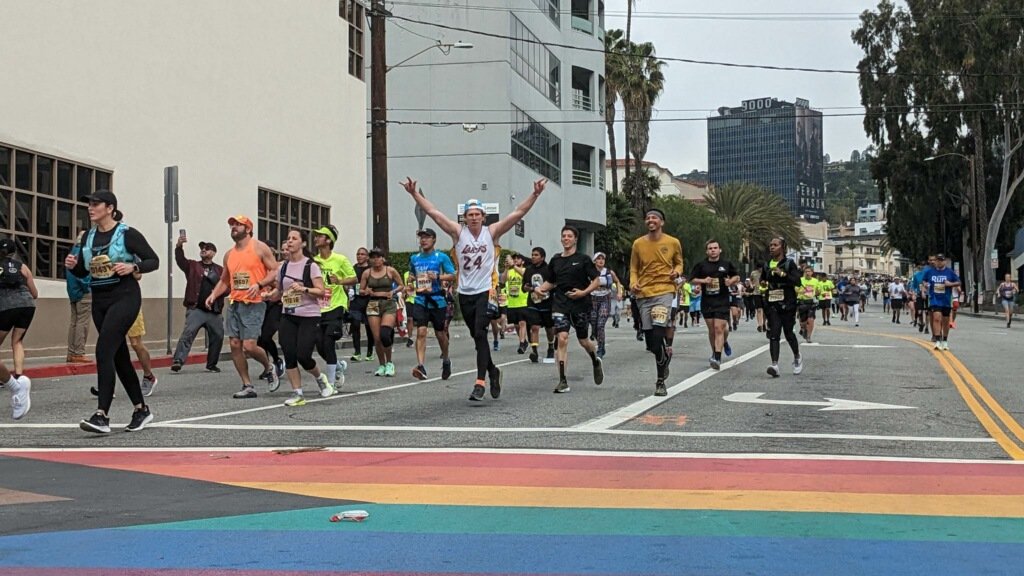 By Paulo Murillo | WEST HOLLYWOOD – Over 20,000 participants passed through the streets of West Hollywood Sunday morning for the 38th Annual Los Angeles Marathon 2023. West Hollywood Mayor Pro Tem John Erickson referred to the turnoff at the Rainbow District on Santa Monica Boulevard as the "Rainbow Mile."
"It's the best mile," he told Wendy Burch of KTLA. "We've got all the colors, we've got all the diversity, and there's no better place to do it than West Hollywood… we love that they come through the city every year. We can see the crowds come out, every family from all walks of life, and we do it right here in West Hollywood because this is where everyone is welcome."
KTLA chose to telecast the marathon on "The Rainbow Mile," so the scene was festive on Santa Monica Boulevard. People dressed in costumes, held up signs cheering their loved ones on, and spectators fist bumped the runners as they rushed by.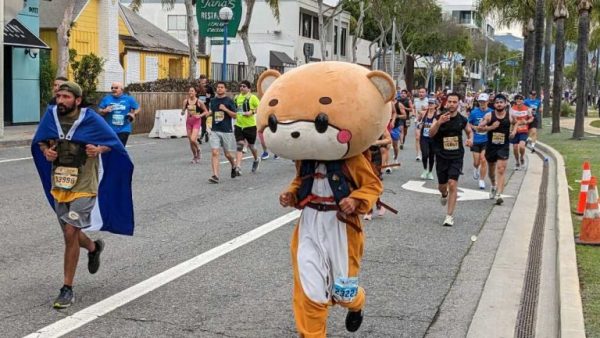 The 26.2-mile marathon kicked off at Dodger Stadium at 6:30 a.m. beginning with wheelchair participants, followed by the women's division. Then a short distance later, the men's division kicked off, followed by the general public. The course ran through Downtown Los Angeles, Hollywood, West Hollywood, Beverly Hills, and the finish line was at Century City.
Kenya's Stacy Ndiwa was the first to cross the finish line Sunday in the women's division. She clocking in at 2 hours and 31 minutes. Ethiopia's Jemal Yimer won the men's division in 2 hours, 13 minutes and 13 seconds. Elite female runners always start the race 18 minutes and 19 seconds ahead of the men.
Jemal Yimer of Ethiopia won the men's division of the Los Angeles Marathon on Sunday, while Stacy Ndiwa of Kenya took the women's division. Via @AP https://t.co/kKgEbiFdfy

— Bloomberg Africa (@BloombergAfrica) March 19, 2023
Top 5 women's results! pic.twitter.com/JOwXF878p6

— Los Angeles Marathon (@lamarathon) March 19, 2023
The portion of the route that runs through the City of West Hollywood remained unchanged from previous years. Runners made their way westbound into the City of West Hollywood along Sunset Boulevard at Marmont Lane, just west of N. Crescent Heights Boulevard. From the Sunset Strip, runners turned left (south) onto N. San Vicente Boulevard; then right (west) onto Santa Monica Boulevard; then left (south) onto N. Doheny Drive, where they will enter the City of Beverly Hills. The Marathon ran through West Hollywood between miles 14 and 15 of the course.
For full results, visit: (Link)
*******************************************************************************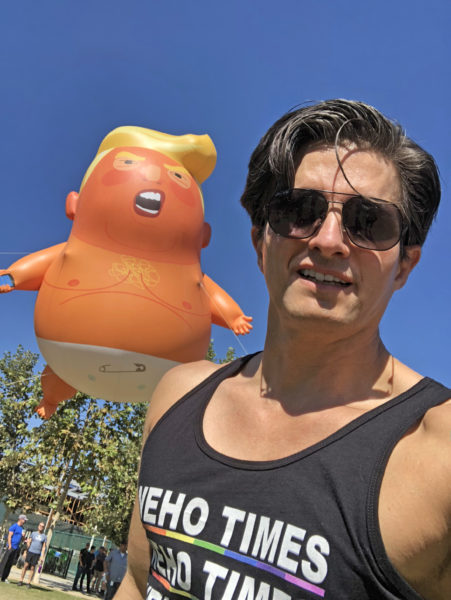 Paulo Murillo is Editor in Chief and Publisher of WEHO TIMES. He brings over 20 years of experience as a columnist, reporter, and photo journalist.
******************************
The preceding article was previously published by WeHo Times and is republished with permission.