VIDEO: Bourbon Street in the French Quarter
Coronavirus restrictions remain in place in New Orleans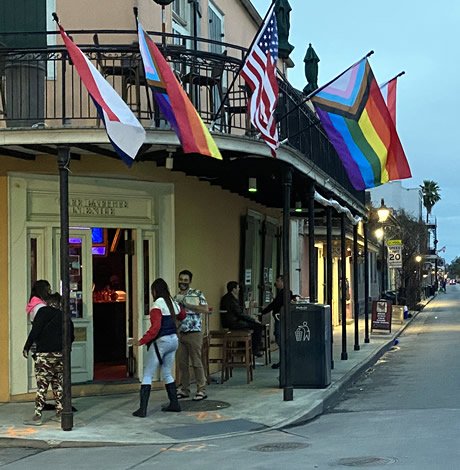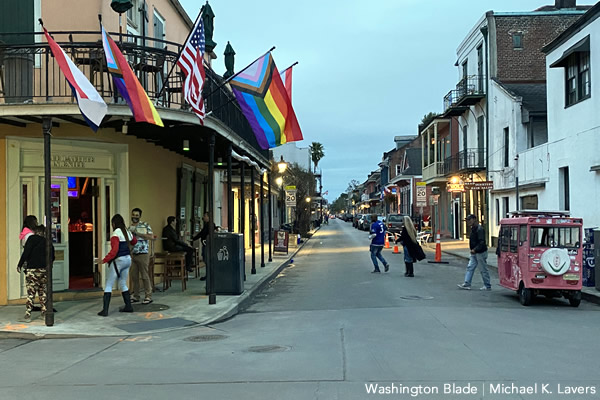 NEW ORLEANS — Bars in New Orleans continue to operate at limited capacity because of the coronavirus.
Café Lafitte in Exile, a gay bar on Bourbon Street in the French Quarter, on March 1 allowed groups of up to six people to sit at indoor tables on both of its floors. The bar is open every day from 11 a.m. to 11 p.m., but it requires patrons to wear masks when they enter.
A handful of people were drinking on the sidewalk in front of Café Lafitte in Exile at around 6 p.m. on March 1 when the Blade drove down Bourbon Street. Oz, a gay dance club across the street, was closed.
Several other bars on Bourbon Street were also open, but only a handful of people were inside them.
Bars in the French Quarter were closed last July when the Blade reported from New Orleans.
VIDEOS: Wilton Manors during a pandemic
Bars, restaurants and clubs open with some COVID restrictions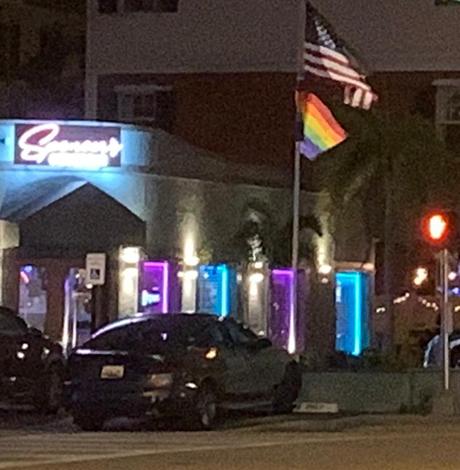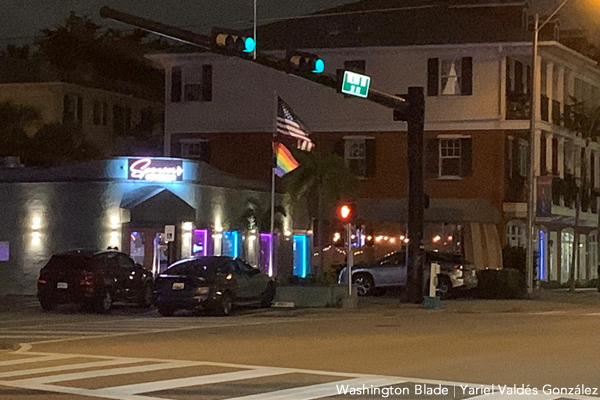 WILTON MANORS, Fla. — Bars, clubs and restaurants in the Florida city of Wilton Manors are open, but with some pandemic restrictions still in place.
Georgie's Alibi Monkey Bar, a bar and restaurant on Wilton Drive, on March 6 had socially distant tables inside and outside.
Bartenders and servers wore masks, but a go-go dancer who was dancing on a platform near the dance floor did not wear one.
Small groups of patrons who were standing on the dance floor were also not wearing masks.
A drag queen who greeted patrons inside Georgie's Alibi Monkey Bar was wearing a mask and a face shield. Windows were also open to provide additional ventilation.
Several dozen people at Hunters, a nightclub in the same strip mall where Georgie's Alibi Monkey Bar is located, on the same night were crowded onto an outside patio as they were drinking. Lit, a bar a few blocks away on Wilton Drive, had cornhole and other games set up in the parking lot.
Other bars and restaurants along Wilton Drive had tables placed along the sidewalk. Indoor dining was also available, but at limited capacity in order to adhere to social distancing rules.
Broward County as of last Oct. 16 has allowed businesses to serve food and alcohol to remain open until midnight, and offer dine-in service until midnight.
"Social distancing and facial covering requirements, restaurant capacity limits, and sanitation and safety requirements to prevent the spread of the Coronavirus (COVID-19) remain in effect," reads the city of Wilton Manors' website.
The website notes businesses "licensed to serve food may operate at up to 100 percent of indoor capacity if a distance of six feet is maintained between tables, and no more than six people at a table." Bars that "only serve alcohol, and are not licensed to serve food, must operate at no more than 50 percent of their indoor capacity."
Sheraton refuses gay couple for wedding, so Hilton offers to host them for free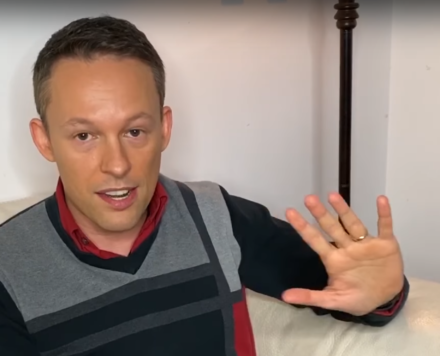 When a pair of gay grooms wanted to book their wedding at a major chain hotel in the middle of a famously gay-friendly city, they had no reason to expect that would be a problem.
That's what made it so surprising to them when they were denied.
Josh Rimer, a popular Vancouver vlogger and TV host who also happens to be Mr. Gay Canada 2019, posted a video earlier this month in which he shared the story of the difficulties he encountered when he and his husband-to-be, Heath, tried to arrange their dream wedding at the Sheraton Buganvilias Resort & Convention Center in Puerto Vallarta. After an initial process in which it was difficult to get a response from the hotel, Rimer – who is an LGBTQ activist – finally thought he would be able to set up the event, but when he mentioned there would be an extra boutonniere required because there were two grooms, things got even worse.
As Rimer shared with Vancouver's CityNews, a staffer at the Sheraton hotel sent them an email that reads:
"I am infinitely grateful that you have thought of Sheraton for your big day, however, our hotel and our staff is not specialized to carry out an equal wedding and we would not like to take your wedding as a trial and error, and our service could be poor compared to what characterized Sheraton, because we know and we are aware that is your special day for you and your fiance, and do not want that by our non-specialed service some conflict can be generated on your big day, my apologies."
Understandably frustrated, the travel vlogger decided to vent about it to his YouTube followers ("I don't know if she thinks we're going to show up in speedos with go-go dancers and we expect the officiant to be wearing leather chaps, this is just a normal wedding. It just happens to be with two guys."). That's when things took another unexpected turn – this time for the better.
A couple of days after Rimer posted his video, Hilton Puerto Vallarta tagged him on Instagram with an offer:
"Hi @JoshRimer, we're looking for you! We've heard you want to get married at Puerto Vallarta and we want to offer you the #HiltonExperience! ? We want to celebrate with you this special day, so we'll gladly host your wedding ceremony and feast for FREE for you and your 45 guests at Hilton Puerto Vallarta!"
Then, things took an even brighter turn when VACAYA, a shipping line specializing in LGBTQ cruises, offered to provide them with free honeymoon cruise as well.
"We're thrilled to join Hilton Puerto Vallarta in celebrating the love between Josh and Heath because we believe that together we can shine a brighter light on the work we still have left to do to reach equality," the cruise line wrote on Facebook.
Needless to say, Josh and Heath were thrilled to accept the offers. Rimer told CityNews that the experience was "very frustrating," but he thinks the incident was "just a case, probably, of somebody not knowing what it's like to have gay clientele, for some reason," and that the service at the Buganvilia would probably be improved with "some training in this area."
Despite the drama he says, "We're still in love, despite the whole ups-and-down process, so, yeah, we're just excited for the big day."
As for the original would-be venue, Jeff Flaherty, a spokesman from Sheraton's parent company, Marriott International, parent company of Sheraton Hotels and Resorts, said they reached out to Rimer directly to express "our sincerest apologies for his experience," according to NY Daily News.
"We are troubled and greatly concerned about the experience reported by Mr. Rimer. Marriott has long been committed to providing an environment where all are welcome including our LGBTQ guests and their loved ones," Flaherty said. "In addition, we are looking further into the matter to better understand what happened and do what we can to prevent hurtful experiences like this from happening again."
He added, "Marriott has long been committed to providing an environment where all are welcome including our LGBTQ guests and their loved ones."
You can watch Josh's original video below.
You want the best of alternative LGBTQ London?
Ask the locals at the Eagle in Vauxhall for a glorious Queen's eye view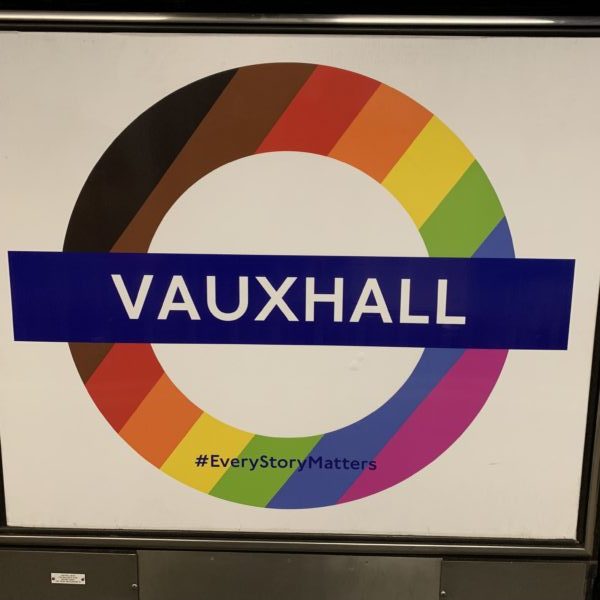 There was The Dane from Kings Cross, the black guy from East London, and another white guy from West London. They agreed to a brief chat on the back patio of the Eagle in London's Vauxhall neighborhood, as long as I didn't use their names. All around 30, they wore jeans, shorts and T-shirts, with one revealing a black leather harness underneath his plaid button down. Our interview has been edited for brevity and clarity.
MJ: If a visitor from LA wanted to do something "alternative" in LGBTQ London, what would you tell them?
Black Leather Harness: Obviously, we are here at Eagle, which has great theme nights. But also Royal Vauxhall Tavern, on a Saturday they have Duckie. They play David Bowie, Elastica…and they have…sort of cabaret.
East London Guy: There are quite a few places, actually, where you can have a good night. In Shoreditch there's a place called Queen of Adelaide. It's a bar-slash-club. Underground. Good music. Very young crowd. Wednesdays, Thursdays, Fridays.
MJ: I've heard Shoreditch and Whitechapel are trendy areas.
ELG: Yeah. Yeah.
MJ: And there's The Glory, which is in Dalston. G-L-O-R-Y? Like glory hole?
BLH: Yeah, exactly. There are no glory holes, although there are venues like that. It's a pub and it's got a cabaret night every weekend, Friday, Saturday, Sunday. I think the drag queen who set up The Glory [is] Jonny Woo. She spent some time over in New York. And she's very alternative.
MJ: And what about you
The Dane: Well, in Kings Cross it would have to be Central Station.
ELG: Oh, right.
TD: It's a pub. A bit quiet some evenings but they do stuff like Eurovision and theme nights. It's a bed and breakfast. And there's something happening in the basement, as well, which is—
BLH: [interrupting] A sex club.
ELG: Is it? I've never been there before.
MJ: Speaking of backrooms or saunas, would you have a thought?
TD: Oh shit.
MJ: This is anonymous.
TD: Yeah, so right. Guys help me now. So XXL is still open. That gets pretty hot. But it's closing in three months' time.
MJ: Why is that?
TD: They're going to build flats there.
BLH: Redevelopment and all that shit.
TD: That's probably the best…that's the place I would go.
BLH: I've only been there once. I'm such an old maid. But the one time I did go I got to XXL at 10:30 in the evening and I didn't leave until six. And for a dormouse like me that is quite an undertaking. I was very proud of myself. It hasn't happened since. And I sucked a lot of c*ck.
MJ: You're the one wearing the harness.
BLH: [laughs] Yeah, I know. I'm a massive contradiction. 
ELG: Vauxhall, where we are right now, it's got several nightclubs. Gay clubs. Sex clubs. Anything you want. There's Fire down the road. I think they've got an event tonight, actually, because they handed us some flyers. Lots of porn stars are gonna be performing. Not my thing, but you know….
MJ: Why isn't it your thing?
ELG: I'm not that adventurous. And, yeah, it's very, very alternative. A lot of younger, sort of youngish, you know, frequent there. And there's quite a few nightclubs down the road. Union, I think it's called. And there's another one called Brute or something like that. They've all got darkrooms and glory holes and stuff. From what I hear.
BLH: I'll tell you a story about my mum. Sorry this is a bit of a…sidetrack.
MJ: It's a 180.
BLH: What was that?
MJ: It's a 180. 180 degrees?
BLH: I thought you said, "Is she 80?" No, she's 62. When I first graduated from uni they got the house valued so they could sell it. And my mom was leading the estate agent around and she said, "Now, at the top of the stairs, on your left, there's a glory hole. And in my older son's room there's another glory hole." I said, "Mum, you can't say that!" And she said, "It just means an old room where you put old junk." "No, Mum. It hasn't meant that in, like, 50 years." She was like, "Oh! You young people." I was like, "Mum!"
[laughter]
MJ: I had no idea it was actually an innocent phrase.
BLH: In my mum's mind it's a very innocent phrase. But it's meant a hole that you suck cock through for at least 50 years, right?
MJ: It is Stonewall 50 right now.
BLH: Her references are very out of date. Oh, you know what's alternative? On Tuesday you have Bar Wotever…and it's cabaret. It's five pound or less if you're unemployed. And you have people from all over the LGBTQ+ spectrum.
ELG: I think Vauxhall is the most gay area in London now, in terms of bars. It used to be SoHo. But SoHo is not what it used to be. All the gay bars and clubs left that area. There's one called The Yard…and there's Ku Bar. But London residents don't tend to go there. So Vauxhall is the place. Lots of alternative bars [and] clubs. Theatre as well. There's Above The Stag. I think most of its shows are LGBTQ+ plays, shows and musicals.
TD: London has changed a lot.
BLH: It has changed, yeah.
TD: Nowadays, me and my friends, we go to straight clubs and pubs because…well first of all, [being gay is] more widely accepted. You can go to a straight restaurant and still hold hands and all of that. People don't even lift their eyebrows.
MJ: [I detected an accent] Are you German?
TD: Denmark. Danish
ELG: He finds your accent a bit hot. [He was right]
TD: I actually try to avoid SoHo…because it's just a bit too much. Not in a bad way. It's…very gay sometimes.
MJ: It's not as interesting?
Sometimes you find more interesting things happening outside [that area]. It's London. Things are happening all over the place.