March 10, 2021 at 12:39 pm PST | by Tyler T. Fischer
Leslie Jordan: America's new country music star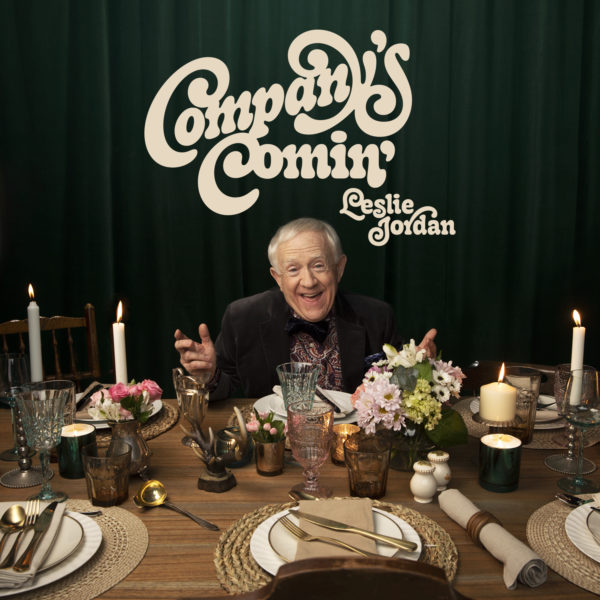 You've probably heard of 2020's renaissance man by now. He has an Emmy for "Will & Grace," more Instagram followers than Norway has people and at 65 he's about to release his debut album, "Company's Comin'" on April 2.
Leslie Jordan became the Johnny Carson of Instagram over the last year, rapidly gaining millions of followers in mere weeks for his quarantine video diaries. In the early days of lockdown, he had the catchphrase that launched a million clicks ("well sh*t, what y'all doin?").
His quippy stories, laugh-out-loud one-liners and endearing southern drawl captured the internet's heart.
Jordan's videos have covered all manner of topics including baton-twirling in his front yard, his celebrity crush on Dylan McDermott, and his Fonda-esque workout videos.
His unique new fame began a domino effect of projects, and it seems that almost weekly Jordan has announced a new collaboration. He even had Ryan Murphy promise him a new show, with Dylan McDermott playing his former masseuse. Ask and you shall receive.
He's done so much you could write a book about it. Cue Jordan's next book, "How Y'all Doing? Misadventures and Mischief from a Life Well Lived," to be released late April.
"How Y'all Doing?" is an essay collection infused with saucy humor and entertaining stories, including an unexpected phone call from Hollywood legend Debbie Reynolds.
The book is next up in Jordan's ever-growing series of pandemic projects. We haven't even talked about his featured role in Oscar-contender "The United States vs. Billie Holiday."
Jordan's become the expert of turning Instagram dreams into career realties. Chronicling the path of his upcoming album "Company's Comin'" reveals the work ethic and discipline behind the beguiling smile and effortless charm. It was on Jordan's Instagram that he began a weekly music series with his friend, hit Nashville songwriter, Travis Howard.
"My dear friend Travis Howard and I would get together on Sundays to sing these old hymns just because we loved them," Jordan said. "The songs held something brilliant about the human condition and were a deep comfort to anyone who heard them, religious or not. He started posting our performances online, and the response was just incredible."
The duo turned the series into a one-hour country music radio show, Hunker Down Radio with Leslie Jordan on Apple Music. Audiences can tune in every Sunday at 1 p.m. CT/2 p.m. ET.
So what do you do when you've got millions of fans asking for more? Make an album.
"Company's Comin'" is promised to bless listeners with both traditional hymns and original tunes, with a slew of special guests including country music heavy weights Tanya Tucker, TJ Osborne from Brothers Osborne, Travis Howard, Katie Pruitt and more. In February, Jordan premiered the lead single "Angel Band" with Grammy-winner Brandi Carlile. Think of it as "Sweet Home Alabama's" gay cousin, complete with a feisty mandolin and playful ad-libs from Jordan. Like the rest of Jordan's portfolio, it's guaranteed to put a smile on your face.
But life hasn't always been easy for gay icon Leslie Jordan. Raised Baptist in 1960s Tennessee, Jordan explains.
"It's liberating now to come back to these hymns, completely at peace with myself, and sing without any hint of the guilt or shame I felt in my youth."
Born in Chattanooga, Tenn., Jordan said, "Singing these songs, it felt like I was recapturing the joy of what this music meant to me as a kid, but without all the baggage."
A 4′ 11″ gay man might not sound like the new poster-boy for Southern Gospel, but Jordan's winsome joy transcends all.