March 16, 2021 at 9:56 pm PDT | by Troy Masters
LGBTQ people should oppose recall effort against Newsom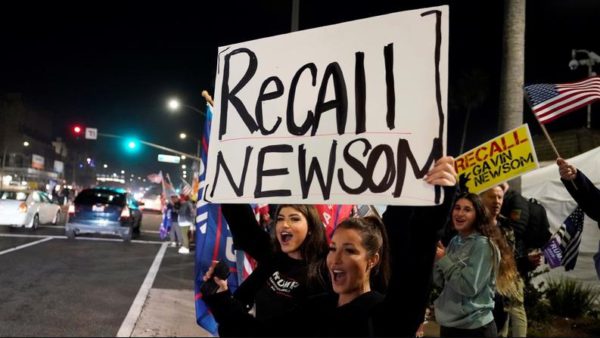 A little over a year ago the coronavirus pandemic exploded, shutting down the country as experts, health officials and scientists struggled to get a handle on combating overwhelming numbers of hospitalizations and deaths.
One grim reality emerged: There was a disproportionate number of Americans impacted in certain demographics and very little healthcare providers could do as patients ended up being intubated except wait and hope and in many cases prepare patients' loved ones for their lonely deaths only to be witnessed by nurses, doctors, or not at all.
Complicating this nightmare outbreak scenario was that the nation was being led by a proven liar with a narcissistic penchant for ignoring healthcare professionals' advice including his own administration's top experts at the Centers for Disease Control and Prevention, NIH, and the Public Heath Service.
Beyond that, once it was well established that COVID-19 was a respiratory illness by which its transmission could be dampened or eliminated with the use of masks alongside social distancing and simple hygienic precautions, he openly disparaged and then in the worst way possible politicized mask wearing.
There's a lengthy list of other outrages foisted on Americans by Donald Trump, but his greatest contribution to the atmosphere of death that enveloped the United States was his unwillingness to use the power of the presidency and the federal government in a central way to assist states as they grappled with seemingly endless deaths and record breaking hospitalizations.
Ultimately he also contributed to the economic catastrophe with his stubborn resistance to follow the science and data, which left many governors no choice but to shut down to save their residents.
At the end while he finally was able to bring the full power of the federal establishment to bear especially in the unheard of efforts by the scientific and pharmaceutical manufacturing communities to produce viable vaccines- but, his inept mishandling and ignorant behavior at the outset cost more lives than was truly necessary or based in science and data could have been prevented.
One of those governors was California's Gavin Newsom. In fact, he was the first to completely idle a state's economy and routine with his stay-at-home mandate in an effort to corral the virus. This was uncharted territory for Newsom and his leading health officials including California's Secretary of Health and Human Services, Dr. Mark Ghaly. Initially there was not enough solid information outside of awareness that only a draconian stance would stave off horrific loss of life.
As California battled surges and spikes, openings and closures, Newsom kept holding daily press briefings and attempted to govern under less than ideal circumstances. Yes, there were missteps such as his attending a birthday dinner party last fall at the white-tablecloth restaurant the French Laundry in Napa County, which he did apologize for as reported by the San Francisco Chronicle:
"I made a bad mistake. Instead of sitting down, I should have stood up and walked back out to my car," Newsom said. "You can quibble about the guidelines, but the spirit of what I'm preaching all the time was contradicted. I've got to own that. So I want to apologize to you."
Then after surges that brought more suffering and pain to Californians, 3.63 million cases and over 56,709 deaths to date, the vaccination roll-out began with numerous hiccups but with a purpose to get the over 40 million California residents vaccinated.
No, it hasn't been pretty and yet Newsom has persevered. There are those however, who only see a fraction of the greater truth and reality of the actualities of the pandemic and governmental response to it and they have launched a recall effort. These people who have organized this campaign to recall the governor claim their effort is "fueled by grassroots supporters angry about pandemic restrictions" oh and the previously mentioned attendance at the dinner party despite his own administration's guidelines.
That's actually not truthful, but given a good deal of the organizers are acolytes of the former president and according to the Chronicle and others the financial engine of the recall campaign has been less populist and largely driven by mega-donors writing six-figure checks.
Of the nearly $4 million that recall organizers say they have raised, more than half has come from two dozen contributors — wealthy individuals, deep-pocketed companies and Republican groups.
The landscape and tone of the rhetoric to recall Newsom is led by people including Trump's former 'gay' ambassador to Germany Richard Grenell, who stood by and allowed Trump and his White Christian Nationalist leaning administration officials like Stephen Miller and their allies to ban transgender military service. Grennell also defended former Vice-President Mike Pence who has a long record of anti-LGBTQ animus while attacking now Transportation Secretary Pete Buttigieg during his presidential campaign run.
Let's examine Newsom's record regarding LGBTQ equality rights. Newsom has led on rights for LGBTQ Californians since his days as mayor of San Francisco. His record is such that last week 57 LGBTQ+ elected officials throughout California released a joint statement opposing the recall effort.
Equality California Executive Director Rick Chavez Zbur, State Insurance Commissioner Ricardo Lara, Legislative LGBTQ Caucus Chair Assemblymember Evan Low (D-Campbell), former Chair Senator Scott Wiener (D-San Francisco), Senator John Laird (D-Santa Cruz), Assemblymember Chris Ward (D-San Diego), Long Beach Mayor Robert Garcia, League of California Cities LGBTQ Caucus Board Member Palm Springs Mayor Pro Tem Lisa Middleton and BART Board Director Janice Li praised Governor Newsom's long record of support for LGBTQ+ civil rights and his leadership during the COVID-19 pandemic, national economic downturn and devastating wildfires.
The leaders also spoke to the risk that the partisan recall effort, led and funded by anti-LGBTQ+ and pro-Trump extremists, poses to LGBTQ+ Californians and the diverse communities to which LGBTQ+ people belong.
This attempt to remove the Governor — led and funded by anti-LGBTQ+ and pro-Trump extremists — is the product of a coordinated disinformation campaign that will cost the state of California $100 million. Instead, this money should be used to support Californians as our state recovers from the COVID-19 pandemic. The recall poses an especially grave threat to our LGBTQ+ community and the progress that California continues to make toward full, lived equality for all people.
Throughout his career, Gov. Newsom has been a dedicated ally of the LGBTQ+ community and an unyielding champion in our fight for civil rights and social justice. He stood with us at times when it was not politically popular, regardless of personal and professional risks, because he knew it was the right thing to do.
He has taken bold, principled actions to advance marriage equality, expand access to life-saving HIV prevention medication, protect transgender Californians from discrimination, and ensure that California's government reflects the diversity of our communities.
As publisher of the Los Angeles Blade I concur with the sentiments as expressed by the LGBTQ political leadership of California and urges LGBTQ Californians to oppose this dangerous, unnecessary, and frankly ignorant partisan recall effort.