March 23, 2021 at 9:32 pm PDT | by Staff reports
Pride lifeguard tower burned in Long Beach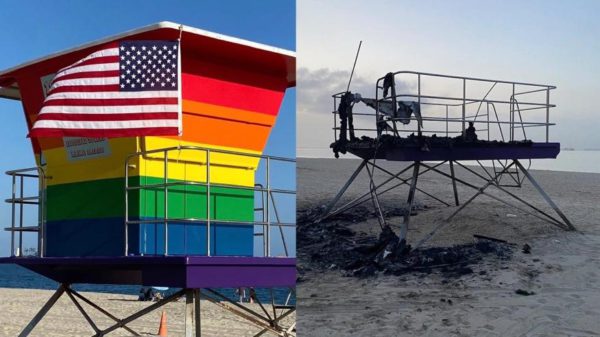 LONG BEACH – A Lifeguard Tower that was painted in the bright colors of the LGBTQ Rainbow Pride flag was burned down to its steel frame early Tuesday morning a spokesperson for the Long Beach Fire Department said.
The LBFD responded to a call for a structure fire located on the sand between 12th and 13th places at around midnight.
The rainbow tower was painted by LGBTQ+ members of the LBFD's marine safety division last June of 2020. In a statement posted on Twitter at the time, the Fire Department said the rainbow tower symbolized "our strong support for the diversity within our ranks & community."
A tweet posted to the LBFD's Twitter account Tuesday indicated that the tower will be replaced and repainted by Lifeguards. It added that the source of the fire is under investigation.