Trans USMC vet injured in attack police say may be hate crime
Three men decided to approach Shane and brutally assaulted him for being who he is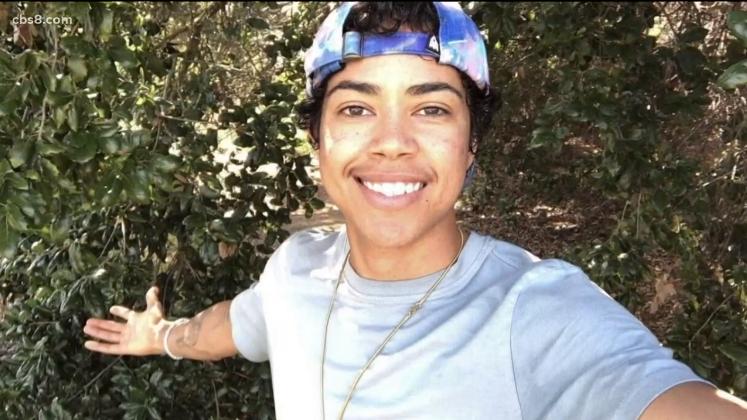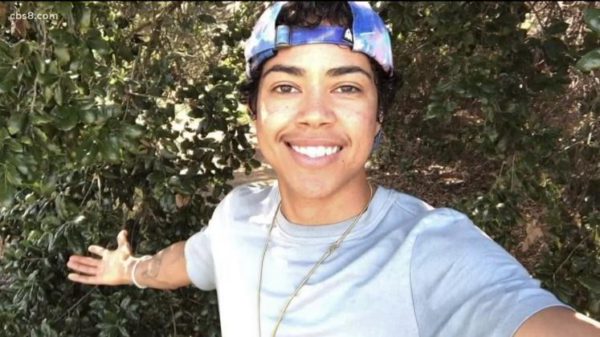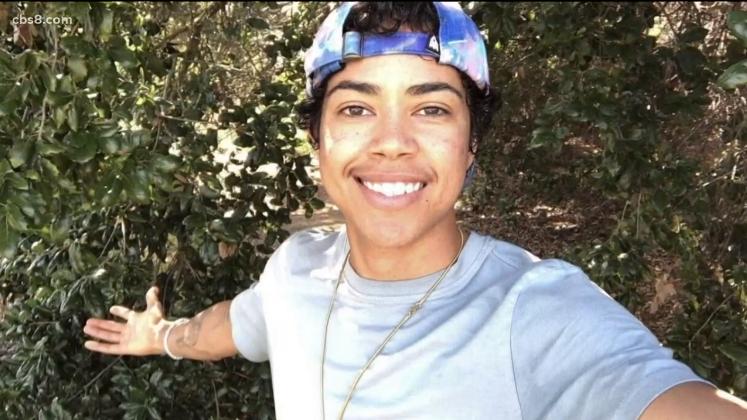 CARLSBAD – Police investigators in this coastal city in North San Diego County are investigating an attack on a U.S. Marine Corps veteran as a possible hate crime.
Shane Devereaux, a transgender male Marine veteran, was with his girlfriend leaving the Coyote Bar and Grill on Carlsbad Village Drive when he was attacked.
According to Carlsbad police, officers were dispatched to the bar's location last Saturday, March 20, just before midnight for a report of a fight. Carlsbad Police Department spokesperson Lt. Kevin Lehan told KFMB-TV CBS News 8 San Diego, that officers found four people were involved in what they called "mutual combat" and two of those involved had left before officers arrived. Lehan said that police believe alcohol played a role in the incident.
Officers reported witnesses saw the group involved in an argument, including "name-calling" while leaving the bar. One of the men pushed Devereaux, which caused him to fall backward and hit his head on the ground. According to police they opened a 'battery' investigation at that time.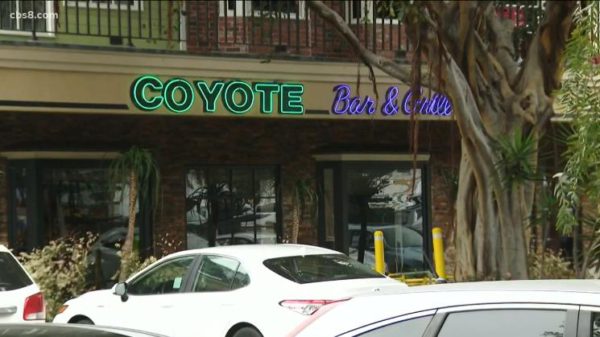 Then, on March 22, police said Devereaux's girlfriend gave an additional statement to investigators that prompted them to investigate the incident as a "possible hate crime."
"We have received conflicting statements about what occurred, and we are working hard to sort the information and find the facts," said Lt. Lehan in an email to News 8 on Thursday. "We take allegations like these very seriously in Carlsbad. The investigation is active and ongoing, once completed it will be submitted to the District Attorney's Office to evaluate for the most appropriate charges."
Friends of Devereaux created a GoFundMe to defray the cost of his hospitalization and in the description they noted:
"On 3/20/2021 Shane was involved in a tragic hate crime. Shane is a beautiful soul. […] Shane is a handsome transgender male which many adore and admire him for his bravery. Shane has bravely served in our military and has put himself out there to protect this country. Shane and his girlfriend Jennifer were out casually having drinks at the Coyote Bar&Grill in Carlsbad."
While on their date three men approached the couple and decided to have drinks with them. They were casually talking and having a great a conversation. As the night progressed the three men found out Shane was a transgender male.
As the night ended Shane and Jennifer made their way to their car and the three men decided to approach Shane and brutally assaulted him for being who he is. Currently Shane is in the hospital suffering from a fractured skull, broken back, but most importantly a broken heart. Shane can't talk, can't move, and can't use the restroom alone."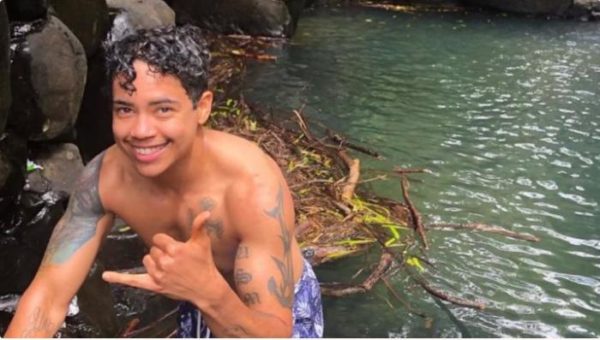 LA County Parks winter classes are happening NOW!
Whether you're looking to learn a new skill, pick up a hobby or instrument or simply be more active, there's a class for everyone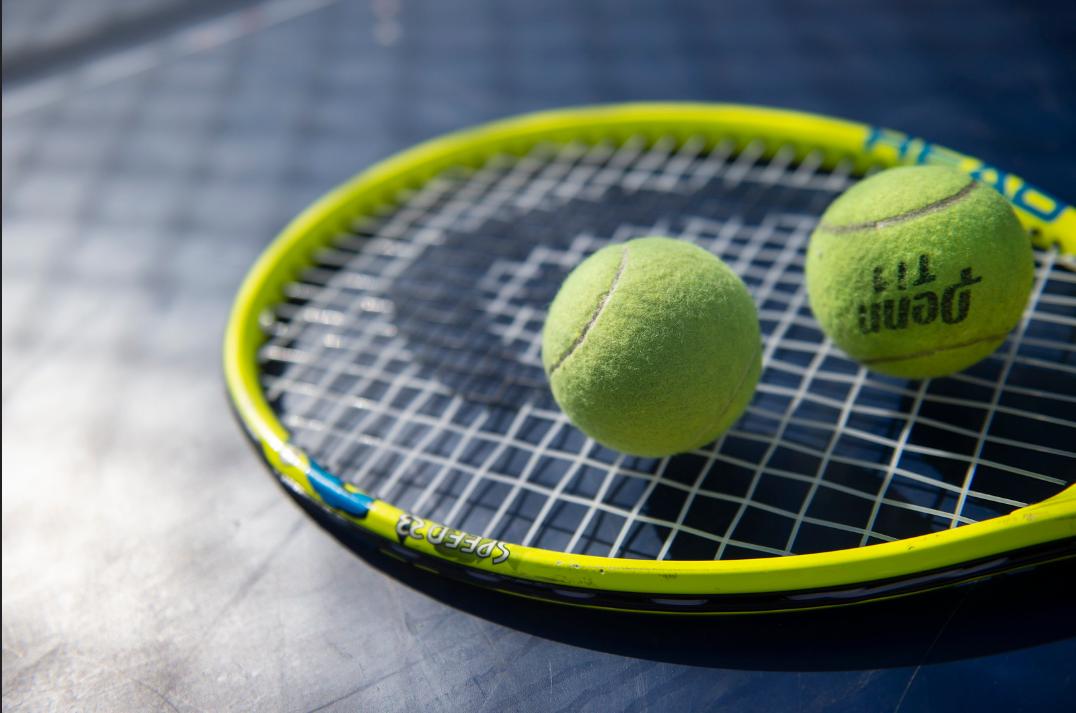 LOS ANGELES – LA County Parks is here to make your 2022 memorable. If you have not yet taken one of our classes, now is the time to register! Meet us safely outdoors at a park near you or join a class virtually from the comfort of your own home.
Whether you're looking to learn a new skill, pick up a hobby or instrument or simply be more active, there's a class for everyone. We offer a wide range of classes (held outdoors or virtually) for all ages.
Here are just a few of the many classes we offer!
Arts & Culture: Music Mondays Family & Me Music Class
Computers and Technology: Become a Roblox Developer
Exercise and Fitness: Morning Senior Stretching (Virtual), Adrienne's Salsa Cardio (Virtual) and Jay's Fitness 365 Athletes ️
Health & Wellness: Brain Fit for Work and Life (Virtual), Integrating Essential Oils into your Everyday Life (Virtual) , Sound Bowl Healing Meditation
Martial Arts: Karate and San Do Kai Karate
Performing Arts, Music & Culture: Acting for the Camera (Virtual) , Ballet and Tap Dancing, Ballroom & Latin Dance and Modern Middle Eastern Belly Dance
Special Interest Classes: Build, Paint & Race An Army Battle Tank, How to Become a Certified Livescan Provider (Virtual), Intro to Fashion Design (Virtual) , Parent & Child Red Cross CPR, First Aid, AED and more
Sports: Badminton, All Level Softball Clinics and European Tennis Academy

Our quick and easy 24/7 online registration system Active Net allows you to manage everyone's schedule through a single household account. Sign up for Winter Classes for yourself, partner and children from your smartphone or computer. To learn more about Active Net, visit parks.lacounty.gov/reserve/.
COVID-19 Safety Guidelines for In-person Classes:
The health and well-being of park guests and staff is our top priority. In accordance with LA County Public Health, currently masks are required at all times for all participants. Participants must maintain six feet physical distance from the instructor and staff at all times.
Follow LA County Parks on social media: Facebook @parks.lacounty.gov and Twitter/Instagram/TikTok @lacountyparks.
Share your experience using #LearnSomethingNew at #LACountyParks.  
We're Hiring! Become a LA County Pool Lifeguard!
Candidates will get paid for a 64-hour training which includes becoming certified though the American Red Cross in Emergency Medical Response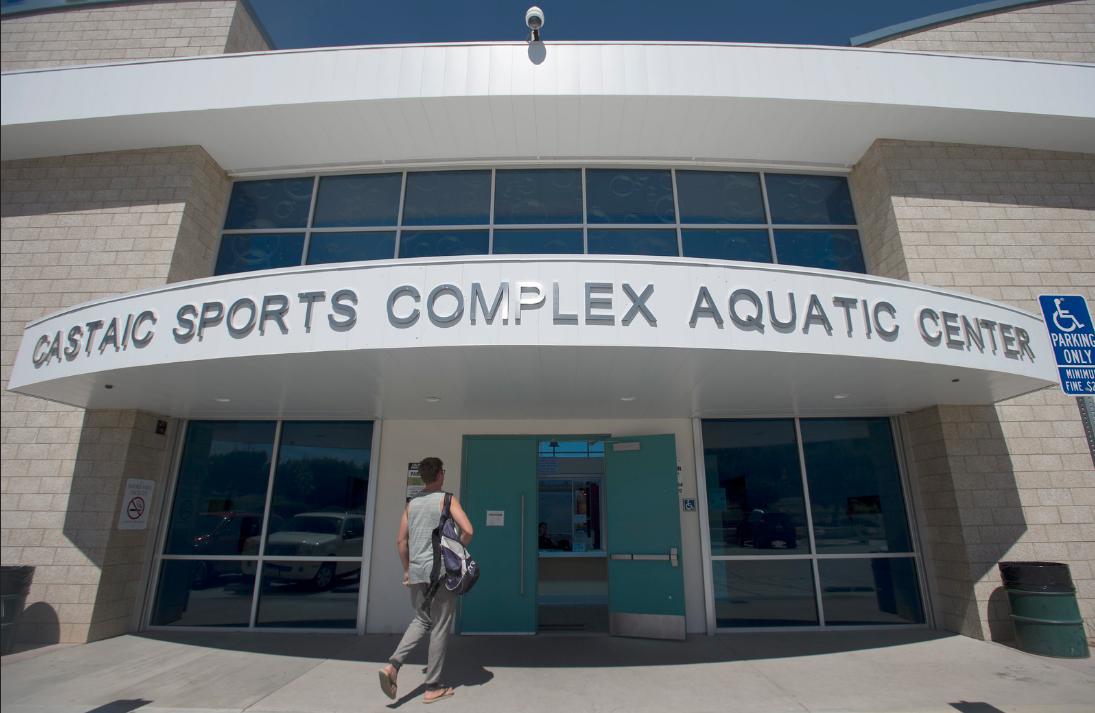 LOS ANGELES – LA County Department of Parks and Recreation is hiring! This summer, the Department aims to hire over 250 new lifeguards to work at our 30 aquatic facilities, all across LA County. Not only is lifeguarding a fantastic way to kickstart your career, but it's a great opportunity for young adults looking for part time employment while in school or looking for a career as a first responder.
Pool Lifeguards will receive a starting pay of $18.27, well above the minimum wage with opportunities to work year round. Applicants must be 17 years of age by time of appointment.
Those who meet the initial requirements will then be required to sign up and pass the Los Angeles County Swim Test. The Los Angeles County Swim Test consists of a 500-yard swim test that must be completed under 10 minutes. Upon completion of the test they will be invited to Pool Lifeguard Academy.
Candidates will get paid for a 64-hour training which includes becoming certified though the American Red Cross in Emergency Medical Response, CPR, AED, Lifeguarding, and First Aid.
Our Aquatics team is eager to help as many prospective candidates and interested students start a career path that can provide them with so many opportunities beyond lifeguarding!
Those who are interested in becoming a Pool Lifeguard are encouraged to attend an online "Open House" session to learn more about the position and answer questions.
VIRTUAL OPEN HOUSE SESSIONS: 
Session 1: January 19, 6pm tinyurl.com/mr36m9mn
or call in:+13237766996,,17084440#
Session 2: January 25,  5pm tinyurl.com/2p9a27ty
or call in: +13237766996,,573214358#
Session 3: January 26,  4pm tinyurl.com/5n8ks28c
or call in: +13237766996,,602797897#
Missing woman in WeHo, public's help sought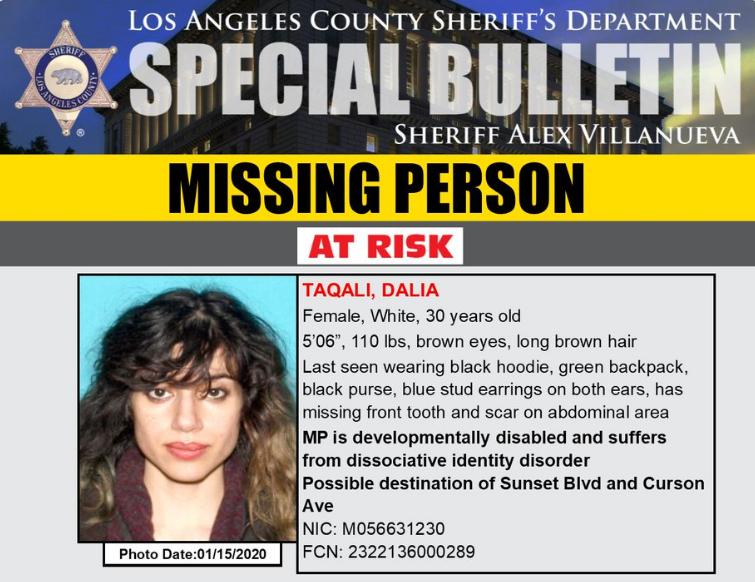 WEST HOLLYWOOD – The Los Angeles County Sheriff's Department is asking for resident's assistance in locating thirty-year-old Dalia Taqali who disappeared from West Hollywood Sunday night.
Taqali was last seen around 5 p.m. in the 1100 block of North Genesee Avenue, according to a news release from the Los Angeles County Sheriff's Department. Taqali is developmentally disabled and suffers from dissociative identity disorder, the Sheriff's Department stated.
Taqali's family is concerned for her well-being and is asking for help finding her.
Investigators said she may be headed near the area of Sunset Boulevard and North Curson Avenue in Hollywood.
Taqali stands 5 feet, 6 inches tall and weighs about 110 pounds with long brown hair and brown eyes.
She was last seen wearing a black hoodie, green backpack, black purse and blue stud earrings on both ears.
Authorities also said Taqali has a scar on her abdominal area and is missing a front tooth.
Anyone with information on her whereabouts is asked to call the Sheriff's Department at 323-890-5500. Those who prefer to remain anonymous can contact Crime Stoppers at 800-222-8477.
#LASD is Asking for the Public's Help Locating Missing Person Dalia Taqali, Los Angeles. Anyone with information is encouraged to contact the Los Angeles County Sheriff's Department's Missing Persons Unit at (323) 890-5500. pic.twitter.com/Uqw9yuG9Ro

— LA County Sheriffs (@LASDHQ) December 27, 2021