March 29, 2021 at 9:08 pm PDT | by Staff reports
Lance Bass set to open WeHo mega nightclub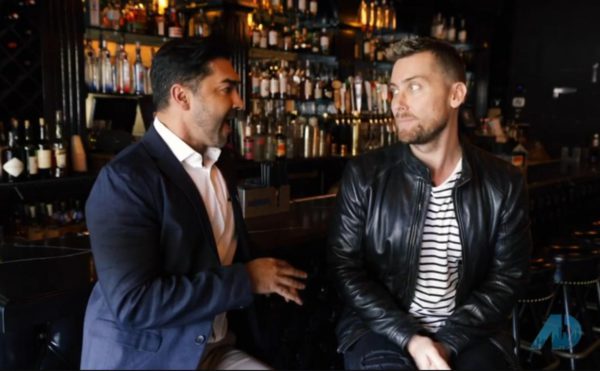 WEST HOLLYWOOD – Former NSYNC boy band member Lance Bass, 41, announced last week his latest venture – opening the biggest gay club in the United States. Bass signed the lease to rent 8911 Santa Monica Blvd, moving in to the space formerly occupied by the 37-year old Rage bar.
Bass's company has yet to release the name, and no official opening date has been announced, however a minimalist website titled WeHoMegaClub.com promises that the new club will be "the biggest gay nightclub in the USA".
Bass's new bar is the most recently announced in an exciting new string of Weho bars. The glittering lineup includes Stache, from the charismatic founder of the Silverlake beer bar 33 Taps, and the rebirth of of Covid-casualty, Gym Bar, which will be neighbors with Bass's new Mega Club.
The news of Bass's new venture comes just two years after the launch of Rocco's Tavern, the successful restaurant and bar he co-owns with three other partners. Complete with a wrap around outdoor patio, enviably large stage and food that's….passable, Rocco's opened to instant popularity in May of 2019, and became a go-to watering hole.
Sitting at 8900 Santa Monica Blvd, replacing a dilapidated Bank of America, and breathing new life into one of most lucrative corners of the 'Boystown' bar crawl. Roccos's became known for its buzzing Sunday afternoons, lively drag performances and raunchy go-go dancers.
Recently re-opened after conducting a full scale makeover of their back lot, you can reserves cabanas and tables online for 'Rocco's Paradise' (aka brunch). Since its opening, Rocco's has operated at maximum capacity, its crowds providing a stark contrast to those across the street. The purchasing of the old Rage bar certainly makes for a convenient commute for Bass. Rocco's and the now-closed Rage sit across the street from one another, two households both alike in dignity.
Rage closed its doors permanently in September of 2020, after a near four decade run. Opened in 1983 by Robert Maghame and Saeed Sattari, neither LGBT identifying, Rage catered to a wide variety of customers and served as the neighborhood's only 18+ club. Yet during the pandemic they stated in a press release that they were unable to negotiate a lease renewal.
In an interview with local tabloid the WeHo Times, the longtime general manager at Rage, Ron Madril, said "I knew it was happening with us being closed for so long, not having any income and the rent being very high. The building is owned by West Hollywood's 'Ebenezer Scrooge', notoriously unforgiving landlord Monte Overstreet."
The inflexible Overstreet is the man behind the closing of many of gay LA's mainstay. In the past year, he has shut down three decade old favorites. In August of 2020, Faming Saddles, the wildly popular cowboy themed dance bar, was the first to close up shop. In the following months
Overstreet closed Gold Coast, a 40 year old classic with a loyal clientele, and Oil Can Harry's, a 52 year old Studio City institution, were also forced to shut their doors by Overstreet. Each of the bars cited issues with the landlord and pricey rental renegotiations, rumors even floated of Overstreet raising prices during the pandemic.
Yet the closing of Rage surprised little. In the past several years Rage fluctuated in popularity, failing to draw any sort of a crowd most nights. Though they kept a consistent following on some theme nights, Rage mostly sat as if it were a showroom of chairs and tables.
But Rage bar's 37-year run is nothing to be scoffed at, it was founded when its location's new owner [Bass] was 4 years old.