'Wojnarowicz' burns with a queer icon's brilliant fury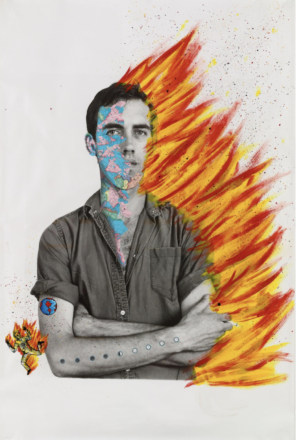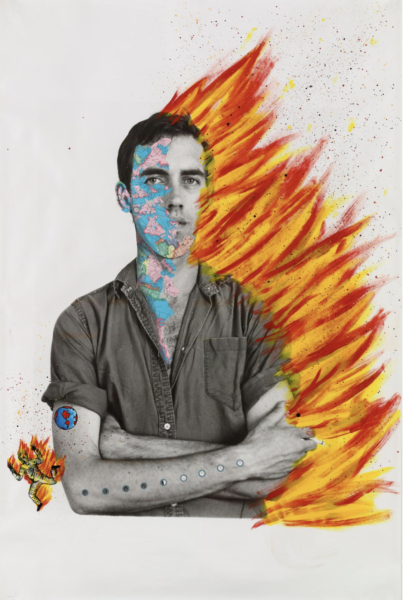 If we want our heroes to be remembered, sometimes we have to tell their stories ourselves. That's especially true in the LGBTQ community, whose entire history before the mid-20th century has already been all but erased by mainstream (read: hetero) culture, save for what can be conjectured from scraps of information in the public record or the personal remembrances of elders who were brave enough to write them down.
Today, queer Americans are lucky enough to live in an era with a much more inclusive attitude about history, and there is no shortage of information available about the people who have helped to make that situation a reality. Even so, it's become an oft-lamented observation that many of us, particularly among the generations who came of age after the eighties, are sorely lacking in our knowledge of the history that got us here.
Thanks to an outstanding new documentary about an AIDS-era icon for whom art and activism were one and the same, it just got easier to educate yourself.
"Wojnarowicz: F*ck You F*ggot F**ker" (currently screening through Kino Lorber's VOD Marquee platform) carries a title that might feel uncomfortable coming out of your mouth, but its subject would undoubtedly have approved. After all, it's borrowed from one of his own artworks. Directed by Chris McKim, who as an executive producer who worked alongside RuPaul to create "Drag Race" is something of a queer icon himself, it profiles one of the most controversial and polarizing artists to come out of the New York art world of the eighties.
David Wojnarowicz came up in the same queer art movement that gave us Keith Haring and Jean-Michel Basquiat, though his name never achieved an equal level of familiarity to theirs – not just because it was harder to pronounce (it's "voy-nah-ROH-vitch," for the record), but because the scalding anger and confrontational queerness of his work pushed far beyond the comfort level of all but the most radical glitterati. Raised in a household with an abusive father, he left home early to live on the streets of New York, surviving as a teen hustler in a city ravaged by some of the worst crime and economic blight in its history. He found expression across multiple mediums – photography, writing, filmmaking, painting, and more – and gained notoriety as an underground street artist, creating "guerilla" installations that expressed a rage more aligned with the percolating punk movement than the celebratory hedonism of the soon-to-be-waning sexual revolution.
Though he rose to prominence among the cloistered East Village arts scene of the early eighties, it was his response to the AIDS crisis that brought him greater fame; after being diagnosed with HIV in 1988, he "weaponized" his art against the indifference of an establishment – indeed, of an entire society – to the suffering and death taking place in plain sight, leading to a courtroom confrontation with the religious right (which he won) over NEA funding for an exhibition of his work. When he died from the disease in 1992, at the age of 37, his funeral became a protest, and his ashes were eventually scattered, as part of an "Ashes Action" by ACT UP in 1996, on the White House lawn.
In McKim's comprehensive and immersive chronicle of Wojnarowicz's short and thorny life, we are transported in all but body to the heady and tumultuous time and place in which he lived. Constructed as a cinematic collage, it sets aside the conceit of objective narration and instead carries us through the timeline of his life and career by putting us, as closely as possible, into his own mind. This would be an audacious and impossible task were it not for the treasure trove of archival material left behind by the artist himself, who obsessively recorded his thoughts and experiences not only through his work, but in written, audio, and film diaries he maintained throughout his career. It's Wojnarowicz himself who tells his own story, supplemented by remembrances from those who knew him and illuminated by the visual eloquence of his work. We are even allowed a glimpse into some of his most intimate relationships, thanks to never-erased answering machine messages – particularly with fellow artist Peter Hujar, whose life story was inextricably interwoven with his own.
While the film relies extensively on material created and archived by Wojnarowski himself, McKim allows for the inclusion of other perspectives, too. Interpolated throughout is new interview material from the artist's contemporaries, friends and associates whose memories not only reinforce his image as a passionate iconoclast but reveal a deeply human side that is not always apparent – or obvious, at least – in his work. Reminiscences from figures like Fran Lebowitz, Nan Goldin, and Gracie Mansion, as well as Wojnarowski's surviving partner, Tom Rauffenbart, help to round out our picture of the man with glimpses from outside his own fiery mind. They also serve to illuminate the lightning-in-a-bottle environment of New York's underground avant garde scene of the early eighties, a place and time where a dizzying array of soon-to-be legendary figures met, mingled, and melded in a social and artistic circle not unlike that of Paris in the pre-war twentieth century – and the skill with which Wojnarowicz moved between the worlds of the street and the gallery, his difficulty in balancing his disdain for the wealthy elite with his need to sell them his art, and his ability to keep all his personal connections so neatly and meticulously compartmentalized.
There's another, almost accidental aspect to "Wojnarowicz" that lifts it out of the past, adding a layer of urgency in the here and now and drawing a direct line from the events of history to the world of today. The unmistakable echoes of the eighties political landscape – the glorification of capitalism, the conservative conflation of nationalism with patriotism, the bigotry of the religious right, and the ravages of a deadly and mysterious disease – are impossible not to notice from our seats in 2021; and while we may have achieved a respite from the dark days of Trump-ist MAGA-ism, only the most naïve among us would think the threats it posed have been quelled forever. This gives the words and work of Wojnarowicz a timely immediacy, and underscores the need to keep his ferocious, rebellious spirit alive.
Fortunately, McKim's film is heavy with the almost corporeal substance of its subject. One can almost feel him in the room while watching it – his presence is immediate, something we experience first-hand, thanks both to the intensity and passion with which he recorded his own life and the skill with which McKim delivers him to us nearly three decades after his death. This was a man who was more than an artist; he was an incendiary rebel who saw his own body as a weapon against an establishment, and McKim honors that spirit by bringing him to tangible life before our eyes.
The resulting film packs a cumulative punch that leaves us feeling both humbled and inspired, while also enjoining us to take up the torch of its subject's righteous rage.
Based on what it shows us, he would be proud.
K. M. Soehnlein's Army of Lovers, a review
Army of Lovers is not just an account of political intervention, it is itself an intervention, a novel that preserves for future activism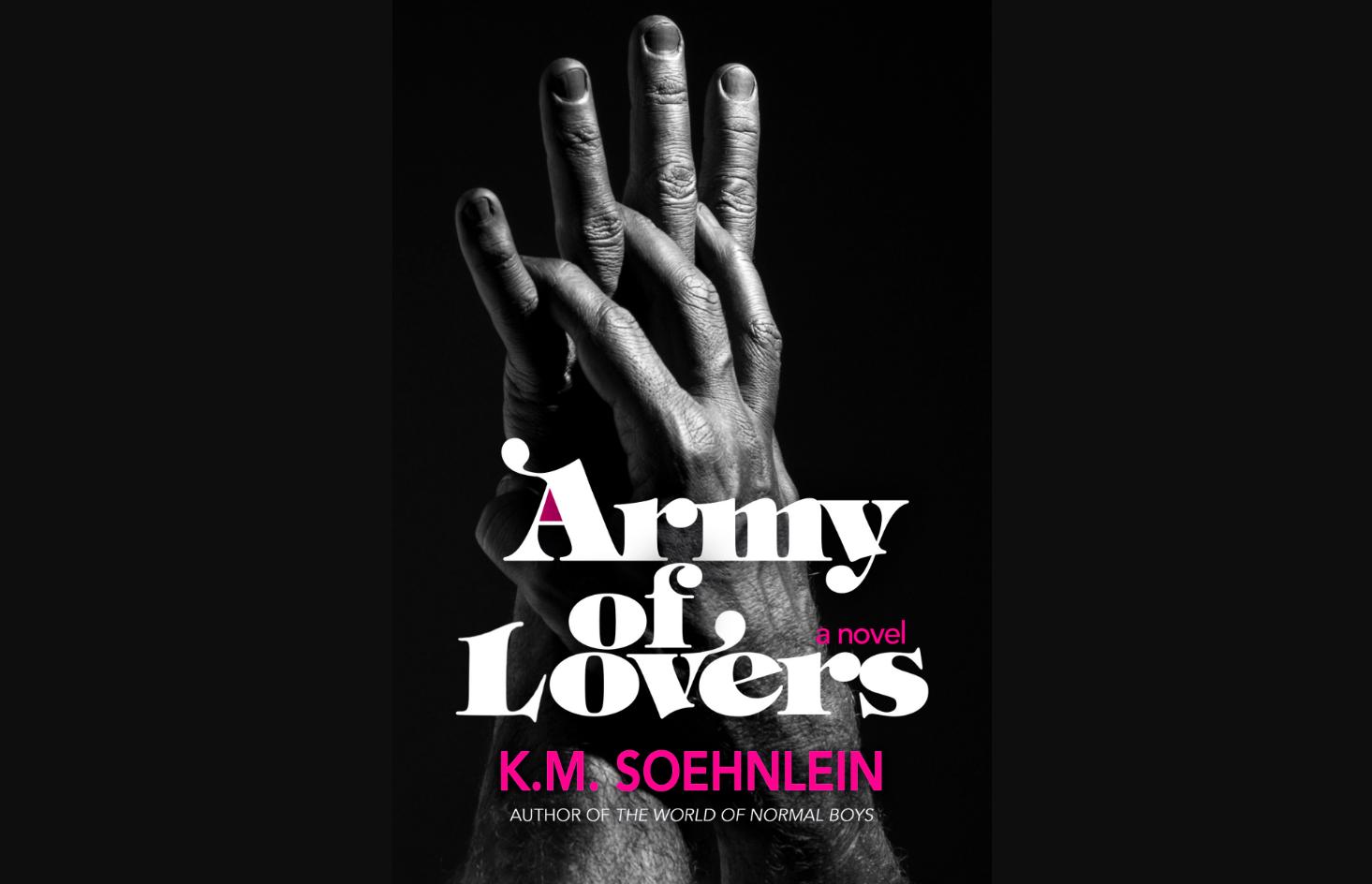 By John Weir | NEW YORK – K.M. Soehnlein's Army of Lovers is a novel of the lost generation. Not the early 20th century generation of survivors of the Great War, called "lost" by Gertrude Stein, their stories told in novels by Ernest Hemingway and Virginia Woolf.
Soehnlein's lost women and men, those who survived and those who did not, are from the last two decades of the 20th century, the so-called American century, when nearly 750,000 Americans died of AIDS. Young Americans: by 1994, and through 1995, AIDS was the leading cause of death for all Americans age 25 to 44.
At the center of Army of Lovers is a German Irish guy from suburban New Jersey, a kid named Paul, just out of college, whose journey to adulthood happens to coincide with a global epidemic – "a fucking plague," Larry Kramer famously shouted – that maybe looks to us, from the distance of forty years and a new century, like a grim dress rehearsal for Covid.
That's if your memory goes back that far. Soehnlein's does, and his novel is a stunning act of remembering. It's a visceral re-creation of the sights, sounds, smells, the feel of Manhattan from Wall Street to Times Square in the late 1980s and early '90s. The bars, parks, restaurants, apartments. Parties and sex parties. The meeting halls where ACT UP New York met. The touch of friends and lovers and comrades, in street actions and crowded jail cells. The taste of ash in your mouth, literal ash, ashes of the dead.
If you were in New York at the time, and involved even peripherally in ACT UP New York, the novel will feel like a series of home movies. (Full disclosure: I think I once shared a jail cell with Soehnlein.) The story starts at a die-in. Soehnlein's narrator Paul and his fellow ACT UP activists are lying on the floor of Albany's state senate building, its brutalist architecture an apt symbol of "the brutal world we're shouting at, brutal and square and indifferent. The brutal indifference of the government led us here, to block the glass doors of the legislation chamber, demanding to be heard."
"This is an action," Paul says, excited, his arm linked through the arm of his best girlfriend Amanda. When his boyfriend Derek, a member of ACT UP's media committee, comes over with a reporter and a cameraperson, Paul and Amanda deliver their sound bites – "Women with AIDS die twice as fast as men" – and then they wait for the police to close in and arrest them. They wait a while.
With documentary clarity, Soehnlein renders the stop-and-start energy of political protest. Not only does he preserve for historical record an account of a series of actions and political interventions that took place forty years ago, he shows how it felt to be there. His characters feel the adrenaline rush of getting into a building that is guarded like a fortress. They hold hands, sometimes with strangers they will never see again, sometimes with lovers or ex-lovers. Rushing, chanting, they head for the marble hallway, or the floor of the train terminal, or the cold, cold ground, worrying they won't get past the police barriers or the phalanx of cops.
And once they have "taken the hill," as it were, like actors in a war film from the 1940s, they wait. Wait for the police to come, for the senators to respond, for the reporters to arrive with camera crews to record their demands. And then, if they are not arrested, they get home in time to see themselves on the evening news. Or not!
It's exhilarating. Soehnlein shows the exhilaration. It's also sometimes kind of boring. He shows that too. Most of all, it changed lives. The novel chronicles the ways activism and AIDS and death and loss change Paul's life. How he goes from being a newly out gay kid learning his way around a city "full of offerings," including art and work and men (his initial approach to sex and love being: "Anything that starts with a guy and ends with an orgasm is what I'm into"), to a queer activist in a shaved head and black leather jacket facilitating ACT UP meetings and talking back to Larry Kramer.
A notable aspect of the novel is Soehnlein's lack of sentimentality about the anointed "heroes" of the AIDS activism movement. "I hold him in awe," Paul says about Kramer, but also, "Larry is the apocalyptic prophet who sees only doom. . . often incapable of hearing anyone else." Soehnlein is equally clear-eyed about problems of burn-out that afflicted AIDS activists:
Issues of racism and sexism that compromised AIDS activism; the painful awareness of many ACT UP members, almost their inability to grasp, that despite their unceasing, ingenious, and fearless activism, their friends and lovers would continue to die.
Most poignantly, the novel shows an aspect of AIDS activism that I haven't seen fully dramatized elsewhere. It happens in a conversation between Paul and his bestie Amanda, an aspiring filmmaker and lesbian activist. Grappling with the question of how to have a life at the same time that you're trying to save lives, Amanda says, "It's confusing to be so deeply identified with a community when you want to say something or make something that's uniquely yours."
How to be a person in the midst of an all-consuming, life-threatening epidemic? How to be queer in America in the Reagan years? How to have a personal life when your life is devoted to the collective? Amanda chooses art as a form of activism. Paul has a life apart from AIDS, but it's no refuge from painful questions of mortality and identity. His is mother dying of cancer. The poles of his life mirror each other, each with death at the center. Is he entirely himself in either community – the churchgoing suburban world where he grew up, and the activist world centering on ACT UP and his charismatic boyfriend Derek?
When he breaks up with Derek and falls in love with Zack, who is dying of AIDS, Paul drifts away from ACT UP. "You're a caretaker now," Amanda tells him. Paul seems almost to arrive at the conclusion that caretaking is itself a form of activism. Or if it's not, what is activism? Amanda decides to channel her activism into "making a movie that affects a lot of people." Paul comes to a similar decision. After Zack dies, he moves to San Francisco and enrolls in a graduate writing program.
Soehnlein would appear to have made a similar choice. Army of Lovers is not just an account of political intervention, it is itself an intervention, a novel that preserves for future activism the history of a group of people struggling to survive an epidemic in the face of a government that was intent on denying its existence.