'Wojnarowicz' burns with a queer icon's brilliant fury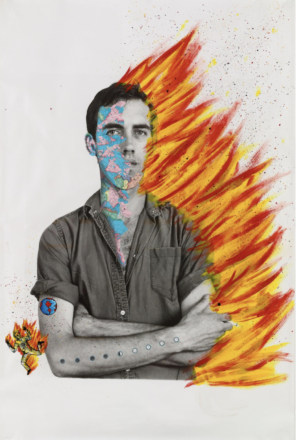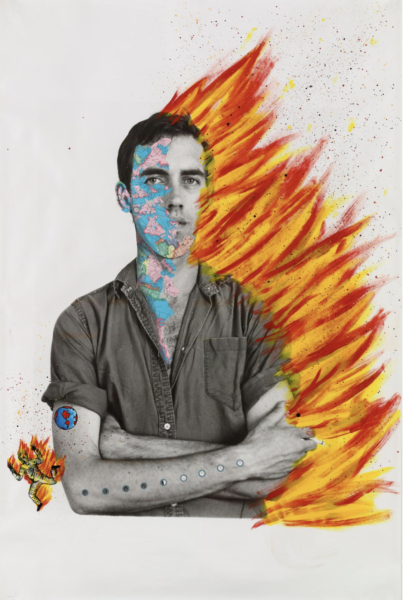 If we want our heroes to be remembered, sometimes we have to tell their stories ourselves. That's especially true in the LGBTQ community, whose entire history before the mid-20th century has already been all but erased by mainstream (read: hetero) culture, save for what can be conjectured from scraps of information in the public record or the personal remembrances of elders who were brave enough to write them down.
Today, queer Americans are lucky enough to live in an era with a much more inclusive attitude about history, and there is no shortage of information available about the people who have helped to make that situation a reality. Even so, it's become an oft-lamented observation that many of us, particularly among the generations who came of age after the eighties, are sorely lacking in our knowledge of the history that got us here.
Thanks to an outstanding new documentary about an AIDS-era icon for whom art and activism were one and the same, it just got easier to educate yourself.
"Wojnarowicz: F*ck You F*ggot F**ker" (currently screening through Kino Lorber's VOD Marquee platform) carries a title that might feel uncomfortable coming out of your mouth, but its subject would undoubtedly have approved. After all, it's borrowed from one of his own artworks. Directed by Chris McKim, who as an executive producer who worked alongside RuPaul to create "Drag Race" is something of a queer icon himself, it profiles one of the most controversial and polarizing artists to come out of the New York art world of the eighties.
David Wojnarowicz came up in the same queer art movement that gave us Keith Haring and Jean-Michel Basquiat, though his name never achieved an equal level of familiarity to theirs – not just because it was harder to pronounce (it's "voy-nah-ROH-vitch," for the record), but because the scalding anger and confrontational queerness of his work pushed far beyond the comfort level of all but the most radical glitterati. Raised in a household with an abusive father, he left home early to live on the streets of New York, surviving as a teen hustler in a city ravaged by some of the worst crime and economic blight in its history. He found expression across multiple mediums – photography, writing, filmmaking, painting, and more – and gained notoriety as an underground street artist, creating "guerilla" installations that expressed a rage more aligned with the percolating punk movement than the celebratory hedonism of the soon-to-be-waning sexual revolution.
Though he rose to prominence among the cloistered East Village arts scene of the early eighties, it was his response to the AIDS crisis that brought him greater fame; after being diagnosed with HIV in 1988, he "weaponized" his art against the indifference of an establishment – indeed, of an entire society – to the suffering and death taking place in plain sight, leading to a courtroom confrontation with the religious right (which he won) over NEA funding for an exhibition of his work. When he died from the disease in 1992, at the age of 37, his funeral became a protest, and his ashes were eventually scattered, as part of an "Ashes Action" by ACT UP in 1996, on the White House lawn.
In McKim's comprehensive and immersive chronicle of Wojnarowicz's short and thorny life, we are transported in all but body to the heady and tumultuous time and place in which he lived. Constructed as a cinematic collage, it sets aside the conceit of objective narration and instead carries us through the timeline of his life and career by putting us, as closely as possible, into his own mind. This would be an audacious and impossible task were it not for the treasure trove of archival material left behind by the artist himself, who obsessively recorded his thoughts and experiences not only through his work, but in written, audio, and film diaries he maintained throughout his career. It's Wojnarowicz himself who tells his own story, supplemented by remembrances from those who knew him and illuminated by the visual eloquence of his work. We are even allowed a glimpse into some of his most intimate relationships, thanks to never-erased answering machine messages – particularly with fellow artist Peter Hujar, whose life story was inextricably interwoven with his own.
While the film relies extensively on material created and archived by Wojnarowski himself, McKim allows for the inclusion of other perspectives, too. Interpolated throughout is new interview material from the artist's contemporaries, friends and associates whose memories not only reinforce his image as a passionate iconoclast but reveal a deeply human side that is not always apparent – or obvious, at least – in his work. Reminiscences from figures like Fran Lebowitz, Nan Goldin, and Gracie Mansion, as well as Wojnarowski's surviving partner, Tom Rauffenbart, help to round out our picture of the man with glimpses from outside his own fiery mind. They also serve to illuminate the lightning-in-a-bottle environment of New York's underground avant garde scene of the early eighties, a place and time where a dizzying array of soon-to-be legendary figures met, mingled, and melded in a social and artistic circle not unlike that of Paris in the pre-war twentieth century – and the skill with which Wojnarowicz moved between the worlds of the street and the gallery, his difficulty in balancing his disdain for the wealthy elite with his need to sell them his art, and his ability to keep all his personal connections so neatly and meticulously compartmentalized.
There's another, almost accidental aspect to "Wojnarowicz" that lifts it out of the past, adding a layer of urgency in the here and now and drawing a direct line from the events of history to the world of today. The unmistakable echoes of the eighties political landscape – the glorification of capitalism, the conservative conflation of nationalism with patriotism, the bigotry of the religious right, and the ravages of a deadly and mysterious disease – are impossible not to notice from our seats in 2021; and while we may have achieved a respite from the dark days of Trump-ist MAGA-ism, only the most naïve among us would think the threats it posed have been quelled forever. This gives the words and work of Wojnarowicz a timely immediacy, and underscores the need to keep his ferocious, rebellious spirit alive.
Fortunately, McKim's film is heavy with the almost corporeal substance of its subject. One can almost feel him in the room while watching it – his presence is immediate, something we experience first-hand, thanks both to the intensity and passion with which he recorded his own life and the skill with which McKim delivers him to us nearly three decades after his death. This was a man who was more than an artist; he was an incendiary rebel who saw his own body as a weapon against an establishment, and McKim honors that spirit by bringing him to tangible life before our eyes.
The resulting film packs a cumulative punch that leaves us feeling both humbled and inspired, while also enjoining us to take up the torch of its subject's righteous rage.
Based on what it shows us, he would be proud.
San Diego runner celebrates the end of their trailblazing season
Nikki Hiltz came out as trans nonbinary this year and is aiming to compete in the next Olympic Summer Games scheduled for Paris in 2024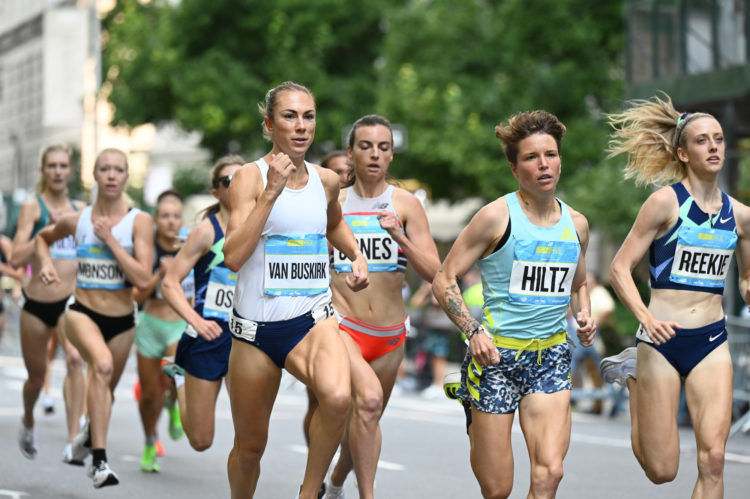 SAN DIEGO – Sunday marked the last race of 2021 for Santa Cruz native Nikki Hiltz, and they described their season on social media as "filled with ups, downs, and a whole lot of self discovery." Hiltz, who came out as trans nonbinary in March, reflected on all they've achieved.
Far from their home in San Diego, the 26-year-old Adidas sprinter finished second on Sunday in the New Balance 5th Avenue Mile in New York City, with a time of 4:23.0, just over a second behind first-place finisher Olympian Jemma Reekie of the United Kingdom. Shannon Osika of Ann Arbor, Mich. was right on Hiltz's heels to finish third.
"I think with any sport, especially running, you bring your whole self to the starting line," Hiltz told the Los Angeles Blade. "It's not like I'm bringing just the athlete part of Nikki; I'm bringing my whole identity."
Their coming out as trans nonbinary, they said, definitely impacted her performance.
"The closer I can be to myself and stay true to myself, the faster and the better I run, essentially," said Hiltz. "I am someone that runs with a lot of emotion and grit. And so when I'm at war with myself or when I wasn't out of the closet, it really shows on the track. And then when I'm at peace with myself and I'm living my most authentic life, that also really shows on the track." 
That's a wrap on the 2021 season! Here's some highlights in pics
1. Raced in my first Olympic Trials in ✌️ events
2. Ran a seasons best of 4:02 and celebrated this epic sub 4 performance!
3. PR'd in the 800 2:01.3
4. Ended the season w/ 2 road miles (a 4:21 PR and🥈at 5th Ave) pic.twitter.com/toHqPWCgqL

— Nikki Hiltz (@Nikki_Hiltz) September 12, 2021
Off the track, Hiltz has been exploring their passion for the LGBTQ community and their interest in pushing for equality and justice, much like out San Diego Loyals midfielder Collin Martin. As the Blade reported last week, Martin has joined Common Goal, a partnership with Adidas and soccer players around the world working toward ending gender inequality, combatting HIV/AIDS and other causes. He's also pledged 1% of his salary to Play Proud, a project aimed at improving LGBTQ+ inclusion in soccer.
"Within the past two years, I've really leaned into advocacy and fighting for things that I believe in," Hiltz told the Blade. "That has been really fulfilling when I have been injured or when COVID happened and I couldn't race."
Hiltz organized her own event for its second year this summer, a race in which all the proceeds benefited the Trevor Project.
"I put on a Pride 5k and that was so fun," they said. "Whether I had a good or bad performance, the highlight of every race this summer has been meeting and connecting with members of the Pride 5k family from across the country. They can always so quickly put everything into perspective. This community seriously means the world to me."
The Nikki Hiltz Pride 5K on July 17 in Mission Bay, San Diego, raised $42,270 for the Trevor Project, the largest national nonprofit dedicated to crisis intervention and suicide prevention services to LGBTQ youth.
"I think that's something I want to continue to do when my running career is over. I love running and I love the community and I love everyone that calls themself a runner."
Next up for Hiltz is to train for the Olympics. The next Summer Games are scheduled to be held in Paris in 2024, followed by Los Angeles in 2028. But they told the Blade that at age 26, they know they're not getting any younger.
"Professional middle distance runners usually retire early 30s-ish, 30 to 33, or they switch events and move up to the 5 or 10K or marathon event. But I think for me, you kind of go through Olympic cycles. So I think, if I were to retire, it would be in 2024 or 2028. And I think when I get to 2024, I'm going to reassess. 'Am I still happy doing this? Do I still love it?' And if it's anything less than, 'Yes!' Then I think it'll be time to retire."
For now, Hiltz is focused on celebrating the end of the 2021 season with their girlfriend, collegiate runner Emma Gee, a graduate student at Temple University and the first out LGBTQ athlete at Brigham Young University.
"I can't think of anyone better who has been more supportive throughout this whole journey," said Hiltz.
********************
The New Balance 5th Avenue Mile 2021
Twitch goes after two originators of "hate raids" against LGBTQ+ streamers
'Hate raids' are organized attacks which bots flood chats streamers with racist, homophobic, sexist and other harassing content
SAN FRANCISCO – In attempt to shut down repeated malicious attacks on groups of its marginalized users known colloquially as 'Hate raids,' Amazon's Twitch video live streaming service has filed suit against two users for what the company says have targeted those marginalized streamers, specifically LGBTQ+ and people of color.
In court documents filed last Thursday, Sept. 9 in the U.S. District Court for the Northern District of California, the company listed two individuals as defendants by their usernames, Cruzzcontrol from the Netherlands and CreatineOverdose from Vienna, Austria.
In an email to Wired magazine a spokesperson for Twitch noted, "We hope this Complaint will shed light on the identity of the individuals behind these attacks and the tools that they exploit, dissuade them from taking similar behaviors to other services, and help put an end to these vile attacks against members of our community."
'Hate raids' are organized attacks on various Twitch channels in which bots flood chats streamers with racist, homophobic, sexist and other harassing content in violation of its terms of service. It's been a problem for months, but didn't come to widespread attention until this past month PC GAMER reported, when multiple targeted streamers planned a one-day boycott of the platform, using the #ADayOffTwitch hashtag.
Even though few big-name streamers took part, Twitch saw a significant decline in viewership on the day of the protest.
According to the court documents filed against the two users named in the suit, they created multiple Twitch accounts and thousands of bot accounts to create the hate raids. The lawsuit also stated that Cruzzcontrol and CreatineOverdose can "generate thousands of bots in minutes" for these hate raids, citing that Cruzzcontrol alone is behind about 3000 bots.
Buzzfeed highlighted one user who tweeted;
CW: Racism hateful conduct
I got hate raided and follow botted not even 5 minutes into my stream yesterday.
It's very overwhelming when you've never experienced it before and as black creators, we should not be subjected to experiencing this kind of behavior ✊ @Twitch pic.twitter.com/KqMJBgvxaz

— 𝚋𝚛𝚎𝚖𝚘𝚗𝚊 (@bremonaa) August 14, 2021
"These attacks obstruct the chat so significantly, victimized streamers are unable to engage with their community through chat for the duration of the attack, and some even choose to avoid streaming altogether until the attack ends," the lawsuit read.
In addition, the company alleges in its suit that these relentless 'Hate raids' creates an atmosphere where the discouraged users quit streaming altogether "eliminating an important source of revenue."
"Despite Twitch's best efforts, the hate raids continue," the lawsuit states. "On information and belief, Defendants created software code to conduct hate raids via automated means. And they continue to develop their software code to avoid Twitch's efforts at preventing Defendants' bots from accessing the Twitch Services."
PC GAMER reporter Andy Chalk noted; "The lawsuit seeks a legally-binding injunction that will prohibit the defendants from using Twitch, as well as various sorts of damages and legal fees. But it has some high hurdles to clear before it gets there, including determining the real identities of the defendants, who are currently known only as CruzzControl and CreatineOverdose. That in itself may not be a major issue—lawsuits are often filed against anonymous "Does" (Bungie and Ubisoft's joint suit against cheat-makers, for instance, names 50 of them)—but there may also be jurisdictional issues, as CruzzControl is believed to be a resident of the Netherlands, while CreatineOverdose is from Austria."
Lil Nas X wins the 2021 MTV Video Music Awards Best Video of the year
The Out artist has been receiving extreme backlash after the release of "Montero," from anti-LGBTQ groups who labeled the video demonic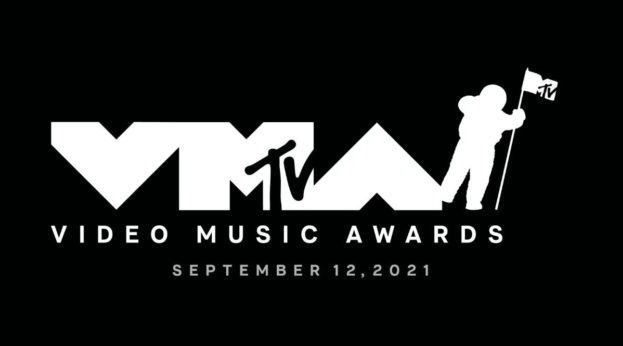 NEW YORK – The 2021 MTV Video Music Awards were presented Sunday in the Brooklyn borough of New York City with musical artists Lil Nas X, Justin Bieber and first time nominee Olivia Rodrigo, winning the top awards. This year's ceremony marked the 40th anniversary of MTV since its inaugural broadcast in 1981.
Out artist Lil Nas X took home the top prize of the evening with the MTV Moon Person for Video of the Year trophy award for his "Montero: Call Me By Your Name." He also won an award for Best Direction; "MONTERO (Call Me By Your Name)" Directed by: Lil Nas X and Tanu Muino.
Canadian transplant Justin Bieber received a trophy for MTV Artist of the Year award and he also secured an award for Best Pop video for his collaboration with Daniel Caesar, Giveon for the song "Peaches."
Olivia Rodrigo secured three awards for Song of the Year for her song, "drivers license," Best New Artist and also an award for Push Performance of the Year.
CBS News reported during during his acceptance speech Lil Nas X shouted; "First I wanna say thank you to the gay agenda. Let's go gay agenda!"
The openly Out artist has been at the receiving end of harsh critique and extreme backlash after the release of "Montero," including from anti-LGBTQ groups such as the Washington D.C. based Family Research Council, Colorado Springs, Colorado based Focus on the Family and the Tupelo, Mississippi based American Family Association who have all labeled the song and the video demonic.
The song debuted at No.1 on Billboard's Hot 100 chart, and according to CBS Entertainment, the music video made headlines after its premiere for its depiction of Lil Nas X sliding on a stripper pole to hell, where he proceeds to give Satan a lap dance.
The altered Nike Air Max 97 shoes accompanying the song's release were dubbed the Satan Shoes and caused Nike to file a lawsuit against the company that produced them.
Going to spend the rest of the night re-watching @LilNasX's reaction to winning Video of the Year at the #VMAs 🥺 pic.twitter.com/qbcbCDaKUy

— MTV NEWS (@MTVNEWS) September 13, 2021
my jaw? on the FLOOR. @LilNasX just KILLED it with @JackHarlow 🔥 #VMAs pic.twitter.com/Z54jXXP2E2

— Video Music Awards (@vmas) September 13, 2021
It's @LilNasX's world; we're all just living in ithttps://t.co/iMKCgT2TNr

— MTV NEWS (@MTVNEWS) September 13, 2021
********************
Lil Nas X – MONTERO (Call Me By Your Name) (Official Video)