March 31, 2021 at 7:41 pm PDT | by Karen Ocamb
Thinking about Connie Norman on #TransVisibilityDay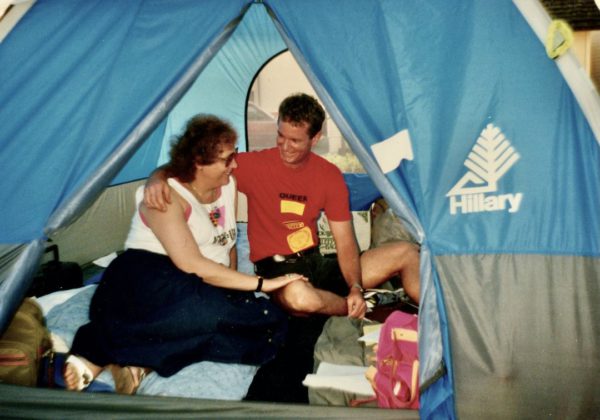 Folks – today is my 8th official day at Public Justice. I'm still going through intense orientation meetings –and still want to dive into every project, lawsuit and issue at the nonprofit public interest legal organization. Steve Ralls is doing a great job of reigning me in. But I confess that on days like this – #TransVisibilityDay – I miss being in the thick of the #LGBTQ press and the Los Angeles Blade writing about our extraordinary trans and nonbinary brothers and sisters.
Look at Bamby Salcedo, founder of [email protected] Coalition, for instance. I've known her since she was a staffer at Bienestar! Look what's she's achieved! But truthfully, for much of the day I've been thinking about Connie Norman. Luckily, Dante Alencastre has produced a wonderful documentary about Connie – "AIDS DIVA: The Legend of Connie Norman" – so she will not be lost in our LGBTQ history. But she's front-of-mind for me today because on Sunday I participated in a table read of John Jude Duran's musical-in-progress where Connie has a featured role.
In it, the character I played told Connie she loved her – something as a reporter I refrained from doing. But I did love Connie and so many in the old @ACTUP/LA gang. Had I not been covering them, I would probably be at their side. But I had my own role to play. And Connie helped me a lot with that.
I remember when first we met. I was on a date (when I still did that!) and I said I needed to stop by this ACT UP event at the corner of Santa Monica and Crescent Heights. It was the late '80s and I was still new to "gay" journalism so I followed standard reporter practice of mingling with the crowd, getting a sense of what was going on, then asking to speak with the organization's spokesperson.
Mark Kostopoulos told me to talk to Connie and pointed me to a tall red head who seemed very commanding. But when I approached and asked what was going on and her estimate of the crowd size, Connie responded very warmly, as if she knew from the jump she'd have to educate me. And then she said that they had hoped more people would show up but she thought about 50 were there. I stopped in my tracks: usually PR people try to spin and exaggerate. Not Connie. It was what it was. I knew right then I could trust her as a source.
As we were leaving, my date asked if the spokesperson was a transsexual. I told her I had no idea. I'm in a 12th Step program and during the #AIDS crisis, a lot of us seriously let go of judging and thinking in terms of what someone looked like. I asked why my date thought that and she said, "Didn't you see her hands? They're huge!" Actually, no I hadn't looked at her hands. Hmmm. Is that something that should concern me? Do I ask? Is being transsexual important to the story? How do I approach this? What about her privacy rights?
For a bit I was stuck in my transition from old mainstream to LGBTQ/AIDS thinking. Luckily, Connie decided to educate me anyway. She invited me to her home — which she shared with her gay husband (who I recognized from 12 Step rooms) and LOTS of cats – and sat me in front of a video of her teaching a class of students about what it meant to be transsexual or transgender.
Curiously, after the video ended, Connie's friend Harry Hay and his partner John Burnside (who turned out to be relative neighbors in WeHo) showed up and educated me about gays being Nature's third sex. It was an amazing night. Connie was so generous with so many people. Most importantly for me – aside from being a reliable source of information so I could do my job properly — she smiled when she saw me. She made so many of us feel warm and loved and supported.
The photo above, which I posted to my Facebook page, of Connie and Rob Roberts during his hunger strike to draw attention to AB 101, the California gay civil rights bill, I published because not only must we acknowledge #TransVisibilityDay – but we must also embrace how valuable our trans brothers and sisters are as family in our lives.
I will be forever grateful to Connie for accepting me, educating me, and supporting me in my journey through this life. Connie Norman will be forever Trans Visible to me.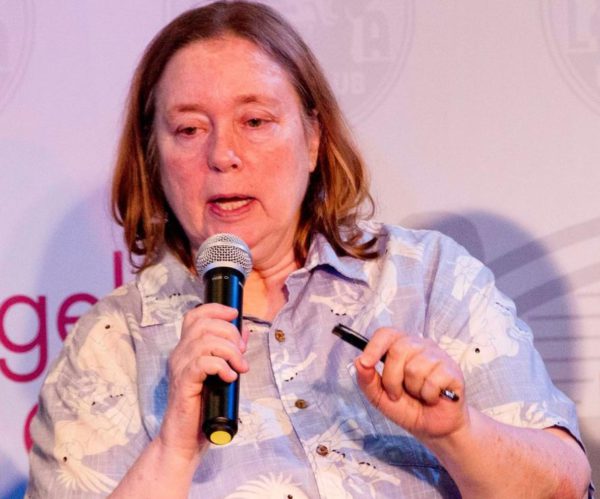 Karen Ocamb is the former News Editor of the Los Angeles Blade and a long time chronicler of LGBTQ+ lives in Southern California.