April 1, 2021 at 11:02 am PDT | by Staff reports
The Bay Area Reporter turns 50- Congrats from the Los Angeles Blade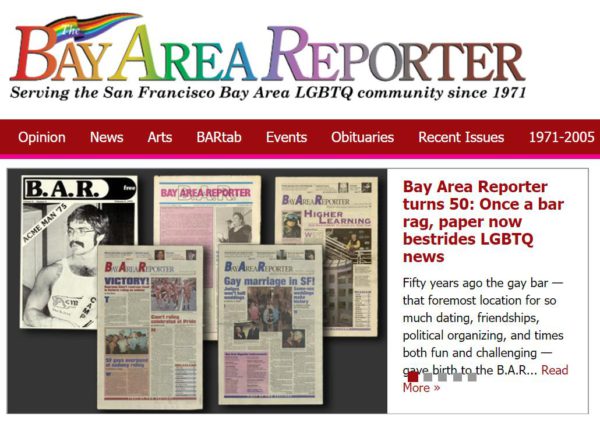 SAN FRANCISCO – An important and critical voice for the LGBTQ+ community in Northern California turns 50 this Spring as the venerable LGBTQ+ newspaper, The Bay Area Reporter, commences its fifth decade of service to San Francisco and the greater Bay Area.
Not unlike the beginnings of the Los Angeles Blade's sister publication, The Washington Blade, which celebrated its 50th anniversary in 2019, the Bay Area Reporter traces its roots to an ad hoc distribution- in B.A.R.'s case atop cigarette machines in the city's gay and lesbian watering holes.
Since then according to Michael Yamashita, a gay man who has been the paper's publisher since 2013, the paper has never missed an issue deadline — not even when threatened by the Loma Prieta earthquake in 1989.
The Los Angeles Blade congratulates the publisher, editor, and staff of the The Bay Area Reporter on its Golden Anniversary of service to the LGBTQ+ community.
Read B.A.R.'s own coverage of its 50th here: https://www.ebar.com/index.php?id=303476