Switzerland expected to hold marriage equality referendum
Lawmakers approved 'Marriage for All' bill in December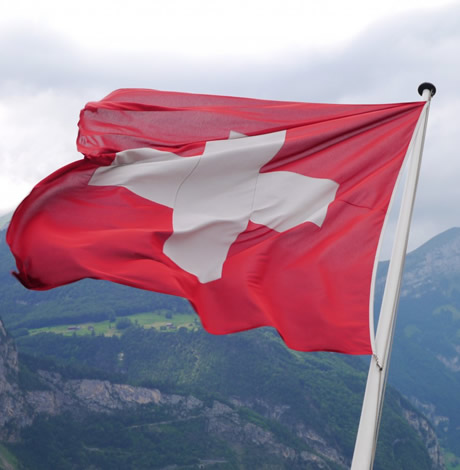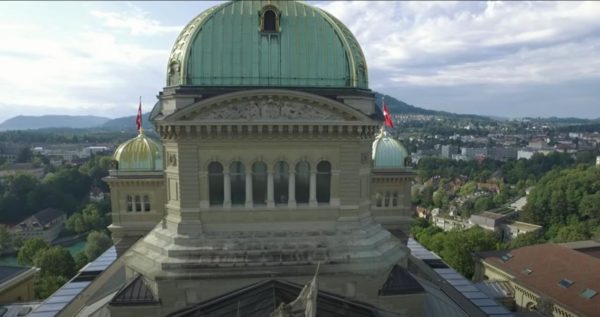 BERN, Switzerland — A referendum on the extension of marriage rights to same-sex couples in Switzerland is likely to take place later this year.
Lawmakers in the European country last December approved the "Marriage for All" bill.
Mannschaft, a Swiss LGBTQ magazine, on Wednesday reported opponents of the law have collected more than the 50,000 signatures required to prompt a referendum on the measure.
Marriage equality opponents had until Saturday to collect the necessary signatures for a referendum. Mannschaft reports the vote is expected to take place in September or November once the Swiss Federal Chancellery certifies the signatures.
Maria von Känel, vice president of the Swiss Rainbow Families Association, told the Blade after lawmakers gave their final approval to the "Marriage for All" bill that she expected a referendum on it, even though polls indicate a majority of Swiss voters support marriage rights for same-sex couples. Jean-Paul Gschwind, a member of the Swiss National Council who opposes nuptials for gays and lesbians, told Swiss media it is "important that the people have the opportunity to express their opinion on such a social decision."
Swiss voters in February 2020 overwhelmingly approved a bill that bans discrimination based on sexual orientation. Neighboring France, Germany and Austria are among the European countries that have extended marriage rights to same-sex couples.
Another Trans person confirmed murdered this year- USAF vet & Mother
Her friends will always remember her infectious personality & her unmistakable laugh. She loved others passionately and fiercely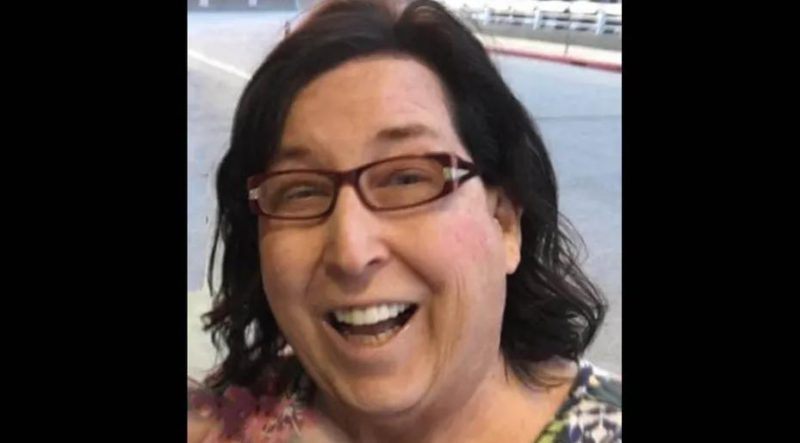 MEADE COUNTY, Ky. – Another Trans person has been confirmed murdered this year bringing the deadly total to 49 deaths of transgender and gender non-conforming people in 2021 according to a tally kept by the Human Rights Campaign.
Cris Blehar, a 65-year-old white transgender woman, mother, and U.S. Air Force veteran, was discovered stabbed and shot to death by Meade County sheriff's deputies who had responded to her rural home on Woodland Road in the Flaherty area. Deputies had been dispatched to perform a welfare check from an unidentified person concerned about Blehar.
The Elizabethtown, Kentucky, News-Enterprise newspaper reported that the Kentucky State Police had made an arrest in the case only a few hours after Blehar's body was found of Vine Grove resident Tyler J. Petty, 18.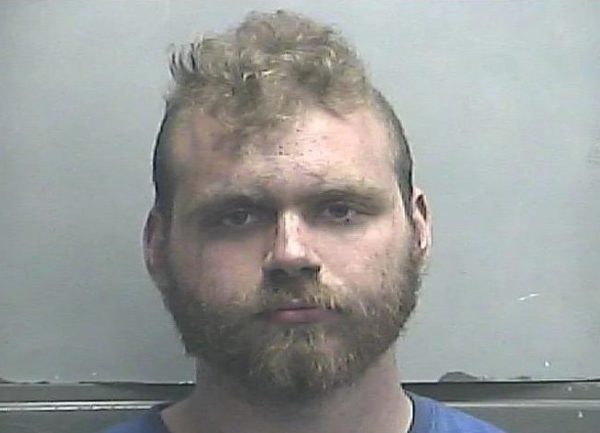 "There was no relationship between the victim and the suspect. We believe he worked for her," said Kentucky State Police Trooper Nicholas Hale in an email to the News-Enterprise. Petty was arrested and brought to KSP Post 4 and was interviewed about the case. Police say he admitted to killing Blehar. A trial date has been set for June 2022.
The murder in this rural area about an hour Southwest of Louisville on May 19, 2021, was brought to the attention of the Human Rights Campaign this week when Blehar's cousin Mark Stephens contacted HRC to ensure that she was "remembered, honored, and counted" as a member of the transgender community. 
In a statement to HRC, Mark Stephens said;
"If there is one thing to know about Cris, it was that she fought fiercely to define her life as SHE wanted. Whether it was her military service, her 20+ year career in the airline industry, or her post retirement decision to buy a farm & start a family of her own. She lived life to the fullest and wanted everyone around her to live their best life as well. Growing up 'different' in Kentucky is certainly no easy task, something we shared in addition to being cousins, and she tackled it with the passion and zeal that only she could have. Her friends will always remember her infectious personality & her unmistakable laugh. She loved others passionately and fiercely, none more than her own son, Maverick."
Blehar's son Maverick Thompson paid tribute to her, writing:
"Cris was an amazing mother and a wonderful person. She had so much love and brought a smile to many. She had a hilarious sense of humor that will live on through those that knew her. She will be sorely missed!"
According to her obituary, Blehar was a former law enforcement officer in the U.S. Air Force and retired from United/Continental Airlines. She also worked as an Uber driver and loved animals and bowling.
HRC has officially recorded 49 deaths of transgender and gender non-conforming people in 2021, more than in any year since we began tracking this violence in 2013.
Victory Fund honors Maine House speaker in D.C.
Ryan Fecteau is gay Catholic University alum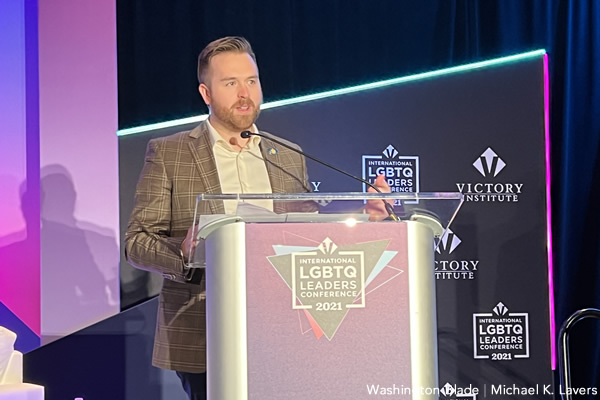 WASHINGTON — The Victory Fund on Saturday honored Maine House Speaker Ryan Fecteau on the last day of its International LGBTQ Leaders Conference in D.C.
Fecteau — an openly gay Catholic University of America alum — won a seat in the Maine House of Representatives in 2014. He became the chamber's speaker in 2018.
"Hate and intolerance will not derail us," said Fecteau after Florida state Rep. Carlos Guillermo Smith presented him with the Tammy Baldwin Breakthrough Award, which is named after U.S. Sen. Tammy Baldwin (D-Wis.). "Our community will not be intimidated."
The Victory Fund on Friday honored Guatemalan Congressman Aldo Dávila, a gay man who is living with HIV.
Unprovoked attack in WeHo may be latest in a string of violent crimes
McGrath spent two weeks in the hospital and underwent multiple surgeries due to injuries that doctors told him were caused by a blunt object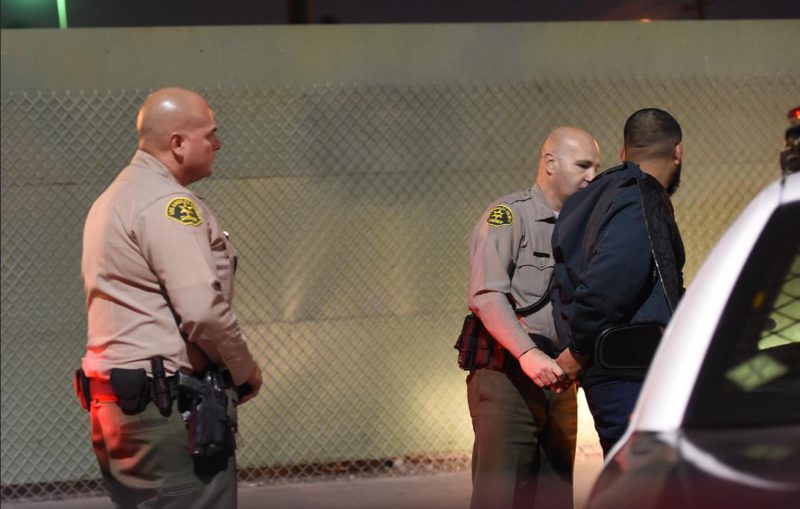 WEST HOLLYWOOD – After an evening out with friends in West Hollywood at the Abbey on November15, Matthew McGrath found himself in hospital the next day with a fractured jaw and his wallet and mobile phone missing.
According to McGrath, who has lived in WeHo for five years, he was walking home along San Vicente Boulevard when he heard "some slurs, some profanity." "I'm not exactly clear on what, [happened next] but sort of a few minutes later, I just felt a really blunt force to my head, blacked out and was knocked unconscious," he told KTLA.
McGrath spent two weeks in the hospital and underwent multiple surgeries due to injuries that doctors told him were caused by a blunt object KTLA also noted.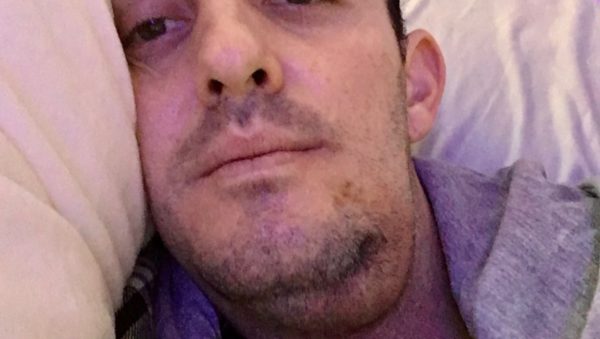 He said that he has filed a report with the West Hollywood Sheriff's substation about the assault and theft but as of Friday had not received a response.
KTLA also reported that the night after McGrath was assaulted, a person was beaten and stabbed on Santa Monica Boulevard. David Cook, 44, was arrested for that stabbing last month. There were also two similar attacks involving a different man using a baseball bat and a boxcutter on Nov. 18 resulted in another arrest last month the West Hollywood Sheriff's Station said in a statement posted to the webpage for the LASD.
"I've always felt safe in this neighborhood," McGrath told KTLA. He observed that although his attack was unprovoked given the other cases and arrests the timing seems suspicious. "We get a crime here or there in West Hollywood, but I have never heard of it happening multiple days in a row," he said. "Similar assaults, similar attacks, it just doesn't make a lot of sense to me."
A GoFundMe page has been created to help McGrath.
********************
WeHo attack leaves victim shaken, could be part of larger crime trend