West Virginia Senate Passes Anti-Trans Athlete Bill
This fight is far from over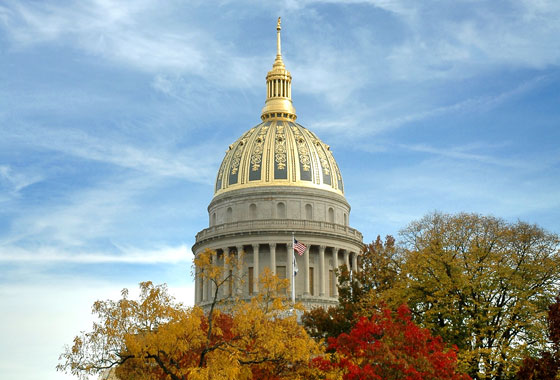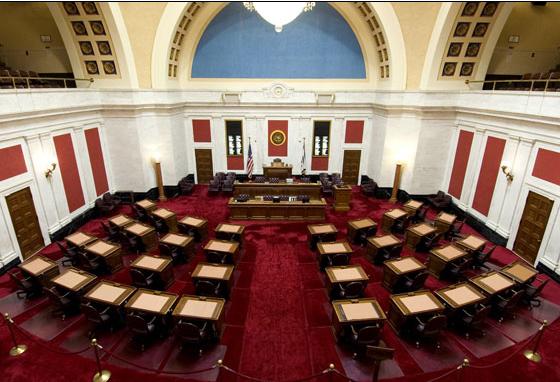 CHARLESTON, WV – The West Virginia State Senate passed HB 3293 Thursday, an anti-transgender bill that would ban transgender girls and women from participating in sports at the elementary, secondary, or post-secondary level consistent with their gender identity. The bill now heads back to the House for concurrence on the Senate version.
West Virginia is one of 30 states that has introduced a slate of discriminatory, anti-LGBTQ legislation this session, part of a fast and furious effort led by national anti-LGBTQ groups aiming to stymie LGBTQ progress made on the national level and in many states.
"This fight is far from over," said Fairness West Virginia Executive Director Andrew Schneider. "Transgender kids across West Virginia deserve love, support, and the chance to fully participate in the sport they love, and we'll continue standing up for them every day. Senators have unfortunately made this bad bill even worse by extending the transgender athlete ban to cover colleges and universities without any regard for how that could affect West Virginia University's standing with the NCAA. This bill is bad for business, it's bad for our state's image, and it's bad for kids who are just looking to belong."
There are so far more than 200 anti-LGBTQ bills under consideration in state legislatures across the country. Of those, 105 directly target transgender people and about half of those (56 bills) would, like HB 3293, ban transgender girls and women from participating in sports consistent with their gender identity.
The majority of the legislative efforts are driven by the Heritage Foundation and the Alliance Defending Freedom, (ADF), a group that the Southern Poverty Law Center has designated an anti-LGBTQ+ hate group. The first anti-trans sports bill was in Montana, HB 112, and was pushed by and worked on by the ADF.
San Francisco attorney Richard Zitrin on Harvey Milk & lost AIDS history
The Castro was beginning to be the center of gay life when Harvey opened his camera shop- We brought our slides to him that's- how we met him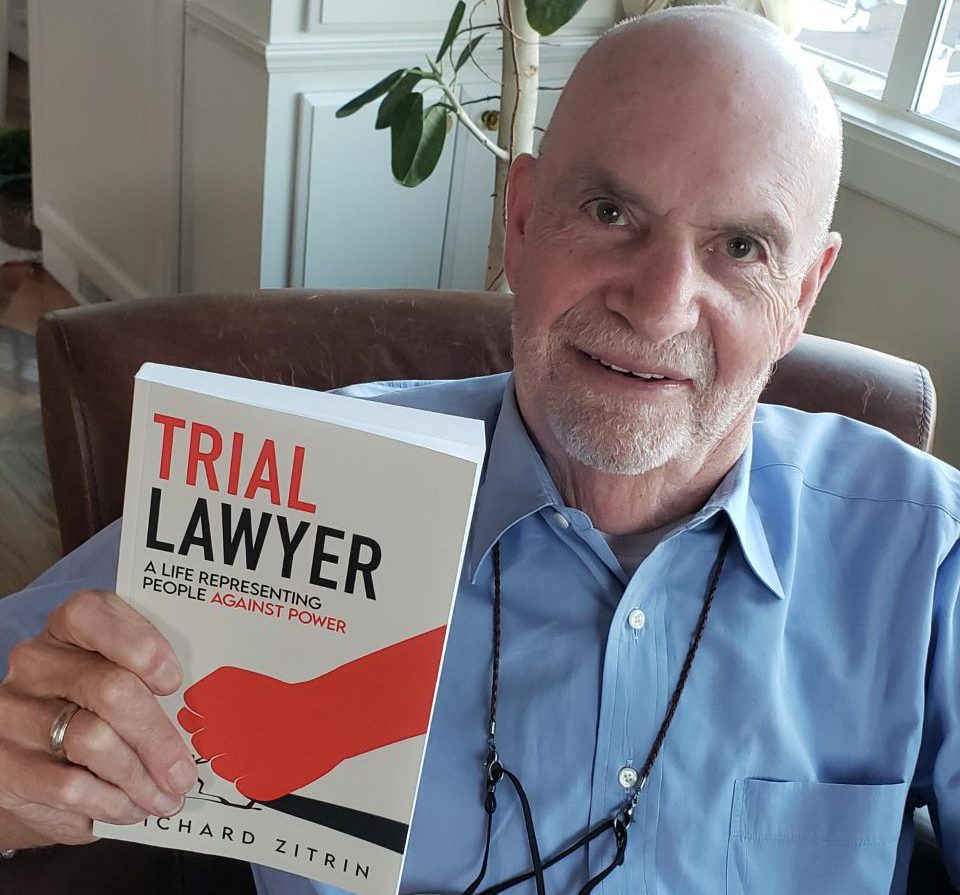 By Karen Ocamb | WEST HOLLYWOOD – For almost half a century, Richard Zitrin has been steeped in the tumultuous fight against injustice as a trial lawyer, professor and legal ethics expert.
He's a walking vault of California progressive history, some of which he talks about in his new memoir Trial Lawyer: A Life Representing People Against Power. But there are many gems in that vault that are not in the book — stories about gay icon Harvey Milk and Larry Long and Gerald Martin III, for instance, two gay men with AIDS apparently lost to history.
Zitrin is a storyteller. His vivid chapter about representing Johnny Spain, the only one of the infamous 1970s San Quentin Six convicted of murder – convictions that were eventually overturned – should be made into a movie.
The chapter on the luridly false tabloid McMartin preschool cases where he represented a doctor accused of child molestation by a 15-year-old girl includes the parallel story of how Zitrin learned to talk to juries by revealing an emotional truth about himself. The story about his poor Latina client who lost steering control over her Dodge van on Mission Street in San Francisco and crashed into a building in the late 1980s included an epiphany.
Through discovery during litigation, Zitrin found that Chrysler Corporation knew about the defect in their 2 million Dodge vans and had hidden that knowledge through secret agreements.
"What you don't know will hurt you," Zitrin told Public Justice. "It just seems like it's extraordinarily unethical for anybody to keep that information secret from the public." He's now dedicated to exposing overly broad court protective orders and secrecy agreements that hide information important to the public's health and safety.
Zitrin's latest fight against court secrecy has been his tireless advocacy for the Public Right to Know Act (SB 1149), a bill he wrote with California State Senator Connie M. Leyva, co-sponsored by Public Justice and Consumer Reports. SB 1149 passed in the Senate and recently passed the Assembly Judiciary Committee. It is expected to hit the Assembly floor in August.
With five decades of frontline experience combating injustice, civil rights icons are longtime friends. After George Floyd's murder, Eva Paterson of the Equal Justice Society asked him to write an essay for her newsletter that turned into "Why being anti-racist is not enough" that the ABA Journal published as an open letter to Zitrin's white progressive friends.
But a straight ally casually referencing a gay icon is still strange. "I knew Harvey Milk when he first came to San Francisco — in the same neighborhood at the same time that I went to San Francisco," Zitrin said unexpectedly while talking about how much he hates injustice.
Wait, what? Harvey Milk in the Castro in 1973?
"Well, Harvey was a Jewish kid from Brooklyn, as I am — though he was a bit older. My wife and I were living between Noe Valley and the Castro, which was then called Eureka Valley. The Castro was just beginning to become the center of gay life when Harvey moved in and opened his camera shop. He was local so we just brought our slides to him. That's how we met him.
"It was before he ran for supervisor," Zitrin recalled. "I remember going to a very, very early meeting about people going door to door and handing out pamphlets and doing precinct walks for Harvey Milk. We were at his shop with a fairly small bunch of people — maybe 15 or 20 — gay people, straight people, couples like my former wife and myself. He was just a super nice guy. I didn't know him well. But I sure like going to his shop and talking to him. I liked his politics a lot.
"Later on, between 1980 and 1986, which was during the beginning of the AIDS crisis, our office was on 18th Street, one block from the Castro Theater," Zitrin said. "We were right in the center of the gay community, right next to Hot and Hunky Hamburgers, if you can believe that!"
Would the response to AIDS have been different if Milk had not been assassinated in 1978?
"I think that's very possible," Zitrin said. "The AIDS crisis came on suddenly for all of us and it was going to have a huge consequence, regardless. San Francisco was in the forefront medically but while Cleve Jones, for example, was around and was Harvey's disciple and was a great leader, he wasn't Harvey. Harvey was so powerful and charismatic that had he been around, I'm sure it would have helped focus attention on the issue. He would have helped bring it to quicker national attention."
Zitrin also shared about two gay men who almost lost their jobs when they became ill with AIDS.
"In about 1982, I joined the San Francisco Bar's Lawyer Referral Service Committee and soon became Vice Chair. The service's director, Larry Long, became ill with AIDS. He was hospitalized and I remember in those early days, there was nothing we could do other than wish him well or go visit," said Zitrin.
"Shortly thereafter, Long's second in command, office manager Gerald Martin III, a gay African-American man, also became sick with AIDS and was also unable to work. And at that time, the hierarchy of the Bar — even in liberal San Francisco — was being run by a bunch of old white men….and their view was that since Larry wasn't at the Bar anymore, he should be fired. The folks on the Lawyer Referral committee didn't like that much. And we were concerned about Gerald, too. I kind of led a palace rebellion."
The old executive director of the Bar Association was on his way out and was looking for a successor who would "cut Larry and Gerald loose," recalled Zitrin, who was enraged by the immoral and unethical effort. "I was able to organize the committee, with help from the woman who took over as the supervisor — Carol Woods — and the committee just stood up and said, 'we're not going to allow this. If you're going to do it, we're going to be yelling and screaming about it.' Almost every member of the 15-person committee was on our side. We got them to back down until the executive director retired. The Bar's new director was Drucilla Ramey, whose expertise was in equal pay for women and who understood full well what the right thing to do was. Dru led the Bar for 18 years and she and I became good friends".
Long died in 1985, followed by Martin in 1986. "They were missed," said Zitrin. The California State Bar Association subsequently gave out annual Larry Long Awards to notable leaders in the Lawyer Referral field. "I'm actually one of the early recipients of that Award, which I'm very proud of."
While stories about gay men being fired for or while ill with AIDS have appeared in popular and LGBTQ culture — such as the movie "Philadelphia" — there does not appear to be a digital record of the battle that befell Larry Long and Gerald Martin III, until now. How many more stories of those lost to AIDS have yet to be told?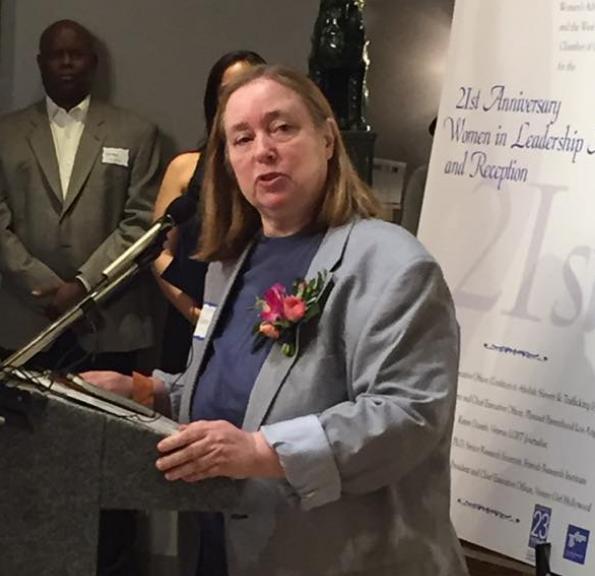 *********************
Karen Ocamb is the Director of Media Relations for Public Justice.
See her conversation with Richard Zitrin on YouTube where they discuss the book, racism, implicit bias, legal ethics and court secrecy. Professor Zitrin also gives good advice to young law students.
Karen Bass & her LGBTQ staff discuss commitment to equity & justice
"Diversity is something you have to do consciously," Bass said. "I always look at my staff and [ask myself] 'who's missing?'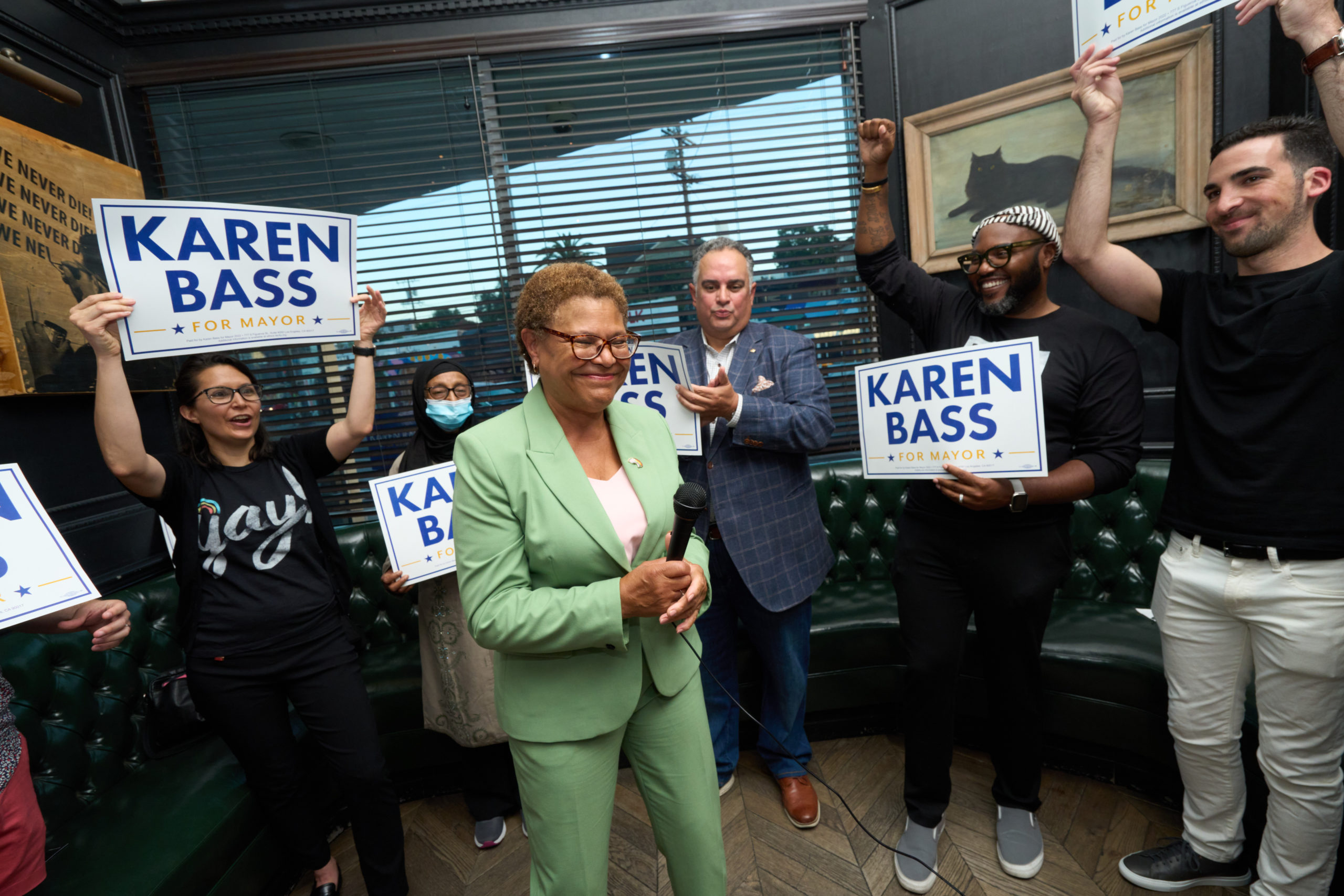 LOS ANGELES – U.S. Rep. Karen Bass (D-CA), a leading candidate to become the next mayor of the city Los Angeles, has hired LGBTQ+ folks with diverse backgrounds to leadership positions on her Congressional staff and in her mayoral campaign because of "their dedication to fighting for social and economic justice," Bass told the Los Angeles Blade over the phone Thursday morning.
"Diversity is something you have to do consciously," she said. "I always look at my staff and [ask myself] 'who's missing?' to make sure we have representation. I think it's really important to approach it that way."
Meanwhile three senior members of Bass's staff, all of whom identify as LGBTQ+ – Senior Advisor and Policy Director Joey Freeman, Campaign Manager Jenny Delwood, and Chief of Staff Darryn Harris — spoke to The Blade about their personal relationships with the Congresswoman. 
They also highlighted what they described as a throughline in Bass's adherence to principles of equity and justice, beginning with her early career as a nurse and physicians' assistant through to her candidacy for mayor of Los Angeles.
Bass is slated to square off against billionaire real estate developer Rick Caruso in the November 8 election to replace term-limited incumbent Los Angeles Mayor Eric Garcetti. The two candidates advanced from the June 7 primary elections, having each received less than 50% of the vote.
A longtime ally of the LGBTQ+ community, Bass kicked off her "LGBTQ+ for Bass affinity group" Wednesday night at the historic Black Cat restaurant in Silver Lake.
Bass has been a mentor to the next generation of LGBTQ+ leaders on her staff.
When it comes to her staff, Bass said, "I see my role as helping to develop their leadership and helping to support them however I can."
"I was able to be my full self here; fully black, fully gay," said Harris, Bass's chief of staff, who has known the Congresswoman for his entire adult life and served in multiple positions before being appointed to lead her congressional office.
"When you have a boss who's that supportive of you, it helps in so many different ways," he said. "Not only with the work we do, but also it was one of the things that helped deepen our friendship and deepen our mutual trust, because I was able to bring my whole self to work."
Delwood, Bass's campaign manager, has also known the Congresswoman for more than a decade and served in multiple positions before her appointment to lead her mayoral campaign. As a human being, as a professional, and as a lesbian, Delwood said Bass has embraced every part of who she is.
"The Congresswoman has been not only a boss, but also a mentor," Delwood said. "I started working for her as a fellow/intern in 2007 in the California Assembly, and she and I have built a very strong relationship over the years. She is part of my extended family, now."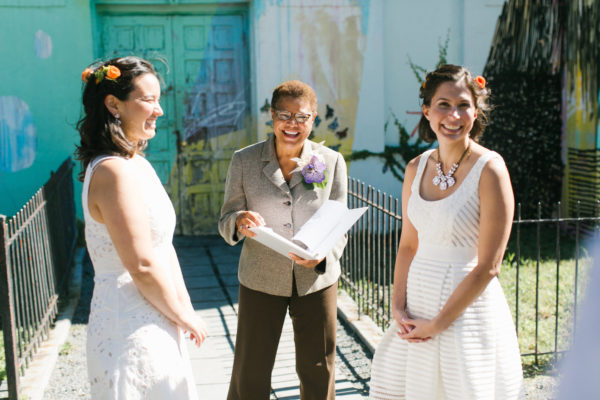 Beginning with her early career in healthcare, Bass has been an ally of the LGBTQ+ community
"When I went to school to be a physicians' assistant in the early 1980s," Bass said, the virus that would become known as HIV/AIDS began to emerge, disproportionately impacting gay men. "It was unbelievable, in the first few years of the epidemic, how [badly] these patients were treated," she said.
In her work treating patients, and as a full-time clinical instructor at the University of Southern California's Keck School of Medicine, Bass pushed for better treatment of HIV/AIDS patients, practicing what she preached.
"From that time on, she's been standing for and with the community," said Freeman, Bass's senior advisor and policy director, who identifies as gay.
"She was on the ground floor of the HIV AIDS epidemic," Delwood said, "providing medical care for people with HIV/AIDS when folks were steering clear of and being discriminatory [against those who were positive]." From those early days of her career, Delwood said, "Congresswoman Bass has been in deep solidatiry with the LGBTQ community."
"It wasn't just gay men with HIV," said Zach Seidl, Bass's communications advisor, "but trans folks, too."  In the best of cases, doctors would greet HIV/AIDS patients in hazmat suits; in the worst, refusing treatment, Seidl said. Bass, meanwhile, insisted she needed to help them, he added.   
Bass believes in consulting people who will be directly impacted by policy
Policymakers often speak with subject matter experts without consulting those who will be directly impacted, Bass said. It's an oversight the Congresswoman has been careful to avoid.
For example, Bass told the Blade she visited a federal prison yesterday morning to hand out copies of draft legislation that concerns women in the criminal justice system, inviting incarcerated women to read and share comments or input by email.
This will extend to her work as mayor, Freeman said. If elected, Bass will be charged with selecting staff, commission members, and general manager appointments, roles where she will ensure LGBTQ+ people are well represented, because this is how she prefers to govern – by consulting with people who are directly affected by policy.
Working so closely with Congresswoman Bass, "I have the opportunity to see that every single day," Harris said, "Ordinary people influencing public policy at state, federal, and – soon – the citywide level" under her leadership.
Bass believes the most effective way to create lasting change is to work with community members and to bring forward solutions that are community driven, Delwood agreed. "In order to actually solve homelessness or address crime in LA or deal with our lack of affordable housing, it's imperative" to work with a variety of stakeholders from the community as well as in the county, state, and federal government, she said.
Bass and her staff have big plans to address problems afflicting Los Angelinos
"I could have stayed in Congress to fight for a leadership spot," said Bass, who was reported as a front runner for President Joe Biden's vice president during his 2020 electoral campaign. But there are crises in Los Angeles, she said, pointing to the latest figures on the city's unhoused population as an example.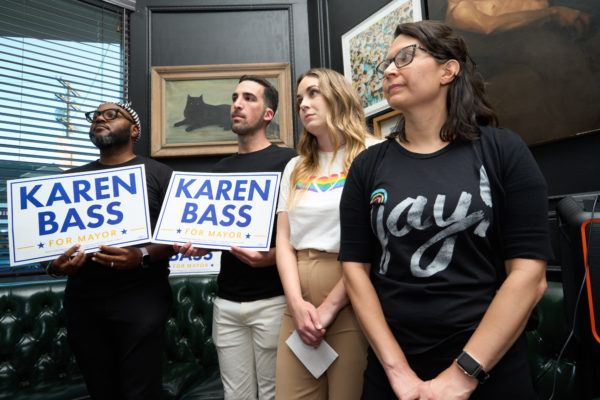 It was the second time in her career that Bass was faced with such a decision, she said. "I was a full-time faculty member of the medical school" when Los Angeles began to experience a crack-cocaine epidemic in the late 1980s and early 1990s.
"I was mortified at how the city was responding to crack cocaine and gang issues," Bass said. "These were health, social, and economic issues, but the response of policymakers was to criminalize everything and everyone in South LA."
Leaving USC, Bass formed the Community Coalition and began her work as a community organizer. "I worked to prevent the city from locking everyone up, and to steer people away from gangs," the Congresswoman said. "And then I looked for how we organize people to fight for drug treatment instead of incarceration for those who were addicted."
Likewise, Bass said, the current moment calls for coalition building and working across the government to improve the lives of Angelenos and effectuate just policymaking for, especially, vulnerable communities.
Members of Bass's staff pointed to how the Congresswoman could be particularly effective as mayor on issues of homelessness, LGBTQ+ rights, child welfare reform, foster care reform, housing affordability, and violence against Black trans people.
"Forty percent of young people on the streets are LGBTQ+," said Delwood. "Being able to address that is a top priority of the congresswoman as well as our entire team." Many children land in the foster care system because of discrimination over their sexual orientation or gender identities, she said, and while LGBTQ+ adoptive or foster parents are greeted with "open arms" in LA, such is not the case in many other parts of the country.
As Mayor, in coordination with the Los Angeles County Board of Supervisors, Bass will be able to champion foster youth, reform the child welfare system, and prove to the rest of the country how successful LGBTQ adoptive and foster parents can be, Delwood said.
Freeman agreed. There is a lot of overlap, he said, with issues concerning the foster care system, with high rates of homelessness among LGBTQ+ youth, with the housing crisis. "What we need to do to address homelessness and prevent future homelessness is to tackle the root cause," Freeman said. "Are LGBTQ youth receiving the support they need?"
Congresswoman Bass "has deep relationships with folks here, in DC, and in Sacramento, so when you're dealing with challenges in LA, she knows how to go in there and how to pool the resources in order to solve them," Harris said.
Harris highlighted Bass's community organizing and coalition building roots, arguing she is the best candidate to represent all of Los Angeles as the city's mayor.
One issue Harris said he is eager to see Bass's leadership in addressing is the high rates of murder and violent crime against members of the LGBTQ+ community, particularly Black trans people. "I'm excited to see how she would be able to ensure that they are safe, tracking some of those federal dollars to ensure that they have protections against domestic and sexual violence," he said.
South Bend Indiana Rainbow Story Hour disrupted by Proud Boys
Seven men — all Proud Boys — entered the library and began arguing with staff and patrons. Several displayed white supremacist symbols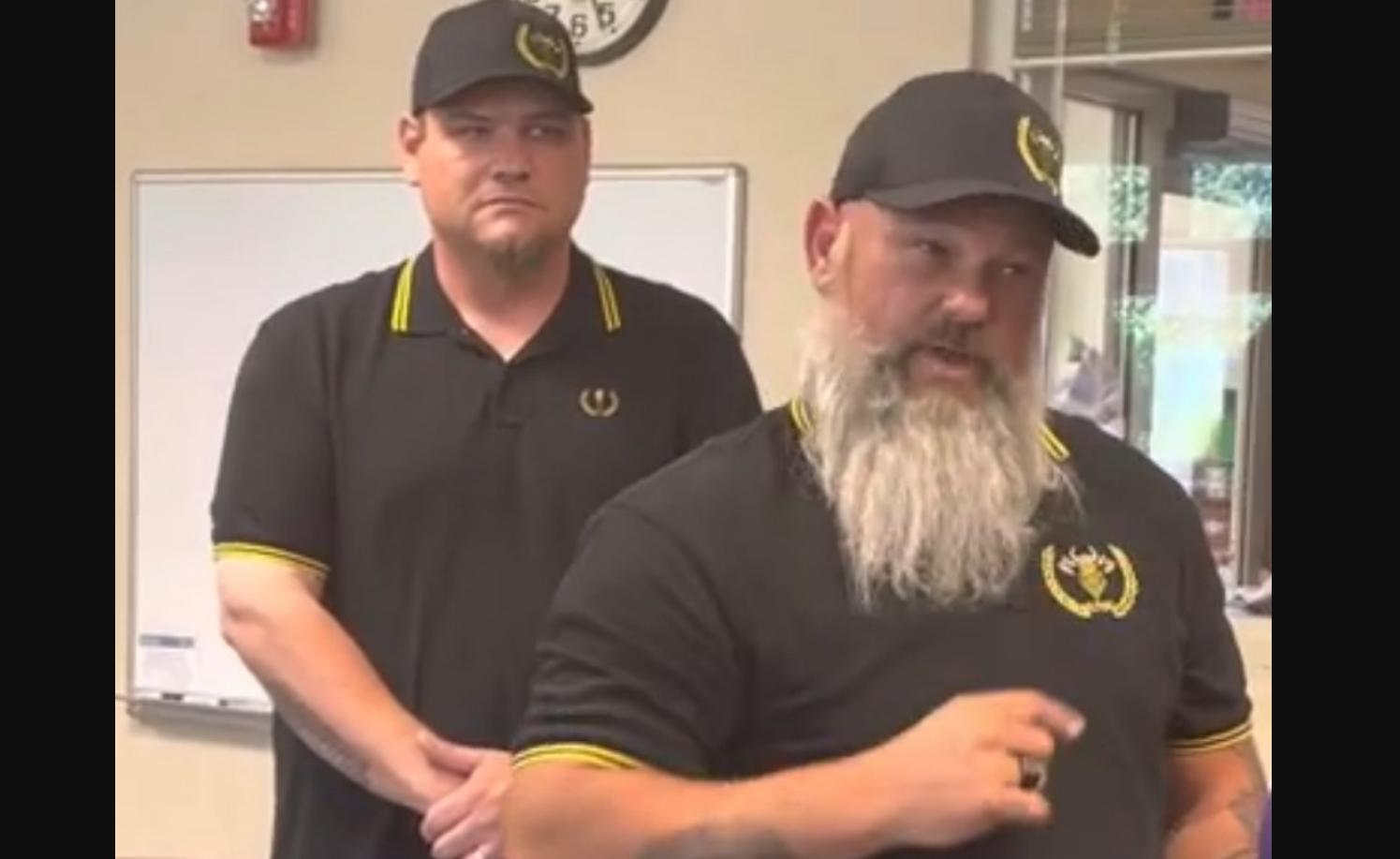 SOUTH BEND, In. – A Pride Month children's Rainbow Story Hour event at the St. Joseph County Public Library's Virginia M. Tutt Branch on Monday was disrupted after the far-right anti-LGBTQ+ group, the Proud Boys, walked in and began loudly arguing with staff and library patrons.
At one point during the confrontation, one of the group unfurled a flag reading "Michiana Proud Boys," appearing to identify the men as a local chapter of the white nationalist hate group.
This latest incident follows Proud Boys targeting LGBTQ+ Pride month events- especially Drag Queen Story Hour events- in Sparks Nevada, Wilmington North Carolina, Alameda California, Boise Idaho, many promulgated by highly influential far-right social media stars like Chaya Raichik, the Brooklyn real estate agent behind @LibsOfTikTok who has highlighted these events she calls out as inappropriate and sexualizing children to her more than 1.3 million followers on Twitter.
South Bend's NPR outlet WVPE reported that the event was a partnership between the library and TREES, a Michiana organization that provides resources for the local transgender community and operates the Tree House Gender Resource center in downtown South Bend.
But before the event was set to start, seven men — all Proud Boys — entered the library and began arguing with staff and patrons. Several displayed white supremacist symbols, according to photos posted on social media.
Police were called — and the group left after about 40 minutes — but they caused so much disruption that the event had to be canceled.
"This definitely came as a shock," library system communications manager Marissa Gebhard told WVPE. "We were not anticipating any problems."
The library plans to reschedule the event in a few months, and Gebhard said the system wants everyone to feel safe and welcome at its branches.
The Proud Boys recognized one person because Purple for Parents (a local hate group focused on schools) had doxxed her before.

This disruption is extremely concerning because it seems to be a part of coordinated disruptions of similar events across the country. 2/4 pic.twitter.com/QumqYn4Bxd

— Indiana Mutual Aid Coalition (@INMutualAid) June 28, 2022