Tucker Carlson props up Arkansas' extreme anti-trans law with lies about medical care for trans youth
Carlson's misinformation and the right-wing media's lies fuel extreme measures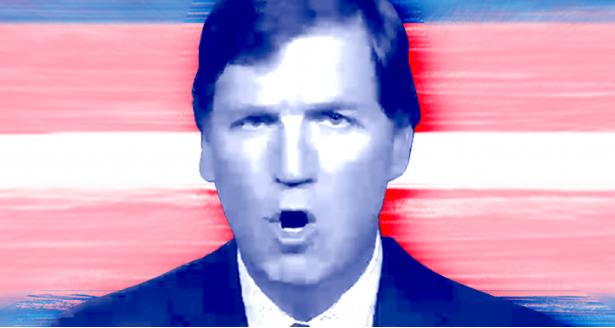 WASHINGTON – On April 6, Arkansas became the first state in the country to ban best practice medical care for transgender youth in a move advocates have called "the single most extreme anti-trans law to ever pass through a state legislature." That evening, Fox News' Tucker Carlson — a serial misinformer on the subject — dedicated a 10-minute segment of his show to lying about such care, including the effects of puberty blockers.
In reality, such necessary care for trans youth is accepted as a safe, effective, and lifesaving treatment that is widely supported by medical professionals and yields long-term mental health benefits. The Washington Post's Samantha Schmidt explained:
Medical guidelines do not recommend performing gender-affirming genital surgeries on transgender people before they turn 18. They also do not recommend any medical interventions before a child reaches puberty. But once transgender children reach the early stages of puberty, medical guidelines say they can consider puberty blockers, which are reversible treatments that pause puberty and give children time to decide what to do next. Later in their teenage years, transgender adolescents can consider hormone replacement therapies, such as estrogen for trans girls and testosterone for trans boys, which create more permanent changes to their bodies.
Despite the well-documented importance of providing best practice medical care for trans youth, Carlson repeatedly claimed that trans kids receiving such care experience poor mental health side effects, falsely stating that "the depression and the urge to self-harm and suicide is a component, is a side effect of taking these hormones." He later lied that "there is not a single study that I'm aware of that shows an improvement in the mental health of children who take puberty blockers who are chemically castrated." Carlson repeatedly and falsely referred to such treatments as "chemical castration," a popular myth pushed by right-wing and anti-LGBTQ media. (Notably, Carlson admitted earlier this year that "most people, including me, have very little idea of what it means, medically" to transition.)
Carlson berated his guest, Arkansas' Republican Gov. Asa Hutchinson, for vetoing the original bill (the state's legislature then overturned his veto, passing the new anti-trans law on April 6). Hutchinson pushed back on some of Carlson's false claims about health care for trans youth during the episode, yet he has signed other extreme anti-trans bills into law this year, including one banning trans athletes from competing and another allowing medical providers to refuse service to LGBTQ people.
TUCKER CARLSON (HOST): Asa Hutchinson is the governor of Arkansas and he joins us to talk about this story. Governor, thanks so much for coming on. I really appreciate it in the middle of all this. Now I think of you as a conservative; here you've come out publicly as pro-choice on the question of chemical castration of children. What changed?
GOV. ASA HUTCHINSON: Well, first of all, your teaser as you led in to this program did not accurately represent the bill.
…
CARLSON: If I could just correct you for a second. This is chemical castration, of course; if you stop puberty and suppress the sex hormones, you are chemically castrating someone. So, our description was correct. … Why do you think it's important for conservatives to make certain that children can block their puberty, be chemically castrated? Why is that a conservative value, if you would tell us?
…
CARLSON: So you believe it's health care. How much — how deeply have you studied this topic? With respect, it doesn't seem like you've studied it very deeply. I mean, this is an emerging field. There's not a lot of research, but the research that exists suggests that the depression and the urge to self-harm and suicide is a component, is a side effect of taking these hormones. A study in the U.K. showed the overwhelming majority of kids, of children on puberty-blocking hormones had the urge to hurt themselves. Why is that responsible medicine to do that to children? Why would you support something like that?
HUTCHINSON: Well, I actually reviewed some of that study. I reviewed the high court decision there, and I think they are different than what you are talking about here. Sure, there's a lot of unknowns here. I studied this bill and in contrast to what you just said, I spent a lot of time reviewing cases, meeting with people, listening to the experts as well as to faith leaders as well. And I'm a person of faith, but at the same time, I'm a person of limited role of government. I signed pro-life bills. I signed many bills that would be looked at as very conservative, but this is one that crosses the line. There is no need for it. And it doesn't justify itself.
CARLSON: I'm sorry, but hold on. You just said that you have seen research that shows the mental health of children who received puberty blocking drugs improves? What is that research exactly?
HUTCHINSON: Well, the research that I've seen shows that these troubled youth, these ones that have gender dysphoria, that they also have depression. They have suicidal tendencies. It's a higher suicide rate than others, and they go to their parents, the parents go to doctors, and they try to deal with this very difficult issue. I don't think we should deny them health care.
Last month, Carlson similarly used his Fox prime-time show to attack South Dakota Gov. Kristi Noem for not supporting her state's bill to ban trans kids from competing in sports, despite her commitment to prohibiting trans athletes via other measures.
In lashing out at GOP figures like Noem and Hutchinson for rejecting some anti-trans measures while supporting others, right-wing media figures including Carlson demonstrate an unwillingness to accept anything but the most extreme anti-trans policies from leaders on the right.
And Carlson's anti-trans lies do not exist in a vacuum; right-wing media and anti-LGBTQ figures obsessively fearmonger and spread disinformation about best practice medical care for trans youth, and they have recently amplified this harmful rhetoric to attack the Equality Act.
Moreover, right-wing content about trans kids' health care often earns high engagement on social media and skews the public's understanding of the issue. A Media Matters study of Facebook content about trans topics earning at least 100,000 interactions (likes, comments, and shares) during a one-year time period found that content about trans issues from right-leaning sources "earned nearly two times the engagement of all other sources combined." Overall, 12% of such content was from right-leaning sources writing about medical care for trans youth, receiving a total of 8.31 million Facebook interactions.
Arkansas is just one of many states around the country advancing measures to ban and criminalize best practice care for transgender youth. In at least two states, doctors could face criminal penalties for providing lifesaving care for children (Missouri's legislation further "includes parents who help or support their children in undergoing these medical treatments, requiring that they be reported to the state children's division"), and in at least one, care would be banned for trans people up to age 21. Similar efforts in the past were fueled by the misinformation spread by right-wing media and anti-LGBTQ groups.
Trans advocate and American Civil Liberties Union lawyer Chase Strangio has described such measures as "forcing young people already receiving treatment off of it and removing them from care that has allowed them to manage distress and embrace their own, individual processes of learning about and celebrating their bodies and identities." Vox writer and trans journalist Katelyn Burns has explained the long-term impacts of these bills:
But this approach would force trans girls into male puberty and trans boys into female puberty without their consent, and brings along its own permanent changes, which could only partially be reversed through painful and expensive medical treatments in adulthood. Trans women forced through male puberty would then have to undergo painful and expensive electrolysis to remove facial hair and may be left with a body frame (shoulder and hip width) that would be unchangeable by any surgeries. Trans men would have to have surgery to remove their breasts and, like their trans female counterparts, be forced to live in an unwanted body frame for their entire lives.
As states consider the fate of trans youth whose physical and mental well-being are on the line, the public must not fall for lies and misinformation about best practice medical care from Tucker Carlson and other right-wing media.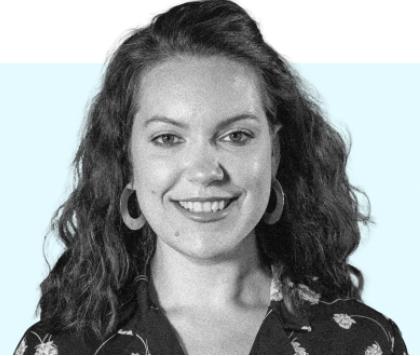 Brianna January is a researcher for the LGBTQ program at Media Matters. Brianna holds a Masters in Public Policy from the University of Maryland School of Public Policy and has a background in LGBTQ human rights and advocacy.
The preceding piece was originally published by Media Matters for America and is republished with permission.
Thank you Madam Speaker: Karen Ocamb reflects on Nancy Pelosi
Whether comforting a friend with AIDS or pointing a powerful finger at Trump, Pelosi exemplifies the humble nobility of servant leadership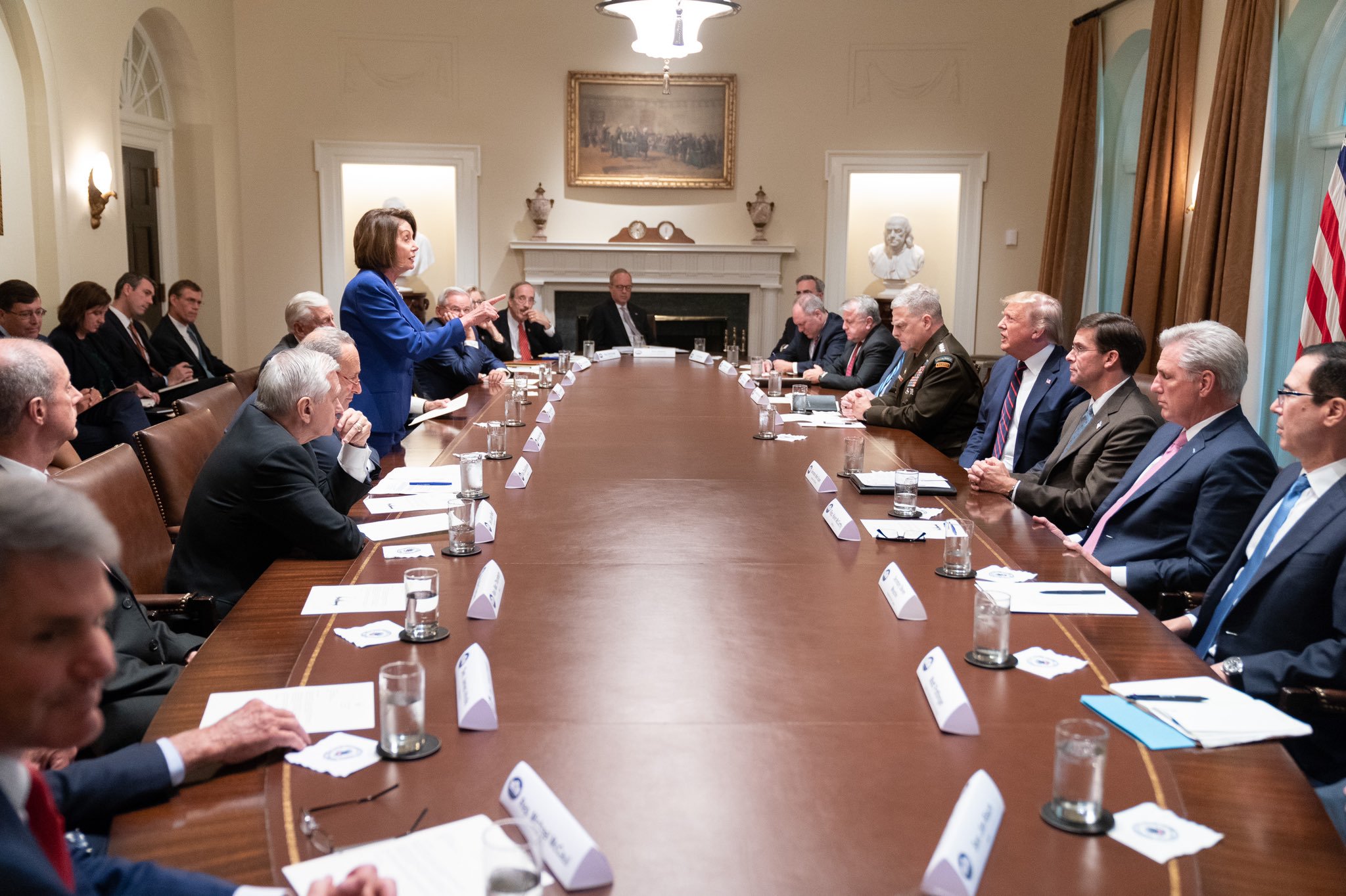 WEST HOLLYWOOD – Thank you, Speaker Nancy Pelosi! Let me add my gratitude to the praise that's poured in since Pelosi announced she would stay in Congress but was not seeking re-election as Speaker to make way for a younger generation.
In typical Trumpian fashion, CA GOP colleague Kevin McCarthy rudely absented himself as commentator after commentator – including some Republicans – called Nancy Pelosi the best Speaker in American history as she gave her "future plans" speech from the Floor of the House of Representatives.
Some commentators applauded how many extraordinary pieces of legislation she got passed – key among them ObamaCare, about which Pelosi repeatedly said: "Because of the Affordable Care Act – and I hope that every woman in America understands this – being a woman is no longer a preexisting medical condition. As a mother of five children, four daughters and one son, I'm very excited about this."
Thanks to one of those daughters, Alexandra Pelosi, who caught her mother's brave, caring and powerful reactions during the Jan. 6th insurrection when domestic terrorists where hunting her down, the world got to watch America's top Congressional leadership demur to the woman who is third in line of succession as she essentially served as Acting President of the United States and helped effectuate the Constitutional transition of power from Trump to Joe Biden.
I'd met and photographed Nancy Pelosi very briefly over the years when she came to Los Angeles for an event I was covering. But after the #ResistMarch in 2018, it occurred to me that so many of the young people raising their fists in exuberant agreement with her remarks probably had no idea who she really was. I got in touch with her terrific out deputy chief of staff Drew Hammill and asked for an interview. We were slated for 15-20 minutes but she wanted to go longer.
It was May 2018. We talked about Donald Trump and his threat to democracy; the looming midterm elections; how Republicans brand her as being from San Francisco – a "coded" gay slur; the Equality Act; and her Catholicism in the context of a Church that worked hard to oppose Prop 8, calls homosexuality "intrinsically evil," and excluded her from taking Communion in SF because of her views on abortion.
"As a Catholic, I was raised to respect every person. We're all God's children. In my family, there was never any question about that," Pelosi told me. "In Baltimore, we did have a growing LGBT community—we didn't call it that then but it was part of our lives and it was not any question that we would be any more respectful of one person than another. It wasn't even an issue with me and I didn't ever even describe it or associate it with Catholicism because Catholicism taught me something different. It didn't teach me discrimination. It taught me respect. And so it prepared me very well, my Catholicism, for being a representative in San Francisco."
"There's no question the Catholic Church in California was a participant in Prop 8 in a negative way," Pelosi said. "We were on the other side of that. But to me—it was their problem. It wasn't anything that was any moral imperative to me for me to follow the Church in enshrining discrimination in the law in California."
Ironically, in San Francisco, the Church "was more sympathetic to people when they had HIV/AIDS because they needed help then they were to people who weren't infected. It was the strangest, strangest thing," Pelosi said.
AIDS was – and is – deeply personal to the Speaker of the House.
"Some people criticized me for talking about AIDS on my first day in Congress (in 1987) and I realized that it was not just about getting funding for AIDS research and prevention and care but it was about ending discrimination against people with HIV and AIDS," Pelosi told me.
More from the my cover story:
Pelosi responds viscerally when asked about losing friends. "Oh, my gosh. Oh, my gosh. A little flower girl in my wedding. My dear, dear friends in the community in San Francisco. We were going to two funerals a day. I was visiting people in the hospital all the time and quite frankly, when I say losing people," Pelosi says, "I lost friends because I just walked away from them because they were not treating people with HIV and AIDS with respect. They would say to me, 'I don't know why you hire that caterer – don't you know that everybody there has HIV?' And I'd say, 'Don't bother to come to my house anymore if that's your attitude.' It just changed my whole view of them."…
"I'll never stop missing some of my dearest dear friends from then," she says. "Of course, we went from funerals to people saying help me make out my will because this is going to end soon, to those very same people looking for a job and then wanting to get married. So, everything has improved but I would never have thought 30 years ago when I started all this in Congress that we still wouldn't have a cure for AIDS. We've improved the quality of life, we've sustained life. Everything is better but it's not over, not finished."
Whether comforting a friend with AIDS or pointing a powerful accusing finger at Trump, Nancy Pelosi exemplifies the humble nobility of servant leadership with a touch of classy swagger.
Thank you, Nancy Pelosi, for representing so many of us who still haven't found our power
Read the entire story here:
******************************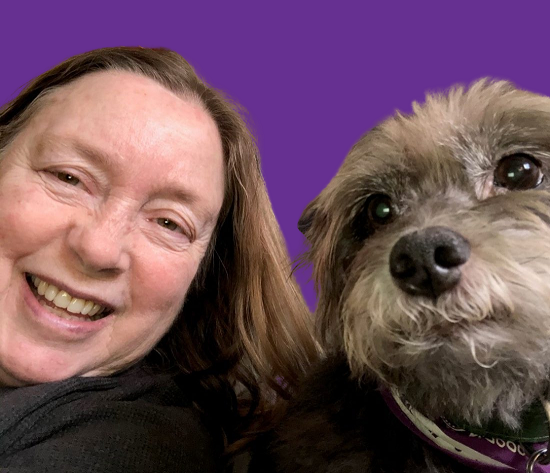 Karen Ocamb is the former news editor of the Los Angeles Blade. She is an award-winning journalist who, upon graduating from Skidmore College, started her professional career at CBS News in New York.
Ocamb started in LGBTQ media in the late 1980s after more than 100 friends died from AIDS. She covered the spectrum of the LGBTQ movement for equality until June 2020, including pressing for LGBTQ data collection during the COVID pandemic.
Since leaving the LA Blade Ocamb joined Public Justice in March of 2021 to advocate for civil rights and social, economic, and racial justice issues.
She lives in West Hollywood, California with her two rescue dogs.
******************************