LA LGBT Center opens youth housing
These apartments will literally change our young residents' lives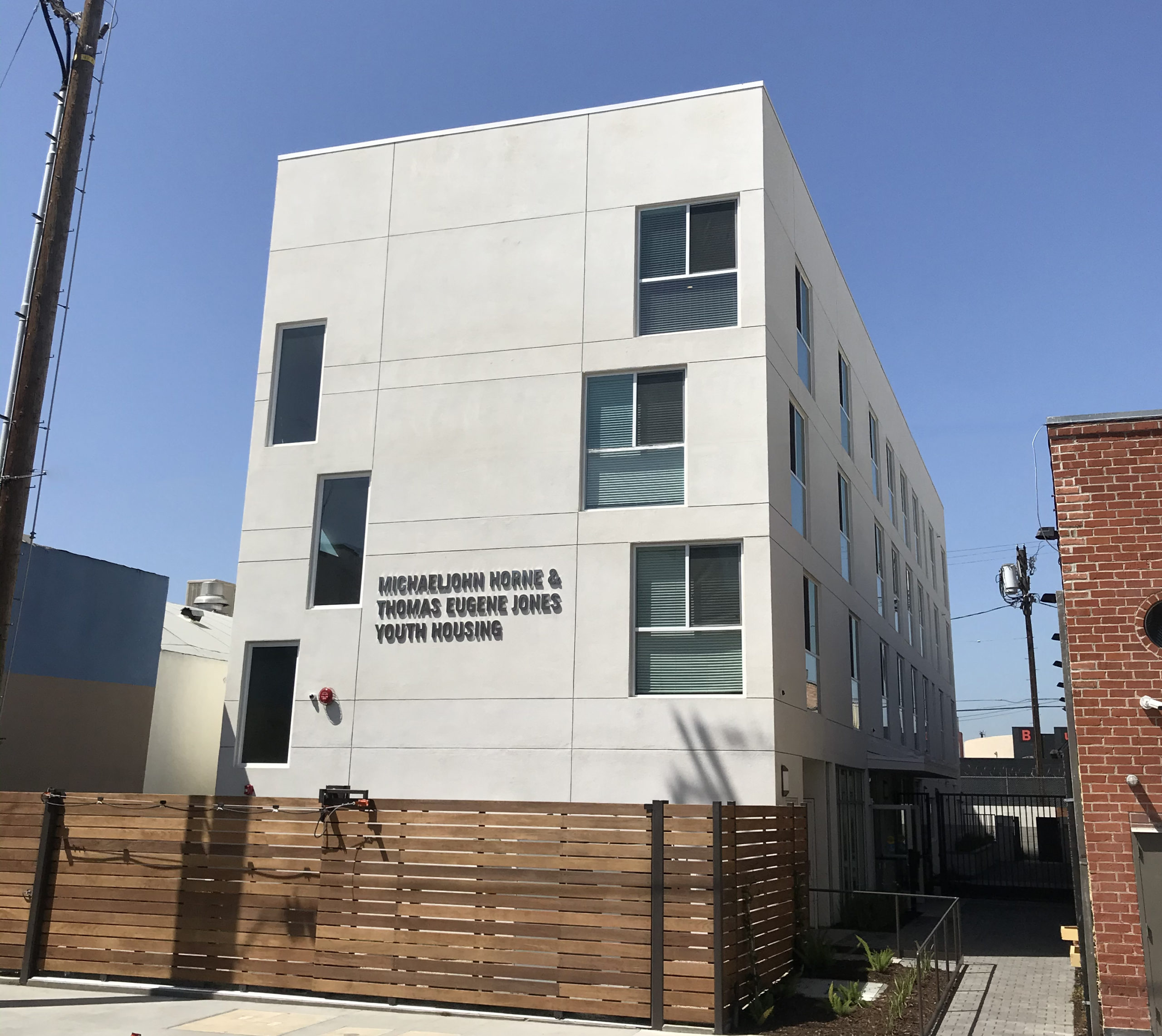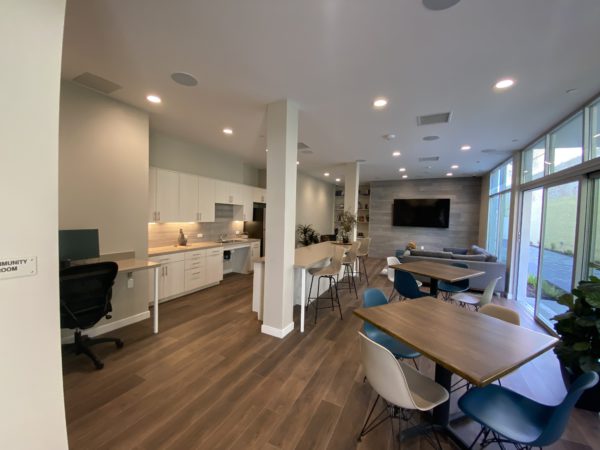 LOS ANGELES – The Los Angeles LGBT Center previewed a new landmark youth housing development Thursday. Built from the ground up in a former parking lot, the Michaeljohn Horne and Thomas Eugene Jones Youth Housing is a one-of-a-kind building, providing 25 supportive housing apartments for young adults ages 24 and under.
The preview precedes the Center's virtual opening celebration scheduled for Saturday, April 10, with appearances from newly elected council member Nithya Raman and comedian Mac Kahey.
Located in the heart of Hollywood, the nearly 13,000 square foot housing complex is inviting, sleek and modern; offering state of the art amenities to its residents. The building features four stories of sunlit bedrooms, a ground floor community room with accompanying kitchen, a library and computer lab and case management offices, where the necessary support can be offered to stabilize the lives of those that come through.
The facility sits across the street from the Anita May Rosenstein Campus, where residents have access to a multitude of services including mental health care and counseling, education and employment placement.
Abel Tovar, a loyal case manager who's been with The Center for four years, explained how residents are screened by the Los Angeles Coordinated Entry System. Once admitted, they sign a one year lease. For Abel, the first and most important question to ask new residents will be, "what do you need?"
The Housing Facility is from a long list of accomplishments from Center CEO Lorri L. Jean. When outlining her goals for facility, Jean presented an ambitious capitol campaign, detailing the need to construct a new housing development.
The housing center secured funding almost over night thanks to Jordan Pynes, President of Thomas Safran & Associates, a California-based affordable housing developer. While Covid slowed production, it is a testament to the leadership within both companies that the opening was only delayed by a few months.
The housing facility is like nothing else in the nation. For Jean, a central function is to help increase the self esteem of the residents, and provide them with the support and stability they need to make their next steps. For many who stay at 1119 N. McCadden Place, it will be the first welcoming home they have lived in.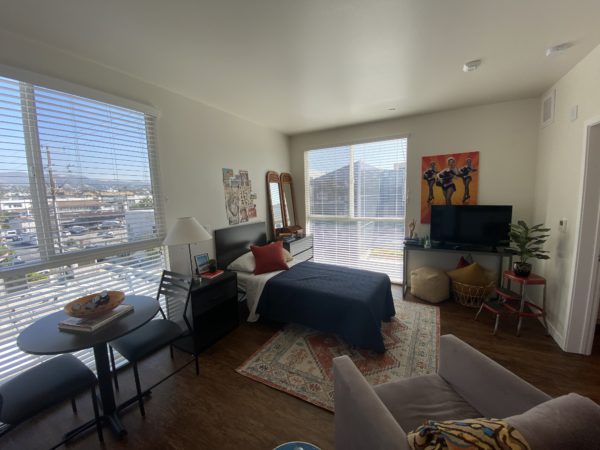 "These apartments will literally change our young residents' lives. For many of them, this is the first time when they will have a home of their own. For all of them, it means a chance to building a better, brighter future," said Jean. "But this project is not enough. There are thousands more youth in our community who still face the burdens of homelessness and all of its challenges: employment, food insecurity, mental health services.
"This building is a model for how we can start to better meet all of their needs. It is an example of how a community organization—backed by amazing supporters—can partner with our city to create an affordable housing solution with wraparound health and social services. Today, we rightfully celebrate this collective vision, passion, and hard work!"
One of the future residents, Robert, who requested to only be identified by his first name, is 21 years old and optimistic for what the future holds. He is stepping away from what he described to the Blade as a "complicated past and difficult year" into a more stable future.
"If you have a positive mindset, positive things will come to you," he said.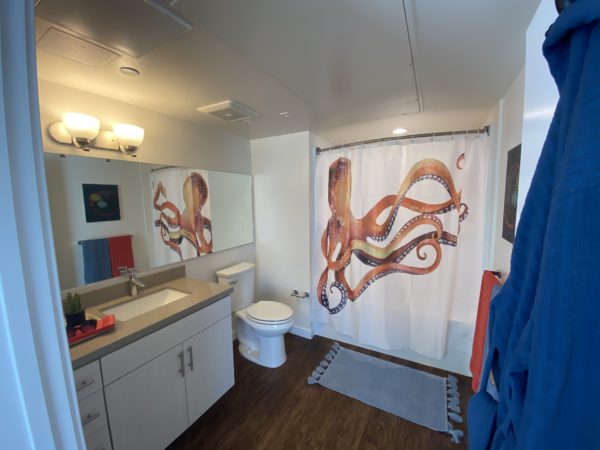 Iowa State Appeal Board settles lawsuits by anti-LGBTQ religious groups
The Christian groups claimed the university had violated their constitutional rights to free speech and the free exercise of religion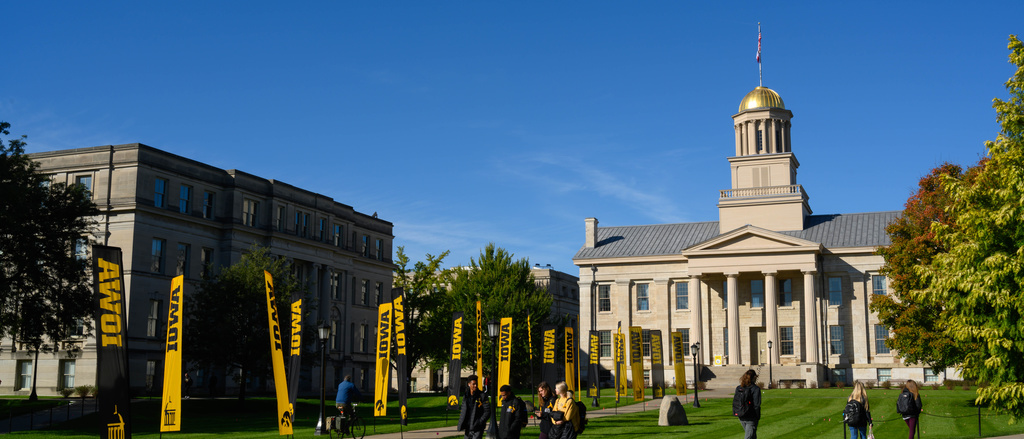 DES MOINES – The Iowa State Appeal Board, made up of Iowa state Treasurer Michael Fitzgerald, Auditor Rob Sand and Department of Management Director Kraig Paulsen, approved disbursing nearly $2 million in state funds to settle two Federal lawsuits brought against the University of Iowa in 2017 after a religious group denied an openly gay student a leadership role. 
According to the Associated Press in a U.S. News article Monday, lawyers for the student group Business Leaders in Christ were awarded $1.37 million in fees and costs for litigating their case. A second student group, Intervarsity Christian Fellowship, won their federal court case and will be paid $20,000 in damages and about $513,000 in attorney fees.
The groups claimed the university had violated their constitutional rights to free speech and the free exercise of religion.
The monetary amounts were negotiated between the university and the plaintiffs in both cases and approved by a federal judge. Monday's approval by the State Appeal Board authorizes the state to make the payments the AP reported.
In March of this past Spring, the 8th U.S. Circuit Court of Appeals ruled in favor of Business Leaders in Christ after the University of Iowa had ordered group was dismantled in 2017 after claiming the student group violated its Human Rights Policy.
As reported by The Daily Iowan, Marcus Miller, a UI sophomore at the time, filed a discrimination complaint against the Business Leaders in Christ after the group  revoked a leadership position from Miller upon finding out his sexual orientation.
A new law that requires state universities and community colleges to adopt policies that prohibit them from denying benefits to a student organization based on the viewpoint of the group was implemented in 2019.
"In addition, a public institution of higher education shall not deny any benefit or privilege to a student organization based on the student organization's requirement that the leaders of the student organization agree to and support the student organization's beliefs, as those beliefs are interpreted and applied by the organization, and to further the student organization's mission," the law reads.
New state charges against man who threatened LGBTQ+ New Yorkers
Fehring is being charged with criminal mischief and grand larceny as a hate crime in the Sayville, Long Island case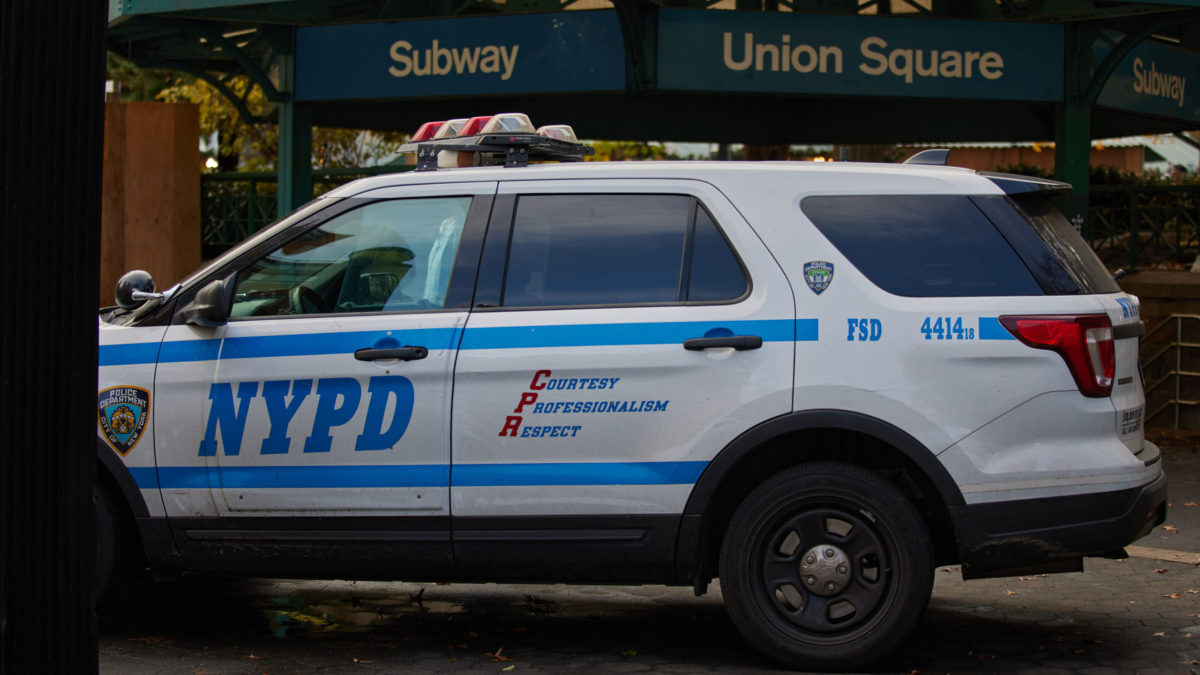 RIVERHEAD, Ny. – The man arrested by FBI agents on Monday charged in U.S. District Court for the Eastern District of New York for mailing letters threatening to assault, shoot, and bomb LGBTQ+ affiliated individuals, organizations, and businesses, was arrested Tuesday on state charges.
Tri-state news outlet News 12 New York reported that Robert Fehring, 74, a resident of Bayport, New York on Long Island, surrendered to Suffolk County police detectives accused of stealing almost two dozen pride flags back in July from Long Railroad Avenue in Sayville.
Eileen Tyznar has organized the LGBTQ parade for the past three years in Sayville. She saysshe lived in fear and would constantly get threatening letters. She is now relieved Fehring was arrested she told News12.
The stolen pride flags inside his home were discovered while executing the Federal search warrant, Suffolk police said.
On November 18, 2021, members of the FBI's Civil Rights Squad and the New York Joint Terrorism Task Force executed a search warrant at Fehring's home in Bayport, New York, and recovered photographs from a June 2021 Pride event in East Meadow, New York, two loaded shotguns, hundreds of rounds of ammunition, two stun guns, and a stamped envelope addressed to an LGBTQ+ affiliated attorney containing the remains of a dead bird.
Fehring is being charged with criminal mischief and grand larceny as a hate crime in the Sayville case.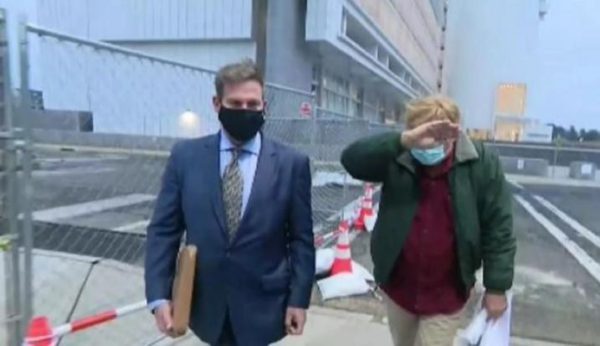 In the Federal criminal complaint Fehring is accused of sending, according to the complaint, include one this year threatening to shoot a high-powered rifle at a Long Island Pride event in June; another warning a local Chamber of Commerce member that ambulances would be needed if the group allowed an L.G.B.T.Q. event to proceed; and a third describing a Brooklyn barbershop as a "perfect target for a bombing."
Since at least 2013, Fehring had been sending individuals associated with the LGBTQ+ community letters in which he threatened violence, including threatening the use of firearms and explosives.
In the criminal complaint and affidavit for arrest, federal prosecutors allege that one letter threatened that there would "be radio-cont[r]olled devices placed at numerous strategic places" at the 2021 New York City Pride March with "firepower" that would "make the 2016 Orlando Pulse Nightclub shooting look like a cakewalk," referencing the 2016 attack in which 49 persons were killed and dozens wounded at Pulse, a gay nightclub in Orlando, Florida.
If convicted, Fehring, whom media outlets in New York identified as a retired high school teacher, band director and track coach, faces up to five years in prison.
Court records show that he sued the Suffolk County police unsuccessfully after being taken into custody in 2010 after an off-duty officer saw him hide a shotgun under a raincoat and bring it into a Long Island office building, the New York Times reported.
Gay City News editor Matt Tracy reported that Fehring appeared in court on December 6 before Magistrate Judge Steven I. Locke and was released on $100,000 bond. He is restricted to home detention with location monitoring, according to prosecutors. He is not allowed to have any firearms or "destructive devices," is barred from contacting any of his alleged victims, and cannot go to the places he is said to have targeted.
Canada moves a step closer to banning conversion therapy
Bill will become law once it receives royal assent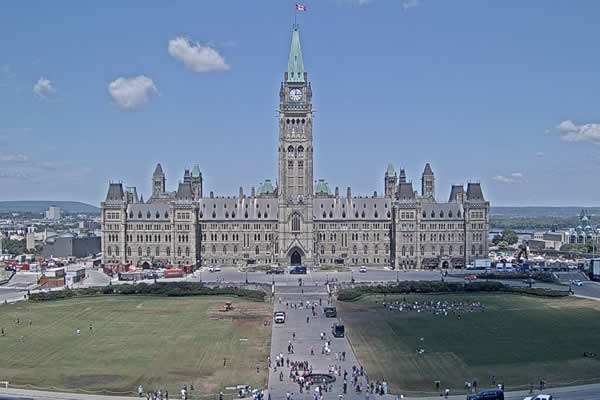 OTTAWA, Ontario — The Canadian Senate on Tuesday approved a bill that would ban so-called conversion therapy in the country.
Attorney General David Lametti and Women and Gender Equality and Youth Minister Marci Ien last week introduced the measure that would amend Canada's Criminal Code to ban the widely discredited practice. The Canadian House of Commons on Dec. 1 unanimously approved the bill.
"Our government's legislation to ban conversion therapy in Canada is one step closer to becoming law," tweeted Prime Minister Justin Trudeau on Tuesday. "To everyone who has made this possible, thank you. Let's keep building a country where everyone is free to be who they are and love who they love."
Lametti in his own tweet noted the bill will become law once it receives royal assent.
Update: Our government's legislation to ban conversion therapy in Canada is one step closer to becoming law. To everyone who has made this possible, thank you. Let's keep building a country where everyone is free to be who they are and love who they love. https://t.co/3s7GY0StmH

— Justin Trudeau (@JustinTrudeau) December 7, 2021
Canada would join Malta and a handful of countries that ban conversion therapy once the law takes effect.
"This is a fantastic day for people to be who they are and to love who they want to love." Justice Minister David Lametti reacts to news that the Senate has passed the government's legislation to ban conversion therapy in Canada. pic.twitter.com/p7YSEufqql

— Power & Politics (@PnPCBC) December 7, 2021