Anti-trans bills are tearing up the right from the inside
The right has accused the left of following "transgender orthodoxy" for asking that trans people be treated equally as humans.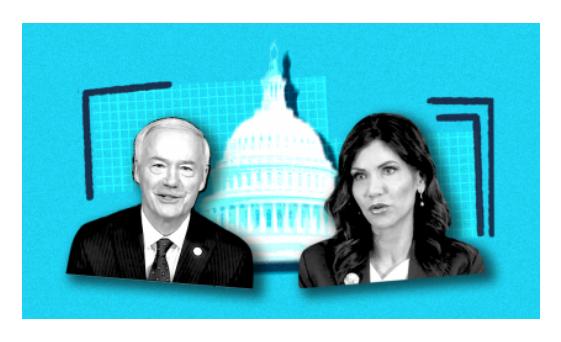 By Brennan Suen | Right-wing media have propelled states across the country to consider a historic slate of anti-trans bills, particularly aimed at health care for trans youth and trans athletes participating in sports. But when two Republican governors with histories of anti-trans positions vetoed some of the most extreme bills, right-wing media outlets turned their ire on those politicians for not falling in line.
This year has seen a record-breaking number of anti-trans bills introduced in the United States, with at least 33 states considering measures and governors signing into law anti-trans legislation in Arkansas, Mississippi, and Tennessee. In Arkansas, however, Republican Gov. Asa Hutchinson vetoed one bill criminalizing best practice health care for trans youth (the legislature overturned his veto), and in South Dakota, Republican Gov. Kristi Noem vetoed a bill barring trans athletes from competing before banning them through an executive order.
The same right-wing figures who have propped up leaders like Noem and Hutchinson, including by celebrating their opposition to trans rights, have now put them in their crosshairs for not taking the most extreme anti-trans positions. They are accusing the governors of "caving to woke corporations," calling them cowards, and even saying that they have ruined their political careers. At the same time, the right has accused the left of following a so-called "transgender orthodoxy" for asking that trans people be treated equally as humans.
This right-wing backlash to Republican leaders demonstrates that anti-trans bills aren't just dangerous for kids and families, or just bad for business; they are a losing political battle that may end up destroying those on the right who have sought to capitalize on them.
On March 31, Hutchinson appeared with host Rachel Campos-Duffy on Fox News Primetime to discuss his passage of the state's anti-trans athlete bill. Campos-Duffy thanked him several times and said women "are rooting for you, thanking you."
On March 8, when Noem tweeted that she was "excited" to sign the athlete bill that she would later veto, right-wing leaders and media figures said she was "leading the way" and applauded and thanked her. Noem had been discussed as a potential presidential candidate; appeared on Fox News weekday programming 35 times since last March, when the coronavirus pandemic took hold in the U.S.; and spoken at last year's Republican National Convention.
But it would only be days before the same apparatus that has helped build up these officials would turn on them, potentially uprooting their political and other aspirations as right-wing media and the Republican Party increasingly take a hard line against trans people.
On March 22, just days after Noem vetoed the bill banning trans athletes (and before she implemented a ban via executive order), Tucker Carlson hosted her on his show in a contentious interview in which he asked her, "So you are caving to the NCAA? I think that's what you are saying?"
Carlson brought up her interview during the following two episodes of his show. In one, he suggested that Noem was a "nice person" who had caved to business interests, saying, "When things get really crazy, and really ominous, when things start to kind of fall apart a little bit, what you believe doesn't really matter. What matters is your toughness, your willingness to stand up in the face of opposition and hold form. Your courage. And we're always on the lookout for politicians who have it. There are not many."
The following night, he hosted lawyer Kristen Waggoner from the extreme anti-LGBTQ group Alliance Defending Freedom and said of Noem, "She got bullied by business interests and she caved at a time when we need leaders who are courageous — and she's not." In a previous statement, Waggoner had said that Noem "pandered to the demands of special interests," abused her power, and betrayed her state, continuing, "We are shocked that a governor who claims to be a firebrand conservative with a rising national profile would cave to 'woke' corporate ideology."
Anti-LGBTQ group Family Research Council wrote that this was a "defining moment" in Noem's political career and could be "all she'll be remembered for," adding that "others, like American Principles Project Terry Schilling, made it clear that Noem had just thrown away her chances for a spot on the big stage." (American Principles Project is an anti-LGBTQ group that has sought to make attacking trans people a more popular political strategy on the right.)
The Daily Wire's Matt Walsh said he was "nauseated" by Noem's reasoning, and Noem had to address questions about her so-called "strength" during a March 26 interview on Fox & Friends.
Hutchinson faced a similar path on Carlson's show, where he appeared on April 6. That was the same day that Arkansas became the first state in the country to ban best practice medical care for transgender youth — despite Hutchinson's veto — in a move trans rights advocates have called "the single most extreme anti-trans law to ever pass through a state legislature."
During the 10-minute segment, which was rife with misinformation about lifesaving health care, Carlson said to Hutchinson, "I think of you as a conservative; here you've come out publicly as pro-choice on the question of chemical castration of children. What changed?" He repeatedly suggested that Hutchinson had not studied the topic (Carlson himself has admitted that he has "very little idea of what it means, medically," to be trans) and questioned whether he had "spoken to any corporate interests in the state of Arkansas about this bill." When Hutchinson said he had not, Carlson said he was "skeptical."
Following a familiar pattern, Carlson brought up that interview the following day on his show, again repeating that "there are a lot of things [Hutchinson] didn't seem to know." More strikingly, Carlson accused Hutchinson of "lying" about not hearing from corporations like Walmart in Arkansas in order to potentially land a lucrative board seat after his term ends in 2022.
A piece in The Federalist commented on Hutchinson's appearance, saying his "response was an embarrassing disaster, and if he weren't already barred by term limits from seeking reelection in 2022, his political career would likely be finished." It also called him "a worthless GOP leader," concluding, "We have no use for leaders like him." A similar piece in The Spectator said that Hutchinson was one of "too many in our elite and political class" who "are often filled with arrogance and disdain for those they rule over."
And on April 12, Fox's Laura Ingraham also castigated Hutchinson: "We need to send a message to Republicans who go along with woke capitalism while mouthing principles about small government. I'm looking at you, Liz Cheney and Asa Hutchinson and Mitt Romney. You know who you are. Not only do they just look like morons at this point. They're aiding and abetting the dangerous agenda of big business and the hard left."
Right-wing media figures have consistently responded to criticism of their dehumanization of trans people by saying that liberals enforce a "trans orthodoxy" that somehow silences and takes away the rights of conservatives. But the real trans orthodoxy has been created by the right, which refuses to acknowledge the actual science about and lived experiences of the transgender community — all while forcing its own to blindly follow its anti-trans agenda, despite the massive harms it is doing to young people.
The fall of Noem and Hutchinson is clear evidence that the right's extremism on transgender issues has never been more dangerous. The right-wing media ecosystem has driven the introduction of anti-trans policy at the state and federal level, propped those harmful policies up through obsessive coverage, and worked to silence any dissent — even if that means destroying their own.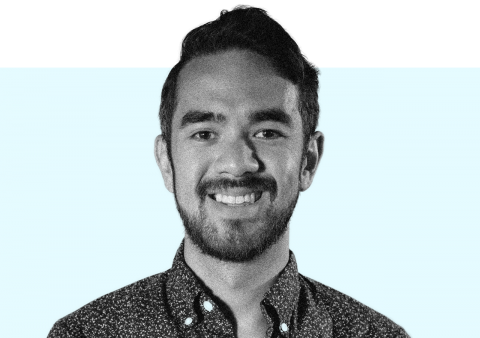 Brennan Suen is the LGBTQ program director at Media Matters, where he has worked since July 2015. He has a bachelor's degree from Northwestern University, and he formerly interned at the Human Rights Campaign and SKDKnickerbocker.
The preceding article was originally published at Media Matters for America and is republished by permission.
Target & Bud Light show hypocrisy of "Corporate Pride"
Bud Light & Target came under far-right fire for including LGBTQ+ people in products & advertising. The speed at which they caved? Not good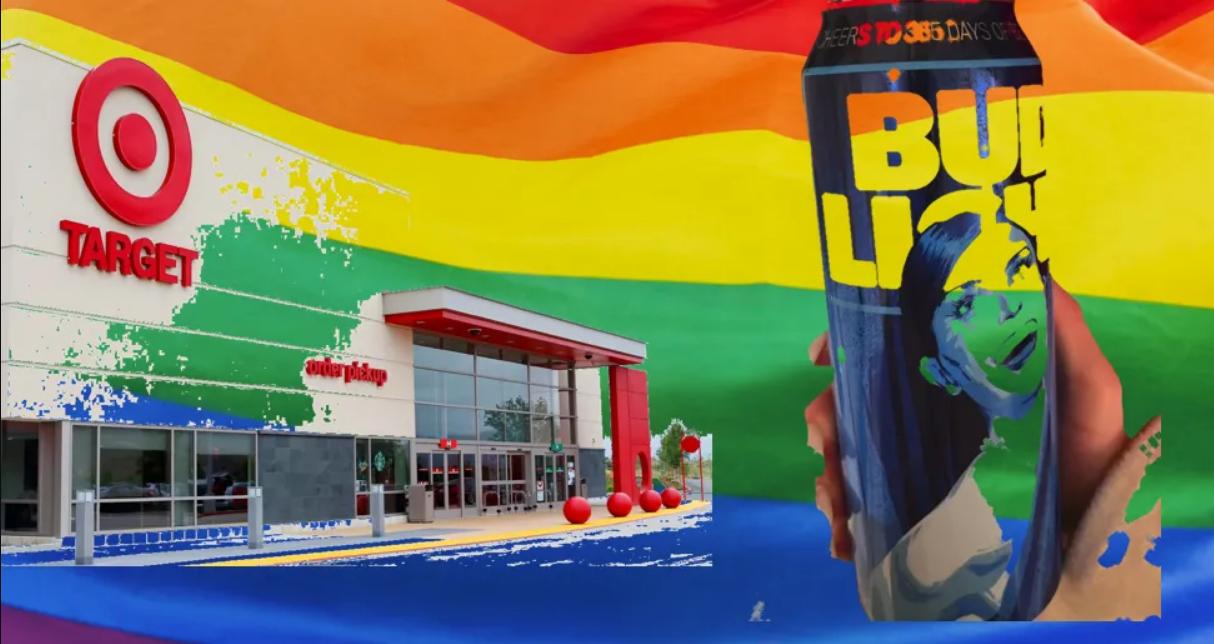 By Erin Reed | WASHINGTON – Even before Pride season has begun, evidence of corporations succumbing to far-right, anti-LGBTQ+ led boycotts is emerging.
Bud Light, for instance, recently faced pressure after featuring transgender influencer Dylan Mulvaney on its cans. The simple act incited a boycott campaign by anti-LGBTQ+ conservative activists, including Matt Walsh. In response, Bud Light placed the executives responsible for the campaign on leave.
Following this, Target faced a similar situation when it displayed its annual Pride merchandise. Calls for boycotts from the same far-right influencers ensued. Videos emerged of individuals trampling on Pride displays in stores and harassing staff members. Target's reaction was to pull several Pride items and relegate Pride displays to less visible parts of its stores.
When these companies faced anti-LGBTQ+ hostility, they backed down with little resistance. This reveals the reason why transgender people have been wary about corporatization of Pride: if corporate advocacy consists merely of rainbows that disappear at the first gust of fascist wind, it amounts to net harm. That support was never truly there.
This is all happening against the backdrop of a broader cultural climate marked by over 530 bills directed at the transgender community, withholding of medication for transgender youth and adults, bans on books featuring LGBTQ+ characters, cancellations of Pride parades, travel warnings discouraging LGBTQ+ individuals from entering certain states, and arrests of transgender individuals in restrooms.
The retreat of corporations from supporting the LGBTQ+ community, caving to anti-LGBTQ+ pressures, does more than fail to assist the community they professed to support when adversaries looked away. It actively damages the community by feeding a narrative that suggests LGBTQ+ individuals are not worth protecting.
Bud Light and Target came under far-right fire for including LGBTQ+ people in products and advertising. The speed at which they caved shows why LGBTQ+ people have warned about corporate pride.
The campaign against LGBTQ+ inclusion in stores is not grassroots, but rather a calculated move by the same far-right influencers responsible for the early anti-trans bills this year. Matt Walsh, who advised on and posted the very first anti-trans bill this year, delineated the strategy in April. His approach: "Pick a victim, gang up on it, and make an example of it. We can't boycott every woke company or even most of them. But we can pick one, it hardly matters which, and target it with a ruthless boycott campaign. Claim one scalp then move onto the next."
What followed was mass harassment and violent threats to LGBTQ+ advocates and store employees. Of Particular note is Ethan Schmidt, whose videos of walking through Target knocking down Pride signs began to reemerge. See this video from Ethan Schmidt tearing down pride signs in target, originally from 2022:
Ethan Schmidt has since promised to revive his actions, warning, "We're gonna be exposing Target… We are going to be going on hunting expeditions soon. Hunting LGBTQ+ supporters across Arizona and Phoenix." '
Numerous other videos have emerged. One person's viral tiktok expressed anger over rainbow themed and tuck-friendly clothing while going through Target racks. OAN anchor Alison Steinberg expressed dismay at cards that include two moms and two dads. Matt Walsh called for people to "make pride toxic for brands. If they decide to shove this garbage in our face, they should know they'll pay a price."
Sure enough, Target acquiesced, announcing that it would be dropping some "controversial items" and moving displays to the back of some stores. Pictures emerged of empty Pride display racks shortly after: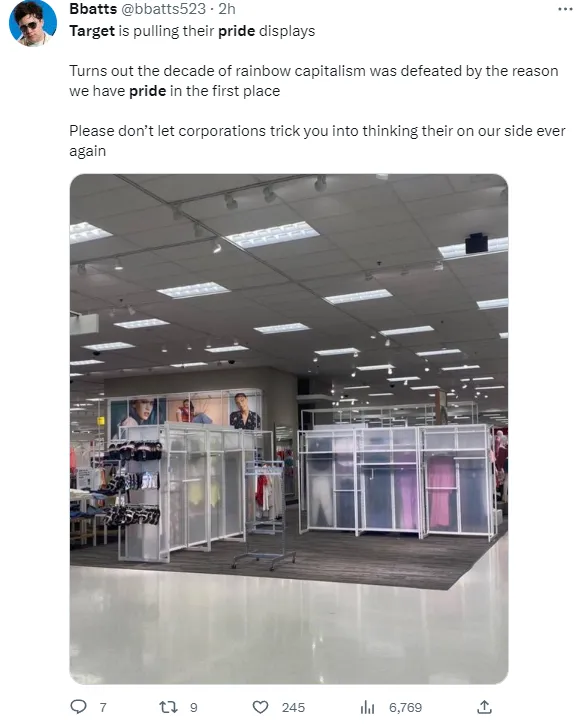 The speed in which some companies are caving to anti-LGBTQ+ sentiment shows the danger in entrusting Pride events to the care of corporations, who have no meaningful skin in the game and who are willing to pull support at moment's notice. Pride has its roots in a response to anti-LGBTQ+ oppression in 1969, particularly the raid on the Stonewall Inn.
Interestingly, both then and now, anti-drag laws proliferate and LGBTQ+ people find themselves targeted by the state and by bigotry on the streets. The first Pride was a riot, and its early celebrations were not about touting corporate advocacy or organizational support for queer people, but rather about fostering our own communities and networks to ensure that overt oppression would never prevail.
By shifting from the original spirit of Pride to Bud Light-sponsored block parties and parades filled with corporate floats where we are merely spectators rather than active participants, we risk losing sight of the essence and purpose of Pride – to forge strong bonds in the face of oppressive forces.
Target is removing LGBTQ Pride products because of terrorist behavior like this.

Yes, this is absolutely terrorism & Target should be ashamed for caving in. Just like Anheuser Busch caved in.

And people wonder why there's so much fear in our community. pic.twitter.com/0kMab9s44k

— Senator Scott Wiener (@Scott_Wiener) May 24, 2023
Moving forward, we need a new vision of Pride that is more in line with the reason Pride was first conceived. This vision of Pride should not be dependent on corporate sponsorships, but rather, should uplift the community and support the creation of social networks. Local organizations should be centered rather than multinational corporations.
This vision of pride is one where we collectively march together in solidarity and celebration and express to the world that our joy will not be eradicated. I envision a pride where local businesses are supported, where drag thrives, where our block parties truly support the locals who call those blocks home.
We must make it unequivocally clear to corporations that raising rainbow flags, only to retreat when confronted by oppressive forces, contradicts the essence of Pride. Symbols demand action to substantiate them.
Corporations wishing to demonstrate support for their LGBTQ+ employees should implement comprehensive paid family leave, include full coverage for trans-specific medical care in their insurance policies, and cease all donations to politicians endorsing anti-trans stances.
Should a company truly aim to support its LGBTQ+ employees, it must stand with queer and trans people, even in the face of harassment and abuse by right-wing aggressors. Instead of hastily retreating in the face of even a fraction of the hatred endured daily by the LGBTQ+ community from these same individuals, these corporations need to show resilient support.
****************************************************************************
Erin Reed is a transgender woman (she/her pronouns) and researcher who tracks anti-LGBTQ+ legislation around the world and helps people become better advocates for their queer family, friends, colleagues, and community. Reed also is a social media consultant and public speaker.
Follow her on Twitter (Link)
Website here: https://www.erininthemorning.com/
******************************************************************************************
The preceding article was first published at Erin In The Morning and is republished with permission.