HIV Genetic Data is tracked and shared. It's creepy and dangerous.
This is either going to make you very angry or it will totally creep you out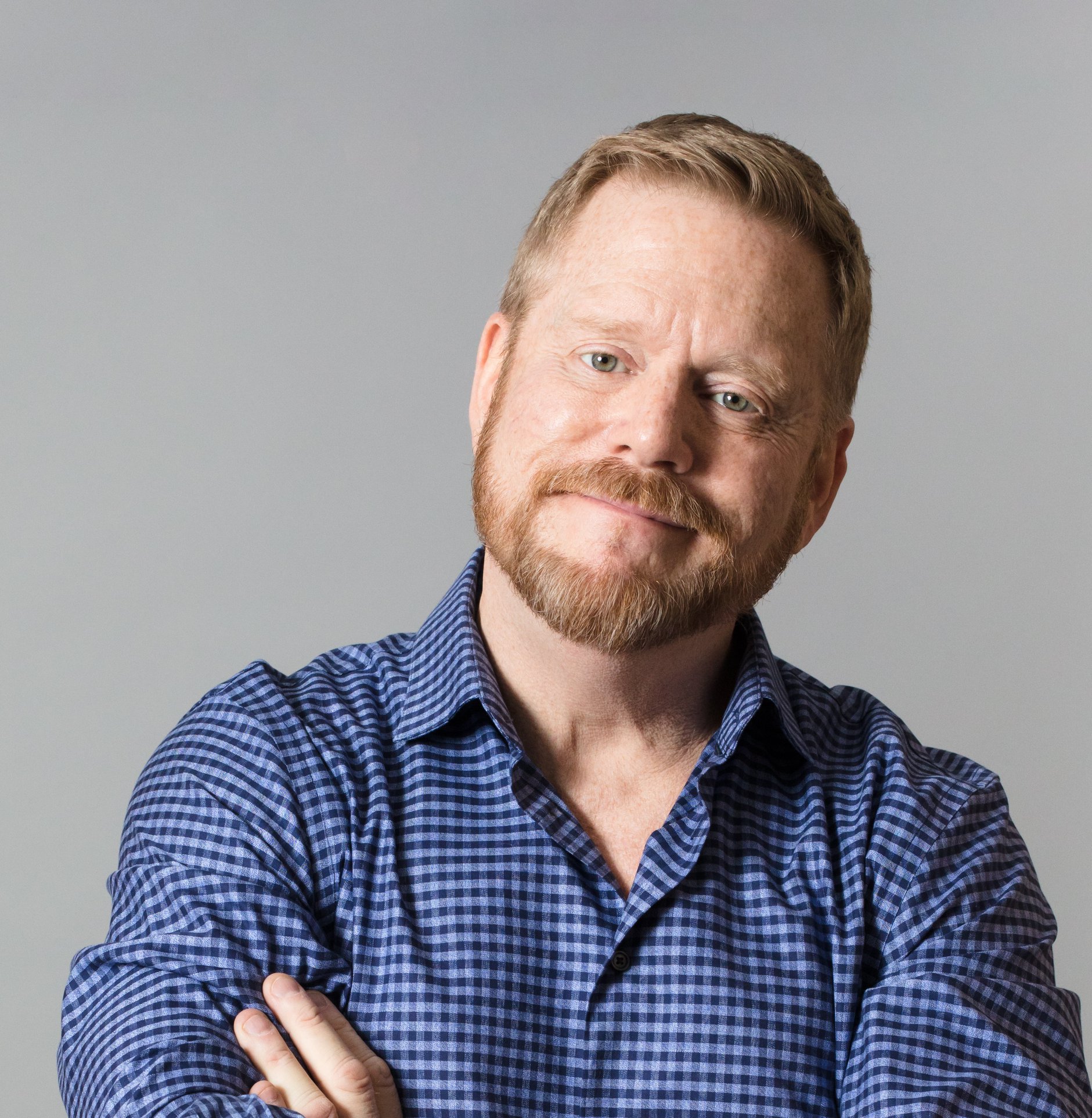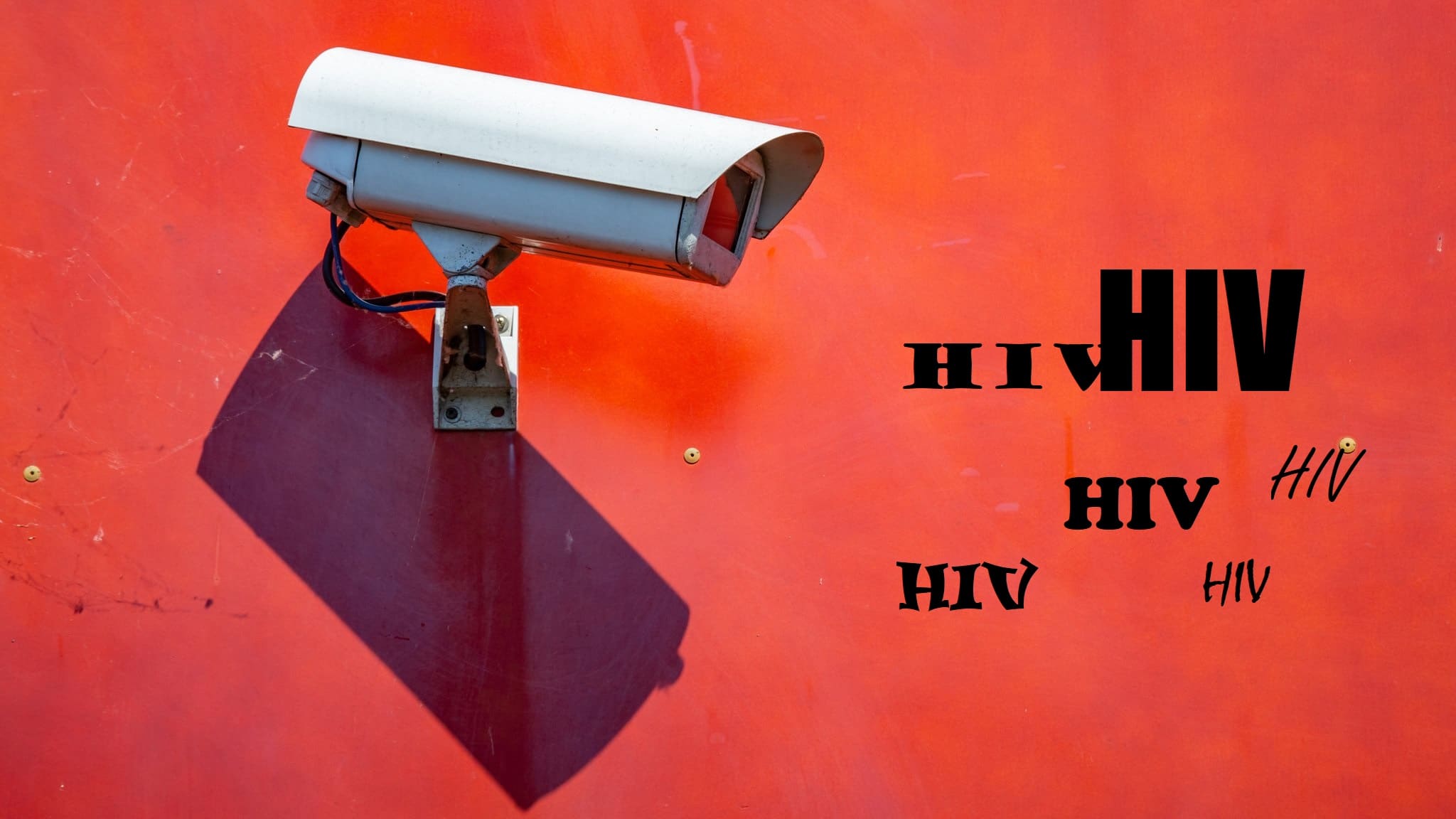 By Mark S. King | If you are a person living with HIV, the Centers for Disease Control and Prevention (CDC) and your local health department probably already have your HIV genetic profile. They have been examining it and comparing it to a genetic analysis of other people. People in your community. People you might know.
You probably never knew this was happening, because no one ever bothered to ask for your express consent.
It is called Molecular HIV Surveillance (MHS), and learning about this is either going to make you very angry or it will totally creep you out. Maybe both.
This is how it works. When someone receives an HIV-positive test result and begins care, one of the first lab tests typically done is a genetic analysis of the HIV in that person's body. This determines if the HIV is resistant to any of the HIV medications and helps the provider design the most effective treatment plan.
While this step applies most often to the newly diagnosed, genetic analysis is also done when someone already on treatment becomes resistant to a class of medication and a new regimen is being considered.
Helpful and totally cool, right? Sure, so far. What happens next is what has HIV activists crying foul.
Since 2018, the CDC has required health departments in every state to submit the genetic data (with identifying information like names stripped out) to the CDC. The CDC then compares and contrasts results to determine if there is a new and emerging group of people with HIV who share a close genetic match. If so, they tell health department people to march in there and get a handle on it.
Of course, to do that, identifying information that had been stripped out must be restored. Armed with the person's ID, Infectious Disease Specialists knock on doors or visit shelters or streets to track down these people and ask for their sexual or drug-using contacts and persuade them to behave in ways that will avoid more transmissions.
What I have just described constitutes the continued policing of marginalized communities by the authorities. The implications are chilling, far-reaching and not in the best interest of public health or of people living with HIV. (People who are HIV-negative are also ensnared in this practice, because they are often identified as sexual or drug-sharing partners and then tracked and contacted just the same.)
Recently, the U.S. People Living with HIV Caucus sponsored a webinar on Molecular HIV Surveillance as part of AIDS Watch, the annual legislative advocacy event produced by AIDS United. The webinar laid out this process and its potential for harm in very simple terms.
The issue goes far beyond the legitimate concern of informed consent. Marginalized people — Black and brown and trans folks, primarily — already are policed and surveilled more aggressively than other communities. Infectious disease specialists often lack the cultural sensitivity to understand why medication adherence, for instance, may not be among the Top Five concerns of someone in these communities.
Furthermore, the fear of some kind of punitive action creates apprehension in these communities, often enough to turn them away from seeking care entirely. And yes, public health authorities knocking on doors carries an implicit threat in communities traumatized by fraught histories of bad policing.
"HIV surveillance scares the shit out of me, as a Black woman who is living with HIV who primarily functions in Black low-income communities," panelist Evany Turk acknowledged during the webinar. "I live in a state where they consider my Black body living with HIV a deadly weapon. We know we can't trust these big, huge systems. We know we can't trust them with our information, because we know they are inherently racist."
It gets worse.
Criminalization laws in many jurisdictions penalize people living with HIV for allegedly not disclosing their status to sex partners, regardless of whether they took precautions, or were undetectable (and therefore unable to transmit the virus), or even if a transmission did not occur. Right now, people living with HIV are sitting in jail for no other crime than having had the audacity to have sex.
The worst case nightmare activists fear is genetic HIV data being used when someone tests HIV positive and prosecutors are looking for someone to blame. What if it were as easy for the criminal justice system as searching through genetic records and – viola! – someone is incriminated because their HIV virus is a close genetic match.
To date, there are no known cases of molecular surveillance being used in the United States to prosecute someone with HIV. However, it has already been used for a prosecution in Canada. Activists don't feel like waiting for the United States to follow Canada's lead.
Our federal government, meanwhile, has made Molecular HIV Surveillance one of the pillars of its "Ending the Epidemic" plan. Rather than working with community members to structure how this data will be used and how best to protect people living with HIV, the government keeps pushing forward without engaging us.
Other ways in which genetic data is being examined are just plain weird.
During the webinar, panelist Brian Minalga pointed out that Seattle public health researchers are examining what they call the "demographic dynamics" of the "transmitting partner" and the "receiving partner." They are looking at categories like age, race, and ethnicity, and calculating who is more likely to transmit HIV to whom.
Is the older gay guy more likely to infect the younger guy? Is the Black man more likely to infect the white woman? How the hell is this biological parlor game relevant, other than to reinforce established biases and stereotypes?
Webinar moderator Naina Khanna reported that activists shared their concerns with CDC leadership during the Trump administration. They sought CDC assurances that Molecular HIV Surveillance data would not be shared with other governmental agencies like ICE or Homeland Security, agencies that could cite the costs of HIV healthcare as grounds to refuse an asylum request or to deport someone.
"The CDC leadership declined to comment on this issue," Khanna said.
In a recent presentation at the Conference on Retroviruses and Opportunistic Infections (CROI), CDC official Alexandra Oster, M.D., was just thrilled about the potential of molecular surveillance to identify "clusters" of new infections and geographic areas where prevention efforts should be ramped up.
Your argument might have more credibility, Dr. Oster, if public health departments had track records of actually engaging with, and investing in, affected communities rather than showing up to police the area after your lab identifies a "cluster" — a dehumanizing term that amounts to a "cluster fuck you."
In her presentation, Dr. Oster waved away privacy concerns, stating that the data would never be used in a way that endangered people living with HIV.
Uh huh. We'll set aside for a moment the fact that having public health people show up at your home or workplace can risk your job or your domestic safety. Let's focus on the CDC's credibility with public facts and assurances.
Remember when the CDC was caught last year trying to please the former President by falsifying weekly COVID-19 figures so the pandemic wouldn't look so bad? That reputation-shattering scandal is still stinking up the CDC hallways. CDC officials are hardly in a position to assure anyone what will, or will not, be done with public health data.
The Public Policy Council of AIDS United issued a list of recommendations to address Molecular HIV Surveillance. Recommendations include banning MHS from legal proceedings or prosecutions, and ensuring the informed consent of people living with HIV is obtained before their genetic data is used in this way. The U.S. People Living with HIV Caucus position is that molecular surveillance should be halted immediately.
Finally, this issue underscores how America's health and criminal systems stack the deck against people living with HIV.
Webinar panelist Larry L. Walker learned this firsthand when he enrolled in case management services at his local health department in Georgia. Walker was made to sign a document acknowledging that he was living with HIV, and the document included language about disclosing to his sex partners. This is cruelly paternalistic treatment toward someone dealing with a life-changing diagnosis.
By sharp contrast, when a genetic analysis from a person living with HIV is acquired by public health departments — where it is examined and used to identify and contact others with whom the person may have been in contact — the person living with HIV is not asked to sign anything because public health people don't value their privacy enough to get their consent.
The rights of everyone else are being prioritized over the rights of the person with HIV, and these measures are often taken as soon as the person tests positive. The process of blame, distrust, and dehumanization begins moments after their diagnosis.
Molecular HIV Surveillance is simply the latest example of health systems disregarding our very humanity. It is also a license to hunt down people living with HIV in marginalized communities while ignoring their right to privacy or consent. We must resist it.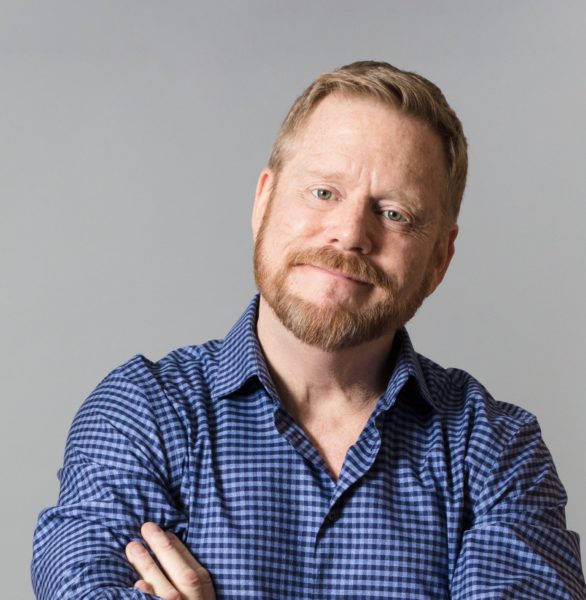 The preceding article was previously published at My Fabulous Disease and is republished by permission.
Federal blood donation study recruiting gay, bi men
The study is aimed at assessing the individual risk of a gay or bisexual man transmitting HIV if they donate blood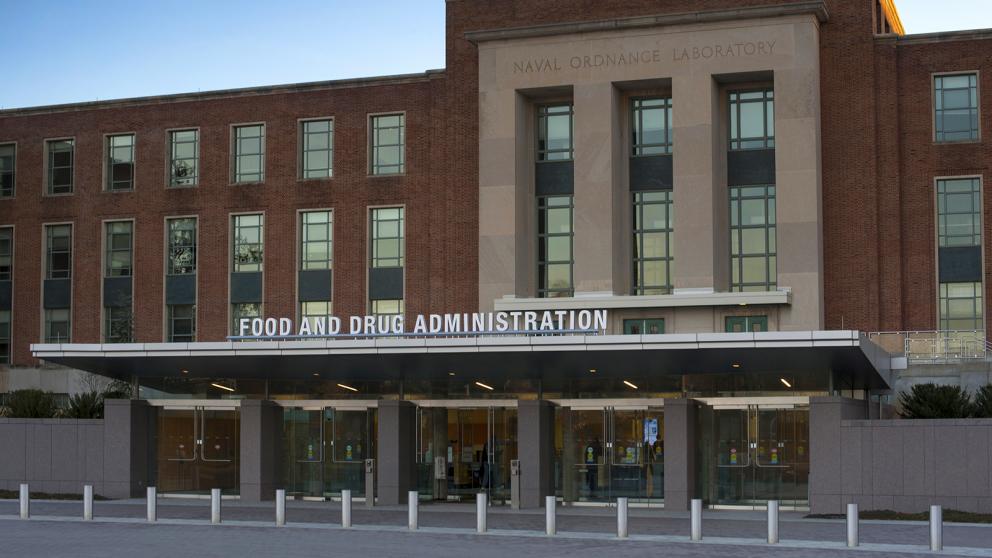 SILVER SPRING, Md. – Washington D.C.'s Whitman-Walker Institute and the Los Angeles LGBT Center are among LGBTQ supportive organizations in eight U.S. cities working with the nation's three largest blood donation centers on a study to find a way to significantly ease blood donation eligibility for men who have sex with men or MSM.
The study, which is funded by the U.S. Food and Drug Administration, calls for recruiting a total of 2,000 gay and bisexual men in eight U.S. cities selected for the study to test the reliability of a detailed donor history questionnaire aimed at assessing the individual risk of a gay or bisexual man transmitting HIV if they donate blood.
A statement released by the study organizers says the questionnaire, which could be given to a gay or bisexual person showing up at a blood donation site, could be a replacement for the FDA's current policy of banning men who have had sex with another man within the previous three months from donating blood.
In the early years of the AIDS epidemic in the 1980s, the FDA put in place a permanent ban on blood donations by men who have sex with men. In 2015, with advanced HIV testing and screening techniques readily available, the FDA lifted its permanent ban on MSM blood donations and replaced it with a 12-month restriction for sexual activity between MSM.
The FDA further reduced the time of sexual abstinence for MSM to three months in 2020.
LGBTQ rights organizations and others advocating for a change in the current FDA restriction point out that at a time when the nation is facing a severe shortage of blood donations due to the COVID pandemic, the three-month donation deferral requirement for MSM is preventing a large number of blood donations from men whose risk of HIV infection is low to nonexistent.
Under the FDA-funded and initiated study, the American Red Cross, Vitalant, and OneBlood — the nation's three largest blood donation centers — have been conducting the questionnaire testing since the study was launched in March 2021.
"To gather the necessary data, the blood centers will partner with LGBTQ+ Centers in Washington, D.C., San Francisco, Orlando, New Orleans/Baton Rouge, Miami, Memphis, Los Angeles, and Atlanta," the study organizers say in a statement on a website launched to help recruit volunteers for the study.
"The study will enroll a total of 2,000 gay and bisexual men (250 – 300 from each area) who meet the study eligibility criteria," the statement says.
Among the criteria for being eligible, the statement says, is the person must be between 18 and 39 years old, have expressed an interest in donating blood, must have had sex with at least one other man in the three months before joining the study, and must agree to an HIV test. A negative test result is also required for acceptance into the study.
The study is officially named ADVANCE, which stands for Assessing Donor Variability And New Concepts in Eligibility.
"The ADVANCE study is a first step in providing data that will help the FDA determine if a donor history questionnaire based on individual risk would be as effective as time-based deferral, in reducing the risk of HIV in the blood supply," the study organizers statement says.
"If the scientific evidence supports the use of the different questions, it could mean men who have sex with men who present to donate would be assessed based upon their own individual risk for HIV infection and not according to when their last sexual contact with another man occurred," the statement continues. "The ADVANCE study is groundbreaking because it's the first time a study is being conducted that could result in individual risk assessment for men who have sex with men to donate blood," the statement says.
The Whitman-Walker Institute, which is among the community-based organizations involved in helping organize and conduct the study, is an arm of Whitman-Walker Health, the LGBTQ supportive D.C. health center.
Christopher Cannon, director of Research Operations for Whitman-Walker Institute, said that since the D.C.-based part of the study was launched early last year prior to the official announcement of the study on March 20, D.C. has surpassed the original city goal of recruiting 250 participants for the study.
"We are currently at 276 as of last Friday's report," Cannon told the Blade in a Jan. 13 interview. "And the current goal is now 300," he said. "So, we're hoping to push this over that goal line in the coming days and weeks.
Cannon said that like the community organizations involved in the study in other cities, Whitman-Walker Institute's role has been focused on recruiting gay and bisexual men to participate in the study and to send them to the American Red Cross headquarters building at 430 17th St., N.W. near the White House. That site, which serves as a blood donation center, is also serving as the site where study participants are screened, interviewed, and presented with a detailed questionnaire.
"We promote the study within ," Cannon said. "We promote it to our networks. We did social media promotions across the city.'
Although Whitman-Walker doesn't have the final draft of the questionnaire being presented to study participants, Cannon said he has seen "bits and pieces" of it.
"They ask very direct questions about the person's sex life, sexual partners, sex acts, numbers of partners," Cannon said. "There are questions about condom use, PrEP use, drug use. How recently have you had sex? Lots of related questions," he said.
"It's really about trying to figure out effectively which are the best questions," according to Cannon. "The hope is by analyzing the questions and identifying maybe the best 10 to 12 questions that can be universally used…to get the best answers that identify the individuals that may have the highest risk," he said. Doing that, he points, out can help determine which men who have sex with men should be eligible to safely donate blood.
A statement released by Whitman-Walker last March calls the study a "monumental research effort" that has the potential to lift the stigma imposed on gay and bisexual men whose ability to donate blood is currently based on their sexual orientation.
"The ADVANCE study is designed to understand if, by asking carefully crafted and research-informed research questions, blood collectors can screen potential blood donors for their individual HIV risk factors rather than applying a ban against sexually active gay and bisexual men," the statement says.
"The goal is to move away from overly broad questions that exclude potential donors and spread stigmatizing messages about MSM and their HIV risks," it says.
Cannon said that as of last week, study organizers had recruited a total of 879 study participants nationwide out of the goal of 2,000 participants needed to complete the study. He said issues related to the COVID pandemic created delays in the recruitment efforts, but study organizers were hopeful the study could be completed by this summer.
Information about participating in the study or learning more about it can be obtained at advancestudy.org.
Peacock will premiere HIV documentary on World AIDS Day
Drew, who was diagnosed with HIV in the late 1980's when he was only 23 years old, was not paid for his participation in the trial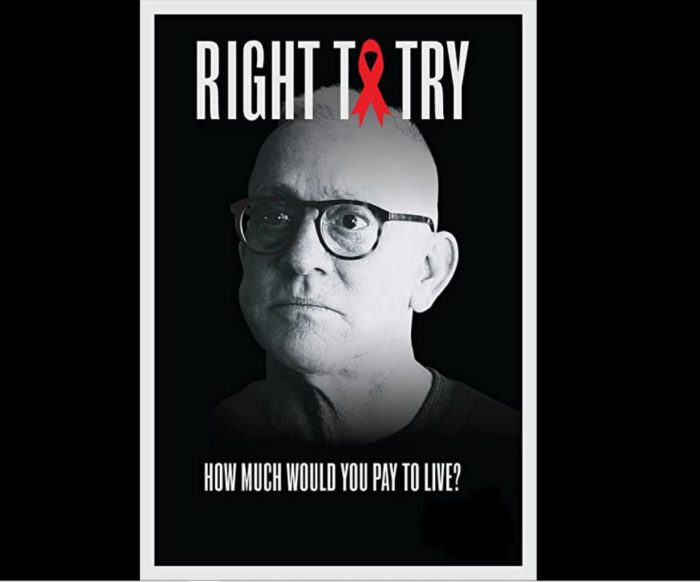 NEW YORK — NBCUniversal's streaming service Peacock will premiere the documentary short "Right to Try," which explores one man's search to cure his HIV, Wednesday on World AIDS Day.
The film, produced by Oscar-winning actress Octavia Spencer and directed by "The Late Late Show With James Corden" producer Zeberiah Newman, follows HIV survivor and activist Jeffrey Drew's participation in an experimental vaccine trial.
"We are thrilled our film 'Right to Try' will be seen on Peacock. Though Jeffrey Drew's heroic journey is singular, his story is universal," Spencer said in a statement, according to Variety. "This is an important film and with Peacock we have a wonderful partner to bring it to our audience."
Val Boreland, EVP of content acquisitions at NBCUniversal Television and Streaming, added: "It is an honor to share Drew's story with Peacock users and raise awareness around the important issue of HIV research. We know the impact of this documentary will be far-reaching."
The documentary shows the side effects that Drew experienced during the early days of the trial. The coronavirus pandemic interrupted the study, as the doctor spearheading the experimental vaccine started working on the COVID-19 vaccine.
Drew, who was diagnosed with HIV in the late 1980's when he was only 23 years old, was not paid for his participation in the trial that a major pharmaceutical company did not fund.
"There are people who are still getting infected and sick and dying," he told Variety in a June interview. "I would love to see a generation that doesn't have to think or worry about this anymore."
"Right to Try" won the Audience Award for Documentary Short last summer at Outfest, an LGBTQ+ film festival in Los Angeles.
Los Angeles observes World AIDS Day with star-studded concert
Gay Men's Chorus of Los Angeles and Juan Pablo di Pace will also be performing at the ceremony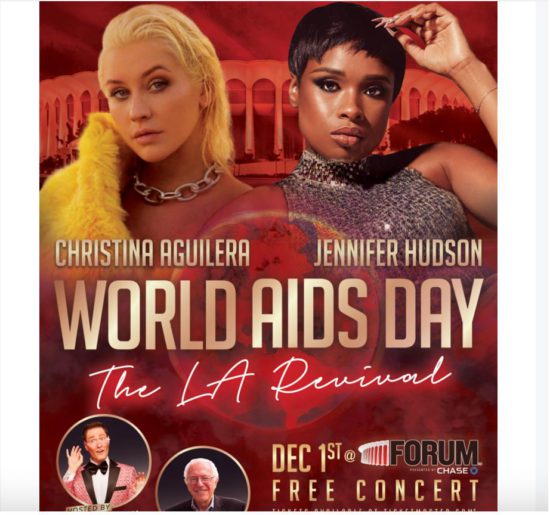 LOS ANGELES — As World AIDS Day is recognized around the globe, Los Angeles will mark the day with a free concert with a star-studded line-up at The Forum hosted by the AIDS Healthcare Foundation (AFA) and a ceremony at The Wall Las Memorias (TWLA) AIDS Monument in Lincoln Park Wednesday.
In a press release, the AFA said Grammy award winners Jennifer Hudson and Christina Aguilera are set to perform in front of a sold-out crowd. Emmy-nominated comedian Randy Rainbow will host the event, which will take place from 8:00 p.m. to 10:00 p.m.
In addition to the entertainment, the AFA will honor Vermont's U.S. Sen. Bernie Sanders with a Lifetime Achievement Award and a special video presentation. The award will be accepted by his wife Jane Sanders.
"This year marks two significant milestones in the decades-long fight against HIV and AIDS: first, for the first recognition by the CDC of the virus that led to what is now known as AIDS (40 years ago, in June 1981), and second, the launch of AHF (35 years ago)," the release reads.
TWLA's ceremony will reveal an expanded footprint of the surrounding landscape of the country's only publicly funded AIDS monument. The monument, created in 2004, will also add over 1,000 names of loved ones lost to AIDS to the 360-plus names already etched into it and unveil new artwork.
TWLM Founder Richard Zaldivar, Los Angeles City Councilman Gil Cedillo and County Board of Supervisors Chair Hilda Solis are all expected to attend the event, which will start at 6:15 p.m. at 3600 N. Mission Road. According to NBC 4 Los Angeles, organizers also hope Los Angeles Mayor Eric Garcetti will be in attendance.
Gay Men's Chorus of Los Angeles and Juan Pablo di Pace will also be performing at the ceremony.
World AIDS Day is observed every December 1 to raise awareness about AIDS and honor the people who have died of the disease. This year's theme is "End inequities. End AIDS and End Pandemics."