'Nobody's Boy,' Navajo filmmaker's fiction and reality intersect
There is a sense of chemistry between John as Mark and Daniel as Oscar that is absolutely believable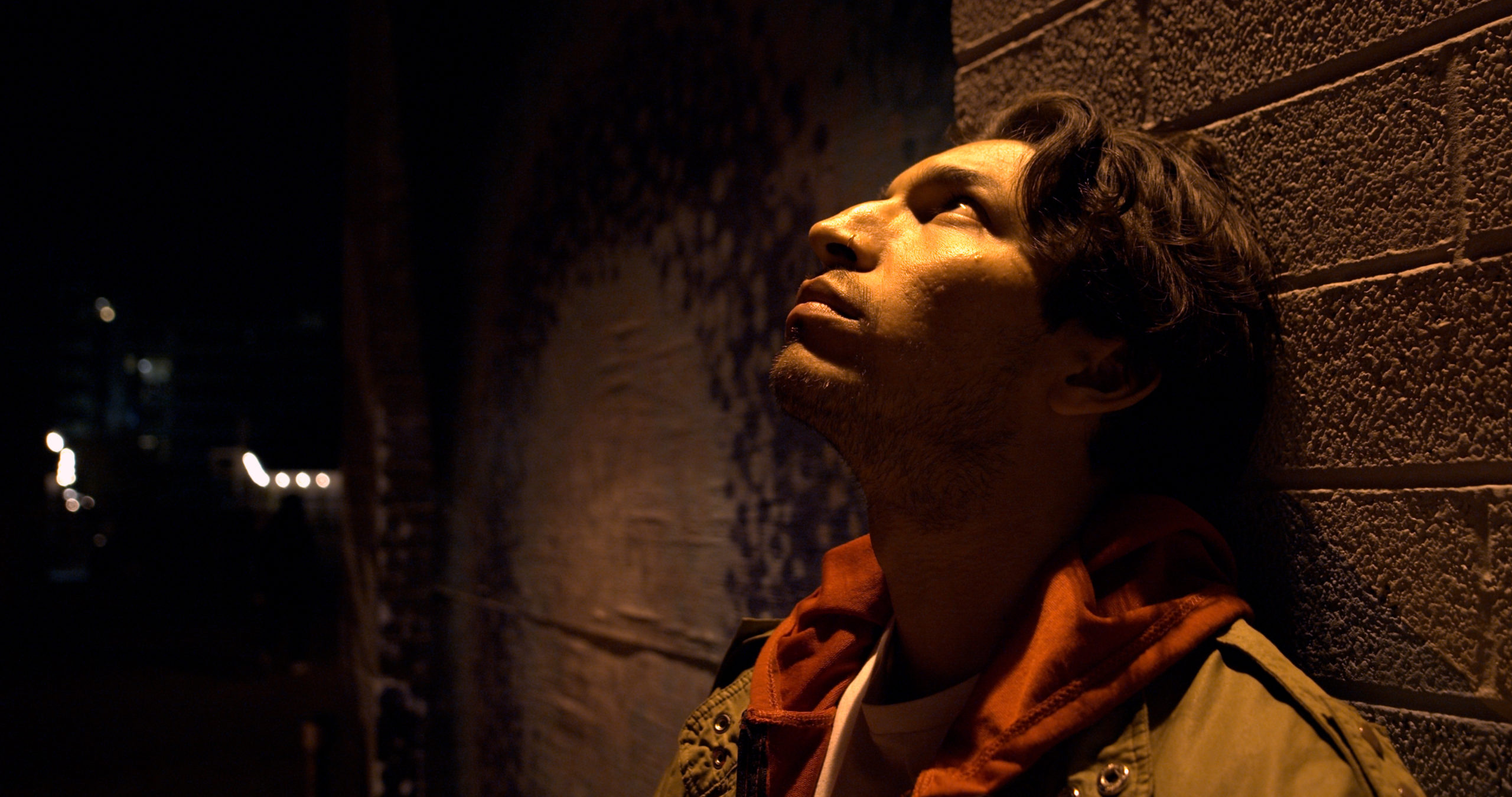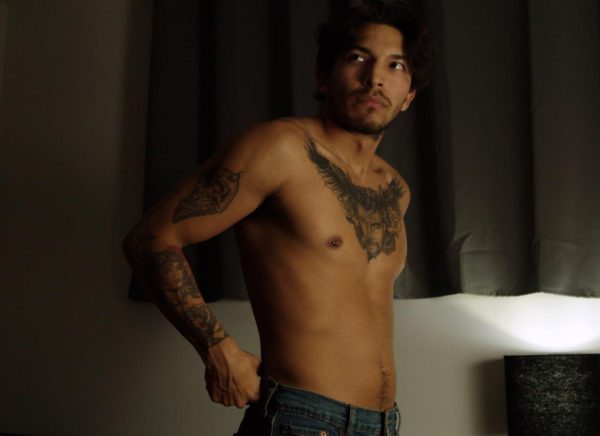 PHOENIX, AZ. – A cattleguard, a haphazardly strung barb-wire fence and open stretches of the Arizona desert dotted with saguaro cactus and the occasional dwelling are juxtapositioned alongside the neat rows of Southwestern styled pinkish single family homes in Northeastern Maricopa, County.
That barbwire barrier delineates the boundaries of two cultures, of two worlds, and two ways of life- that of the people of the Yavapai Nation at Fort McDowell and the residents of Fountain Hills in suburban Phoenix.
It was here that thirty-one year old Harrison J. Bahe came of age and where growing up as a member of the Yavapai Nation and part Navajo, he felt compelled to become a filmmaker and tell stories. "We had cable, we went to Blockbuster, or we would go to Wal-Mart off the reservation and bought movies- first VHS and later DVD's," Bahe told the Blade. " I grew up in a pretty normal way even in high school where I was a part of the marching band. Nothing earth shattering- just boring normal I guess," he said.
Yet there was an urge to create, to document, to grab a camera and explore new worlds that he had blossoming in his mind and then graduating to film. "When I watched the movie 'Dante's Peak,' I wanted to become a volcanologist. When I watched the movie 'Twister,' I wanted to chase tornadoes- and when I experienced the movie 'From Dusk Till Dawn,' I knew I wanted to become a filmmaker.
Inspired by directors such as Robert Rodriguez and Peter Jackson, he began his journey into the unpredictable world of indie low budget filmmaking in high school.
Beginning first with tiny short films, his skills with a camera grew with each new film eventually evolving into more mature dramatic film shorts.
After high school he went to a technical college, a film school in neighboring Phoenix, to polish his craft and he also made more films- hundreds of them. He created a YouTube Channel which serves as an outlet and a showcase for his cinematic fare.
Bahe often grabs friends and will arrange impromptu film sessions. "They'd literally be hanging out at my house and suddenly find themselves in front of my camera for a new film or idea," he said. With a small or no budget and utilizing only one camera, Bahe and his merry band would be off to create in the very definition of the term 'guerilla film making.'
Although Navajo Joe Films has a modest amount of subscribers when compared to other popular YouTube single creator channels, the views on a significant number of Bahe's films are well over a million plus per video.
Bahe has not limited himself to pursuing only filmmaking either. Four years ago he set up a modest photography business to capture the eroticism and beauty of the male physique.
As an openly gay man he uses dating apps, particularly Grindr, to arrange photo sessions with his predominately male models, many of whom are Latino, Black, Native American, and are stunningly gorgeous. Bahe noted that he also shoots opposite sex couples and girls as well.
"I'm comfortable with myself, my parents always supported me- my being gay wasn't a problem," he said.
His first passion though is film and his latest directorial effort, the result of several years of writing, reworking the script, and finding the perfect moment has produced a remarkable short film.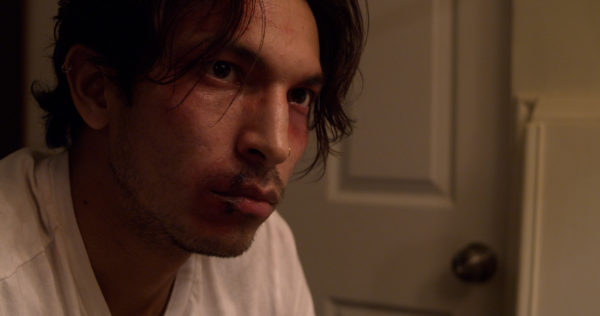 Nobody's Boy is brutally honest and has brought to the screen a first time cast who had never acted previously. Yet their performances feel authentic and three dimensional almost as if the camera is silently documenting their lives without a hint of cliché.
The storyline echoes the darkest areas of lives spent on the fringe with seemingly unsurmountable obstacles and tethered to the ugliness of alcoholism, loneliness, sexual trauma, and despair. As the film unfolds it becomes readily apparent that it paints a dark portrait, yet there remains a spark of hope and unashamed humanity embracing its characters.
Inspiration for certain themes for example, draws upon Bahe's own life experiences, especially that of dealing with alcoholism due to a sibling who had battled through the trauma of that addiction.
The audience is first presented with Oscar, a deeply troubled, flawed sex worker and alcoholic whose deep apparent pain is reflected in every expression, glance, and his body language.
Oscar's character has been given life by 26-year-old Hispanic-Native American call center worker, part-time exotic dancer, and male escort Daniel Estrada. "I knew I needed to be a real life character, especially to bring out Harrison's vision," Estrada told the Blade.
Unlike his character, Estrada was brought up in an affirming household coming out gay as a young teenager, He wryly noted that while his mother knew, his father took a bit longer to come around but now is supportive to nearly the point of being over-protective. "Be careful he tells me now," Estrada said.
His brother and sister didn't care and as far as the sex worker aspect of his life, he admits that he very much enjoys being a catalyst for that sense of intimacy that his clients pay for- that and he enjoys being paid for it.
Estrada told the Blade that while there is a massive difference between the reality of his life and that of Oscar's and while there were challenges to finding himself being able to dive into Oscar's lowest points and despair, he found the collaborative working with Bahe and the other cast members helped him to find Oscar's voice.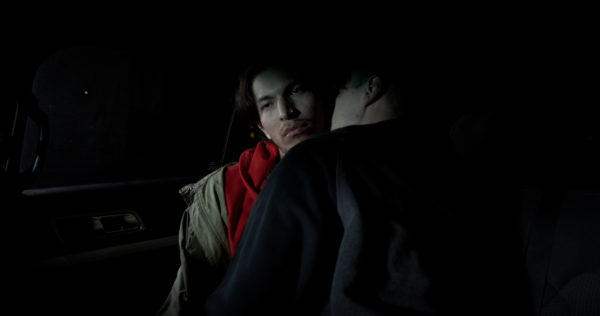 As Oscar's tribulations and dealing with the outrages perpetrated against him while living on the lowest fringes of society seemingly escalates out of control, a client searching for his own peace and sense of intimacy- a human connection, enters his life.
The character of Mark, an over 50 something white single male is ably portrayed by John Dixon, who has been in the tech industry for over 35 years in sales and marketing management. He gives Mark a three dimensional easily relatable personage that has his own demons, uncertainties, and fragilities especially when dealing with the unknowns of Oscar's.
There is a sense of chemistry between John as Mark and Daniel as Oscar that is absolutely believable.
Bahe told the Blade that the majority of Nobody's Boy was shot with the Black Magic Pocket Cinema Camera 4K version and a Google Pixel 5 mobile phone. The estimated shooting budget was most likely less than $100.
The film was shot for 13 days over four months in the middle of the Coronavirus pandemic from November 2020 to March 2021.
However, the real magic of this film is in the accomplishments of its director and his cast inspired to bring a story to life and make it feel real.
Nobody's Boy will premier April 23 on the Navajo Joe Films YouTube Channel.
Trailer:
Turning pain into positive & using art as therapy – Carl Hopgood
He knew he wanted to embark on a path toward a "bold, exciting life" among other "creative people" while "doing amazing things and living"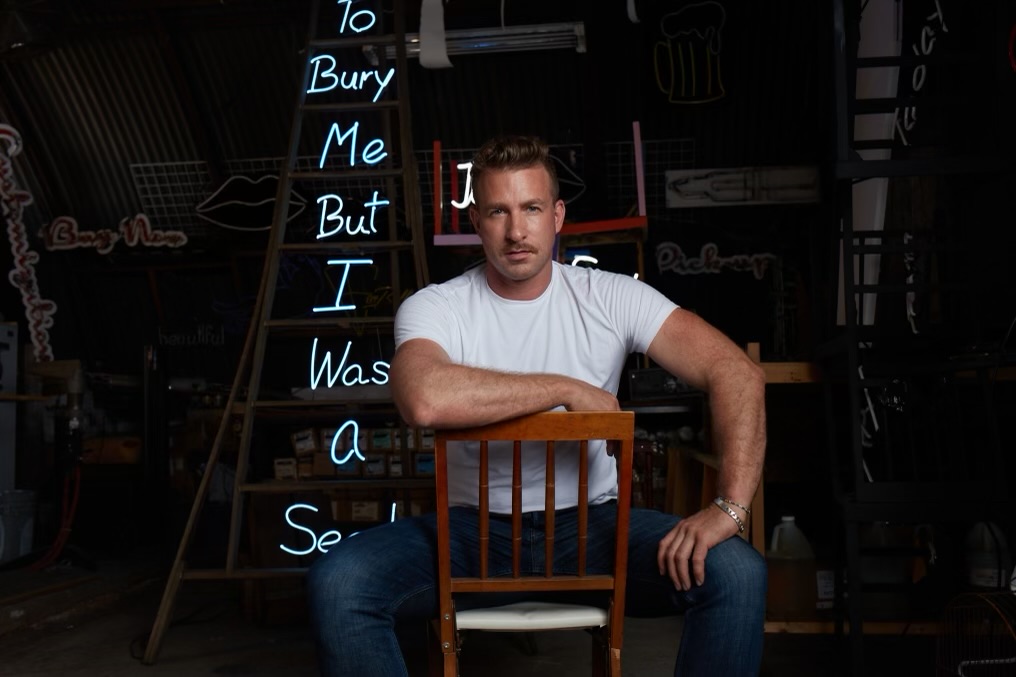 LOS ANGELES – Like many people born with an inclination toward creative expression, Carl Hopgood has known from a very young age that he wanted to be an artist.
Growing up on a small farm in rural Wales, the Cardiff-born Hopgood spent his childhood surrounded by animals and nature, letting his imagination run wild and creating worlds he envisioned with baskets, fruit boxes, flowers, stones, tabloid clippings, and other items that struck his fancy. Then, at 7, he was invited to spend an afternoon with his best friend, whose cousin was visiting; that cousin happened to be Richard Burton, and he happened to be accompanied by his even more famous wife, Elizabeth Taylor.
Hopgood was not just star-struck, he was inspired.
"My world was never the same after that day," he tells the Blade. "They told stories about Hollywood, London, glamorous parties, movies, photography… and Andy Warhol! Andy Warhol was my first artist crush. He was also born on a farm, so I felt an immediate connection."
After that experience, he knew he wanted to embark on a path toward a "bold, exciting life" among other "creative people" while "doing amazing things and living."

Four decades and one continental transplant later, it can safely be said that Hopgood has accomplished his goal.
A successfully established LA-based artist, he's created a unique body of work that includes pieces in Neon, Sculpture, Film / Video Installation, and canvas painting; his collectors include Morgan Freeman, Eugiono Lopez, The Vinik Family Foundation, The Groucho Club and Rupert Everett; and recent exhibitions of his work – like his neon art installations 'Looking For Love In All The Wrong Places', 'My Heart Is Open', and 'You Changed My Life' at the Maddox Gallery in West Hollywood, and 'Chair Therapy' at United Talent Agency's UTA Artspace LA – have garnered a flurry of enthusiasm and increasing national attention.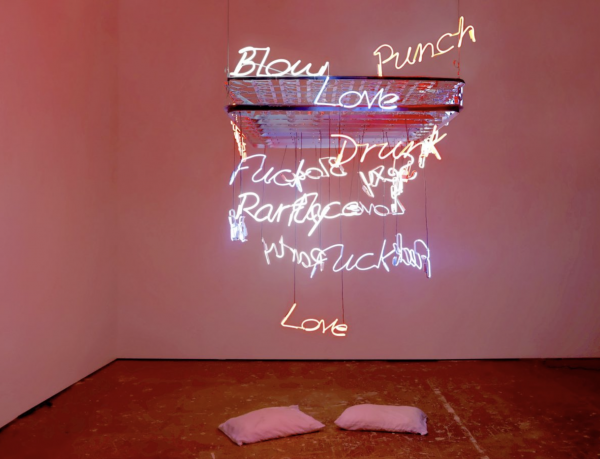 The latter installation created a particular stir with its inclusion of a controversial neon sculpture called "Just Say Gay", Hopgood's response to the draconian anti-LGBTQ legislation championed by Florida Governor Ron DeSantis; that work was acquired by prominent collector Beth Rudin DeWoody and will be on display from December 2023 at her Bunker Art Space in West Palm Beach, Florida.
When talking with the Blade, Hopgood is keen to focus the discussion on a new goal – the completion of a documentary about the creation of "Chair Therapy" – but he's certainly willing to start the conversation by talking about the sense of queer defiance behind "Just Say Gay" and many of his other works, because the two subjects go hand in hand.
"Being a gay man of Welsh and Greek heritage," he proudly proclaims, "the fight against bullying, repression, injustice and discrimination became central themes of my artistic expression."
As he explains, that fight is rooted in a traumatic childhood experience. "I was bullied by classmates," he remembers. "They would chase after me, push me to the ground and kick me in the groin. I managed to escape and found sanctuary under a stack of chairs in the school assembly hall. The school therapist helped me cope by using a technique called Empty Chair Therapy, where you would talk to an empty chair about your feelings.
"I decided turn this pain into something positive and use art as my therapy."

Much later, the young Hopgood would be inspired by the confrontational aesthetic of Damien Hirst – after reading a scathing criticism of one of his works in the paper – and follow in the controversial artist's footsteps to Goldsmiths College in London, eventually becoming part of a movement with fellow graduates like Steve McQueen, Jason Martin, Ceal Floyer, Angela De La Cruz and Alessandro Raho.
"It was an incredible moment to be a young artist in 1990s London."
Nevertheless, after 20 years in the London art scene, he decided it was time for a change.
"I had just watched a documentary featuring David Hockney," he explains. "The freedom and possibility of David's work was clearly inspired by Southern California with its beautiful palette and open, sunny skies. It was a stark contrast to the gloomy weather of the UK, and the anxiety and depression that accumulated over the years. I had heard about the growing LA art scene –LACMA, MOCA and The Broad were beginning to attract an international audience – and I decided that moving to Los Angeles would be good for both my mental health and creativity."
The choice was a fortuitous one for him – "It was the perfect time to go," he says, "and I was ready to work in new mediums and expand my repertoire." Then, like the rest of us, he had to put all his plans indefinitely up in the air.
"In early 2020, when the pandemic hit," he tells us, "I would see all the bars and restaurants shuttered in West Hollywood. It was like a ghost town. Looking through the store front windows, all I could see were chairs stacked on top of each other – and that image took me straight back to my unhappy childhood."
He decided to use it for inspiration and began work on the first sculpture in the "Chair Therapy" series ("My Heart is Open") – which as he describes, addresses "toxic masculinity, oppression and queer identity, themes I've always championed."
Those themes are doubtless also at least partly behind his desire to see the planned documentary – titled "Fragile World" – reach fruition. Filmed during the pandemic, it profiles Hopgood by charting his personal artistic journey, but centers on the development of "Chair Therapy", in which he combined found and vintage wooden chairs with neon lights shaped into positive words to provide hope, love and support for a community who were hardest hit by Covid and the shutdowns it necessitated.
"Seeing those stacked chairs and tables, in those empty establishments, I knew some would be forced to close for good. I felt so helpless, but I knew there was something I could do."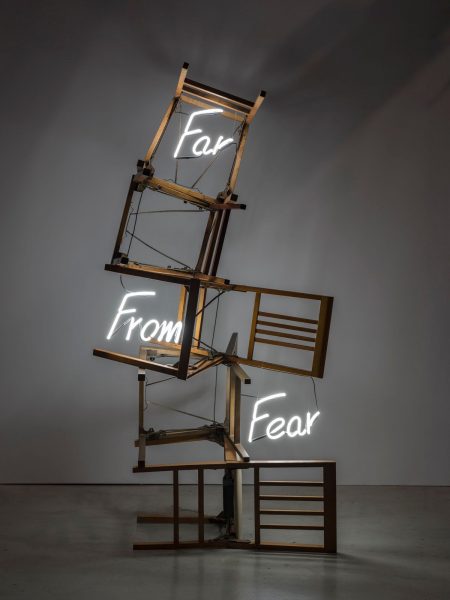 Now, with his own hard-hit community – alongside many others – facing aggressive legislative oppression from the extremist right, he's determined to see the film finished, so that the same empowering message of optimism embodied in his work can be spread to a larger audience as a reminder not to let the bullies break their spirit. To that end, the documentary's director and producer, LA-based British filmmaker Kate Rees Davies, has set up an Indiegogo campaign to raise the funding necessary to finish the project.
Another motivation, perhaps even more personal, might be found in Hopgood's revelation of a hidden influence in another work from the "Empty Chairs" series: "Twelve Steps", which explores the massive financial success of a California citrus industry made possible by the hard work of a segregated Mexican immigrant labor force. "I was also inspired in that piece by a line from Greek poet Dinos Christianopoulos," he says, "who was sidelined by the Greek literary community in the 1970s because he was gay. It's a small but powerful couplet which was included in the collection 'The Body and the Wormwood' that reads, 'What didn't you do to bury me, but you forgot that I was a seed.'"
For Hopgood, perhaps, the documentary also represents a seed, one that he himself has planted in hope of spreading its positive power into the world – and he's counting on the support of his patrons through Indiegogo for the water, light and nourishment it requires to grow.