Veronica Escobar talks Biden immigration policy, LGBTQ asylum seekers
Texas Democrat represents border city of El Paso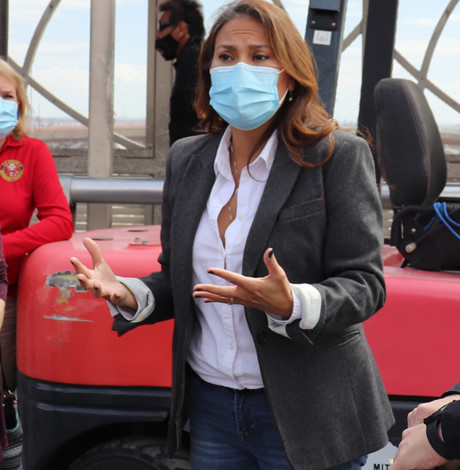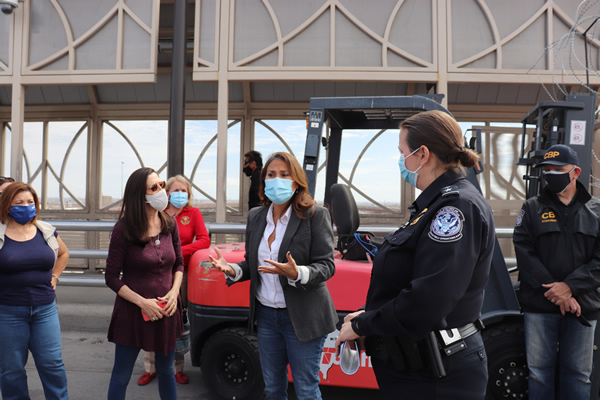 WASHINGTON — Texas Congresswoman Veronica Escobar on Thursday said LGBTQ asylum seekers are among those who should be able to pursue their cases outside of detention.
"We need to use alternatives to detention far more robustly and we need to stop growing detention space," Escobar told the Washington Blade during a telephone interview. "We need to stop growing ICE (U.S. Immigration and Customs Enforcement) personnel. We need to put all of that on pause and put resources and energy into alternatives to detention and legal pathways and reenvisioning our refugee and asylum system."
Escobar represents Texas' 16th Congressional District that includes El Paso, which is across the Rio Grande from Ciudad Juárez, Mexico.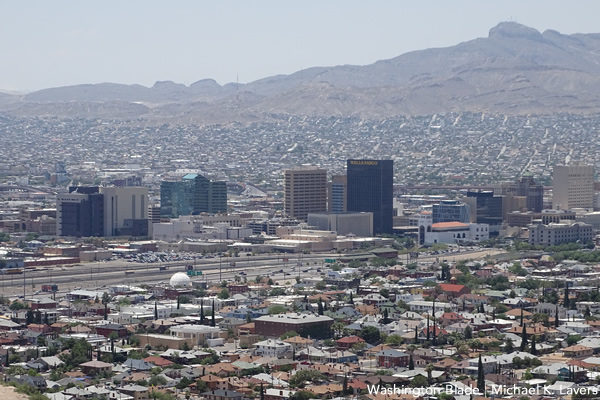 The Texas Democrat said she supports the closure of private ICE detention centers that include the Otero County Processing Center in Chaparral, N.M., from which Johana "Joa" Medina León, a transgender woman with HIV from El Salvador, was released days before she died at an El Paso hospital on June 1, 2019.
"I've sounded the alarm and written letters," Escobar told the Blade, noting she has expressed concern about the treatment of LGBTQ detainees in ICE custody. "I am calling for shutting down private facilities like Otero, but to be honest our government-run facilities are not a whole lot better. They are better in some respects, but they're not in other respects."
Escobar said she would like the U.S. to create "a system where vulnerable populations are not in this kind of custody at all."
"They are in our custody through what is very similar to a criminal justice process. That is a fundamental problem," she told the Blade. "I think we can try to spend time and energy reforming the way vulnerable populations are dealt with in custody or my preference is to advocate so that they are not in criminal-like custody at all."
"There has to be a hybrid approach, a new way to approach populations that should be treated with a humanitarian component instead of a criminal component or viewed through a humanitarian lens instead of through a criminal lens," added Escobar. "I want our law enforcement to focus on criminal activity and bad actors, but someone vulnerable seeking asylum should not be treated in the same away as a drug trafficker, part of a sophisticated criminal organization that poses a major threat to our homeland. There's no way that we should be treating these two populations the same way, but that's what's been happening ever since the Clinton era and so it's going to take a lot of unwinding of that and I want to get those ideas into the public dialogue. I want to push a complete revamping of the system and a reenvisioning of how we address vulnerable populations who arrive at our front door."
Escobar said she does not support the abolition of ICE, noting it "performs important functions."
"I am not a believer of abolishing police," she said. "They serve a very important critical function, but I am a fan of and what I am pushing for is taking certain populations out of their custody and out of their purview."
Escobar said she wants to "see people who are actual criminals and who do pose a threat to our communities deported" and ICE "performs that function."
"The problem is we've criminalized everybody arriving at our front door," she told the Blade. "That lens of criminality began with the Clinton administration and it's been expanded year after year after year and so it's going to take a lot of work to unwind it, but I'm committed to that."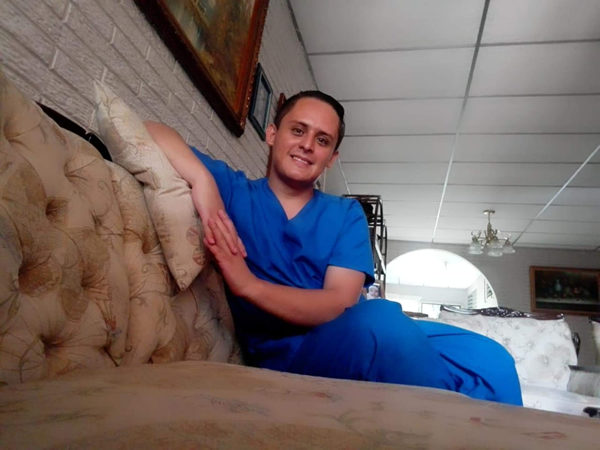 Escobar spoke with the Blade less than two months after the Biden administration began to allow into the U.S. asylum seekers who the previous White House forced to pursue their cases in Mexico under the Migrant Protection Protocols program.
Tens of thousands of unaccompanied children have entered the U.S. since President Biden took office. Title 42, a Centers for Disease Control and Prevention rule that closed the Southern border to most asylum seekers and migrants because of the coronavirus pandemic, remains in place.
"We are still as a government using Title 42 to expel families," Escobar told the Blade. "And because the expulsions are completely dependent upon Mexico's collaboration, whenever Mexico makes the determination that they can't take more families, families are being flown across the state or sometimes across the country, to be expelled in other Mexican countries."
Escobar cited reports from lawyers and immigrant advocacy groups that Title 42 expulsions are "being handled in a really terrible away, that in fact agents are not informing families of what's happening to them, and it's led to just really traumatic experiences for vulnerable populations."
"We continue to see policies that were initiated by the Trump administration and they are heartbreaking situations for everybody involved, but especially for the migrants," she said.
Escobar noted the number of unaccompanied children in U.S. Customs and Border Protection custody have "drastically reduced," but the number of them who are in the care of U.S. Department of Health and Human Services "have grown."
"HHS is doing a remarkable job given the situation to get children as quickly as they can out of their custody and into the arms of their family members," she said. "They have had very little time to ramp up. They have had a staff shortage, a facility shortage, a tragic lack of preparation that should have been initiated by the Trump administration, so they inherited little to nothing, so they've been doing the best they can."
"I am so glad though that kids are being taken out of CBP custody," added Escobar. "Kids and vulnerable populations shouldn't be in CBP custody at all."
Addressing root migration causes will 'be tough'
Biden has charged Vice President Harris with the task of working with countries in Central America's Northern Triangle — El Salvador, Guatemala and Honduras — to address some of the root causes of migration that include violence, poverty and climate change.
"We can't address root causes without providing people with more legal pathways," Escobar told the Blade. "Part of what fuels migrants making the treacherous journey and what forces them to go to banks to take out loans to pay human traffickers is the lack of access to a legal pathway."
She further acknowledged there is "not one policy approach that will be the cure all."
"We do have to look at this very clear-eyed and understand that some of the very governments that (Harris)'s going to have to work with are complicit in what's been happening and have allowed criminal organizations to operate with impunity," said Escobar. "Some have had family members who have participated as well, and then there will need to be a multifaceted approach on that front, as well, so there will have to be a carrot and a stick approach."
Escobar told the Blade there should be a "robust collaboration and support that should flow to" non-government organizations "that we trust and that will be transparent with us and what will work closely with us." Escobar added sanctions that include travel ban and freezing assets could also be used to hold individuals accountable for human rights violations in the region.
"The criminal organizations that have thrived, especially over the last four years, and have indeed gotten more sophisticated over the last four years, have operated with impunity in these governments and the United States has to work with these governments," she said. "We have to be good neighbors, strong neighbors, but we have to be neighbors that also create accountability and create an environment where there are consequences for being complicit with bad actors or criminal organizations."
"It's going to be tough," added Escobar. "Do I think it's doable? 100 percent. Will it happen overnight? Absolutely not, but it's long overdue."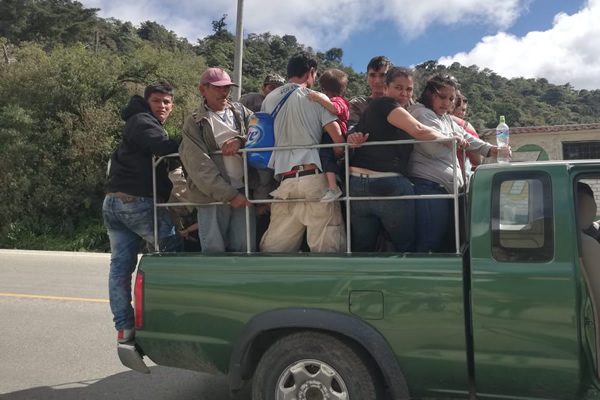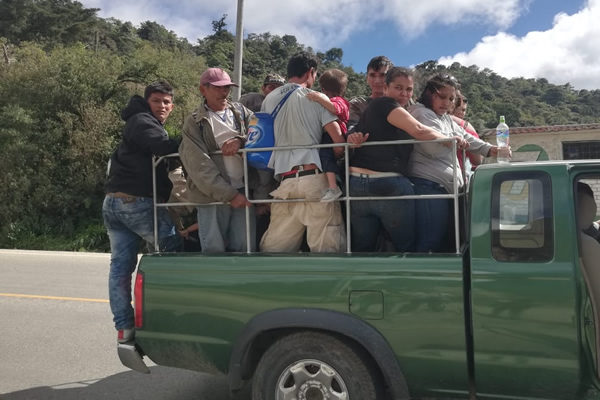 Escobar not invited to participate in GOP trip to El Paso
Escobar on March 27 led a group of eight House members — seven Democrats and one Republican — to El Paso.
The lawmakers met with immigration activists and representatives of local NGOs. The delegation also visited the Paso del Norte Port of Entry; CBP's El Paso Central Processing Center; Casa Franklin, an HHS facility for unaccompanied children, and Annunciation House, a shelter for migrants.
House Minority Leader Kevin McCarthy (R-Calif.) is among those who has sharply criticized Biden for beginning the process to reverse his predecessor's hardline immigration policies.
McCarthy and 12 other House Republicans on March 15 visited El Paso. McCarthy did not invite Escobar to participate; even though she reached out to him once she learned about the trip and offered to help set up meetings with lawyers, activists, business owners and others.
"As you prepare to come into my district, I would like to remind you that you are visiting a community that has always welcomed the stranger and has provided good will and hospitality to the most vulnerable among us," wrote Escobar in a letter she sent to McCarthy on March 11. "Over the last four years, as the former President used increasingly racist and xenophobic language that dehumanized immigrants, we learned the painful lesson that those words have consequences."
Escobar said "a target was painted on our backs as Donald Trump and many of our own colleagues in Congress chose to fan the flames of anti-immigrant fervor and incite hatred towards our safe and secure border." She further noted in a letter "a domestic terrorist" who killed 23 people at an El Paso Walmart on Aug. 3, 2019, "confessed that he drove over 10 hours to slaughter Mexicans and immigrants in my community."
"The words you and your delegation of members will use to describe the situation, immigrants and my community have tremendous power," wrote Escobar. "I ask that you never lose sight of that because my district and I will ultimately pay the price."
Escobar on Thursday noted McCarthy and the House Republicans who he brought to El Paso only met with law enforcement officials.
"It's a real failure to look at the whole picture," she said.
Escobar further criticized McCarthy and the group of 18 U.S. senators who "parachuted into" South Texas late last month.
U.S. Sens. Ted Cruz (R-Texas) and John Cornyn (R-Texas) led the delegation that visited the CBP facility in the Rio Grande Valley in which thousands of unaccompanied children had been housed. A press release that Cruz's office issued noted the Texas Department of Public Safety gave the senators "a boat tour" of the Rio Grande.
"They've been in Congress for a long time," said Escobar. "Their idea of a solution is doing the same thing over and over again and expecting different results. That's everybody's definition of insanity."
"I am going to bring forward a new way of looking at all of this and my hope is that those legislators with an open mind and want to explore new ideas will listen," she added.
Rep. Karen Bass greets LGBTQ+ affinity group at the historic Black Cat
Bass has been a longtime ally of the LGBTQ+ community. In her remarks she listed some of her achievements in the battles for LGBTQ+ equality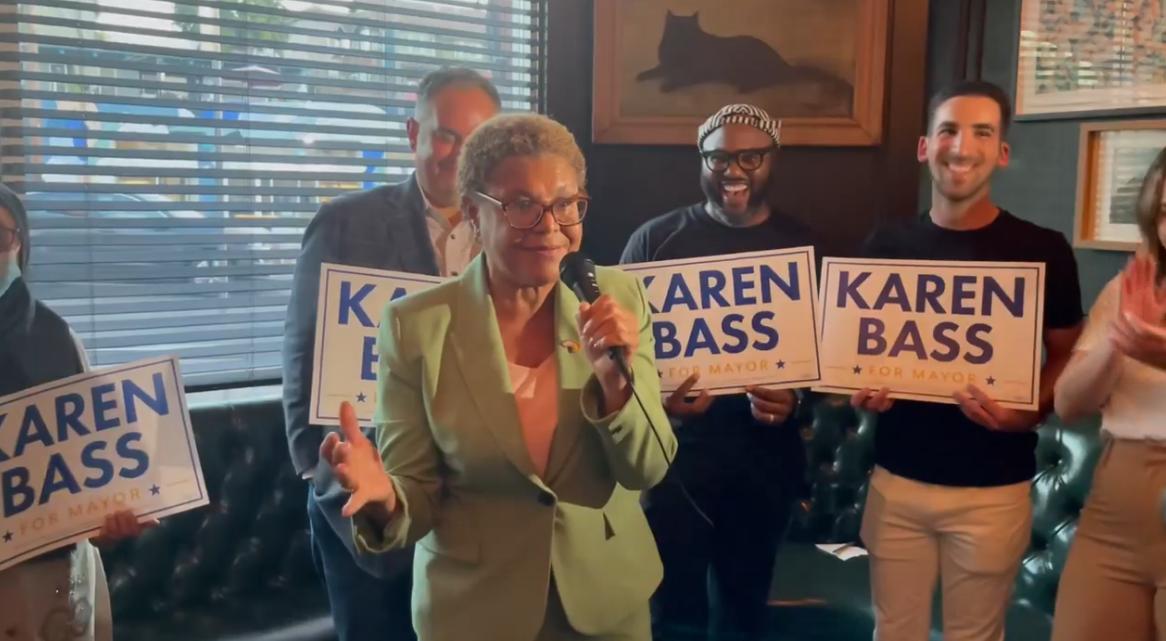 LOS ANGELES – Surrounded by well-wishers, supporters, and former California Assembly Speaker John A. Pérez at her side, U.S. Representative Karen Bass launched the official "LGBTQ+ for Bass affinity group" Wednesday evening at the Black Cat, an LGBTQ+ historic site located in the Silver Lake neighborhood of the City.
Pérez, an openly Out gay man served as the 68th Speaker of the California State Assembly, succeeding Bass as Speaker in 2010. Bass made several warm references to their mutual past political history. She also spoke on subjects that are critical to furthering LGBTQ+ equality and equity in her six-minute chat.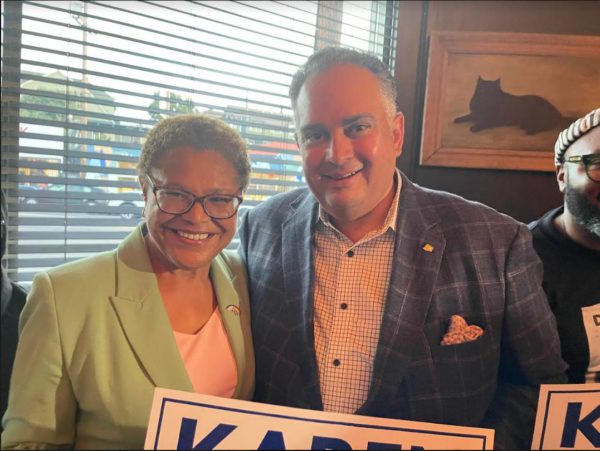 The congresswoman is locked in a close race with billionaire real estate tycoon Rick Caruso to succeed current Los Angeles City Mayor Eric Garcetti in the Fall elections on November 8. Both candidates advanced from the June 7 primary election since neither received 50% of the vote. Incumbent Mayor Garcetti is unable to stand for re-election due to term limits.
Bass has been a longtime ally of the LGBTQ+ community. In her remarks Wednesday at the Black Cat she listed some of her achievements in the battles for LGBTQ+ equality, first in the California Assembly, then in Congress.
The venue where the Congresswoman launched the LGBTQ+ political affinity group is famed as an LGBTQ+ historic site. The Black Cat was the site of one of the first demonstrations in the United States protesting police brutality against LGBT people, preceding the Stonewall riots by over two years.
From the One Archives at USC: A New Year's 1967 raid by the Los Angeles Police turned brutal as LAPD undercover officers began beating several of the patrons and ultimately arrested fourteen patrons for "assault and public lewdness." As reported by the local gay newspaper Tangents, two bartenders were beaten unconscious. The paper also noted that patrons fled to another gay bar, New Faces, but they were followed by police and arrested. The officers mistook the manager, a woman named Lee Roy, for a man (named "Leroy") wearing a dress, and beat her severely.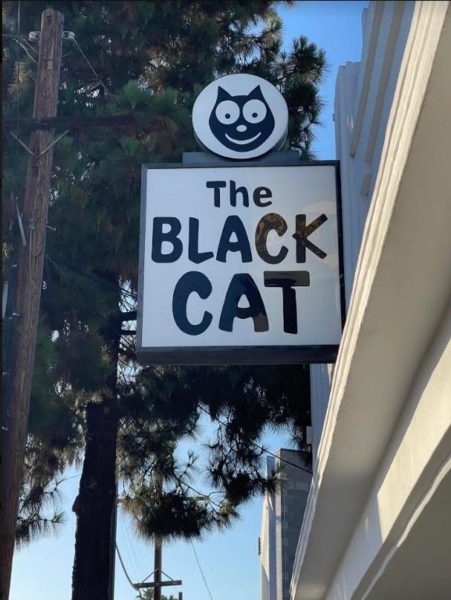 The historical account continued: Contrary to popular myth, there was no "riot" at the Black Cat, but a civil demonstration of 200 attendees to protest the raids was held on February 11, 1967. The demonstration was organized by a group called PRIDE (Personal Rights in Defense and Education) – founded by Steve Ginsberg – and the SCCRH (Southern California Council on Religion and Homophile). The protest was met by squadrons of armed policemen. Demonstrators carefully adhered to all laws and ordinances so that the police had no legitimate reasons to make arrests.
Two of the noteworthy events that arose from the Black Cat arrests and later protests was the establishment of The Advocate, which began as a newspaper for the group PRIDE and has continued publishing to this day and formation of the Metropolitan Community Church led by Los Angeles LGBTQ+ pioneer, the Reverend Troy Perry.
Karen Bass speaks at LA's iconic Black Cat:
Editor's Note: The Los Angeles Blade has endorsed Rep. Bass in her election campaign to become the next mayor of the city of Los Angeles.
Gay man wins Democratic congressional primary in Ill.
Eric Sorensen running for retiring U.S. Rep. Cheri Bustos' seat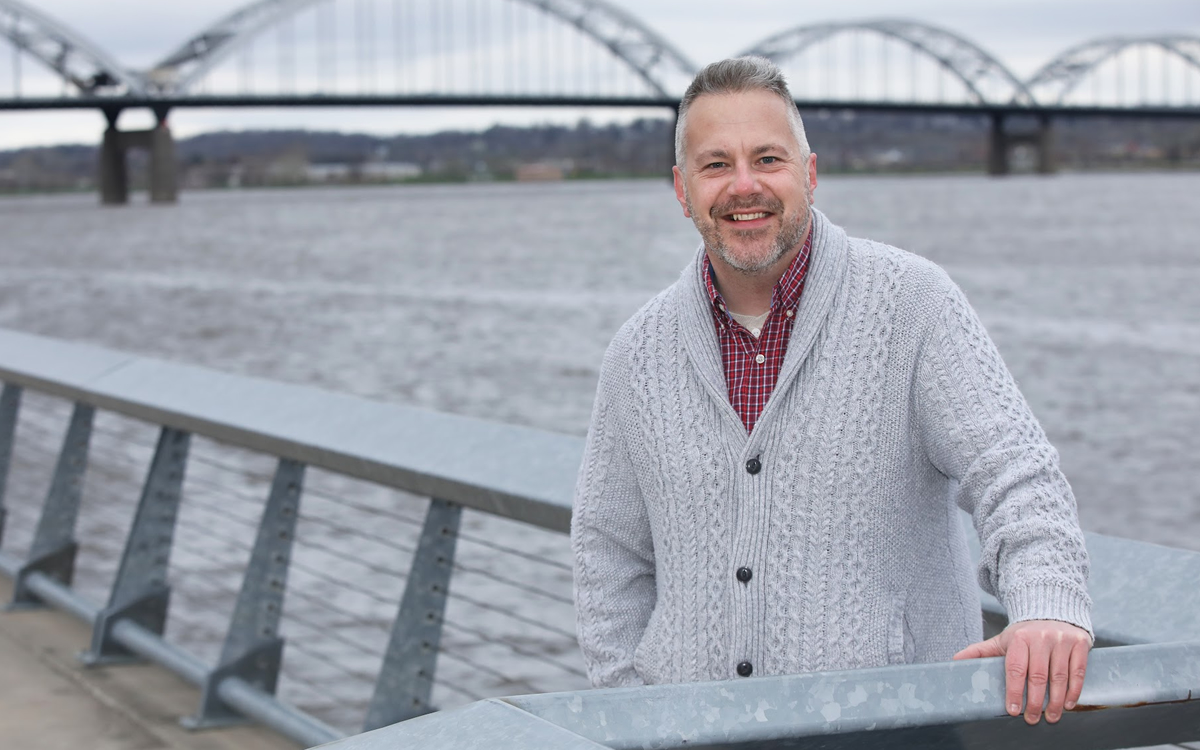 MOLINE, Ill. — Illinois Democrats are hoping to send a gay person to Congress for the first time in the state's history.
Voters in the 17th Congressional District in northwest Illinois on Tuesday voted to have Eric Sorensen, a former meteorologist, become the Democratic nominee for the district's U.S. House of Representatives seat currently held by retiring Democratic Congresswoman Cheri Bustos.
"THANK YOU to everyone who was a part of this movement," Sorensen wrote on Twitter following his primary victory. "From day one this campaign has been built on three pillars: Trust, science, and communication. I'm honored to be your #IL17 Democratic nominee for Congress."
Sorensen, who bested his closest primary opponent by more than 13,000 votes, has centered much of his campaign messaging around the issue of mitigating the effects of climate change.
Sorensen's candidacy and potential to become the state's first openly gay member of Congress has been met with celebration from those advocating for more of such representation on Capitol Hill. After Sorensen claimed victory on Tuesday, advocacy groups and political organizations like Equality PAC and the LGBTQ Victory Fund were quick to offer their support.
"It has never been more important to defend our pro-choice, pro-equality majority in Congress," Victory Fund President Annise Parker said in a statement. "As a meteorologist, Eric spent the last two decades keeping his local community safe by telling the truth and promoting a pro-science agenda. His success tonight is a testament to his continued leadership and grassroots support, as well as a highly effective ground game focused on candid conversations about how to make government work for all Americans."
Hoping to keep the district from flipping to Republican control in a midterm year that is expected to be an uphill battle for Democratic congressional majorities, Sorensen has also gained the backing of the district's current congresswoman. Bustos took to Twitter following Sorensen's victory to announce her support.
"Illinoisans deserve a representative who will fight for working families, help build our local economy and continue to lift up Midwestern voices," Bustos wrote. "Eric will do that."
Sorensen's ultimate ascension to Illinois' 17th Congressional District seat, however, is not assured. Though the district leans Democratic, it is widely labeled as a competitive race following nationwide redistricting of congressional maps ahead of this year's midterms.
Such a competitive landscape is coupled with a competitive rival battling Sorensen for the seat.
His Republican opponent, lawyer and Army Reserve Capt. Esther Joy King, previously ran for the seat in 2020, losing to Bustos by just four percent of the overall vote.
Having already secured a number of high-profile Republican endorsements including House Minority Leader Kevin McCarthy (R-Calif.), House Conference Chair Elise Stefanik (R-N.Y.) and former Secretary of State Mike Pompeo, King has already begun her November messaging campaign after besting her primary opponent by more than 30 percentage points.
"It doesn't have to be a choice if we elect leaders who will put their constituents first rather than far-left, out-of-touch policies and that's exactly what I'm running to do," King said in a statement Tuesday night. "Let's come together to win this in November."
Groups like the Victory Fund, however, are remain optimistic that Sorensen's potential to make history will be within reach when voters enter the polls on Nov. 8.
"Voters are clearly enthusiastic about Eric's vision for a more equitable future," Parker said. "We trust Eric will be a vital voice in Congress come November. The stakes have never been higher."
Hillary Clinton labels Justice Thomas 'a person of grievance'
Clinton cautioned that Thomas was also sending a signal to attack same-sex marriage, sodomy and contraception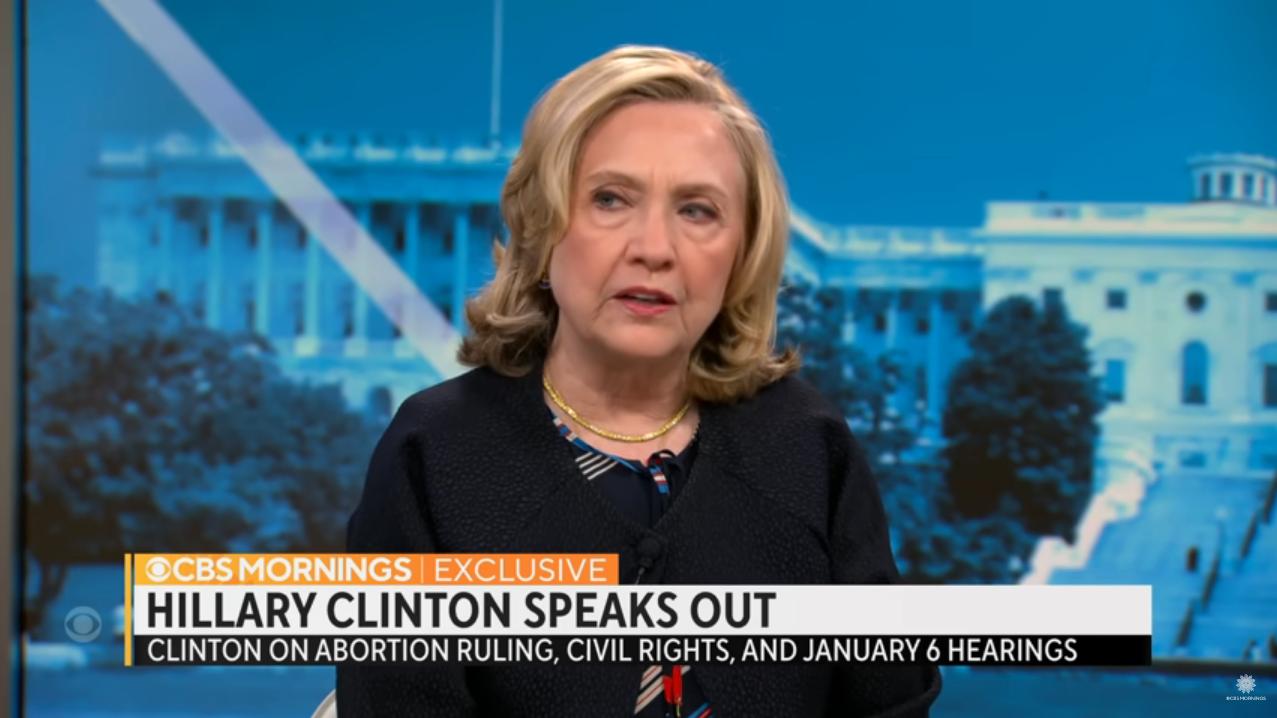 NEW YORK – In an interview with CBS News correspondent and co-anchor of CBS Mornings Gayle King, former U.S. Secretary of State Hillary Clinton reflected on last Friday's stunning yet expected overturn of landmark women's reproductive choice case Roe v. Wade.
During the interview, Secretary Clinton cautioned that Associate U.S. Supreme Court Justice Clarence Thomas was sending a signal to attack same-sex marriage, sodomy and contraception to lower federal courts and state legislatures and that he would be willing to consider cases that could target those rights.
"He has signaled in the past to lower courts, to state legislatures to find cases, pass laws, get them up," Clinton said, adding Thomas's message to conservative judicial activists has been "I may not get them the first, the second, or the third time, but we're going to keep at it."
Clinton also noted, "I went to law school with [Justice Thomas]. He's been a person of grievance for as long as I have known him — resentment, grievance, anger … Women are going to die, Gayle. Women will die."
Hillary Clinton on abortion ruling: "Women are going to die"