Proyecto busca mapear incidencias de violencia anti-LGBTQ en Centroamérica
Aspidh Arcoiris Trans participa en iniciativa 'Libre de Ser'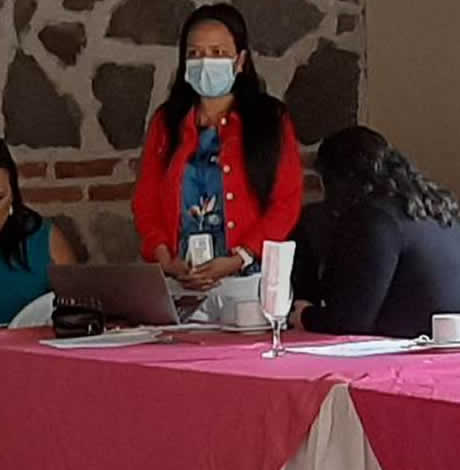 SAN SALVADOR, El Salvador — Con el objetivo de validar y dar a conocer los resultados del mapeo de datos sobre violencia contra personas LGBTQ en el país, el 19 de abril la Asociación Solidaria para Impulsar el Desarrollo Humano (Aspidh Arcoiris Trans) junto a Hivos y el Reino de los Países Bajos, presentaron los hallazgos y desafíos en el proyecto regional "Libre de Ser".
Dicho proyecto busca generar condiciones que contribuyan a salvaguardar la vida e integridad de las personas LGBTQ en cinco países de Centroamérica, enfocándose así en el mejoramiento y uso de datos sobre la violencia y crímenes de odio, así como en la generación de nuevas narrativas que contribuyan a concientizar sobre el problema y a crear un ambiente favorable a la realización de los derechos de este grupo vulnerable.
"Siempre preocupa cuando hay violencia hacia la población LGBTIQ+, por ello es importante recolectar evidencia y datos, por esto existe este proyecto, recolectando insumos para visibilizar la realidad que afecta a esta población", mencionó en la presentación Christine Pirenne, embajadora del Reino de los Países Bajos en El Salvador.
"El tema de evidencias y tener datos es fundamental, nos permite tener una mejor idea de la realidad que tenemos y nos permite también generar mejores medidas y políticas públicas para favorecer la seguridad integral para la población LGBTIQ+", comenta Mercedes Álvarez Rudín, gerente de proyecto de Hivos para América Latina.
En el mapeo fueron 43 entidades gubernamentales y no gubernamentales que participaron de dicha recolección, 10 de ellas son salvadoreñas; entre los datos recolectados sobre los instrumentos que dichas entidades utilizan para recolectar datos, se descubrió que entre las entidades del Estado participantes, existe un desconocimiento sobre el termino identidad de género, ya que la momento de desagregar la variable, se confundían con orientación sexual e incluso se descubrieron términos como "no definido", esto según lo compartido en la presentación por Hassel Fallas, consultora por Iniciativa Latinoamericana de Datos Abiertos (ILDA).
En los mismos resultados a nivel regional, 26 de las entidades participantes, mencionaron que recolectan dichos datos para visibilizar la violencia y discriminación que vive la población LGBTQ en sus países, porque los Estados no hacen valer la justicia para esta población.
"Contar con estos datos nos permite tener herramientas que nos ayuden a pensar en políticas públicas o cualquier otro tipo de herramientas que nos ayude a solucionar esta problemática que se está viviendo", expresa Silvana Fumega, consultora por ILDA.
También se pudo descubrir en términos generales, que a nivel regional, la información sobre violencia hacia población LGBTQ no se pone a disposición a terceros, esto para cuidar la integridad de las victimas y las entidades de sociedad civil, expresaron que también para evitar represalia por parte del Estado, así comentó en su presentación Fallas de ILDA.
Las personas asistentes felicitaron el esfuerzo realizado para la recolección de la información, pero también expusieron inconformidades con el actuar de entidades del Estado en materia de recolección de datos referente al tema, "al pedir datos a la Fiscalía General de la República (FGR), no hay datos desagregados por sector población, todo lo manejan como población LGBTI, es decir no hay datos específicos de denuncia o casos de lesbianas, gays o personas trans, todo lo tratan en general. De igual manera la Policía Nacional Civil", comentó Kerlin Belloso, representante de la Fundación de Estudios para la Aplicación de Derechos (FESPAD).
"Libre de Ser" apunta hacia un trabajo intersectorial entre actores claves del gobierno, liderazgos y organizaciones LGBTQ y otras organizaciones de sociedad civil, con el fin de avanzar hacia un mismo objetivo con una visión país.
Y de esta manera esperan poder lograr que instituciones públicas y organizaciones LGBTQ cuenten con evidencia y así sean utilizadas para mejorar el diseño e implementación de medidas y políticas públicas de seguridad y protección para personas LGBTQ, por particular énfasis en personas trans, todo gracias al uso de tecnología cívica y datos relevantes, geolocalizados y actualizados sobre crímenes de odio y discriminación por razón de orientación sexual o identidad de género.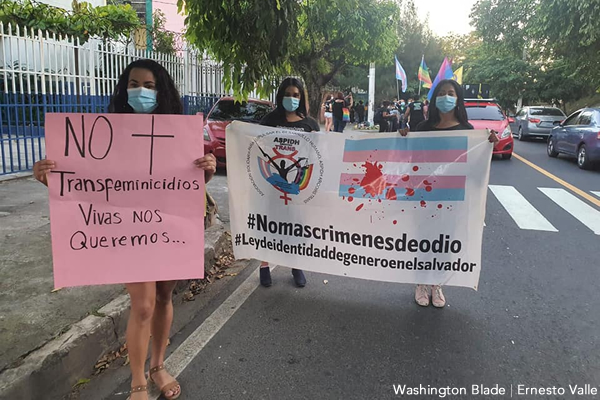 Jazz Jennings publicly opens up about her binge-eating disorder
"I have gained a substantial amount of weight. I suffer from binge-eating disorder, a disease in which I'm addicted to food"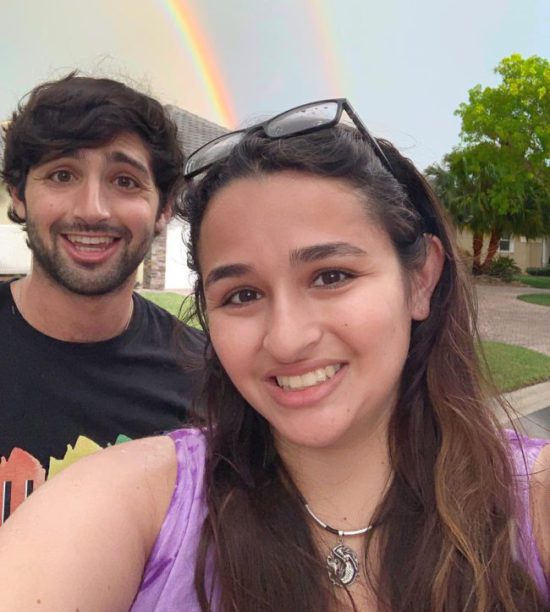 CORAL SPRINGS, Fl. – In an Instagram post Friday, prominent Trans youth activist, YouTuber and social media influencer Jazz Jennings revealed that she is battling an eating disorder. In a side by side photographic comparison Jennings showed her followers that she has in fact suffered a massive weight gain.
"I'm posting this photo because it's time for me to address my weight gain and hold myself accountable," she said, while sharing a picture of herself by the pool, wearing a sports bra and shorts.
Jennings wrote; "As many of you have noticed, over the past few years, I have gained a substantial amount of weight. I suffer from binge-eating disorder, a disease in which I'm not only addicted to food, but I eat it in large quantities.
My binging, along with an increased appetite I experience from some of the meds I'm on, has caused me to gain almost 100 pounds in a little less than 2 years.
I'm ready to change my ways; I've been saying I'm ready to turn over a new leaf, but I'm running out of trees now. I'm ready to take the initiative and create positive changes when it comes to my health."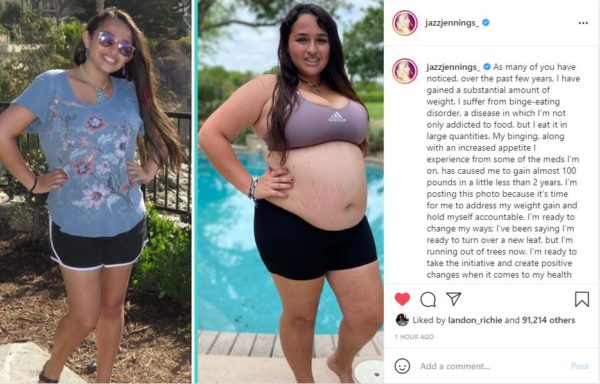 One of her twin older siblings, brother Sander, showed his unwavering support of his sister by commenting, "You are so resilient and can do anything you put your mind too. [sic] I believe in you and will be by your side every step of the way." She wrote back, "You're my teammate."
Heat Alert; High Temperatures forecast for parts of LA County & SoCal
It is important that we check on others, in particular those who are especially vulnerable to the harmful effects of high temperatures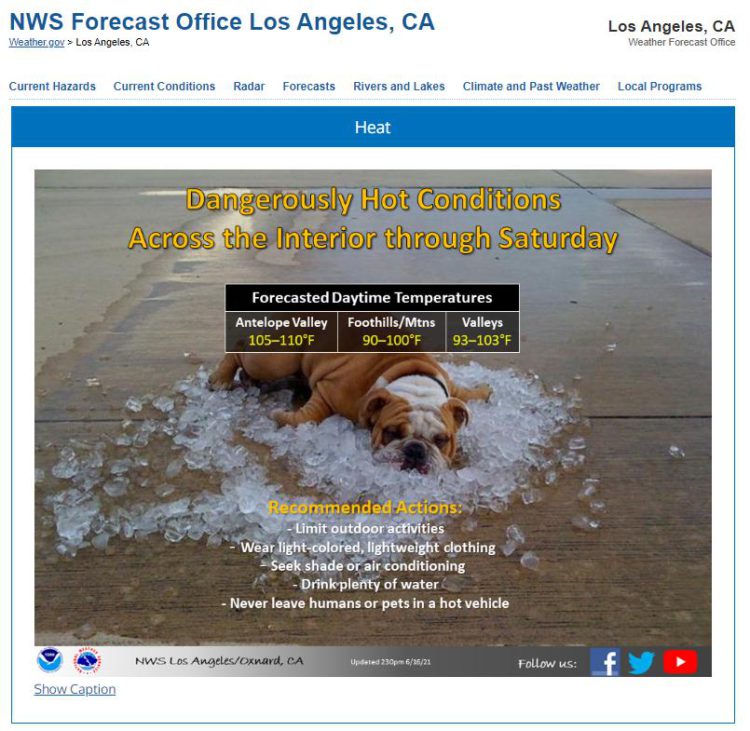 OXNARD – The National Weather Service has issued a heat watch and warning for interior segments of Sothern California including the Mojave Desert areas, Kern County, parts of Ventura and Los Angeles County, Palm Springs and the Inland Empire to the border, as well San Gabriel, San Bernardino, Riverside and the Coachella Valley.
The average daytime temperatures are expected to exceed 110 degrees Fahrenheit.
The Los Angeles County Health Officer has issued a Heat Alert as high temperatures have been forecast for the following areas:
East San Gabriel Valley – through Friday, June 18
Santa Clarita Valley – through Saturday, June 19
Antelope Valley – through Sunday, June 20
Public Health reminds everyone to take precautions to avoid heat-related illness, especially older adults, young children, outdoor workers, athletes, and people with a chronic medical condition who are especially sensitive to negative health impacts from extreme heat. Public Health offers the following recommendations during high temperature days:
Drink plenty of water and keep hydrated throughout the day.
If you must go out, plan your day to avoid going out during the hottest hours, and wear sunscreen. Wear lightweight, light-colored clothes, and wear a hat or use an umbrella.
Cars get very hot. Never leave children or pets in cars and call 911 if you see a child or pet in a car alone.
Beware of heat-related illness, like heat stroke and call 911 if you see these symptoms: high body temperature, vomiting, and pale and clammy skin.
Check on those at risk, like those who are sick, older adults, pregnant women, and children, and those who live alone.
If you are wearing a mask, avoid strenuous workouts wearing face coverings or masks not intended for athletic purposes.
Visit your power company's website or contact them by phone to determine if you are scheduled for a rolling power outage.
"While it is very important that everyone take special care of themselves, it is equally important that we reach out and check on others, in particular those who are especially vulnerable to the harmful effects of high temperatures, including children, the elderly, and their pets," said Muntu Davis, MD, Los Angeles County Health Officer. "High temperatures are not just an inconvenience, they can be dangerous and even deadly. But we can protect ourselves, our families, and our neighbors if we take steps to remain cool and hydrated. It is critically important to never leave children, elderly people, or pets unattended in homes with no air conditioning and particularly in vehicles, even if the windows are 'cracked' or open, as temperatures inside can quickly rise to life-threatening levels. If you have an elderly or infirm neighbor who is without air conditioning, check on them throughout the day."
County and City partners have planned ways to safely operate cooling centers during times of high heat. Residents who do not have access to air conditioning are encouraged to take advantage of these free cooling centers.
To find a location near you, visit https://ready.lacounty.gov/heat/ or call 211.
The health and safety of staff and visitors at cooling centers is priority. Public Health notes the following for cooling centers:
Staff and visitors are instructed to stay home if they do not feel well. Any person reporting or exhibiting signs of illness is advised to seek appropriate medical care.
Staff and visitors are required to wear a face covering at all times, regardless of COVID-19 vaccination status.
Stage and screen actress Lisa Banes has died after hit and run
The 65 year-old actress was admitted to the ICU at Mount Sinai Morningside hospital in New York with a traumatic brain injury.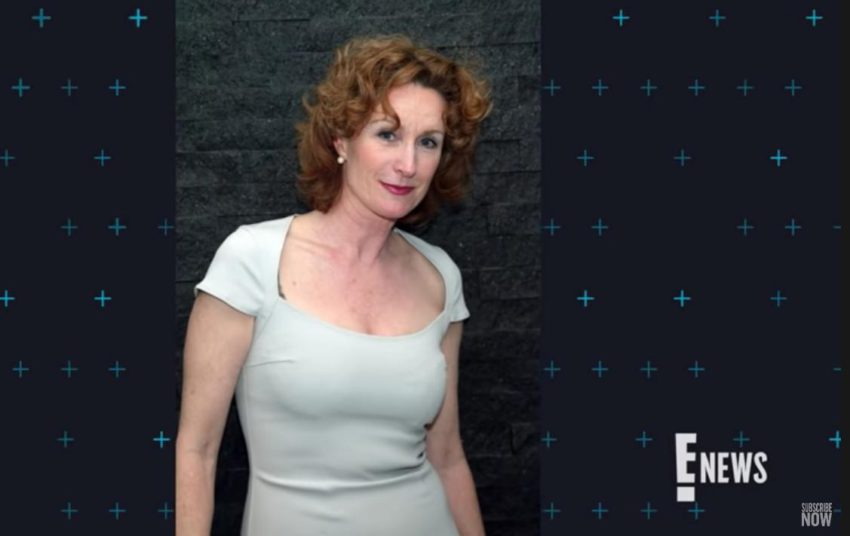 NEW YORK – Los Angeles resident and critically acclaimed actress Lis Banes died Monday at Mount Sinai Morningside hospital as a result of injuries she suffered stemming from a hit and run accident on June 4, after being struck by an electric scooter, a spokesperson for the NYPD confirmed.
The 65 year-old actress was admitted to the intensive care unit at Mount Sinai Morningside in New York with a traumatic brain injury. According to the NYPD, the actress was crossing Amsterdam Avenue at 64th Street, in a crosswalk near the Juilliard School, at Lincoln Center. The driver left the scene and no arrests have been made.
Banes's wife, Kathryn Kranhold, a contributing reporter for the Center for Public Integrity, had made a plea "to pray for Lisa" after the accident — and called for anyone with information about the accident to contact police.
"We are heartsick over Lisa's tragic and senseless passing. She was a woman of great spirit, kindness and generosity and dedicated to her work, whether on stage or in front of a camera and even more so to her wife, family and friends. We were blessed to have had her in our lives," her manager David Williams said in a statement released Tuesday.
Banes has appeared in numerous television shows and movies, including supporting roles in "Gone Girl" starring Ben Affleck in 2014 and "Cocktail" with Tom Cruise in 1988. On television, she's had roles on "Nashville," "Madam Secretary," "Masters of Sex" and "NCIS." NBC News Entertainment reported.
Anyone with information about Banes's death is asked to call the NYPD's Crime Stoppers hotline at 1-800-577-TIPS (8477), or for Spanish, 1-888-57-PISTA (74782). You can also submit a tip via the website or on Twitter, @NYPDTips. All calls are kept confidential.