CEO of Tennessee company fired after verbal abuse of LGBTQ teen in prom dress
I knew that I felt beautiful, and I felt great, Dalton Stevens
FRANKLIN, TN. – Sam Johnson the now former CEO of the Franklin based telemedicine company VisuWell, was fired by the company Monday evening after an investigation into Johnson's homophobic tirade against a local male LGBTQ high school student Saturday evening.
ABC News affiliate WKRN 2 had first reported the story Monday after a cell phone video posted to multiple social media platforms went viral. In the video taken Saturday evening at the Harpeth Hotel in downtown Franklin, Dalton Stevens, a senior at Franklin High School, was with his boyfriend and date Jacob Geittman when Johnson walked up to Stevens and ridiculed him for his formal prom attire, a red full length dress.
"Slander terms thrown towards me of like 'You look bad,' 'You've got hair on your chest, you shouldn't be wearing a dress,' 'You're not a man,' blah, blah, blah," Stevens told WKRN. "The fact that he thought he had the audacity to come tell me what I was supposed to wear and what I was supposed to do because of his standards."
Stevens told the station that, "I very much view clothes as genderless," His boyfriend chimed in with "You can have your thoughts and opinions, [but] keep them to yourself," Geittman said. "You don't need to go up to a teenager in public on their prom night and publicly shame and harass them for what they decided to wear."
I knew that I felt beautiful, and I felt great ~ Dalton Stevens
In a series of tweets on the company's Twitter account, VisuWell issued a formal statement then added that "in response to those asking for additional clarity on Sam Johnson's termination as CEO, we can confirm that Mr. Johnson is no longer employed by VisuWell in any capacity.
He no longer has a position on the Board of Directors or any informal advisory role. His behavior was not representative of our values, which include respect and compassion for all."
Official Statement pic.twitter.com/cMYoAEbI9d

— Visuwell (@VisuWell) April 27, 2021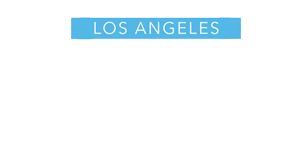 GOP State lawmakers to hospital: Stop gender-affirming surgeries
The clinic is the only healthcare provider in Tennessee offering clinical care programs for transgender & gender-expansive children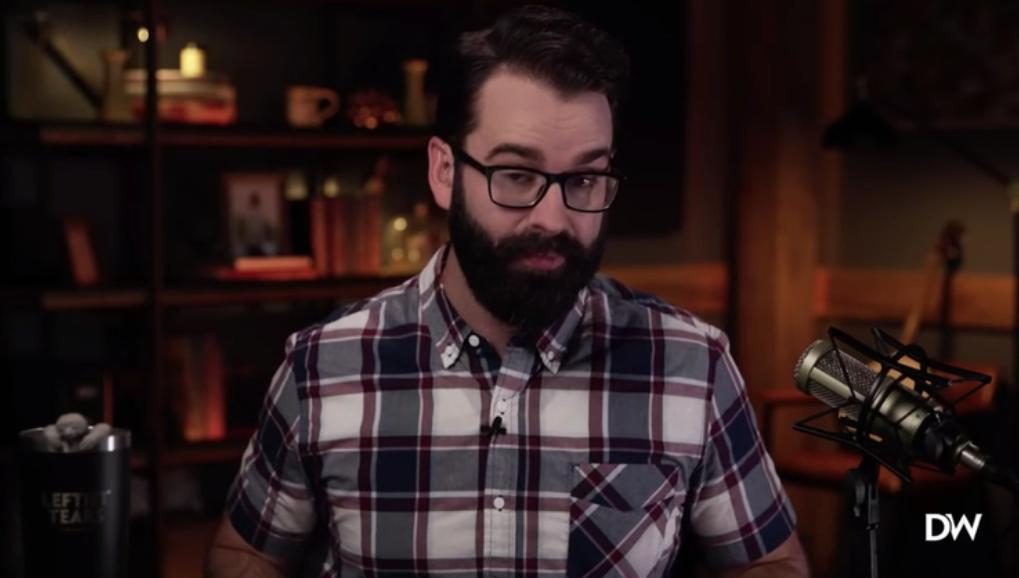 NASHVILLE – A group of Republican state lawmakers in Tennessee sent a letter to Vanderbilt University Medical Center's Pediatric Transgender Clinic demanding gender-affirming surgeries cease.
The letter came a few days after Republican Governor Bill Lee called for an investigation into the clinic at the Monroe Carell Jr. Children's Hospital at Vanderbilt in a statement after reporting by transphobic far-right pundit Matt Walsh on his Daily Wire show.
"The 'pediatric transgender clinic' at Vanderbilt University Medical Center raises serious moral, ethical and legal concerns," Governor Lee said in his statement. "We should not allow permanent, life-altering decisions that hurt children or policies that suppress religious liberties, all for the purpose of financial gain. We have to protect Tennessee children, and this warrants a thorough investigation."
State Rep. Jason Zachary and more than 60 of his Republican colleagues sent a letter to addressed to the chair of the hospital's board of directors calling on Vanderbilt to halt the Clinic's trans youth healthcare regarding gender affirming treatments.
This is a time in which elected leaders must boldly lead and speak on behalf of the people.
I've been joined by my esteemed @tnhousegop colleagues in formally requesting that Vanderbilt Medical halt all gender transition surgeries on minors.
1/ pic.twitter.com/FgiRdLHEM4

— Rep. Jason Zachary (@JasonZacharyTN) September 28, 2022
Zachary also noted the letter also requested that all conscientious and religious objections be honored.
Walsh and the far-right extremist anti-LGBTQ Twitter account Libs of TikTok, run by Brooklyn-based Chaya Raichik have previously grabbed headlines for spreading what Trans advocates and LGBTQ+ activists call anti-LGBTQ hate speech.
Raichik who has been suspended from Facebook and also Twitter for inflammatory lies and propaganda about Trans youth healthcare, pledged to redouble her attacks on hospitals providing trans people with health care, she wrote in a rant on her Substack in which she called gender-affirming care "mutilating the body." 
Libs of TikTok has reportedly been suspended multiple times on multiple platforms, including Instagram, Facebook, and Twitter. Raichik's last Twitter suspension came for accusing LGBTQ people of "grooming" children, which Twitter confirmed violates its policies against hateful conduct.
In line with the earlier attacks on Boston's Children's Hospital and Washington D.C.'s Children's with misinformation and misleading characterizations of the trans youth health care provided by those facilities, in a lengthy thread Twitter the Daily Wire's Walsh attacked Vanderbilt's clinic.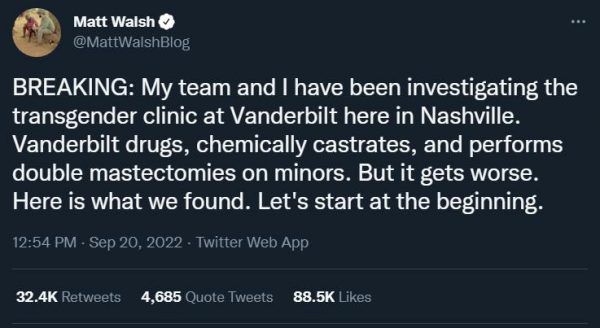 Vanderbilt opened its trans clinic in 2018. During a lecture the same year, Dr. Shayne Taylor explained how she convinced Nashville to get into the gender transition game. She emphasized that it's a "big money maker," especially because the surgeries require a lot of "follow ups" Walsh tweeted adding:
Vanderbilt was apparently concerned that not all of its staff would be on board. Dr. Ellen Clayton warned that "conscientious objections" are "problematic." Anyone who decides not to be involved in transition surgeries due to "religious beliefs" will face "consequences"
In case the objectors hadn't gotten the memo, Vanderbilt unveiled a program called "Trans Buddies." The "buddies" are trans activists from the community who attend appointments with trans patients, monitoring the doctors to guard against "unsafe" behavior such as misgendering, Walsh continued.
Vanderbilt makes their Trans Buddies available to children, too. They make lots of "services" available to children, including chemical castration. Though at some point in the last month they removed explicit admission of this fact from their site. Here's the archived screenshot:

But they must have forgot to delete a video from Vanderbilt Psychiatry's Youtube channel back in 2020 which admits explicitly that they will give and have given irreversible hormone drugs to children as young as 13, Walsh wrote in the thread.
After they have drugged and sterilized the kids, Vanderbilt — as explained in this video presentation by plastic surgeon Julien Winocour and Physician's Assistant Shalyn Vanderbloemen — will happily perform double mastectomies on adolescent girls.
So, let's review. Vanderbilt got into the gender transition game admittedly in large part because it is very financially profitable. They then threatened any staff members who objected, and enlisted a gang of trans activists to act as surveillance in order to force compliance.
They now castrate, sterilize, and mutilate minors as well as adults, while apparently taking steps to hide this activity from the public view. This is what "health care" has become in modern America, Walsh finished.
Vanderbilt responded to Walsh in a statement:
"(VUMC) is now the subject of social media posts and a video that misrepresent facts about the care the Medical Center provides to transgender patients," said the university. "VUMC began its Transgender Health Clinic because transgender individuals are a high-risk population for mental and physical health issues and have been consistently underserved by the U.S. health system."
Walsh also shared a video that featured Vanderbilt University law and genomics professor Ellen Clayton, who discouraged physicians from religious objections to transgender surgeries.
"Saying that you're not going to do something because of your … religious beliefs is not without consequences, and it should not be without consequences," she said in the undated clip. "I just want to put that out there. If you don't want to do this kind of work, don't work at Vanderbilt."
The University in its statement disputed that assertion by Clayton:
"Our policies allow employees to decline to participate in care they find morally objectionable, and do not permit discrimination against employees who choose to do so. This includes employees whose personal or religious beliefs do not support gender-affirming care for transgender persons," Vanderbilt wrote.
The Tennessee Equality Project notes that the clinic is the only healthcare provider in the state offering clinical care programs for transgender and gender-expansive children and adolescents.