West Virginia Governor Jim Justice signs anti-Trans youth sports bill
Justice told the Associated Press earlier this week that he would "proudly" sign the bill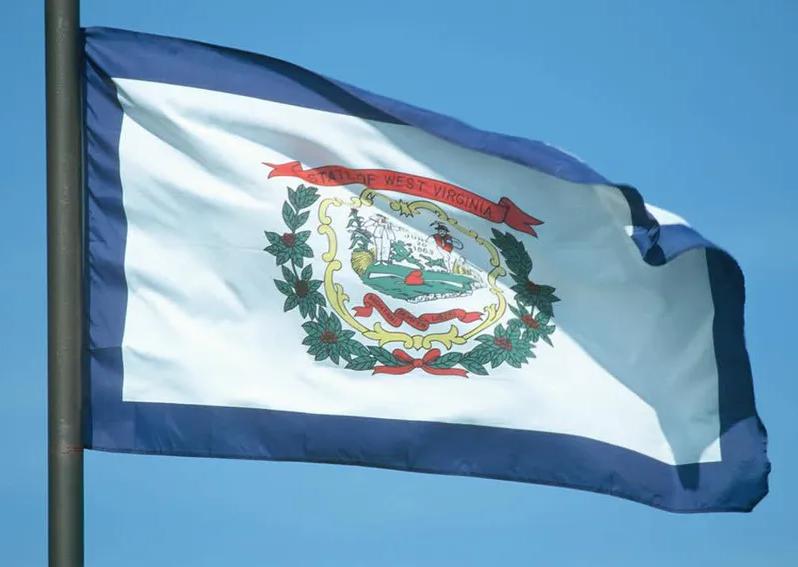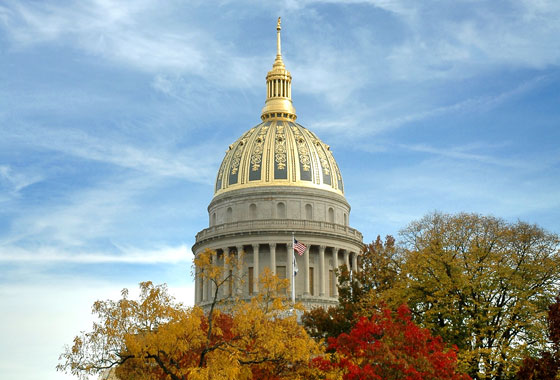 CHARLESTON, WVA. – West Virginia's Republican governor Jim Justice on Wednesday signed HB 3293, a bill that bans transgender youth athletes from competing in women sports in the state's middle, high schools and colleges.
West Virginia is one of 30 states that has introduced a slate of discriminatory, anti-LGBTQ legislation this session, part of a fast and furious effort led by national anti-LGBTQ groups aiming to stymie LGBTQ progress made on the national level and in many states.
The bill had cleared the West Virginia House of Delegates last month in a 78-20 vote before passing the Senate in a 18-15 vote on April 8 after provisions to cover colleges were added.
Justice told the Associated Press earlier this week that he would "proudly" sign the bill despite warnings from some lawmakers that the NCAA could retaliate and decide not to hold college tournaments in the state.
"It concerns me that we may miss out on a really important sporting event or something like that that could come to West Virginia," Justice said. "However, I think the benefits of it way outweigh the bad part of it."
"We regret the governor has signed this cruel and unlawful bill after refusing to meet with young transgender West Virginians and their family members," the American Civil Liberties Union's West Virginia chapter said. It added in its statement: "ACLU-WV stands ready to intervene whenever and wherever this harmful law is enforced."
Andrew Schneider, executive director of Fairness West Virginia, an LGBTQ advocacy group, said Wednesday that "transgender children are worthy of love and support. They deserve the chance to learn and grow in the classroom and on the field."
The legislation is part of an effort driven by the Alliance Defending Freedom, (ADF), a group that the Southern Poverty Law Center has designated an anti-LGBTQ+ hate group. The first anti-trans sports bill was in Montana, HB 112, and was pushed by and worked on by the ADF.
The president of the Human Rights Campaign, Alphonso David in a media statement labeled the actions of West Virginia lawmakers and the Governor as "cruel " adding that the Governor is not only "hurting the health and safety of transgender children, but also West Virginians who will suffer the consequences of this law — including economic harm, expensive taxpayer-funded legal battles, and a tarnished reputation."
The American Civil Liberties Union vowed to challenge the new law in court. "We will see West Virginia in court," the group tweeted.
BREAKING: West Virginia Governor Jim Justice has signed a bill banning trans students from school sports into law.

We will see West Virginia in court.

— ACLU (@ACLU) April 28, 2021
Long Island library reverses decision to pull LGBTQ Pride display & books
"The Board of Trustees reversed its decision to ban Pride displays & books in the children's section! This happened because YOU spoke up!"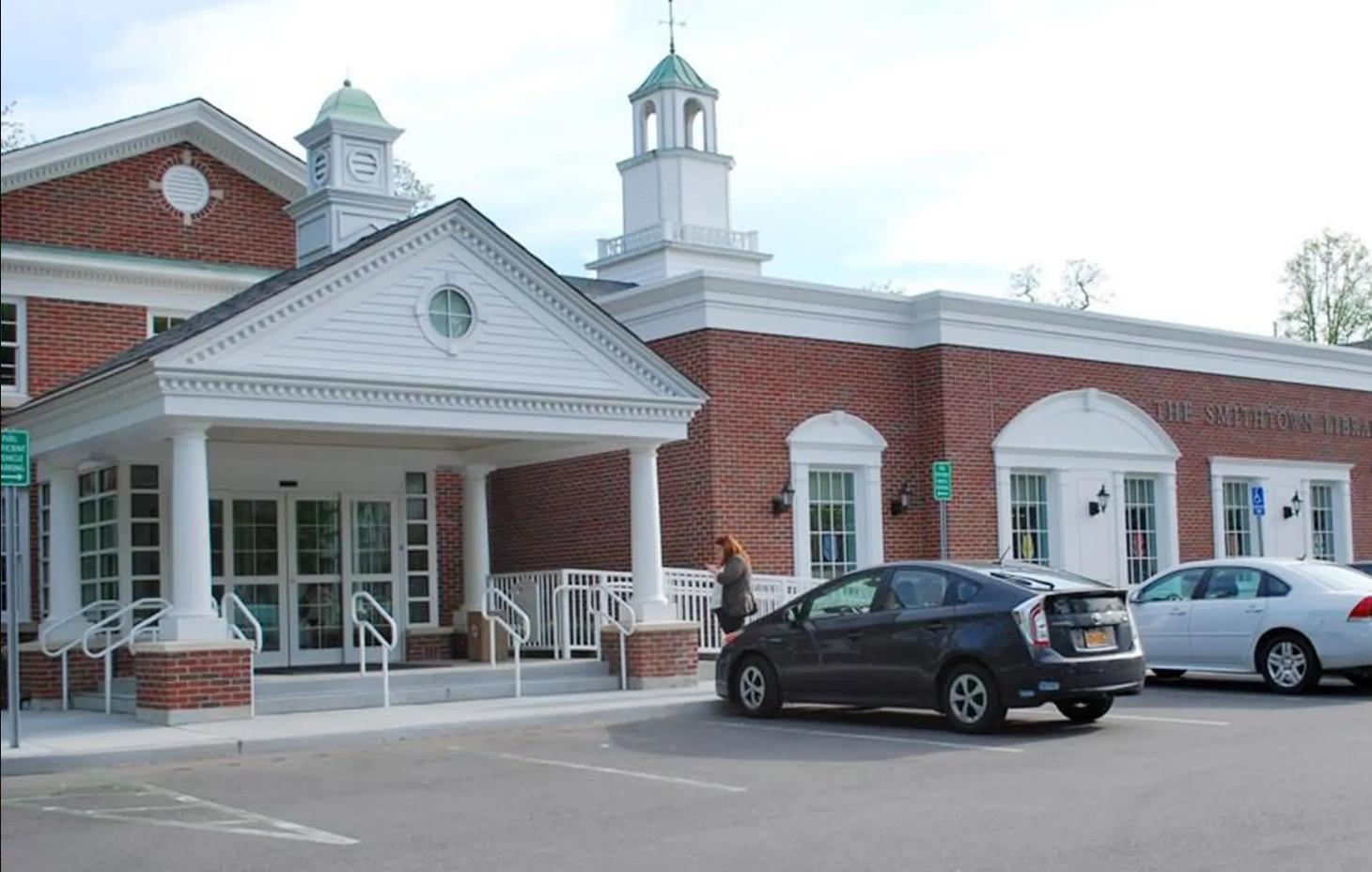 SMITHTOWN, Ny. – The Smithtown Library Board of Trustees met in an emergency session Thursday night to rescind its Tuesday vote to ban any and all displays related to LGBTQ Pride from kids' areas at Smithtown Library buildings.
The Board's Tuesday decision was met with anger and dismay including New York Governor Kathy Hochul who wrote on Twitter, "Our public spaces should be accepting our young people — not rejecting them."
The New York Library Association had also issued a statement saying; "This ban of any displays related to Pride sets a dangerous precedent for libraries across the state because it normalizes the victimization of LGBTQ+ youth in their schools and in their communities, which has dire consequences.
The Hauppauge New York-based LGBT Network credited the onslaught of public anger and criticism including Governor Hochul's as the mitigating factors in the reversal by the library board. The group also warned that there is a larger fight being waged that imperils LGBTQ+ youth.
For many LGBTQ+ kids, libraries are one of the few spaces where they can be welcomed and affirmed for who they are.

Our public spaces should be accepting our young people — not rejecting them.

To LGBTQ+ New Yorkers: We stand with you, we support you, & you are welcome here. https://t.co/x6w1q8o3El

— Governor Kathy Hochul (@GovKathyHochul) June 22, 2022
"Tonight the Smithtown Library Board of Trustees reversed its decision to ban Pride displays and books in the children's section of their library! This happened because YOU spoke up and spoke out! It is a reason to celebrate and demonstrates what our collective power can do. But it is also a wakeup call that the culture wars targeting LGBTQ youth are very much here in our backyard," a statement on the group's website noted.
"The reversal overall is good because it gets those books and displays back into the libraries," LGBT Network vice president Robert Vitelli told local media after the library board reversed itself. "The commentary that went along with the votes shows there's still a lot that needs to be done."
Biden calls Supreme Court ruling on Roe v. Wade 'a sad day for court'
"Imagine, woman having to carry a child that's a consequence of incest, with no option" to terminate the pregnancy, Biden said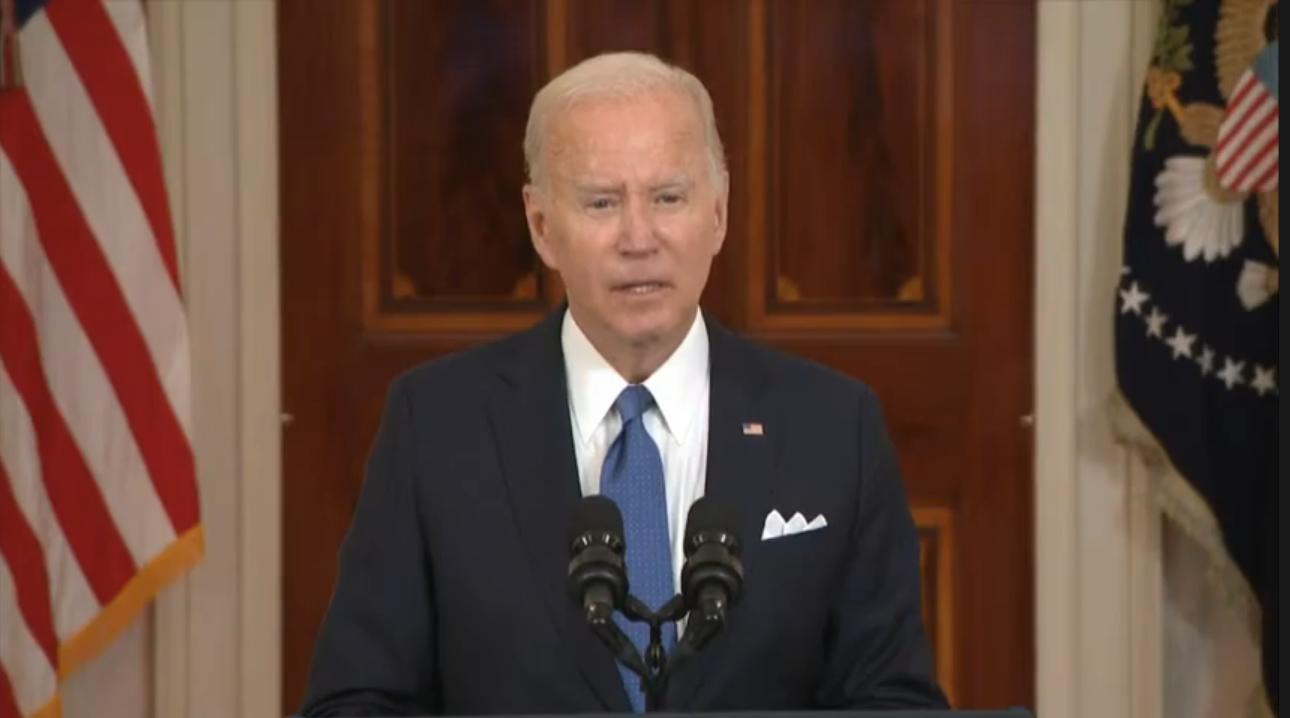 WASHINGTON – Just after the Supreme Court's conservative majority moved to overturn the constitutional right to abortion on Friday in a 6-3 ruling, President Joe Biden vowed to protect American women from prosecution for traveling to other states to terminate their pregnancies.
Thirteen states have made or will soon make abortion illegal, some without exceptions for rape and incest, following today's ruling. After a draft of that ruling was leaked in May, some state legislatures considered bills to prevent women from circumventing their restrictions on abortion.
"If any state or local official high or low tries to interfere with a woman exercising her basic right to travel, I will do everything in my power to fight that unamerican attack," Biden said.
Delivering his remarks from the Great Cross Hall of the White House, the President looked visibly upset, particularly when discussing the extreme abortion bans in some states that will now be allowed to go into effect.
"They are so extreme that women can be punished for protecting their health; that some women and girls will be forced to bear their rapists' child," Biden said. It was at this point that he appeared to go off-script to share his personal feelings on the ruling and its implications. "It just stuns me," he said. "Imagine, woman having to carry a child that's a consequence of incest, with no option" to terminate the pregnancy.
Biden called for those who share his anger and outrage – many who gathered on the steps of the Supreme Court in protest – to remain peaceful. He urged Americans to vote to give Democrats in Congress the majority that will be necessary for them to codify the constitutional right to abortion first established by the Supreme Court's 1973 ruling in Roe v. Wade and overturned today with the decision in Dobbs v. Jackson Women's Health.
Biden warned of the "dangerous path the court is taking us on," pointing to Justice Thomas's comments in the decision that "In future cases, we should reconsider all of this court's substantive due process precedents, including Griswold, Lawrence, and Obergefell."
Should the court revisit the precedents established by those cases, it could mean constitutional protections for the return of laws banning birth control, sodomy and same-sex marriage.
Biden noted Americans' constitutional right to abortion was affirmed in multiple decisions by the Supreme Court, endorsed by justices who were appointed by presidents from both parties.
"It was three justices named by one president, Donald Trump, who were the core of today's decision to upend the scales of justice and eliminate a fundamental right for women in this country," Biden said.
President Biden speaks on Supreme Court decision to overturn Roe v. Wade:
Full transcript:
REMARKS BY PRESIDENT BIDEN
ON THE SUPREME COURT DECISION
TO OVERTURN ROE V. WADE
Today is a — it's not hyperbole to suggest a very solemn moment.  Today, the Supreme Court of the United States expressly took away a constitutional right from the American people that it had already recognized.

They didn't limit it.  They simply took it away.  That's never been done to a right so important to so many Americans.

But they did it.  And it's a sad day for the Court and for the country.

Fifty years ago, Roe v. Wade was decided and has been the law of the land since then.

This landmark case protected a woman's right to choose, her right to make intensely personal decisions with her doctor, free from the inter- — from interference of politics.

It reaffirmed basic principles of equality — that women have the power to control their own destiny.  And it reinforced the fundamental right of privacy — the right of each of us to choose how to live our lives.

Now, with Roe gone, let's be very clear: The health and life of women in this nation are now at risk.

As Chairman and Ranking Member of the Senate Judiciary Committee, as Vice President and now as President of the United States, I've studied this case carefully.  I've overseen more Supreme Court confirmations than anyone today, where this case was always discussed.

I believe Roe v. Wade was the correct decision as a matter of constitutional law, an application of the fundamental right to privacy and liberty in matters of family and personal autonomy.

It was a decision on a complex matter that drew a careful balance between a woman's right to choose earlier in her pregnancy and the state's ability to regulate later in her pregnancy.  A decision with broad national consensus that most Americans of faiths and backgrounds found acceptable and that had been the law of the land for most of the lifetime of Americans today.

And it was a constitutional principle upheld by justices appointed by Democrat and Republican Presidents alike. 

Roe v. Wade was a 7 to 2 decision written by a justice appointed by a Republican President, Richard Nixon.  In the five decades that followed Roe v. Wade, justices appointed by Republican Presidents — from Eisenhower, Nixon, Reagan, George W. [H.W.] Bush — were among the justices who voted to uphold the principles set forth in Roe v. Wade.

It was three justices named by one President — Donald Trump — who were the core of today's decision to upend the scales of justice and eliminate a fundamental right for women in this country.

Make no mistake: This decision is the culmination of a deliberate effort over decades to upset the balance of our law.  It's a realization of an extreme ideology and a tragic error by the Supreme Court, in my view.

The Court has done what it has never done before: expressly take away a constitutional right that is so fundamental to so many Americans that had already been recognized.

The Court's decision to do so will have real and immediate consequences.  State laws banning abortion are automatically taking effect today, jeopardizing the health of millions of women, some without exceptions. 

So extreme that women could be punished for protecting their health.

So extreme that women and girls who are forced to bear their rapist's child — of the child of consequence. 

It's a — it just — it just stuns me. 

So extreme that doctors will be criminalized for fulfilling their duty to care.

Imagine having — a young woman having to ch- — carry the child of incest — as a consequence of incest.  No option. 

Too often the case that poor women are going to be hit the hardest.  It's cruel.

In fact, the Court laid out state laws criminalizing abortion that go back to the 1800s as rationale — the Court literally taking America back 150 years. 

This a sad day for the country, in my view, but it doesn't mean the fight is over.

Let me be very clear and unambiguous: The only way we can secure a woman's right to choose and the balance that existed is for Congress to restore the protections of Roe v. Wade as federal law.

No executive action from the President can do that.  And if Congress, as it appears, lacks the vote — votes to do that now, voters need to make their voices heard.

This fall, we must elect more senators and representatives who will codify a woman's right to choose into federal law once again, elect more state leaders to protect this right at the local level.

We need to restore the protections of Roe as law of the land.  We need to elect officials who will do that.

This fall, Roe is on the ballot.  Personal freedoms are on the ballot.  The right to privacy, liberty, equality, they're all on the ballot. 

Until then, I will do all in my power to protect a woman's right in states where they will face the consequences of today's decision.

While the Court's decision casts a dark shadow over a large swath of the land, many states in this country still recognize a woman's right to choose.

So if a woman lives in a state that restricts abortion, the Supreme Court's decision does not prevent her from traveling from her home state to the state that allows it.  It does not prevent a doctor in that state — in that state from treating her.

As the Attorney General has made clear, women must remain free to travel safely to another state to seek the care they need.  And my administration will defend that bedrock right. 

If any state or local official, high or low, tries to interfere with a woman's ex- — exercising her basic right to travel, I will do everything in my power to fight that deeply un-American attack.

My administration will also protect a woman's access to medications that are approved by the Food and Drug Administration — the FDA — like contraception, which is essential for preventative healthcare; mifepristone, which the FDA approved 20 years ago to safely end early pregnancies and is commonly used to treat miscarriages.

Some states are saying that they'll try to ban or severely restrict access to these medications. 

But extremist governors and state legislators who are looking to block the mail or search a person's medicine cabinet or control a woman's actions by tracking data on her apps she uses are wrong and extreme and out of touch with the majority of Americans.

The American Medical Association and the American College of Obstetricians and Gynecologists wrote to me and Vice President Harris stressing that these laws are not based on — are not based on evidence and asking us to act to protect access to care.  They say by limiting access to these medicines, maternal mortality will climb in America.  That's what they say.

Today, I'm directing the Department of Health and Human Services to take steps to ensure that these critical medications are available to the fullest extent possible and that politicians cannot interfere in the decisions that should be made between a woman and her doctor.  And my administration will remain vigilant as the implications of this decision play out.

I've warned about how this decision risks the broader right to privacy for everyone.  That's because Roe recognized the fundamental right to privacy that has served as the basis for so many more rights that we have come to take — we've come to take for granted that are ingrained in the fabric of this country: the right to make the best decisions for your health; the right to use birth control — a married couple — in the privacy of their bedroom, for God's sake; the right to marry the person you love. 

Now, Justice Thomas said as much today.  He explicitly called to reconsider the right of marriage equality, the right of couples to make their choices on contraception.  This is an extreme and dangerous path the Court is now taking us on. 

Let me close with two points. 

First, I call on everyone, no matter how deeply they care about this decision, to keep all protests peaceful.  Peaceful, peaceful, peaceful.  No intimidation.  Violence is never acceptable.  Threats and intimidation are not speech.  We must stand against violence in any form regardless of your rationale.

Second, I know so many of us are frustrated and disillusioned that the Court has taken something away that's so fundamental.  I know so many women are now going to face incredibly difficult situations.  I hear you.  I support you.  I stand with you. 

The consequences and the consensus of the American people — core principles of equality, liberty, dignity, and the stability of the rule of law — demand that Roe should not have been overturned.

With this decision, the conservative majority of the Supreme Court shows how extreme it is, how far removed they are from the majority of this country.  They have made the United States an outlier among developed nations in the world.  But this decision must not be the final word.

My administration will use all of its appropriate lawful powers.  But Congress must act.  And with your vote, you can act.  You can have the final word.  This is not over.

Thank you very much.  I'll have more to say on this in weeks to come.  Thank you.
U.S. Supreme Court overturns Roe v. Wade
Justice Thomas said the Court should also reconsider the decisions that extended marriage equality & the right to private, consensual sex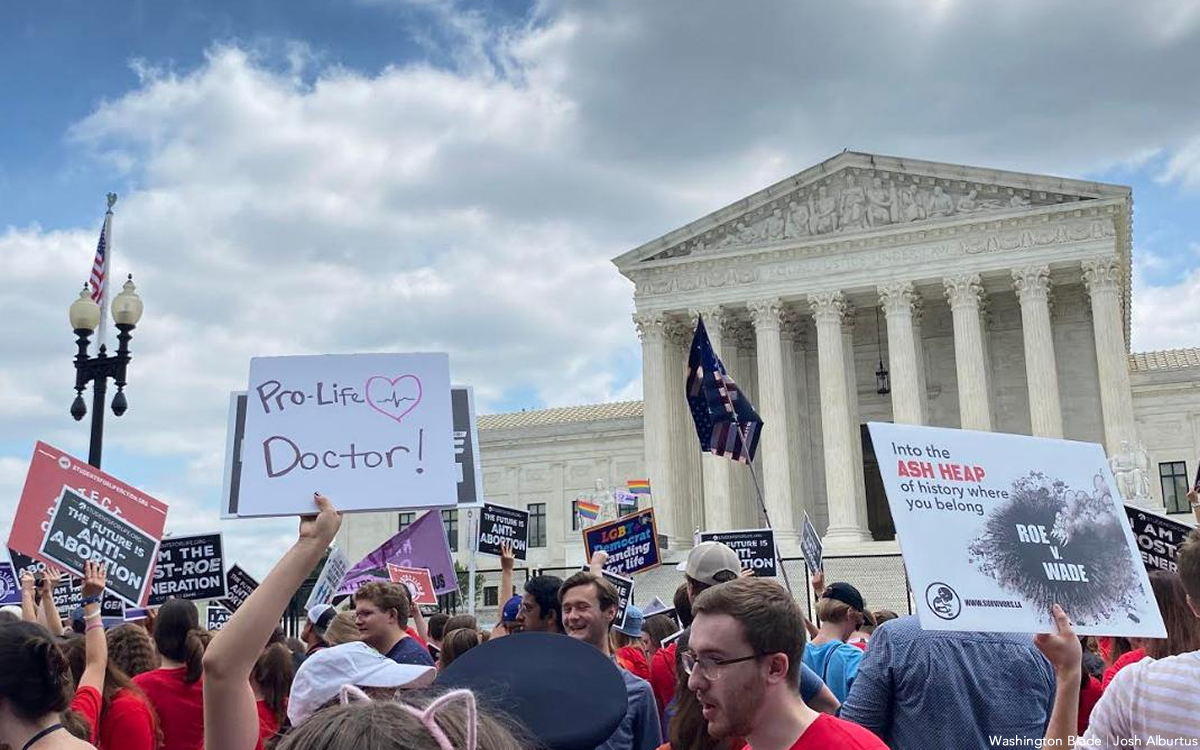 WASHINGTON – The U.S. Supreme Court on Friday in a 6-3 ruling overturned Roe v. Wade. Justice Clarence Thomas in the decision said the Supreme Court should also reconsider the decisions in the Obergefell and Lawrence cases that extended marriage equality to same-sex couples and the right to private, consensual sex.
LGBTQ rights groups were quick to condemn the ruling.
"Today the Supreme Court issued a devastating ruling in Jackson Women's Health Organization v. Dobbs — a huge setback to our long-standing fundamental right to bodily autonomy," said National LGBTQ Task Force Executive Director Kierra Johnson. "This decision by the conservative majority on the bench also marks the beginning of the vital work to re-establish our constitutional foundation for reproductive justice and freedom. We must redouble our work to protect access to abortion and reproductive justice at the state and national levels. We will never give up."
"When the Supreme Court is willing to throw 50 years of precedent out the window, it proves that we are at an exceedingly dangerous, unprecedented moment. The Court's majority opinion does not reflect the will of our nation — two thirds of whom support Roe v. Wade —but instead fulfills an extreme, out of step, ideological agenda. And it shows that all of our rights are on the line right now, as state lawmakers will be further emboldened to test the limits of our hard-won civil rights," added interim Human Rights Campaign President Joni Madison. "Women are under attack, LGBTQ+ people are under attack, BIPOC people are under attack, and we are justifiably outraged. We cannot relent — we must fight back."
Jim Obergefell, a candidate for the Ohio House and the lead plaintiff in the landmark U.S. Supreme case that affirmed marriage equality as the law of the land, issued the following statement today following news that the U.S. Supreme Court overturned Roe v. Wade.
"It's a sad day for womens' rights. This U.S. Supreme Court continues to erode the rights of citizens at an alarming rate. We are facing a health and human rights crisis in this country and as a result countless lives will be at risk. Women deserve responsive leaders who support reproductive justice. Leaders who respect their basic right to have control over their own body. The reality is that women today will have less rights than their own mothers. We are going backwards and it's both enraging and terrifying to see the excessive government overreach that this court is imposing on our country."
In his remarks on the Supreme Court ruling, President Joe Biden speaking live from the Great Cross Hall in the White House said at one point, "It just stuns me," adding that poor women would be hit the hardest by the decision. "This is a sad day for the country in my view but it does not mean the fight is over."
He called on Congress to restore abortion protections into law and pointed to the November midterm elections, saying, "this fall, Roe is on the ballot."
He urged protests to be conducted peacefully and said violence is never acceptable.
"This decision must not be the final word," Mr. Biden said.
Mr. Biden's remarks ended at 12:49 p.m. EST after speaking for nearly 12 minutes. He did not respond to shouted questions from reporters about the ruling and the future of the Supreme Court.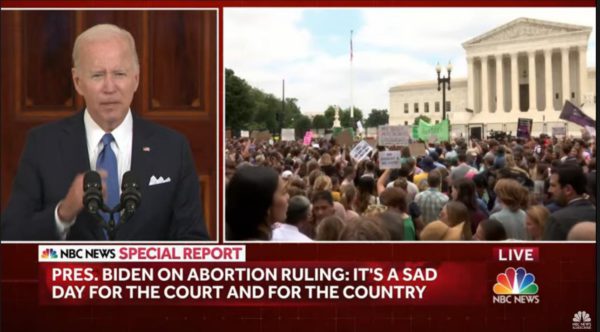 U. S. Attorney General Merrick B. Garland released a statement condemning the high court's ruling.
"The Supreme Court has eliminated an established right that has been an essential component of women's liberty for half a century – a right that has safeguarded women's ability to participate fully and equally in society. And in renouncing this fundamental right, which it had repeatedly recognized and reaffirmed, the Court has upended the doctrine of stare decisis, a key pillar of the rule of law.
"The Justice Department strongly disagrees with the Court's decision. This decision deals a devastating blow to reproductive freedom in the United States. It will have an immediate and irreversible impact on the lives of people across the country. And it will be greatly disproportionate in its effect – with the greatest burdens felt by people of color and those of limited financial means. "
The Attorney General went on to warn that acts of violence in the wake of today's ruling will not be tolerated.
"Advocates with different views on this issue have the right to, and will, voice their opinions. Peacefully expressing a view is protected by the First Amendment. But we must be clear that violence and threats of violence are not. The Justice Department will not tolerate such acts."
Shannon Minter, the Legal Director for the National Center for Lesbian Rights told the Blade in an email; Justice Thomas's concurrence is an open assault on the landmark precedents that have transformed the place of LGBTQ people in our society. Historically, the Supreme Court has relied on substantive due process to protect essential liberties such as the freedom to decide whether to conceive a child, to marry or be in an intimate relationship with the person of one's choice, to raise children as one sees fit, and to travel or move anywhere in the country.
"These are among our most basic and cherished freedoms, and Justice Thomas is urging the court to scrap them all. While the majority opinion does not go that far, it is full of landmines that appear to lay a foundation for future decisions that may cast these fundamental rights into question or eliminate them altogether. Today's decision is even more alarming than the leaked opinion and strongly suggests that this is only the beginning of a radical campaign to undo decades of precedent. The question is no longer if this Court is willing to jettison other fundamental freedoms, but how quickly they are likely to do so, and which ones are likely to be on the chopping block first," Minter added.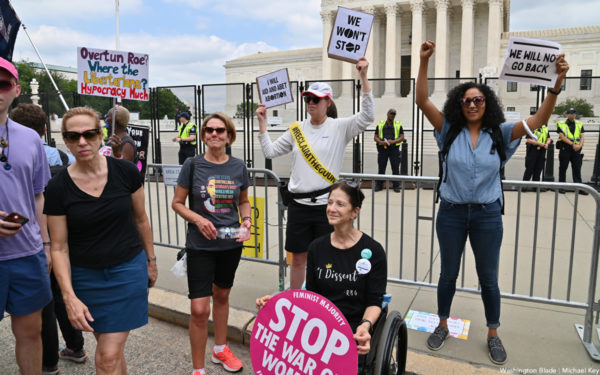 Read the Supreme Court's opinion: