Final season of 'Pose' is must-see TV that matters
Groundbreaking FX drama has left its mark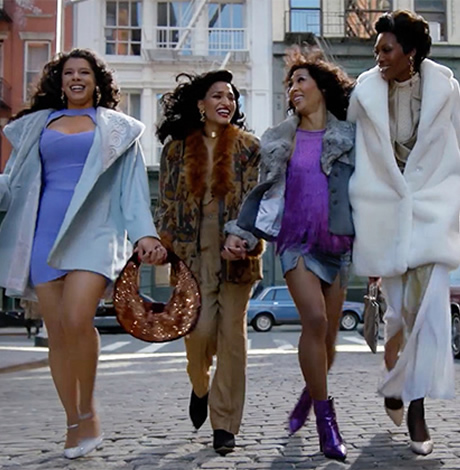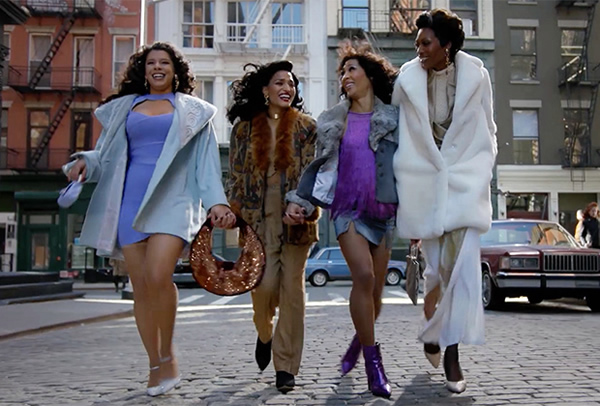 When the COVID pandemic hit in the early months of 2020, there were certainly more pressing and essential worries for us to grapple with than how it would impact the next season of a TV show. Yet it's a testament to the power of "Pose" that many among its legion of fans were at least as concerned about the show's disruption as they were about the possibility of running out of toilet paper.
The powerhouse FX drama — which spotlights the legends, icons and ferocious house mothers of New York's underground ball culture in the late 1980s — had already made history. Not only did it feature the largest cast of transgender actors in regular roles, it boasted the largest recurring cast of LGBTQ actors ever included in a scripted series.
In its first two seasons, the show racked up accolades and honors (including a Primetime Emmy for Billy Porter as Outstanding Lead Actor in a Drama Series) while breaking new ground for the inclusion and representation of queer people — and especially transgender people of color — in television, both in front of the camera, and behind it. With the end of its second season in August 2019, fans were hungry for a third — but thanks to COVID, its future was suddenly in question.
So, when word came that the show's third season would have its debut on May 2, it was the best news since finding out the vaccines were finally going to start rolling out. But it was bittersweet: Along with confirmation of the series' imminent return came the sad revelation that the new season would also be the last. "Pose" would be coming to an end with a final, seven-episode arc.
As any viewer of show can attest, there were a lot of threads left hanging when last we saw its characters. That means there's a lot of ground to cover in these last chapters in order to give everyone — characters and audience alike — the closure they deserve.
The show's official synopsis goes like this: It's now 1994 and ballroom feels like a distant memory for Blanca, who struggles to balance being a mother with being a present partner to her new love, as well as her latest role as a nurse's aide.
Meanwhile, as AIDS becomes the leading cause of death for Americans ages 25 to 44, Pray Tell contends with unexpected health burdens. Meanwhile, a vicious new upstart house is emerging in the ballroom world, and the members of the House of Evangelista are forced to contend their legacy.
Obviously, there are a lot of details left hidden in that broad overview, and fans are undoubtedly full of questions about what they can expect to see.
Fortunately, the bulk of the show's main cast convened on Zoom last week (along with show co-creator and Executive Producer Steven Canals and Executive Producer Janet Mock) for a press conference to discuss their "Pose" experience, and while they didn't exactly give away any spoilers, they definitely dropped some tantalizing hints about what's in store for audiences in the farewell season.
In truth, most of the discussion was dominated by reminiscences and expressions of mutual appreciation, sure signs that the feeling of family we see onscreen is something that has taken hold off screen, as well. But in between the affectionate banter, the cast and creatives addressed several questions that might be most on viewers' minds.
Perhaps the most pressing of these — why, after only three seasons, is the critic-and-audience-acclaimed show calling it quits? — was taken on by Canals, who explained:
"I always knew what the beginning and what the end of the narrative would be. And when Ryan Murphy and I first met in September of 2016, we felt really strongly that that particular narrative made sense. And so, while we certainly could have continued to create narrative around these characters and in this world, and we certainly had a conversation in the writers' room about it … I think we all agreed that it just made sense for us to 'land the plane,' if you will, comfortably — as opposed to continuing to give an audience story that just simply didn't have any real core intention or a real thrust towards specificity."
Also of interest was the obvious subject of how the parallels between the current pandemic and the AIDS crisis that looms over the show's narrative might be reflected in the new episodes. While he didn't hint at any direct connections in "Pose," Porter used the subject to underscore a theme that has always been one of the show's most important elements:
"I think the parallels are quite profound. I know that as a Black gay man who lived through the AIDS crisis, I have been dealing with a lot of PTSD during this COVID time. It's very reminiscent of what it was like then. The best news about that is that I survived. We got through it, and there is another side to it. We can get to the other side.
"I feel like that's what 'Pose' really accomplishes this season, reminding the public that it's when we come together and when we lead with love [that] we get to the other side."
Mock elaborated on the theme of resilience by discussing the importance of showing the strength of House mothers like Blanca and Electra (Dominique Jackson), who hold together — and lift up — their entire community:
"It's that matriarchal power and lineage that I think the ballroom is, and what trans women are to one another, that then feeds everyone else and enables them to shine and have all the things that they want in the world. For me, it is [about] that celebration […] of Black trans women — that they've created this space, that they brought everyone else in with them, and that, at the end of the day, they are often the ones most often forgotten.
"I think with this season, I want everyone across the industry, the audience, to realize that. I think it's essential, and it's important."
Mock also talked about the way "Pose" focuses on the small, day-to-day lives of its characters as much as it does the larger-than-life splendor of the ballroom culture in which they participate:
"We wanted to ensure that we show the everyday, mundane moments, as well as the great, grand celebrations. The ballroom is are presentation of what it means to congregate and share testimony and to love on each other, and our show is a celebration of the everyday intimacies. So, for us, while we were plotting these big, grand moments […] we wanted to bring in traditions — weddings, matrimony, all this stuff — that our characters get to engage in. We wanted to be a part of the tradition of that, and all the moments that a family shares together. We wanted to make sure that all of those things were celebrated in this."
When discussion turned to the unprecedented level of support and collaborative inclusion with which the show's queer cast were bestowed by Ryan Murphy and the rest of the creative staff — from the presence of trans women like Mock and Co-producer Our Lady J in the writers' room to the extensive reliance on the insights and talents of real-life members of the ballroom community — Jackson was quick to add that besides giving the show its ferocious authenticity, it gave her an increased recognition of her own worth:
"I will never, ever, ever walk into a space thinking that I need to impress them […] I will never walk into a space being fearful of my identity stopping me from anything. Because of this journey, when I walk into spaces now, my identity is not because I'm an abomination. My identity is a plus. My identity is my value. So, when I walk into spaces now,they need to impress me. You can be the biggest Hollywood director, producer, whatever, but you're not going to take my story or relay stories that are reflective of my life or my existence and make them into anything you want, because of 'Pose,' because of Ryan, because of Steven, because of Janet and Brad [co-creator/executive producer Falchuk), because of Our Lady J, because of my cast members.
"I will never walk into spaces or live a life or an existence thinking that I need to impress anyone."
Porter concurred, adding:
"There was never, ever a space in my brain to dream what'Pose' is, what Pray Tell is. I spent the first 25-plusyears of my career trying to fit into a masculinity construct that society placed on us so I could eat.'Pose,' and Pray Tell in particular, really taught me to dream the impossible […] the idea that the little, Black church sissy from Pittsburgh is now in a position of power in Hollywood in a way that never existed before. You can damn sure believe that I will be wielding that power and there will be a difference and a change in how things go from here on out."
If the cast members themselves have found themselves feeling more empowered thanks to "Pose," so too have the millions of LGBTQ people — and allies — who have tuned into it since its premiere in 2018. The show is one of those rare entries into the cultural lexicon that simply allows its queer and trans people to live authentic lives, giving long-withheld representation to countless viewers who were able to see themselves reflected back from the screen for perhaps the very first time.
It's that powerful sense of validation provided by "Pose" that keeps it standing tall in an entertainment market now providing so much LGBTQ inclusion that it's becoming dangerously easy to take it for granted.
Whatever moments of heartbreak, joy, and celebration "Pose" brings us as it plays out its final act — and there are sure to be many — we can all be sure it will leave us with a message expressed through an oft-heard line of dialogue that Mock says she found herself writing "over and over again" during the series' run:
"You are everything, and you deserve everything this world has to offer." It's that nurturing sentiment the "Pose" has been instilling in us from the beginning, like a mother to us all.
And that's why so many of us can't wait until the first two episodes of its final season air at 10 p.m. (both Eastern and Pacific), Sunday, May 2, on FX.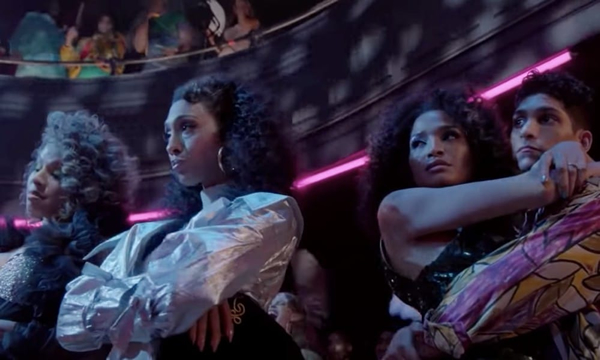 Turning pain into positive & using art as therapy – Carl Hopgood
He knew he wanted to embark on a path toward a "bold, exciting life" among other "creative people" while "doing amazing things and living"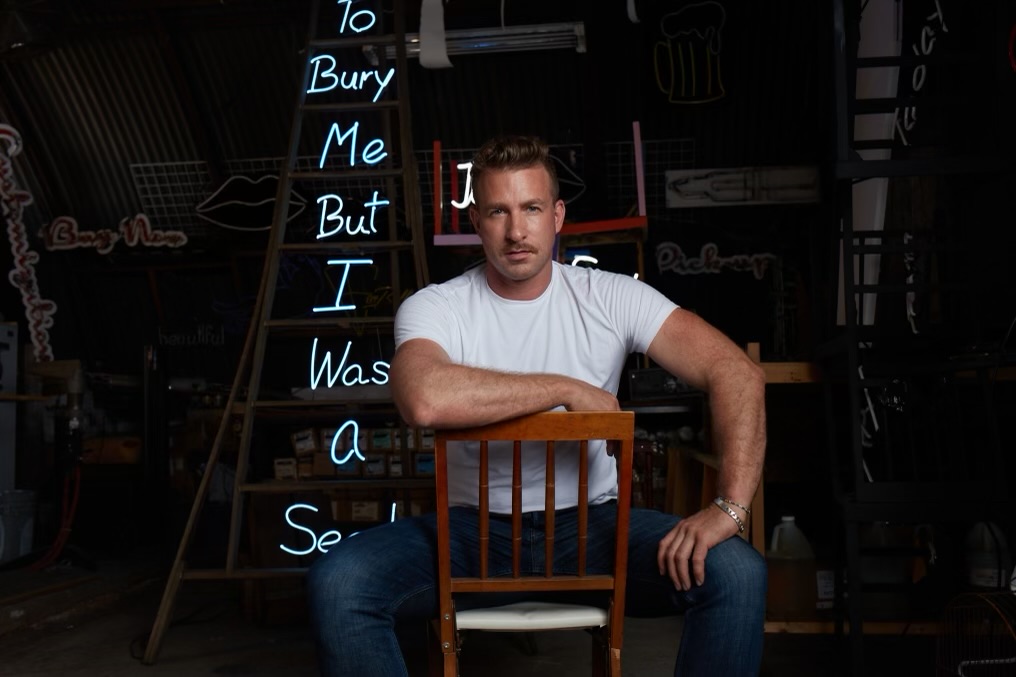 LOS ANGELES – Like many people born with an inclination toward creative expression, Carl Hopgood has known from a very young age that he wanted to be an artist.
Growing up on a small farm in rural Wales, the Cardiff-born Hopgood spent his childhood surrounded by animals and nature, letting his imagination run wild and creating worlds he envisioned with baskets, fruit boxes, flowers, stones, tabloid clippings, and other items that struck his fancy. Then, at 7, he was invited to spend an afternoon with his best friend, whose cousin was visiting; that cousin happened to be Richard Burton, and he happened to be accompanied by his even more famous wife, Elizabeth Taylor.
Hopgood was not just star-struck, he was inspired.
"My world was never the same after that day," he tells the Blade. "They told stories about Hollywood, London, glamorous parties, movies, photography… and Andy Warhol! Andy Warhol was my first artist crush. He was also born on a farm, so I felt an immediate connection."
After that experience, he knew he wanted to embark on a path toward a "bold, exciting life" among other "creative people" while "doing amazing things and living."

Four decades and one continental transplant later, it can safely be said that Hopgood has accomplished his goal.
A successfully established LA-based artist, he's created a unique body of work that includes pieces in Neon, Sculpture, Film / Video Installation, and canvas painting; his collectors include Morgan Freeman, Eugiono Lopez, The Vinik Family Foundation, The Groucho Club and Rupert Everett; and recent exhibitions of his work – like his neon art installations 'Looking For Love In All The Wrong Places', 'My Heart Is Open', and 'You Changed My Life' at the Maddox Gallery in West Hollywood, and 'Chair Therapy' at United Talent Agency's UTA Artspace LA – have garnered a flurry of enthusiasm and increasing national attention.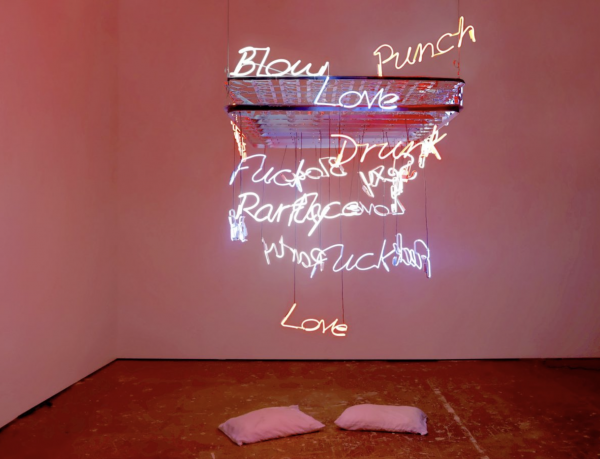 The latter installation created a particular stir with its inclusion of a controversial neon sculpture called "Just Say Gay", Hopgood's response to the draconian anti-LGBTQ legislation championed by Florida Governor Ron DeSantis; that work was acquired by prominent collector Beth Rudin DeWoody and will be on display from December 2023 at her Bunker Art Space in West Palm Beach, Florida.
When talking with the Blade, Hopgood is keen to focus the discussion on a new goal – the completion of a documentary about the creation of "Chair Therapy" – but he's certainly willing to start the conversation by talking about the sense of queer defiance behind "Just Say Gay" and many of his other works, because the two subjects go hand in hand.
"Being a gay man of Welsh and Greek heritage," he proudly proclaims, "the fight against bullying, repression, injustice and discrimination became central themes of my artistic expression."
As he explains, that fight is rooted in a traumatic childhood experience. "I was bullied by classmates," he remembers. "They would chase after me, push me to the ground and kick me in the groin. I managed to escape and found sanctuary under a stack of chairs in the school assembly hall. The school therapist helped me cope by using a technique called Empty Chair Therapy, where you would talk to an empty chair about your feelings.
"I decided turn this pain into something positive and use art as my therapy."

Much later, the young Hopgood would be inspired by the confrontational aesthetic of Damien Hirst – after reading a scathing criticism of one of his works in the paper – and follow in the controversial artist's footsteps to Goldsmiths College in London, eventually becoming part of a movement with fellow graduates like Steve McQueen, Jason Martin, Ceal Floyer, Angela De La Cruz and Alessandro Raho.
"It was an incredible moment to be a young artist in 1990s London."
Nevertheless, after 20 years in the London art scene, he decided it was time for a change.
"I had just watched a documentary featuring David Hockney," he explains. "The freedom and possibility of David's work was clearly inspired by Southern California with its beautiful palette and open, sunny skies. It was a stark contrast to the gloomy weather of the UK, and the anxiety and depression that accumulated over the years. I had heard about the growing LA art scene –LACMA, MOCA and The Broad were beginning to attract an international audience – and I decided that moving to Los Angeles would be good for both my mental health and creativity."
The choice was a fortuitous one for him – "It was the perfect time to go," he says, "and I was ready to work in new mediums and expand my repertoire." Then, like the rest of us, he had to put all his plans indefinitely up in the air.
"In early 2020, when the pandemic hit," he tells us, "I would see all the bars and restaurants shuttered in West Hollywood. It was like a ghost town. Looking through the store front windows, all I could see were chairs stacked on top of each other – and that image took me straight back to my unhappy childhood."
He decided to use it for inspiration and began work on the first sculpture in the "Chair Therapy" series ("My Heart is Open") – which as he describes, addresses "toxic masculinity, oppression and queer identity, themes I've always championed."
Those themes are doubtless also at least partly behind his desire to see the planned documentary – titled "Fragile World" – reach fruition. Filmed during the pandemic, it profiles Hopgood by charting his personal artistic journey, but centers on the development of "Chair Therapy", in which he combined found and vintage wooden chairs with neon lights shaped into positive words to provide hope, love and support for a community who were hardest hit by Covid and the shutdowns it necessitated.
"Seeing those stacked chairs and tables, in those empty establishments, I knew some would be forced to close for good. I felt so helpless, but I knew there was something I could do."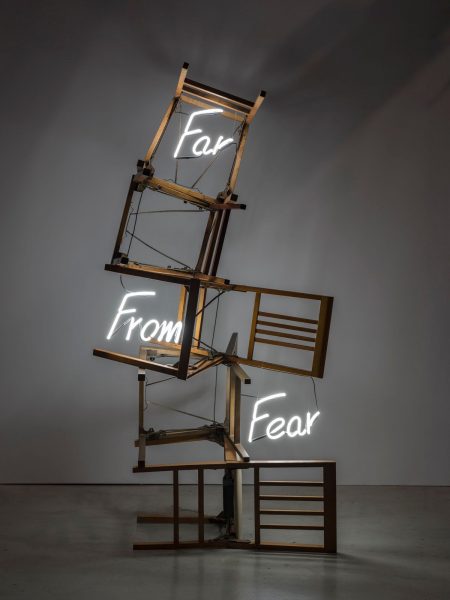 Now, with his own hard-hit community – alongside many others – facing aggressive legislative oppression from the extremist right, he's determined to see the film finished, so that the same empowering message of optimism embodied in his work can be spread to a larger audience as a reminder not to let the bullies break their spirit. To that end, the documentary's director and producer, LA-based British filmmaker Kate Rees Davies, has set up an Indiegogo campaign to raise the funding necessary to finish the project.
Another motivation, perhaps even more personal, might be found in Hopgood's revelation of a hidden influence in another work from the "Empty Chairs" series: "Twelve Steps", which explores the massive financial success of a California citrus industry made possible by the hard work of a segregated Mexican immigrant labor force. "I was also inspired in that piece by a line from Greek poet Dinos Christianopoulos," he says, "who was sidelined by the Greek literary community in the 1970s because he was gay. It's a small but powerful couplet which was included in the collection 'The Body and the Wormwood' that reads, 'What didn't you do to bury me, but you forgot that I was a seed.'"
For Hopgood, perhaps, the documentary also represents a seed, one that he himself has planted in hope of spreading its positive power into the world – and he's counting on the support of his patrons through Indiegogo for the water, light and nourishment it requires to grow.