Newsom announces massive tax rebate and new stimulus relief
Two in three Californians will receive a check from the state and more than $5 billion in aid will be made available to those who need help paying their rent or utility bills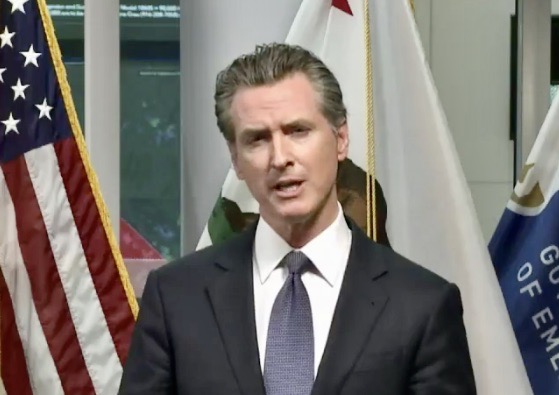 SACRAMENTO – Millions of poor and middle-class Californians would get tax rebates under a proposal unveiled Monday as Governor Gavin Newsom released his $100 billion California Comeback Plan – the biggest economic recovery package in California's history – including unprecedented investments to address the state's most persistent challenges, starting with nearly $12 billion in direct cash payments to Californians hit hardest by the pandemic.
The $100-billion economic stimulus plan made possible in part by a budget that has swelled with a tax revenue windfall, a surplus the governor put at $75.7 billion.
Chief among the new proposals is a major expansion of the Golden State Stimulus, providing additional direct payments to middle-class families that make up to $75,000. Under the plan, two-thirds of Californians will benefit from $600 direct payments. Qualified families with dependents, including undocumented families, will also now be eligible for an additional $500. The plan triples California's previous investment, reaching more people and giving bigger benefits.
"California's recovery is well underway, but we can't be satisfied with simply going back to the way things were," said Newsom during a press conference.
"We are tripling the Golden State Stimulus to get money in the hands of more middle-class Californians who have been hit hard by this pandemic. Two in three Californians will receive a check from the state and more than $5 billion in aid will be made available to those who need help paying their rent or utility bills."
Under Newsom's plan, the state would also offer the largest renter assistance package of any state in America, with billions of dollars to help low-income Californians pay back 100 percent of their back-rent, their rent for the months to come and overdue water and utility bills.
A timeline on when individuals will get the much-needed pandemic aid is still unknown. Newsom hasn't even presented his economic recovery proposal to the California Legislature — something that's expected to happen this Friday.
Once that happens, state lawmakers will begin negotiations on the newly revised state budget. The deadline to pass the budget is June 15 by midnight.
Rep. Frost talks gun control on anniversary of March for Our Lives
"10 years ago I became an Organizer because of Sandyhook. 3 years later, I'd become a survivor myself. That same year, Pulse"
Editor's note: The full interview with Congressman Frost will be published next week.
WASHINGTON – U.S. Rep. Maxwell Frost (D-Fla.), after a week of making headlines for his gun violence prevention advocacy, sat down with the Washington Blade for an exclusive interview on Friday, which marks the five-year anniversary of the founding of March for Our Lives.
The 26-year-old freshman Congressman, who before his election was national organizing director for the student-led gun control group, had just introduced his first piece of legislation Tuesday with U.S. Sen. Chris Murphy (D-Conn. that would establish an Office of Gun Violence Prevention within the U.S. Department of Justice.
The proposal's aim, in part, is to better facilitate the implementation of last year's Bipartisan Safer Communities Act by establishing a singular office to coordinate that work.
And on Thursday, Frost captured and tweeted a video of a confrontation between U.S. Capitol Police and Patricia and Manuel Oliver, gun control advocates who lost their son Joaquin in the 2018 Parkland, Florida high school shooting.
Manuel and Patricia Oliver were just kicked out of this committee hearing on gun violence. Patricia said one thing and the chair escalated the entire situation. Then, Police arrested Manuel Oliver who lost his son in the Parkland shooting.

His son was shot to death.

— Maxwell Alejandro Frost (@MaxwellFrostFL) March 23, 2023
Here is @manueloliver00 being arrested for speaking out at a committee hearing. His son, Jaoquin, was shot to death in Parkland, Fl.

MANNY IS A HERO. He didn't deserve this. The Republican Chair of this committee just called him a narcissist. Disgraceful. pic.twitter.com/6jccYvesHb

— Maxwell Alejandro Frost (@MaxwellFrostFL) March 23, 2023
The couple had been removed by police from the House Oversight and House Judiciary Committees' gun rights hearing at the request of GOP Reps. Andy Biggs (Ariz.) and Pat Fallon (Texas).
Frost, who was in attendance, told the Blade the conflict started when Patricia Oliver "just stood up and she said, 'you took my son' and she sat down," but "instead of moving on, the Chair [Fallon] escalated things."
The Congressman said hearing itself was "a sham" convened for the purpose of attacking the Biden administration's Bureau of Alcohol, Tobacco, Firearms and Explosives (ATF), the entity within the U.S. Justice Department that investigates violations of laws governing the manufacture, possession, and use of guns.
"The real story here," said the Congressman, "is the fact that there were two parents who lost their son who was in high school, because he was shot to death and died in a pool of his own blood, and now they're going to spend the rest of their lives fighting for a world where it doesn't happen to anybody else."
Frost noted the Olivers were joined at the hearing by other families, activists, and organizers – all of whom were gathered in Washington, D.C. to advance the mission established by the group of teenaged Parkland survivors who founded March for Our Lives five years ago.
Among these student activists were Cameron Kasky, who identifies as queer, and X González, who is bisexual and uses they/them pronouns.
Frost has repeatedly said he ran for Congress because of his involvement in the gun violence prevention advocacy movement, which began with his volunteering on behalf of the Newtown Action Alliance, a group formed in the wake of the 2012 Sandy Hook Elementary School shooting.
The Congressman told NPR the 2016 shooting at Pulse, the gay nightclub in Orlando "where 49 angels were murdered right here because they're queer" marked one of the most significant moments of his life.
That same year and in that same city, Frost himself survived a gun violence incident.
During his congressional campaign, on the heels of last year's elementary school shooting in Uvalde, Texas, Frost tweeted: "10 years ago I became an Organizer because of Sandyhook. 3 years later, I'd become a survivor myself. That same year, Pulse. Now I'm running for Congress and 15 lives were taken at another Elementary school. I will not stop until the endless shootings do."