Instagram unveils pronouns for its users to define themselves
Recognition and respect of our pronouns can make all the difference for our health and wellbeing especially to LGBTQ youth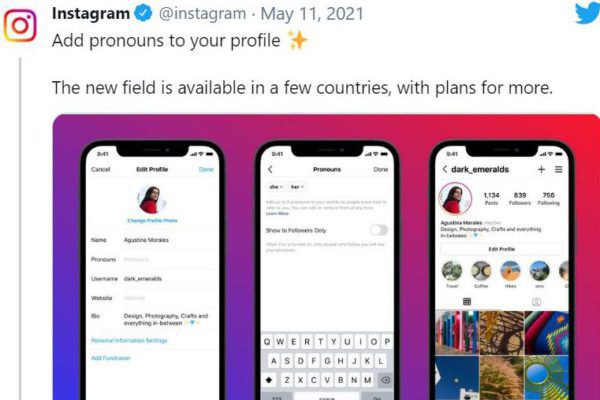 PALO ALTO, CA. – Instagram rolled out a new feature for its platform users in the U.S., U.K., Canada and Australia Tuesday with "plans for more" in other countries the social media giant said. Users will now be able to select their preferred profile pronoun from he/him, she/her and they/them. Once selected, the pronoun preference will appear in small gray letters next to their username.
LGBTQ social media influencers and others including LGBTQ+ advocacy groups have embraced the change in multiple threads on Twitter and on the Instagram platform.
"Pronouns matter, and adding inclusive pronouns to a contact form is more than just a demonstration of allyship," GLAAD president and CEO Sarah Kate Ellis said in a statement sent to NBC's TODAY show in January after the White House updated its contact form on its website to include gender-inclusive pronouns and prefixes.
"Research has shown that recognition and respect of our pronouns can make all the difference for our health and wellbeing — especially when it comes to LGBTQ youth," Ellis said.
A poll conducted last summer by The Trevor Project, an LGBTQ suicide prevention and crisis intervention organization, found that 1 in 4 LGBTQ youth use pronouns or pronoun combinations that fall outside of the binary construction of gender.
Although 75% of youth use either he/him or she/her exclusively, 25% of LGBTQ youth use they/them exclusively, a combination of he/him, she/her, or they/them, or neopronouns such as ze/zir or fae/faer.
Nearly two-thirds of LGBTQ youth who use pronouns outside of the binary opt to use combinations of he/him, she/her, and they/them. This included pronoun usage such as "she and they" or "he and they," as well as using "she, he, and they" to express the nuances of their gender.
ICYMI: now you can add pronouns to your profile💜

Add up to 4 pronouns and edit or remove them any time. You can also choose to display pronouns to only people who follow you. pic.twitter.com/KRc76qm5vZ

— Instagram (@instagram) May 12, 2021
Gigi Gorgeous to launch 'Queerified' podcast
The now-celebrated star and activist fist began her rise to stardom with the creation of her YouTube channel in 2008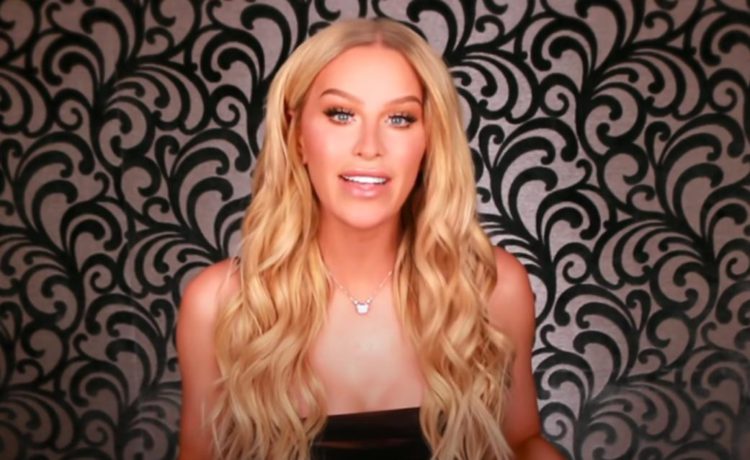 HOLLYWOOD – We all know there are a lot of podcasts out there, but there is always room for one more – especially when it comes from Gigi Gorgeous.
The social-media star, TV personality and transgender activist has announced the launch of "Queerified," a weekly podcast she will co-hosted with longtime best friend Marc Lamentac – better known as Mimi. Timed for a Pride Month premiere, the show will be built around discussions between the two friends, touching on topics such as growing up queer, life lessons and successes, and the celebration of "queer joy" every day. Gigi and Mimi will also be joined by special guests in the LGBTQIA+ community and beyond.
Says Gorgeous in a statement, "On 'Queerified,' I wanted to start a conversation that is empowering, entertaining and humorous, having an open dialogue about the issues and experiences that made me the person I am today."
The now-celebrated star and activist fist began her rise to stardom with the creation of her YouTube channel in 2008. Still a student at a high school in Toronto, she posted beauty, fashion and makeup tutorial videos, while offering viewers encouragement and inspiration to stand up to bullying and harassment by expressing themselves authentically. encouraging viewers to express themselves in the face of bullying and harassment. At the age of 19, she came out in a video as a gay male, and in 2013 announced that she was a transgender woman.
The next year, she documented her transition on YouTube, eventually laying the groundwork for the documentary "This Is Everything: Gigi Gorgeous." In 2019, she published the memoir, "He Said, She Said: Lessons, Stories and Mistakes From My Transgender Journey." The same year, she married fellow activist Nats Getty, a model, artist, and designer whose fashion line Strike Oil is currently being sold at Saks to benefit Pride charities.
"Queerified" – which launches Wednesday, June 16 – is produced by podcast network Ramble, a division of Cadence13. Chris Corcoran, chief content officer for the companies, says, "Gigi has a larger-than-life personality, and an equally powerful voice as an activist. As Pride is celebrated around the world, we're excited to welcome Gigi and Mimi to the Ramble and Cadence13 family."
The show's producers have set up a toll-free hotline (in the U.S.) for listeners to offer feedback and leave comments for Gigi and Mimi, at 844-QUEERYS (844-783-3797). "This is totally a space that's safe for you," reads the description for their podcast.
Colton Underwood, Greyson Chance+ more Amazon Live Pride Festival!
Greyson Chance and former Bachelor star, Colton Underwood, will be streaming live to discuss how they show their Pride, answer fan questions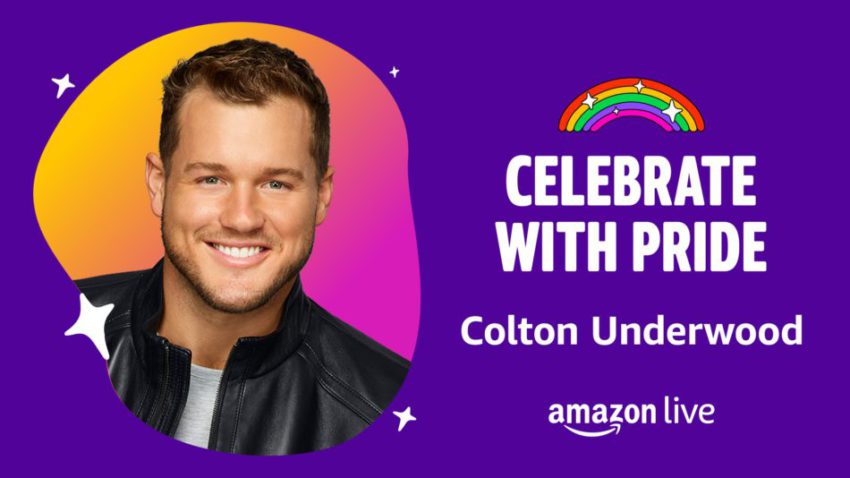 SEATTLE, WA. – Happy Pride Month! Amazon Live is hosting its first-ever Pride Festival this Thursday (6/10) and Friday (6/11) from 3-6pm ET. Your favorite celebrities and influencers, including recording artist, Greyson Chance and former Bachelor star, Colton Underwood, will be streaming live to discuss how they show their Pride, answer fan questions, and share their top Pride picks across fashion, beauty, books, movies, and TV.
Customers can watch HERE via desktop, mobile, or through the Amazon Live Shopping app on Fire TV. Customers can interact directly with the celebrities and influencers via live chat, and easily shop the products and brands discussed through a carousel that updates in real-time.
The scheduled events are as follows:
DAY ONE (6/10):
3PM ET: Greyson Chance will perform from his upcoming EP Trophies, releasing on June 25, and share his curated selection of Pride merch.
4PM ET: Jo Duree will stream a "get ready with me," inviting viewers to do their makeup alongside her as she shows top tips and tricks.
5PM ET: Pride House LA is throwing the ULTIMATE pride variety show! Featuring top products, you will be fully entertained with special guest performances and amazing talent!
DAY TWO (6/11):
3PM ET: Colton Underwood will discuss his life, answer viewer questions, and share the products that help him show off his pride.
4PM ET: Jake Warden will demo a Pride makeup look.
5PM ET: Olga Von Light will discuss her coming out story, and share some favorite Pride related merchandise and why the products are meaningful to her.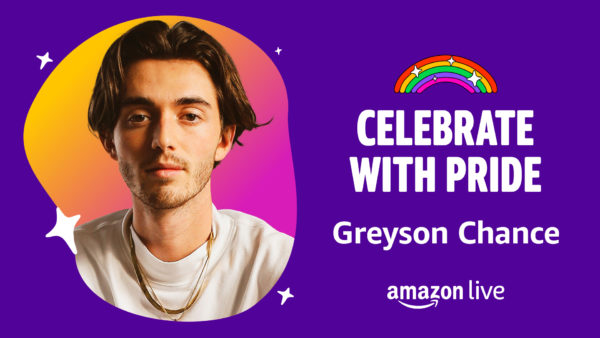 We'd love to have you join! Check out this blog post for more information about how Amazon is celebrating Pride Month.
PBS SoCal's American Masters series, Ballerina Boys streaming with Pride
"The guys who are attracted to The Trockadero are all good dancers, but they're also comedians, class clowns"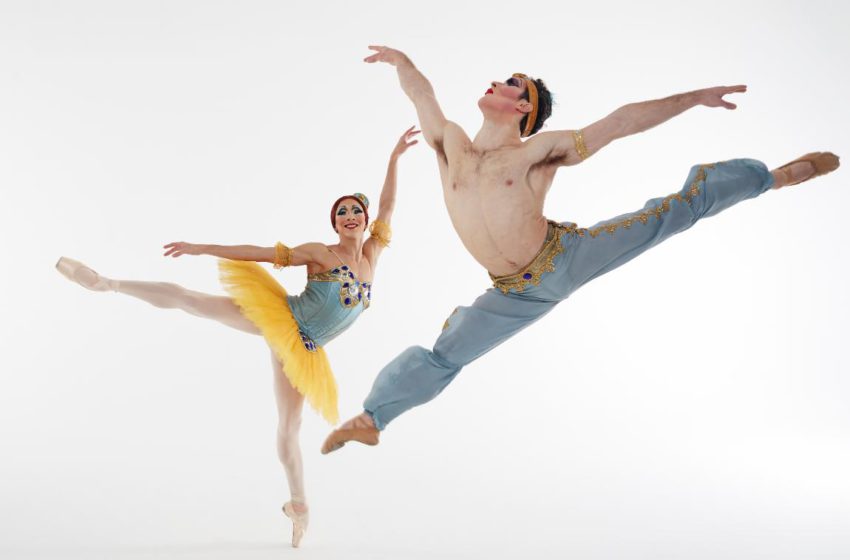 BURBANK – The all-male Les Ballets Trockadero de Monte Carlo is a nearly 50-year old dance institution known the world-round, and it is the focal point of Ballerina Boys, a new documentary featured on PBS SoCal's American Masters series streaming this month for Pride.
Les Ballets Trockadero is a truly unique drag ballet troupe that blends physical comedy and drag with classical ballet. The documentary is the latest from Emmy-winning documentarian Chana Gazit and her creative partner Martie Barylick. It's an exuberant look at the company, where male dancers perform in drag, en pointe. Ballet Boys showcases the company's revolutionary history and the heartfelt stories of its company members, culminating with their military-march performance at the Stonewall 50th anniversary concert at Central Park's SummerStage in New York City.
Les Ballets Trockadero, also known as The "Trocks", started as a downtown cult favorite in the grungy New York City drag scene. It's first performance was in 1974, at a 14th Street loft in Manhattan; it has now evolved into a critically acclaimed international sensation, largely thanks to the leadership and creative vision of artistic director Tory Dobrin.
Dobrin joined the company as a dancer in the late 70's, where he embarked on a 9-week tour of South America, playing in Brazil, Argentina and Chile. As he remembers it, "it was one of the best tours to this day, the audience could actually express their sense of resistance and rebellion by coming to see this comedic drag company."
Dobrin was hooked, and continued to dance with the company until the mid-90's, even after he had taken over as artistic director. By then, the company had been hit hard by the AIDs epidemic and was in need of new leadership and new direction. Dobrin brought that.
Under the new leadership, the company toured internationally even more. After being embraced by audiences and critics in the UK they expanded their European tour, also adding a yearly stop in Japan. By 2004 they were doing over 140 performances a year.
Their repertoire is extensive, titles include Swan Lake, The Sleeping Beauty and The Nutcracker – but each performance includes the "Trocks" special brand of comedy. "When we're creating a new ballet, we set it 100% straight," Dobrin explained, "we work out the technical aspects of the ballet."
Once the ground work is set, they find the humor organically – seeing what funny moments emerge during the rehearsal process. "The guys who are attracted to The Trockadero are all good dancers, but they're also comedians, class clowns" said Dobrin.
"Especially in the earlier days, a lot of the guys who wanted to be in the company hadn't been treated very well by their ballet schools or their ballet companies. Sometimes the dancers would come with a hardened shell, and it'd be really nice to see how people could find a sense of safety and security and allow themselves to express themselves in a way they wanted to," he added.
Check your local listings or visit: https://www.kcet.org/