Instagram unveils pronouns for its users to define themselves
Recognition and respect of our pronouns can make all the difference for our health and wellbeing especially to LGBTQ youth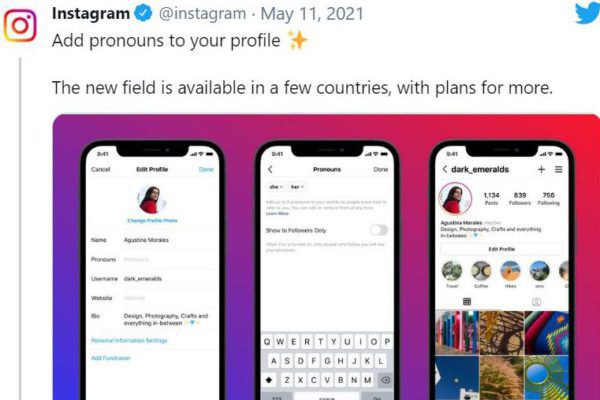 PALO ALTO, CA. – Instagram rolled out a new feature for its platform users in the U.S., U.K., Canada and Australia Tuesday with "plans for more" in other countries the social media giant said. Users will now be able to select their preferred profile pronoun from he/him, she/her and they/them. Once selected, the pronoun preference will appear in small gray letters next to their username.
LGBTQ social media influencers and others including LGBTQ+ advocacy groups have embraced the change in multiple threads on Twitter and on the Instagram platform.
"Pronouns matter, and adding inclusive pronouns to a contact form is more than just a demonstration of allyship," GLAAD president and CEO Sarah Kate Ellis said in a statement sent to NBC's TODAY show in January after the White House updated its contact form on its website to include gender-inclusive pronouns and prefixes.
"Research has shown that recognition and respect of our pronouns can make all the difference for our health and wellbeing — especially when it comes to LGBTQ youth," Ellis said.
A poll conducted last summer by The Trevor Project, an LGBTQ suicide prevention and crisis intervention organization, found that 1 in 4 LGBTQ youth use pronouns or pronoun combinations that fall outside of the binary construction of gender.
Although 75% of youth use either he/him or she/her exclusively, 25% of LGBTQ youth use they/them exclusively, a combination of he/him, she/her, or they/them, or neopronouns such as ze/zir or fae/faer.
Nearly two-thirds of LGBTQ youth who use pronouns outside of the binary opt to use combinations of he/him, she/her, and they/them. This included pronoun usage such as "she and they" or "he and they," as well as using "she, he, and they" to express the nuances of their gender.
ICYMI: now you can add pronouns to your profile💜

Add up to 4 pronouns and edit or remove them any time. You can also choose to display pronouns to only people who follow you. pic.twitter.com/KRc76qm5vZ

— Instagram (@instagram) May 12, 2021
Did Marvel Comics just reveal a classic X-Men character is trans?
Until now, the X-Men have never had a trans member That may have just changed with the publication of X-Men Blue: Origins #1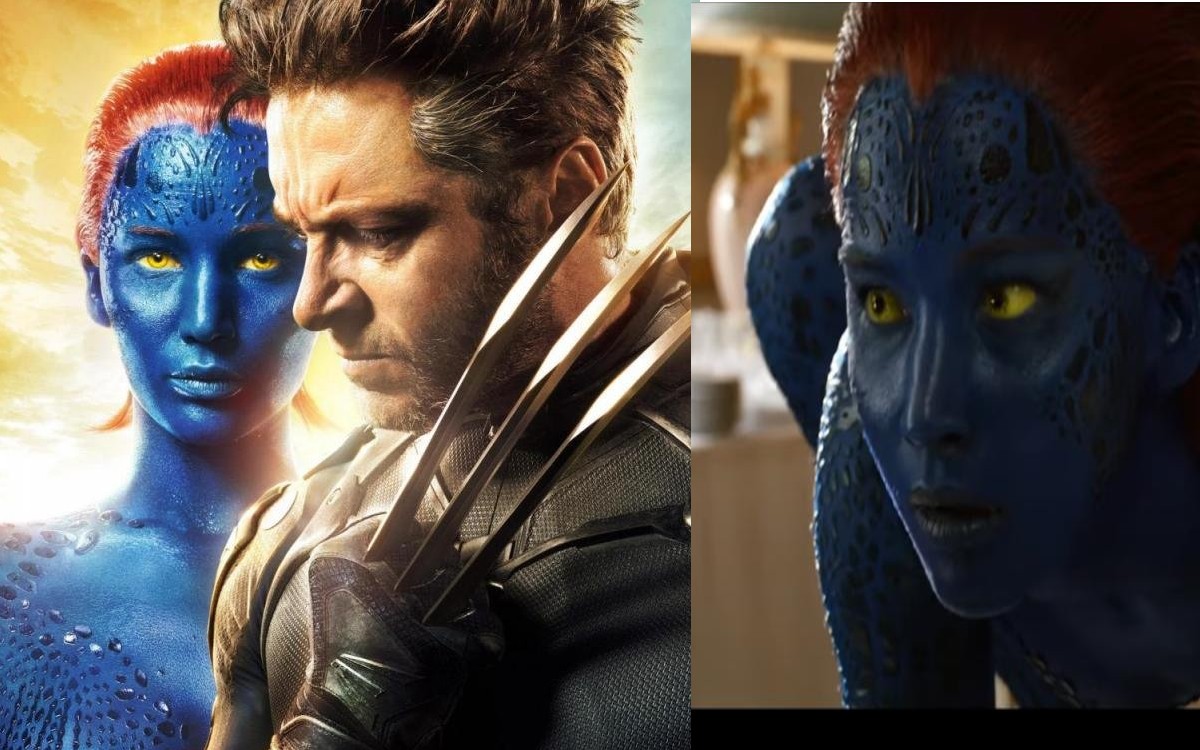 By Rob Salerno | HOLLYWOOD – Marvel Comics' mutant superheroes the X-Men have always been a metaphor for the struggle against prejudice, boasting a diverse cast of characters that have represented a wide spectrum of characters of different races, sexual orientations, and even species. But until now, the X-Men have never had a trans member.
That may have just changed with the publication of X-Men Blue: Origins #1 by Si Spurrier, Wilton Santos, and Marcus To this week, a story that finally gives the full origin of the mysterious Nightcrawler, who had previously been established as the son of the shape-changing Mystique and a demon named Azazel – all three characters who have appeared in Fox's X-Men films.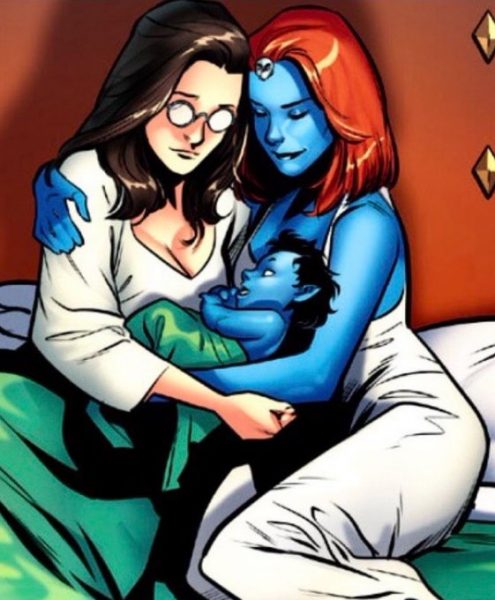 Be warned, spoilers follow from here.
In the new issue, Mystique finally confesses the truth of Nightcrawler's birth. As Mystique now tells it, she didn't actually give birth to Nightcrawler – her female partner and longtime lover Destiny did. And Nightcrawler's father? Well, Nightcrawler's biological father is actually Mystique, who explains that with her shape-changing powers, she has lived as both male and female.
Does that make Mystique trans? Well, the T-word is never actually uttered in the comic, but Mystique's own words when Nightcrawler protests that she's female are a firm rejection of the gender binary.
"Don't be pathetic. I have lived for years as sapiens males. Years more as females. Do you know what I have observed? They're all as awful as each other. The only true binary division lies not between the genders or sexes or sexualities. It lies between those who are allowed to be who they wish, and those denied that right," she says.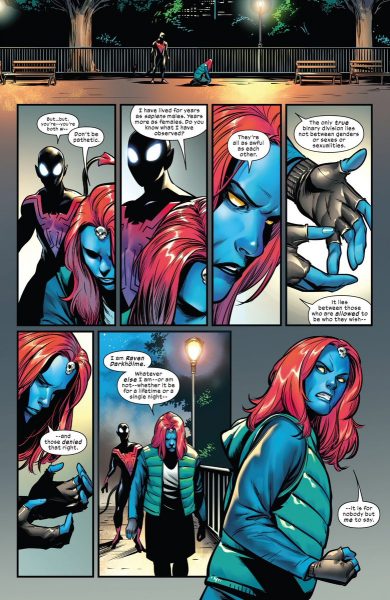 The revelation isn't entirely unprecedented. It has long been known in fan circles that Mystique's creator and longtime X-Men writer Chris Claremont had intended to reveal that Mystique and Destiny were Nightcrawler's parents, but that Marvel Comics wouldn't permit queer characters in their books in the 1980s. 
Eventually Marvel reversed that policy, and Mystique and Destiny's relationship is a main story in current X-Men comics, with Marvel even referring to them as "the greatest love story in mutant history" in a recent press release. Marvel has also published comics set in an alternate universe where Mystique is portrayed as male.
While more openly trans characters have appeared in mainstream comics in recent years, these characters have mostly been relegated to guest-starring and supporting characters. For example, Marvel introduced the trainee member Escapade in the X-Men spinoff comic New Mutants last year, while Marvel's TV shows Jessica Jones and She-Hulk: Attorney at Law gave both heroines trans assistants.
Mystique is now arguably the highest-profile trans character in mainstream superhero comics, as a major character in comics' biggest franchise, and having been portrayed by Jennifer Lawrence and Rebecca Romijn in seven X-Men films.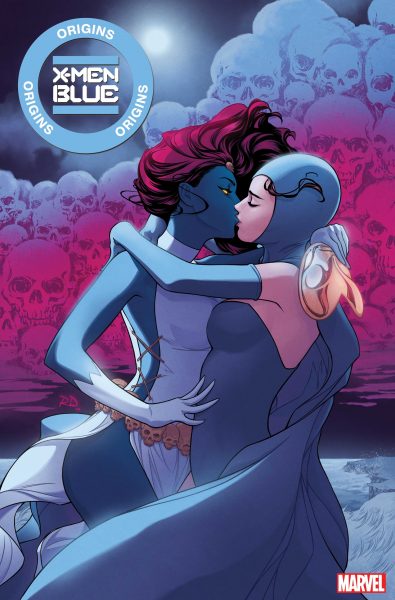 Early reaction to the story has been incredibly positive from X-Men's queer fandom.
"The heart of the story is Mystique embodying the trans ideal of complete and total bodily autonomy, transcending sex and gender to create life with the woman she loves," wrote @LokiFreyjasbur on Twitter.
Marvel Comics is wholly owned by Disney.
Marvel advancing a story about a gender-nonconforming character flies in the face of a disturbing recent trend in corporate America of being overly cautious about LGBT issues in the wake of far-right backlash after Bud Light partnered with a trans influencer and Target put up its annual Pride display.
******************************************************************************************
Rob Salerno is a writer and journalist based in Los Angeles, California, and Toronto, Canada.