LA's hidden gem- Fountain Theatre premieres its Outdoor Stage June 18
Tucked away in a quiet neighborhood is a hidden gem, one of the Los Angeles region's premiere regional live theatres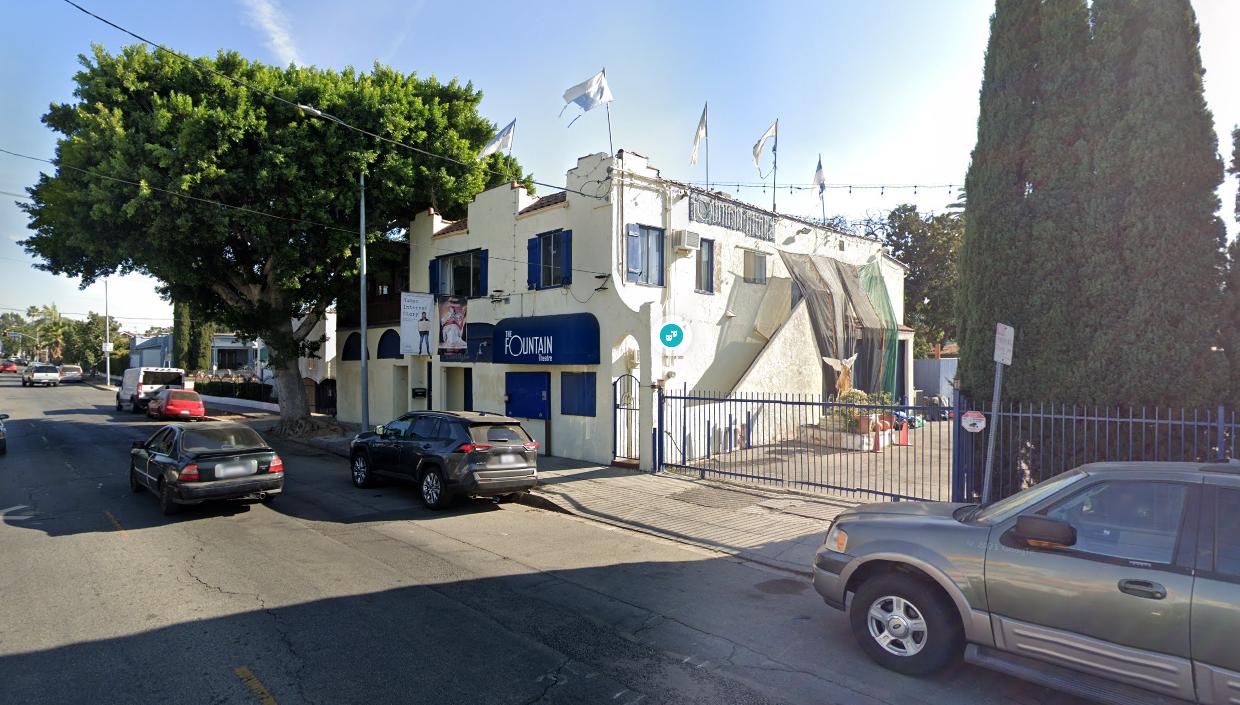 EAST HOLLYWOOD – Tucked away in a quiet neighborhood on Fountain Avenue just off Normandie Avenue is a hidden gem, one of the Los Angeles region's premiere regional live theatres. Founded in in 1990 by co-artistic directors Deborah Lawlor and Stephen Sachs the theatre has garnered an impressive resume and reputation in the theatre world for reflecting a unique cultural voice and serving the distinctive ethnic communities that make up the LA metroplex.
Over the past thirty-one years of its existence the theatre has staged over 35 world premieres; and also 31 U.S., West Coast, Southern California or Los Angeles premieres. On its website the Fountain points out that Fountain Theatre projects have been seen in New York City, San Francisco, Santa Barbara, Seattle, Chicago, Massachusetts, Florida, New Jersey, Minneapolis, London and Edinburgh UK, among other cities and countries.
Like most of the region and certainly the entertainment world in LA, the House lights went dark at the Fountain as the coronavirus pandemic tore through Los Angeles and California. Undeterred, the artistic directors forged ahead and in January the theatre received approval from the City of Los Angeles to install a temporary outdoor stage for the purpose of presenting live performances and other events during the pandemic.
"Pandemic permitting, we hope to open our first outdoor production by late spring or early summer," says Fountain artistic director Stephen Sachs. "We're planning an exciting Los Angeles premiere that dramatizes urgent social issues using the Fountain's signature bold and theatrical approach."
For the past several months work has progressed in installing a stage in what is now the theater parking lot. The new performance area will be able to accommodate 50 to 84 audience members. It will feature seven rows of chairs, each six feet apart, as well as 12 high-top tables positioned six feet apart for use by patrons from the same "bubble" households. Every aspect of the outdoor performance area will meet COVID-19 safety guidelines.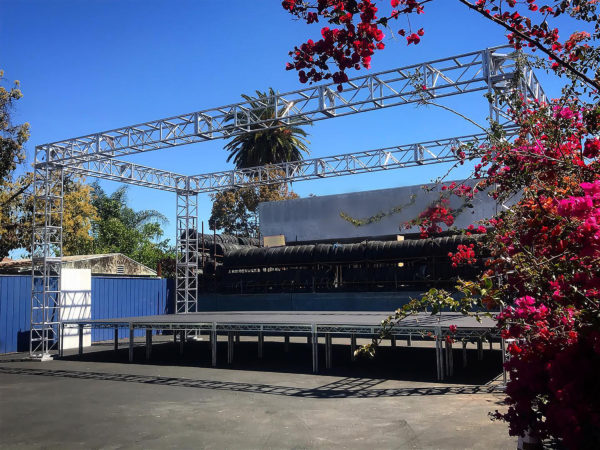 The wait is now nearly over as the stage is complete and the final touches on the performance areas are being finalized. This past week the Fountain announced that casting is complete and rehearsals begin this week for the Los Angeles premiere of a radical, incendiary and subversively funny Obie award-winning play by MacArthur Foundation "Genius Grant" recipient, Branden Jacobs-Jenkins, a playwright who identifies as a Black queer but whose plays aren't chiefly about LGBTQ life.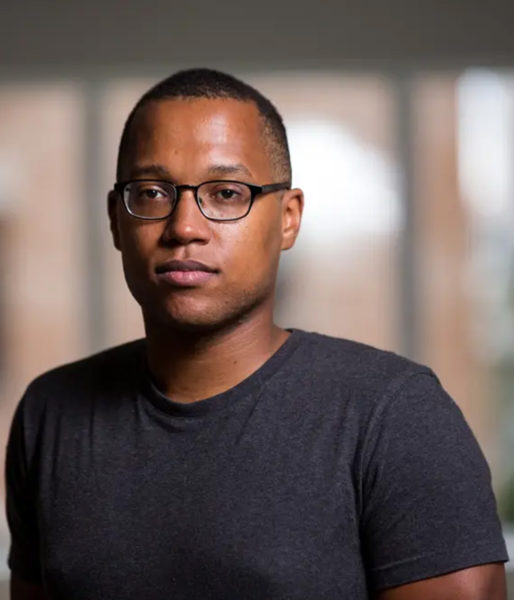 Performances of 'An Octoroon' will inaugurate the new outdoor stage at The Fountain Theatre on June 18. Performances run June 18 through Sept.19, with performances on Fridays, Saturdays, Sundays and Mondays at 7 p.m., except Saturday, June 19, which will be at 5 p.m. and will be followed by a special Juneteenth event, and July 30 through Aug. 2 and Aug. 27 through Aug. 30 which will be dark.
Playwright Branden Jacobs-Jenkins
Photo courtesy
John D. and Catherine T. MacArthur Foundation
Four preview performances will take place on June 11, June 12, June 13 and June 16 at 7 p.m. There will be one press preview on Thursday, June 17 at 7 p.m. Tickets range from $25–$45; Pay-What-You-Want seating is available every Monday night in addition to regular seating (subject to availability).
The Fountain tells the Blade that it is proud to count L.A. City Councilmember Mitch O'Farrell, and Mayor Eric Garcetti as supporters, reflecting the company's successful history of partnering with the City's government.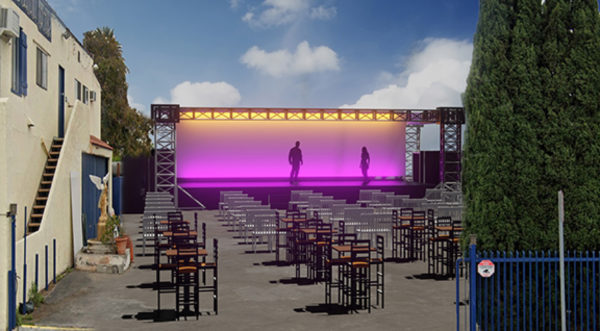 In addition to being a Los Angeles Department of Cultural Affairs grant recipient for decades, the Fountain launched a groundbreaking program that brings celebrity actors to L.A. City Hall to perform one-night free public readings in the City Council chambers.
The Fountain Theatre is located at 5060 Fountain Avenue (at Normandie) in Los Angeles. For reservations and information, call (323) 663-1525 or go to www.FountainTheatre.com.
Construction of the Stage in a Time Lapsed video:
Ahmanson returns to live performance with 'Christmas Carol'
Bradley Whitford in 'Christmas Carol' at the Ahmanson is a fresh perspective and new approach to a time-worn classic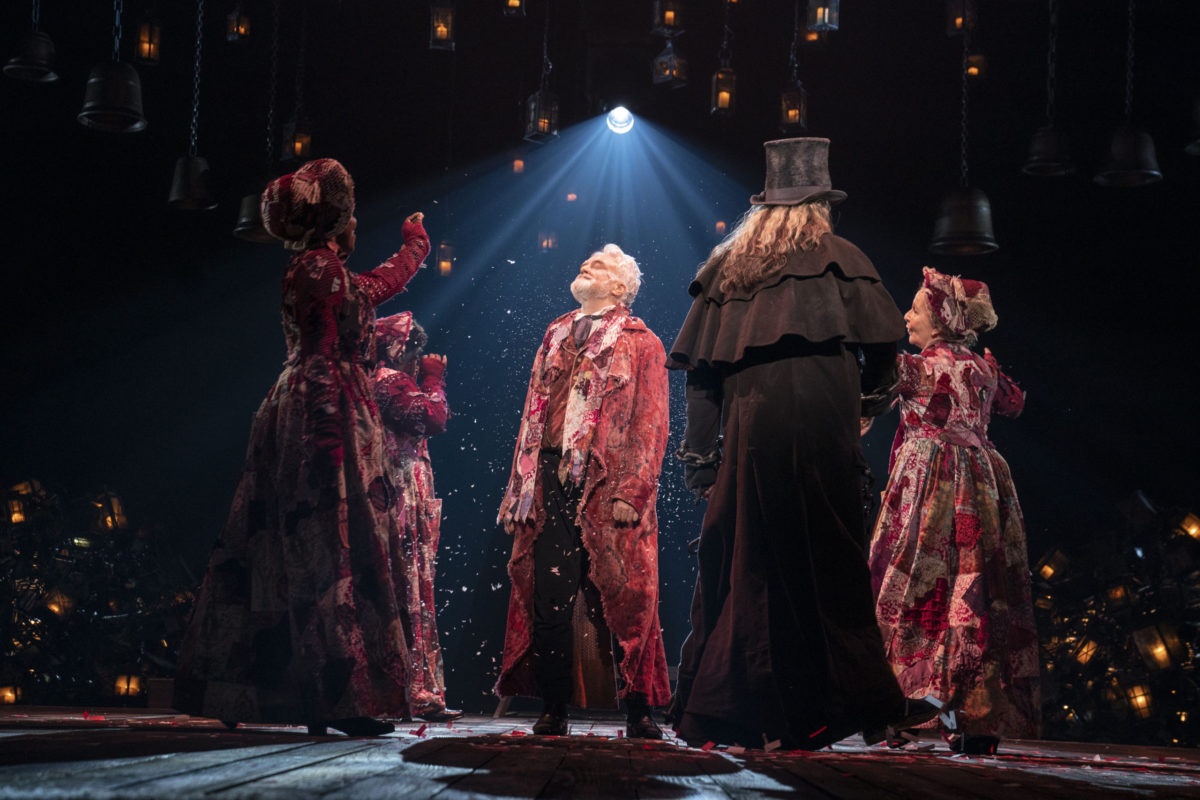 When Charles Dickens wrote "A Christmas Carol" in 1843, he was inspired as much by a need to make money as he was a love for the holidays. His latest novel was being published in serial form, but sales were disappointing, so he hit upon the idea of a novella capitalizing on the seasonal fervor of readers to ensure himself a nice boost in income. It was a hit, and most of Western culture is still embracing the traditions immortalized within it, 178 years later.
Given the intent of its original author to use the story as a cash cow – something he would continue to do with live readings of the manuscript at nearly 200 public performances over the remaining course of his life – it seems fitting, or at least unsurprising, that "A Christmas Carol" has continued to be reinterpreted, restructured, remounted, re-invented, and recycled across every conceivable medium over the years. This year, Angelenos are getting the opportunity to see one of the most lauded of its recent incarnations, which has arrived at the Ahmanson to celebrate not only the Christmas season, but also the return to live performances after more than a year-and-a-half of shutdowns.
Playwright Jack Thorne – who rose to international acclaim for writing "Harry Potter and the Cursed Child" – adapted the Dickens novella in 2017, for London's Old Vic Theatre. It proved so successful that it has returned for an encore each subsequent year (including virtually, during the pandemic), and was mounted on Broadway in 2019 for a production that, despite its run being cut short by COVID-forced closure, snagged Tony Awards for the design of its lights, sets, costumes, and sound, as well as for its original score. It's this version that's now playing on the Ahmanson stage, a briskly paced, high-energy enactment of the Christmas classic that pares Dickens' story down to its most essential elements while leaning heavily into the "magic of the theatre" to evoke the necessary sense of wonder. Thanks to those Tony-winning technical designs, it succeeds unequivocally in achieving the latter – but how well it succeeds in delivering "A Christmas Carol" to audiences eager for the comforting familiarity of a well-loved traditional experience is not quite so clear-cut.
In Thorne's vision of the classic tale, we are transported to early Victorian London via a somewhat minimalistic scenic design, made up mostly of old-fashioned lamps – piled below as well as strung above, in a dazzling and immersive sea of light that extends out well above the audience – and a few modular components (all branded "Scrooge and Marley") that can be variously assembled to suggest different locations, with a central playing area delineated in a square by four rectangular archways, which rise and lower as needed to suggest structures.. Abstract, cold, and industrial as this setting might sound, it is given ample warmth not just by the amber glow of the lighting, but by the music (most of which is played and sung live onstage) which accompanies the action throughout. Calling to mind, perhaps, an encampment in some urban junk yard where itinerant souls have gathered to share some holiday cheer despite their hardships, it provides a surprisingly effective environment for a tale which, like all of Dickens' work, runs deep with a humanitarian undercurrent of social consciousness.
Within this evocative space, the players endeavor to tell the story of miserly old Ebenezer Scrooge and his supernaturally facilitated redemption, banding together to recite the familiar words of Dickens' narration in a style that falls somewhere between Greek Chorus and Carnival Busker. Individuals step out from this group to assume particular roles – Fezziwig, Bob Cratchit and the Ghosts, for instance – but Scrooge himself (Bradley Whitford, in a characteristically audacious performance) is set up from the beginning as a man apart, and for most of what transpires during the play's short running time, he essentially serves as a foil for the rest of the ensemble – and the old-fashioned but dazzling theatrical trickery they employ as an aid – as they barrel through the iconic narrative and lead him against his will to his own salvation. It's a boisterous ride, an inherently performative rendition that takes for granted we already know the story by heart and elides its way past most of the expository details so it can get to the key points faster and spend more time lingering there.
In description, perhaps, the show's effect may seem like a bullet-pointed list, but in reality it plays out like a ceremonial presentation – and aptly so, given that its source material has become woven into the fabric of one of the cornerstone events of the Christian calendar. In the orchestrated blend of language and movement that take us through the paces of Scrooge's road to transformation, the beloved high points – the introductions of the ghosts, the visits with nephew Fred, and of course the heart-tugging saga of Tiny Tim – become scenes for contemplation, like a secular version of the Stations of the Cross; and within that heightened sense of import, Thorne's script takes the opportunity to expand upon some of Dickens' time-honored storytelling with a few flourishes dictated by a decidedly modern perspective.
In this "Christmas Carol," the Cratchit family drama that usually occupies so much of our attention takes a back seat to unpacking the history of trauma that turned Young Ebenezer into Old Scrooge in the first place. Taking leaps with ideas merely suggested in the story's original text, Thorne gives us harrowing insight into the old man's upbringing, reveals the ahead-of-its-time "wokeness" of Fezziwig's worldview, and allows for some healing and closure in the thwarted love story with abandoned fiancée Belle. He also introduces moments of particularly harsh reality – like letting us see the death of Tiny Tim instead of merely learning about it after the fact – that take us by surprise and thereby forces us to confront them more directly than in Dickens' kinder, gentler original; finally, he diverges from tradition in his depiction of the ghosts (particularly the last one) and gives them all a more personal relationship to Scrooge than is suggested in the original.
All of this makes for stimulating theater, and Thorne, along with the entire creative team, deserve kudos for bringing a fresh perspective and new approach to a time-worn classic. But the problem with new approaches is that, by changing focus, they also change effect, and theatre-goers hoping for the kind of familiar, comforting holiday experience they normally expect from "A Christmas Carol" may well find this one jarringly UN-familiar. That's not a bad thing, by any means, but when your heart is set for figgy pudding, anything else is bound to be a disappointment.
With that in mind, it's safe to say that this new production is absolutely worth seeing, for its creativity, its energy, and its willingness to shed some fresh light on some corners that have always remained dark in the past. It just might not be the Dickens you were looking for, and if you can manage that expectation, you're likely to have a festive time, indeed.
Broadway gathers to honor Sondheim in Times Square
They were gathered to pay homage to legendary Tony, Academy Award, and Grammy Award-winning composer and lyricist Stephen Sondheim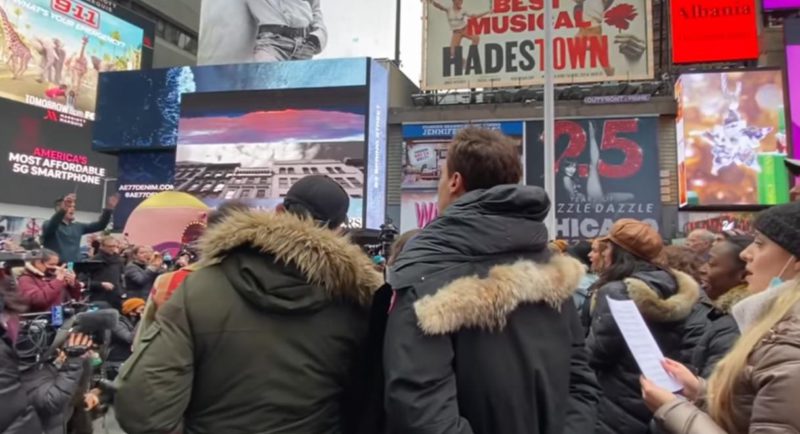 NEW YORK – Light snow flurries swirled around the stars of theatre and stage of New York City's 'Great White Way' as they gathered Sunday in Times Square- members of every Broadway company assembled singing in a powerful chorus "Sunday," the powerfully emotional act one finale to "Sunday in the Park with George."
They were gathered to pay homage to legendary Tony, Academy Award, and Grammy Award-winning composer and lyricist Stephen Sondheim. That piece being performed had garnered Sondheim a Pulitzer Prize for Drama in 1985.
Broadway's best were joined by Lin-Manuel Miranda, Sara Bareilles, Josh Groban, Kathryn Gallagher and Lauren Patton at 'Sunday' Performance in Times Square.
The man who was heralded as Broadway and theater's most revered and influential composer-lyricist of the last half of the 20th century died at 91 Friday at his home in Roxbury, Connecticut.
"This felt like church," Bareilles told Variety after the performance on Sunday. "In his remembrance, we did what theater does best. We sang and raised our voices and came together in community."
Variety also noted that during the celebration, Miranda offered a sermon of sorts. Foregoing a speech, he opened Sondheim's "Look I Made A Hat," an annotated anthology of the composer's lyrics, and read from a few passages before the crowd.
Lin-Manuel Miranda, Josh Groban and Sara Bareilles Honor Stephen Sondheim at 'Sunday' Performance in Times Square https://t.co/LgrYPyMnv0

— Variety (@Variety) November 28, 2021
"Sunday" from Sunday in the Park with George memorial for Stephen Sondheim
Words never fail in MacIvor double bill by Open Fist Theatre
The playwright offers a contemplation of life and death, experience & memory, honesty & deceit, that make up human existence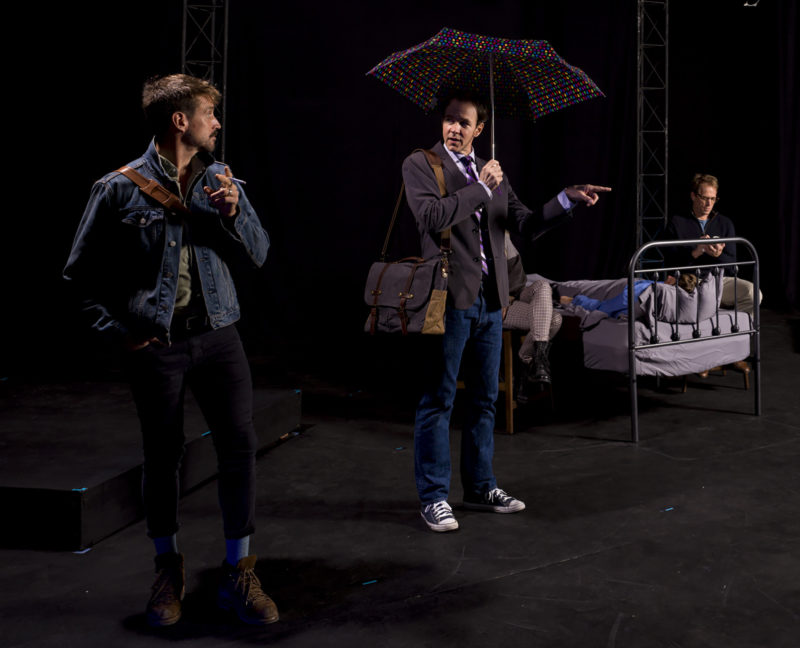 LOS ANGELES – There has long been debate among theatrical scholars about whether going to a play has been traditionally considered an auditory or a visual experience.
The argument goes that, before the advent of modern technology which enabled cinema and other forms of filmed entertainment, the theatre was a place where sound was the primary vehicle by which an audience's imagination could be transported out of the here and now, and that visual elements such as costumes, props, or mechanical stagecraft were secondary factors meant to reinforce and enhance the effect; for evidence of this, many point to Shakespeare, who in "Hamlet" had his lead character say "we'll hear a play" (a phrase which was subsequently long-used preferentially by many theatre-goers in his homeland) and whose works are still renowned five-and-a-half centuries later for their masterful use of language to accomplish… well, pretty much everything required, from setting the scene and telling the story to exploring the deepest nooks and crannies of the human psyche.
Though the whole question might seem a bit pedantic in today's world, it certainly touches on a major difference between the way we experience live theatre and the way we experience a film or television show, one which hinges on the main route these related-but-separate art forms take – through the ears or through the eyes – in transmitting information to the human brain. And if you want a good example of what a difference that difference makes, you couldn't find a much better illustration than the plays of Candadian wordsmith Daniel MacIvor – two of which are currently being performed by the Open Fist Theatre Company at Atwater Village Theatre.
MacIvor, who is known also as a filmmaker and actor, garnered acclaim in the 1980s and 1990s for a series of plays, crafted in a minimalist style and reliant on an intricately constructed tapestry of words to convey situation, narrative, and intent. Standard conceits of theatrical storytelling, such as a linear flow or the assumption of a fourth wall, are often jettisoned in these works, which invite comparisons to absurdists like Beckett and Pinter and challenge audiences to connect the dots as they go in order to decipher meaning. 
Two of these pieces, both directed with a confident hand by Open Fist's associate artistic director Amanda Weir, are paired by Open Fist into a brisk and engrossing double bill which leans hard into the award-winning playwright's unique, meta-theatrical approach to maximum advantage.
The shorter of the two works, "Never Swim Alone," is the more directly abstract. Taking place on stage that is bare save for a lifeguard stand and two chairs, it presents a ruthless competition of one-upmanship between two men, Frank and Bill (Bryan Bertone and Dylan Maddalena), who demonstrate an escalating series of scenarios under the watchful eye of "The Referee" (Emma Bruno) – a young woman with a secret connection to the boys these men used to be. Slyly witty and unexpectedly suspenseful, it examines the competitive machismo hidden beneath the slick and stylish suits of these two "Type A" businessmen with a dark and scathing sense of humor, as it slowly draws a connection between their never-ending battle for supremacy and the deep trauma of a shared childhood experience.
Originally produced in 1991, the roughly 30-minute exercise taps into the rich vein of toxic masculinity in order to make its points about the deep-seated fears and insecurities that drive so much of what our culture has long accepted as "typical" male behavior, with the two men vying for "points" against each other – awarded, of course, by the female referee, who holds absolute and irrefutable power in the game despite the clear lack of regard with which each of the participants reveals themselves to hold women in general.
It's unapologetically clever and disarmingly comedic, reveling in its theatricality and its tactics as it explores the men's rivalry and breaks each confrontation down into the all-too-familiar clichés in which they are mired. The elegant simplicity of its construction, which distills a far-reaching and deep-rooted phenomenon into clear and concise shapshots of social dysfunction, feels as effective today as it surely did over two decades ago.
From a 2021 perspective, however, the subject matter no longer seems as fresh. In the last few years (especially since the "Me Too" movement), the topic of bad male behavior has been rehearsed so frequently, and in so many different and brilliant ways, that many audiences may find themselves getting ahead of the play's revelations before they fully land, and the conceit which ties the whole thing together – which we'll not reveal here – may ultimately strike some viewers as too pat an explanation for what makes these men (and presumably, somehow by extension, all of them) tick.
Nevertheless, MacIvor's wordplay never fails to be crisp and exciting as it trips from the talented tongues of the players (especially the charismatic Bertone and the sublimely expressive Maddalena, who take on the lion's share of the work), and those who enjoy watching skillful actors engaged in an exercise of their craft are bound to find the pleasures of doing so more than enough to make up for the familiarity of the themes being explored.
More satisfying from a narrative standpoint, and more engaging on an emotional level, is "The Soldier Dreams," which MacIvor – who is gay – wrote in 1998 as a response to the AIDS crisis. Again, the setting is sparse, suggesting an empty nightclub with a single bed, occupied by an ailing man, facing upstage in the center.
The man is David (David Shofner), who is in the process of dying as his lover Richard (Conor Lane) and dysfunctional family spar with each other over his comatose form, each clinging to their own perceived special relationship with him and examining their memories to find an answer to the lingering mysteries about his life. Meanwhile, David himself is revisiting a secret memory, from years before, involving a one-night stand with a German student (Schuyler Mastain) that may or may not have led to something more important to him than any of the people standing around his soon-to-be deathbed.
Here, the same linguistic tricks used by MacIvor to form the intellectual exercise of "Swim" are employed to illuminate the web of human relationships at the center of a bittersweet story; as a result, they strike us with deeper resonance and more urgency than in the other piece.
Through the myriad pathways of language, the playwright offers a contemplation of life and death, experience and memory, honesty and deceit, and a host of other dualities that make up human existence. There's sharp humor and cutting observation along the way, along with a fair amount of painful and hard-to-watch bitterness, but it's all tempered with compassion and the three-dimensional layers revealed by each character as we go, and in the end, we are left in a place of hope – or, at least, of acceptance. And making it all come together, a talented cast succeeds in the essential task of breathing life into MacIvor's words, with Shofner, Lane, and Mastain as standouts among a solid and capable ensemble.
The two complementary plays continue their run at Atwater Village Theatre through December 12. Check the Open Fist website for performance dates and times.