Queer residential safe space at Bucknell University attacked by frat boys
We can commit to addressing it in a way that protects LGBTQ Bucknellians and better ensures their safety in the future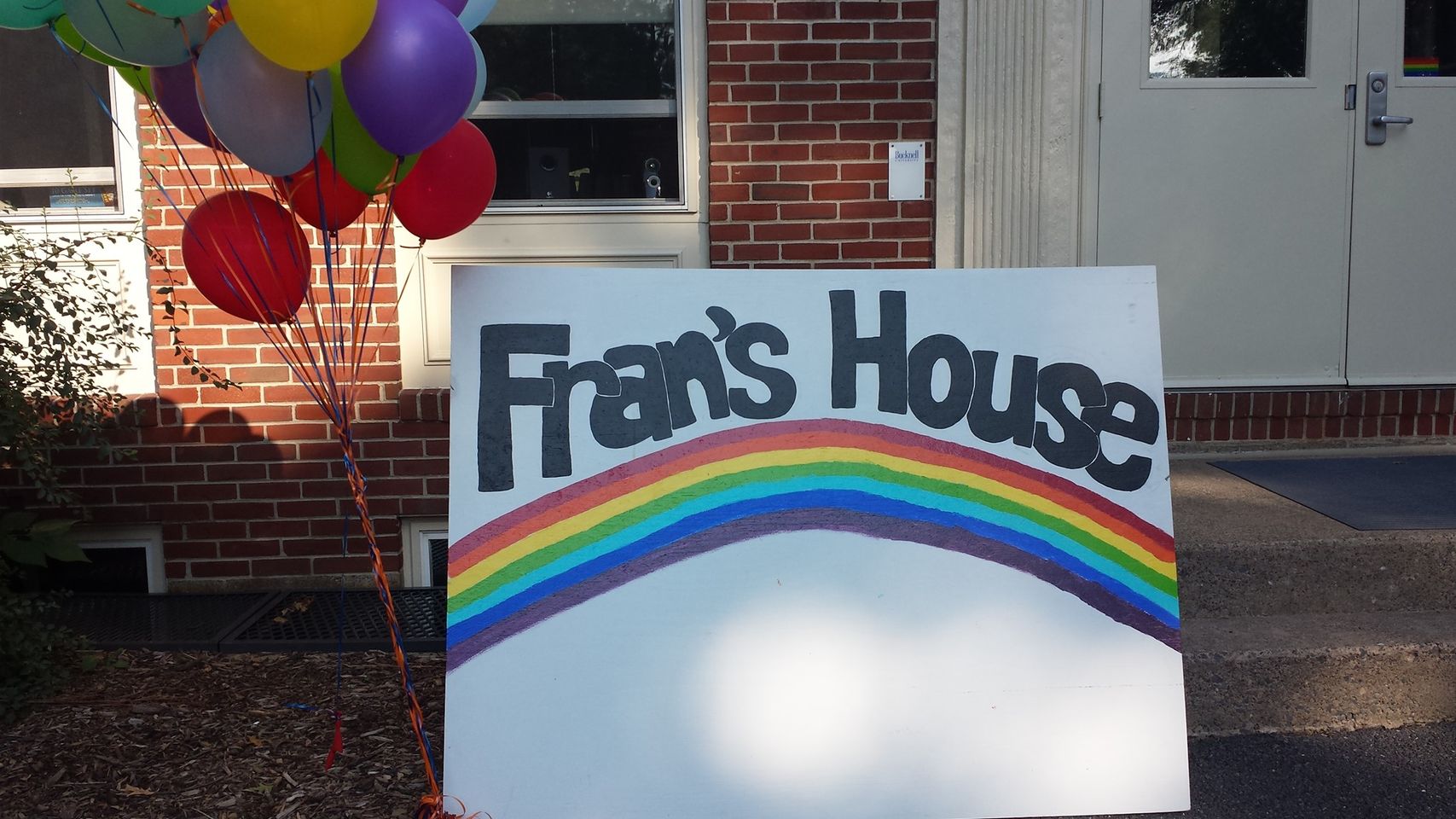 LEWISBURG, PA. – LGBTQ students at the gender-neutral student residence Fran's House were studying and relaxing last Thursday evening as finals week approached for Bucknell University. The peaceful evening was shattered when a group of about 20 former Tau Kappa Epsilon fraternity members attempted to break in to the house.
Fran's House is an LGBTQ affinity residential space for the LGBTQ students at the school, which is located in a small Central Pennsylvania township about 60 miles North of Harrisburg the state capital.
University officials have now opened an investigation after Tyler Luong, the Fran's House residential adviser, (RA) wrote a letter to Bucknell University's president, John Bravman describing what took place;
"[…] the residents of Fran's House were locking our windows and securing our doors from nearly 20 former Tau Kappa Epsilon members from breaking into our home, he wrote.
As the residential advisor of the affinity house and a member of the LGBTQ+ community, I want you to imagine what it felt like to be studying one minute, and then locking down all possible entrances the next. […]"
In the letter Luong says that the nearly 20 former Tau Kappa Epsilon members banged against the windows and doors, "swinging a metal bar at our flag pole that displays our pride flag, and urinating on our front porch. They FLASHED one of my residents." All the while he says shouting "Let us in!", "This isn't your home!", "This is our home!"
The Tau Kappa Epsilon fraternity was suspended and later revoked by the university for ritual hazing incidents and under age consumption of alcohol. The hazing incidents were described as brutal and in 2019, charges were filed unrelated to the fraternity's suspension, in a rape case that occurred at the fraternity.
Adding to the controversy, in his letter Luong says that the campus Public Safety officers did not respond to the scene in a timely manner. According to Luong the tardiness of the officers was then exacerbated by what appeared to be studied indifference to the severity of the situation and what appeared to be sympathy for the fraternity members involved.
"When Public Safety arrived, they laughed at the situation. President Bravman, the officers bonded with our offenders, reminiscing their college days and calling them handsome young men. President Bravman, the two officers didn't even speak to me. Neither of the two officers came up to us Fran's House residents to ask if we were okay. AND THEN THEY PROMISED TO TALK TO THE CHIEF OF PUBLIC SAFETY TO GET THEM ACCESS TO OUR HOUSE WHEN FINALS WEEK WAS OVER, SHAKING EACH AND EVERY ONE OF THEIR HANDS," Luong wrote.
"President Bravman, the officer offered them their business card. I had to ask TWICE to get one because the officer was too busy laughing with our offenders. Is it within the policy for Public Safety to completely ignore the ones who reported the crime?" He added.
Last Friday the University responded issuing a public statement from the University's President John Bravman, its Provost Elisabeth Mermann-Jozwiak and Nikki Young, the Associate Provost for Equity & Inclusive Excellence.
"We write to acknowledge and condemn a horrific incident that occurred last night at Tower House, the Fran's House affinity residence and center of student life for our LGBTQ student community, and to state our unequivocal support for all LGBTQ Bucknellians. We are both outraged and sorrowful that the residents endured this violation of the space that is so critically important to them as a community. These actions will not be tolerated," the officials wrote.
Addressing Luong anger over the actions of the campus security officers, the statement read: "Additionally, we will implement additional educational and professional development for Public Safety officers to foster a better sense of safety and belonging for all members of the Bucknell community."
The University promised to make appropriate changes writing, "We cannot erase the ugliness and subsequent trauma of last night's transgression against the students of Fran's House and, implicitly, many others, but we can commit to addressing it in a way that protects LGBTQ Bucknellians and better ensures their safety in the future. Please join us in supporting them now, and please look for announcements of community events and educational opportunities when we reconvene on campus this fall."
Bill McCoy the Director of the Office of LGBTQ Resources and awareness at Bucknell University also issued a statement in support of Fran's House residents,
While it should never have been tested in this way, the Fran's House community has and continues to show courage and support for one another. Past, present and future, they are a source of PRIDE for our campus. Thank you to all who have and will reach out. Knowing the breadth of support, I hope, will hasten the return of safety for the residents of Fran's House – but time to heal and feel safe in their home will be needed.
The students of Fran's House in an open letter published on social media and other platforms thanked the community at large for the support.
First and foremost, thank you to those who have been showing their support to the Fran's House and LGBTQ+ community at large. When this incident first occurred, our residents simply wanted to spread awareness of the incident. We are astounded by the amount of advocacy and kindness we have received as a result of this from the LGBTQ+ individuals and allies in the Bucknell student body, faculty, staff, alumni network, parents, and more.
The statement also added, "Furthermore, the Public Safety officers and the individuals involved in the incident need to be held accountable for their actions. What happened to this house is abhorrent. Appropriate actions must be taken by the Bucknell Administration to ensure nothing like this will ever happen again. Fran's House residents will provide full compliance to the independent investigation occurring, and hope we will be adequately represented when the university makes decisions based on this outcome. As students, we must also recognize the importance of holding each other accountable and the unequal opportunities that exist for affinity houses to influence Bucknell's social culture, so that feelings of discrimination and hate are not enabled within our student body.
For those looking for ways to support our community at this time, we ask that you share this statement and previous statements of house residents to those affiliated with Bucknell and beyond.
Three years ago a study by the National Center for Education Statistics found that three-fourths (77%) of the total reported on-campus hate crimes in 2017 were motivated by race, religion, or sexual orientation.
Race was the motivating bias in 43% of reported hate crimes (413 incidents); religion was the motivating bias in 18% of reported hate crimes (172 incidents); and sexual orientation was the motivating bias in 16% of reported hate crimes (154 incidents) in 2017.
Sparks, Nevada drag queen story hour disrupted by armed Proud Boy
A Proud Boy approached the library while carrying a gun, causing everyone, including children, to run into the library for safety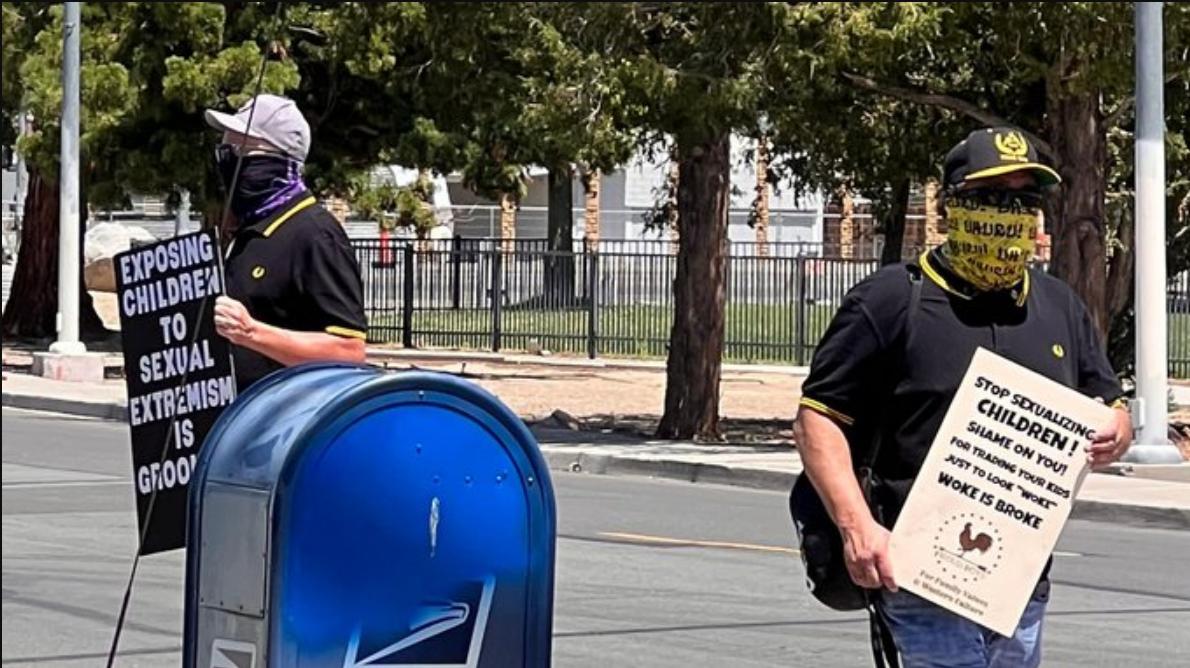 SPARKS, Nv. – An armed man later identified as part of a group of Proud Boys disrupted a drag queen story hour at the Sparks Library Sunday afternoon Reno media outlet KRNV (NBC News 4 and Fox 11) reported.
According to KRNV's account during the event, a group of Proud Boys protested against LGBTQ+ rights outside of the Sparks Library.
The KRNV crew covering the reading event said when the protest came to an end, a man wearing Proud Boys clothing approached the library while carrying a gun, causing everyone, including children, to run into the library for safety.
The Sparks Police Department monitored the protest from a distance, but left soon after. There were no police present when the man approached the building.
Nevada is an open-carry state and according to the Nevada State Police unless a sign is posted or the person is accused of brandishing a weapon, technically for appearances sake, no law was broken or regulation violated Sunday.
Felony arrest in vandalism of Pride Merch at Knoxville Target store
Jonathan Burns was arrested after he was identified by investigators as the suspect in spray-painting a section of LGBTQ+ Pride merchandise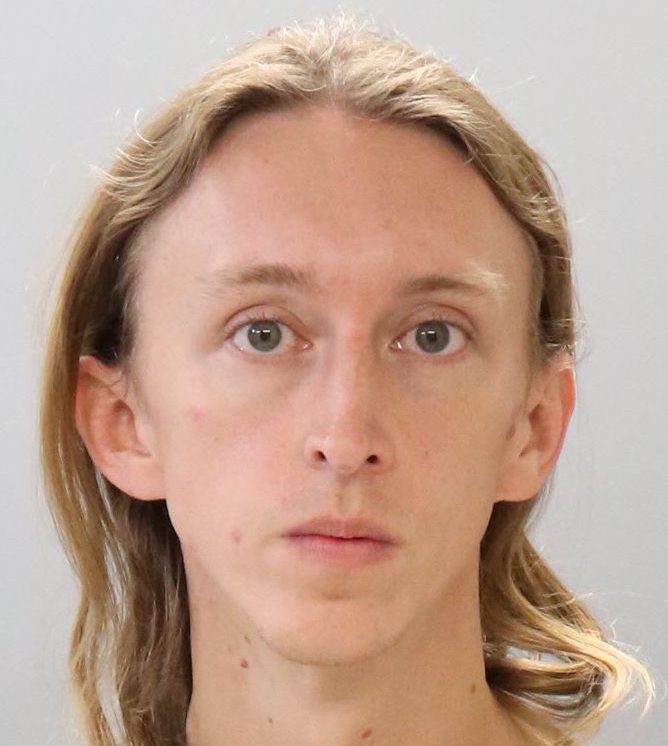 KNOXVILLE – A thirty-one-year-old West Knox resident was arrested last week by the Knoxville Police Department, with the help of the Knox County Sheriff's Office, and charged with felony vandalism at a local Target store.
Jonathan Burns was arrested after he was identified by investigators as the suspect in spray-painting a section of LGBTQ+ Pride clothing & merchandise.
Knoxville NBC News affiliate WBIR-TV, Channel 10 reported:
On June 13 at 2:49 p.m., Burns entered the Target on Parkside Drive and spray-painted an entire section of merchandise placed out for Pride Month, KPD said.
Burns damaged $3,884 worth of clothing, according to KPD. They also said he used red spray paint to destroy the entire section of items as well as a sign in the section, and it was the only section that was vandalized. The sign cost an additional $16 in damages.
An employee had approached Burns and asked him to leave, according to a KPD report.
When Burns left the Target, he dropped the spray paint can on the ground. Fingerprints on the can confirmed Burns' identity. Evidence of him purchasing the spray paint and a bucket hat from local retail prior to the incident was secured. Video from Target and the retailer where the paint and hat were purchased depicted Burns wearing the same clothing, the report said.
With @knoxsheriff's help, Jonathan Burns, 31, was arrested on a felony vandalism charge last night at his West Knox home after he was identified by investigators as the suspect from this incident. He is accused of spray-painting a section of LGBTQ+ Pride clothing & merchandise. https://t.co/tjc507iSaQ pic.twitter.com/jZaBvGKCU4

— Knoxville Police TN (@Knoxville_PD) June 23, 2022
Supreme Court sides with ex-football coach who led prayers at school
"Justice Gorsuch's majority opinion is yet another dangerous example of this Court overturning decades of precedent"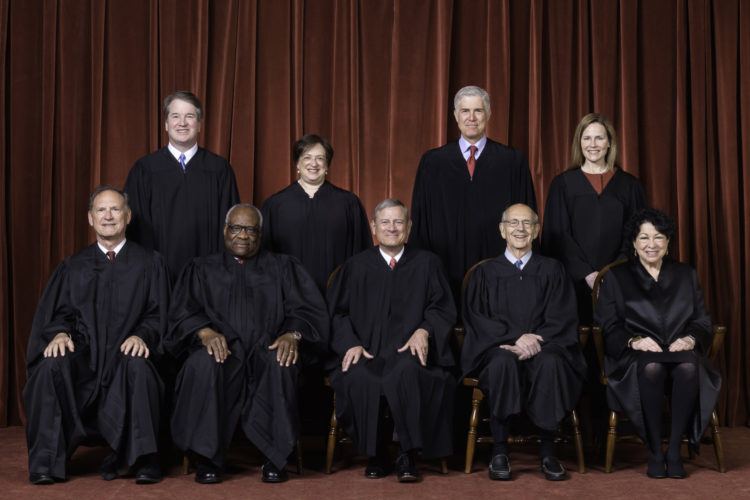 WASHINGTON – The U.S. Supreme Court on Monday in a 6-3 ruling sided with the former Bremerton, Washington assistant high school football coach removed for refusing to halt his practice of praying at mid-field after games on school property.
The ruling is a victory for Joseph Kennedy, who in court documents described himself as a practicing Christian whose religious beliefs require him to "give thanks through prayer, at the end of each game."
When he began his job as an assistant coach at Bremerton High School, a public school in Washington state, he initially prayed alone after games, but over time some of his players – and eventually a majority of the team – joined him. One parent complained that his son, a player on the team, felt like he had to join in the prayer, even though he was an atheist, or face a loss of playing time."
Bremerton School District officials had attempted to accommodate Kennedy after warning him to stop the prayers as District officials clarified that they did not want to violate the Constitution's establishment clause, which prohibits the government from favoring one religion over another.
The district offered Kennedy the ability to pray after the crowd had left the stadium or in a private space both options that he refused. Kennedy had retained counsel and the legal team indicated that they would pursue father legal action.
The case eventually ended up at the high court which agreed to hear it at the beginning of this last term in January.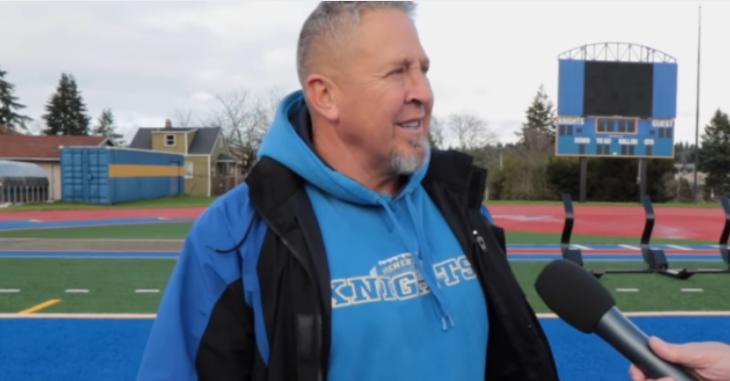 Reaction from groups advocating for greater safeguards in separation of 'church and state' decried the majority decision written by Trump nominated Associate Justice Neil Gorsuch.
🚨BREAKING🚨 — Supreme Court deals another blow to church-state separation, allowing a public school coach to lead students in prayer at the 50 yard line after games. Our full analysis and statement to come. pic.twitter.com/C8USS0Kxt3

— American Atheists (@AmericanAtheist) June 27, 2022
Equality California noted that the Court's ruling in Kennedy v. Bremerton School District effectively was overturning decades of established legal precedent.
"Justice Gorsuch's majority opinion is yet another dangerous example of this Court overturning decades of precedent to impose the personal religious beliefs of some on the rest of the country — whether that be a public school football coach's religious beliefs on his team, a legislator's views on people in their state seeking abortion care or the views of a religious private school on taxpayers now forced to fund them.
"Parents have always been free to send their children to schools that align with their religious beliefs, and coaches who want to lead their players in prayer have always been free to work at private schools where that is encouraged. But students — of any religion or none at all — attending public schools funded by taxpayers should not be coerced into school-sponsored prayer," Equality California's Executive Director, Tony Hoang, said in an emailed statement.
"Every public school student deserves to feel safe, supported and welcome at school. Today's decision undermines that fundamental idea at a particularly dangerous time for our LGBTQ+ students."