Queer residential safe space at Bucknell University attacked by frat boys
We can commit to addressing it in a way that protects LGBTQ Bucknellians and better ensures their safety in the future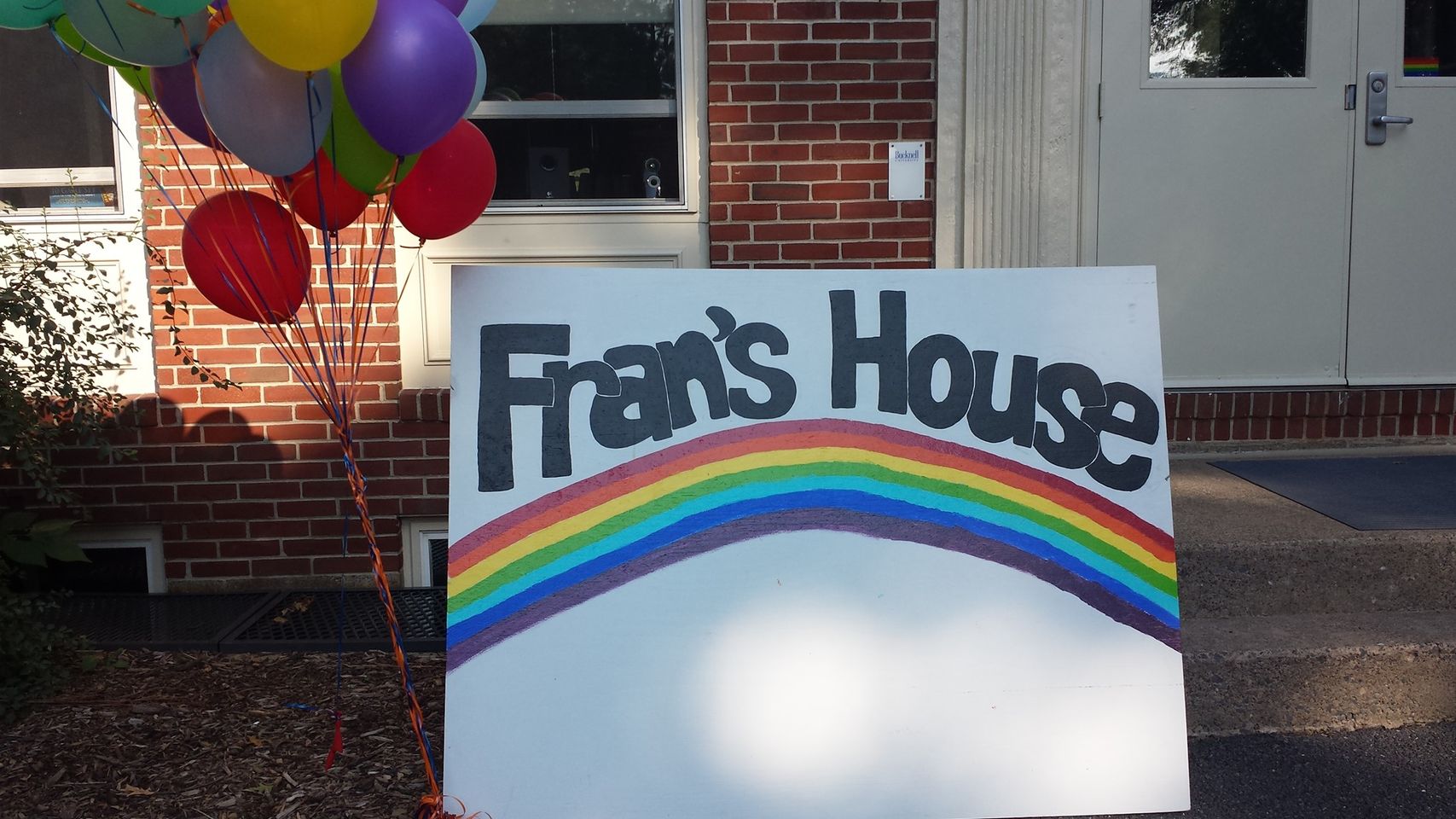 LEWISBURG, PA. – LGBTQ students at the gender-neutral student residence Fran's House were studying and relaxing last Thursday evening as finals week approached for Bucknell University. The peaceful evening was shattered when a group of about 20 former Tau Kappa Epsilon fraternity members attempted to break in to the house.
Fran's House is an LGBTQ affinity residential space for the LGBTQ students at the school, which is located in a small Central Pennsylvania township about 60 miles North of Harrisburg the state capital.
University officials have now opened an investigation after Tyler Luong, the Fran's House residential adviser, (RA) wrote a letter to Bucknell University's president, John Bravman describing what took place;
"[…] the residents of Fran's House were locking our windows and securing our doors from nearly 20 former Tau Kappa Epsilon members from breaking into our home, he wrote.
As the residential advisor of the affinity house and a member of the LGBTQ+ community, I want you to imagine what it felt like to be studying one minute, and then locking down all possible entrances the next. […]"
In the letter Luong says that the nearly 20 former Tau Kappa Epsilon members banged against the windows and doors, "swinging a metal bar at our flag pole that displays our pride flag, and urinating on our front porch. They FLASHED one of my residents." All the while he says shouting "Let us in!", "This isn't your home!", "This is our home!"
The Tau Kappa Epsilon fraternity was suspended and later revoked by the university for ritual hazing incidents and under age consumption of alcohol. The hazing incidents were described as brutal and in 2019, charges were filed unrelated to the fraternity's suspension, in a rape case that occurred at the fraternity.
Adding to the controversy, in his letter Luong says that the campus Public Safety officers did not respond to the scene in a timely manner. According to Luong the tardiness of the officers was then exacerbated by what appeared to be studied indifference to the severity of the situation and what appeared to be sympathy for the fraternity members involved.
"When Public Safety arrived, they laughed at the situation. President Bravman, the officers bonded with our offenders, reminiscing their college days and calling them handsome young men. President Bravman, the two officers didn't even speak to me. Neither of the two officers came up to us Fran's House residents to ask if we were okay. AND THEN THEY PROMISED TO TALK TO THE CHIEF OF PUBLIC SAFETY TO GET THEM ACCESS TO OUR HOUSE WHEN FINALS WEEK WAS OVER, SHAKING EACH AND EVERY ONE OF THEIR HANDS," Luong wrote.
"President Bravman, the officer offered them their business card. I had to ask TWICE to get one because the officer was too busy laughing with our offenders. Is it within the policy for Public Safety to completely ignore the ones who reported the crime?" He added.
Last Friday the University responded issuing a public statement from the University's President John Bravman, its Provost Elisabeth Mermann-Jozwiak and Nikki Young, the Associate Provost for Equity & Inclusive Excellence.
"We write to acknowledge and condemn a horrific incident that occurred last night at Tower House, the Fran's House affinity residence and center of student life for our LGBTQ student community, and to state our unequivocal support for all LGBTQ Bucknellians. We are both outraged and sorrowful that the residents endured this violation of the space that is so critically important to them as a community. These actions will not be tolerated," the officials wrote.
Addressing Luong anger over the actions of the campus security officers, the statement read: "Additionally, we will implement additional educational and professional development for Public Safety officers to foster a better sense of safety and belonging for all members of the Bucknell community."
The University promised to make appropriate changes writing, "We cannot erase the ugliness and subsequent trauma of last night's transgression against the students of Fran's House and, implicitly, many others, but we can commit to addressing it in a way that protects LGBTQ Bucknellians and better ensures their safety in the future. Please join us in supporting them now, and please look for announcements of community events and educational opportunities when we reconvene on campus this fall."
Bill McCoy the Director of the Office of LGBTQ Resources and awareness at Bucknell University also issued a statement in support of Fran's House residents,
While it should never have been tested in this way, the Fran's House community has and continues to show courage and support for one another. Past, present and future, they are a source of PRIDE for our campus. Thank you to all who have and will reach out. Knowing the breadth of support, I hope, will hasten the return of safety for the residents of Fran's House – but time to heal and feel safe in their home will be needed.
The students of Fran's House in an open letter published on social media and other platforms thanked the community at large for the support.
First and foremost, thank you to those who have been showing their support to the Fran's House and LGBTQ+ community at large. When this incident first occurred, our residents simply wanted to spread awareness of the incident. We are astounded by the amount of advocacy and kindness we have received as a result of this from the LGBTQ+ individuals and allies in the Bucknell student body, faculty, staff, alumni network, parents, and more.
The statement also added, "Furthermore, the Public Safety officers and the individuals involved in the incident need to be held accountable for their actions. What happened to this house is abhorrent. Appropriate actions must be taken by the Bucknell Administration to ensure nothing like this will ever happen again. Fran's House residents will provide full compliance to the independent investigation occurring, and hope we will be adequately represented when the university makes decisions based on this outcome. As students, we must also recognize the importance of holding each other accountable and the unequal opportunities that exist for affinity houses to influence Bucknell's social culture, so that feelings of discrimination and hate are not enabled within our student body.
For those looking for ways to support our community at this time, we ask that you share this statement and previous statements of house residents to those affiliated with Bucknell and beyond.
Three years ago a study by the National Center for Education Statistics found that three-fourths (77%) of the total reported on-campus hate crimes in 2017 were motivated by race, religion, or sexual orientation.
Race was the motivating bias in 43% of reported hate crimes (413 incidents); religion was the motivating bias in 18% of reported hate crimes (172 incidents); and sexual orientation was the motivating bias in 16% of reported hate crimes (154 incidents) in 2017.
DeSantis targets Orlando non-profit over holiday drag show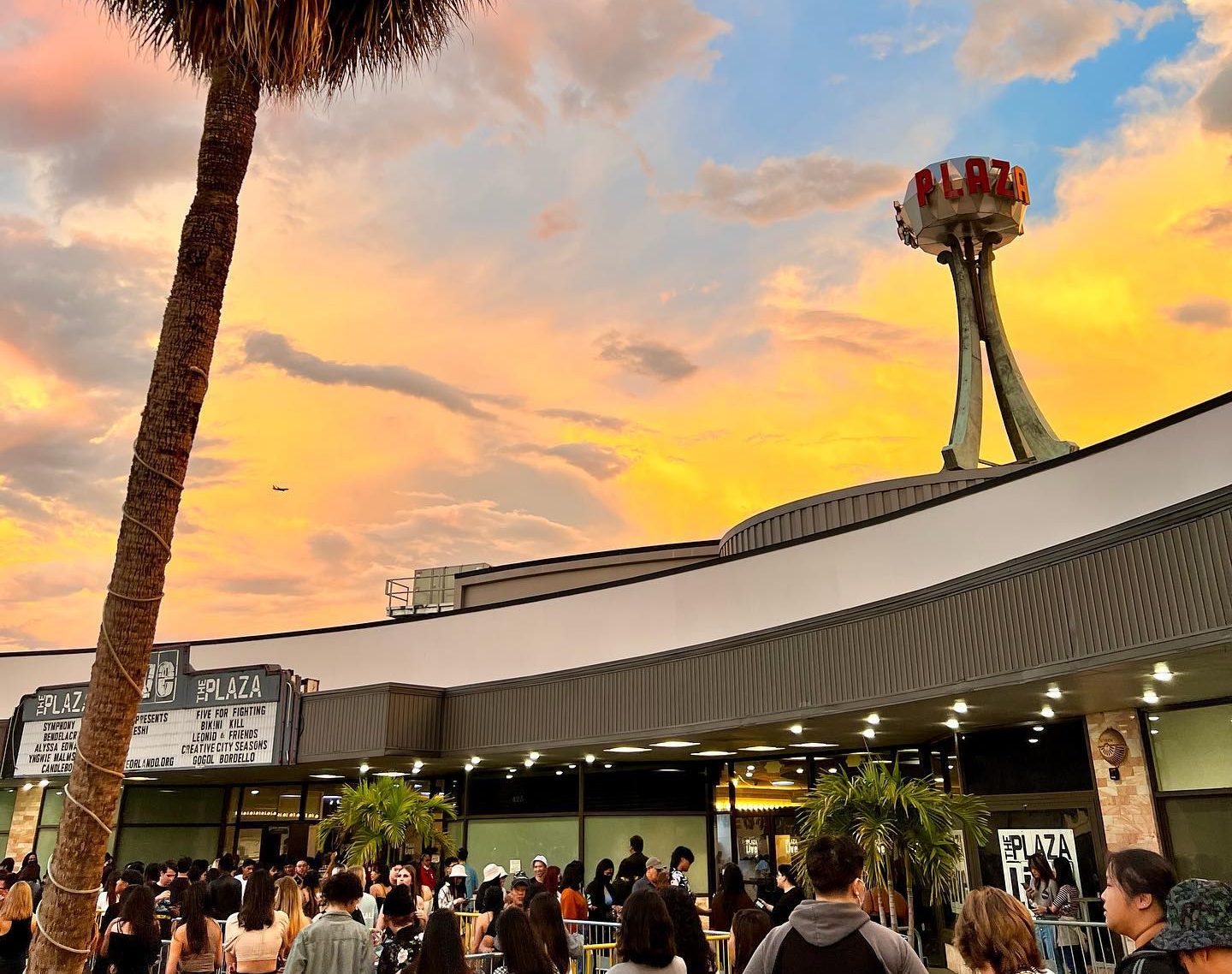 ORLANDO – Florida's Republican Governor Ron DeSantis escalated his war on the state's LGBTQ+ community ordering a state agency to launch a complaint against a Orlando non-profit over a drag holiday event it hosted in which children under age 18 were allowed to attend.
The state's Division of Alcoholic Beverages and Tobacco under the Department of Business and Professional Regulation filed the complaint on Friday against the Orlando Philharmonic Plaza Foundation alleging the foundation violated Florida law in allowing for a person to "commit lewd or lascivious exhibition" in the presence of an individual who is less than 16 years old. 
"A Drag Queen Christmas" was hosted by the foundation on Dec. 28 and during the performance sold alcoholic drinks at its Plaza Live venue. In the complaint, the agency states that the foundation used "Christmas-themed promotional materials" that did not give advance notice of the "sexually explicit nature" of the show's contents.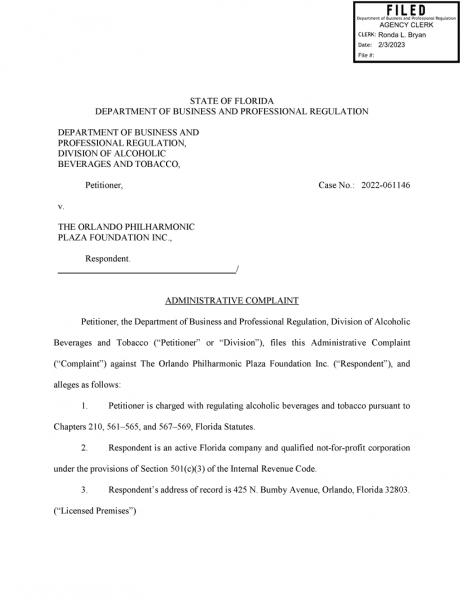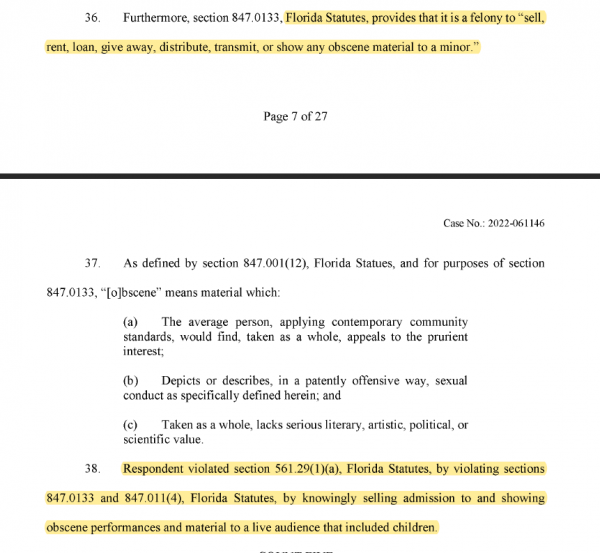 The complaint also states that the division sent the foundation a letter ahead of the show saying "sexually explicit drag show performances constitute public nuisances, lewd activity, and disorderly conduct when minors are in attendance" and the foundation's license could be subject to penalties if it did not ensure minors could not attend the event.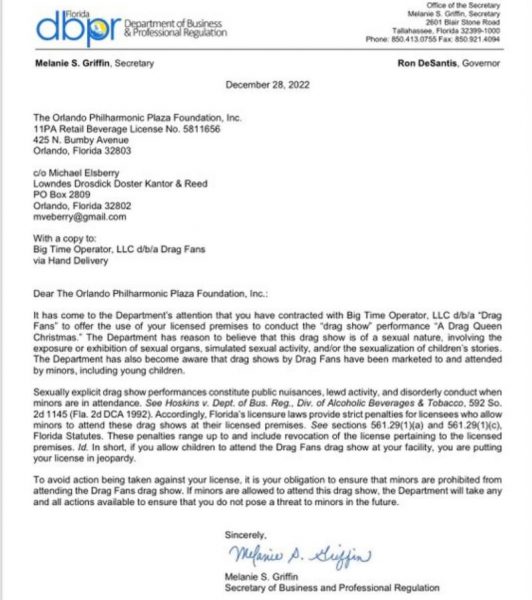 In its capacity as a regulator of alcohol, the division attempting to revoke the foundation's liquor license for six alleged counts of violating Florida statutes. 
When asked about the move by the DeSantis administration targeting the non-profit, Bryan D. Griffin, the spokesman for DeSantis said "Governor DeSantis stands to protect the innocence of children, and the governor always follows through when he says he will do something."
Orlando Weekly writer Matthew Moyer noted that The Plaza Live — besides serving as the performing home base of the Orlando Philharmonic — hosts a robust slate of touring bands, comedians, YouTubers and, yes, drag performers.
State Rep. Anna Eskamani released a statement to Orlando Weekly late Friday afternoon, condemning the state's actions in no uncertain terms. "Governor Ron DeSantis' culture wars are destroying people's jobs and livelihoods. The very notion of shutting down a small business over a drag show is insane and extreme," said Eskamani. "In the United States we do not allow the government to determine what we can read, see or hear or who we can gather with. Targeting drag performances limits everyone's freedom of speech and is all a part of the Governor's sick anti-LGBTQ+ agenda."
This is about dehumanizing LGBTQ people and targeting them for retribution by the state by portraying LGBTQ people as abberant and deviant. It's absolutely disgusting and should not be tolerated.

— Alejandra Caraballo (@Esqueer_) February 3, 2023
DeSantis previously filed a complaint against a popular restaurant and pub in the Miami's Wynwood neighborhood in July, alleging that it violated a public decency law in allowing children to attend a drag show.
The R house, is a unique casual fine dining establishment and lounge with an integrated gallery right in the heart of the vibrant Miami-Wynwood arts district named for Rocco Carulli, the executive chef as well as creator of the restaurant. The R House identifies itself on its Facebook page as "the proud home of South Florida's most popular weekend drag brunches! Make some time to check us out and experience R House."
The complaint was filed by the Department of Business and Professional Regulation on asking that the R House restaurant is a declared a public nuisance and has its liquor license revoked. 
According to the South Florida Sun Sentinel, the complaint was issued after a video of a recent performance at the bar's drag brunch went viral. A topless drag queen wearing lingerie stuffed with money can be seen in the video attempting to dance with a young girl, who the DPBR estimates is "between three and five years old." Twitter account "Libs of Tik Tok" originally found the footage on Tik Tok, posted by a user who wrote, "Children belong at drag shows!!!! Children deserve to see fun & expression & freedom."
The department cited multiple incidents of inappropriate drag performances with kids in the audience, including one in which a child "between the ages of ten and twelve" was "seen recoiling and turning away in her seat as a Brunch performer climbed on the back of the child's bench, squatted, and gyrated a couple of feet above the child's head."