'Drag Queen Story Time' library event draws fire from some residents
The children's literacy program received pushback from residents questioning its content. FOL says its message of inclusivity is important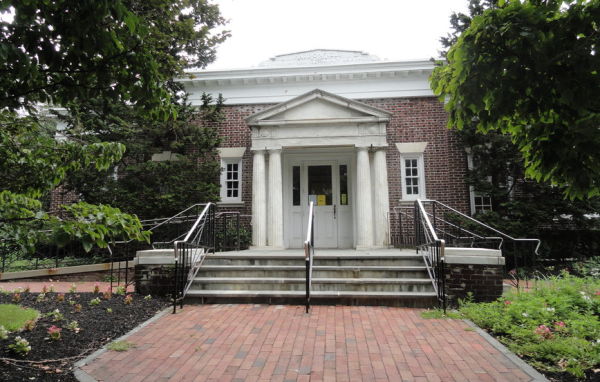 By Matt Skoufalos | HADDONFIELD, NJ. – Resident criticisms of an upcoming, drag-queen-led children's story hour by Haddonfield Friends of the Library (FOL) led to an emergency meeting of the Haddonfield Public Library (HPL) board last week, as the library worked to shore up its support for the event.
A notice advertising the meeting reported that its agenda was "limited to discussion of, and acting with respect to, the finalization of a diversity, equity, and inclusion policy, which has become necessary due to public statements directed at the Haddonfield Public Library's upcoming Friends of the Library Drag Queen Story [Time]."
"There have been some remarks regarding the program," Library Board President Amy Goodworth said, calling the meeting to order. The HPL board wanted to make a public statement "to ensure that the board and library are for the inclusion, diversity, and equity of all community members," Goodworth said.
Those remarks included comments from Haddonfield community members who feared that Drag Queen Story Time "would expose kids to sex at an early age," Haddonfield Library Director Eric Zino said. He added that the library had been asked to confirm whether the event "would be a live sex show, or simply a reading of children's books, with no sex acts being performed, discussed, simulated, or referenced in any way."
Although the library had been working to update the messaging in its policies "that speak to our commitment to diversity," those remarks spurred its board into action "so we could begin and refine that work," Zino said.
"When we get questions, we respond in a way that we hope creates interest, or support, or at the very least, understanding," Zino said. The emergency meeting "was us doing the work that we need to do so that we can make clear affirmations" about the library "being a place for everybody," he said.
"Our strategic plan is about outreach and building more opportunities for people," Zino said. "We're always looking for opportunities to find out if we're doing things right, and that was the purpose of the meeting.
"We hope but we cannot promise that experiences [with the Haddonfield Public Library] are going to be positive, and that people can and do have a way to access what they want or need, free from judgment, or bias, or stereotypes, and absolutely with their dignity affirmed," he said.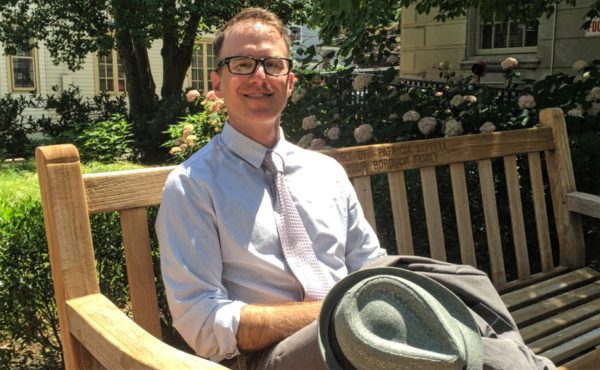 Zino said it's the first time during his tenure as library director that he's been made aware of any complaints about the content of library programming.
He also noted that Drag Queen Story Time is a members-only, online Zoom event hosted by FOL, a nonprofit booster group that raises funds for the library, but operates independently from it.
'You know what you're signing up for'
In addition to the actions taken by the HPL board in response to the comments it received about Drag Queen Story Time, the library will commit a subcommittee on diversity comprising FOL members "to see if we're thinking about all the multiple dimensions of the communities that will be executing the mission and vision for this library's plans," Zino said.
To him, that extends beyond any single event produced in conjunction with the library and into the content of the materials in its collections.
"When you walk in the building, and we say that we're for everybody, but you don't find any words that clearly say it, or you can't find any representation in the collection that reflects you, then maybe we're not doing our jobs," Zino said.
"We've already done some great things, and have this in mind with our collection development, but the subcommittee and its input in our planning and execution gives us another lens to see through as we evaluate our performance for success," he said.
"I can say that the group of selectors here does intentionally think about all members of the community," Zino said. "I think they're doing a good job. It's part of their intentional process, and that's a good thing."
Audrey Adams, co-President of FOL said that Drag Queen Story Time was conceived as a private event exclusively for its membership since the novel coronavirus (COVID-19) pandemic scuttled its traditional fundraising opportunity, a book sale.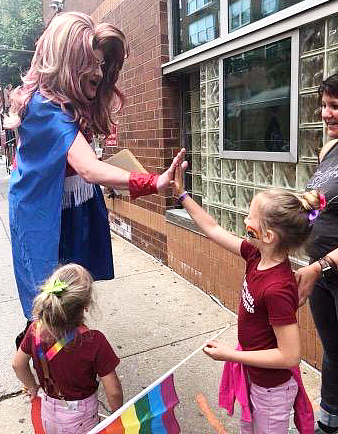 "It's not something that the public would walk by," Adams said.
"If you're signing up for it, you know what you're signing up for, and it's not funded by the library."
Despite having received some negative feedback about hosting the event, Adams said FOL "feel[s] strongly that it is a wonderful program, that it's been vetted, that it's been used at many other libraries as well as synagogues and schools."
The group selected Philadelphia drag queen Miss Brittany Lynn because she's "well-known in Philadelphia and well-respected," Adams said.
"We partnered with her on the book selection, and the trustees picked some favorites that we've read in our own families," she said.
"None of our members complained that we know of."
Miss Brittany Lynn high-fives a child after a Drag Queen Story Time event. (Photo Credit: Ian Morrison)
Despite a handful of residents' objections, Adams said FOL has received "overwhelming support" for the program. Nearly 30 families have already registered to attend, and FOL has added new members who wanted to join just to see it, she said.
"There is a very large portion of the community that wants to see representation," Adams said. "Hopefully we've created some exposure and understanding for people who didn't have it previously.
"I don't know that we changed any minds, but we've tried to be thoughtful about our social media and engagements around this to explain it and make sure people know where we're coming from," she said.
'We're not trying to push an agenda'
Miss Brittany Lynn is the drag queen persona cultivated by Philadelphian Ian Morrison for 25 years.
Morrison operates Drag Queen Story Time as an individual offshoot of the Drag Queen Story Hour program established by Michelle Tea in San Francisco in 2015.
He said he's encountered occasional pushback for his events, including protestors from the Westboro Baptist Church, who trolled one of his events at a library in Germantown. Worse, however, was the recent, high-profile arrest on child pornography charges of a Milwaukee judge who was a Drag Queen Story Time supporter, which has created uncomfortable guilt-by-association critiques of the program, Morrison said.
"Now any time someone hears Drag Queen Story Time is happening, people don't even bother to do research," he said. "It's aggravating. People complain before they experience it, and that's the worst."
Morrison said he's completed extensive background checks in order to offer Drag Queen Story Time to Philadelphia libraries, schools, parks, and museums. The program (and Morrison) were recognized by Philadelphia Family Magazine as the "best community builder of 2019," and Morrison's group, Philly Drag Mafia, has been lauded for its charity work throughout the city.
Among its achievements: creating the first LGBTQ+ brigade in the history of the Philadelphia Mummers Parade, and leading sensitivity training around it, for which they received a citation from the city government.
"I'm not just some drag queen off the street," Morrison said. "I'm a professional going on 25 years of doing shows."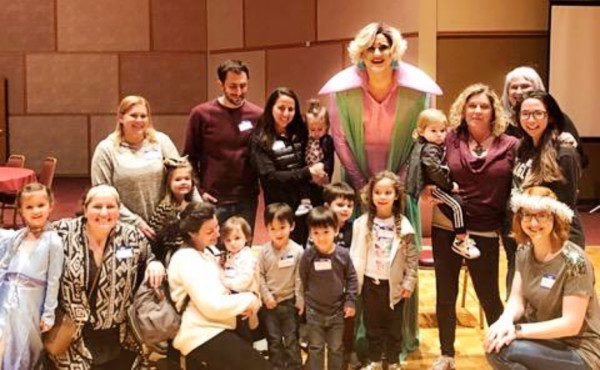 To Morrison, Drag Queen Story Time is fundamentally a literacy program that helps children "to develop a sense of diversity, acceptance, and being open.
"We're not trying to push an agenda," he said. "We read books for all communities and all cultures."
Drag Queen Story Time with Miss Brittany Lynn. (Photo Credit: Ian Morrison)
The importance of reaching young children through an event like Drag Queen Story Time is to approach them at an age in which they are "open to learning about new cultures [and] new lifestyles," Morrison said.
"Kids need to know that they're all original people; that they're their own person," he said. "Kids are open to love, diversity, and acceptance. Any kind of hatred is taught, and we're the exact opposite of that."
As innocuous as moral panic around an event like Drag Queen Story Hour may seen, however, the impact of transphobia on vulnerable populations isn't. In The New Republic last week, writer Melissa Gira Grant explored the connections between objections to LGBTQ+ programming and anti-trans legislation that have arisen around drag queen library events.
"There is no drag queen conspiracy," Gira Grant concluded. "Trans kids, however, are at risk of being denied life-saving care, losing their families, and facing systematic exclusion from education and athletics, under the cover of law and 'child protection.'
"The propaganda machine that got us here was not operating in secret; it has been on cable news nearly every night," she wrote. "The horrifying and almost immobilizing reality is that none of this had to be true to work."
Drag Queen Story Time will be presented by Haddonfield Friends of the Library from 11 to 11:45 a.m. June 19. Attendance is limited to FOL membership.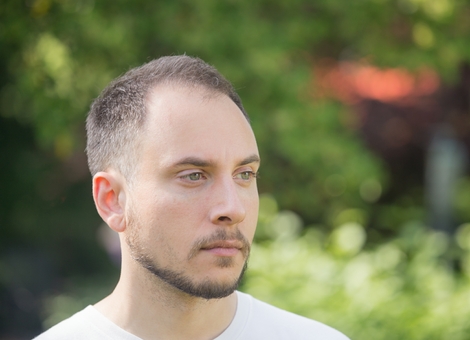 Matt Skoufalos is a 15-year newsman with a background in local and trade journalism, healthcare, and economics. His career has spanned media outlets from WHYY-FM to the Patch.com family of hyper-local news websites.
A father, musician, and Haddon Township resident, Matt has an interest in the people and stories that move the communities of South Jersey.
The preceding article was published by NJ Pen and is republished here by permission.
Tennessee 7th grader kills himself after anti-LGBTQ+ bullying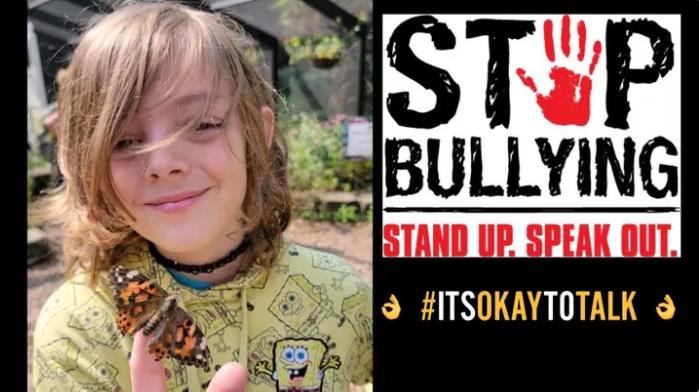 SHELBYVILLE, Tn. –  A 12-year-old boy took his own life after enduring apparent months of what his family and others labeled ugly vitriolic anti-LGBTQ bullying and abuse.
Eli Fritchley, a seventh-grader at Cascades Middle school located in Wartrace in Bedford County, was found on Sunday night, November 28th, 2021, by his mother who walked into her son's bedroom and discovered his lifeless body.
In an emotional interview with Nashville ABC news affiliate WKRN 2's reporter Stephanie Langston, Fritchley's parents described him "as a peaceful soul who wasn't afraid to be himself."
"He didn't care, or at least we thought he didn't care, and that's what's really difficult for us because we thought he didn't care," his parents said as they teared up.
Eli painted his nails, loved the color pink and wore the same SpongeBob sweatshirt nearly every day.
"I think probably because he was in the same clothes every single day that they used that as a weapon," his mom Debbey explained, saying he loved doing the laundry and cleaning his clothes every day.
His parents told Langston that their son was not accepted by his peer group at the school.
"He was told because he didn't necessarily have a religion and that he said he was gay that he was going to go to Hell. They told him that quite often," said Debbey.
His parents heard his cries but didn't realize the extent of the pain that the youth was experiencing adding that their son never blamed anyone.
"It was really abusive. I don't think it was ever physical. I think it was just words, but words hurt. They really hurt," said his father Steve.
"This has just blindsided us. This is something we would have never, ever expected," his mother added. "That's been really hard. That image was terrible until we got to hold him yesterday. Now that image is gone, because the only thing we could think of yesterday when we were kissing and loving on him was how angelic he looked. He absolutely looked angelic. He's just an angel," she cried adding, "We all failed him. We all failed him. It's as simple as that."
The parents told Langston that they are determined to stop bullying adding that they hope raising awareness will ensure that other kids or their parents goes through the heartache they are experiencing.
"I honestly think education, education, education for everyone where bullying is concerned because it is a problem, not just in Bedford County. It's a problem everywhere," they said.
According to WKRN 2, "the Fritchleys were regulars at Penalties Sports Bar & Grill in Shelbyville. The owners of the restaurant, Rob and Shondelle Lewis, say they are like family and they are heartbroken over the loss of Eli. In an effort to help, they created a Gofundme as the Fritchleys are looking to start a foundation to bring awareness and help educate people about bullying and suicide awareness."
"I hope and pray, this unfortunate event we are going to make something of it. We've got to. We are going to come up with some sort of antibullying program through this Gofundme page where I pray to God this will not happen again," said Rob."
The Trevor Project's 2021 National Survey on LGBTQ Youth Mental Health examined depression and suicide risk among LGBTQ youth from rural areas and small towns compared to urban and suburban areas.
The Key Finding was that nearly half of LGBTQ youth in rural areas and small towns reported that their community was somewhat or very unaccepting of LGBTQ people compared to just over a quarter of those in urban and suburban areas. The data also shows that LGBTQ youth living in rural areas and small towns had slightly greater odds of depression and attempting suicide.
********************
Bedford County parents grieve son bullied before suicide
New York man arrested for threatening mass shootings of LGBTQ+ people
Defendant allegedly threatened bombings and mass shooting that would make the 2016 Orlando Pulse Nightclub Attack "Look Like a Cakewalk"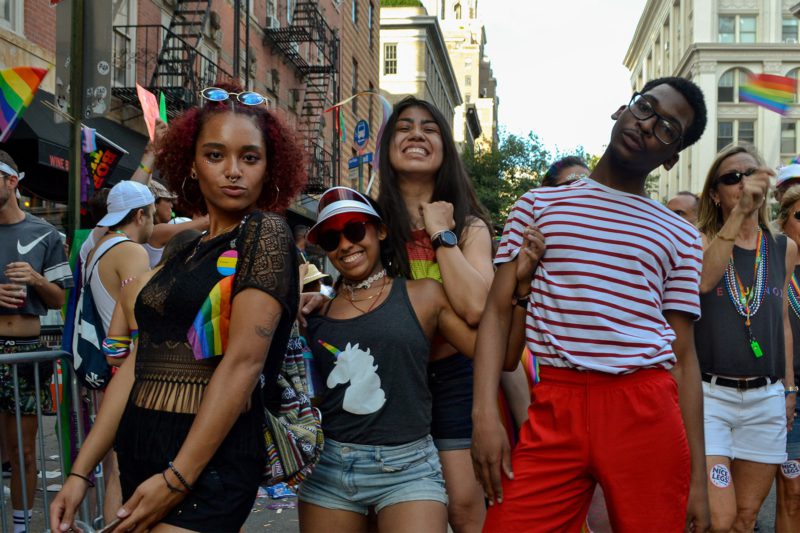 CENTRAL ISLIP, Ny. – Agents from the New York Field Office of the Federal Bureau of Investigation (FBI) arrested and charged on Monday a Long Island man on a warrant issued by United States Magistrate Judge Steven I. Locke for mailing letters threatening to assault, shoot, and bomb LGBTQ+ affiliated individuals, organizations, and businesses.
According to Breon Peace, United States Attorney for the Eastern District of New York, and Michael J. Driscoll, Assistant Director-in-Charge, of the FBI New York Field Office, who announced the arrest, Robert Fehring, 74, a resident of Bayport, New York on Long Island, since at least 2013, had been sending individuals associated with the LGBTQ+ community letters in which he threatened violence, including threatening the use of firearms and explosives.
In the criminal complaint and affidavit for arrest, federal prosecutors allege that one letter threatened that there would "be radio-cont[r]olled devices placed at numerous strategic places" at the 2021 New York City Pride March with "firepower" that would "make the 2016 Orlando Pulse Nightclub shooting look like a cakewalk," referencing the 2016 attack in which 49 persons were killed and dozens wounded at Pulse, a gay nightclub in Orlando, Florida.
"As alleged, the defendant's hate-filled invective and threats of violence directed at members of the LGBTQ+ community have no place in our society and will be prosecuted to the fullest extent of the law," stated Peace. "This Office is firmly committed to protecting the civil rights of all members of every community in this district, including the LGBTQ+ community and other minority communities."
Fehring is also alleged to have a sent a letter threatening the organizer of a June 2021 Pride event in East Meadow, New York, which stated:
"[W]e were right there you…FREAK!!! They couldn't get a shot off at you, slithering around the back stage area like a snake. Too many cops. Very disappointed. But your time has come. . .. They are out to KILL you….and your boyfriend. You are being watched. No matter how long it takes, you will be taken out…. high-powered bullet…. bomb….knife…. whatever it takes."
On November 18, 2021, members of the FBI's Civil Rights Squad and the New York Joint Terrorism Task Force executed a search warrant at Fehring's home in Bayport, New York, and recovered photographs from a June 2021 Pride event in East Meadow, New York, two loaded shotguns, hundreds of rounds of ammunition, two stun guns, and a stamped envelope addressed to an LGBTQ+ affiliated attorney containing the remains of a dead bird.
"Fehring's alleged threats to members of the LGBTQ+ community were not only appalling, but dangerous, despite the fact he hadn't yet acted on his purported intentions," stated Driscoll. "As the primary federal agency responsible for investigating civil rights violations, the FBI takes all threats of this nature seriously."
The New York Executive Director of NYC PRIDE Sandra Pérez told the Blade in an emailed statement; "We take any and all violent threats seriously and report them to the appropriate authorities. We received threatening letters earlier this year and reported them. We appreciate the work of the Justice Department in investigating this situation. We are cooperating in any way we can, and we remain committed to the safety and well-being of the LGBTQIA+ community."
Gay City News editor  Matt Tracy reported that Fehring appeared in court on December 6 before Magistrate Judge Steven I. Locke and was released on $100,000 bond. He is restricted to home detention with location monitoring, according to prosecutors. He is not allowed to have any firearms or "destructive devices," is barred from contacting any of his alleged victims, and cannot go to the places he is said to have targeted.
Another Trans person confirmed murdered this year- USAF vet & Mother
Her friends will always remember her infectious personality & her unmistakable laugh. She loved others passionately and fiercely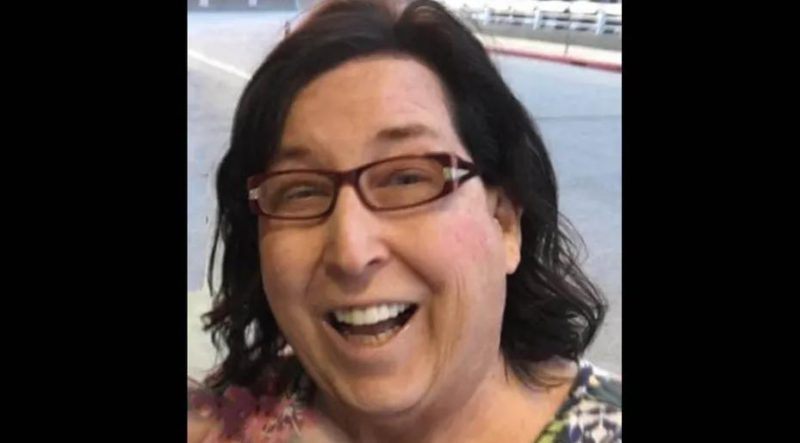 MEADE COUNTY, Ky. – Another Trans person has been confirmed murdered this year bringing the deadly total to 49 deaths of transgender and gender non-conforming people in 2021 according to a tally kept by the Human Rights Campaign.
Cris Blehar, a 65-year-old white transgender woman, mother, and U.S. Air Force veteran, was discovered stabbed and shot to death by Meade County sheriff's deputies who had responded to her rural home on Woodland Road in the Flaherty area. Deputies had been dispatched to perform a welfare check from an unidentified person concerned about Blehar.
The Elizabethtown, Kentucky, News-Enterprise newspaper reported that the Kentucky State Police had made an arrest in the case only a few hours after Blehar's body was found of Vine Grove resident Tyler J. Petty, 18.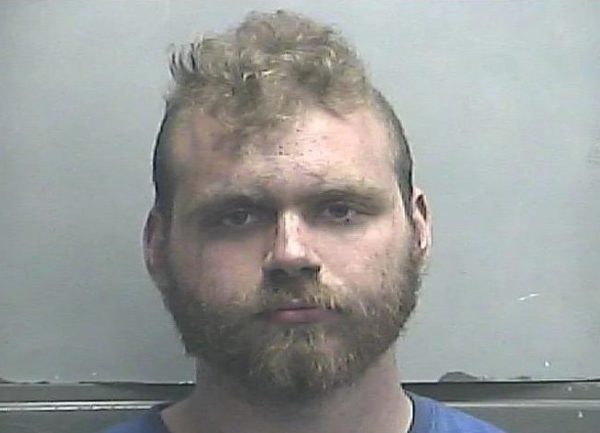 "There was no relationship between the victim and the suspect. We believe he worked for her," said Kentucky State Police Trooper Nicholas Hale in an email to the News-Enterprise. Petty was arrested and brought to KSP Post 4 and was interviewed about the case. Police say he admitted to killing Blehar. A trial date has been set for June 2022.
The murder in this rural area about an hour Southwest of Louisville on May 19, 2021, was brought to the attention of the Human Rights Campaign this week when Blehar's cousin Mark Stephens contacted HRC to ensure that she was "remembered, honored, and counted" as a member of the transgender community. 
In a statement to HRC, Mark Stephens said;
"If there is one thing to know about Cris, it was that she fought fiercely to define her life as SHE wanted. Whether it was her military service, her 20+ year career in the airline industry, or her post retirement decision to buy a farm & start a family of her own. She lived life to the fullest and wanted everyone around her to live their best life as well. Growing up 'different' in Kentucky is certainly no easy task, something we shared in addition to being cousins, and she tackled it with the passion and zeal that only she could have. Her friends will always remember her infectious personality & her unmistakable laugh. She loved others passionately and fiercely, none more than her own son, Maverick."
Blehar's son Maverick Thompson paid tribute to her, writing:
"Cris was an amazing mother and a wonderful person. She had so much love and brought a smile to many. She had a hilarious sense of humor that will live on through those that knew her. She will be sorely missed!"
According to her obituary, Blehar was a former law enforcement officer in the U.S. Air Force and retired from United/Continental Airlines. She also worked as an Uber driver and loved animals and bowling.
HRC has officially recorded 49 deaths of transgender and gender non-conforming people in 2021, more than in any year since we began tracking this violence in 2013.