Penn State removing gendered, binary terms from course descriptions
It is time to ensure that all people are not only able to choose their name & gender identity, but documents and systems are inclusive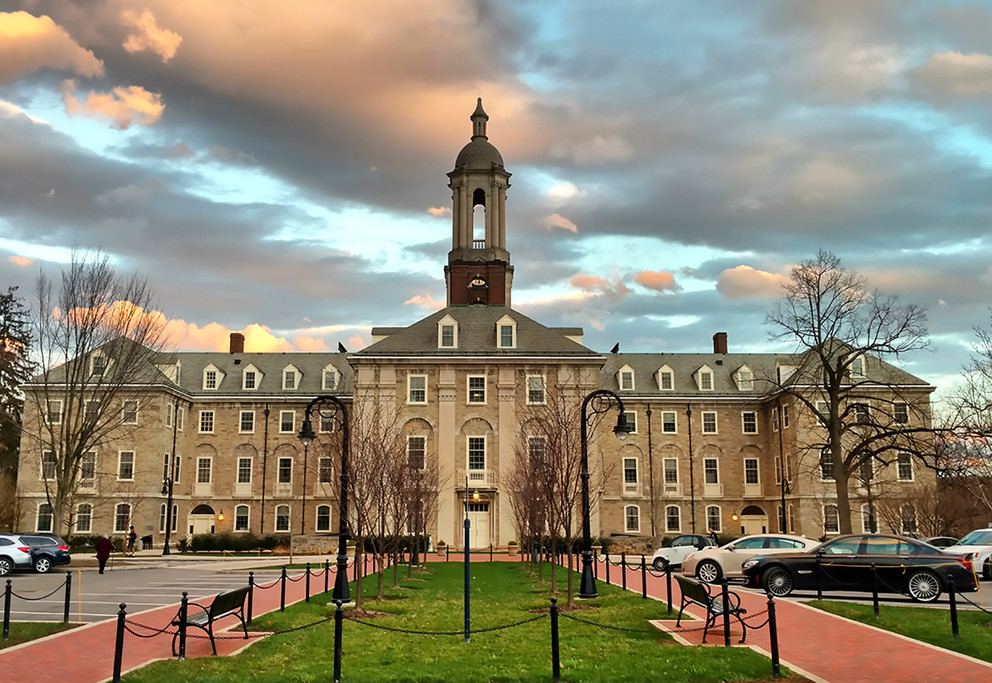 STATE COLLEGE, PA. – A measure approved by the Pennsylvania State University's Penn State Faculty Senate and slated to be implemented, would remove gendered and binary terms like "freshman" and "upperclassman" from Penn State course and program descriptions.
The PSU Faculty Senate Committee On Curricular Affairs noted in its proposition AD84 Preferred Name and Gender Identity Policy;
"The University, as with most all academic institutions world-wide, has grown out of a typically male-centered world. As such, many terms in our lexicon carry a strong, male-centric, binary character to them. Terms such as 'freshmen' are decidedly male-specific, while terms such as 'upperclassmen' can be interpreted as both sexist and classist. Terms such as 'junior' and 'senior' are parallel to western male father-son naming conventions, and much of our written documentation uses he/she pronouns.
With the implementation of the AD84 – Preferred Name and Gender Identity Policy, it is time to close the loop and ensure that all people are not only able to choose their name & gender identity within our systems, but that these documents and systems are also structured to be inclusive from the start.
We suggest that the University consider changes to all written materials, including recruiting materials, admissions materials, scholarship information, housing materials, other outward-facing documents, internal documents, and websites. Under the purview of our committee, we make specific recommendations for editorial updates to our course and program descriptions, which appear in the course catalog and bulletin, to remove gendered terms."
Once the measure is policy and implemented it will include all written materials, including recruiting information, admissions materials, internal documents and school websites.
The committee in its recommendation to the full Faculty Senate also noted that that there may be places where these terms, especially gender terms, may need to remain intact, for example in the case of courses or degrees that delve into gender studies. "In such cases, efforts shall be made to clearly delineate between the 'academic' study of these gendered terms, and the newly established nomenclature as it would apply to faculty, staff, students, and guests," the recommendation read.
The committee also cautioned that during implementation, steps should be taken to ensure that any changes to these terms do not interfere with Federal Financial Aid or other student loans/scholarships, or affect the University's accreditation or similar legal concerns.
There was no timetable for implementation and officials at Penn State have not responded to a request for comment.
Anti-LGBTQ+ far right activist questioned in NC power outage
State & federal investigators are looking into protesters of a local drag queen show but so far they have not been able to make a connection
SOUTHERN PINES, Nc. – Law enforcement agencies are investigating a wide-spread power outage after intentional vandalism via gunfire was inflicted on the electrical infrastructure network in Moore County located 40 miles Northwest of Fayetteville Saturday night.
Moore County Sheriff's deputies questioned a local woman after she posted on social media that she was aware of why the power was out blaming the outages on a drag show that was being held, which had already caused stirred up considerable controversy in Southern Pines.
Moore County Sheriff Ronnie Fields told media outlets that Duke Energy and other utility companies found evidence of intentional vandalism that had occurred at multiple sites. Fields added that the outages, which began just after 7 p.m. forced 45,000 people to endure freezing temperatures overnight.
North Carolina Governor Roy Cooper tweeted that he was aware of the outage and the ongoing investigation:
I have spoken with Duke Energy and state law enforcement officials about the power outages in Moore County. They are investigating and working to return electricity to those impacted. The state is providing support as needed. – RC

— Governor Roy Cooper (@NC_Governor) December 4, 2022
Former U.S. Army Captain Emily Grace Rainey, a far right anti-LGBTQ+ conservative activist had publicly attacked a local theatre that was hosting a drag show posted to her social media accounts:
"The power is out in Moore County and I know why." She also posted a picture of the Sunrise Theater in Southern Pines, which was putting on the sold-out drag show, with the caption "God will not be mocked."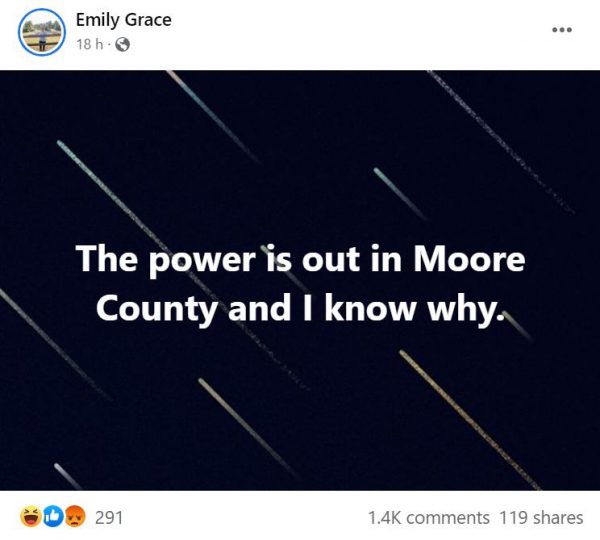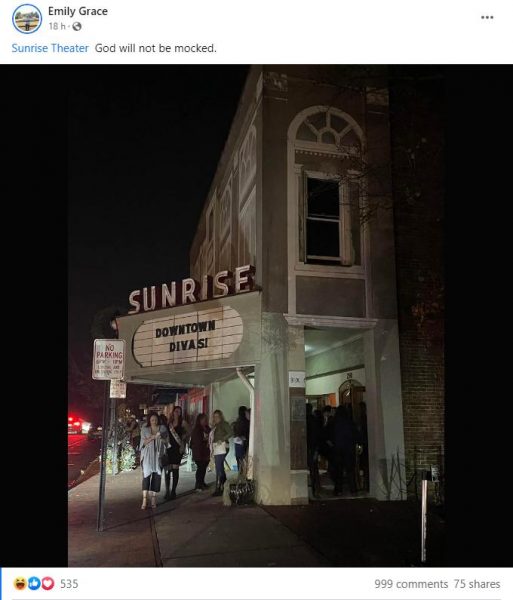 Rainey had previously posted her stance on the drag show. Last month the theatre was also targeted by the anti-LGBTQ+ Twitter account Libs of TikTok.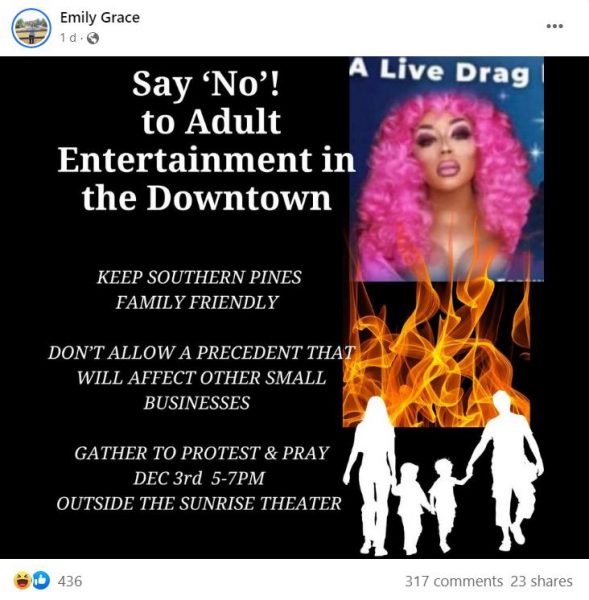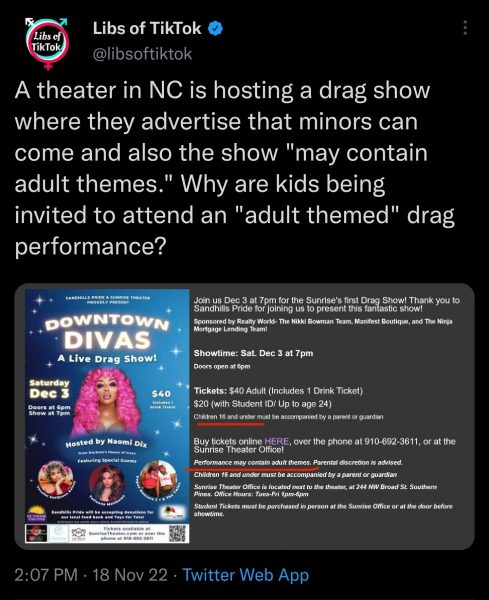 Rainey, 30, also posted on Facebook that she was visited by Moore County Sheriff's investigators: "I welcomed them to my home. Sorry they wasted their time."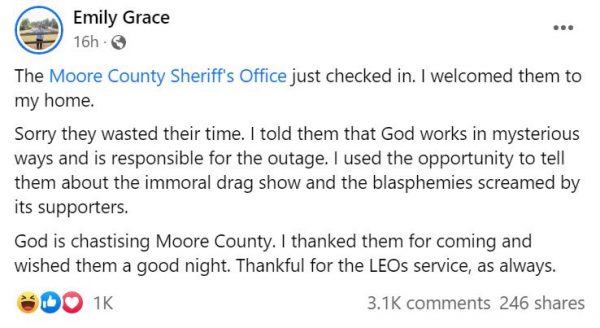 Rainey has an established history of far-right activism including anti-COVID pandemic restrictions and vaccinations activity, had resigned her Army officer's commission after receiving a career-ending letter of reprimand from command staff at nearby Fort Bragg for her far-right activism, including leading service members to Washington D.C. and attending the Capitol insurrection rally.
According to a CBS News report days after the Capitol insurrection on January 6, 2021, Rainey, was reported to be assigned to the 4th Psychological Operations Group at Fort Bragg, according to Maj. Daniel Lessard, a spokesman for 1st Special Forces Command.
Known as PSYOPS, the group uses information and misinformation to shape the emotions, decision-making and actions of American adversaries.
She had led 100 members of Moore County Citizens for Freedom, which describes itself online as a nonpartisan network promoting conservative family values, from North Carolina to Washington to "stand against election fraud" and support Trump. She claimed that that at no time did she or any members of her group illegally enter the Capitol grounds or building.
Previous to the Capitol insurrection according to CBS News correspondent David Martin, Rainey made headlines back in May of 2020 after she posted a video online of her pulling down caution tape at a playground that was closed under North Carolina's COVID-19 restrictions.
Police investigators had charged her with injury to personal property over the incident. Detectives told WRAL- NBC News Channel 5 in Raleigh at the time that they let her off with warnings twice before after she tore down the tape closing off the playground before finally arresting her.
In the current power grid vandalism attacks, Rainey has not been named a suspect nor a person of interest and was only questioned about her social media posts by law enforcement.
Sheriff Fields, at a Sunday afternoon press conference called the perpetrators "cowards," announced a Sunday curfew from 9 p.m. to 5 a.m. The curfew is part of a countywide state of emergency proclamation, effective 4 p.m. Sunday. "No group has stepped up to acknowledge or accept that they're the ones who've done it, so I call them cowards," the Raleigh News & Observer reported the Sheriff told reporters.
Fields said Sunday that state and federal investigators are looking into protesters of a Saturday drag queen show at Sunrise Theater in downtown Southern Pines, but that so far they have not been able to make that connection.
Without naming Rainey, the Sheriff indicated in the press conference that the information she posted online was "false." He told reporters he ordered his deputies "to go and interview this young lady and have a word of prayer with her, but it turned out to be nothing."
He also confirmed that the damage was caused by small arms. State and local law enforcement were called in to provide security at substations overnight
Fields added that all available local law enforcement officers are working on the case, assisted by NC State Bureau of Investigation and FBI agents.
The local Southern Pines newspaper, the Pilot, reported:
Six hours after blocking off downtown Southern Pines for the town's annual holiday parade, police returned to the blocks surrounding the Sunrise Theater to prepare for a drag performance show that has generated significant protest and controversy in town and on social media.
The Downtown Divas drag show, which was scheduled for 7 p.m. but did not begin until 7:40 p.m., was scheduled as a fundraiser for Sandhills Pride, the local nonprofit supporting the LGBTQ community. The show originally allowed for children and teenagers to attend, but following angry protests online, the Sunrise and Sandhills Pride announced that only individuals aged 18 and older would be admitted.
[…] While drag show protesters gathered early, they were eventually outnumbered significantly by counter protesters, a number of whom waved rainbow flags, homemade signs and called out specific individuals who had stoked outrage toward the drag performance on Facebook over the past couple of weeks. Counter protesters chanted out expressions such as "I love you" and "love is love" and "love not hate."
The Raleigh News & Observer's journalist Martha Quillin reported that the drag show started at 7 p.m. and was under way when the power went out. Headliner Naomi Dix of Durham kept the show going until almost 9 p.m. "I asked that everyone turn on their phone flashlights to illuminate the room," Dix said. "I then lead the crowd in singing Beyoncé's 'Halo.'"