Special treats for fully-vaccinated Dodgers fans attending first Pride Night
The team announced plans for next month's LGBTQ event, which will once again be attended by co-owners Billie Jean King and Ilana Kloss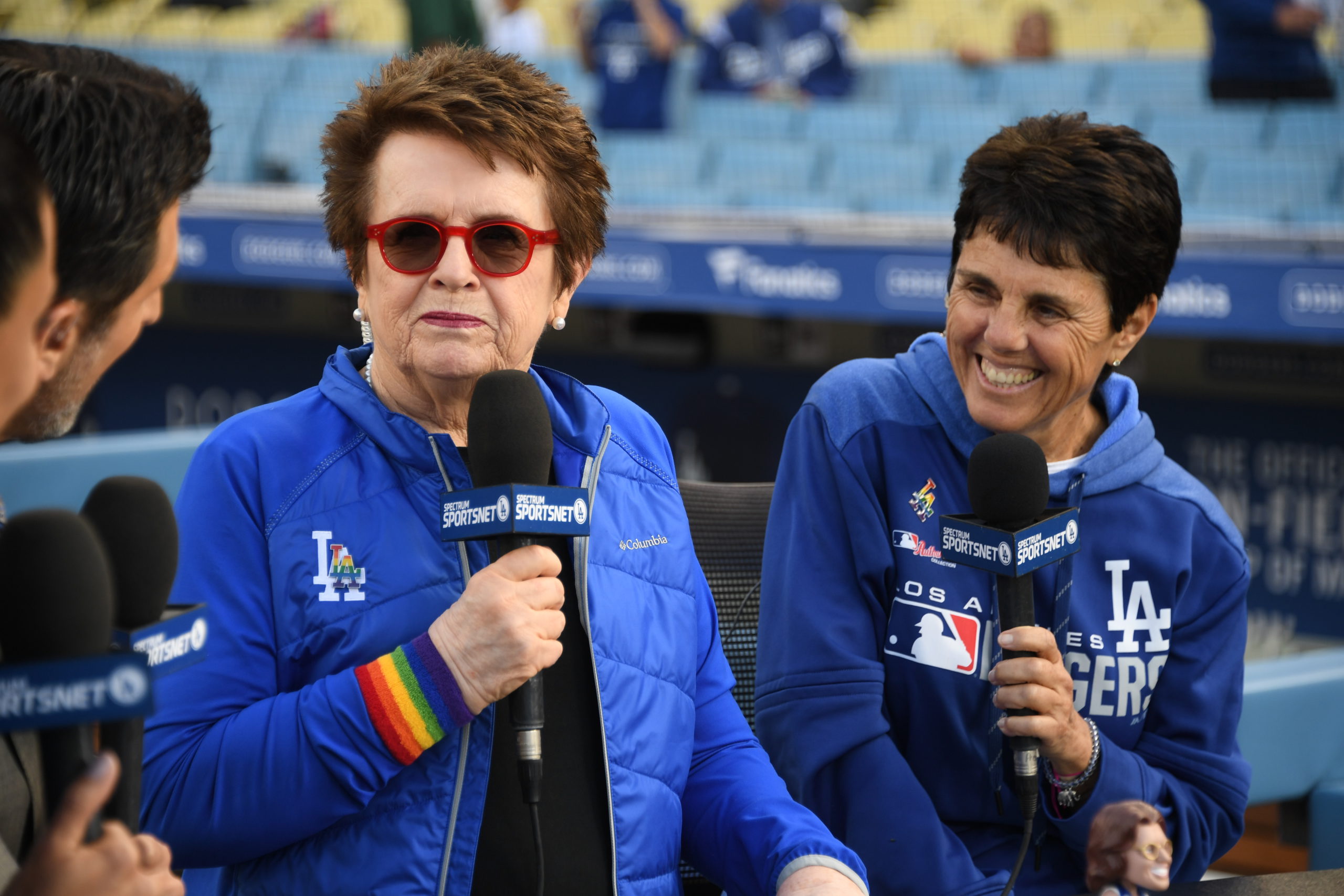 LOS ANGELES – L.A. Pride may be mostly virtual next month, but the Los Angeles Dodgers are ready to welcome LGBTQ fans back to Dodger Stadium for their very first Pride night since the pandemic.
According to the team, the 7:10 p.m. game against the Texas Rangers on June 11 will be extra special for fans who are fully-vaccinated: They will reap rewards that will be unavailable to those who either refuse to get their shot or haven't yet gotten around to it, In addition to being able to be seated directly next to other fans, those Dodgers fans can purchase a special event package that includes a game ticket in the fully-vaccinated only section, as well as an exclusive Dodger Pride-themed t-shirt.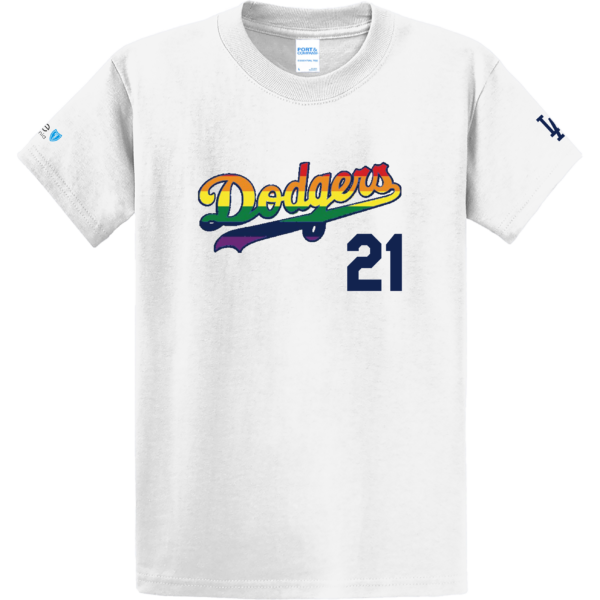 The team is also bringing back Friday Night Fireworks for the first time since 2019, set to a special mix from DJ Bowie Jane. But only fully-vaccinated fans are invited to leave the stands and watch the show from the baseball field.
However, even non-vaccinated and partially-vaccinated fans will enjoy an in-person celebration of the LGBTQ+ community, with themed drinks in the pavilion bars, special honors for frontline workers from Los Angeles' LGBTQ+ community and what the team calls "additional surprise guests."
No surprise that two of the part-owners of the team will be on hand: out lesbians and tennis icons Billie Jean King and her partner Ilana Kloss.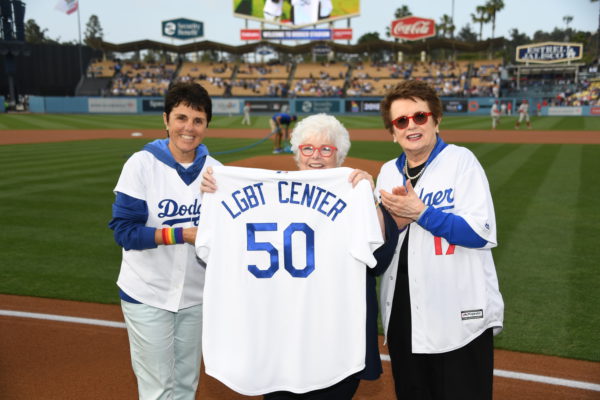 "As a longtime member of the community and a supporter of justice and equality for ALL, I am deeply passionate about spotlighting the Dodgers LGBTQ+ Pride Night every year," Erik Braverman, the Dodgers' senior vice president of marketing, communications and broadcasting, told the Los Angeles Blade.
First Pride Night since COVID-19 struck a year ago
"In 2021, our night will be as fun and exciting as in years past, but we are especially proud to highlight that we have incorporated all 11 colors into the logo and flags that will be flown at Dodger Stadium on June 11th," Braverman added. "The Dodgers organization is well known for being groundbreaking and inclusive of all and this is just another example of continuing in that tradition."
Those expanded Pride colors can be seen in the Dodgers "LA" logo.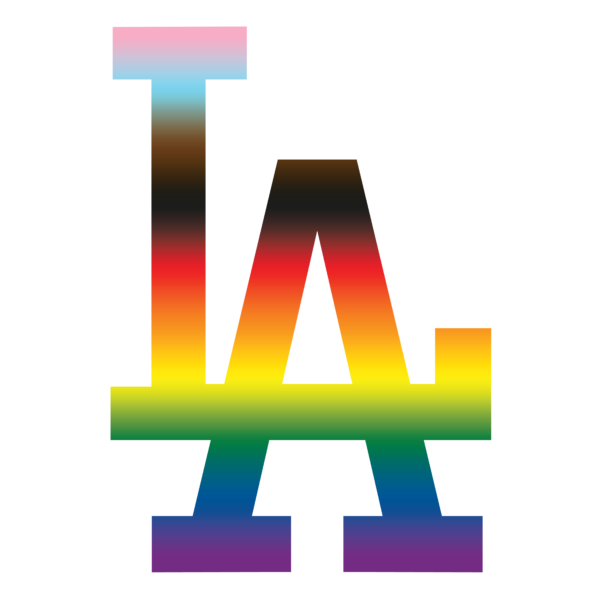 "The LGBTQ+ Community is well known for gathering together to share memorable experiences together," said Braverman. "The last year+ has been trying on all of us and I am personally excited to be able to create an event that is just the beginning of us bringing our community back together. The Pride shirts this year proclaim, "WE'RE BACK" and those 2 words seem really powerful this year."
Blue Shield of California is the event sponsor and the team is working with several organizations, including longtime partner L.A. Pride.
"LA Pride is so excited to continue our partnership and to have the support of the entire Dodger organization," said Sharon-Franklin Brown, LA Pride Board President in a statement. "Our LGBTQ+ Night is always a night our community looks forward to, and we know that this year it is more important than ever to have moments like this to bring our community together to celebrate Pride month."
Other partner groups include the Varsity Gay League, the nation's original Queer+ Recreational Sports league; the Greater Los Angeles Softball Association, Hi Tops Sportsbar in West Hollywood and the LGBTQ sports news website Outsports.com
March Queerness: Women's coaches to know and root for
Beyond the baskets, the scoreboard and the sweat that goes into climactic games, are out LGBTQ+ coaches leading outstanding student-athletes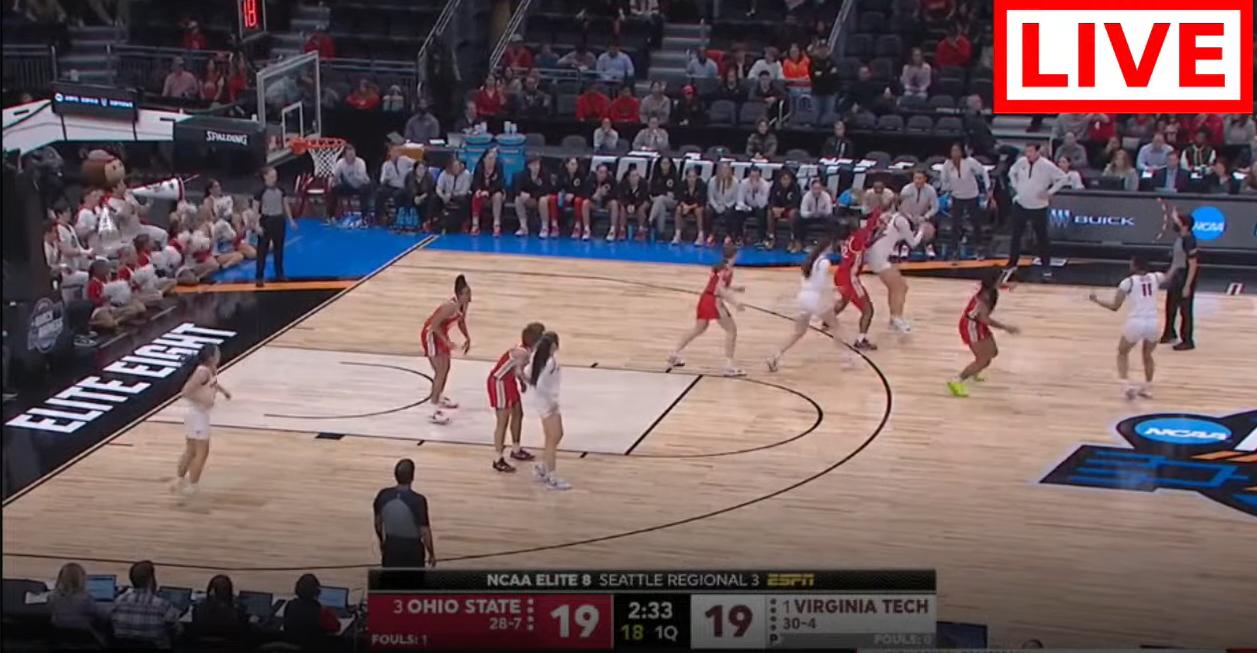 GREENVILLE, S.C. — The NCAA Women's College Basketball Tournament is moving past the Elite Eight stage to the Final Four, with the No. 1 seed, the defending national champion South Carolina Gamecocks vanquishing the No. 2 Maryland Terrapins, 86 to 75 at the Bon Secours Wellness Arena tonight.
Also Monday night, the No. 1 Virginia Tech Hokies defeated the No. 3 Ohio State Buckeyes at Seattle's Climate Pledge Arena, 84 to 74. For the first time in the university's history, the Hokies will go on to the Final Four. On Friday in Dallas, they'll face the LSU Tigers, who defeated out head coach Katie Meier's University of Miami Hurricanes on Sunday..
Beyond the baskets, the scoreboard and the sweat that goes into these climactic games, are three other out LGBTQ+ coaches leading these outstanding student-athletes.
Although Maryland fell short, Kaitlynn Fratz has a lot to be proud of as an assistant coach with the Terrapins who is out and proud on Instagram.
Having beaten Maryland, the Gamecocks will also be in Dallas on Friday as South Carolina earned its fifth trip to the Final Four. Following the Hokies vs. Tigers game, they'll be going head to head with the Iowa Hawkeyes, playing their first Final Four in three decades.
Raina Harmon is an assistant coach with Iowa who shares Instagram posts about her marriage to her wife, including their 2020 honeymoon.
Another assistant coach for Iowa, Jan Jansen, has been with her partner Julie Fitzpatrick since 2009.
The headlines in mainstream sports sites like Sports Illustrated may focus on the fact that this was the first Elite Eight in decades without the traditional teams of UConn, Tennessee or Stanford. But gay, lesbian, bi and transgender sports fans are celebrating that these three women are not alone; They're among 57 out LGBTQ+ coaches in college basketball, with at least 20 players who also identify as queer, according to the LGBTQ+ sports site Outsports.
We'll see who survives the Final Four on Friday in Dallas.