AIDS @40: Dr. Michael Gottlieb on the beginning of the AIDS Pandemic
Media painted the mysterious new diseases as Gay-Related Immunodeficiency Disease (GRID) or as it was more commonly called: the "gay plague."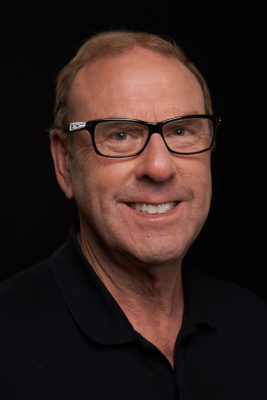 By Karen Ocamb | LOS ANGELES – In the beginning, the deaths and disappearances were isolated, frightening but shorn of consequence, like short, scattered tremors before a massive earthquake. Gay San Francisco Chronicle reporter Randy Shilts suggests in his extraordinary AIDS history "And the Band Played On" that the mysterious contagious disease that would claim the lives of millions silently exploded when sailors in ships from fifty-five nations came to New York Harbor on July 4, 1976 to join thousands celebrating America's bicentennial.
Then death came home. Hugh Rice, director of the STD Clinic at the Los Angeles Gay and Lesbian Community Services Center during the height of the Disco era, recalled a very sick young, thin penniless gay man covered in purple lesions in 1979 who came in for his STD shot, disappeared, and died six weeks later in isolation at LA County Hospital. Matt Redman, the interior designer and disco fan who co-founded AIDS Project Los Angeles, suspected he had been infected with HIV in the late 1970s.
But it wasn't until L.A.-based Dr. Michael Gottlieb and colleagues authored a report published June 5, 1981 in the Centers for Disease Control's Morbidity and Mortality Weekly that identified the mysterious illnesses that would become known as AIDS.
At the time, Gottlieb was a 33 year-old assistant professor at the University of California Los Angeles (UCLA) Medical Center specializing in immunology who was fortuitously curious. He asked a postdoctoral fellow to go to the wards and ask interns and residents if there were any patients who had interesting immunologic conditions. He found medical intern Robert Wolf, whose patient Michael had been admitted to the UCLA emergency room in January with fevers, some fungal infections on his skin, a 25 pound weight loss, and a mouth full of thrush, or candidiasis. Additionally, Gottlieb obtained a still experimental blood test looking at Michael's T-cells that revealed that his CD4 ("helper cells") "had essentially gone missing.
"This was a unique finding. We had never seen anything like this in any other immunologic or in any other medical condition," Gottlieb tells the Los Angeles Blade.
Michael was discharged from the hospital but returned a week or two later with a lung infection.
"He came back to Robert Wolf. Ordinarily, you would not do a bronchoscopy for a community acquired pneumonia — ordinary bacterial pneumonia. But Robert astutely said, 'you immunologists are telling us that this man is immune deficient. He is an immune-compromised host. We therefore should do a bronchoscopy (an invasive procedure) to be sure he might have an opportunistic infection. And indeed, he had pneumocystis pneumonia. So that's the story of patient number one," says Gottlieb.
"Michael was a model. He had bleached hair. He looked like a rock star. A few months later, he developed a large lesion of Kaposi's sarcoma on his chest. And that was a mystery also. He died within the first six months of his first emergency room admission," Gottlieb says. Michael also "happened to be gay."
Sexual orientation wasn't a specific consideration until Gottlieb got a call from Dr. Peng Fan, who was the acting chief of Rheumatology at the Wadsworth VA in Los Angeles. He had been moonlighting at Riverside Hospital where Dr. Joel Weisman and Dr. Eugene Rogolsky had been admitting patients from their gay practice, two of whom had similar symptoms to Michael. They were transferred to the respiratory care unit at UCLA.
Pulmonary doctors immediately performed bronchoscopies "and low and behold, these two patients also had pneumocystis pneumonia. And now we had three gay men with pneumocystis pneumonia and absent CD four cells. That's when we said, 'oh, we have three gay men with pneumocystis pneumonia. That was the moment," he said.
Gottlieb called the editor of the New England Journal of Medicine and asked for his advice on how to publish their findings there. "And he said, 'well, have you spoken to CDC?' As an immunologist, my orientation was not toward the CDC — infectious disease doctors are oriented toward the CDC. But I wasn't an infectious disease doctor. So I said, 'no, I haven't.' And he said, 'well, maybe you ought to.' So I called Wayne Shandera, the CDC person in Los Angeles assigned to the LA County Health Department as an epidemic intelligence service officer. I knew him from my time at Stanford because he was there as well. And I said, 'Wayne, are you aware of anything unusual going on among gay men in Los Angeles or anywhere in the country?' And there was an eerie silence on the other end of the phone. And he said, 'no, but I'll look into it.' I told him, we think it might have something to do with the virus called CMV cytomegalovirus.'"
Shandera found some CMV growing from a patient sample from Santa Monica. "He went down to Santa Monica hospital and spoke to the patient and indeed, it was a gay man with pneumocystis, pneumonia and CMV as well. And so he unearthed a fourth patient," says Gottlieb.
It was after Gottlieb's fifth patient, Randy, referred to him by a doctor at Brotman Hospital, that he decided it was time to write up a report for the CDC, with a more explanatory article published later in the New England Journal. He sat down at Shandera's dining room table in the Fairfax district and typed up the report on an IBM Selectric typewriter, after which it was sent it off to CDC.
The editor of the CDC's MMWR returned it with some modifications and corrections. "Interestingly, we called it 'Pneumocystis Pneumonia Among Homosexual Men in Los Angeles.' The CDC changed the title to 'Pneumocystis pneumonia, Los Angeles.'"
Gottlieb doesn't see anything nefarious in the change since the MMWR was focused on disease outbreaks like the salmonella outbreak in Idaho. Additionally, "if CDC had called it Pneumocystis Pneumonia Among Homosexual Men in Los Angeles,' it might've even worked against us," says Gottlieb, "although, ultimately, it got characterized as a gay disease anyway."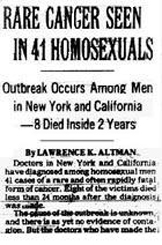 "The cause of the outbreak is unknown, and there is as yet no evidence of contagion. But the doctors who have made the diagnoses, mostly in New York City and the San Francisco Bay area, are alerting other physicians who treat large numbers of homosexual men to the problem in an effort to help identify more cases and to reduce the delay in offering chemotherapy treatment," Lawrence K. Altman reported. "The [violet-colored] spots generally do not itch or cause other symptoms, often can be mistaken for bruises, sometimes appear as lumps and can turn brown after a period of time. The cancer often causes swollen lymph glands, and then kills by spreading throughout the body."
The next day, July 4, 1981, the CDC reported 36 more cases of KS and PCP in New York City and California, linking the two coasts. The following month, the CDC reported 70 more cases of KS and PCP that included the first heterosexuals and the first female. By December, when Gottlieb's New England Journal article was finally published, the CDC reported the first cases of intravenous-drug users with PCP. But also, by then, the media had painted the mysterious new diseases as Gay-Related Immunodeficiency Disease (GRID) or as it was more commonly called: the "gay plague."
Editor's Note:
This is Part One of a series looking at the 40th Anniversary of AIDS. Part Two looks at the panic, confusion and efforts to fight the mysterious disease in the face of intentional government neglect; Part Three looks at Gottlieb, Rock Hudson, Elizabeth Taylor and founding of amfAR; and Part Four covers Clinton to COVID.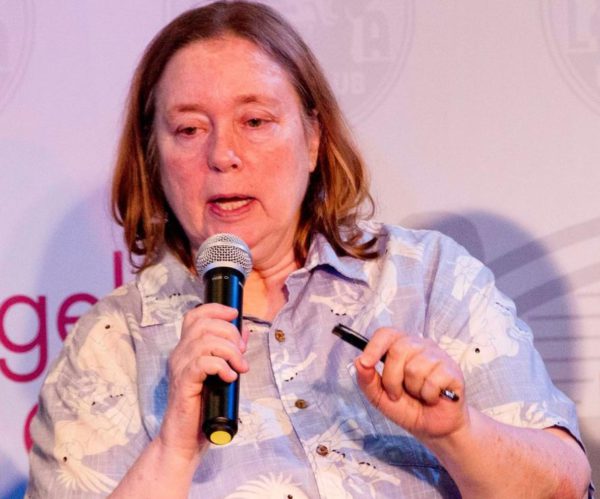 Karen Ocamb is the Director of Media Relations for Public Justice, a national nonprofit legal organization that advocates and litigates in the public interest.
The former News Editor of the Los Angeles Blade, Ocamb is a longtime chronicler of the lives of the LGBTQ community in Southern California.
$48 million earmarked for HRSA centers in effort to beat HIV/AIDS
"Community health centers are often a key point of entry to HIV prevention and treatment services, especially for underserved populations"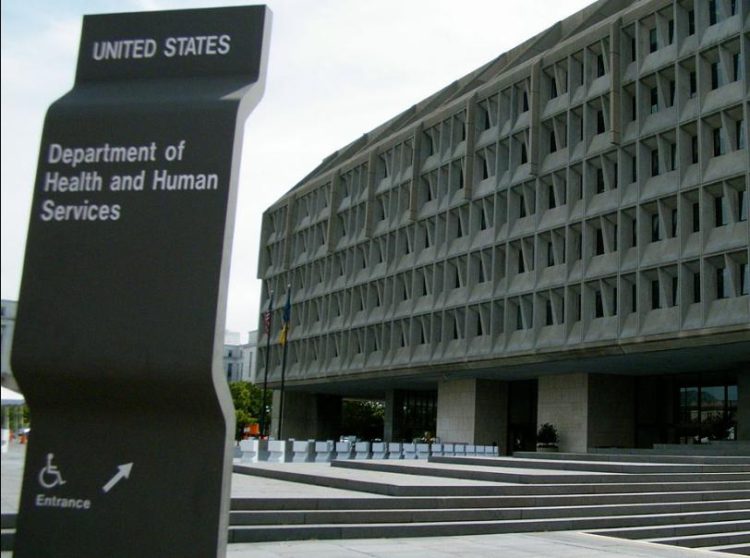 WASHINGTON – The Biden administration has awarded more than $48 million in allocations earmarked to medical centers under Health Resources & Services Administration in localities with high incidents of HIV infection as part of the initiative to beat the disease.
Xavier Becerra, U. S. Secretary of Health and Human Services, in a statement said that the contributions are key component of the initiative, which is called "Ending the HIV Epidemic in the U.S." and seeks to reduce new infections by 90 percent by 2030.
"HHS-supported community health centers are often a key point of entry to HIV prevention and treatment services, especially for underserved populations," Becerra said. "I am proud of the role they play in providing critical services to 1.2 million Americans living with HIV. Today's awards will ensure equitable access to services free from stigma and discrimination, while advancing the Biden-Harris administration's efforts to ending the HIV/AIDS epidemic by 2025."
The $48 million in government spending allocations went to HRSA centers 71 HRSA-supported health centers across 26 states, Puerto Rico and D.C. — areas identified with the highest rates of HIV infections — to expand HIV prevention and treatment services, including access to pre-exposure prophylaxis (PrEP) as well as outreach and care coordination, according to HHS.
The Ending the HIV Epidemic was set up under the previous administration, which made PrEP a generic drug after an accelerated effort and set a goal of beating HIV by 2030. Biden has continued the project, after campaigning on beating HIV a full five years earlier in 2025. Observers, however, are skeptical he can meet that goal.
Diana Espinosa, acting administrator for the Health Resources and Services Administration, (HRSA) said in a statement the $48 million will go a long way in reaching goals to beat HIV/AIDS.
"We know our Health Center Program award recipients are well-positioned to advance the Ending the HIV Epidemic in the U.S. initiative, with a particular focus on facilitating access to PrEP, because of their integrated service delivery model," Espinosa said. "By integrating HIV services into primary care, and providing essential enabling services like language access or case management, HRSA-supported health centers increase access to care and improve health outcomes for patients living with HIV."
Surviving Voices, "Substance Users, the Recovery Community & AIDS
The Surviving Voices storytelling initiative is being recognized for its powerful work in helping tell the story of AIDS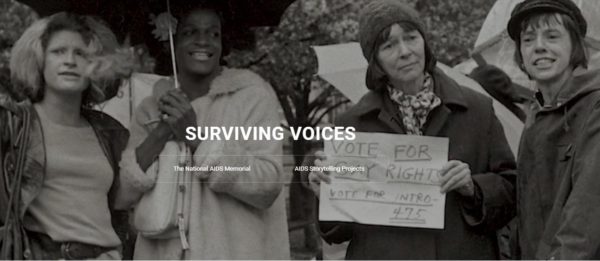 SAN FRANCISCO – The National AIDS Memorial Surviving Voices storytelling initiative is being recognized for its powerful work in helping tell the story of AIDS through the voices of survivors of the pandemic, now in its 40th year.
More than 700,000 U.S. lives have been lost since the first cases of AIDS were first reported in 1981. Today, more than 1.2 million people are living with HIV, with a disproportionate impact in communities of color and in southern U.S. states.
The Memorial has officially released its most recent mini-documentary, "Substance Users, the Recovery Community & AIDS" following exclusive screenings at two LGBTQ+ film festivals – Frameline45 and SF Queer Film Fest 2021. The mini-documentary, along with deep dive personal interview segments with survivors and advocates, can be viewed on the Memorial's website at www.aidsmemorial.org.
"The National AIDS Memorial is honored to have our Surviving Voices mini-documentary featured at these influential film festivals," said Chief Executive John Cunningham. "It speaks to the important work our organization is doing to share these powerful personal stories of hope, resilience and the journey of survivors around the issue of HIV/AIDS and addiction in an authentic and powerful way."
"Substance Users, the Recovery Community & AIDS" focuses the camera on the unique challenges of HIV/AIDS faced by this community. Through personal stories of survival, the film powerfully captures the journey of AIDS advocates and those of individual survivors living with HIV/AIDS who have struggled simultaneously with the disease of addiction, in raw, honest and forthright conversations. It depicts their individual strength, power, hope and resilience, the importance of community, spirit, self-respect, and the will to live with dignity and pride. It also shows their vulnerabilities, the shame, denial, stigma, and hopelessness they have experienced.
As Queer Chaplain Bonnie Violet Quintana shares, "I can be as I am. Me getting HIV. Me being in recovery – all of that is a big part of Me."
The National AIDS Memorial's Surviving Voices mini-documentaries are produced and directed by Jörg Fockele and funded through a grant by Chevron, a long-standing partner of the National AIDS Memorial. Community partners include the San Francisco AIDS Foundation, The Elizabeth Taylor 50-Plus Network, Stonewall Project and the Castro Country Club.
"We believe in the power of storytelling and the lessons it can teach current and future generations," said Huma Abbasi, General Manager, Health & Medical at Chevron. "Our long-time support for Surviving Voices is part of our commitment to sharing the very human experiences that have shaped 40 years of the AIDS epidemic. At Chevron, our success is tied to the progress and prosperity of the communities where we operate. In line with the U.N. Sustainable Development Goals, we believe that healthy, educated communities are critical to that success."
Surviving Voices is a program of the National AIDS Memorial created to ensure the myriad stories and lessons of the epidemic are captured, curated, and retained for current and future generations. "Substance Users, the Recovery Community & AIDS" is the sixth film produced in this multi-year oral history initiative, which also includes "The Transgender Community & AIDS," "The A&PI Community & AIDS," "Women & AIDS," "The National Hemophilia Community & AIDS," and "The San Francisco Leather Community & AIDS."
"I hope that these mini-documentaries will be as inspiring for current and future generations confronting their own challenges as they were for us when we filmed them," said Fockele.
Learn more about the Surviving Voices, the National AIDS Memorial, its mission, programs and how to provide support at www.aidsmemorial.org.
Surviving Voices Mini-Documentary: Substance Users, Recovery Community and AIDS:
Governor Newsom signs HIV & Aging Act authored by Sen. John Laird
Sponsors of SB 258 include Equality California, AIDS Project Los Angeles (APLA) Health, Services & Advocacy for GLBT Elders (SAGE)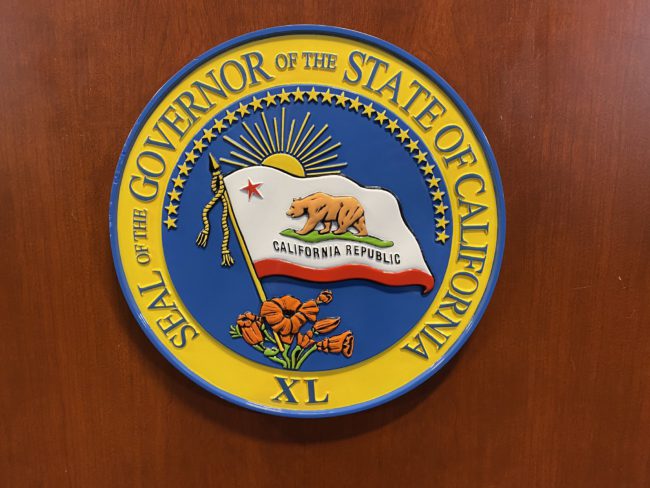 SACRAMENTO – On Friday Governor Gavin Newsom announced the signing of Senate Bill 258, the HIV & Aging Act, authored by Senator John Laird (D – Santa Cruz). Senate Bill 258 will ensure HIV+ seniors are included in the definition of "greatest social need".
"When I was the Santa Cruz AIDS Agency Director in the 1980's, it was our dream to have people living with HIV live into old age," said Senator Laird. "To be very clear, this group was not supposed to age. Governor Newsom signing the HIV & Aging Act is a historic moment for the LGBTQ community, and all those who have been affected by the HIV crisis."
With the recent advancements in HIV treatment, people with HIV can keep the virus suppressed and live long and healthy lives. For this reason, the number of HIV positive older people is increasing. According to a 2018 California HIV Surveillance Report published by the California Department of Public Health, over half of the people living with the virus in California are now aged 50 years or older. This same report shows that 15 percent of newly diagnosed patients were age 50 and older in that same year.
Sponsors of SB 258 include Equality California, AIDS Project Los Angeles (APLA) Health, Services & Advocacy for GLBT Elders (SAGE), and the Los Angeles LGBT Center.

Equality California Legislative Director Tami A. Martin notes, "After surviving the darkest days of the AIDS epidemic, many Californians living with HIV are now over the age of 50, but in dire need of support. Thanks to Governor Newsom, Senator Laird and HIV advocates, the Golden State will now make sure that our elders living with HIV have access to food assistance, job training, transportation or any other vital services. We applaud Governor Gavin Newsom for signing the HIV & Aging Act into law, making California just the second state to ensure older Californians living with HIV don't just continue to survive, but thrive."
"Thanks to effective treatments, people with HIV are living longer than we could have ever imagined just a few decades ago and now a majority of people with HIV in California are over 50 years old. Unfortunately, our current health and social service systems are not yet prepared to address the unique needs of this population," APLA Health Chief Executive Officer Craig E. Thompson said adding; "Many older people with HIV are long term survivors of the AIDS epidemic. They have lost countless loved ones and entire networks of social support. They also continue to face discrimination and alarming levels of stigma. We thank Senator Laird for his leadership on this historic bill to ensure that people aging with HIV have the resources and support they need to thrive and age with dignity."
"We must ensure that LGBTQ seniors have the affirming care and support so they can age in peace with dignity," stated Laird. "It's incumbent upon us to not force individuals back into the closet for them to access adequate care. Once again, I'd like to applaud the Governor for his continued support of the LBGTQ community and to my colleagues for making this a priority bill."
The HIV & Aging Act received unanimous bipartisan support through both chambers of the Legislature and is a legislative priority for the California Legislative LGBTQ Caucus.
Senate Bill 258 will go into effect January 1, 2022.