LGBTQ violent deaths, Meth and Overdose Crisis+ in legislative bills push
Lawmakers in Sacramento shepherding litany of critical LGBTQ+ bills through the current legislative session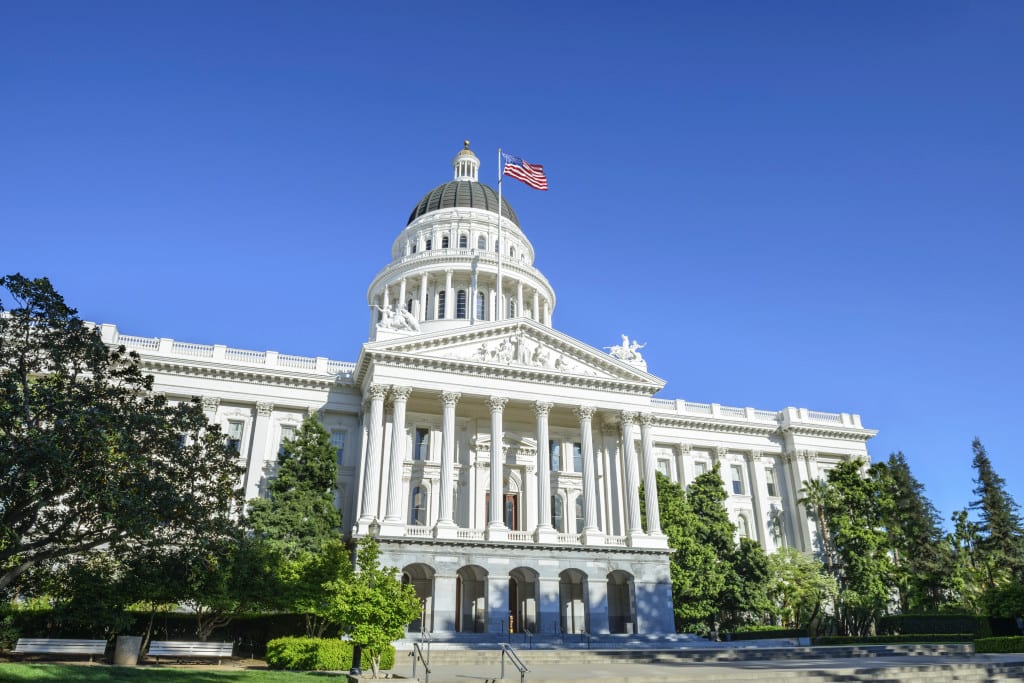 SACRAMENTO – A flurry of LGBTQ related bills passed through the California legislature this past week for further actions by lawmakers in both the Assembly and Senate including legislation which would create a pilot program under which coroners and medical examiners are trained to collect sexual orientation and gender identity data as part of violent death investigations.
A bill that legalizes and authorizes Medi-Cal to fund evidence-based treatment giving participants struggling with addiction financial rewards for staying sober advanced as well.
Lawmakers also passed a bill that would require retailers with 500 or more employees to remove signs for gender in toy and childcare sections, or require the retailers to provide a gender-neutral retail section for these items. Also passed was legislation to repeal discriminatory loitering law that targets sex workers.
Assembly Bill 1094, The LGBTQ Violent Death Data Collection Pilot Program, introduced by Assemblymember Dr. Joaquin Arambula (D-Fresno), would equip coroners and medical examiners in six participating counties across California with the training necessary to identify and collect data on an individual's sexual orientation or gender identity (SOGI) in cases of violent death, including homicide and suicide.
"This legislation may be centered on data, but its purpose encompasses compassion and empathy to better understand what is happening in our LGTBQ+ community — particularly among the youth — when it comes to violent deaths, including homicide and suicide. AB 1094 is an important and humane step in ultimately preventing these deaths," said Assemblymember Arambula.
"This first-of-a-kind legislation would provide our nation's most populous state with the data necessary to track the violent deaths among the LGBTQ community, allowing for the better deployment of resources and the development of more effective policy solutions to save young LGBTQ lives," said Sam Brinton, the Vice President of Advocacy and Government Affairs for The Trevor Project. "Thank you to Assemblymember Arambula for championing this historic bill, which we hope will lead California and states all across the country to adopt these much-needed practices long-term."
According to recent polling conducted by The Trevor Project and Morning Consult, more than four in five adults (84%) feel it is important to include sexual orientation and gender identity when evaluating suicide and other violent death statistics, including 91% of Democrats, 80% of independents and 77% of Republicans.
Nationwide, suicide is the second leading cause of death among youth ages 10–24, and according to CDC data, LGBTQ youth are more than four times as likely to attempt suicide than their straight/cisgender peers. The Trevor Project's 2021 National Survey on LGBTQ Youth Mental Health found that 42% of LGBTQ youth seriously considered attempting suicide in the past year, including more than half of transgender and nonbinary youth. Despite these disparities, it is unknown how many LGBTQ youth actually die by suicide (or homicide) each year because SOGI data is not collected nationwide as part of violent death investigations.
The Recovery Incentives Act, Senate Bill 110, legalizes the substance use disorder treatment known as "contingency management," and authorizes Medi-Cal to cover it. Contingency management has proven to be the most effective method of treatment for methamphetamine addiction, and is frequently used as a treatment program by the Veterans Affairs Administration.
This intervention program gives those struggling with substance use disorder financial rewards if they enter substance use treatment programs, stay in the program, and get and remain sober. This positive reinforcement helps people reduce and even fully stop substance use.
"The Recovery Incentives Act makes it possible for so many more people to access lifesaving meth addiction treatment," said the bill's sponsor Senator Scott Wiener after it passed the Senate by a unanimous, bipartisan vote. "Meth is causing deep harm to every community across the state, and the LGTBQ community has also been especially impacted. We must expand access to science-based treatments for substance use disorder."
Meth use has spiked all over California and in San Francisco, and worsened through the COVID-19 pandemic. With social isolation, mental health issues like depression, and economic suffering all worse for many than in prior years, meth use has also increased significantly.
Stimulant use has also grown rapidly in the LGBTQ and Black communities, which were already deeply impacted by the meth crisis. The LGBTQ community — particularly gay, bi and trans men — have seen a rapid increase in meth use as a party drug taken to enhance sexual experiences. The San Francisco Department of Public Health reports that the mortality rate is highest among African American men.
The bill would also require the California Department of Health Care Services (DHCS) to issue guidance and training on the use of contingency management programs for Medi-Cal patients.
"It's time to end meth's devastating impact on the LGBTQ+ community," said Equality California's Legislative Director Tami A. Martin. "With today's passage of SB 110 by the California Senate, the Golden State is one step closer to ensuring that folks who are struggling with substance use disorders can get the help they need. We are proud to cosponsor this legislation and thankful to Senator Wiener for his leadership."
Senator Wiener's Senate Bill 357, which repeals the "loitering for purpose of prostitution" law, that oft times results in profiling and harassment of sex workers, particularly transgender women and women of color, passed the full Senate by a vote of 29-9. It now heads to the Assembly for policy committee hearings.
SB 357 repeals provisions of California law criminalizing "loitering for the intent to engage in prostitution." This criminal provision — arrests for which are based on an officer's subjective perception of whether a person is "acting like" they intend to engage in sex work — results in the disproportionate criminalization of trans, Black and Brown women, and perpetuates violence toward sex workers. SB 357 does not decriminalize soliciting or engaging in sex work. Rather, it simply eliminates an loitering offense that leads to harmful treatment of people for simply "appearing" to be a sex worker.
A spokesperson for Wiener's office pointed out that "this crime [law] is so subjective and inherently profiling that it allows a police officer to arrest someone purely based on how they are dressed, whether they're wearing high heels and certain kinds of make-up, how they're wearing their hair, and the like. This criminal provision is inherently discriminatory and targets people not for any action but simply based on how they look.
Criminalizing sex work does not make sex workers or communities safer. Most criminal penalties for sex workers, loitering laws included, do nothing to stop sex crimes against sex workers and human trafficking. People who engage in sex work deserve to be treated with dignity and respect."
Assemblymember Evan Low's bill AB 1084, which would require large retailers in California to stop reinforcing harmful gender stereotypes and stigma, passed through the Assembly with overwhelming support Tuesday on a 44-15 vote.
AB 1084 would require retailers with 500 or more employees to remove signs for gender in toy and childcare sections, or require the retailers to provide a gender-neutral retail section for these items. Children's clothing sections are expected to remain unaffected by AB 1084, as language regarding this aspect will be removed in the Senate after numerous discussions with stakeholders.
Assemblymember Cristina Garcia (D-Bell Gardens), a joint author of AB 1084, shared a story Tuesday on the Assembly Floor in which she said she was discouraged from playing with Lincoln Logs as a girl because they were considered a "boys' toy." Assemblymember Garcia, a former teacher, noted the harmful impact gender stereotypes can have on children.
"We are limiting their ability to express themselves, we are limiting their ability to learn, and, really, we are limiting their ability to become the leaders that we need them to be down the road in STEM and engineering," she said.
Several major retailers have already discarded gender for its children's sections, such as Abercrombie, H&M, Old Navy, John Lewis, and Zara. Meanwhile, Target decided six years ago to do away with gender-based signs in its home and toy departments.
"We might think that this (bill) is very historical in nature when, in fact, many of these companies, including Target, did this back in 2015, so we are simply catching up with the times to help celebrate being an inclusive state," Assemblymember Low said.
Equality California which had co-sponsored and supported this legislative push noted;
"We are thrilled to see so many pieces of pro-equality legislation advance today. Each and every one of these bills represents a giant leap of progress for our LGBTQ+ community — specifically trans and nonbinary folks, chosen families, people struggling with addiction and sex workers," said the organization's Executive Director-designate Tony Hoang. "We are grateful to Assemblymember Lorena Gonzalez, Senator Anthony Portantino and the members of the Appropriations committees for advancing these important priorities to our community."
California expands broadband infrastructure & internet access across state
The initial project locations based on unserved/underserved areas that don't reliably have download speeds of at least 25 Megabits per second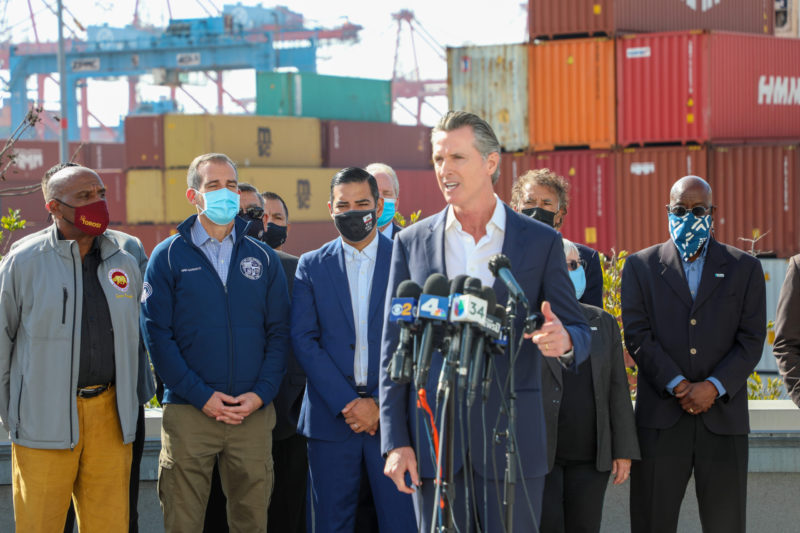 SACRAMENTO – Advancing California's commitment to bridge the digital divide, Governor Gavin Newsom announced that the state has identified 18 projects to begin work on an open-access middle-mile network that will provide missing infrastructure paths to bring broadband to all communities.
As part of the historic $6 billion broadband investment advanced in partnership with legislative leaders earlier this year, the initial project locations are based on known unserved and underserved areas across the state. The projects will connect to the core of the global internet and interconnect to last-mile infrastructure, which is the final leg that provides internet service to a customer.
"California is committed to taking on the challenges laid bare by the pandemic, including the digital divide holding back too many communities across the state," said Newsom. "These projects are the first step to delivering on our historic investment that will ensure all Californians have access to high-quality broadband internet, while also creating new jobs to support our nation-leading economic recovery."
The initial 18 projects represent a range of geographic locations and technical approaches. Projects are being initiated in the following tribal communities, counties and cities: Alpine County; Amador County; Calaveras County; Central Coast; Coachella Valley; Colusa Area; Inyo County; Kern County; Kern/San Luis Obispo Area; Lake County Area; Los Angeles and South Los Angeles; Oakland; Orange County; Plumas Area; Riverside/San Diego Area; San Bernardino County; Siskiyou Area; and West Fresno.
Evaluation of project areas included consideration of public comments, prioritization of unserved or underserved areas of the state, and inclusion of tribal communities, cities and counties. An unserved or underserved area has households that do not reliably have download speeds of at least 25 Megabits per second (Mbps) and upload of at least 3 Mbps.
"Core to our success will be the deep partnerships we've built with a diverse set of community organizations and last mile providers. Through many years of engagement with metropolitan planning organizations, CPUC-supported broadband consortia, Tribal organizations, community-based broadband advocacy groups, and organizations like the Rural County Representatives of California, the NAACP, and the California Emerging Technology Fund, we are now ready to take this historic step towards broadband equity for California," said Louis Fox, Founder and Chair of GoldenStateNet, the state's third-party administrator.
State partners implementing the middle-mile initiative include the California Department of Technology, California Public Utilities Commission (CPUC) and Caltrans. GoldenStateNet was selected as the Third-Party Administrator (TPA) to manage the development, acquisition, construction, maintenance and operation of the statewide open-access middle-mile broadband network. As the TPA, GoldenStateNet will partner with key stakeholder groups across the state to investigate the best technical, financial and operational models to meet the needs of the project sites.
A map and additional information on the initial projects can be found here.
"A reliable broadband connection makes the difference between having access to full-service health care, education and employment or sometimes going without," said State Chief Information Officer Amy Tong. "Through a historic partnership between our Governor, the Legislature, state agencies and a third-party administrator, we are taking immediate action to improve connectivity for Californians in the northern, central and southern parts of the state."
"These initial routes have been identified to accelerate projects in areas of the state that are unserved because of the lack of open middle mile infrastructure to serve them. We are accelerating the selection of a diverse set of routes — those that are ready to build and those that are not ready to build. This allows the state to partner with locals on these diverse projects and learn by doing, as we concurrently work to finalize all the needed routes in the State. There are many more communities like those in Phase I that will be included in the final map," said Martha Guzman Aceves, Commissioner at the CPUC.
Names of Trans dead projected onto Netflix HQ
2021 was the deadliest year of violence against LGBTQ+ people since records began- greatest harm to Black Trans women, migrants & sex workers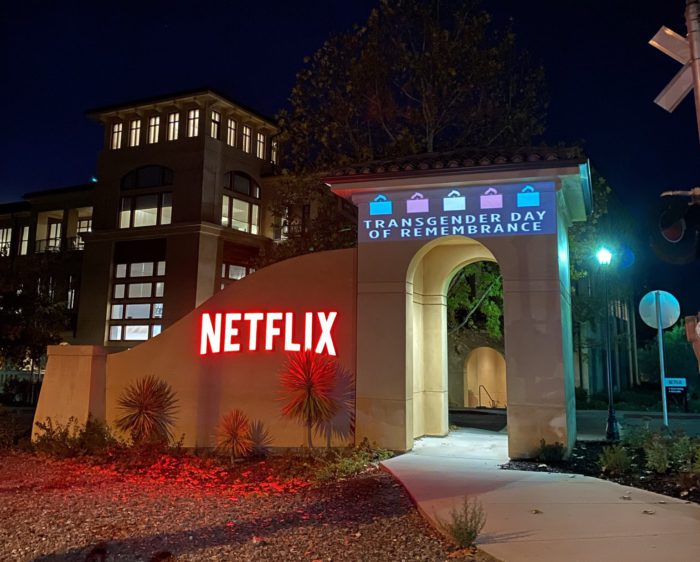 LOS GATOS – On the Trans Day of Remembrance, the names of trans people who died this year were projected onto Netflix's Silicon Valley headquarters.
The words of light were visible from Winchester Boulevard, over the archway entrance to the headquarters. Earlier this year, Netflix was criticized for spreading transphobia as well as for firing a trans, Black, pregnant employee for organizing a walkout.
Local trans activist Gwendolyn Ann Smith said of the projection, "The CEO of Netflix, Ted Sarandos, spoke earlier this year in defense of Dave Chappelle's comedy special, 'The Closer,' stating that, 'We have a strong belief that content on screen doesn't directly translate to real-world harm.' It is a fitting rebuttal, therefore, that the names of those who were murdered in the name of anti-transgender violence end up projected on the walls of Netflix's offices. Perhaps this will serve as a reminder that there are, indeed, real world consequences to consider when you platform transphobia disguised as comedic expression."
2021 was the deadliest year of violence against gender-diverse people since records began, with the greatest harm done to Black trans women, migrants, and sex workers. The recorded number of 375 deaths is likely also severely underreported, according to Transrespect Versus Transphobia Worldwide.
"I cancelled my Netflix account," said local projection activist Alan Marling, "but I'll be happy to renew it once the company meets the demands of the walkout."
The demands include investment in trans and non-binary voices, acknowledging the harm done, and hiring of a trans executive.
The full list can be found here.
Video by Alan Marling
At West LA VA Medical Center, Newsom announces new partnership
Governor Newsom also issued a proclamation that declared November 11, 2021, as Veterans Day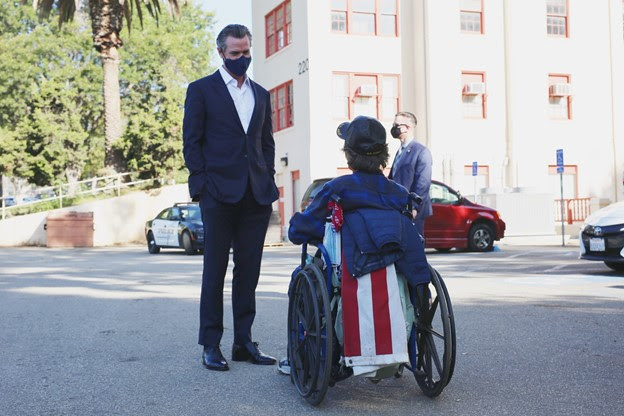 LOS ANGELES – Ahead of Veterans Day, California Governor Gavin Newsom visited veterans receiving COVID-19 vaccines and flu shots at the West Los Angeles Veterans Affairs Medical Center Wednesday, where he highlighted the state's ongoing efforts to increase vaccination rates and promote booster shots for eligible populations and investments to address veterans' homelessness.
Joined by California's U.S. Senator Alex Padilla, California Department of Veterans Affairs Secretary Dr. Vito Imbasciani, and California Health and Human Services Agency Secretary Dr. Mark Ghaly, the Governor also announced a $750,000 donation from Lennar Homes and Five Point Communities that will purchase 86 tiny homes for veterans on the West Los Angeles Veterans Affairs campus to help ensure that veterans have a safe and dignified place to live. Most of the veterans from the "Veterans Row" encampment at San Vicente and Wilshire recently moved onto the campus.
"California is home to over 1.6 million veterans, the most of any state in the nation. We're continually working to ensure that our veterans and their families receive the resources and support they need and have earned many times over," said Newsom. "Thanks to a partnership between California, the VA and Los Angeles County, more veterans in the region have a safe place to go to receive mental health services and health care, including their COVID-19 vaccines. Vaccines are how we end this pandemic, and boosters are how we keep our immunity strong."
The Governor also issued a proclamation declaring November 11, 2021, as Veterans Day.
The West LA VA Medical Center administers 90 to 100 boosters on-site daily through walk-ins or by appointment, and is still administering first and second vaccinations regularly. The VA Greater Los Angeles Healthcare System (VAGLAHS), which includes the West LA center, is one of eight VA Healthcare Centers in California and offers services to veterans residing in five counties in Southern California. VAGLAHS is organizing a number of outreach events and efforts to vaccinate all veterans and eligible individuals.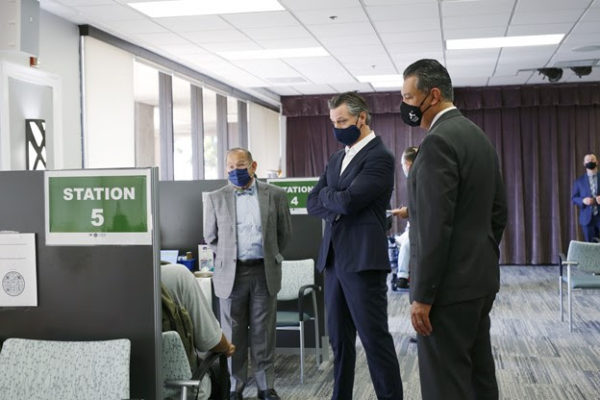 The Governor today also announced a partnership with the Hilton Foundation on a $69,000 grant to provide coordinated services to veterans to find more permanent housing. The announcements build on the Governor's unprecedented $22 billion investment to address housing and homelessness, including $12 billion for homelessness and behavioral health services to help get tens of thousands of people off the streets or avoid homelessness altogether. This package includes $25 million specifically for homeless veterans services and $20 million to support the West LA Veterans Affairs campus.
Administered by the California Department of Housing and Community Development in collaboration with the California Department of Veterans Affairs and the California Housing Finance Agency, the Veterans Housing and Homelessness Prevention Program (VHHP) finances the development of a variety of rental housing for veterans and their families, and has announced three awards today that are part of the West LA campus. VHHP will fund 189 of the 192 units, with awards for the three programs totaling $39.6 million.