LGBTQ violent deaths, Meth and Overdose Crisis+ in legislative bills push
Lawmakers in Sacramento shepherding litany of critical LGBTQ+ bills through the current legislative session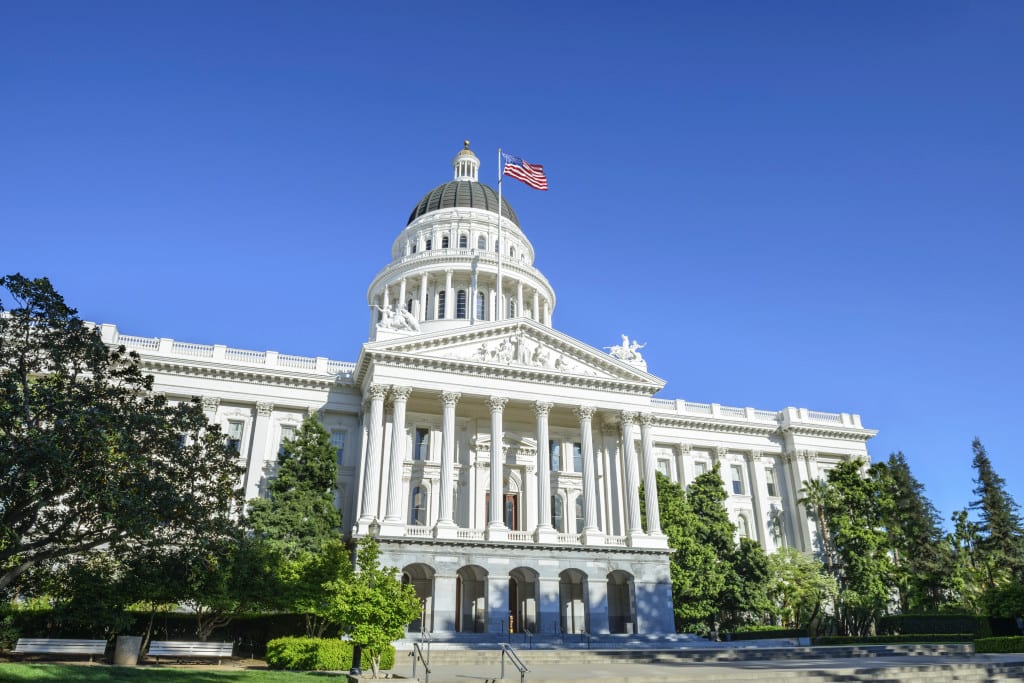 SACRAMENTO – A flurry of LGBTQ related bills passed through the California legislature this past week for further actions by lawmakers in both the Assembly and Senate including legislation which would create a pilot program under which coroners and medical examiners are trained to collect sexual orientation and gender identity data as part of violent death investigations.
A bill that legalizes and authorizes Medi-Cal to fund evidence-based treatment giving participants struggling with addiction financial rewards for staying sober advanced as well.
Lawmakers also passed a bill that would require retailers with 500 or more employees to remove signs for gender in toy and childcare sections, or require the retailers to provide a gender-neutral retail section for these items. Also passed was legislation to repeal discriminatory loitering law that targets sex workers.
Assembly Bill 1094, The LGBTQ Violent Death Data Collection Pilot Program, introduced by Assemblymember Dr. Joaquin Arambula (D-Fresno), would equip coroners and medical examiners in six participating counties across California with the training necessary to identify and collect data on an individual's sexual orientation or gender identity (SOGI) in cases of violent death, including homicide and suicide.
"This legislation may be centered on data, but its purpose encompasses compassion and empathy to better understand what is happening in our LGTBQ+ community — particularly among the youth — when it comes to violent deaths, including homicide and suicide. AB 1094 is an important and humane step in ultimately preventing these deaths," said Assemblymember Arambula.
"This first-of-a-kind legislation would provide our nation's most populous state with the data necessary to track the violent deaths among the LGBTQ community, allowing for the better deployment of resources and the development of more effective policy solutions to save young LGBTQ lives," said Sam Brinton, the Vice President of Advocacy and Government Affairs for The Trevor Project. "Thank you to Assemblymember Arambula for championing this historic bill, which we hope will lead California and states all across the country to adopt these much-needed practices long-term."
According to recent polling conducted by The Trevor Project and Morning Consult, more than four in five adults (84%) feel it is important to include sexual orientation and gender identity when evaluating suicide and other violent death statistics, including 91% of Democrats, 80% of independents and 77% of Republicans.
Nationwide, suicide is the second leading cause of death among youth ages 10–24, and according to CDC data, LGBTQ youth are more than four times as likely to attempt suicide than their straight/cisgender peers. The Trevor Project's 2021 National Survey on LGBTQ Youth Mental Health found that 42% of LGBTQ youth seriously considered attempting suicide in the past year, including more than half of transgender and nonbinary youth. Despite these disparities, it is unknown how many LGBTQ youth actually die by suicide (or homicide) each year because SOGI data is not collected nationwide as part of violent death investigations.
The Recovery Incentives Act, Senate Bill 110, legalizes the substance use disorder treatment known as "contingency management," and authorizes Medi-Cal to cover it. Contingency management has proven to be the most effective method of treatment for methamphetamine addiction, and is frequently used as a treatment program by the Veterans Affairs Administration.
This intervention program gives those struggling with substance use disorder financial rewards if they enter substance use treatment programs, stay in the program, and get and remain sober. This positive reinforcement helps people reduce and even fully stop substance use.
"The Recovery Incentives Act makes it possible for so many more people to access lifesaving meth addiction treatment," said the bill's sponsor Senator Scott Wiener after it passed the Senate by a unanimous, bipartisan vote. "Meth is causing deep harm to every community across the state, and the LGTBQ community has also been especially impacted. We must expand access to science-based treatments for substance use disorder."
Meth use has spiked all over California and in San Francisco, and worsened through the COVID-19 pandemic. With social isolation, mental health issues like depression, and economic suffering all worse for many than in prior years, meth use has also increased significantly.
Stimulant use has also grown rapidly in the LGBTQ and Black communities, which were already deeply impacted by the meth crisis. The LGBTQ community — particularly gay, bi and trans men — have seen a rapid increase in meth use as a party drug taken to enhance sexual experiences. The San Francisco Department of Public Health reports that the mortality rate is highest among African American men.
The bill would also require the California Department of Health Care Services (DHCS) to issue guidance and training on the use of contingency management programs for Medi-Cal patients.
"It's time to end meth's devastating impact on the LGBTQ+ community," said Equality California's Legislative Director Tami A. Martin. "With today's passage of SB 110 by the California Senate, the Golden State is one step closer to ensuring that folks who are struggling with substance use disorders can get the help they need. We are proud to cosponsor this legislation and thankful to Senator Wiener for his leadership."
Senator Wiener's Senate Bill 357, which repeals the "loitering for purpose of prostitution" law, that oft times results in profiling and harassment of sex workers, particularly transgender women and women of color, passed the full Senate by a vote of 29-9. It now heads to the Assembly for policy committee hearings.
SB 357 repeals provisions of California law criminalizing "loitering for the intent to engage in prostitution." This criminal provision — arrests for which are based on an officer's subjective perception of whether a person is "acting like" they intend to engage in sex work — results in the disproportionate criminalization of trans, Black and Brown women, and perpetuates violence toward sex workers. SB 357 does not decriminalize soliciting or engaging in sex work. Rather, it simply eliminates an loitering offense that leads to harmful treatment of people for simply "appearing" to be a sex worker.
A spokesperson for Wiener's office pointed out that "this crime [law] is so subjective and inherently profiling that it allows a police officer to arrest someone purely based on how they are dressed, whether they're wearing high heels and certain kinds of make-up, how they're wearing their hair, and the like. This criminal provision is inherently discriminatory and targets people not for any action but simply based on how they look.
Criminalizing sex work does not make sex workers or communities safer. Most criminal penalties for sex workers, loitering laws included, do nothing to stop sex crimes against sex workers and human trafficking. People who engage in sex work deserve to be treated with dignity and respect."
Assemblymember Evan Low's bill AB 1084, which would require large retailers in California to stop reinforcing harmful gender stereotypes and stigma, passed through the Assembly with overwhelming support Tuesday on a 44-15 vote.
AB 1084 would require retailers with 500 or more employees to remove signs for gender in toy and childcare sections, or require the retailers to provide a gender-neutral retail section for these items. Children's clothing sections are expected to remain unaffected by AB 1084, as language regarding this aspect will be removed in the Senate after numerous discussions with stakeholders.
Assemblymember Cristina Garcia (D-Bell Gardens), a joint author of AB 1084, shared a story Tuesday on the Assembly Floor in which she said she was discouraged from playing with Lincoln Logs as a girl because they were considered a "boys' toy." Assemblymember Garcia, a former teacher, noted the harmful impact gender stereotypes can have on children.
"We are limiting their ability to express themselves, we are limiting their ability to learn, and, really, we are limiting their ability to become the leaders that we need them to be down the road in STEM and engineering," she said.
Several major retailers have already discarded gender for its children's sections, such as Abercrombie, H&M, Old Navy, John Lewis, and Zara. Meanwhile, Target decided six years ago to do away with gender-based signs in its home and toy departments.
"We might think that this (bill) is very historical in nature when, in fact, many of these companies, including Target, did this back in 2015, so we are simply catching up with the times to help celebrate being an inclusive state," Assemblymember Low said.
Equality California which had co-sponsored and supported this legislative push noted;
"We are thrilled to see so many pieces of pro-equality legislation advance today. Each and every one of these bills represents a giant leap of progress for our LGBTQ+ community — specifically trans and nonbinary folks, chosen families, people struggling with addiction and sex workers," said the organization's Executive Director-designate Tony Hoang. "We are grateful to Assemblymember Lorena Gonzalez, Senator Anthony Portantino and the members of the Appropriations committees for advancing these important priorities to our community."
California & New Zealand partner to advance global climate leadership
Governor Gavin Newsom & New Zealand Prime Minister Jacinda Ardern establish new international climate partnership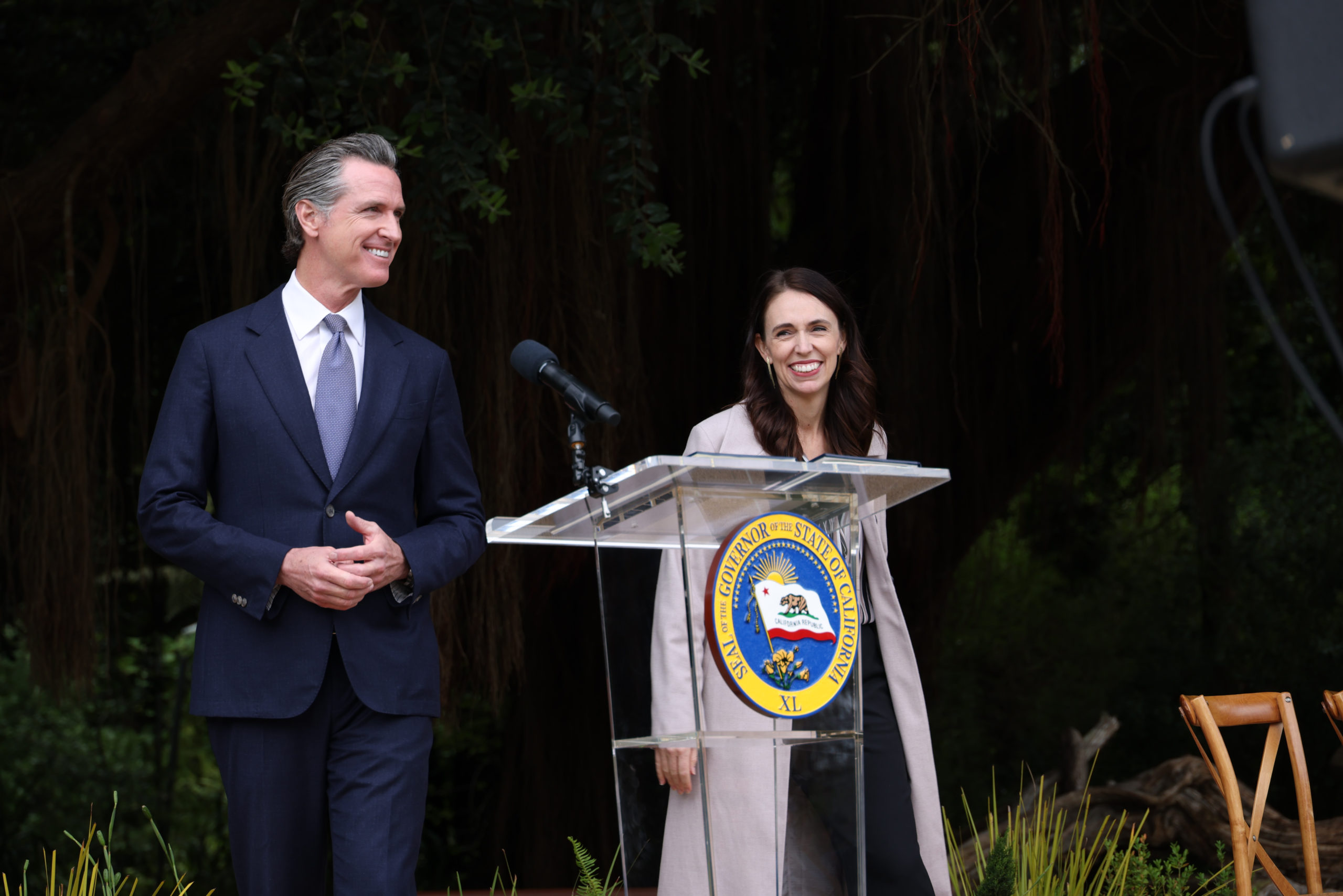 SAN FRANCISCO – Expanding California's global climate leadership, Governor Gavin Newsom today established a new international climate partnership with New Zealand Prime Minister Jacinda Ardern.
California and New Zealand signed a Memorandum of Cooperation (MOC) to tackle the climate crisis, reduce pollution, and bolster the clean economy, while emphasizing community resilience and partnership with indigenous leaders.

In the New Zealand Garden at the San Francisco Botanical Garden in Golden Gate Park, California and New Zealand outlined common objectives to achieve carbon-neutrality by mid-century, as well as their shared world-leading policies for zero-emission transportation, climate innovation, clean power generation, nature-based solutions, and zero waste initiatives.

The MOC furthers these common objectives through sharing information and best practices. A copy of the MOC signed today can be found here.

"Later is too late to address climate change, and California is taking aggressive steps to bolster the clean economy while reducing pollution in our communities – but we can't do it alone," said Governor Newsom. "This partnership with New Zealand, another global climate leader, will strengthen ties between our two governments to deploy critical solutions that are essential to addressing this existential crisis."
"No country is immune from the impacts of climate changes, so it's just common sense to collaborate with likeminded partners to meet our mutual goals," said Prime Minister Jacinda Ardern. "We both aim to achieve net zero carbon emissions by the middle of the century. This agreement means we'll work together to share expertise and experience and collaborate on projects that help meet each other's targets."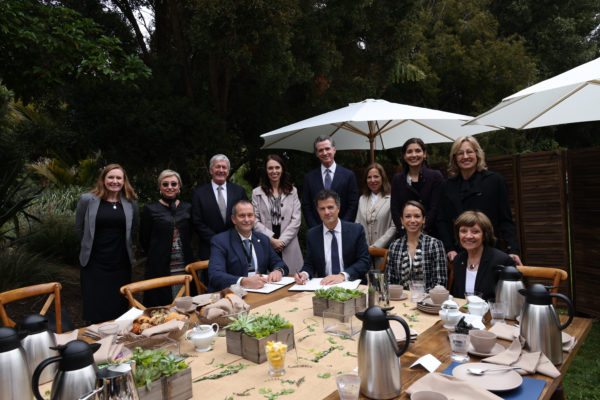 California's world-leading climate policies have led the state to exceed its 2020 climate target four years ahead of schedule, and created partnerships across the U.S. and around the world. Governor Newsom has committed $47.1 billion to tackle pollution, build climate-resilient water supplies, reduce the risk of catastrophic wildfires, ensure grid reliability and accelerate clean energy solutions, and protect communities from extreme heat.

California's ZEV market is leading the nation in every category and the state is ending the sale of new gas cars by 2035, reducing demand for oil and spurring partnerships across the nation and around the world. Responding to the Governor's nature-based solutions executive order, which identified California's lands as a critical yet underutilized sector in the fight against climate change, California last month released the Pathways to 30×30: Accelerating Conservation of California's Nature strategy and Natural and Working Lands Climate Smart Strategy.

Earlier this year, California signed a Memorandum of Cooperation with Japan to advance cooperation on climate and clean energy priorities, and strengthen trade relations. Governor Newsom also signed a Memorandum of Understanding with China to accelerate ongoing initiatives to protect the environment, reduce carbon and air pollution, and promote clean technology development.

Last year, Governor Newsom and 24 governors from the bipartisan U.S. Climate Alliance committed to collectively achieve net-zero greenhouse gas emissions no later than 2050. Governor Newsom and other Under2 Coalition partners announced the transition to become a net zero coalition, raising ambition for member states and regions. California also joined the Beyond Oil & Gas Alliance, which brings together national and subnational governments committed to advancing a just transition away from oil and gas production.
California's rent relief programs distribute over $5 billion
Governor Newsom has proposed an additional $2.7 billion in emergency rental assistance in the California Blueprint May Revision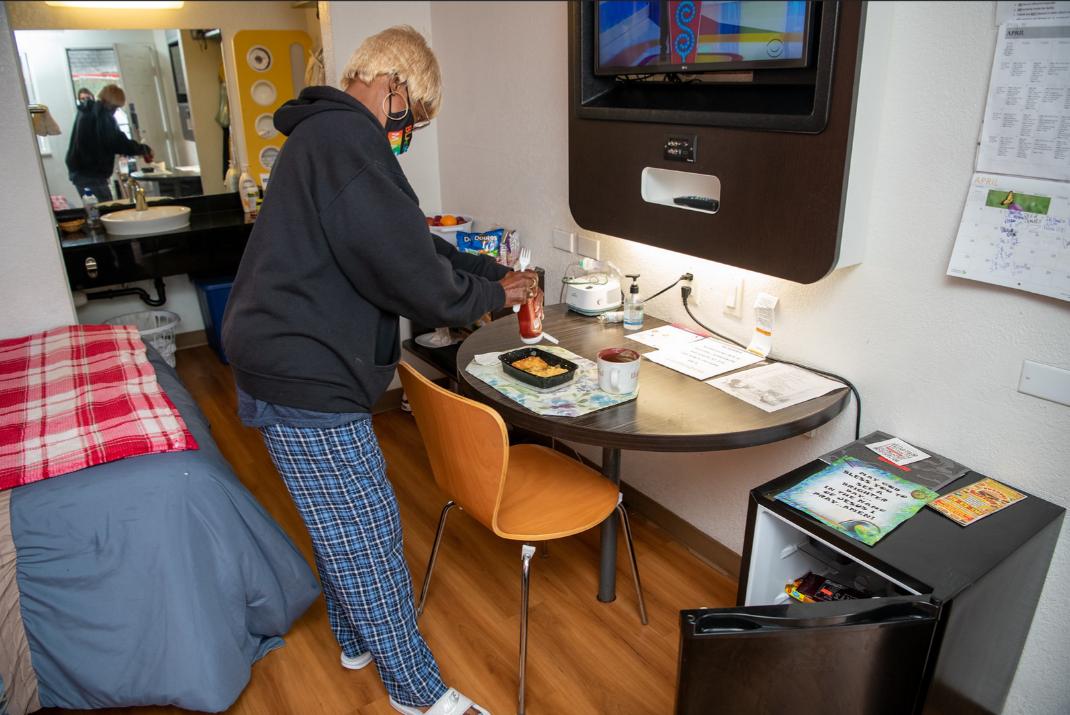 SACRAMENTO – Governor Gavin Newsom announced Thursday that California's state and local rent relief programs have hit a major milestone with over $5 billion having been distributed to help more than 1.2 million Californians impacted by the COVID-19 pandemic stay stably housed.
The Governor's California Blueprint May Revision proposes an additional $2.7 billion in emergency rental assistance for eligible applicants who applied through March 31, creating a total $8.1 billion investment.
"With the largest rent relief program of any state in the nation, we've ensured more than one million Californians remain housed, and we're advancing funding to help more families get back on their feet through this historic effort," said Newsom. "As California's recovery progresses, the state is committed to continuing our work to ensure the hardest-hit communities have the support and resources they need to thrive."
Throughout the pandemic, California has had the most robust eviction protections, for the longest period of time, in the country. Statewide eviction protections remain in place through June 30, 2022, for eligible applicants who applied through March 31, with additional local protections in place throughout the state.
The state program has helped those hardest hit by the pandemic, with more than 85 percent of households that have received rental assistance at or below 50 percent of Area Median Income.
"Keeping people stably housed has been a critical component of California's emergency response to the COVID-19 pandemic," said Business, Consumer Services and Housing Agency Secretary Lourdes Castro Ramírez. "In partnership with our federal and local partners, we have responded quickly and compassionately to address housing insecurity as a health emergency and stabilize over a million vulnerable Californians."
As of this week, the state program has provided rental assistance to more than 309,000 households, with an average payment of more than $11,000. With an average of 2.33 individuals per household assisted, the state program has kept more than 720,000 adults, children and seniors in their homes. And with the hard work of local jurisdictions that are running their own rent relief programs, an additional 233,000 households have been served, assisting a total of more than 500,000 residents.
In all, the number of people kept stably housed exceeds 1.2 million.  
"Since the beginning of the COVID-19 pandemic, California has answered the call of the U.S. Treasury to work with urgency to get rental assistance dollars into the hands of families in need so they could remain housed during the emergency," said Gustavo Velasquez, the Director of the California Department of Housing and Community Development. "To reach more than one million residents in just over a year is incredible. It is critical that applicants act as quickly as possible to reply to any requested action or response so they can receive the funding they requested."
The milestone comes as the state program announced that case managers have reviewed all applications submitted by March 31, 2022, and continue working with applicants, both landlords and renters, as the state program reviews the remaining applications and distributes relief funds to eligible Californians in need. All eligible applicants who submitted complete applications by March 31, 2022 will receive assistance, covering a total of up to 18 months for the period beginning April 1, 2020 and ending March 31, 2022.
State program dollars have been distributed throughout California, with residents of the City of Los Angeles receiving the largest share of California's COVID-19 Rent Relief program funds totaling over $1 billion to nearly 86,000 households. The counties of Los Angeles, Orange, Contra Costa, and the city and county of San Francisco round out the top five jurisdictions with tenants assisted to date.
Martha, an Orange County resident, was assisted by the state program and Local Partner Network organization, Helpline Youth Counseling. The pandemic brought hardship to her life, and she struggled with health issues. "I have not been able to work and was behind on rent for several months," she said. "I am so happy programs like these exist. Completing this application has given me hope that I thought I lost since COVID-19."
Adam, a resident of Los Angeles County, had the following to say about the state's rental assistance program: "This program has been extremely helpful during these tough times. I've had personal difficulties throughout and am blessed to have received this assistance. It has helped keep me from being placed in a homeless shelter."
Individual support for applicants needing assistance with outstanding tasks, appeals, or other help with their application is still available. Applicants are encouraged to call 833-687-0967 to schedule an appointment in their preferred language.
In addition, legal aid resources are available to support tenants navigating available protections. Low-or no-cost legal help is available through www.lawhelpca.org and/or the Tenant Resources page on HousingIsKey.com.
Newsom urges more aggressive response to ongoing drought
Governor warned if there's not significant reduction in water use this summer, the state could be forced to enact mandatory restrictions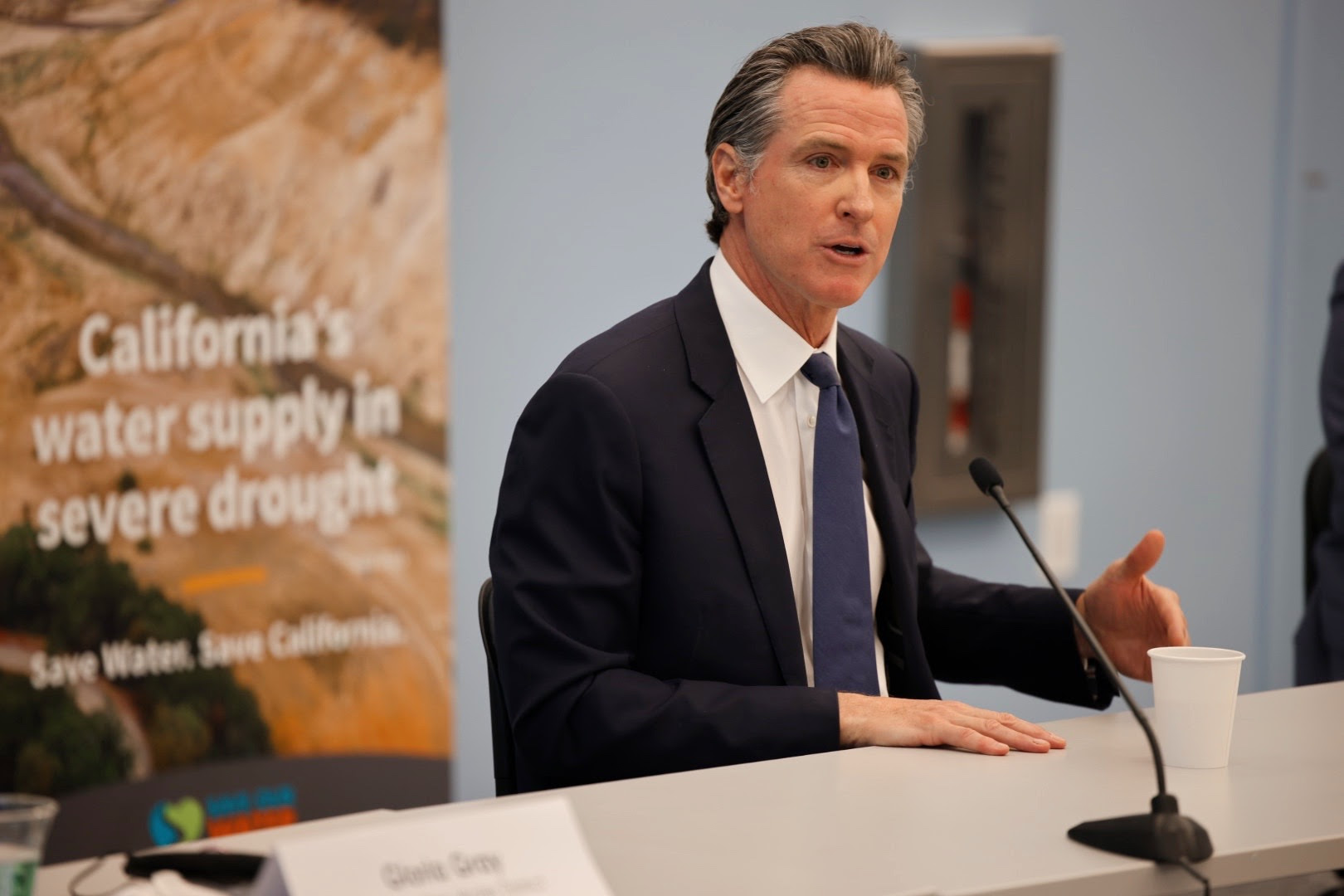 SACRAMENTO – Governor Gavin Newsom convened leaders from the state's largest urban water suppliers on Monday, which cover two thirds of Californians, and water associations imploring them to take more aggressive actions to combat drought and better engage their customers to ensure all Californians are doing their part to save water. 
After the last drought, local water agencies pushed for greater flexibility on water conservation and drought response based on regional needs and water supplies, arguing that tailored local approaches would be more effective than statewide mandates. Governor Newsom has embraced this localized approach, but voiced concerns today given recent conservation levels around the state, and called on water agencies to step up efforts to reduce water use amid extreme drought conditions.
Governor Newsom warned that if this localized approach to conservation does not result in a significant reduction in water use statewide this summer, the state could be forced to enact mandatory restrictions.
The Governor will reconvene these same agencies in the next two months to provide an update on their progress.
"Every water agency across the state needs to take more aggressive actions to communicate about the drought emergency and implement conservation measures," said Governor Gavin Newsom. "Californians made significant changes since the last drought but we have seen an uptick in water use, especially as we enter the summer months. We all have to be more thoughtful about how to make every drop count."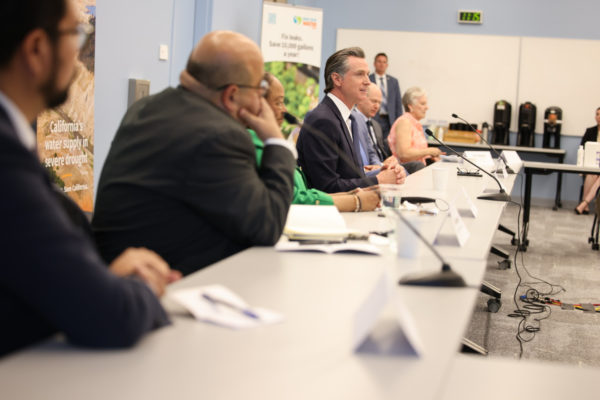 The Governor also called upon local water agencies to submit water use data more frequently and increase transparency in order to more accurately measure whether California is meeting water conservation goals. In addition, the Governor called on local water agencies to increase education and outreach efforts to Californians on the urgency of the crisis.
In July 2021, Governor Newsom called on Californians to voluntarily reduce their water use by 15%. At the end of March 2022 after the state failed to meet its 15% goal, the Governor issued an Executive Order calling on local water agencies to escalate their response to the ongoing drought. Tomorrow, at the Governor's direction, the State Water Resources Control Board will vote on a statewide ban on watering of non-functional turf in the commercial, industrial and institutional sectors as well as regulations requiring local agencies to implement water use restrictions amid the possibility that water supplies may be up to 20% lower due to extreme weather. Currently, local water agencies have implemented restrictions on about half of California's population. If the Board's regulations are approved, every urban area of California will be covered by a local plan to reduce water use.
Banning watering of decorative lawns would save between 156,000 acre-feet and 260,000 acre-feet per year, the equivalent of water used by 780,000 households in a year.
The climate crisis has resulted in the western United States experiencing one of the most extensive and intense droughts on record. January through March were the driest first three months in the state's recorded history, the state's largest reservoirs are currently at half of their historical averages, and the state's snowpack is just 14 percent of average.
The Governor's California Blueprint proposed this year would invest an additional $2 billion for drought response, which includes $100 million in addition to a previous investment of $16 million this fiscal year for a statewide education and communications effort on drought. These investments build on the previous $5.2 billion three-year investment in the state's drought response and water resilience through the California Comeback Plan (2021).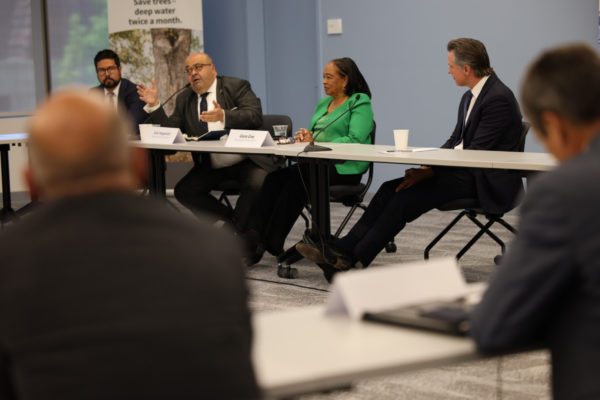 California's master water plan, the Water Resilience Portfolio, is a comprehensive vision to build water resilience containing more than 142 separate detailed actions to be taken by state agencies to ensure that California's water systems can cope with rising temperatures, shrinking snowpacks, rising sea levels and more intense and frequent periods of drought. In March 2021, the Administration released the 2012-2016 Drought Report, which contains lessons learned by state agencies during the last drought.
The state is calling on Californians to take immediate action to avoid a crisis, including:
Limiting outdoor watering – cutting back by even just one day a week can save you up to 20% more water.
Taking shorter showers. Going to a 5 minute shower to save up to 12.5 gallons per shower when using a water-efficient shower head.
Taking showers instead of baths – a bath uses up to 2.5 times the amount of water as a shower.
Using a broom instead of a hose to clean outdoor areas to save 6 gallons of water every minute.
Washing full loads of clothes to save 15-45 gallons of water per load.
More water saving tips can be found at www.saveourwater.com. For the latest on drought, please visit drought.ca.gov.