Legislative LGBTQ Caucus, Governor Newsom kick off Pride Month
We are grateful for our diversity, which is the strength of our state, and support those that work towards equality in California, Newsom said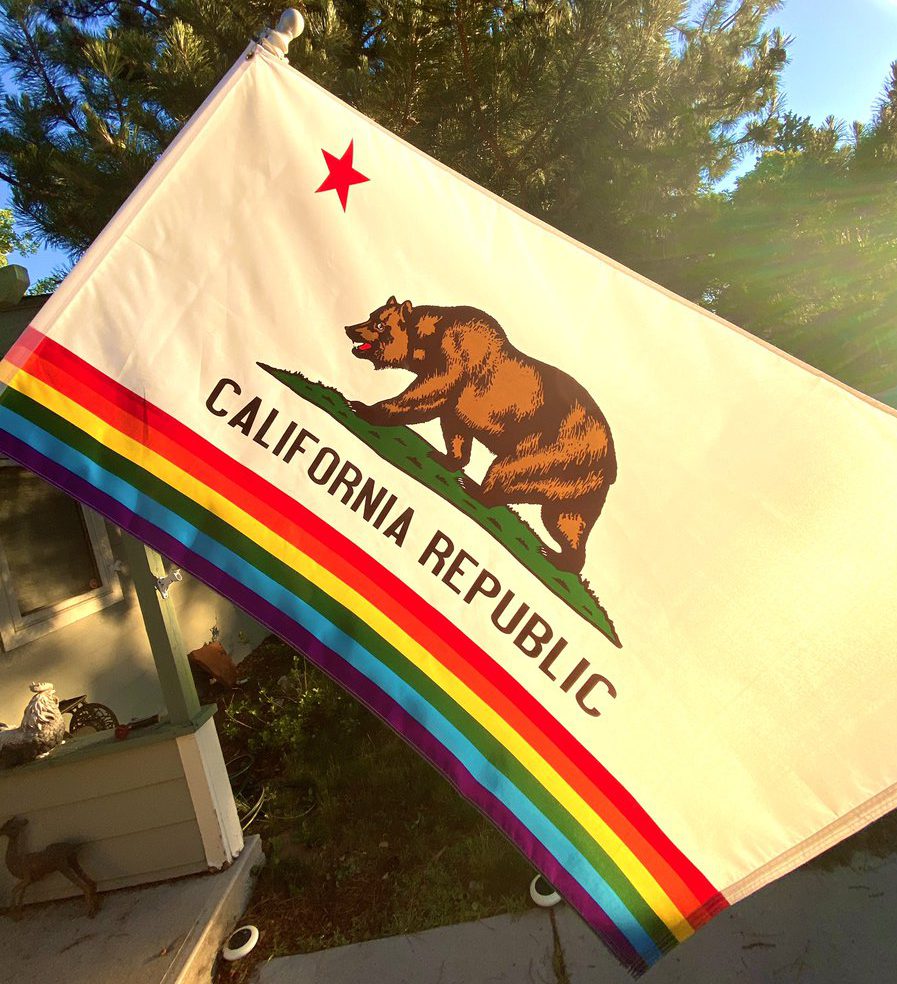 SACRAMENTO – The California Legislative LGBTQ Caucus stands in solidarity with allies across the world today, as June 1 marks the beginning of Pride Month. The annual celebration of the LGBTQ+ community's history and culture — now in its 52nd year — will provide numerous opportunities to highlight milestones achieved over the last year, as well as events expected to coincide with the state's June 15 reopening.
In 2018, California became the first state in the nation to officially recognize June as Pride Month, when Assemblymember Evan Low (D-Silicon Valley) authored AB 2969 and former Governor Jerry Brown signed the bill into law. Pride Month not only commemorates the Stonewall Riots of 1969, which were prompted by a series of police raids targeting the LGBTQ+ community in New York City, but also celebrates the modern civil rights movement and recent advances in equality and inclusion.
"Words cannot convey how difficult this last year has been for so many people, which is why we feel so fortunate that Pride Month is coinciding with California's reopening," said Assemblymember Low, Chair of the LGBTQ Caucus. "Pride has always been a beautiful blend of civic engagement and celebration — part activism and part festival. As we return to seeing our loved ones in person, we will use Pride Month as an opportunity to recognize our victories in advancing equality while acknowledging that the struggle continues. We must be unwavering in our mission until every LGBTQ+ person can live a life free from persecution."
Pride events this month will take place online as well as in person, and the Capitol Dome will be illuminated in Pride's rainbow colors for an entire week starting on June 21. The lighting will mark just the second time in state history the dome has featured the "Colors of Progress," which was first done in 2015 after the Supreme Court legalized marriage equality.
Over the last four years, California has continued to advance legislation in the name of equality despite numerous attacks under former President Trump. The LGBTQ Caucus is grateful for the allyship of Governor Gavin Newsom, who has been a steadfast champion of the LGBTQ+ community since his time as Mayor of San Francisco.
"The LGBTQ Caucus and the community at large is undeniably still in a fight to secure equal rights for everyone, and recent attacks on transgender youth — as well as the isolation many have felt during this pandemic — has increased the urgency of the Caucus' efforts," Governor Newsom said. "As we once again celebrate Pride Month, we are grateful for our diversity, which is the strength of our state, and support those that work towards equality in California."
Despite making substantial progress in representation — more than 220 LGBTQ+ candidates celebrated election victories across the country last year — the LGBTQ Caucus and the community at large is undeniably still in a fight to secure equal rights for everyone, regardless of gender identity or sexual orientation. The past year has featured a substantial increase in legislative attacks on the rights of transgender youth, and the pandemic put a larger spotlight on disparities in our health care system when it comes to access and delivery of services to LGBTQ+ and communities of color.
"This has been an incredibly difficult year for the LGBTQ+ community," said Senator Susan Talamantes Eggman (D-Stockton), Vice Chair of the LGBTQ Caucus. "Historic legislative attacks on our community in the midst of recovery from a global pandemic. It is more important than ever for our community to come together in celebration of Pride month this June. To show resilience and defiance in the face of such hate. This Pride will be a much-needed refuge from the storm and an opportunity to rally against inequality and injustice everywhere."
Ricardo Lara, California's first openly gay Insurance Commissioner and a former LGBTQ Caucus member during his time serving in the Senate and Assembly, noted that Pride Month is a chance to celebrate as well as renew our collective pledge to making sure all of California's LGBTQ+ residents have an opportunity to prosper.
"I want to wish every Californian a Happy Pride Month! Together, we celebrate the hard work of our ancestors, the victories we've won, the strength and beauty of our diverse community, and the work ahead," Commissioner Lara said. "Pride began as an uprising, and our fights for progress, inclusion, and civil rights are far from over."
Senate President pro Tempore Toni G. Atkins (D-San Diego)called on the LGBTQ+ community and allies to reimagine what's possible during Pride Month, while also paying homage to those who paved the road to progress.
"While our community continues to combat challenges confronting our LGBTQ+ siblings, we must also take a moment to celebrate our heroes and victories, and shine a light on their contributions for Californians and our country to see," Senate President Pro Tem Atkins said. "From enacting laws that protect our rights and safety, to advancing language that is more inclusive and understanding, it's inspiring to not only be a part of the movement, but to watch and learn from the next generation of trailblazers."
Assembly Speaker Anthony Rendon (D-Lakewood) noted that the Pride Flag will be flying high for the month of June, which will serve as a hopeful reminder of what's possible when we collectively fight for equal rights.
"Pride Month and the rainbow flag are reminders that every single Californian deserves recognition of their identity and their humanity," Assembly Speaker Rendon said. "LGBTQ rights are everyone's rights, and Pride Month is a celebration for everyone."
In addition to the Capitol Dome lighting on June 21, the LGBTQ Caucus will also hold a ceremony that day to celebrate a diverse list of honorees who have dedicated their lives and careers to advancing civil rights and equality. More events will be announced in the coming days and weeks.
Below are additional statements from LGBTQ Caucus members and allies:
Assemblymember Sabrina Cervantes (D-Corona):
"Another year and another opportunity to celebrate love, representation, and our collective passion for equality. May we use this month to reaffirm we are here, and queer, and fighting for the injustices we still face. As we continue the dialogue for justice, we should acknowledge this month as ours. May you find rest, inspiration, and solace."
Senator John Laird (D-Santa Cruz):
"It is my sincere honor to wish all those celebrating a Happy Pride Month! As the Senator representing the 17th District, I take great pride that 40 years ago this November, I was first elected to public office. At that time, there were only 10 out LGBTQ people in office in the entire United States. When we formed the LBTQ elected officials' association in 1985 there were only 15. For those of us that put ourselves out early, we enjoy the fact that there is a great deal of diversity, acceptance, and understanding in our country today. When I graduated from college it was against the law to be gay in all 50 states and now, surrounded by my LGBTQ Caucus colleagues, we are living proof of the great sacrifices and progress our community has made. This Pride Month and all those moving forward, may we choose to uplift and celebrate our LGBTQ community."
Assemblymember Alex Lee (D-San Jose):
"I'm proud to be the first openly Bisexual legislator in the State Assembly. Far too often, bi erasure makes too many of us in the community feel invisible. The fight for equality is far from over but we can continue to combat bi erasure and LGBTQ+ stigma by living authentically and educating others."
Assemblymember Christopher Ward (D-San Diego):
"This past year has shown the strength and resilience of the LGBTQ+ community in California. There is undeniably more work needed to ensure equal rights for all, and the rise in hate crimes and attacks on our transgender community prove this every day. As we enter into the month of Pride, let's continue to celebrate the vibrant and diverse community so many have fought to create, and honor the lives of the LGBTQ+ heroes we have lost in the past year."
Senator Scott Wiener (D-San Francisco):
"Pride is an incredibly important time for the LGBTQ community to come together, celebrate, and reflect. While I'm sad we won't be together in person for every event this year, I'm confident this will be our last virtual Pride. I want to thank the Chair and Vice Chair for their leadership in putting together another outstanding Pride celebration."
Rick Chavez Zbur, Executive Director of Equality California:
"Now more than ever, it's important that we unite as a community and celebrate Pride together — celebrate our progress, our resilience and our diversity. We're proud to join the Legislative LGBTQ Caucus in commemorating Pride month and continuing our work to create a world that is healthy, just and fully equal for all LGBTQ+ people."
A Black Trans Woman's fight for Transgender health equity
Jasmine is one of very few Black trans women who is an Executive Director of a clinic with such broad-ranging direct services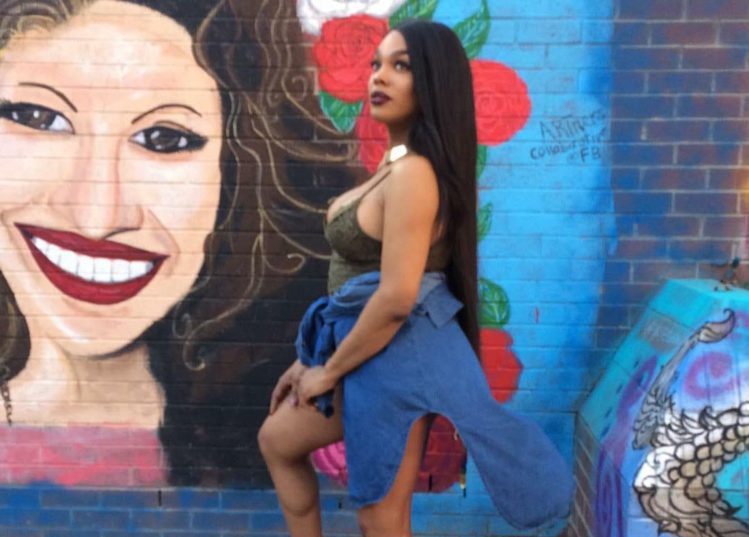 By Ebony Harper | SACRAMENTO – If you know Jasmine Bright, you know she is a force to be reckoned with. Jasmine is a mother to the rejected, a sister to those that need a shoulder, and a warrior queen for our trans babies (and adults). Don't let the pretty face fool you. She turns into a momma bear when her community is under any threat of harm.
Jasmine's experience of being both a healthcare administrator and one that has faced her trauma and hurdles as a Black trans woman gives her a unique mantle of leadership.
Jasmine just received the promotion she deserves after serving as the Director of the Hormone Clinic of Sacramento's Gender Health Center (GHC) for the past few years. Now, we will know Jasmine as the new GHC Co-Executive Director alongside Lauren Pulido, a former California State Capitol employee. Jasmine is one of very few Black trans women who is an Executive Director of a clinic with such broad-ranging direct services. This is huge!
When you first meet Jasmine Bright, you will be immediately captivated by her beauty. Once you have a conversation with her, you recognize that Jasmine is not just a gorgeous face – she's beauty, brains, and a whole lot of compassion. Raised by her mother, Jasmine's journey started in Pittsburg, California, until the family relocated to Sacramento. Jasmine became a caretaker from the start; she loved taking care of her younger siblings and continues to be the family protector.
Jasmine came out at a young age when she was in junior high school. Jasmine's mother did not know much about being trans. As a Black mom, she loved and protected her daughter. Jasmine's mom was a trans advocate before it was hip as she took on Jasmine's school for denying her daughter the right to use the girl's bathroom. Mother wasn't playing that! Her mom immediately stepped into an advocacy role for her young trans daughter to prevent Jasmine from experiencing the same traps other Black trans people fall into. She was going to love her child regardless AND dare somebody to say something! She was ready to risk it all for her child.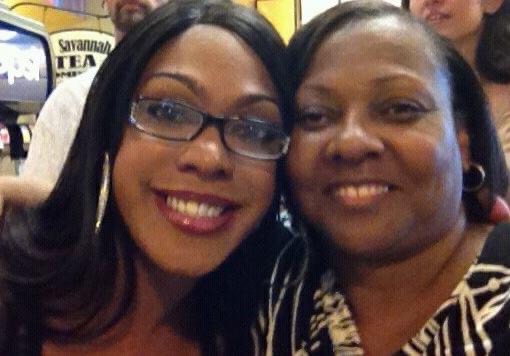 Jasmine's mother understood the safety risk and emotional trauma behind making Jasmine use a bathroom she didn't belong. Jasmine's mom took on the school and won! Jasmine's mother demonstrated the strength and compassion of a supportive Black parent of a trans child. Jasmine learned how to be nurturing, strong, and resilient from her mother and transplanted these family values to Sacramento's LGBT community as the new GHC Executive Director.
Jasmine's dedication and perseverance are inspiring. Alongside Lauren, the two GHC Executive Directors imbues transgender health and wellness services with new life, passion, and grit while modeling how Sacramento can effectively administer trans healthcare. Their vision is to co-create a world where "trans people are unbound from all facets of structural marginalization; manifesting a world where people recognize trans people as experts of their own lives and gender-affirming care."
As a Black trans woman with over fifteen years of experience as a healthcare provider, Ms. Jasmine Bright weathered her fair share of storms- only to come out triumphant on the other side unscathed. It takes grit not to be deterred and forge a bright path for a new future while building a legacy for those who will come after her. We see you, Jasmine! We thank you!
Ever since Jasmine Bright was a little girl growing up in Pittsburg, she dreamed of providing support to those in need. Well, dreams do come true!!!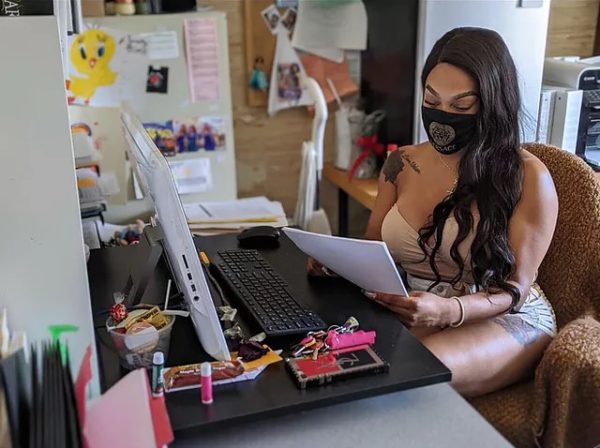 If you want to learn more about Gender Health Center and how you can support their work, go to www.genderhealthcenter.org
********************
Ebony Harper is the Executive Director of California TRANscends, a statewide initiative that promotes the health and wellness of transgender people throughout California with a focus on Black and Brown transgender communities.
The California legislature recognized Ms. Harper for her work. Harper sits on the State of California Transgender Advisory Council, the board of Mirror Memoirs, and serves as the newest board member for the Transgender Law Center and Borealis Philanthropy. 
Twitter @ebonyavaharper
Visalia's city council proclaims October 'LGBTQ history month'
"Thank you to the council for doing this […] When we started this work five years ago, we didn't know how we would be received in the city"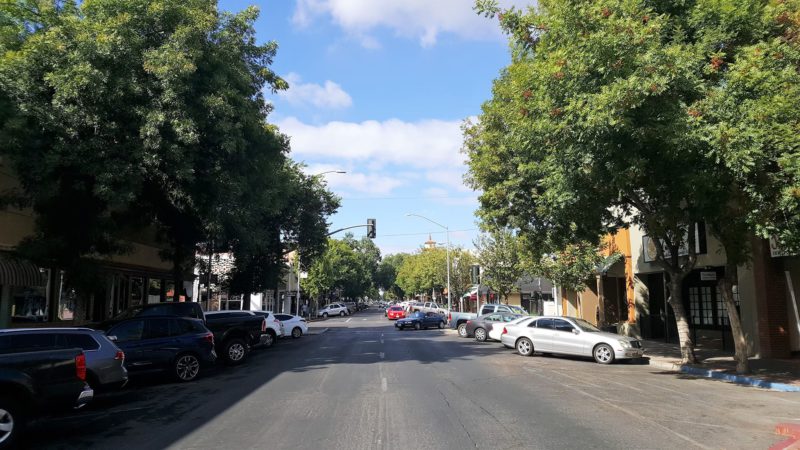 VISALIA, Ca. – In a proclamation this past Monday, the city council paid tribute to The Source LGBTQ+ Center's work in the Visalia LGBTQ+ community, including Tulare and Kings Counties over the past five years. The council also proclaimed October as LGBTQ+ history month presenting 'The Source' a plaque noting the nonprofit's recent expansion.
"In 5 years, The Source has become the largest LGBT center between Los Angeles and Sacramento," the plaque reads in part, The Visalia Times-Delta newspaper reported.
"We started with just an idea that we came up with on Main Street – back when it had antique stores," said Nick Vargas, director of development and cofounder of The Source. "From that idea, other people have joined us and I have been able to do the best work of my life, helping the citizens of Visalia, particularly the LGBTQ youth, those living with HIV, and their families."
On Saturday, the fifth annual Pride Visalia organized by 'The Source' was held at a different time of year and in a brand new location, Valley Strong Ballpark, supported by communications giant T-Mobile. The center's annual Halloween Gala was also held Saturday night at the Bello Vita Venue.
"Thank you to the council for doing this, it means a lot to us. When we started this work five years ago, we didn't know how we would be received in the city," Vargas said. "It means a lot to be here today, I would love it if you all showed up to PRIDE Visalia… but just knowing we have the support of the council and the city, is a lot."
On its website, 'The Source' specifies that the center's mission is to "provide spaces within our communities for the LGBT+ population to Learn, Grow, Belong, Transform, Question + Support."
Visalia, the Tulare County seat, is the gateway to Sequoia National Park, and only forty-one miles south of Fresno located in the conservative San Joaquin Valley region of central California. In Congress, the area, California's 22nd congressional district, is represented by Republican Devin Nunes, who has been unresponsive to LGBTQ+ concerns, having been labeled anti-LGBTQ+ by the Human Rights Campaign and Equality California.
The Times-Delta also reported that The Source is also hosting its first-ever AIDS Walk to raise awareness as well as funds. The walk is scheduled at 11 a.m. on Oct. 30 on NW 2nd Avenue.
Pride Visalia 2021 sponsored by T-Mobile:
Newsom expands drought emergency urges Californians to conserve water
California is experiencing its worst drought since the late 1800s. August 2021 was driest & hottest August on record since reporting began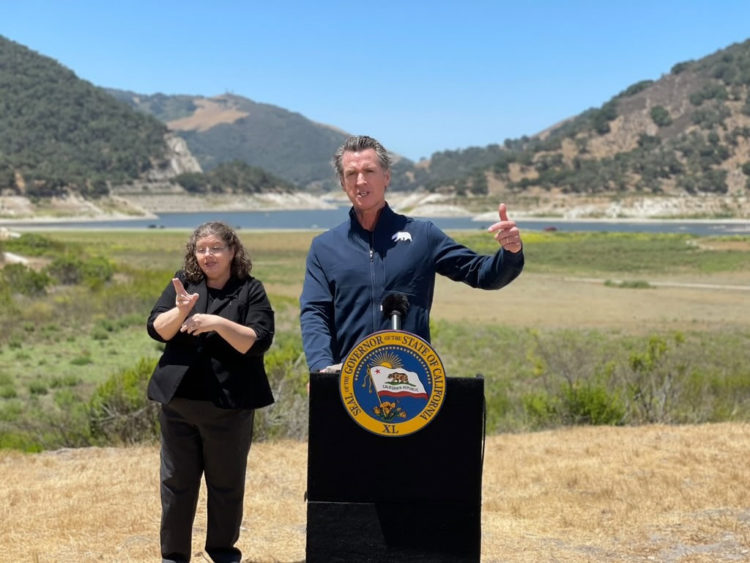 SACRAMENTO – Following the second driest year on record and with near record low storage in California's largest reservoirs, Governor Gavin Newsom today issued a proclamation extending the drought emergency statewide and further urging Californians to step up their water conservation efforts as the western U.S. faces a potential third dry year.
Bolstering conservation efforts, the proclamation enables the State Water Resources Control Board to ban wasteful water practices, including the use of potable water for washing sidewalks and driveways. The Governor issued an executive order in July calling on Californians to voluntarily reduce water use by 15 percent compared to 2020 to protect water reserves and complement local conservation mandates. The Governor's action today comes as the Board reports that in August, California reduced urban water use by 5 percent compared to 2020.
"As the western U.S. faces a potential third year of drought, it's critical that Californians across the state redouble our efforts to save water in every way possible," said Governor Newsom. "With historic investments and urgent action, the state is moving to protect our communities, businesses and ecosystems from the immediate impacts of the drought emergency while building long-term water resilience to help the state meet the challenge of climate change impacts making droughts more common and more severe."
The proclamation notes that the State Water Resources Control Board may adopt emergency regulations to prohibit wasting water, such as hosing down sidewalks or driveways, allowing drinking water to flood gutters or streets, or washing a car without a shut-off nozzle.
The proclamation adds the eight counties not previously included in the drought state of emergency: Imperial, Los Angeles, Orange, Riverside, San Bernardino, San Diego, San Francisco and Ventura. In addition, the proclamation requires local water suppliers to implement water shortage contingency plans that are responsive to local conditions and prepare for the possibility of a third dry year.
Expanding the Save Our Water initiative, a critical resource during the last drought, California has launched robust water conservation public education campaigns in partnership with stakeholders, including public water agencies. Statewide per capita residential water use declined 21 percent between 2013 and 2016 and as of 2020, the urban sector is using approximately 16 percent less on average statewide than in 2013. The Administration will continue to monitor the evolving drought conditions and evaluate all tools available to respond in real-time.
California is experiencing its worst drought since the late 1800s, as measured by both lack of precipitation and high temperatures. August 2021 was the driest and hottest August on record since reporting began and the water year that ended last month was the second driest on record. Today's proclamation authorizes the Governor's Office of Emergency Services to provide assistance and funding under the California Disaster Assistance Act to support the emergency response and delivery of drinking water and water for public health and safety.
The Governor's California Comeback Plan invests $5.2 billion over three years to support immediate drought response and long-term water resilience, including $815 million for emergency drought relief projects to secure and expand water supplies, drought contingency planning and multi-benefit land repurposing projects; support for drinking water and wastewater infrastructure, with a focus on small and disadvantaged communities; Sustainable Groundwater Management Act implementation to improve water supply security and quality; and projects to support wildlife and habitat restoration efforts, among other nature-based solutions.
A copy of today's proclamation can be found here.
More information on the state's response to the drought and informational resources available to the public are available at https://drought.ca.gov/.