Out Olympian censored from openly talking about LGBTQ youth
In September 2018, Crain came out on Instagram. As a professional athlete, she lived in fear about her sexuality
VISALIA – Team USA's BMX Cycling champion Brooke Crain was all set to speak to students at her alma mater, Mt. Whitney High School in this San Joaquin Valley city 190 miles north of Los Angeles, but hit a snag. Cain, a two time Olympian was going to give a talk on on two subjects close to her heart, suicide prevention and healthy lifestyles when a school administrator objected to part of her planned lecture.
In September 2018, Crain came out on Instagram, announcing her engagement to Australian BMX racer Rachel Jones. As a professional athlete, she lived in fear about her sexuality. Then, on July 2 last year in the midst of the pandemic, Crain lost her biggest fan, supporter and her Dad Todd Crain, a police officer, to suicide.
Since her father's death Crain has been proactive about raising suicide awareness and prevention. In her personal story she acknowledged to her hometown newspaper, the Visalia Times-Delta last month in an interview; "I've struggled with coming out for many years and with that struggle came dark thoughts," Crain said. "Just being a professional athlete in the limelight and an Olympian, I never thought I would be accepted. I remember struggling, having few dark memories of being suicidal."
So when she was asked to speak to students about her experiences and life Crain wanted to include her story and struggle with being lesbian and in a text message to Frank Escobar, VUSD director of student services this past week, Crain asked if she could share her coming out story because of the impact it had on her mental health.
The response from Escobar was less than enthusiastic the Times-Delta reported Thursday. Escobar told her that the subject was "kind of a sensitive area" for the VUSD school board.
"I think you can definitely reference it [coming out] in regards to aspects of MH (Mental Health). What we want to steer away from is encouraging or advocating for students to that choice," Escobar said in the text message to Crain. "That's where the board draws the line."
That text exchange was publicly shared by the Olympian bike racer who said she can't talk openly without telling her full story. "I didn't think that I would ever be able to be who I was in the sport as well as come out as being openly gay," she told the paper. "That was the start of my mental health journey."
Crain's goal is to advocate for LGBTQ+ youth and raise awareness on suicide because both are special to her, she added. She then withdrew from participating in speaking to Mt. Whitney High's students.
The president of the Board of the Visalia Unified School District, Juan Guerrero, apologized telling the Times-Delta; "VUSD would like to go on the record and state incorrect statements about the district were made by Mr. Escobar in a text message exchange between him and Ms. Crain," said Kim Batty, the district's spokeswoman. "Mr. Escobar was not authorized to speak on behalf of board nor the district on this manner." Guerrero added, "VUSD embraces diversity among all students, staff and families. VUSD apologizes for any pain this text message exchange has caused Ms. Crain."
Nineteen years ago this August, the Visalia Unified School District agreed to adopt sweeping reforms to address anti-gay harassment, including groundbreaking measures to train staff and students with the goal of preventing harassment before it happens, in a settlement reached with the American Civil Liberties Union (ACLU) of Northern California and the Gay-Straight Alliance Network in a Federal lawsuit that was filed the previous year.
"This case isn't just about Visalia, California – it's about a nationwide epidemic in non-urban schools, where young people face unspeakable harassment and violence because of who they are,"" said James Esseks, litigation director at the ACLU's Lesbian and Gay Rights Project at the time of the settlement. ""This could – and often does – happen at almost any school outside urban America."
Young LGBTQ people are at a higher risk for suicide attempts because of the public rejection they see and hear in the news, from their governments, and from their friends and families," Amit Paley, CEO and Executive Director of The Trevor Project told the Blade in a previously emailed statement on a related storyline. "It's important to remind LGBTQ youth that they are loved, never alone, and that their life has value."
If you or someone you know is feeling hopeless or suicidal, contact The Trevor Project's TrevorLifeline 24/7/365 at 1-866-488-7386. TheTrevorProject.org.
LGBTQ adults, as well as young people, can also contact the National Suicide Prevention Lifeline at 1-800-273-8255 or online at suicidepreventionlifeline.org.
Carrying a Pride flag- protester interrupts World Cup game
Qatar's laws against gay sex and treatment of LGBTQ people were flashpoints in the first World Cup to be held in the Middle East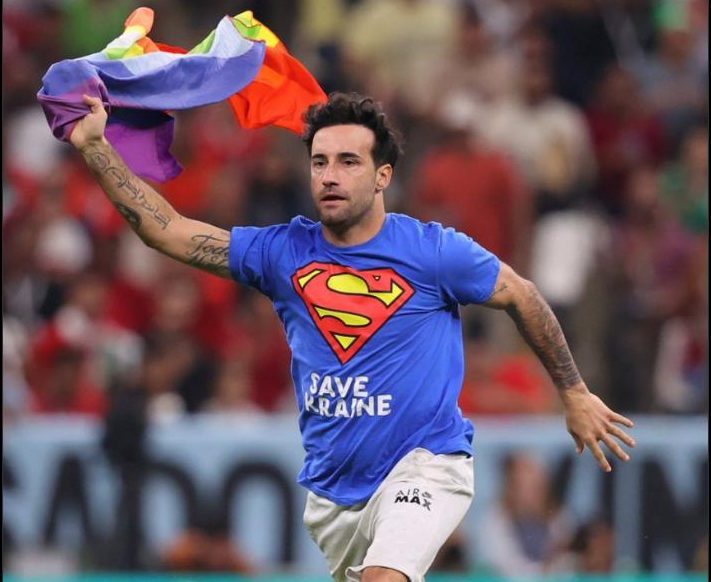 LUSAIL, Qatar – During a World Cup match between Portugal and Uruguay Monday, a lone protester ran across the field waving a LGBTQ+ Pride flag moments after the second half kickoff.
Video and still images show the man wearing a blue T-shirt emblazed with the Superman symbol and the phrase "SAVE UKRAINE" on the front and "RESPECT FOR IRANIAN WOMAN" on the back.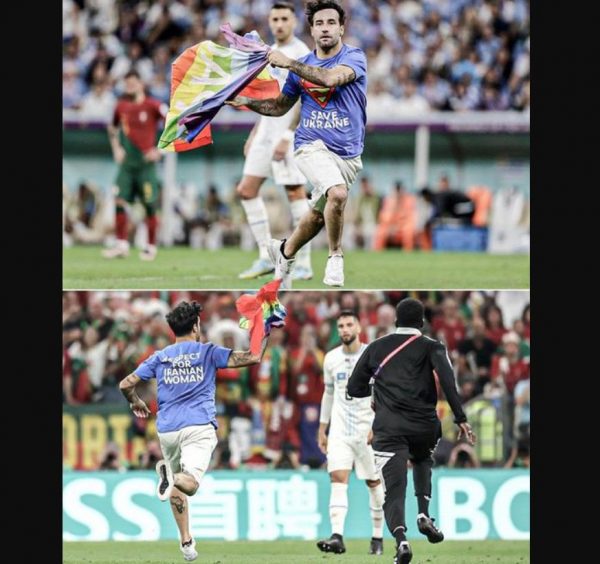 Qatari security personnel chased him down and then frog marched him off the playing field. Israeli Public Radio correspondent Amichai Stein tweeted video clips of the incident:
World Cup: A protester ran into the game holding a rainbow flag – with a 'Save Ukraine' and 'Respect For Iranian Women' shirt – @OrryLavie pic.twitter.com/s6dIcZLkQz

— Amichai Stein (@AmichaiStein1) November 28, 2022
FIFA had no immediate comment on the incident the Associated Press noted reporting that in the first week of the tournament in Qatar, seven European teams lost the battle to wear multi-colored "One Love" armbands during World Cup matches. Fans also complained they weren't allowed to bring items with rainbow colors, a symbol of LGBTQ rights, into the stadiums of the conservative Islamic emirate.
Qatar's laws against gay sex and treatment of LGBTQ people were flashpoints in the run-up to the first World Cup to be held in the Middle East. Qatar has said everyone was welcome, including LGBTQ fans, but that visitors should respect the nation's culture.