Vulgar anti-gay slur halts championship final soccer match
The league has written rules and guidelines that call for the referees on the field to halt game play if fans ignore warnings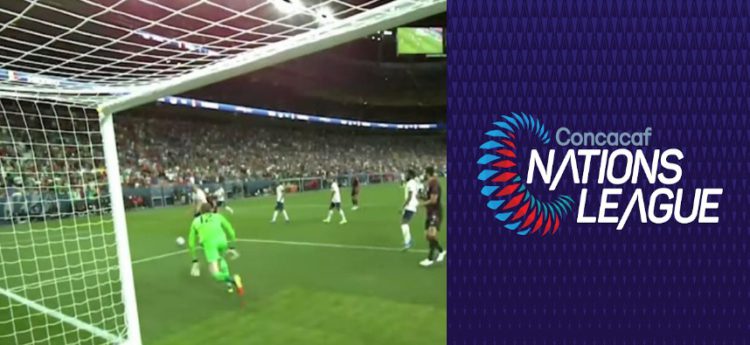 DENVER, CO. – The Confederation of North, Central America and Caribbean Association Football, (CONCACAF) league's final match in the Mile-High City Sunday was halted after fans disrupted the game play by shouting a homophobic chant directed at players on the field.
ESPN reported the pause occurred during the final moments of the second half before the game went to extra time in the U.S. men's national team's 3-2 win. Referee John Pitti resumed the match after three minutes as players on both sides pleaded with the crowd to stop using the chant.
The league has written rules and guidelines that call for the referees on the field to halt game play if a warning to the spectators by the announcer over the stadium's public address has already warned the crowd to cease and desist. Should the crowd not stop, then the referee has the authority to send the players to the locker rooms and can also call for the match to be abandoned.
ESPN also reported that this was the second tournament match to be halted due to anti-gay chants at Empower Field at Mile High. Mexico's semifinal win over Costa Rica was also briefly paused. That match also saw several fans ejected from the stadium.
Outsports Webzine reported this past Spring that the disgraceful "puto" chant —a vulgar slur for male prostitute — is ubiquitous at Mexican soccer matches, and up until recently, Soccer's governing body, Fédération Internationale de Football Association or FIFA, has been ambivalent towards its eradication. The organization has punished Mexico at least 12 times for the chant since 2015, and yet, it hasn't disappeared.
In March, FIFA opened an investigation into anti-gay chanting by Mexico supporters during an Olympic qualifier against the Dominican Republic ESPN noted.
Carl Nassib comes out as gay, first active player in NFL history
Nassib also announced that he is donating $100,000 to the Trevor Project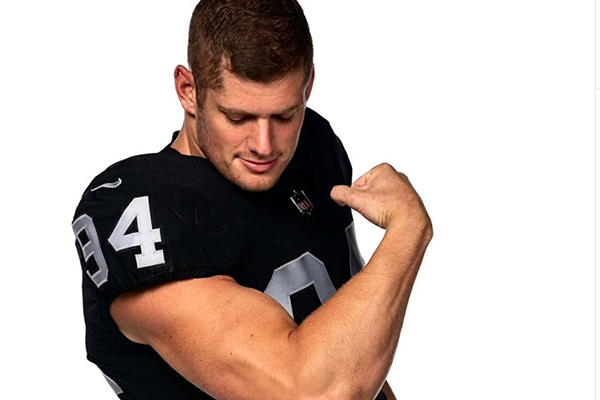 LAS VEGAS – Carl Nassib, who is a fifth-year defensive end for the Las Vegas Raiders, became the first active NFL player to announce he is gay. The Raiders defensive end is now the NFL's only openly gay player.
"I just want to take a quick moment to say that I'm gay," Nassib said in a video he posted on his Instagram account. "I've been meaning to do this for a while now but I finally feel comfortable enough to get it off my chest. I really have the best life. I've got the best family, friends and job a guy could ask for. I'm a pretty private person, so I hope you guys know I'm not doing this for attention, but I think representation matters."
Nassib also announced that he is donating $100,000 to the Trevor Project.
"The Trevor Project is grateful to Carl Nassib for living his truth and supporting LGBTQ youth. This generous donation will help us scale our life-saving crisis services to reach the more than 1.8 million LGBTQ youth who seriously consider suicide each year in the U.S.," said Amit Paley, CEO & Executive Director of The Trevor Project in an emailed statement to the Blade.
"Coming out is an intensely personal decision, and it can be an incredibly scary and difficult one to make. We hope that Carl's historic representation in the NFL will inspire young LGBTQ athletes across the country to live their truth and pursue their dreams.
"At a time when state lawmakers are actively trying to restrict transgender and nonbinary youth's participation in school sports, this news should serve as a clarion call for greater LGBTQ inclusion in the locker room and on the field," Paley added.
Mexico soccer fans punished for anti-gay slur chanted at games
FIFA sanctions team by banning spectators from first 2 World Cup qualifier matches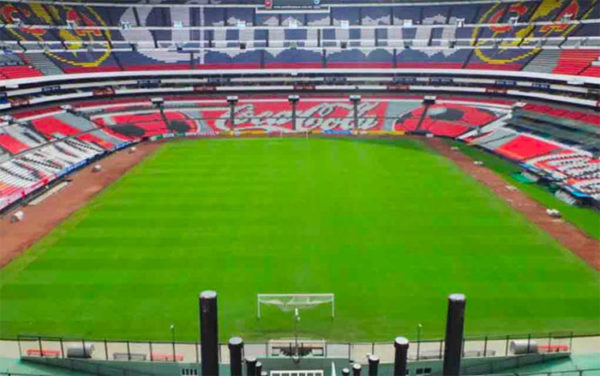 MEXICO CITY – When the Mexico men's national team play their all-important 2022 World Cup qualifiers come September and October, they will do so without a single fan cheering them on. As Yahoo Sports first reported, FIFA has sanctioned the team and ordered it to play to an empty home stadium because its fans won't stop using a controversial chant—widely seen as anti-gay—during matches.
For years, fans have shouted "puto" during opposing goal kicks at almost all Mexican men's national team games, a word that one soccer fans site described this way:
"For some, it's a harmless word that they've been shouting at opposing goalkeepers for decades. For others, it's a salty, inappropriate swear word you'll hear at some soccer games. And for many others it's a homophobic slur that denigrates LGBT individuals and makes attending a soccer game feel like an unsafe space."
"On behalf of the FMF, the players, the Liga MX, the clubs and all the national teams: Let's stop. Let's stop the fucking cry, please," said Yon De Luisa, president of the Mexican Soccer Federation (FMF) at a press conference Friday, as reported by El Economista. "It is taking us away from our team and although many think it is fun, it is not."
Coach Gerardo Martino, added: "I invite our fans to make a reflection so that they understand once and for all the meaning and scope of this type of attitude. They are great at cheering, but we ask that you focus exclusively on the selection. We have a great concern."
The punishment of banning spectators will reportedly impact two World Cup qualifying matches against Jamaica and Canada in September and October at Mexico City's Aztec Stadium. It is in addition to a fine of 60,000 Swiss francs—roughly $65,000 specifically being levied for the chanting of "Eh, puto" at two Olympic qualifying games held in March in Guadalajara, according to Mexico News Daily. An investigation has also reportedly been opened into chanting of the word at Mexico's friendly against Iceland last month in Arlington, Texas.
Despite what the coach and FMF president said, there are many straight soccer fans who argue against "puto" being considered a slur. Soccer writer Elliot Turner, who has lived and worked in Spain, Argentina, the Dominican Republic, and Nicaragua, explained that in a 2014 piece for Fusion:
"In Spanish, the term puta means prostitute, and Spanish, like other romance languages, has gendered nouns (a noun is either male or female). Thus, the term puto is the masculine form, meaning a male prostitute. (The feminine form is puta.)
Did you just get a big tax bill from Uncle Sam? You're likely to say 'putos impuestos!' Did your boss just give you a shitty assignment? You may mutter under your breath 'puto trabajo.'
'Puto' is thus used similarly to 'bloody' in the United Kingdom and 'fucking' in the United States. It's pervasive. The chant only reflects the ugly linguistic reality of Latin America and Spain. Everything that provokes rage is a 'puto.'"
"Puto" can also mean "coward," Turner argues, and writes "the typical El Tri fan means 'coward,' not 'fag' or 'queer.' And contextually, that has some support. Fans only use the term when the opposing goalkeeper punts the ball up the field."
But because it also means "faggot," a clearly hateful slur, Turner concludes the puto chant is "a form of prejudice and homophobia."
This year, Mexican officials have stepped up efforts to stop the chant but social media campaigns and stadium announcements have failed, according to the Washington Post.
The chant was widely used at Mexico's June 3 and 6 games against Costa Rica and the U.S., but as Yahoo Sports reported, officials enacted only Step 1 of FIFA's three-step protocol, which call for match stoppages and PA announcements whenever the chant is heard; temporary match suspensions – with players returning to locker rooms – if the chant is heard again; and forfeits if it arises a third time.
Whether having to watch the team on TV, playing in front of 87-thousand empty seats, has an impact on this fan tradition remains to be seen.
8th annual Pride Night and fireworks at Dodger Stadium
It was awesome that the Dodgers kicked butt right off the bat in the first inning and won 12-1 with multiple home runs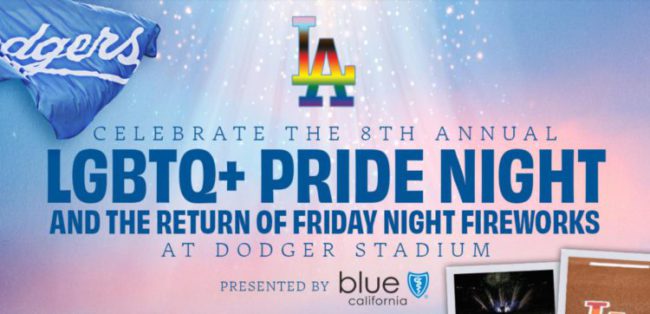 By NiK Kacy | LOS ANGELES – Tonight was the first major public outing for me, and like many others in the queer community, we chose Dodger's Pride Night as our "baptism". I have to admit I was very excited, since the biggest outing I've had so far post coming-out-of-quarantine was brunch at the Abbey.
Upon arriving at Dodger Stadium, I started to feel the energy change as I got closer and closer to the inside concession areas. People were excited and ready to get their Pride on! However, I remember feeling something different as well. It was a different kind of energy. It felt like a renewal of sorts as I walked by people putting on their Dodger Pride T-shirts and dazzling rainbow attire.
The night started off with the usual fanfare of introducing the lineup and the owners of the Dodgers, which now includes minority stake owner, tennis legend Billie Jean King, who came out as gay back in 1981, an incredible feat in itself. Since becoming owners of the Dodgers, Billie Jean and her partner, Ilana Kloss have stressed LGBTQ+ inclusion, so it was interesting to see what this Pride night would be like.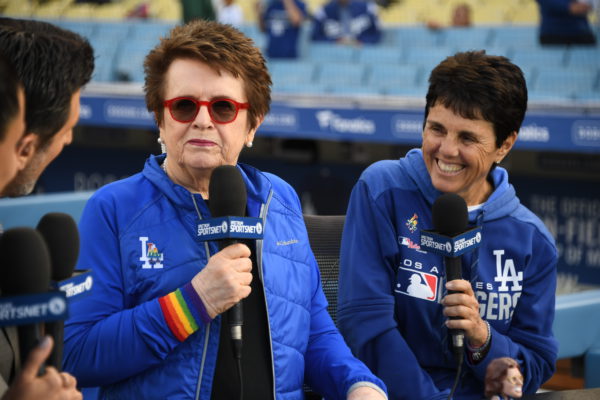 Most Pride nights all use the same formula of creating a commemorative item to give away and fly the rainbow flag everywhere for this one night. For this year's event, there had been a lot of talk within my circle of friends that the ticket prices were higher and that many queer, trans, and gender nonconforming folks, especially who are people of color, cannot afford a $50 nosebleed ticket. I was surprised to see the event was sponsored by Blue Shield and still cost so much for one night of Pride. Perhaps being an ally might include making the tickets affordable for people who are under-represented?
Every event has a wow factor and tonight's wow factor for me was Black, queer artist, VINCINT, who sang the Star Spangled Banner. It was probably hands down one of my favorite renditions of the song I've ever heard. He absolutely slayed. However, as I listened to his glorious vocals, my heart dropped as I listened to the words of the song, and somehow was reminded that here I was watching this incredibly talented Black gay man sing these words next to our American flag, flying in the background, and yet these symbols of America did not protect this man or many of us who were sitting there. It was bittersweet and even my friend told me later that she cried a bit while watching for the same reasons.
Overall, it was a great night but I definitely felt conflicted in so many ways. Of course it felt
great to be out and feeling the camaraderie of having my community there. During the "Kiss Cam"
break we got to see queer couples kissing on the big screen and it lit my heart up. It was also
awesome that the Dodgers kicked butt right off the bat in the first inning and won 12-1 with multiple
home runs, despite the fact that so many seats were empty.
I don't know if it was because we were all just happy to be around people again or if wearing a mask feels like a veil of protection, but I chatted up a lot of people while waiting in the elevator and Dodger Dog line.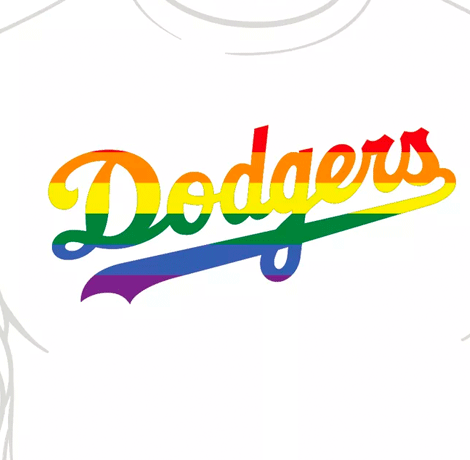 One queer couple mentioned that they were disappointed they weren't able to get the commemorative Pride cup because the bartender downstairs "couldn't be bothered" to walk around the bar to grab the special cups. This didn't sit well with me of course as inclusivity and allyship should not be performative but should be part of the ethos of a company for Dodgers. I also felt conflicted at one point when I looked around and realized all the folks with Pride shirts on were sitting in one particular area of the stadium, like we were all put in one corner of the field. Sure, it felt nice to know we were surrounded by "our people," but a part of me also thought "maybe one day, we will no longer need to be placed together and can freely sit everywhere and feel safe."
My favorite part about tonight though was running into so many familiar faces. It made my heart sing to see so many people I hadn't seen, let alone hugged, in so long. One of these beautiful humans was my dear friend Rose Garcia, a celesbian icon in our community after having been on the show, The Real L-Word.
I asked her what she thought of tonight's event and I think ending this with her quote pretty much sums it all up – "I love that our city was or I believe is one of the first to host a Pride night. Dodger Stadium has always felt inclusive even more now with an LGBTQ owner. Love it!
Hopefully we'll have more than just one night in the near future."
NiK Kacy is a 2021 recipient of the City of West Hollywood's Rainbow Key award.