8th annual Pride Night and fireworks at Dodger Stadium
It was awesome that the Dodgers kicked butt right off the bat in the first inning and won 12-1 with multiple home runs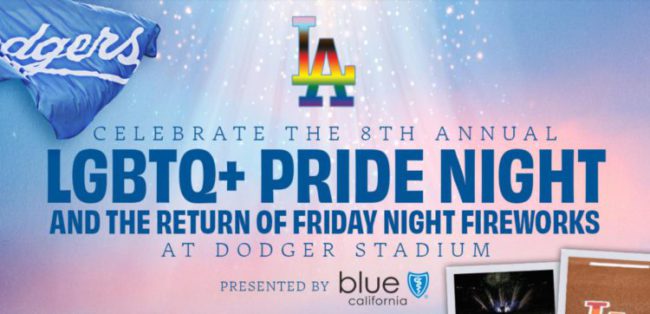 By NiK Kacy | LOS ANGELES – Tonight was the first major public outing for me, and like many others in the queer community, we chose Dodger's Pride Night as our "baptism". I have to admit I was very excited, since the biggest outing I've had so far post coming-out-of-quarantine was brunch at the Abbey.
Upon arriving at Dodger Stadium, I started to feel the energy change as I got closer and closer to the inside concession areas. People were excited and ready to get their Pride on! However, I remember feeling something different as well. It was a different kind of energy. It felt like a renewal of sorts as I walked by people putting on their Dodger Pride T-shirts and dazzling rainbow attire.
The night started off with the usual fanfare of introducing the lineup and the owners of the Dodgers, which now includes minority stake owner, tennis legend Billie Jean King, who came out as gay back in 1981, an incredible feat in itself. Since becoming owners of the Dodgers, Billie Jean and her partner, Ilana Kloss have stressed LGBTQ+ inclusion, so it was interesting to see what this Pride night would be like.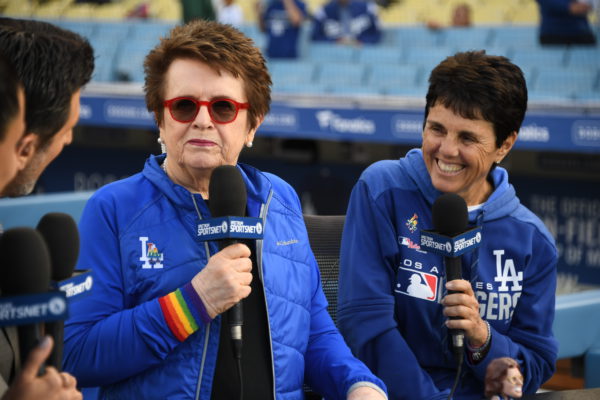 Most Pride nights all use the same formula of creating a commemorative item to give away and fly the rainbow flag everywhere for this one night. For this year's event, there had been a lot of talk within my circle of friends that the ticket prices were higher and that many queer, trans, and gender nonconforming folks, especially who are people of color, cannot afford a $50 nosebleed ticket. I was surprised to see the event was sponsored by Blue Shield and still cost so much for one night of Pride. Perhaps being an ally might include making the tickets affordable for people who are under-represented?
Every event has a wow factor and tonight's wow factor for me was Black, queer artist, VINCINT, who sang the Star Spangled Banner. It was probably hands down one of my favorite renditions of the song I've ever heard. He absolutely slayed. However, as I listened to his glorious vocals, my heart dropped as I listened to the words of the song, and somehow was reminded that here I was watching this incredibly talented Black gay man sing these words next to our American flag, flying in the background, and yet these symbols of America did not protect this man or many of us who were sitting there. It was bittersweet and even my friend told me later that she cried a bit while watching for the same reasons.
Overall, it was a great night but I definitely felt conflicted in so many ways. Of course it felt
great to be out and feeling the camaraderie of having my community there. During the "Kiss Cam"
break we got to see queer couples kissing on the big screen and it lit my heart up. It was also
awesome that the Dodgers kicked butt right off the bat in the first inning and won 12-1 with multiple
home runs, despite the fact that so many seats were empty.
I don't know if it was because we were all just happy to be around people again or if wearing a mask feels like a veil of protection, but I chatted up a lot of people while waiting in the elevator and Dodger Dog line.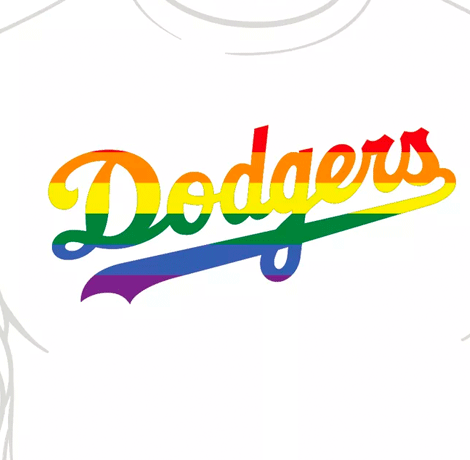 One queer couple mentioned that they were disappointed they weren't able to get the commemorative Pride cup because the bartender downstairs "couldn't be bothered" to walk around the bar to grab the special cups. This didn't sit well with me of course as inclusivity and allyship should not be performative but should be part of the ethos of a company for Dodgers. I also felt conflicted at one point when I looked around and realized all the folks with Pride shirts on were sitting in one particular area of the stadium, like we were all put in one corner of the field. Sure, it felt nice to know we were surrounded by "our people," but a part of me also thought "maybe one day, we will no longer need to be placed together and can freely sit everywhere and feel safe."
My favorite part about tonight though was running into so many familiar faces. It made my heart sing to see so many people I hadn't seen, let alone hugged, in so long. One of these beautiful humans was my dear friend Rose Garcia, a celesbian icon in our community after having been on the show, The Real L-Word.
I asked her what she thought of tonight's event and I think ending this with her quote pretty much sums it all up – "I love that our city was or I believe is one of the first to host a Pride night. Dodger Stadium has always felt inclusive even more now with an LGBTQ owner. Love it!
Hopefully we'll have more than just one night in the near future."
NiK Kacy is a 2021 recipient of the City of West Hollywood's Rainbow Key award.
Blinken criticizes FIFA over threat to fine World Cup team captains with 'one love' armbands
Qatar criminalizes homosexuality by death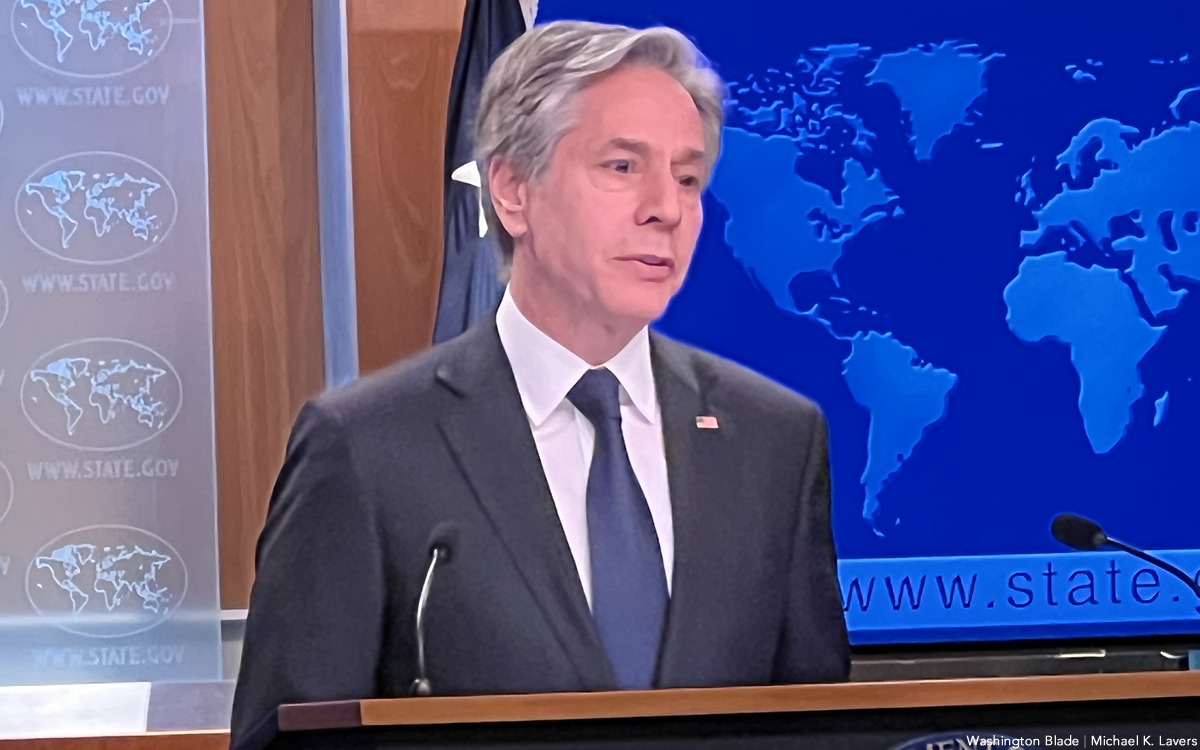 DOHA, Qatar — Secretary of State Antony Blinken on Tuesday criticized FIFA over its threat to sanction European soccer teams if their captains wore "one love" armbands during the 2022 World Cup.
"It's always concerning from my perspective when we see any restrictions on freedom of expression. It's especially so when the expression is for diversity and for inclusion," Blinken told reporters during a press conference with Qatari Foreign Minister Mohammed Bin Abdulrahman Al-Thani in Doha, the Qatari capital. "And in my judgment, at least, no one on a football pitch should be forced to choose between supporting these values and playing for their team."
Seven European soccer teams on Monday announced their captains will not wear LGBTQ+ and intersex armbands during the 2022 World Cup after FIFA threatened to sanction them.
The captains of Belgium, Denmark, England, Germany, the Netherlands, Switzerland and Wales had planned to wear the armbands in support of the LGBTQ+ and intersex community during the World Cup. The teams on Monday in a joint statement said they would not wear the armbands because FIFA had threatened to sanction them if their captains did.
The World Cup began in Qatar on Sunday.
Qatar is among the handful of countries in which consensual same-sex sexual relations remain punishable by death. A report that Human Rights Watch published last month noted several cases of "severe and repeated beatings" and "sexual harassment" of LGBTQ+ and intersex people while in police custody from 2019 and September 2022.
A State Department official last week acknowledged to the Washington Blade that the U.S. raised LGBTQ+ and intersex rights with the Qatari government ahead of the World Cup.
The U.S. men's soccer team while in Qatar will have a redesigned logo with the Pride flag in its badge. Blinken attended their match against Wales on Monday.