8th annual Pride Night and fireworks at Dodger Stadium
It was awesome that the Dodgers kicked butt right off the bat in the first inning and won 12-1 with multiple home runs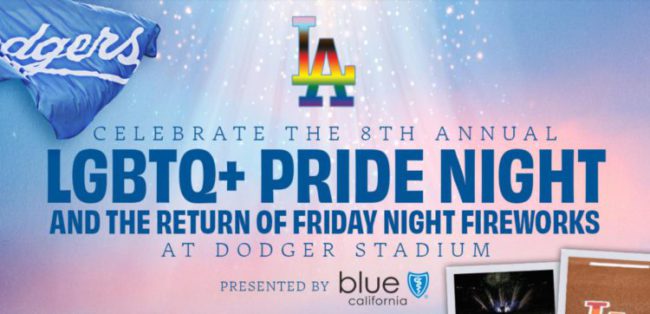 By NiK Kacy | LOS ANGELES – Tonight was the first major public outing for me, and like many others in the queer community, we chose Dodger's Pride Night as our "baptism". I have to admit I was very excited, since the biggest outing I've had so far post coming-out-of-quarantine was brunch at the Abbey.
Upon arriving at Dodger Stadium, I started to feel the energy change as I got closer and closer to the inside concession areas. People were excited and ready to get their Pride on! However, I remember feeling something different as well. It was a different kind of energy. It felt like a renewal of sorts as I walked by people putting on their Dodger Pride T-shirts and dazzling rainbow attire.
The night started off with the usual fanfare of introducing the lineup and the owners of the Dodgers, which now includes minority stake owner, tennis legend Billie Jean King, who came out as gay back in 1981, an incredible feat in itself. Since becoming owners of the Dodgers, Billie Jean and her partner, Ilana Kloss have stressed LGBTQ+ inclusion, so it was interesting to see what this Pride night would be like.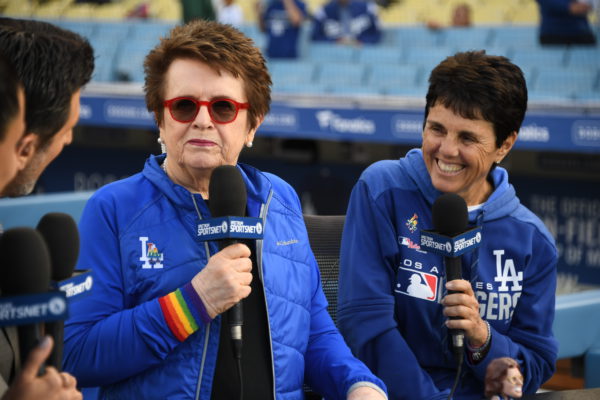 Most Pride nights all use the same formula of creating a commemorative item to give away and fly the rainbow flag everywhere for this one night. For this year's event, there had been a lot of talk within my circle of friends that the ticket prices were higher and that many queer, trans, and gender nonconforming folks, especially who are people of color, cannot afford a $50 nosebleed ticket. I was surprised to see the event was sponsored by Blue Shield and still cost so much for one night of Pride. Perhaps being an ally might include making the tickets affordable for people who are under-represented?
Every event has a wow factor and tonight's wow factor for me was Black, queer artist, VINCINT, who sang the Star Spangled Banner. It was probably hands down one of my favorite renditions of the song I've ever heard. He absolutely slayed. However, as I listened to his glorious vocals, my heart dropped as I listened to the words of the song, and somehow was reminded that here I was watching this incredibly talented Black gay man sing these words next to our American flag, flying in the background, and yet these symbols of America did not protect this man or many of us who were sitting there. It was bittersweet and even my friend told me later that she cried a bit while watching for the same reasons.
Overall, it was a great night but I definitely felt conflicted in so many ways. Of course it felt
great to be out and feeling the camaraderie of having my community there. During the "Kiss Cam"
break we got to see queer couples kissing on the big screen and it lit my heart up. It was also
awesome that the Dodgers kicked butt right off the bat in the first inning and won 12-1 with multiple
home runs, despite the fact that so many seats were empty.
I don't know if it was because we were all just happy to be around people again or if wearing a mask feels like a veil of protection, but I chatted up a lot of people while waiting in the elevator and Dodger Dog line.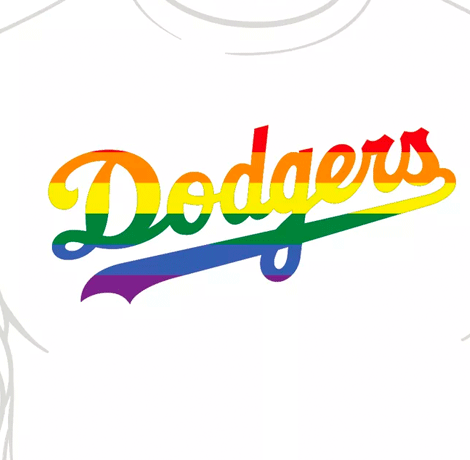 One queer couple mentioned that they were disappointed they weren't able to get the commemorative Pride cup because the bartender downstairs "couldn't be bothered" to walk around the bar to grab the special cups. This didn't sit well with me of course as inclusivity and allyship should not be performative but should be part of the ethos of a company for Dodgers. I also felt conflicted at one point when I looked around and realized all the folks with Pride shirts on were sitting in one particular area of the stadium, like we were all put in one corner of the field. Sure, it felt nice to know we were surrounded by "our people," but a part of me also thought "maybe one day, we will no longer need to be placed together and can freely sit everywhere and feel safe."
My favorite part about tonight though was running into so many familiar faces. It made my heart sing to see so many people I hadn't seen, let alone hugged, in so long. One of these beautiful humans was my dear friend Rose Garcia, a celesbian icon in our community after having been on the show, The Real L-Word.
I asked her what she thought of tonight's event and I think ending this with her quote pretty much sums it all up – "I love that our city was or I believe is one of the first to host a Pride night. Dodger Stadium has always felt inclusive even more now with an LGBTQ owner. Love it!
Hopefully we'll have more than just one night in the near future."
NiK Kacy is a 2021 recipient of the City of West Hollywood's Rainbow Key award.
Quinn destined to be 1st Trans Nonbinary Olympic medalist
"I'm so proud of my team," Quinn told the CBC. "They're my best friends. I'm so glad we're bringing back a better medal than bronze."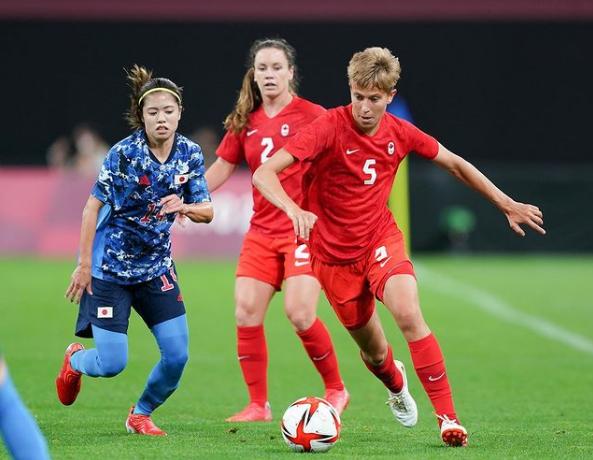 KASHIMA-SHI, JAPAN – Before this week ends, the world will know the name Quinn: They will be the first-ever trans nonbinary athlete to win an Olympic medal. 
Quinn already made history as the world's first trans nonbinary athlete to compete in any Olympic games. Now they and their teammates are on their way to winning either silver or gold. All Team Canada has to do is defeat Sweden on Thursday as handily as it did the number one-ranked USWNT in a 1-0 shutout Monday. Lose, and they get the silver; Win, and Quinn and Team Canada take home gold.
"I'm so proud of my team," Quinn told the CBC. "They're my best friends. I'm so glad we're bringing back a better medal than bronze."
Reporters asked Quinn about the historic nature of their participation, but they were focused on supporting their teammates who have waited almost a decade for this moment.
"I'm doing this for the people I grew up looking up to. Like Sincy," they said.
"We finally won," said Captain Christine "Sincy" Sinclair. "For those of us who were part of the 2012 game, it was nice to get a little revenge in an Olympic semifinal."
On the other side of the pitch, out USWNT legend Megan Rapinoe talked with NBC Sports about how it felt to lose to Canada: "It sucks," she said. "It's a bitter one to swallow. Obviously we never want to lose to Canada. I don't think I've ever lost to Canada. So it's a bitter one."
Rapinoe is engaged to marry Team USA co-flag bearer and Seattle Storm sensation Sue Bird, the longest tenured player in the WNBA. She's in Tokyo chasing her fifth gold medal, in what she said would be her last Olympics. Rapinoe has one, from London in 2012, where Team Canada suffered defeat and heartbreak.
Until Monday, the American women hadn't lost to Canada in two decades. They traveled to Tokyo as back-to-back defending World Cup champions, having not lost a single match in 44 tries. They hadn't been shutout in four years.
Then Canada's Jessie Fleming of London, Ontario converted a penalty kick in the 74th minute to score the only goal of Monday's match, sending the ball past out American goalkeeper, Adrianna Franch.
So, for Team USA to have lost twice and get shutout three times, with bronze as their best hope? It's a stunner for the iconic team with at least four out women: Rapinoe, Franch Tierna Davidson and Kelly O'Hara.
For Quinn, this is also about showing the next generation what they can get from playing sports.
"Athletics is the most exciting part of my life and it brings me the most joy," Quinn told CBC Sports on Monday. "If I can allow kids to play the sports they love, that's my legacy and that's what I'm here for."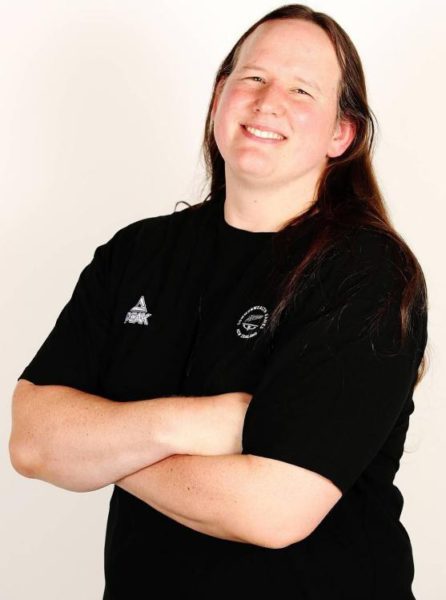 Also Monday, weightlifter Laurel Hubbard of New Zealand became the first out transgender woman to compete in any Olympic Games. Unfortunately, her history-making appearance was short.
Hubbard, 43, had three chances to advance in "the snatch" first round of the Women's Super Heavyweight Division competition in Tokyo Monday, but failed to complete a lift that counted. She was the only one of the 13 finalists to not complete at least one lift in the competition that was ultimately won by China's Li Wenwen.
Before leaving the stage, Hubbard pounded her chest and made a heart gesture with her hands, sending a message of gratitude to the judges, the audience and everyone watching online and on television around the world. 
Photo courtesy New Zealand Olympic Team
Later, Hubbard told reporters she was grateful to the International Olympic Committee, which supported her entry and last week declared, "Trans women are women." 
"Of course, I'm not entirely unaware of the controversy which surrounds my participation in these Games," Hubbard said after leaving the competition. "And, as such, I'd particularly like to thank the IOC, for, I think, really affirming their commitment to the principles of Olympism, and establishing that sport is something for all people. It is inclusive. It is accessible."
The International Weightlifting Federation also earned Hubbard's thanks, she said, because "they too have shown that weightlifting is an activity that's open to all of the people in the world."
Out Olympian Kenworthy & Paralympian Dunkin on Tokyo & LGBTQ Sports
"The fact that LGBTQ youth drop out of sports at twice the rate of their heterosexual & gender counterparts, it doesn't have to be that way."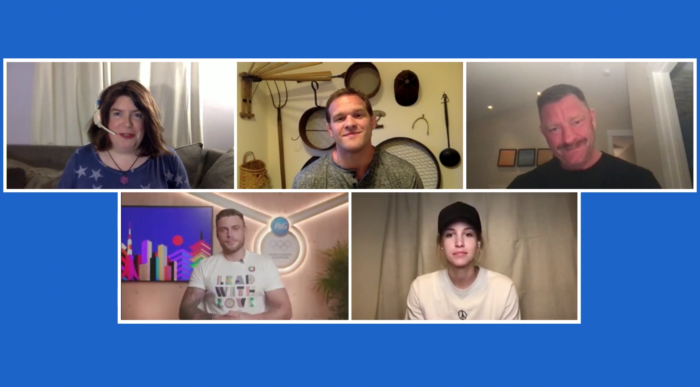 TOKYO – Gus Kenworthy is in Tokyo for the Summer Games, but not to compete. The  Olympic Gold Medalist recently joined Paralympian Gold Medalist Abby Dunkin in a Zoom conversation with Athlete Ally founder and executive director Hudson Taylor and the head of LGBTQ+ equality and inclusion for Procter & Gamble, Brent Miller. 
"I felt like I knew that if I came out, there must be someone else," Kenworthy said. "I was like, there's someone else in skiing or an action sports or another kid who is going to resonate with my story. And if I can even help one person, then it will be worth it."
This group of athletes and allies tackled the difficult issues of coming out in sports, fears of rejection, suicide attempts and competing authentically as well as the controversy over transgender inclusion in sports, both at the Olympics and in high schools and colleges across the U.S.
"Only 24% of LGBTQ youth participate in sports," noted Taylor. "The fact that LGBTQ youth drop out of sports at twice the rate of their heterosexual and gender counterparts, it doesn't have to be that way."
Dunkin credited Paralympian gold medalist Stephanie Wheeler as an inspiration both on the court and in everyday life as an out lesbian. 
"Stephanie really creates such a great environment for me and other athletes and also our staff, too, that were out at the time," said Dunkin. "And that really impacted me to come out and be myself." Wheeler is also head coach of the Univ. of Illinois women's wheelchair basketball team.
As the Los Angeles Blade has reported, there are more than 142 out LGBTQ athletes competing in Tokyo, a record for any Olympic Games. And with trans nonbinary soccer player Quinn on their way to a potential gold medal, making history with out trans woman Laurel Hubbard and out trans BMX competitor Chelsea Wolfe in Tokyo, Miller says their first steps are inspiring to people all around the world, no matter what their gender identity or sexual orientation is. 
"It's about bringing people together, supporting people, creating mutual understanding, and really celebrating all of humanity," Miller said. "And now for us, bringing those LGBTQ+ stories forward is critically important because we see the value of what sport can bring."
Watch their conversation with sports editor Dawn Ennis by clicking here.
Equal Representation in Sports: Why LGBTQ+ Visibility Matters
Olympic Silver Medalist Erica Sullivan Is 'Still The Same Gay Girl'
Ever since young lesbians have been stanning Sullivan on social, the University of Texas student has opened-up to the world about who she is.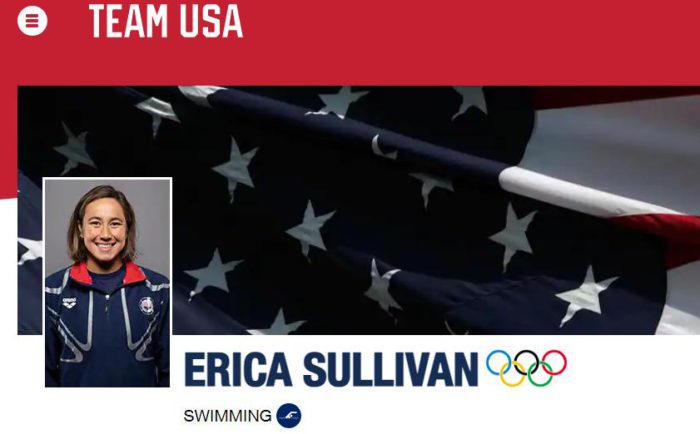 TOKYO – Erica Sullivan is a Japanese-American from Las Vegas and, at age 20, an Olympian attending her first-ever Summer Games. But that barely scratches the surface: This week, she won a Silver Olympic Medal. Not just any medal, mind you; she's the first-ever Silver medalist in the women's 1500-meter freestyle. 
Her big moment came on Tuesday in Tokyo, when Sullivan finished the 1500 in 15:41.41, 4.07 seconds behind Gold Medal winner and fellow American, Katie Ledecky.
"The last 24 hours have been a dream," Sullivan wrote on Instagram. "Thank you all from the bottom of my heart. Always for the people I represent," and she added a heart.
Make no mistake about who she represents: "Yes, I'm the gay one," says her Twitter bio. 
Whether it be a tweet, on Instagram or on TikTok, Sullivan proudly, frequently posts that she is the "only out gay swimmer" on Team USA. 
"Only gay USA swimmer. WHERE ARE THE GAYS" she tweeted in sharing an article about the record number of out LGBTQ Olympic athletes.
Only gay USA swimmer. WHERE ARE THE GAYS
https://t.co/exP6KkF8pw

— Erica Sullivan (@erica_sully) July 12, 2021
Ever since, young lesbians have been stanning Sullivan on social, as the University of Texas student has opened-up to the media and the world about who she is.
"This is kind of self-centered and cocky to say, and I'm sorry for that" Sullivan told reporters after winning Silver, "but I feel like I am the epitome of the American person, whereas I'm multicultural, I'm queer, I'm a lot of minorities in that sense. That's what America is. America is, to me, it's not being a majority. It's having your own start. The American dream is coming to a country to be able to establish what you want to do with your life."
Sullivan described having to train amid "duck poop" in Lake Mead, given that pools were shut down because of Covid-19. She also mentioned to the media: "If the women's soccer team, specifically Tobin Heath and Christen Press, would like to reach out, that would mean the world!"
What a change from just four years ago, according to Yahoo! News and Swimming World. Sullivan was dealing with the death of her father, coming out and mental-health issues. Her mother is a Japanese citizen living in the U.S., her late grandfather was an architect for some of the Olympic venues and her late father was a swimmer at the University of Wisconsin.
Sullivan is also a Swiftie, meaning she's a huge fan of Taylor Swift, which fellow fans have embraced.
📰| American Swimmer Erica Sullivan, silver medalist at the #Olympics #Tokyo2020 shares that she is a Swiftie!

"Love my queen Taylor Swift. She is releasing bops all year. She's been feeding us… I'm a reputation stan. I think people hate on the album for no good reason." pic.twitter.com/5OaB604zzj

— The Swift Society (@TheSwiftSociety) July 30, 2021
Headlines like, "All Hail Erica Sullivan, Olympic Silver Medalist, Swiftie, and Queer Icon" and "Lesbians, We Have A New Supreme And She's An Olympian Named Erica Sullivan" have only further enshrined Sullivan as a heartthrob for girls who like girls. 
Lauren Yapalater did a deep-dive into Sullivan's socials for Buzzfeed, revealing the swimmer "tweets about lesbian yearning movies just like the rest of us poor souls."
And then there's "The Question:"
"So many people have asked me if I'm single," she told Jill Gutowitz of Vulture, who Sullivan calls "the queen of Twitter lesbians."
"I'm like, I am still the same gay girl I was before all this. I've had a crush on the same girl for three years now. The yearning gets you every time."
Next up for Sullivan: back to school, and the pool,
"I deferred college for three years to train for these games," she told Gutowitz. "So, I'm going to Austin to continue my film career, my educational career, and my swim career. I'm gonna go another quad, I'm gonna try and go for 2024, that's the plan. But hopefully after that I can focus on my film career."