8th annual Pride Night and fireworks at Dodger Stadium
It was awesome that the Dodgers kicked butt right off the bat in the first inning and won 12-1 with multiple home runs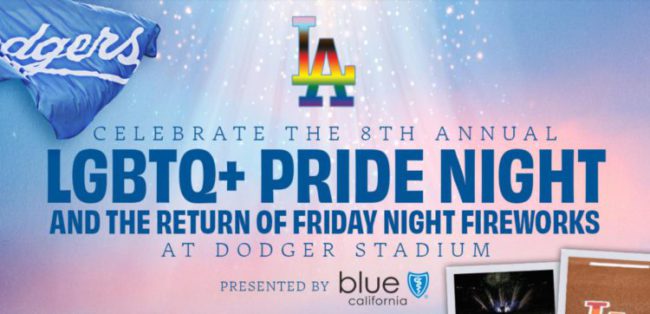 By NiK Kacy | LOS ANGELES – Tonight was the first major public outing for me, and like many others in the queer community, we chose Dodger's Pride Night as our "baptism". I have to admit I was very excited, since the biggest outing I've had so far post coming-out-of-quarantine was brunch at the Abbey.
Upon arriving at Dodger Stadium, I started to feel the energy change as I got closer and closer to the inside concession areas. People were excited and ready to get their Pride on! However, I remember feeling something different as well. It was a different kind of energy. It felt like a renewal of sorts as I walked by people putting on their Dodger Pride T-shirts and dazzling rainbow attire.
The night started off with the usual fanfare of introducing the lineup and the owners of the Dodgers, which now includes minority stake owner, tennis legend Billie Jean King, who came out as gay back in 1981, an incredible feat in itself. Since becoming owners of the Dodgers, Billie Jean and her partner, Ilana Kloss have stressed LGBTQ+ inclusion, so it was interesting to see what this Pride night would be like.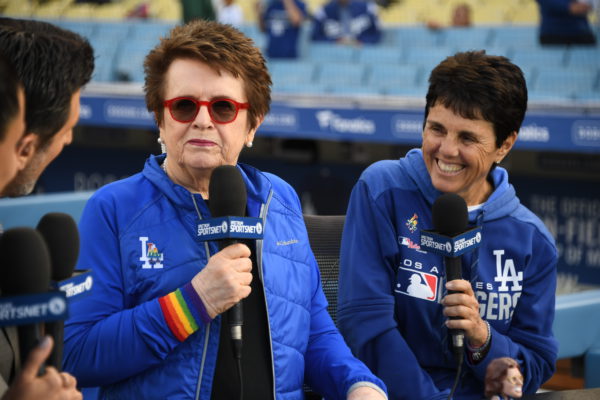 Most Pride nights all use the same formula of creating a commemorative item to give away and fly the rainbow flag everywhere for this one night. For this year's event, there had been a lot of talk within my circle of friends that the ticket prices were higher and that many queer, trans, and gender nonconforming folks, especially who are people of color, cannot afford a $50 nosebleed ticket. I was surprised to see the event was sponsored by Blue Shield and still cost so much for one night of Pride. Perhaps being an ally might include making the tickets affordable for people who are under-represented?
Every event has a wow factor and tonight's wow factor for me was Black, queer artist, VINCINT, who sang the Star Spangled Banner. It was probably hands down one of my favorite renditions of the song I've ever heard. He absolutely slayed. However, as I listened to his glorious vocals, my heart dropped as I listened to the words of the song, and somehow was reminded that here I was watching this incredibly talented Black gay man sing these words next to our American flag, flying in the background, and yet these symbols of America did not protect this man or many of us who were sitting there. It was bittersweet and even my friend told me later that she cried a bit while watching for the same reasons.
Overall, it was a great night but I definitely felt conflicted in so many ways. Of course it felt
great to be out and feeling the camaraderie of having my community there. During the "Kiss Cam"
break we got to see queer couples kissing on the big screen and it lit my heart up. It was also
awesome that the Dodgers kicked butt right off the bat in the first inning and won 12-1 with multiple
home runs, despite the fact that so many seats were empty.
I don't know if it was because we were all just happy to be around people again or if wearing a mask feels like a veil of protection, but I chatted up a lot of people while waiting in the elevator and Dodger Dog line.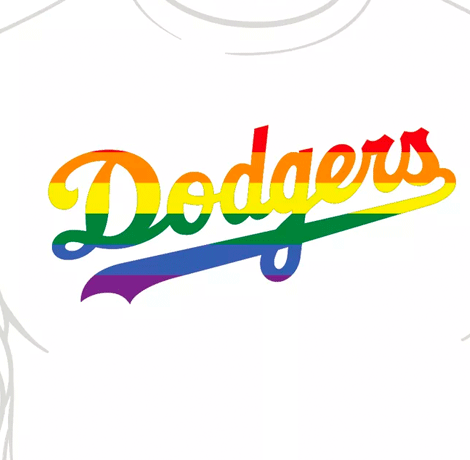 One queer couple mentioned that they were disappointed they weren't able to get the commemorative Pride cup because the bartender downstairs "couldn't be bothered" to walk around the bar to grab the special cups. This didn't sit well with me of course as inclusivity and allyship should not be performative but should be part of the ethos of a company for Dodgers. I also felt conflicted at one point when I looked around and realized all the folks with Pride shirts on were sitting in one particular area of the stadium, like we were all put in one corner of the field. Sure, it felt nice to know we were surrounded by "our people," but a part of me also thought "maybe one day, we will no longer need to be placed together and can freely sit everywhere and feel safe."
My favorite part about tonight though was running into so many familiar faces. It made my heart sing to see so many people I hadn't seen, let alone hugged, in so long. One of these beautiful humans was my dear friend Rose Garcia, a celesbian icon in our community after having been on the show, The Real L-Word.
I asked her what she thought of tonight's event and I think ending this with her quote pretty much sums it all up – "I love that our city was or I believe is one of the first to host a Pride night. Dodger Stadium has always felt inclusive even more now with an LGBTQ owner. Love it!
Hopefully we'll have more than just one night in the near future."
NiK Kacy is a 2021 recipient of the City of West Hollywood's Rainbow Key award.
First Out gay active NFL player Carl Nassib announces retirement
The NFL player says his 'Next Chapter' is to focus on his mobile platform- 'I really feel like the luckiest guy on the planet'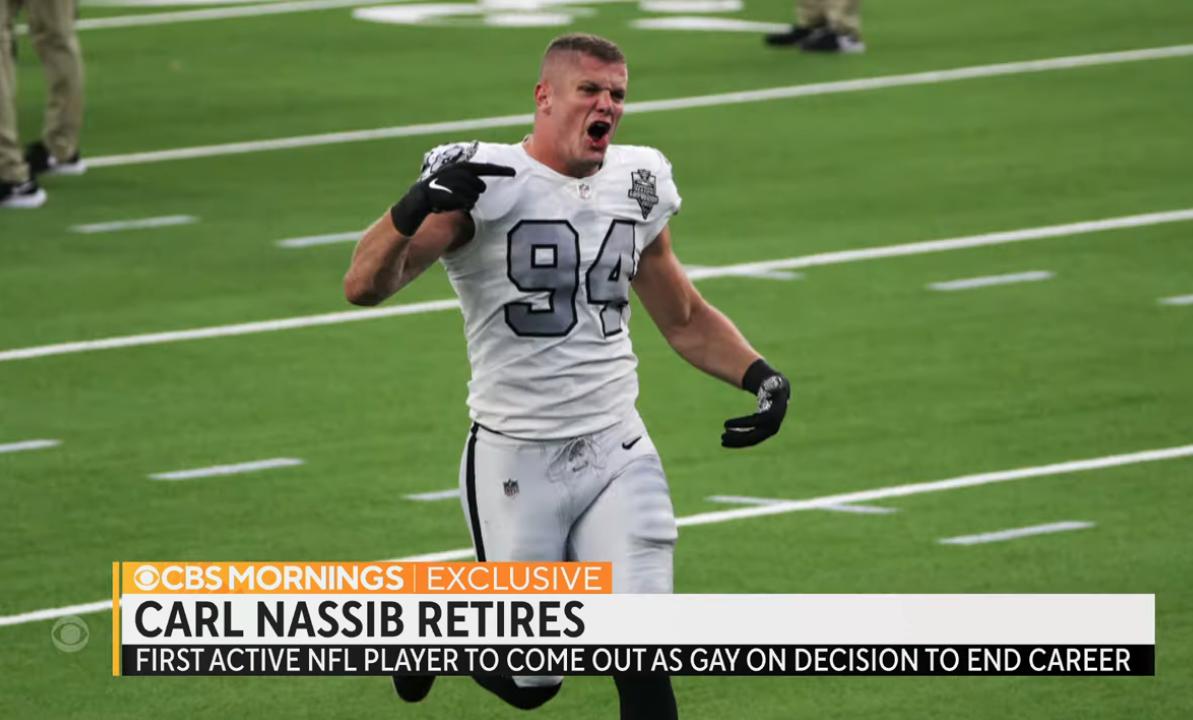 WEST CHESTER, Pa. — Carl Nassib, who made history in 2021 when he became the first active player in the National Football League to come out as gay, announced Wednesday he is retiring at age 30.
"This is a bittersweet moment for me," the free agent wrote in a post on Instagram. "But after seven seasons and just over 100 NFL games I am officially retiring from football to focus on my company Rayze."
Rayze is a mobile platform that connects people willing to give of themselves with those who need it most, born of an experience in Tampa, Fla., where Bucs players volunteered as mentors to kids being held in a nearby juvenile detention center. Rayze's website says the company serves to "shine a light on opportunities that need volunteers, while making nonprofit engagement, volunteer recruitment, and donating as simple and intuitive as possible."
"It really feels like just yesterday starting out as a walk-in at Penn State," Nassib wrote in his post. "Football has given me more than I ever could have imagined. I can truly hang up my helmet for the last time knowing I gave it everything I had." 
Ever since he came out in 2021, the former defensive end for the Tampa Bay Buccaneers has become a philanthropist for the LGBTQ+ community, especially for queer youth, personally donating $100,000 to the Trevor Project. That year, the NFL matched his donation, and in 2022, Nassib himself matched donations dollar for dollar, up to $100,000. 
According to the Bucs, Nassib played in 99 regular-season NFL games with 38 starts, recorded 187 tackles, 25.5 sacks, 45 tackles for loss, 59 quarterback hits, four forced fumbles, three fumble recoveries, one interception and 19 passes defended. In 2016, he the Cleveland Browns drafted him with the second pick in the third round. At Penn State, Nassib was a star player, leading the nation in sacks and forced fumbles during his senior year with the Nittany Lions in 2015.
"It was not an easy decision. It really, really wasn't," Nassib told People magazine in an exclusive interview timed to coincide with his Instagram.
"This would have been my 23rd football season. I've been playing football since I was eight years old, and I'm really excited to move on to the next chapter of my life," he said.
Nassib says he began considering retirement last season before becoming a free agent, when he said he was "staying at the Bucs facility until 9 p.m. every night working on Rayze."
"I feel like it's my calling and it's what I'm meant to do," Nassib says of the app. "I'm really excited to move on to the next chapter of my life and to give Rayze everything that I have."
In July, he posted that he had accepted an appointment to the board of directors of the local United Way chapter in his hometown of West Chester, Pa.
Nassib said he is also going to work with the NFL in a new role, in matters related to the league's philanthropic endeavors and its "diversity, equity, and inclusion."
"I think that I can provide a very rare and specific view of how life is for an out gay player, and I think that there are some amazing opportunities that I can also learn," he told People.
"Maintaining that relationship shows that the NFL is continuing to support me. They've supported me so much over the last two years, and I really couldn't have done it without that support," he said.
Nassib said the NFL's offer to utilize him in this new role "continues to show people that you can be yourself and compete at the highest level."
But what he's most excited to do with his time now, he told People, is to spend the holiday season with his family and his boyfriend, retired Olympian Søren Dahl. 
"I've spent 11 out of 12 Christmases away from my family, many of them alone in my apartment," said Nassib. "I haven't spent Thanksgiving with my family since 2010, so I am really, really looking forward to spending time with my family, my friends, and those special moments. And that's something that I've been looking forward to for years." 
That's one of the many reasons why he wrote on Instagram: "I really feel like the luckiest guy on the planet."
Related: