East Texas bakery shows Pride, gets slammed, that went viral and…yeah
"Honestly, I never thought a post that literally said 'more love, less hate' would result in this kind of backlash…"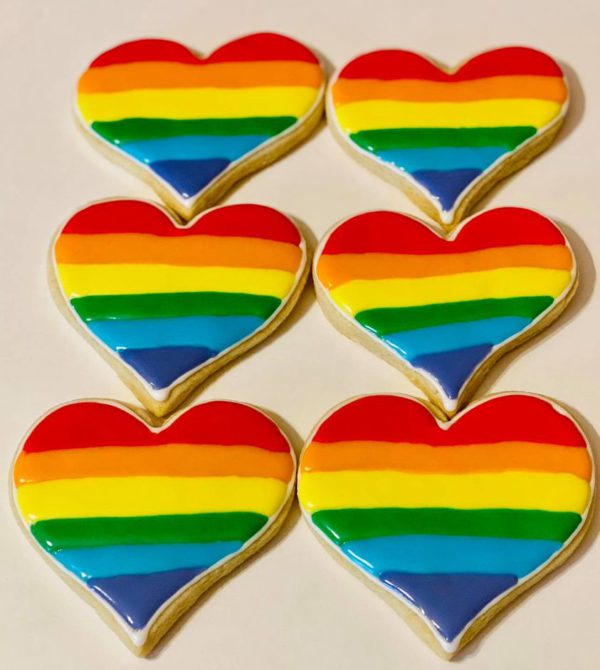 LUFKIN, TX. – For sisters Dawn and Miranda, owners of Confections, a small family bakery in this small town located in the heart of East Texas 115 miles northeast of Houston, life is about love, love of baking sweet treats for everybody. So when on Wednesday of this past week they posted a picture of heart shaped cookies decorated like a Rainbow flag, the immediate and super negative reaction crushed both them and sales.
"Today has been hard. Really hard," reads the bakery's Facebook post from Thursday. "… My heart is heavy. Honestly, I never thought a post that literally said 'more love, less hate' would result in this kind of backlash to a very small business that is struggling to stay afloat and spread a little cheer through baked goods."
One customer cancelled a massive order of cookies that were already baked and ready to deliver; "We received a very hateful message on our business page canceling a large order (5dz) of summer themed cookies for tomorrow morning (that we just finished decorating) because of a rainbow heart cookie we posted."
What happened next though took the sisters by surprise. After their post was shared by tens of thousands on Facebook and Instagram as well, orders poured in as did long lines around the block to buy their sweet treats. Within hours the shelves were bare and then they had to close to bake more, and when that supply was exhausted and customers just wanted to donate money instead of buying baked goods the sisters responded with;
"WE LOVE OUR TRIBE SO MUCH! Such an amazing outpouring of support
We've had a lot of people wanting to donate money to our shop in the name of kindness, and we appreciate the gesture so much! But. We can't take y'all's money like that, but if you would like to donate to one of our local shelters or rescues, that would be so amazing! Y'all are incredible human beings. We've always had such faith in humanity, and y'all have just reconfirmed the ABSOLUTE BEAUTY in human nature."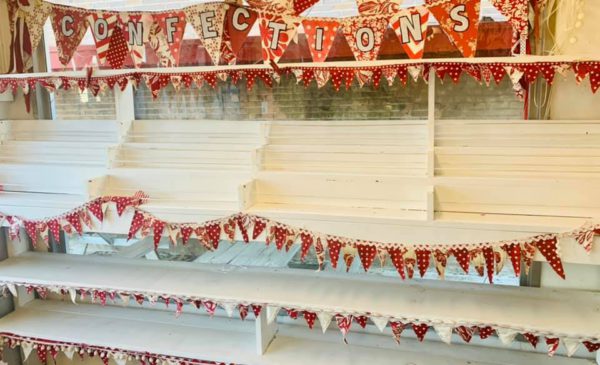 Sadly the sisters say that they are not set-up to ship, but they're grateful for the outpouring of support that they have received.
Lines literally went out the door and around the block as customers patiently waited to buy the sister's cookies and other baked goods.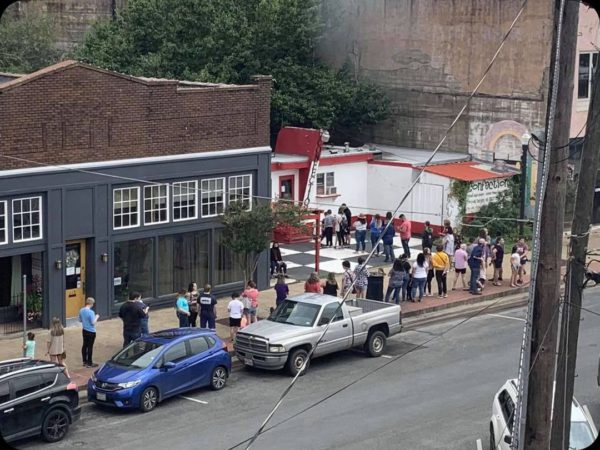 Trans people 'have been left out' of Texas abortion ban discussion
"I didn't want to be a pregnant man in Texas," he said. "I didn't know if I could even get somebody to look at me or even take me seriously"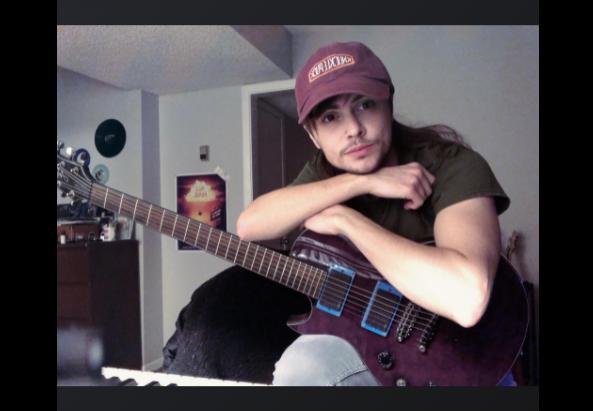 AUSTIN – Texas' ban on abortions after six weeks of pregnancy, the most extreme anti-abortion law in the country, has been in effect since September, getting extensive media coverage. But trans and nonbinary people are often left out of the United State's discourse on abortion rights, meaning the consequences are "even more significant."
The Texas Tribune reports that Samson Winsor, a trans man who moved to Austin from Utah in search of a substantial trans community without the cost of living in bigger cities, is afraid to live in the state because of the extreme abortion ban.
He tells the news organization that his menstrual period was late after having sex with someone, which terrified him. He realized how limited his options would be if he were pregnant.
He was overcome with relief when he learned he wasn't pregnant.
"I didn't want to be a pregnant man in Texas," Winsor told the Tribune. "It was terrifying for me because I realized, by the time I could even confirm I was pregnant, I didn't know if I could even get somebody to look at me or even take me seriously walking in the door."
The law – which the Supreme Court ruled could be challenged in court but declined to block – empowers private citizens to sue doctors and others who "aid or abet" abortions after six weeks, before most people know they are pregnant, in Texas.
The law only refers to pregnant women, but the news organiztion notes that the law also affects trans and nonbinary people, like Winsor – who added that he would be afraid to let friends get him out of the state if he were pregnant because they could legally liable for aiding an abortion. 
"While restrictions on abortion primarily harm women, they also compound the challenges that trans men and nonbinary people already face in accessing gynecological and reproductive health care. Being a trans man or a nonbinary individual who needs an abortion is often a nightmare even in jurisdictions that support reproductive freedom. In places like Texas, which are making abortions inaccessible to anyone, it is terrifying," Shannon Minter the Legal Director for National Center for Lesbian Rights told the Blade Thursday.
"My heart goes out to the trans and nonbinary people who are living in fear, praying they never need this care, and that if they do, they can find a way out of the state. And for those who know they can't afford to travel or pay for out-of-state care, there is no hope," Minter added.
Trans people "have been left out of the conversation, which means that the impact for them is even more significant," according to Anna Rupani, executive director of Fund Texas Choice, a nonprofit that financially assists people in accessing abortions.
The abortion ban can hold extra weight for trans people, who already face disproportionate discrimination, as they also have to face the stigma of being a non-female presenting person who is pregnant. According to the American College of Obstetricians and Gynecologists , they also have to deal with unique risks and complications because of hormone therapy. However, many trans men and nonbinary people carry pregnancies to term.
Contrary to popular belief, trans people receive hundreds of abortions a year. According to a study published in the American Journal of Obstetrics and Gynecology, several hundred transgender and nonbinary people in the U.S. received abortions in 2017. In addition, Texas is home to the second-largest population of transgender people, with more than 125,000 identifying as trans, in the U.S., according to a 2016 study from the Williams Institute.
"People already hate that I exist and people like me exist," Winsor told the Tribune. "They refuse to believe that we're men, but we're still having kids, we're still getting pregnant, and we still have to access abortions. What's that going to look like, when the thing they say doesn't exist looks them right in the face and says, 'I'm a pregnant man'?"
Texas has been at the forefront of what has been a record year for anti-trans legislation across the country. According to Equality Texas, Texas has considered at least 50 anti-trans bills this year. Texas Republican Gov. Greg Abbott signed a bill that bans trans K-12 kids from playing sports in accordance with their gender identity.
Legal rights groups to Texas GOP: LGBTQ+ book ban unlawful
"Any such efforts raise serious First Amendment concerns, and is, in many ways, an attack on our informed democracy"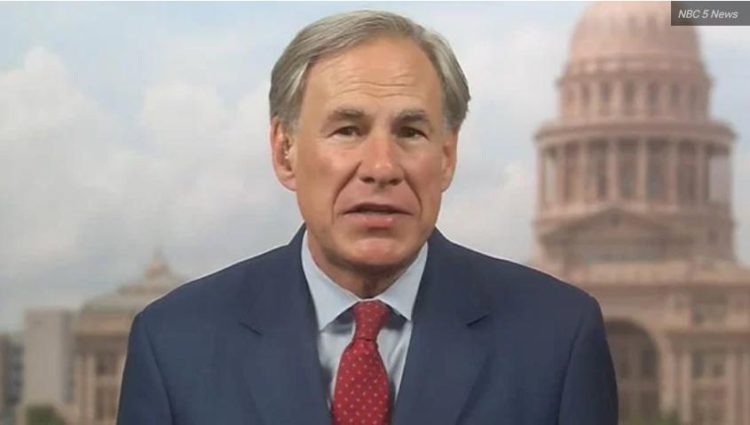 WASHINGTON – Two prominent national civil rights legal groups Tuesday denounced Texas politicians' efforts to force schools to begin pulling books from their classrooms and libraries shelves under the guise of state law.
The Lawyers' Committee for Civil Rights Under Law and Lambda Legal called Governor Greg Abbott's efforts to censor LGBTQ authors and State Rep. Matt Krause's book ban request unlawful. Both of these attempts at censorship come on the heels of a divisive legislative session that enacted bills censoring critical and fact-based classroom discussions on racism and sexism and restricting transgender students from participating in school sports.
On October 25, 2021, Rep. Krause, using his role as Chair of the General Investigations Committee in the State House of Representatives, sent a letter to the Texas Education Agency and the superintendents of unnamed school districts demanding that they identify the location of books corresponding with a list of 850 titles targeted by Krause.
He also asked districts to identify other books and materials that address human sexuality, HIV, AIDS and any material that "might make students feel discomfort, guilt, anguish, or any other form of psychological distress" because of their race or sex.
In the wake of Krause's letter, on November 8, 2021, Governor Abbott sent a letter directing the Texas Education Agency, the Texas State Library and Archives Commission, and the State Board of Education to immediately develop statewide standards to restrict access to certain content in public schools, but highlighted as examples books by LGBTQ authors that tell the stories and explore the identities of LGBTQ people.
Two days later, Governor Abbott sent another letter directing the Texas Education Agency to investigate school content for potential criminal activity, further suggesting that he is targeting literature that merely discusses sexuality and/or gender.
These letters are part of a continuing extremist campaign to intimidate educators into selective self-censorship on issues critical to young people's learning and development.
"Governor Abbott's and Rep. Krause's political stunts are part of a larger effort, nationwide, to remove information and materials from public schools that politicians disfavor. Any such efforts raise serious First Amendment concerns, and is, in many ways, an attack on our informed democracy," stated Avatara Smith-Carrington, staff attorney at Lambda Legal. "Krause's investigation and Gov. Abbott's letters labeling coming-of-age stories as pornography simply because they involve LGBTQ people are attempts to create educational environments rife with censorship of ideas and topics that students deserve to have access to. Students need materials and information created with them in mind, in which they can see their own identities and experiences reflected. We will not stand by and watch politicians play games with the education and wellbeing of our children."
"Rogue politicians must be called in check and right now, Rep. Krause is well outside the bounds of our Constitution. For decades, our courts—including the U.S. Supreme Court—have held that the First Amendment protects the right to information and ideas and library books are at the core of this protection," stated David Hinojosa, director of the Educational Opportunities Project at the Lawyers' Committee. "We are not going to stand idly by as Krause, Governor Abbott or anybody else cast these veiled threats to force schools to begin pulling important books on racism, sexism, genderism, among other topics, solely because they disagree with those ideas."
The groups are calling on educators, families and students to unite and stand against efforts to ban legitimate books.
Should persons have questions or concerns with their local schools or districts pulling books and materials out of their libraries, please contact the Lawyers' Committee at [email protected] or Lambda Legal's Help Desk.
Texas Governor orders criminal probe of 'pornographic books' in schools
Abbott's order to investigate comes after he had tasked state education officials to develop statewide standards preventing "pornography"
AUSTIN – The Texas Education Agency was instructed in a letter Wednesday by Texas Republican Governor Greg Abbott to investigate "the availability of pornography" in the state's public schools system and determine if criminal activity had occurred as a result.
The Governor's order to investigate the alleged criminal activity comes two days after he had tasked state education officials to develop statewide standards preventing "pornography" and "other obscene content in Texas public schools," citing two memoirs about LGBTQ+ characters which include graphic images and descriptions of sex the Texas Tribune reported.
The Keller Independent School District had removed a book — "Gender Queer: A Memoir" by Maia Kobabe, after multiple parents complained about its availability to students in one of that district's high schools.
The book, which is classified in the Comics & Graphic Novels > LGBT genre is written as an autobiographical look at author Maia Kobabe, who uses e/em/eir pronouns. The 2020 ALA Alex Award Winner has frank illustrations of oral sex and other sexual content, along with discussions related to pronouns, acceptance and hormone-blocking drugs.
Abbott in his directive also took aim at another LGBTQ+ themed book, "In the Dream House" by Carmen Maria Machado, a searing account of the author's years in an abusive same-sex relationship. that book was awarded the 2021 Folio Prize and the 2020 Lambda Literary Award for LGBTQ Nonfiction. This book was recently removed from classrooms in the Leander Independent School District.
The Texas Tribune also reported that Abbott's directive to the Texas Education Agency, Texas State Library and Archives Commission and State Board of Education comes days after the governor told another entity — the Texas Association of School Boards — to determine the extent to which "pornography or other inappropriate content" exists in public schools across the state and to remove it if found. But the association told Abbott it had no regulatory authority over school districts and suggested the governor direct his inquiry to TEA or SBOE.
The Texas Education Agency does not have certified law enforcement officers nor does it have the ability to investigate criminal matters. Under Texas law, the state's Department of Public Safety's Texas Ranger Division would normally be tasked to investigate potential criminal activities.
But, according to the Tribune; "However, state statute gives broad authority to the Texas education commissioner, who oversees the TEA. According to the state's education code,"the agency shall conduct hearings involving state school law" at the direction and under the supervision of the commissioner, which could be interpreted by the TEA as the vehicle to use for investigating any criminal activity."