Texas Realtor ejected over FAA mask mandate spews homophobic abuse
Flight attendants are now speaking out publicly about the stress of managing increasingly unruly passengers at 35,000 feet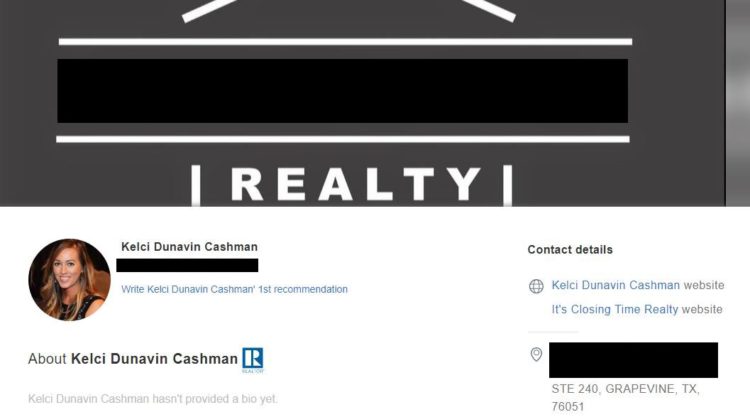 Editor's note: The real estate company shown above reached out and said that Ms. Cashman has not been affiliated with the firm for over six months. The video on YouTube as of late Wednesday had been removed.
DALLAS – In a 40 second YouTube video of two SnapChat screen recordings, a Texas woman later identified as Kelci Cashman via comments on multiple social media sites, was ejected from a plane bound for DFW airport over her refusal to wear a mask.
In the recording you can her launch into a verbal tirade calling an unseen passenger a 'faggot' repeatedly and also arguing with other passengers as she and her party including young children were escorted off the aircraft.
Out of camera shot Cashman is heard saying; "You think I talk to my kids about same-sex marriage," the woman yelled after the rest of her party was out of the video frame. "No, we don't talk about that. But if we all want to talk about it, let's talk about it."
Her exit prompted cheers and clapping from other passengers. "No one wants to listen to your bigotry," a passenger said in the background of the video. "Get off the plane."
A check of Facebook pages associated with Cashman both personal and business had been pulled down and her LinkIn profile now reads that it is unavailable. There was a North Dallas real estate company listing for Cashman, however, phone calls for comment went unanswered and messages were not returned.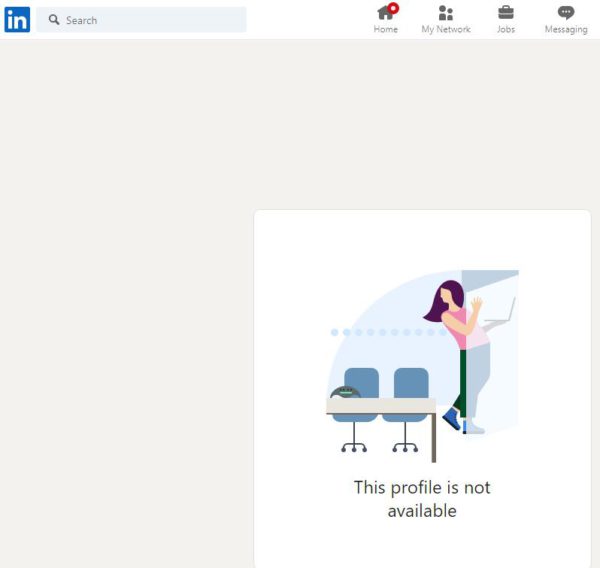 Refusal to abide by airline and government rules over the mask mandates has precipitated a significant rise in passenger disruptions and attacks on flight crews. In June, the U.S. Department of Transportation's Federal Aviation Administration, (FAA) announced that it would start imposing heavy fines as part of the FAA's zero-tolerance policy for unruly and dangerous behavior by passengers.
The FAA noted that since Jan. 1, 2021, the agency has received approximately 3,000+ reports of unruly behavior by passengers, including about 2,300 reports of passengers refusing to comply with the federal facemask mandate.
On July 15, CNBC reported that the FAA said 150 cases of unruly passengers were reported in the past week — the biggest weekly surge of the summer.
Flight attendants are now speaking out publicly about the stress of managing increasingly unruly passengers at 35,000 feet, a job that's gotten more difficult in recent months as passengers return to the skies after months of lockdowns, CNBC also reported.
The Covid-19 pandemic has forced flight attendants to enforce federal rules requiring masks on planes, a mandate that's touched a political nerve for many Americans and led to a rise in bad behavior onboard.
"It's definitely out of control," said flight attendant Matthew Cook, one of two flight attendants who agreed to speak to CNBC on the record as long as their employer wasn't identified. "I have apprehensions [about] going to work every day. I have a lot of anxiety."
DFW is a hub and headquarters for American Airlines, although the Dallas Morning News reported that the airline on whose plane this occurred could not be confirmed. American Airlines, which operates the bulk of flights out of DFW, said it needed a flight number or date and destination to determine if it was one of its flights.
Video captures woman being kicked off DFW flight while making homophobic remarks https://t.co/MTUPDoQTyW

— Dallas Morning News (@dallasnews) July 21, 2021
RELATED:
Texas Drag Bingo Night sees armed protestors engage one another
"It's no different than someone dressed up like a superhero at a comic convention or someone who puts on a Halloween costume"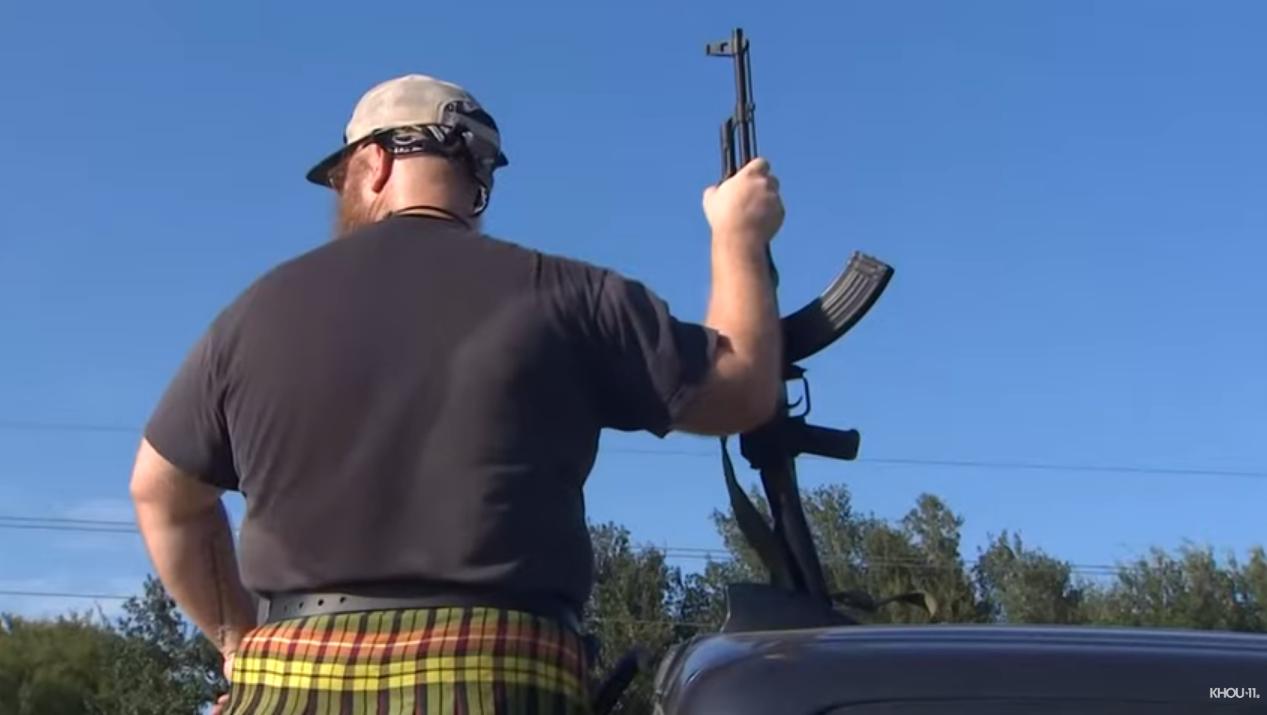 KATY, Tx. – The First Christian Church on Morton Ranch Road located in the suburban Houston, Texas metropolitan area was sponsoring an event to raise money for a clothing drive for Trans youth this past Saturday evening.
Billed as a Drag Bingo Night the event was advertised on social media platforms which drew the attention of anti-LGBTQ activists and extremists.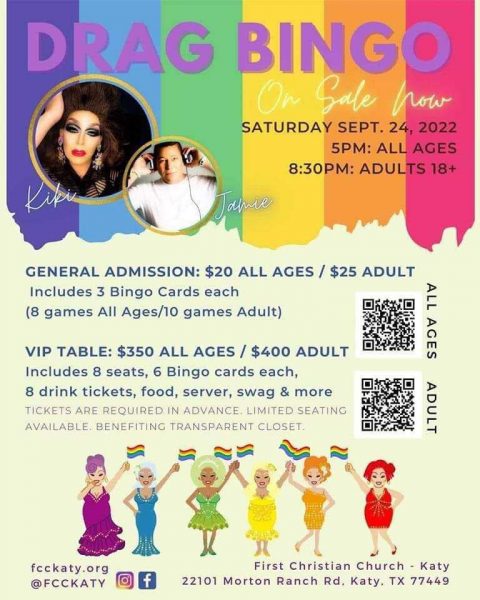 KPRC-TV Click2Houston reported that the opposing groups of anti-LGBTQ+ and groups in support of the LGBTQ+ community verbally confronted each other in heated arguments that were separated by Katy Police and the Harris County Sheriff's office.
Local CBS affiliate KHOU 11 reported that the heavily armed law enforcement officers formed a line in the median in an effort to keep the two sides separate. As the crowds grew bigger and bigger, more officers arrived.
Cesar Franco, who was with an anti-LGBTQ+ protest group who said "sexualizing and child-grooming kids by exposing them to drag culture is an abomination!" Founder of Urban Conservatives of America, Jonathan McCullough said: "We are out here to push back on things that society knows is wrong. They are having an event, welcoming children to drag queen bingo hour. This is unacceptable."
There was pushback KHOU CBS 11 noting that across the street, counter-protesters had a different message.
"That is nonsense, because drag in itself is just a costume," said one person supporting the event. "It's no different than someone dressed up like a superhero at a comic convention or someone who puts on a Halloween costume."
Problematically for law enforcement was that both sides had heavily armed people not wanting to back down. Each side spent much of the afternoon yelling at each other with megaphones.
Despite the chaos, a pastor told KHOU 11 the event was a sold-out success.
"We know that not everyone will agree with us, so we create a place for people to feel welcomed and understand there will always be people who don't agree with us," the pastor said.
Under the blazing sun outside, the scene at First Christian Church in Katy felt chaotic– and angry. More than 100 people traded insults for hours with counter-protesters. Some on both sides hid their faces. Some on both sides displayed big guns. https://t.co/7Ho3djT9id

— Houston Chronicle (@HoustonChron) September 26, 2022
Dueling rallies held outside Katy church outside drag queen bingo fundraiser event:
Texas court blocks CPS from investigating PFLAG trans families
The directive could have led to transgender youth being placed in foster care and their parents criminally charged with child abuse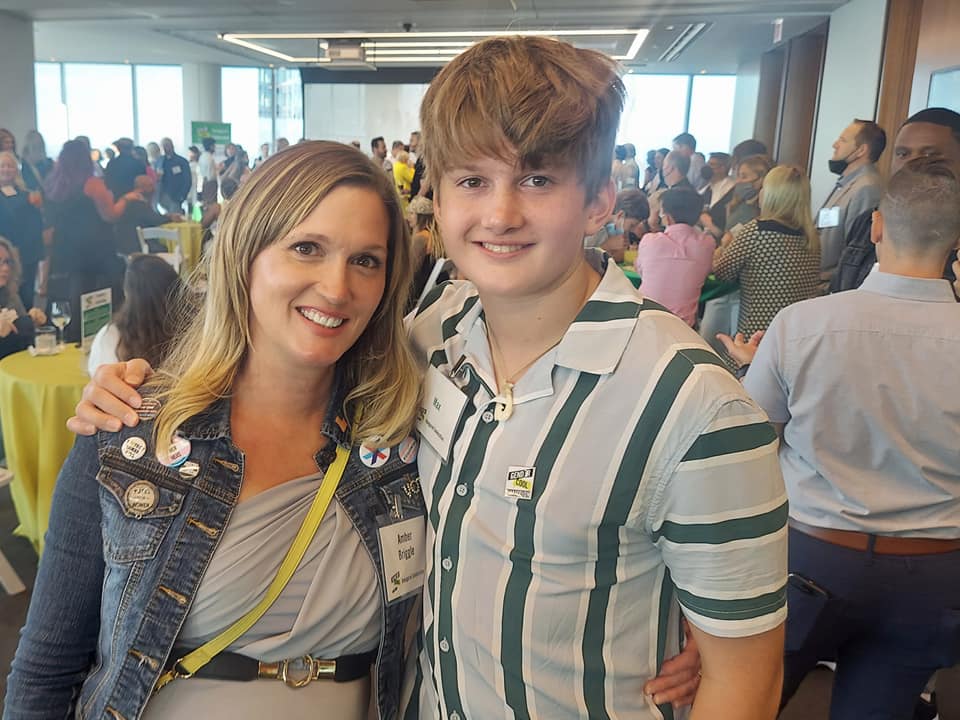 AUSTIN – The Travis County District Court issued a third injunction today blocking the State of Texas from implementing a directive issued by Republican Governor Greg Abbott that targets trans youth and their families across Texas.
The directive ordered the Department of Family and Protective Services (DFPS) to investigate parents who work with medical professionals to provide their adolescent transgender children with medically necessary healthcare.
The directive could have led to transgender youth being placed in foster care and their parents criminally charged with child abuse—just for following the advice of their physicians and mental health providers.
Today's ruling in PFLAG v. Abbott covers all Texas families who are members of PFLAG National, a national LGBTQ+ organization with 17 chapters in Texas. It also covers Adam and Amber Briggle and their son, Max.
Earlier, the court had issued an injunction blocking DFPS from investigating two other plaintiff families in the PFLAG v. Abbott lawsuit who are anonymous for purposes of the lawsuit. These injunctions became necessary to protect Texas families after the statewide injunction against the directive issued in an earlier lawsuit, Doe v. Abbott, was put on hold during the State's appeal.
The ruling comes after the plaintiffs notified the court last week that DFPS was continuing intrusive investigations against PFLAG members, including by pulling a student out of class and questioning him at school about his medical history.
"Today, families of transgender kids in Texas who are members of PFLAG National find shelter from Gov. Abbott's unjust order," said Brian K. Bond, Executive Director of PFLAG National. "PFLAG, our chapters in Texas and around the country are sources of support and safety from government harm because every LGBTQ+ person deserves respect, dignity and the right to access the care they need when they need it."
"Again, the court has grasped the magnitude and breadth of the continued harm that Gov. Abbott's directive and Attorney General Paxton's opinion would have caused if DFPS was allowed to pursue its investigations," said Nicholas "Guilly" Guillory, Tyrone Garner Memorial Law Fellow, Lambda Legal. "Families across Texas, since Gov. Abbott issued his directive, have lived in fear of the knock on the door. Even after the Texas Supreme Court ruled that Gov. Abbott could not compel DFPS to conduct investigations, many families remained under investigation. Parents who love their transgender children and work with healthcare providers to support and affirm their well-being should be celebrated, rather than investigated as criminals as the state sought to do here."
"Once again a Texas court has stepped in to say what we knew from the beginning: State leaders have no business interfering with life-saving care essential for transgender youth,"  said Adri Pérez (they/them), of the ACLU of Texas. "We should trust doctors and every major medical association on how to support transgender youth. State leadership continues to attack parents for how they raise their kids — and all our plaintiffs are doing is providing unconditional love and support for children of all gender identities. We will never stop fighting for the rights, safety, and dignity of transgender Texans."
Disney-themed drag brunch cancelled after violent threats in Texas
The threats of violence came after social media posts by the anti-LGBTQ+ Libs Of TikTok and far-right media outlet Blaze TV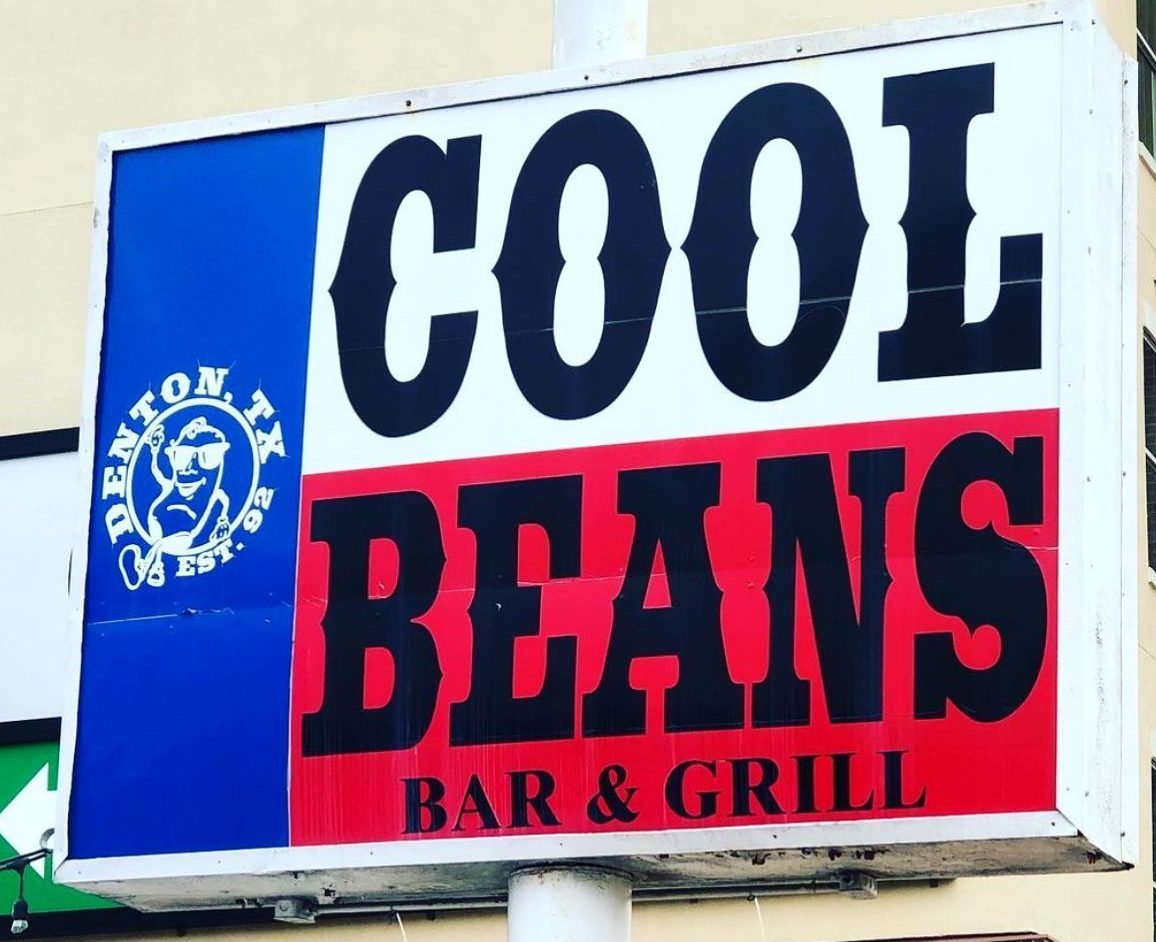 DENTON, Tx. – The Disney-themed drag brunch scheduled for Sunday, Sept. 11 was abruptly cancelled last week after an onslaught of threats of violence to the venue, the Cool Beans Bar and Grill, an LGBTQ+ friendly establishment.
The threats of violence came after social media posts by anti-LGBTQ+ users and far-right media outlet Blaze TV's host Sara Gonzales, who invited her viewers to join her in shutting the event down.
Cool Beans Bar and Grill in Denton, TX is hosting an ALL AGES drag show THIS SUNDAY. Who's coming with me to shut it down? pic.twitter.com/giaXh9umXr

— Sara Gonzales (@SaraGonzalesTX) September 8, 2022
Denton is home to two state universities with a combined enrollment of over 55,000 students, the University of North Texas and Texas Woman's University, along with North Central Texas College. It is in the same county where barely two weeks ago, crowds were gathered outside a family friendly drag show at Anderson Distillery and Grill, in Roanoke, Texas, some with signs accusing the establishment and its patrons of sexually abusing children, or of "grooming" them for abuse.
The owners of Cool Beans Bar and Grill posted a message on its expressing their disgust over being forced to cancel the event: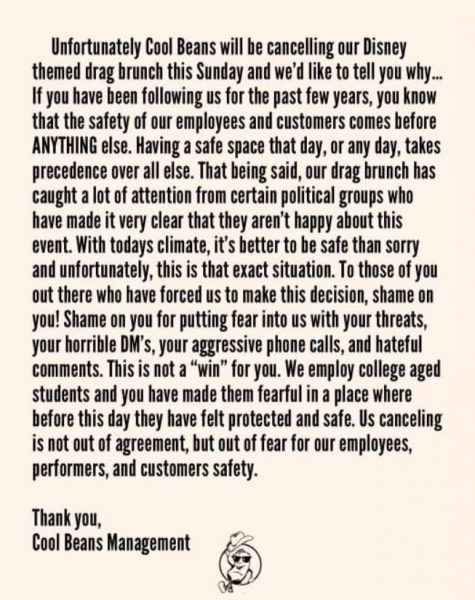 A former employee, Megan Queen, described the bar the bar as a welcoming place for the LGBTQ community and said she was heartbroken at the threats made against the establishment, according to the Dallas Observer.
As with many all-ages LGBTQ+ events this summer – from California to North Carolina – hate was ginned up on social media among right-wing extremists who sought to interrupt the event and disband the attendees.
Leading up to the event, word was spread on anti-LGBTQ+ Facebook groups like Texas Family Project and Protect Texas Kids, the latter warning, "We need to show up in full force and show that the majority of us are against children being involved in these disturbing, sexually explicit shows."
Editor's note, story updated: Reference to anti-LGBTQ+ Twitter account LibsofTikTok removed.