Adam Lambert closes out Pride Month kickoff concert
The Pride Month kick-off concert ran for three days at the LA Memorial Coliseum, and was the first live event of the season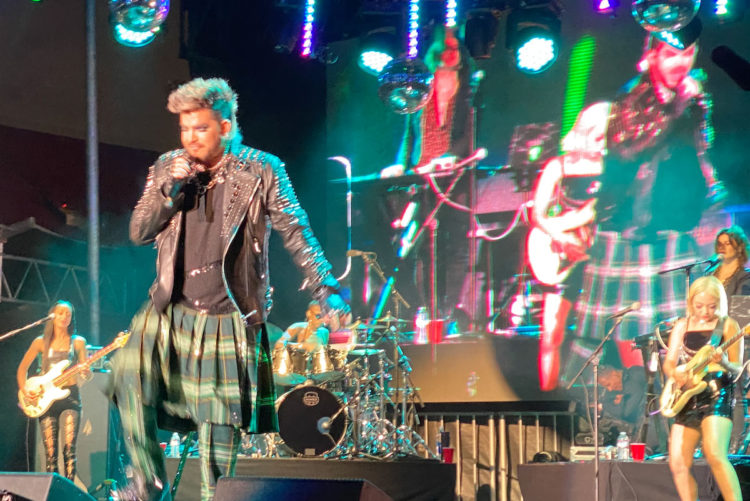 LOS ANGELES – Queen frontman and vocal powerhouse Adam Lambert hit the stage Sunday, belting 'I Want to Break Free' with trans German pop star Kim Petras, closing out a whirlwind weekend at the OUTLOUD: RAISING VOICES concert. The Pride Month kick-off concert ran for three days at the LA Memorial Coliseum, and is the first live event of the season – generating an unforgettable energy in the crowd and from the performers on stage.
The Sunday concert featured a star-studded lineup, including 'Black and Gold' singer Sam Sparro, the electrifying VINCINT and a surprise performance from Pose star MJ Rodriguez. Additional performers included country star Chely Wright, R&B singer Zhavia Ward and The Voice contestant Angel Bonilla. The evening concert was peppered with video messages from LGBT+ icons and allies including Demi Lovato, Conchita Wurst and Yungblud. It was as a Pride concert should be, filled with dazzling vocals, flashy choreography and plenty of sparkle.
Adam Lambert was at his usual best, decked out in a bedazzled kilt ensemble and belting notes from high heaven. However, the two standouts were MJ Rodriguez and VINCINT. MJ skipped out on stage accompanied by a group of dancers with the charisma and stage presence of a super bowl headliner. Effervescent and energetic, she set the tone for the evening and brought the daytime crowd to its feet.
As the sun went down, VINCINT strutted out on stage – also accompanied by two denim-clad dancers. With his signature riffs and flawless vocals, he was joined by Parson James, Qveen Herby and Ty Sunderland for an unforgettable set. After his group number, and a stunning dance break to Rihanna, VINCINT dedicated one of his last songs to his father who recently passed away. It was an incredibly moving moment – a reminder of the tremendous loss so many suffered in the past year, and of the gratitude felt by all those attending that there is a light at the end of the tunnel.
The event was produced by LA events organization, JJLA, who partnered with Pride Live's Stonewall Day on behalf of the Feel Something Foundation. To reach audiences worldwide, JJLA added an exclusive streaming partnership with Twitch – and connected with over 3 million viewers over the weekend. It was the perfect beginning to an incredible Pride Month.
Hey gurl, it's Randy Rainbow!
Parody star on Trump, Barbra, Biden, and more as he preps concert tour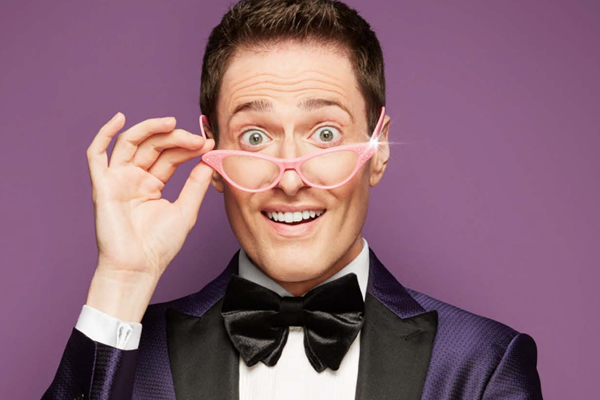 For many like-minded people, gay and straight, there was a ray of light and joy during the four years of Trump's reign of terror. Shining brightly through the seemingly impenetrable dark storm clouds, Randy Rainbow burst forth with colorful parody songs and videos that provided endless sources of laughs. His multitude of devoted fans and followers looked forward to Rainbow's brilliantly executed audio/visual treats, as catchy as they were thought provoking. Hard at work on the follow-up to his 2019 debut album "Hey Gurl, It's Christmas," as well as working on the plans for his multi-city concert tour, Randy was gracious enough to answer a few questions. He performs at the Orpheum Theatre on Nov. 13 and 14. Tickets start at $57 and are still available at ticketsonsale.com.
BLADE: Randy, I'd like to begin by asking you to say a few words about the process of selecting a song for your parody lyrics, and if there's ever been a song that you really wanted to use but had to abandon because it wasn't a good fit?
RANDY RAINBOW: I'm a show queen! I naturally think in show tunes. I've just sort of been conditioned through the years, starting at home with my mom who's always loved the genre, to naturally find the musical theater parallel to any situation, be it in my personal life or on the world stage. That's the easy part. A few times I have written songs and didn't release them because the news had shifted to focus on something else. It's rare, but it has happened.
BLADE: Are you bombarded by suggestions of songs to parody from friends and fans, and if so, have you ever used any of them?
RAINBOW: Yes, and it's led to a few repeats. I had already done a parody of the song "Tradition" from "Fiddler on the Roof," but then when the word "sedition" came into the zeitgeist, thanks to you-know-who, everyone was clamoring for a reprise. Same happened with my "Kamala" parody to the tune of "Camelot," which I'd used a few years back for Kavanaugh.
BLADE: The last time we spoke was in 2019 around the time you released your debut album, "Hey Gurl, It's Christmas." Looking back on the experience of making that record, how would you rate it?
RAINBOW: I loved it so much I'm doing it again!
BLADE: I was told that you are now busy in the recording studio working on your new album. What can you tell the readers about it?
RAINBOW: There are some amazing collaborations on this one. I'm dueting with guest stars like Bernadette Peters, Josh Gad, Sean Hayes, and Tituss Burgess. I've also written two new original songs with Marc Shaiman and Alan Menken. Can you believe?! It's called "A Little Brains, A Little Talent" and will be released later this year through Broadway Records. Stand by!
BLADE: How much of your upcoming tour will revolve around the songs on the new album?
RAINBOW: I am actually working on that right now. I definitely want to include some of the new songs, but there will be plenty of my "greatest hits" in there, too.
BLADE: You are an incredibly prolific artist. Did being isolated during the COVID-19 pandemic cause you to be more productive or did your productivity remain the same?
RAINBOW: Believe it or not, 2020 was a very busy year for me artistically. In addition to the videos, I began writing my first memoir, recording the new album, launching a new podcast – it goes on. I am so grateful.
BLADE: Many folks baked sourdough bread during the shutdown. Are you one of them?
RAINBOW: Hell, no! I did what everyone else in New York City does, order take-out [laughs]!
BLADE: Because "45" was such an endless source of inspiration, do you find yourself missing him?
RAINBOW: [Long pause] Are you for real right now?
BLADE: Do you know if "45," or anyone in his circle, was aware of your songs and videos?
RAINBOW: I've been told by some reliable sources that there were, and continue to be, a few fans of mine on Team Trump. I have to assume Melania.
BLADE: Is it difficult to parody Joe Biden because he's such a likable and seemingly effective POTUS?
RAINBOW: I don't set out to parody (the) POTUS, specifically. Trump was just an endless source of comedy. Believe me, there are still many in Washington that offer those OMG moments.
BLADE: You have an upcoming concert date in Fort Lauderdale. What does it mean to you when you perform for the hometown crowd in Broward County?
RAINBOW: It's incredibly special, as you can imagine. And, of course, my mom will be in the audience.
BLADE: What did it mean to you when Barbra Streisand tweeted about your "Marjorie Taylor Greene" video?
RAINBOW: Barbra has now tweeted me twice, I'll have you know! I was even asked by her team to create a video celebrating the release of her new album. I mean. I can't believe it! It's BARBRA! She's my only religion.
BLADE: Have you recently heard from any other celebrities, either those who have been the subject of your videos or just as fans?
RAINBOW: I get lots of support from my fancy, famous friends every time I release a video and I love them for it. I also always get a note from another of my idols, Carol Burnett. She and my mom have become pen pals!
"I can be part of the change," LGBTQ ally Country artist, Miranda Lambert
The Country music superstar talks about her LGBTQ friends & family and why it is important for her to be a vocal ally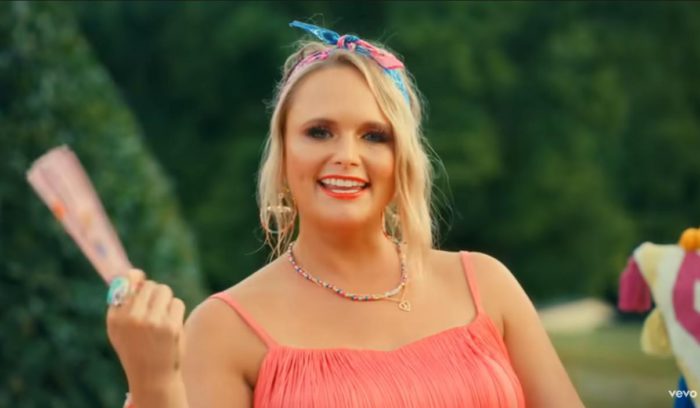 NASHVILLE – In a new interview with Country music superstar Miranda Lambert, she talks openly about feeling inspired by her brother, Luke, and his husband to not only make her first ever dance remix, "Tequila Does (Telemitry Remix)," but to also step up and use her platform to call for greater acceptance of the LGBTQ community.
Lambert sat down in the ZOOM interview with GLAAD's Anthony Allen Ramos;
Miranda Lambert on feeling inspired by her brother, Luke, to make the remix and video:
"I was a little nervous because I had never done anything like that, so I sent it to my brother Luke, his husband Marc and all of their friends, because that is their vibe – they are dancers, they go to club…and I was like, 'How is this, tell me the honest truth because if you hate it, it goes away forever.' He said 'I love this and you should put it out!' So it gave me the confidence, they totally pushed me over the edge!"
"My brother and all of his friends came from Austin and a bunch of my Nashville friends came and we just partied and put it on film and it was really fun!"
Miranda Lambert on asking husband, Brendan McLoughlin, and his brothers to appear in the video:
"They literally asked me what to wear and I said 'not a lot! If you've got it, flaunt it!' I was worried about my brothers in law – I was like do you think Patrick and Casey will come and do this? But it was a lot of family and that made it more fun and more special. It was coming together with Brendan's brothers, my brother and his LGBTQ family, and I also feel like as a country artist I get to lift them up and stand on that platform with them, and it makes me so happy! All kinds of kinds were in this video! It makes me really proud and humble."
"I am really close with TJ (Osborne) and in fact I texted him about the music video. He especially liked the McLoughlin brothers!"

Miranda Lambert on learning from her brother and being a vocal LGBTQ ally:
"I do think we are in a moment of change and I have so much to learn. I am always sensitive, I always call my brother because I want to make sure I say the right things…I know I am uneducated, but I am full of love. Being in a family where I am surrounded by LGBTQ people, it has me learning and figuring out how I can be a part of the change and still be the same person I have been as an artist for 20 years. I don't see why those worlds can't mesh. I speak up about things I care about! If I can be a part of this change in any way…I always want to do that."
"This is a point in my career, talking to (GLAAD) right now, it's a mile marker for me. I've been doing it for 20 years, but certain things feel like a shift, and I love that feeling because it is a shift in a great direction!"
Miranda Lambert on her brother's coming out:
"For a family, you all go through that together, you support in whatever way you can. It is a journey. We have come a long way from him struggling and figuring that out to now being in this video with me. It's been a really cool sibling bonding for us, and for our family. It's not an easy road all of the time, so this whole process of being with Luke and all of his friends, they come to my shows and they teach me a lot. More importantly, it is being with great people and loving them, no matter what shape, size, color, or anything!"
"I recorded a song a couple records back called 'All Kinds of Kinds' and I recorded that because of my brother, and I feel like I am getting to live that more and more every day and the song means more to me as the years go on, the more I learn."
Miranda Lambert on Nashville becoming a more accepting place for LGBTQ artists:
It is very cool to me that there is change in the air and that these people are being so brave to say 'this is who I am.' I know Brooke Eden is another (out country artist). This is awesome! Why were we so bogged down, why did we care so much? It is just being people who they are and if you love their music, you love who they are. If I can be a teeny part of that, I am so thankful to my brother because he is the one who opened my eyes and is teaching me more about everything. Certain things feel like a shift, and I love that feeling."
Miranda Lambert on states like Texas and Tennessee bringing forth laws that could restrict LGBTQ rights:
"I just think they should be equal, it shouldn't even be a question. I never get into any kind of politics, but this to me is not political, it's about people loving each other and supporting each other, and that has nothing to do with anything but your heart. I am full on 'y'all do y'all!"

"Tequila Does (Telemitry Remix)" is a new spin on the fan-favorite standout from the star's 2019 GRAMMY Award-winning album Wildcard and is available to stream now. You can watch the music video below and here.
Miranda Lambert – Tequila Does (Telemitry Remix [Official Video])
Rapper DaBaby pulled by Lollapalooza over homophobic comments
"Lollapalooza was founded on diversity, inclusivity, respect, and love. With that in mind, DaBaby will no longer be performing."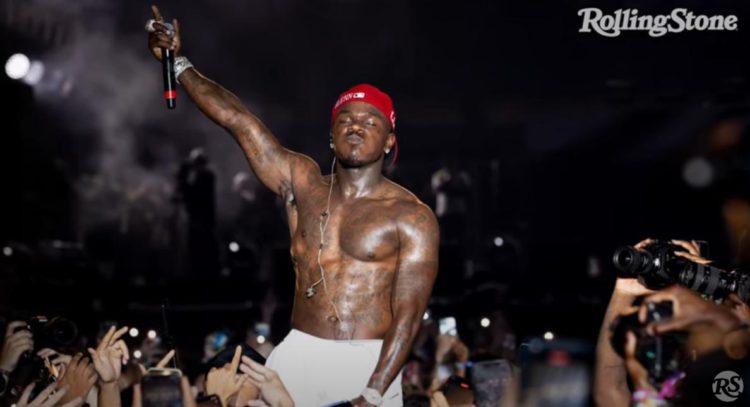 CHICAGO – In an announcement Sunday morning, the organizers of Chicago's Lollapalooza Music Festival said they had pulled artist DaBaby from tonight's closing show after a series of public homophobic remarks by the rapper last weekend in Miami at the Rolling Loud music festival.
On Twitter Lollapalooza officials wrote; "Lollapalooza was founded on diversity, inclusivity, respect, and love. With that in mind, DaBaby will no longer be performing at Grant Park tonight. Young Thug will now perform at 9:00pm on the Bud Light Seltzer Stage, and G Herbo will perform at 4:00pm on the T-Mobile Stage."
Lollapalooza was founded on diversity, inclusivity, respect, and love. With that in mind, DaBaby will no longer be performing at Grant Park tonight. Young Thug will now perform at 9:00pm on the Bud Light Seltzer Stage, and G Herbo will perform at 4:00pm on the T-Mobile Stage. pic.twitter.com/Mx4UiAi4FW

— Lollapalooza (@lollapalooza) August 1, 2021
The Grammy-nominated rapper's comments onstage at the Miami festival last weekend brought swift condemnation from other artists in the music industry including British Rockstar Elton John and Madonna among many others.
In the middle of his set last weekend in Miami the rapper told the crowd, "If you didn't show up today with HIV/AIDS, or any of them deadly sexually transmitted diseases, that'll make you die in two to three weeks, then put your cellphone lighter up! Ladies, if your pussy smell like water, put your cellphone lighter up! Fellas, if you ain't sucking dick in the parking lot, put your cellphone lighter up!"
DaBaby later issued an apology via Twitter that read, "Anybody who done ever been effected by AIDS/HIV y'all got the right to be upset, what I said was insensitive even though I have no intentions on offending anybody. So my apologies" However, the addendum in the same tweet of; "But the LGBT community… I ain't trippin on y'all, do you. y'all business is y'all business." was immediately decried as further proof of the rapper's intolerance of the LGBTQ community.
Anybody who done ever been effected by AIDS/HIV y'all got the right to be upset, what I said was insensitive even though I have no intentions on offending anybody. So my apologies 🙏🏾

But the LGBT community… I ain't trippin on y'all, do you. y'all business is y'all business.

— DaBaby (@DaBabyDaBaby) July 27, 2021
Michael J. Stern, a Los Angeles attorney and a former federal prosecutor who is now a noted featured columnist for USA Today blasted DaBaby's 'apology;'
Yeah, we've got the right to be upset.

We've also got the right to refuse to accept an apology that was prompted by public outcry and not a genuine understanding of, and remorse for, the horrific things you said.

— Michael J. Stern (@MichaelJStern1) July 28, 2021
In his response to Dababy's remarks Elton John, who founded the Elton John AIDS Foundation in 1992, a nonprofit organization which funds frontline partners to prevent infections, fight stigma and provide care for the most vulnerable groups affected by HIV, responded in a lengthy series of tweets:
(2/5)

👉 HIV has affected over 70 million people globally: men, women, children and the most vulnerable people in our communities.

— Elton John (@eltonofficial) July 28, 2021
(4/5)

👉 You can live a long and healthy life with HIV. Treatment is so advanced that with one pill a day, HIV can become undetectable in your body so you can't pass it onto other people.

— Elton John (@eltonofficial) July 28, 2021
(5/5)

👉 Homophobic and HIV mistruths have no place in our society and industry and as musicians, we must spread compassion and love for the most marginalised people in our communities.

A musician's job is to bring people together.

— Elton John (@eltonofficial) July 28, 2021
Madonna took to her Instagram telling the rapper to "know your facts," before spreading misinformation.
"AIDs is not transmitted by standing next to someone in a crowd," she wrote on Instagram. "I want to put my cellphone lighter up and pray for your ignorance, No one dies of AIDS in 2 or 3 weeks anymore. Thank God."
This year's Lollapalooza festival, which is one of the first major festivals to return in full force since the start of the coronavirus pandemic in the United States, concludes Sunday with headlining performances by musical acts Brockhampton, the Foo Fighters, and Modest Mouse.
Dua Lipa 'Horrified' at DaBaby's Homophobic Remarks at Rolling Loud | RS News 7/28/21