Poe's final stop, family of slain Trans man wants answers
An identified descendent of the Wyandot Native American tribe, he was indigenous and had the right to claim two-spirit identity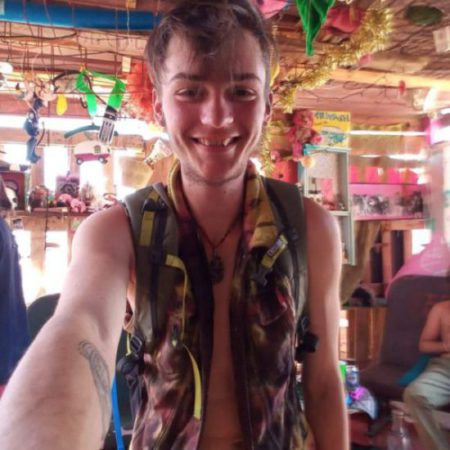 By Richard Montenegro Brown | NASHVILLE, TN. — Lori Brammer speaks with a thick, melodic Southern drawl, the kind one might expect from a woman raised in Tennessee.
She has no idea where Imperial County is — "so, is Imperial County south of San Diego?" — but she plans to be here on June 26 regardless.
And she'd never heard of Slab City before the unthinkable caused her to catch up on her geography with lightning speed. Yet now, she plans to make that part of her trip as well.
"I didn't even know that she was in the Slabs. I didn't even know there was a Slab City until this happened," the 41-year-old Nashville resident said of her second cousin, Tommi-Deane Jackson, the little girl she treated as her own growing up and who is today the subject of an active homicide investigation by the Imperial County Sheriff's Office.
Brammer will be in the Imperial Valley toward the end of the month to advocate on behalf of Tommi-Deane in what may prove to be the most high profile of circumstances — she'll be here at the invitation of Rosa Diaz of the Imperial Valley LGBT Resource Center, which is staging a vigil during national Pride Month in memory of Marilyn Monroe Cazares, who was the victim of an as-yet unsolved murder, when the transgender woman's body was found burned in front of an abandoned building in Brawley on July 13, 2020.
Tommi-Deane is described by the Imperial County Sheriff's Office as "nonbinary," or gender nonconforming, none of which Brammer knows much about, but what she does know is that her 21-year-old cousin did not deserve to die, and she feels like she has to do something.
"I want to come to California for that very reason, because I want to bring attention to this case, and there's no attention on it," Brammer said during a phone interview on Saturday afternoon, June 5. "She was a baby, she was a (21)-year-old child, the same age as my daughter. This is my blood cousin, OK.
"But if something like this were to happen to my daughter, I would leave heaven and earth and burn the world down if that's what it took to find out who did this to my child," she said.
There is not a lot known about some of the specifics of Tommi-Deane Jackson's life, as Brammer had only started to reconnect with her cousin after leaving high school. The two had not spoken since before leaving for California.
What Brammer has since learned through one of Tommi-Deane's best friends from high school, the same person who put the Calexico Chronicle in contact with Brammer, is that this biological female was not nonbinary, but had transitioned before leaving his native Nashville and was living his life as a transgender male.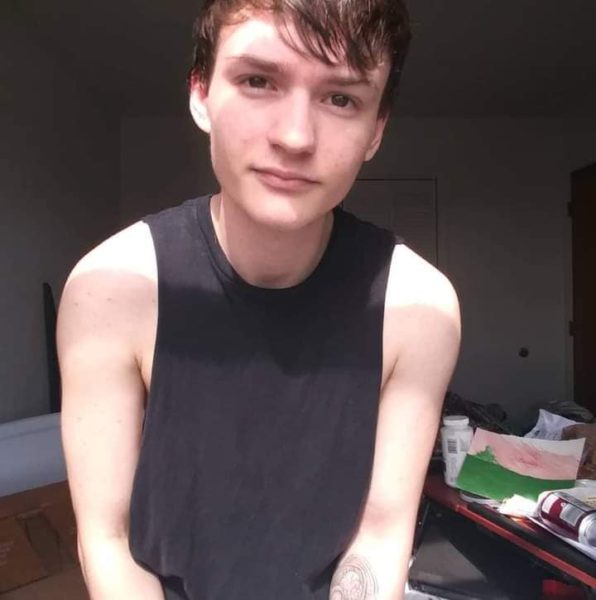 An identified descendent of the Wyandot Native American tribe, "he really identified more as a two-spirit, trans man. He was indigenous and had the right to claim two-spirit identity," according to the woman, who had last spoken to him in April.
Oliver or Poe Black, a "two-spirit" transgender male of Wyandot Native American descent, is shown. (Photo: Facebook)
"He went by Poe while he was in the Slabs, but in Nashville, Oliver or Poe was just fine," she said in an email on June 5.
When A Drowning's Not A Drowning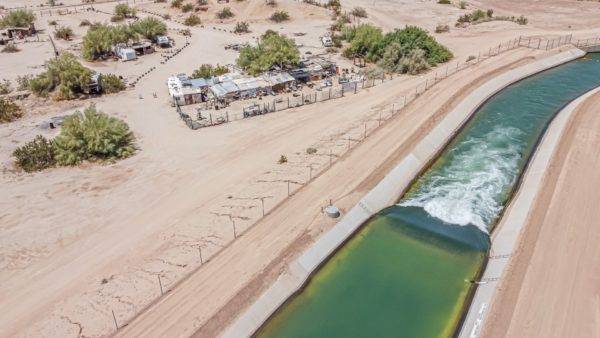 NILAND, CA. — On a Tuesday, May 11, two Coachella Valley Water District workers discovered a body in the swift-moving Coachella Canal in the area around Siphon 9, a little more than a mile northwest of the farthest reaches of Slab City, a crusty artists' enclave known as East Jesus.
The Sheriff's Office activity logs make no mention of the discovery that morning, but coroner investigators dispatch reports show the call came in at 9:38 a.m., Chief Deputy Robert Benavidez explained.
A precise location where the body was retrieved hasn't been revealed, but an individual monitoring radio scanner traffic that morning heard tell of the Coachella water workers attaching a rope to the remains and tying it off to what was likely the siphon to keep the body from going underwater and in place until death investigators could arrive to retrieve the remains.
The Coachella Canal is particularly dangerous, serving as the main tributary that feeds eastern Riverside County with Colorado River water from the All-American and the Imperial Irrigation District's vast network of canals. Its proximity to Slab City has seen it become the site of several drownings in recent months, the latest of which was about three to four weeks ago when a Slabs resident named "JT," who jumped into the turbulent waters fully clothed to rescue one of his dogs, Blackie, only to perish and show up downstream some days later.
A vigil was reportedly held in the Slabs for JT on Friday night, June 4, a resident in the area said.
Although it was only 75 degrees around 9 in the morning on May 11 when the CVWD employees located a body at Siphon 9, temperatures had already reached 93 degrees the day before, topped out at 95 later in the afternoon May 11, and would near the century mark — 99 degrees — around 4 to 5 p.m. on Wednesday, May 12.
Heat and water can be a coroner investigator's worst enemy, Benavidez said, and by the time the remains were pulled from the canal, the body "was several days old" and "started to decompose," he explained while consulting the coroner's notes.
It's unclear when investigators knew who they were dealing with. But it would not be for another four to seven days after the body was pulled from the water and an autopsy was conducted in San Diego County that all involved knew they had a murder investigation on their hands.
Even now, few details have been released by the Imperial County Sheriff's Office as they don't want to reveal too much in an active, open investigation where no arrests have yet to be made. Sheriff's officials won't even say if they have any persons of interest at the moment.
It was only on the morning of Wednesday, June 2, when the murder probe went public on the Sheriff's Office Facebook page, posted as a "public assistance request" in the homicide death of Tommi-Deane Jackson.
A Young Man Moves West
Known by the nickname "Legion" to folks in the Slabs, Poe Delwyn Black reportedly arrived in "town" — Slab City, that is — in a van with an unidentified male around four months earlier.
"He left Nashville around December 16, 2020. He went with his partner, who I won't name for their privacy. They arrived in the Slabs some time at the end of December or beginning of January," said the close high school friend of Poe's.
Brammer knows nothing of Poe's life in California or the Slabs, only what the unnamed friend has shared with her, which doesn't appear to be all that much either. Tracing a person's path through social media can also prove difficult depending on whether friends who don't want to be identified have deleted their posts or tried to scrub the Internet of any online interactions.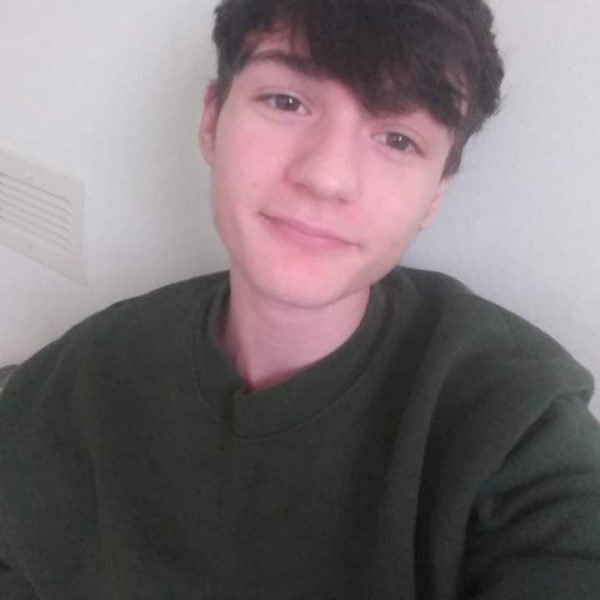 Oliver or Poe Black, a "two-spirit" transgender male of Wyandot Native American descent

Photo via Facebook
Facebook is how the Sheriff's Office came to identify the body, according to the friend, who implied that Poe Black's acquaintances in the Slabs might not have known that his legal name was Tommi-Deane Jackson. According to the friend, it was at her urging that Poe's mother contacted the Imperial County Sheriff's Office around May 22.
"He had his friends in the Slabs added on his Facebook, and they were posting about his passing. A friend of ours asked if I had seen the posts on his Facebook timeline and I went and checked it out. This is where I found out that he was deceased," the friend wrote in an email, answering a number of specific questions. "I realized nobody out there was going to know his legal name, so I contacted his family and let them know what had happened and to call the Imperial County Sheriff's Department to identify themselves as his kin.
"Otherwise, he was going to be buried as a Doe. The day after, I was informed that his death was a murder," the friend said.
Concrete Canals Tell No Tales
While it might sound strange to the uninitiated how the victim of multiple stab wounds like those found on the body of Poe Black can go undetected as a drowning, but Chief Deputy Benavidez, who oversees the coroner's unit, explained that it's perfectly reasonable.
He described what water and elevated temperature can do in just a few days, turning a body black and making the skin extremely fragile to handle.
Add in the conditions at the Coachella Canal, it becomes even more problematic considering this is a concrete-lined conveyance system moving huge amounts of water at high pressure and high speed.
"A body wants to stay underwater, and its scraping along the bottom of the concrete surface," Benavidez said on Friday, June 4, adding it's not surprising that if the body went into the water around Slab City that it would be found more than a mile north along the canal.
In consulting a map of the area, Siphon 7 is near the Slab City Library, on the southern end of the settlement. East Jesus, at the north, is adjacent to Siphon 8. Poe's remains were found near Siphon 9, about 6,000 feet, or more than 1.1 miles from Siphon 8.
And, Benavidez said, when the body was pulled out, an initial postmortem inspection did reveal "a couple lacerations, but that could have been due to cuts from rebar on the concrete."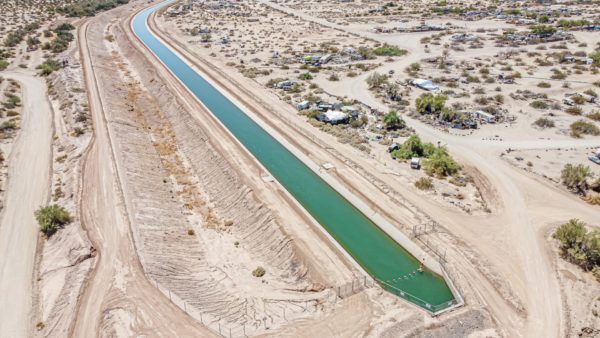 When the body was examined under more exhaustive conditions at the contract medical examiner's facility in San Diego County four to seven days later, Benavidez said, the multiple stab wounds were found, and at that point the murder investigation was started immediately, with deputies making multiple visits over successive days to interview Slab City residents.
Again, few details are being released at this point in the investigation.
Poe's cousin, Brammer, and his high school best friend have their theories, and they know what they have been told through family members about the manner of Poe's death, but no one wants to say too much right now, not when a suspect remains at large.
But that's not going to deter Brammer from trying to get her own answers in a few weeks when she intends to find anyone in the Slabs who might have known Poe.
"I'm trying to find out as much as I can because this is my blood. This was like my own daughter, and this is terrible," she said. "This is the worst thing you can imagine happening to a young child."
Last Free Place in America
Slab City has been both romanticized and vilified, yet the truth is far more complicated for a spot referred to as "The Last Free Place in America."
Those who have paid any attention to the former military installation owned by the state teachers' union know that the lawless label isn't exactly accurate, as those who live there permanently have their own system of checks and balances to maintain order and keep John Law off their backs.
Yet there is crime. There are drugs. There is a degree of lawlessness. And there have been murders, like Poe's.
But there's freedom, too, and it's that kind of wide-eyed, aspirational way of life out West for a Southern kid from a troubled home that might have been a siren song of the counterculture.
"We believe that this was his idea," Brammer said of the man that Poe traveled to California with. "Because I don't think Tommi even knew anything about this place."
But from what Poe's former high school friend had to say, Brammer likely had no idea what compelled Poe Black. And from way back, Poe, when he was known as Oliver in Nashville, was an artsy youth who painted and had an Instagram account for his work as well as an online store to sell his paintings.
"Poe went to an arts-based high school and was a very talented visual artist. He loved to paint and draw, and he also liked restoring things that he found at thrift stores," his friend wrote.
"He went to the Slabs because he had always wanted to go out West, and he had a sort of idealized image in his head of the Slabs because he had always wanted to live off-grid. He just wanted to feel freedom," she wrote.
Part of Poe's activism could have precipitated the move as well, she said. Shortly before he left Nashville, he had more fully immersed himself in more progressive causes and had taken a larger step forward in his transition, having elective "top" surgery, or the removal of his breasts, before leaving Tennessee.
"He was a strong activist, he was very involved in multiple Black Lives Matter protests and shed blood, sweat, and tears for the cause (in the most literal sense, this happened right before my eyes)," she wrote in the email. "He was also very involved in LGBTQ activism. When he began staying out in the Slabs, he had the goal of trying to help increase access to resources/supplies for trans people living in the Slabs."
There does appear to be a substantial "queer, trans and non-binary" community that has banded together in an area known as Flamingo Camp, which was where Poe Black was believed to have stayed. And a lot of the social life in the LGBTQ community there seemed to revolve around a place called the Handlebar, described as a tavern of sorts by Poe in a YouTube video but also described by others as "another queer friendly camp and community space."
This community within a community is similar to Slab City in the respect that it is both romantic and rough and tumble. At once described as a loving, inclusive place for those within the LGBTQ world, Poe himself reveals in a travelogue interview that it is also a place that is violent and a bit scary.
Rosa Diaz of the IV LGBT Resource Center has met some of the individuals who have dropped in at the center for resources or to take part in support groups. Although, she said she did not know of Poe Black or his story other than what the Sheriff's Office had made public.
Life Back in Nashville
NASHVILLE — Brammer sent along some photos of a candlelight vigil held for Poe at the base of a huge tree in Nashville's Centennial Park on May 27, not far from the Parthenon that is the focal point of the public space.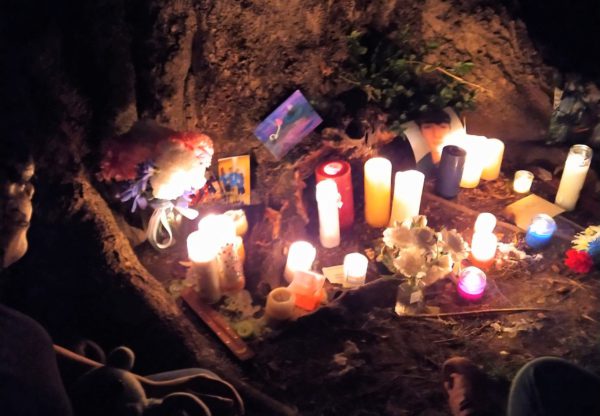 A candlelight vigil at the base of a tree in Nashville's Centennial Park attended by family and friends of 21-year-old Poe Delwyn Black was held on May 27.
Photo courtesy of Lori Brammer
She attended the vigil at the invitation of Poe's former best friend, who organized the event.
"It was very nice. And they did a wonderful job setting up and making things so pretty … It was really nice," Brammer said. "By the time I got there, there was still at least 10 people there. And I heard that there were even more there before I arrived. So, it was a very good time."
Brammer acknowledged that she was not a big part of Poe's life as a man, but it doesn't bother her. She has no issue with it, just no firm connection to it. Whether it's the little girl she used to dress up in ribbons despite them being about 20 years apart in age, or the slight trans man with the close-cropped hair, love is love.
"I don't care about that. That's neither here nor there," Brammer said. "I just didn't meet her (as that person). I didn't meet the person that people say that she became."
Poe's best friend said he seemed at peace the last time they spoke in mid-April. It was a good conversation, and she said Poe tried to call her a few weeks later, but they missed each other. He would have presumably been killed over the course of the next few days.
"We had a conversation about what was going on in our lives, and he seemed to be having a good time. He had plans. May 1st, he called me, and I missed the call. However, he called two other people and told both of them that he was getting ready to go home," she emailed. "I assume that is what he had wanted to tell me. I couldn't get him to answer me back after that."
Poe did not have an easy life, his friend said, adding that Poe's relationship with his immediate family was complicated and filled with tragedy. Brammer was less kind about how she put it, regularly referring to Poe's mom as abusive, and mentally unstable.
Both agreed that the present life situation of Poe Black's mother does not allow her to advocate on her son's behalf.
Some of the familial strife was alluded to in postings on Poe's social media pages from June 2020. Around the same time he was ready to get his elective top surgery, he also told people he had left his home to flee abusive family members.
Said Poe's friend: "There was a variety of reasons he left Nashville. His relationship with his family was fairly bad, but his relationship with his mom had actually begun to improve. He told me this firsthand in November, and I also heard it recently from his mother. He had a traumatic upbringing and he only wanted to heal from that."
The friend has been the support system for Poe's mom through this, Brammer said. One of Poe's older brothers, Aubrey, was the victim of a murder in 2011, and Poe's father was killed in a car accident in 1999, before Poe was born. Brammer said Poe's surviving brother is addicted to drugs.
Poe consistently posted about the chronic pain he lived with and about his learning disabilities. The friend was asked about that as well.
"He told me he was recently diagnosed as autistic, and we had both had many conversations about being neuro-divergent," she wrote, referring to the term that is sometimes a catch-all for Autism Spectrum Disorder, ADHD, and other cognitive learning disabilities. "There was suspicion that he had Ehlers-Danlos Syndrome, and he used to miss lots of school towards the end of his time in high school due to chronic pain. Besides this, we don't know why else it was happening to him."
Ehlers-Danlos Syndrome is a condition that affects the body's connective tissue, and Poe on several occasions posted about suffering from chronic dislocations of the hips.
For the high school friend, she said Poe's death has hit her hard.
"We were best friends for years; he told me so much about his life and he was so caring and loving for me. He helped me to be a better person, because he never judged me when I messed up," she said. "He was also really generous and thoughtful. I miss him terribly. His mother is very distraught along with his only living brother. … He also has several extended family members who miss him terribly."
Brammer's sadness is still like a raw nerve; for her, it's anger, and it needs an outlet. She is hoping to find that at the vigil for Marilyn Cazares, and by making her own trip to the Slabs.
"Tommi was a young, beautiful soul. And he was taken in a terrible way, in such a way that should never happen to anyone's child. And there should be justice, and it should be swift," she said. "This should never happen to anyone, especially someone so young, such a beautiful soul that had her whole life ahead of her."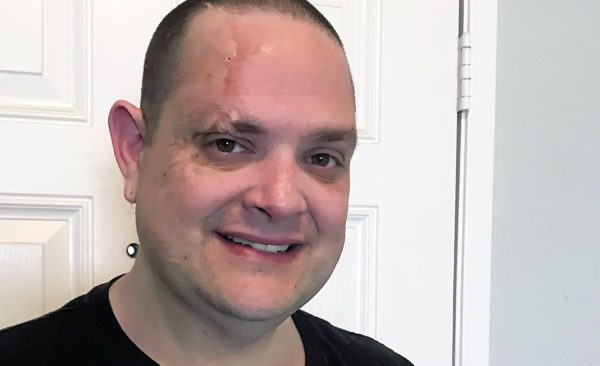 Richard Montenegro Brown is editor of the Calexico Chronicle and Holtville Tribune, longtime community newspapers focused on in depth reporting of life in Imperial County, California. Richard has more than 25 years experience in print and multimedia journalism as an editor and writer in small- and mid-market publications in Southern California.
The preceding article was published by the Calexico Chronicle and is republished here by permission.
California's LGBTQ Pride week 2021, Capitol Lighting
The building will be illuminated for the week, marking just the second time in California's history that Pride colors have donned the dome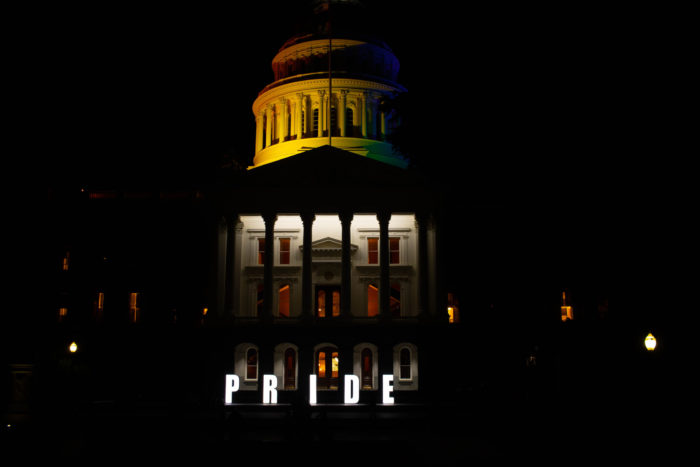 SACRAMENTO — The California Legislative LGBTQ Caucus and partner organizations held a press event and lighting ceremony, Monday, June 21, for the illumination of the California State Capitol Dome in rainbow colors to kick off a weeklong recognition of Pride Month.
The building will remain illuminated for the entire week, marking just the second time in California's history that Pride colors have donned the dome. The first lighting occurred after the U.S. Supreme Court legalized marriage equality.
The ceremony is part of a citywide initiative to put light installations at additional Sacramento landmarks, including City Hall, Sutter's Fort, and the Museum of Science and Curiosity. The lighting initiative is the brainchild of the Sacramento LGBT Community Center and the first of its kind for the region.
Speakers and participants included Assemblymember Evan Low, Chair of the CA Legislative LGBTQ Caucus, Senator Scott Wiener, former Chair of the CA Legislative LGBTQ Caucus, Senator Susan Talamantes Eggman, Vice Chair of the CA Legislative LGBTQ Caucus, California's Senate President pro Tempore Toni G. Atkins, Senator John Laird, Alexis Sanchez, Director of Advocacy for the Sacramento LGBT Community Center, Tony Hoang, Executive Director-designate for Equality California, Tami Martin, External Affairs Director for the Capitol LGBTQ Association and Legislative LGBTQ Caucus members and community stakeholders.

Editor's note: The Los Angeles Blade thanks the efforts of the event's photographer, Nune Garipian, who is responsible for covering the event on behalf of the Blade. All photographs are [Copyright Garipian 2021] and are used by permission.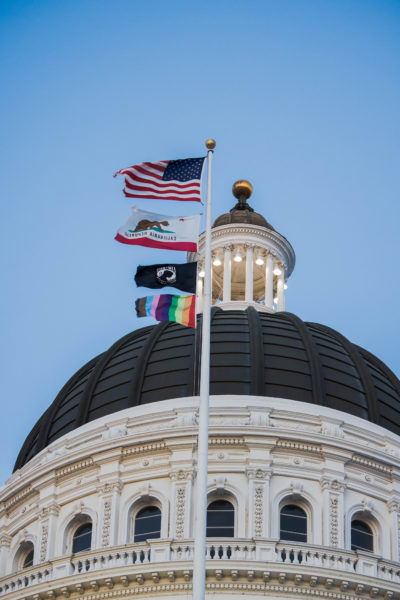 9th Circuit Court of Appeals blocks lower court overturn of assault rifle ban
Benitez ruled that California's three-decade-old ban on assault weapons violates the Second Amendment to the U.S. Constitution.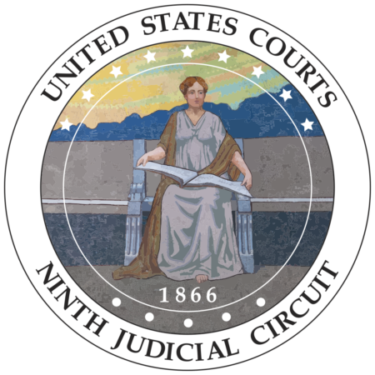 SAN FRANCISCO – In a ruling issued Monday, a three-judge panel of the U.S. 9th Circuit Court of Appeals issued a stay of U.S. District Judge Roger Benitez's controversial decision to overturn California's assault weapons ban on June 4. The ruling will be on hold until the 9th Circuit court decides on a separate gun control case.
Benitez ruled that California's three-decade-old ban on assault weapons violates the Second Amendment to the U.S. Constitution. The state had first crafted the ban in 1989 and in the intervening thirty-two years lawmakers in Sacramento had repeatedly amended the law.
Benitez overturned the ban and likened an AR-15 semiautomatic gun to a Swiss army knife, calling it "good for both home and battle." California Governor Gavin Newsom took exception to the comparative made by Judge Benitez remarking at the time;
"Today's decision is a direct threat to public safety and the lives of innocent Californians, period. As the son of a judge, I grew up with deep respect for the judicial process and the importance of a judge's ability to make impartial fact-based rulings, but the fact that this judge compared the AR-15 – a weapon of war that's used on the battlefield – to a Swiss Army Knife completely undermines the credibility of this decision and is a slap in the face to the families who've lost loved ones to this weapon. We're not backing down from this fight, and we'll continue pushing for common sense gun laws that will save lives."
The Roberti-Roos Assault Weapons Control Act of 1989 (AWCA) is a California law that bans the ownership and transfer of over 50 specific brands and models of semi-automatic firearms, which were classified as assault weapons. Most were rifles, but some were pistols and shotguns.
The case, Miller v. Bonta (previously Miller v. Becerra) had been brought by the Firearms Policy Coalition, (FPC) which in 2019, developed and filed the suit as a federal Second Amendment challenge to California's Assault Weapons Control Act (AWCA). The FPC argued that the State's ban prohibits arms that are constitutionally protected, no more lethal than other certain arms that are not banned, and commonly possessed and used for lawful purposes in the vast majority of the United States.
California Attorney General Rob Bonta had appealed Benitez's ruling. On Monday he said in a tweet; "This leaves our assault weapons laws in effect while appellate proceedings continue. We won't stop defending these life-saving laws."
#BREAKING: The 9th Circuit granted our motion to stay the district court's ruling in Miller v. Bonta.

This leaves our assault weapons laws in effect while appellate proceedings continue.

We won't stop defending these life-saving laws.https://t.co/L8F8zpLuhv pic.twitter.com/udtszNfOis

— Rob Bonta (@AGRobBonta) June 21, 2021
Newsom ushers in state's full reopening at Universal Studios Hollywood
California was one of the only states to achieve a week-over-week increase rate of vaccinations, most recently with a 22% increase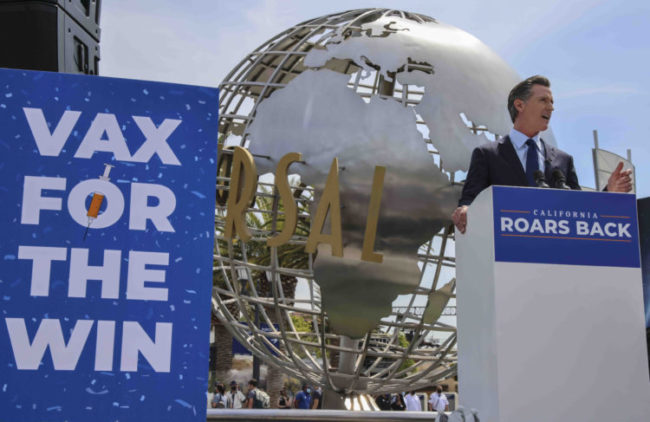 STUDIO CITY – As California moved to fully reopen the economy Tuesday, California Governor Gavin Newsom welcomed the milestone at Universal Studios Hollywood, where he highlighted the attractions Californians can look forward to revisiting this summer.
Starting today, June 15, the restrictions that have been in place over the past year will be eliminated, including physical distancing, capacity limits, county tier systems and masks in almost all settings for vaccinated Californians. The Golden State was one of the only states in the country to achieve a week-over-week increase in the rate of vaccinations, most recently with a 22 percent increase in vaccinations.
"Today, we celebrate the incredible strength and resilience of Californians – from our heroic health care workers to essential workers across the board to everyday Californians from all walks of life – who have supported each other through hardship and heartache over the past year, making sacrifices to save countless lives and enable us to turn the page on this pandemic," said Newsom. "As we look ahead to better days, we will continue to look out for one another, redoubling our support to those hit hardest by the pandemic and making unprecedented investments to address California's most persistent challenges, so that the entire state comes roaring back together."
Newsom also selected 10 lucky Californians to receive $1.5 million each – for a total of $15 million – as part of the final cash prize drawing in the state's Vax for the Win program. 30 prior winners won a total of $1,500,000.
Tuesday's selection of 10 $1.5 million winners caps off the cash prize giveaways as part of the $116.5 million Vax for the Win program – the largest vaccine incentive program in the nation. The program previously selected 30 winners to receive $50,000 each, for a total of $1,500,000. In addition, the program is providing $100 million in $50 prepaid or grocery cards for newly vaccinated people, while supplies last. Governor Newsom also highlighted the upcoming California Dream Vacations, a new Vax for the Win incentive in which vaccinated Californians have the chance to win one of six in-state vacation packages in a drawing on July 1.
In a press release, the Governor's office touted his administration's accomplishments that had been spread out over the duration of the pandemic in the past 15 months.
The Los Angeles County Department of Public Health noted that at the peak of the pandemic the County was losing 277 residents a day. Hospitals were under enormous strain, with more than 8,000 people hospitalized with COVID-19 and there were more than 15,000 new cases diagnosed each day.
L.A. County is in a better place than any other metro area of similar size in the entire nation. Each day, on average, only 1.5 cases per 100,000 people are diagnosed in L.A. County, compared with 2.8 cases in the same population in the New York City metro area, 2.9 cases in Chicago, 3.5 cases in Atlanta, 5.3 cases in Houston, and 9.1 cases in Miami. Only 0.4% of COVID-19 tests in L.A. County are positive, compared with 0.8% in New York, 1.3% in Chicago, 1.7% in Atlanta, 3.3% in Houston, and 3.7% in Miami.
Over the past six months, the tremendous effort to get the vaccine into the arms of residents has gotten the County to a place where as of June 11, more than 5,490,637 (66%) of eligible L.A. County residents have received one dose of the vaccine and 4,668,783 (56%) are fully vaccinated.
"After 16 months of enormous upheaval and loss, we can now move forward with a genuine sense of hope. We can and should feel joy while recognizing and honoring the immense collective effort that brought us to the point where we can fully reopen. We remain committed to protecting your health and to closing gaps in health outcomes associated with COVID-19.,"said Barbara Ferrer, Director of Public Health.
"Case counts and transmission are low because of our shared efforts to implement a layered approach to preventing transmission. As we reopen, we are mindful that for those not yet vaccinated, protection is highly dependent on our continued actions to take care of each other. Sensible protections for our essential workforce will be instrumental in keeping transmission of COVID-19 in check," she added.
Unvaccinated people need to remain very careful and wear masks when they are around people outside their household, and if in close contact with others, including at worksites, they should consider upgrading their masks to a respirator, such as an N95, or a KN95. These masks do a much better job protecting the wearer from other people's germs, a spokesperson for Public Health said.
Public Health continues to urge unvaccinated people to get vaccinated. Through Thursday, June 17 at County-run vaccination sites, participating LA city and mobile sites, and St. John's Well Child and Family Center sites, everyone 18 and older coming to get their first vaccine or who brings a first-time vaccine recipient with them to their second dose appointment, will have an opportunity to win a pair of season tickets to the 2021-2022 home season of the Clippers, the Rams, or the Chargers. Official rules and participating site locations are posted online on the Los Angeles County Vaccination Sweepstakes page. Winners will be contacted by phone and/or email.
To find a vaccination site near you, to make an appointment at vaccination sites, and much more, visit: www.VaccinateLACounty.com (English) and www.VacunateLosAngeles.com (Spanish). If you don't have internet access, can't use a computer, or you're over 65, you can call 1-833-540-0473 for help finding an appointment, connecting to free transportation to and from a vaccination site, or scheduling a home-visit if you are homebound. Vaccinations are always free and open to eligible residents and workers regardless of immigration status.