New York Gender Recognition Act passes heads to Governor Cuomo
"We are protected by a constitution. Nowhere does it say that these rights don't apply to one group of people."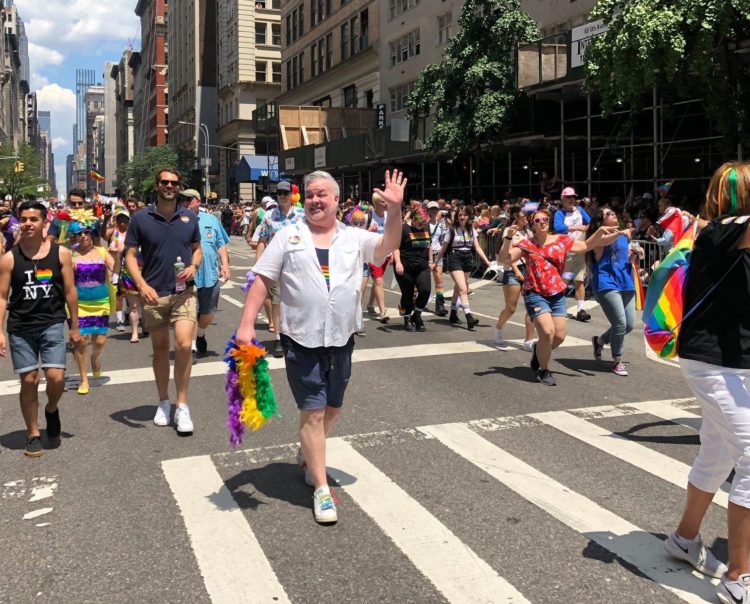 ALBANY, NY. – With a final push shepherded by openly gay New York State Assemblymember Daniel O'Donnell, (D), the New York State Assembly passed New York Senate Bill S4402 and its Assembly companion bill A5465, the Gender Recognition Act. The legislation now heads to New York's Democratic Governor Andrew Cuomo who is expected to sign the measure.
The legislation allows for an "x" designation on the state's driver's licenses. The measure would also help waive an outdated rule requiring people to publish a notification in a newspaper when they change their name in the state. 
"Today is a proud day for New York State, as we secure our standing as a leader in LGBTQ rights and ensure that transgender, non-binary, and intersex New Yorkers have the equality and dignity they deserve," O'Donnell said. "No one should face overwhelming financial, medical, and bureaucratic barriers simply to have their existence officially recognized. These obstacles only serve to make people's lives harder and more dangerous, particularly for trans New Yorkers of color who too often have limited resources, face disproportionate rates of violence, and are already marginalized by our legal system. I am deeply honored to carry this important bill and thank all of the trans, non-binary, and intersex advocates who have worked tirelessly to shape and support it."
On Tuesday, June 8, the State Senate passed S4402, which was co-sponsored by openly gay State Senator Brad Hoylman. In an interview published the same day by The Hill, when asked about the GRA, O'Donnell noted that transgender rights is one of his life pursuits, and that there is still much work to be done.
"When marriage equality was passed, I knew there would be a backlash. I didn't know the backlash would be directed at trans people, or involve bathrooms. So, there's work to be done. Last year, we passed a bill that said if a bathroom only has one toilet, anyone is allowed to use it, to prevent people from being threatened or beaten up for using the wrong bathroom," he said. "We are supposed to be free, and we're all living in America where we are protected by a constitution. Nowhere does it say that these rights don't apply to one group of people," he added.
Happy Pride to all!!! 🌈🏳️‍⚧️🏳️‍🌈🏳️‍⚧️💫✨ https://t.co/9YTFBzQdo0

— Danny O'Donnell (@Danny_ODonnell_) June 11, 2021
Gay City News reported that the legislation drew praise from LGBTQ legal advocates who have long fought for reform. Andy Marra, who is the executive director of the Transgender Legal Defense & Education Fund (TLDEF), said TLDEF worked to secure key elements of the bill, including waiving the requirement for medical documentation as well as the removal of the publication requirement in newspapers.
"Along with our colleagues at the Empire Justice Center and the Gender Recognition Act Coalition, TLDEF worked closely with state lawmakers to craft some of the most inclusive legislation to date," Marra said in an email to GCN. "This bill can now serve as a model for other states across the country."
New bills to prevent hate crimes in New York signed by Gov. Hochul
"New York belongs to the good, not those with hate in their hearts – we're taking bold action to reclaim our city and state from the haters"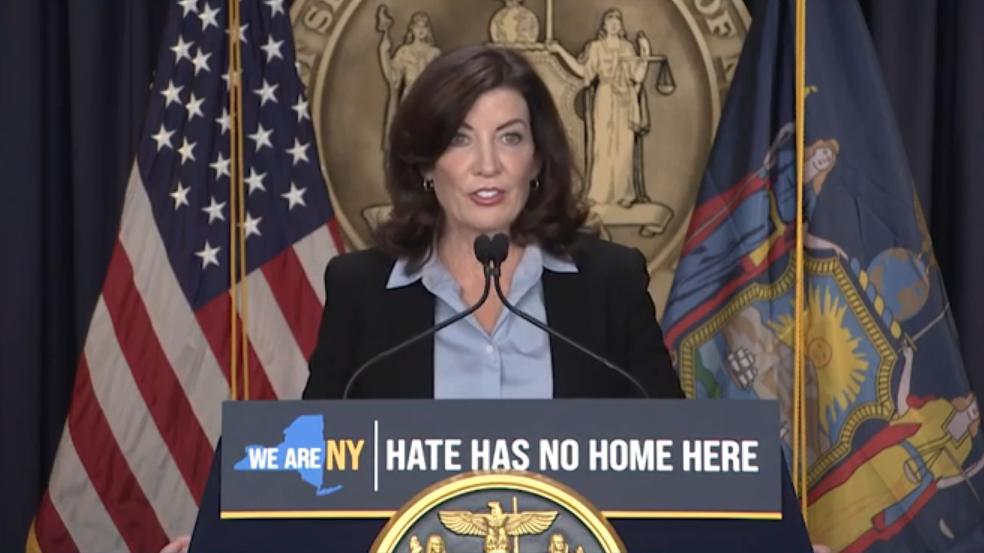 NEW YORK – On the same day that a 34-year-old man was arrested for allegedly throwing bricks at the window of a gay nightclub in Hell's Kitchen, New York Governor Kathy Hochul (D) announced new measures to stop hate crimes in the Empire State.
Speaking to reporters last Tuesday at an emotional press conference, the governor called on New Yorkers to reclaim the state from "bigots who have butchered communities' sense of security."
"New York belongs to the good, not those with hate in their hearts – we're taking bold action to reclaim our city and state from the haters, bigots and white supremacists," Hochul said.
The governor's actions comes after comes after the NYPD arrested two men for allegedly plotting to shoot synagogues and wreak havoc on the Jewish community, targeted attacks on the Asian community, and the recent mass-shooting at an LGBTQ nite club in Colorado Springs.
NYPD detectives arrested Sean Kuilan Tuesday afternoon and charged him with criminal possession of a weapon, criminal mischief and reckless endangerment for allegedly throwing bricks and a rock at the window of a gay nightclub in Hell's Kitchen three times last week in what a NYPD spokesperson characterized as a potential hate crime.
Hochul, who led the state through the racist Buffalo massacre last spring, said that a horrifying mass shooting at an LGBTQ nightclub in Colorado and a sinister anti-Semitic plot foiled in New York over the weekend offered "painful reminders that there is a rising tide of hate in our country," the New York Daily News reported.
"This is our defining moment, New Yorkers," the governor declared.
"Every one of us has a role to play," Hochul said. "From this day forward, ask yourself: Did I do something to help spread the love that should be part of who we are as New Yorkers?"
After delivering her remarks, Hochul then signed two bills, Senate/Assembly Bill (S.6570/A.1202) to "Require individuals convicted of hate crimes to undergo mandatory training in hate crime prevention and education."
Legislation (S.6570/A.1202) amends the penal law to establish that in addition to other penalties, individuals convicted of hate crimes shall undergo mandatory training in hate crime prevention and education as part of their sentence. The programs, training sessions, or counseling sessions must be authorized by the court or local agencies in cooperation with organizations serving the affected community.
The second measure, (S.123A/A.5913A) establishes a statewide campaign, developed and run by the New York State Division of Human Rights to promote the acceptance, inclusion, tolerance, and understanding of the diversity of the people of New York.
Legislation (S.123A/A.5913A) amends the executive law to establish and implement a statewide campaign for the acceptance, inclusion, tolerance, and understanding of diversity. The campaign, which will be developed and implemented by the Division of Human Rights, will coordinate and cooperate with public and private organizations, including, but not limited to, local governments, community groups, school districts, places of worship, charitable organizations, and foundations and will develop educational materials to be published on the internet, social media, and other platforms to reach the public.
"Our hearts are broken after a weekend during which LGBTQ Americans were massacred and Jewish New Yorkers were targeted in horrific acts of hateful violence," Hochul said. "New York belongs to the good, not those with hate in their hearts – we're taking bold action to reclaim our city and state from the haters, bigots and white supremacists. Domestic-based violent extremism is the greatest threat to our homeland security, and that is why we continue to remain laser-focused on combatting hate and keeping New Yorkers safe."
Governor Hochul Announces Actions to Prevent Hate Crimes and Protect New Yorkers: