Moms for Liberty chapter in Philadelphia has sex offender leader
Moms for Liberty chapter faith-based outreach coordinator and a local pastor is also a convicted sex offender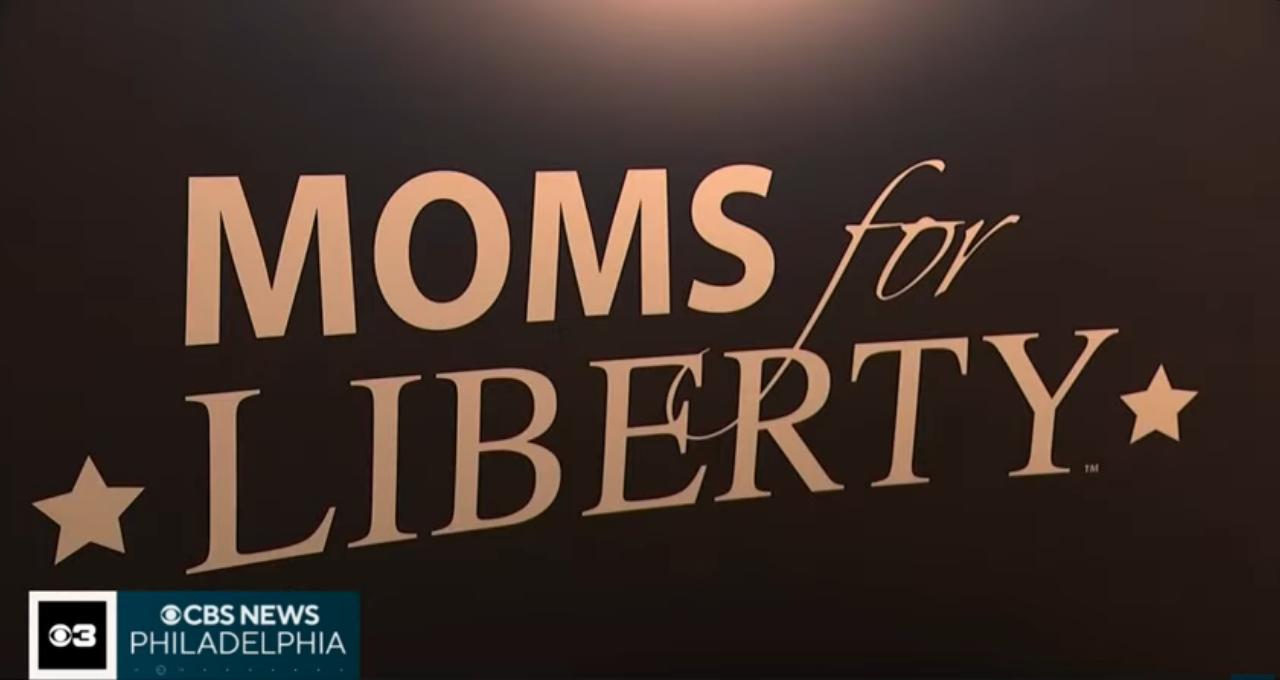 PHILADELPHIA, Penn. – As first reported by The Philadelphia Inquirer, the Moms for Liberty Philadelphia chapter's faith-based outreach coordinator and a local pastor is also a convicted sex offender stemming from a 2012 felony conviction for aggravated sexual abuse of a 14-year-old boy in Illinois.
According to court records obtained by The Inquirer, Phillip Fisher Jr. was living in Chicago at the time. In a statement to the The Inquirer, Fisher insists that he did nothing wrong, despite pleading guilty to one of 12 counts filed against him after an investigation by the Chicago Police Department.
Fisher, currently the pastor at the Center of Universal Divinity in Olney, and works with Moms for Liberty connecting the Philadelphia chapter with other local faith leaders in a campaign to expand the group's influence.
The Inquirer also reported that a Moms for Liberty national spokesperson did not respond to a request for comment about Fisher's criminal history.
Sheila Armstrong, another Republican ward leader who chairs the local Moms for Liberty chapter, said she was also surprised. She said Fisher has been active in community outreach events with local and federal law enforcement, and she expressed concern that children were sometimes part of that.
Armstrong was astounded to hear about Fisher's criminal pastbecause she had just received from the state Department of Human Services on Thursday a "child abuse history certification" in Fisher's name so that he could volunteer for an upcoming Christmas Party for an autism nonprofit that she operates.
That certificate said "no records exist" in the state's database listing Fisher "as a perpetrator of an indicated or founded report of child abuse."
The 'faith-based' leader for Philly's Moms for Liberty chapter is a registered sex offender https://t.co/WZETWuLvQm

— Philadelphia Inquirer Politics (@PoliticsINQ) November 20, 2023
Moms for Liberty spouts overt hate against the LGBTQ community, regularly targeting trans individuals. The group's official Twitter page quoted an article in March claiming that The Trevor Project — the world's largest suicide prevention and crisis intervention organization for LGBTQ youth — "is actively grooming children into a trans identity." As recently as June 13, Moms for Liberty described the increase of young people identifying as trans as a "transgender contagion" and encourage parents to "fight" it.
The organization has advocated for the removal of select books with LGBTQ themes, describing the basis for removal as "sexually explicit" content — all while partnering with transphobic publishers to place right-wing propaganda in public school libraries. One chapter even filed a public records request asking for a list of "LGBTQ" book titles from the school library.
Incoming Penn. school board chair takes oath on banned books
Smith, an incumbent Democrat, who won re-election was sworn in as the new Central Bucks school board president after a vote by the board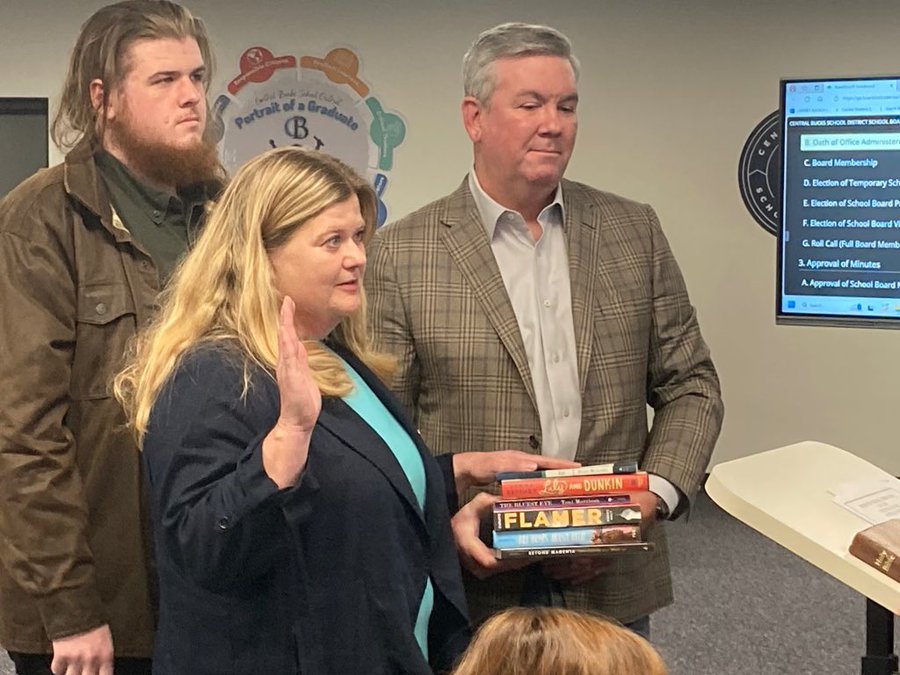 BUCKS, Pa. – Newly appointed Central Bucks Board of School Directors, Karen Smith, was sworn into office Monday, however, unlike other her newly sworn fellow Board members who placed their hands on the more traditional Bible, Smith opted to use a stack of books on LGBTQ+ themes and race that had been banned by the previous board.
Smith, an incumbent Democrat, who won re-election on Nov. 7 was sworn in as the new Central Bucks school board president after a vote by the board. In her remarks she told the audience, "Thank you for your trust in me. I do not take this hand lightly. I feel it as a very heavy responsibility, and you have my word, I will do my best for everyone," Smith said. "To my supporters, I am so very thankful. To those of you who have challenged me, I will do all I can to hear your voices and concerns." 
Fox News and conservatives including the former GOP-majority board members labeled one of the books Smith used to be sworn in to office as 'sexually explicit.' That book, "Flamer," written by openly gay author Mike Curato, received a Lambda Literary Award for Children's and Young Adult Literature in 2021. Curato is a Filipino-American writer and illustrator of children's books.
Fox characterized 'Flamer' as "It tells the story of a character who is bullied at a Boy Scouts summer camp for "acting in a manner considered stereotypical of gay men." The graphic novel includes characters discussing pornography, erections, masturbation, penis size, and an illustration that depicts naked teenage boys."
Journalist Chris Ullery reporting for the Bucks County Courier-Times newspaper noted:  Smith, named president of the board, and the other Democrats on the board have long cried foul as the former GOP-majority forged ahead with controversial library policy that critics said was a defacto book ban.
According to the Courier-Times, the book on top of the stack Smith was sworn in on was "Night" by Holocaust survivor and Nobel Peace Prize winning author Elie Wiesel, which was part of a February controversy over books.
The Philadelphia Inquirer, reported that a Central Bucks South High School librarian's ninth grader sent him a quote from Wiesel's 1986 Nobel Prize acceptance speech.
"I swore never to be silent whenever and wherever human beings endure suffering and humiliation. We must always take sides. Neutrality helps the oppressor, never the victim. Silence encourages the tormentor, never the tormented," said Wiesel.
The librarian included the quote along with a copy of Night in a library display; however, this was shortly after the former school board passed a "neutrality" policy that barred classroom displays advocating politics or social policy unless related to a lesson.
School officials at the direction of the former GOP-majority Board ordered the librarian to remove the display, though that order was rescinded the next day and the posters allowed. The incident went viral on social media generating a flood of criticism for the district, which later apologized and said it regretted the decision to remove the posters.
That neutrality policy, Policy 321, was one of four policies placed on a freeze by Smith and her colleagues when they took office on Monday.
In addition to 'Flamer,' the Courier-Times noted, Smith brought along three other titles she was prompted to read when they first appeared on the Woke PA list.
Donna Gephart's "Lily and Dunkin," a copy Smith borrowed from Holicong Middle School for Monday, follows the story of the friendship between two eighth graders, a transgender girl and a boy with bipolar disorder.
"Lily and Dunkin" was said to contain "strong sexual content" by Woke PA and some parents who complained to the district, a claim Smith told the Courier-Times gave her pause. 
"I read all the way through the book and there's nothing. There's not even a kiss," Smith said.
The only reason Smith could determine for the "sexual content" warning was the fact that one of its main characters was transgender she said to the paper.
"Just the existence of a transgender student in the book was enough for some folks who want to challenge it, and it's a beautiful story," Smith added.