North Dakota lawmakers okay regulation banning Conversion Therapy
This rule change will stop the vast majority of mental health providers in North Dakota from subjecting LGBTQ youth to conversion therapy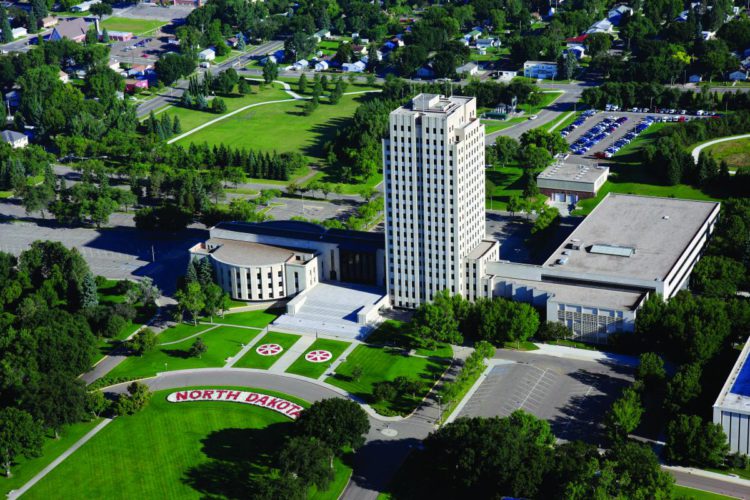 BISMARCK, ND. – The North Dakota House Administrative Rules Committee voted 8-7 on Tuesday, June 8, to authorize the rule proposed by the North Dakota Board of Social Work Examiners, implementing new regulations prohibiting licensed social workers from subjecting LGBTQ youth to the widely discredited practice of conversion therapy.
The North Dakota Board of Social Work Examiners, which oversees licensing for social workers in the state, created the new rule which states that "it is an ethical violation for a social worker licensed by the board to engage in any practices or treatments that attempt to change or repair the sexual orientation or gender identity of lesbian, gay, bisexual, transgender, and questioning individuals."
The West Hollywood based Trevor Project, the world's largest suicide prevention and crisis intervention organization for lesbian, gay, bisexual, transgender, queer & questioning (LGBTQ) young people, had worked with Democratic House Minority Leader Rep. Josh Boschee, the National Association of Social Workers ND Chapter, the North Dakota Human Rights Coalition, and local advocates like Elizabeth Loos to advance these critical protections for LGBTQ youth.
 "This rule change will stop the vast majority of mental health providers in North Dakota from subjecting LGBTQ youth to the dangerous and discredited practice of conversion therapy. This practice is not therapy at all— it's abusive and fraudulent," said Troy Stevenson, Senior Advocacy Campaign Manager for The Trevor Project. "There is still more work to be done in North Dakota, but this bold action will help save young lives. The Trevor Project is committed to an every state strategy to protect LGBTQ youth from conversion therapy and North Dakota has proven that progress is possible anywhere."
"Thank you to the North Dakota Board of Social Work Examiners for restricting licensed social workers in North Dakota from being able to practice conversion therapy! LGBT North Dakotans, especially youth, are safer now as you hold licensees responsible to the NASW Code of Ethics," said Minority Leader Boschee. 
The proposed ban on therapist-administered conversion therapy in North Dakota was met with opposition by several of the committee's most socially conservative members, the Grand Forks Herald reported.
Rep. Dan Ruby, R-Minot, told the paper that he worries the new prohibition is limiting because it would prevent people seeking "some kind of treatment" from getting help. Bell said the rule is written so clients who are LGBT or questioning their sexual orientation or gender identity are not inhibited from seeking care.
Rep. Bernie Satrom, R-Jamestown, said he's concerned the rule would interfere with religious counseling, adding "there are some cases where people want to change."
"There are licensed counselors that are also Christians, and basically my concern in all of this is that we're telling the Christian counselors 'you can be a licensed counselor, but you can't practice your Christianity,'" Satrom said.
Satrom and West Fargo Republican Rep. Kim Koppelman said approving the social workers' ban on conversion therapy is outside of the committee's scope and ought to be scrutinized by the full Legislature.
Boschee, the North Dakota Legislature's only openly gay member, told the Grand Forks Herald that he was disappointed in some of his colleagues for standing behind the "harmful" practice of conversion therapy and trying to muddy the conversation over what is a simple self-imposed rule for social workers. The Fargo Democrat said he was ultimately pleased that seven lawmakers joined him in upholding the proposed ban.
Research:
According to The Trevor Project's 2021 National Survey on LGBTQ Youth Mental Health, 13% of LGBTQ youth reported being subjected to conversion therapy, with 83% reporting it occurred when they were under age 18. LGBTQ youth who were subjected to conversion therapy reported more than twice the rate of attempting suicide in the past year compared to those who were not.
According to a peer-reviewed study by The Trevor Project published in the American Journal of Public Health, LGBTQ youth who underwent conversion therapy were more than twice as likely to report having attempted suicide and more than 2.5 times as likely to report multiple suicide attempts in the past year.
Transgender immigrant activists march to White House
Marchers demanded end to ICE detention of trans, HIV-positive people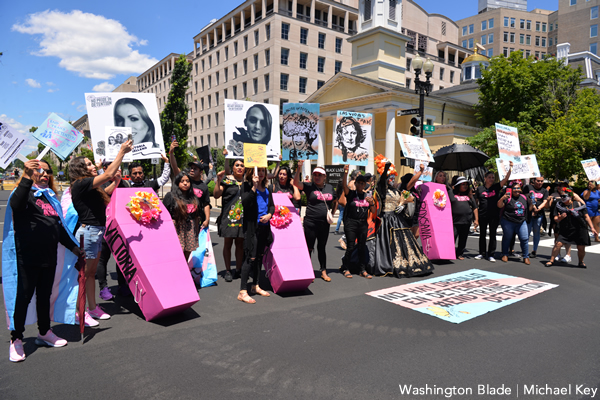 WASHINGTON — More than 100 people marched to the White House on Wednesday to demand the Biden administration end the detention of transgender people and people with HIV/AIDS in U.S. Immigration and Customs Enforcement facilities.
Casa Ruby CEO Ruby Corado and other marchers left National City Christian Church in Thomas Circle after organizers held a "funeral" for three trans women — Roxsana Hernández, Victoria Arellano and Johana "Joa" Medina Leon — who died while in ICE custody or immediately after the agency released them.
Hernández, a trans woman with HIV from Honduras, died in a hospital in Albuquerque, N.M., on May 25, 2018, while in ICE custody. Arellano, a trans woman with HIV from Mexico, passed away at a hospital in San Pedro, Calif., while in ICE custody.
ICE released Medina, a trans woman with HIV from El Salvador, from its custody on May 28, 2019, the same day it transferred her to a hospital in El Paso, Texas. Medina died three days later.
Hernández's family has filed a lawsuit against the federal government and the five private companies that were responsible for her care.
Isa Noyola, deputy director of Mijente, one of the immigrant advocacy groups that organized the march, emceed the "funeral." Noyola played a message that Hernández's nephew in Honduras recorded.
"The state does not recognize our humanity," said Noyola, who became emotional at several points during the service.
A press release that announced the events said 25 trans women who had previously been in ICE custody participated. They, along with other participants, blocked traffic at the intersection of 16th and H Streets, N.W., near Black Lives Matter Plaza for several minutes before they marched into Lafayette Square.
March participants also carried three pink coffins that represented Hernández, Arellano and Medina. They propped them up on a security fence along Pennsylvania Avenue before they staged a die-in.
The march took place a week after Mijente and seven other immigrant advocacy groups in a letter to Homeland Security Secretary Alejandro Mayorkas and acting ICE Director Tae Johnson demanded the release of all trans people and people with HIV who are in immigrant detention facilities.
The White House on Tuesday announced asylum seekers who saw their cases closed under the previous administration's "Remain in Mexico" policy will be allowed to enter the U.S. in order to pursue them. Vice President Kamala Harris, who traveled to Guatemala earlier this month, has also acknowledged anti-LGBTQ violence is one of the "root causes" of migration from Central America's Northern Triangle.
'Our only crime is to seek opportunities, to seek refuge'
Li An "Estrella" Sánchez, a trans woman from Mexico's Veracruz state who the U.S. has granted asylum, is among those who participated in the march.
She told the Los Angeles Blade during an interview in Lafayette Square after the march that she spent 13 months in ICE custody at three Georgia detention centers — the Atlanta City Detention Center, the Irwin County Detention Center and the Stewart Detention Center — before her release in 2013. Sánchez, who founded Community Estrella, an Atlanta-based organization that advocates for ICE detainees who identify as LGBTQ, said she and other trans ICE detainees face inadequate access to health and solitary confinement, among other things.
"I know first hand what they felt," said Sánchez, referring to the three trans women who died in ICE custody or immediately after their release. "I wouldn't wish it upon my worst enemy to be in a jail."
"Our only crime is to seek opportunities, to seek refuge, to seek protection, to seek security," she added.
Sánchez also had a message for President Biden.
"Listen, because the people are continuing the fight," said Sánchez. "You have promised to support the LGBT community and you are really forgetting the immigrant community."
Chaos erupts at Virginia school board meeting over trans students rights
Two people arrested, two others injured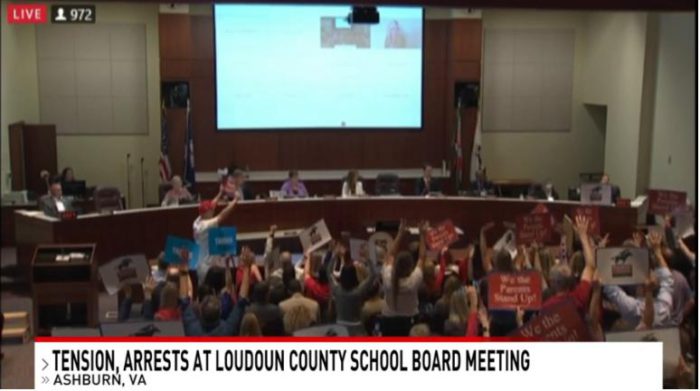 LEESBURG, Va. — The Loudoun County School Board abruptly ended its meeting Tuesday as chaos erupted after parents who were against the school district's implementation of Policy 8040 failed to observe rules regarding disruptions and decorum.
Loudoun Now reports Vice Chair Atoosa Reaser made the motion to curtail public comment about an hour after that portion of the meeting began. A brawl then broke out between members of the public, and Loudoun County Sheriff's Department deputies were called to clear the room.
Two people were arrested, and two people also suffered minor injuries. The names of those who were taken into custody and injured have not been made public.
The school board resumed its meeting at 6:30 p.m. after it ended the public comment session and deputies cleared the room. The school board entered into closed session to meet with legal counsel and discuss negotiations involving a bid award.
In light of the events that transpired at the school board meeting, a group of LGBTQ groups in neighboring Fairfax County in a statement called upon prominent community members to condemn the anti-transgender hate in Loudoun County.
"A coalition of organizations based in Northern Virginia is calling on local officials … to condemn the rise of anti-LGBTQIA+ hate, in particular animosity towards transgender and gender-expansive students, on display in Loudoun County," reads the statement
"In addition, the coalition is asking for the denouncement of support for this hate from other local groups, including the Fairfax County Republican Committee, the Family Foundation of Virginia and the Family Research Council," it adds. "Finally, the members of these organizations are requesting visible displays of support for LGBTQIA+ students, particularly trans and gender-expansive students, in both words and deeds."
More than 300 people attended the school board meeting, with many of them opposing Policy 8040 which would allow transgender students to use their preferred name and pronouns regardless of the name and gender in their permanent education record. The proposed policy would also not require them to provide any substantiating evidence.
Parents also expressed their support for Policy 8040 during the public comment session.
They spoke in favor of inclusivity and equality in the Loudoun County School District.
Parents who were against the policy cited the need to respect biology and privacy as their arguments. In addition, some speakers, including former state Sen. Dick Black expressed anger at the previous school year's events such as the suspension of physical education teacher Tanner Cross after he refused to refer to trans students using their preferred pronouns.
"The crowd repeatedly cheered public speakers who lashed out at school board members and denounced the plan that would provide bathroom and locker room access based on a student's gender identity," WTOP News reports.
Only 51 of the 249 speakers who had signed up for public comment ended up speaking before Reaser's motion was passed.
Louisiana Governor John Bel Edwards vetoes trans youth sports bill
Discrimination is not a Louisiana value, and this bill was a solution in search of a problem that simply does not exist in Louisiana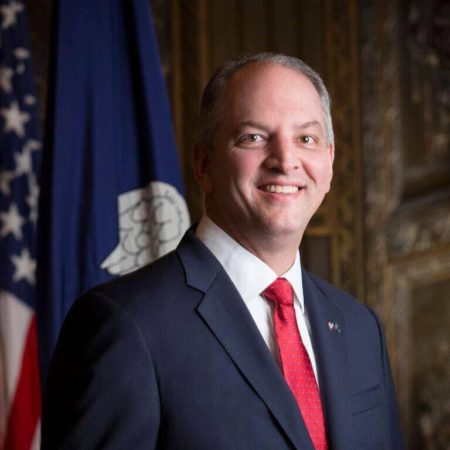 BATON ROUGE – Louisiana's Democratic Governor John Bel Edwards announced Tuesday that he has vetoed a measure that would have barred trans girls and women from participating on athletic teams or in sporting events designated for girls or women at elementary, secondary and postsecondary schools. 
The measure, Senate Bill 156 authored by Sen. Beth Mizell titled the 'the Fairness in Women's Sports Act,' in the Governor's eyes, "was a solution in search of a problem that simply does not exist in Louisiana," Edwards said in his veto statement;
"As I have said repeatedly when asked about this bill, discrimination is not a Louisiana value, and this bill was a solution in search of a problem that simply does not exist in Louisiana. Even the author of the bill acknowledged throughout the legislative session that there wasn't a single case where this was an issue.
Further, it would make life more difficult for transgender children, who are some of the most vulnerable Louisianans when it comes to issues of mental health. We should be looking for more ways to unite rather than divide our citizens. And while there is no issue to be solved by this bill, it does present real problems in that it makes it more likely that NCAA and professional championships, like the 2022 Final Four, would not happen in our state. For these and for other reasons, I have vetoed the bill."
The Baton Rouge Advocate newspaper's State House reporter, Blake Paterson, noted that [the law] would have required athletic teams or sporting events for women at public institutions be composed only of "biological females," or those who presumably were listed as female on their birth certificates.
The measure won Senate approval 29-6 and cleared the House 78-19. Those margins are wide enough to override a governor's veto, though it's unclear whether lawmakers will return to Baton Rouge to do so.

"Governor Edwards deserves enormous credit for urging Louisianans to reject the politics of division and to focus on what brings us together, including a shared concern for vulnerable children. As his veto message rightly notes, transgender youth already face huge challenges," Shannon Minter, the Legal Director for the National Center for Lesbian Rights, (NCLR) told the Blade in an email. "Banning them from school sports would not make any child's life better or safer, but it would bring discredit and economic hardship to the state, which likely would lose NCAA and professional championships. Governor Edward's veto message is a model of clarity and compassion. We need more leaders with his courage."
The ACLU reacted in a tweet saying:
BREAKING: Governor Edwards has vetoed a bill that would have banned trans youth from participating in school sports. We'll keep saying it:

🏳️‍⚧️Trans youth belong in sports.
🏳️‍⚧️Trans youth belong in Louisiana.
🏳️‍⚧️Trans youth belong everywhere. https://t.co/vUSHs5m6m8

— ACLU of Louisiana (@ACLUofLouisiana) June 22, 2021