Sesame Street embraces 'Gay Dads' for this year's Pride month
Love is love, and we are so happy to add this special family to our Sesame family and Happy Pride to all!!!!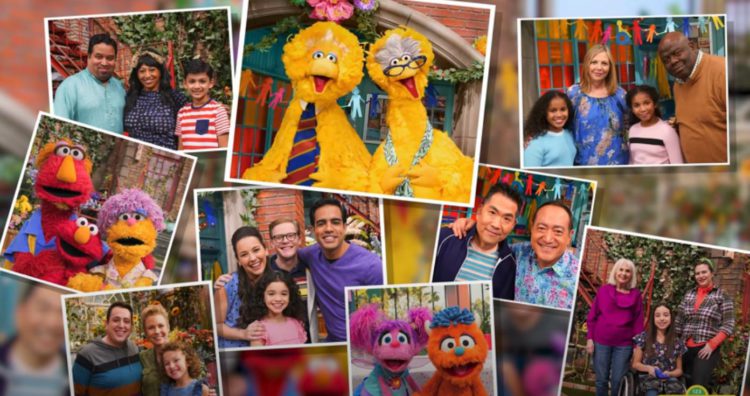 NEW YORK – The iconic children's program Sesame Street enhanced LGBTQ visibility this Pride season introducing two gay dads and their daughter, in a special episode directed by Japanese American actor and theatre director Alan Muraoka who also plays Alan, the current owner of Hooper's Store on the show.
Muraoka shared the exciting news on Facebook, saying he was "honored and humbled" to have directed such a milestone episode, "Love is love, and we are so happy to add this special family to our Sesame family. Happy Pride to all!!!!," he posted.
"The 'Family Day' episode of Sesame Street sends the simple and important message that families come in all forms and that love and acceptance are always the most important ingredients in a family," GLAAD President and CEO Sarah Kate Ellis tells Yahoo Entertainment. "Frank and Dave, as Mia's dads, are the latest characters in an undeniable trend of inclusion across kids & family programming, one that allows millions of proud LGBTQ parents, and our children, to finally get to see families like ours reflected on TV."
Sesame Workshop (formerly Children's Television Workshop), which produces the show for National Educational Television on PBS has long embraced LGBGTQ visibility and equality. In addition to having openly gay celebrities such as Sir Elton John, Ellen DeGeneres, Billy Eichner, Billy Porter and recently Lil Nas X, guest star or make appearances, the show has produced several shows with positive LGBTQ themes over the past decade.
'Fellow Travelers' mixes queer love, politics for sexy history lesson
A relationship enduring across the years despite resistance and betrayal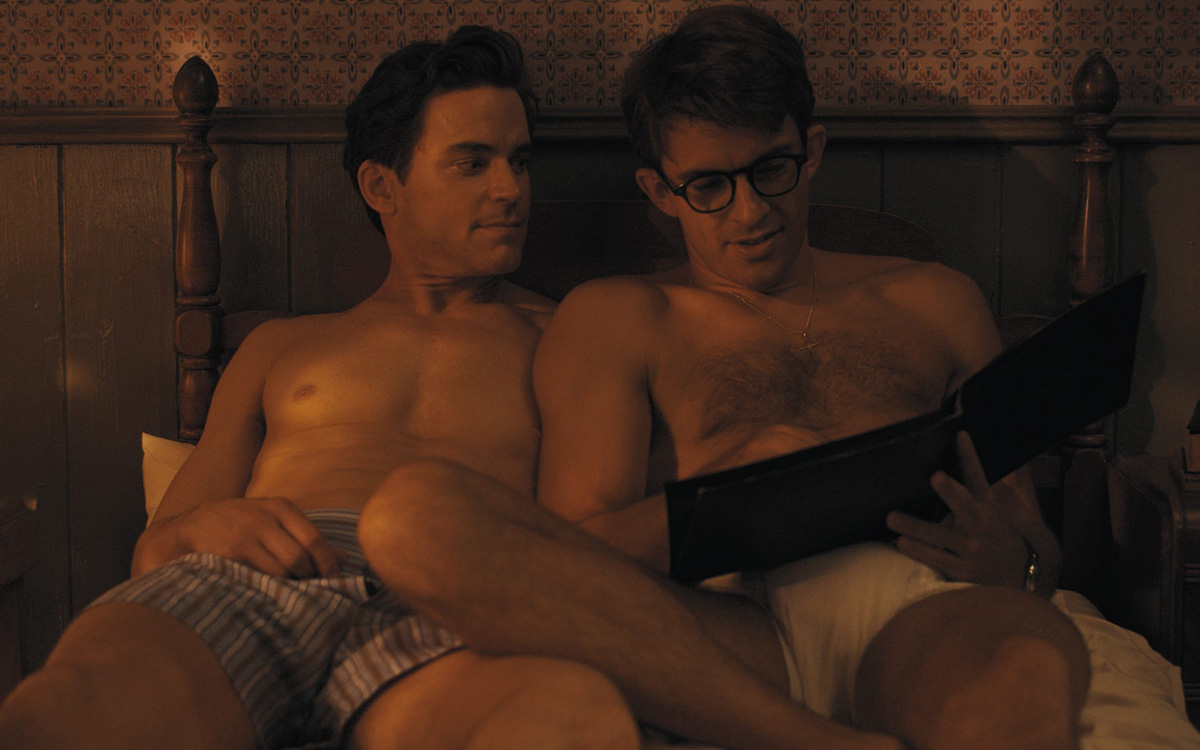 In a time when every streaming platform is falling over itself to present the newest "must binge" series, the phrase "Event TV" really has no meaning.
Yet once upon a time – just a few decades ago, in fact, when three major networks and a handful of cable companies highlighted every season with "hot topic of the day" shows from "Roots" to "The Band Played On" – it was something television viewers expected, a standard part of the small-screen line-up that inevitably generated ratings and provided a cultural touchstone (or at least, a good topic of discussion in the break room at work) for millions of people. If that era were still going on today, "Fellow Travelers" would be a perfect fit for the category.
Adapted from Thomas Mallon's 2007 novel of the same name, Showtime's sweeping eight-episode historical romance, which premiered with its provocative first episode on Oct. 27, checks off all the necessary boxes to pique the zeitgeist of our time. Presenting a fictionalized-but-authentic narrative that weaves real-life history into an intensely intimate love story spanning decades, it touches on issues of hotbed importance to our modern world while spinning an irresistible tale of forbidden romance – tempered by hard reality – that both blends into and epitomizes the lived reality of a generation.
To cement its status as a show that is not to be missed, it casts gay heartthrobs Matt Bomer ("Magic Mike," "The Normal Heart," and any number of Ryan Murphy projects) and Jonathan Bailey ("Bridgerton") as the star-crossed couple at its center, whose love plays out across a period of queer American political experience that spans from the deeply closeted pre-Stonewall era of 1950s America to the cultural trauma of the AIDS epidemic.
Simultaneously telling both the beginning and the end of its story, "Travelers" moves back and forth through time as it follows the love affair between two gay men – war hero turned government man Hawkins "Hawk" Fuller (Bomer) and political idealist Tim Laughlin (Bailey) – through three-and-a-half decades of American history. Juxtaposing the story of their increasingly enmeshed relationship – alongside that of a queer couple of color, a Black journalist (Jelani Alladin) and a gender-bending nightclub performer (Noah J. Ricketts) – with the years-later saga of their reconnection after a devastating betrayal has torn them apart, its dominant throughline is tied to the underreported (though irrefutably documented) history of homophobic discrimination by the U.S. government that began with the McCarthy "Red Scare" era purge of known-or-suspected homosexuals employed within government service. Perpetrated under excuse of the presumed security risk associated with anyone participating in a "deviant" lifestyle, it was a targeted propoganda campaign that would eventually culminate in the debacle of the nation's indifference to AIDS and the rising death toll that was taking place in plain sight.
It's not the first show to tackle this subject matter; America's response to AIDS, and the deeply ingrained cultural homophobia that laid unabashedly behind it, has been explored so much that it has become almost a thematic trope. As to the topic of queer life in an environment where "passing" as straight is purely a matter of survival, it's a subject as relevant to queer existence in much of the world today as it has ever been, which we've rightly seen reiterated time and again. But given the current push in American politics to erode the hard-won advancements of the LGBTQ community toward acceptance and equality, it's hard to complain about a show that wants to explore it on our screens yet again.
Even so, it's also hard not to go into "Fellow Travelers" without noting the common ground it shares with other dramatic narratives covering the same ground – especially, perhaps, playwright Tony Kushner's seminal and now-iconic Pulitzer-winning "Angels in America," with which it invites comparison by virtue of its inclusion of real-life poster boy for internalized homophobia Roy Cohn (played here by Will Brill) and its focus on closeted characters working within the U.S. political establishment – and wondering if it will have anything new or noteworthy to say.
Based solely on its first episode, you might be prodded toward even more skepticism; establishing itself with a broad strokes and a glossy tone, it feels a bit like an old-school tearjerker, evoking the Douglas Sirk-ish social melodramas of its (predominantly) vintage setting even as it moves from past to future and back again. It's stylish, even lovely, but seems built on a distancing artifice. And its romantic leads, the characters to which we are supposed to attach ourselves, might be hard to swallow – for some viewers, at least – simply because they are gay men seemingly content to live their real lives under cover while working for a governmental system that facilitates their oppression. To put it simply, it all feels a little too "Hollywood."
Yet despite this, or perhaps because of it, the show draws us in. Though at first we might think it tends toward the shallow, drawing on familiar formulas and offering up two thinly drawn protagonists in hopes we'll accept them simply because they are played by a pair of impossibly handsome leading men, the ideas it presents are important and the history it documents illuminates a past that has remained obscured for far too long, so we're willing to jump on board. Besides, those leading men are not only very handsome, they have a winning chemistry together, and the authenticity of the casting pays off by delivering a queer screen couple that feels genuine – and that's not just because of their unapologetically sexy love scenes. Even if their story doesn't quite make sense to us yet, we want to see more of them.
That's a very good thing, because as the series moves along, the tone changes drastically. Though the world of episode one is full of blithe denial and resignation to a status quo that might make our hindsight bristle, it's a world that quickly changes as things progress, a point driven home by the show's time-jumping framework. The oppression gets worse, the danger gets real, and the effect those things have on the lives of these two men – one a seemingly amoral pragmatist who has accepted and embraced a closeted life as a condition for success and the other a passionate "true believer" naïve enough to fall under the spell of a right-wing political ideology – has an impact. They change, they make choices and suffer consequences; in other words, they deepen, and as they do, the show does too.
That's because show creator Ron Nyswaner, despite making some changes from the novel, understood the throughline at its core and held tight to it in building the series. Ultimately, "Fellow Travelers" is not a story about politics, or social causes, or any of the other weighty issues that shape its trajectory. It's a story about love, enduring across the years despite resistance, opposition, and betrayal; whether it ends happily or not – and you won't get any spoilers here – it is lived passionately. Because of that, we care, and because we care, those big ideas land even more soundly.