AIDS @40: The White House laughs as gays try to save themselves
Over a third of them have died. It's known as "gay plague." (Laughter.) No, it is. I mean it's a pretty serious thing […]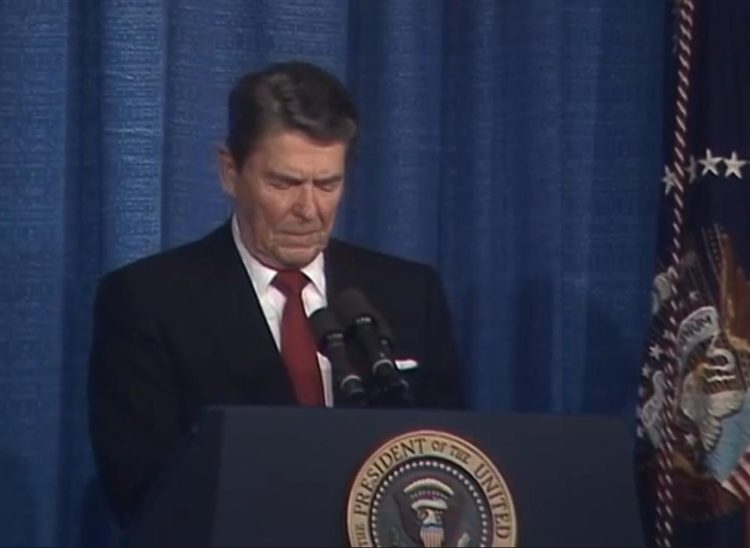 By Karen Ocamb | LOS ANGELES – Like so many others in California, lesbian feminist Ivy Bottini had high expectations for the federal government to finally intervene in the growing AIDS crisis after the first congressional committee hearing on the mysterious new disease, chaired by Rep. Henry Waxman, (D-CA) on April 13, 1982.
There was very little press coverage of the hearing — held at the Los Angeles Gay Community Services Center on Highland Avenue in Hollywood. But years later, Dr. Anthony Fauci of the National Institutes of Health recalled a quote reported by the Washington Blade:
"I want to be especially blunt about the political aspects of Kaposi's sarcoma (KS)," Waxman said. "This horrible disease afflicts members of one of the nation's most stigmatized and discriminated-against minorities….There is no doubt in my mind that if the same disease had appeared among Americans of Norwegian descent, or among tennis players, rather than among gay males, the responses of the government and the medical community would have been different."
The gay San Francisco newspaper The Sentinel published a very short brief on April 16 entitled "House Holds Cancer Hearings" about "the gay cancer." The paper quoted an unnamed subcommittee staffer saying the CDC, "which is coordinating research on the baffling outbreak, 'should not have to nickel and dime' for funds." The brief appeared next to a column written by gay nurse Bobbi Campbell, who wrote about going to The Shanti Project to get emotional support for his KS.
Bottini's take-away from the Waxman hearing was that no one really knew how AIDS was transmitted. She was upset. Her friend Ken Schnorr had died just before the hearing and Bottini had to explain to Ken's distraught mother that he had not been abused at the hospital — the purple bruises on his body were KS lesions.
After weeks of governmental inaction, Bottini called Dr. Joel Weisman, Schnorr's gay doctor, to update the community at a town hall in Fiesta Hall in West Hollywood's Plummer Park. Weisman had sent gay patients to Dr. Michael Gottlieb and was one of the co-authors on the first CDC public report about AIDS on June 5, 1981.
Bottini later recalled how gay men often thanked her for saving their lives at that packed town hall. Bottini subsequently founded AIDS Network LA, to serve as a clearing house for collecting and disseminating information. But not everyone bought the science-based premise that AIDS was transmitted through bodily fluids — including Bottini's friend Morris Kight, prompting a deep three-year rift.
Nonetheless, groups offering gay men advice on how to have safe sex started emerging, as did peer groups forming for emotional, spiritual and healthcare support. The Bay Area Physicians for Human Rights, Houston's Citizens for Human Equality and the new Gay Men's Health Crisis in New York City published pamphlets and newsletters.
Panic and denial were wafting in tandem through gay Los Angeles, too. In Oct. 1982, friends Nancy Cole Sawaya (an ally), Matt Redman, Ervin Munro, and Max Drew convened an emergency informational meeting at the Los Angeles Gay Community Services Center on Gay Related Immunodeficiency Disease (GRID, soon to be called AIDS) delivered by a representative from San Francisco's Kaposi's Sarcoma Foundation.
"My friends and I were in New York in 1981, hearing stories among friends coming down with this mysterious disease. We realized that back home in L.A. there was no hotline, no medical care, and no one to turn to for emotional support," Redman told The Advocate's Chris Bull on July 17, 2001 for a story on the 20th anniversary of AIDS. "For some reason I wasn't really scared. It was so early on that no one could predict what would happen."
That quickly changed when the friends realized there was no level of governmental help forthcoming. They set up a hotline in a closet space at the Center, found 12 volunteers and asked Weisman to train them on how to answer questions, reading off a one-page fact sheet. The idea was to "reduce fear" and eventually give out referrals to doctors and others willing to help.
The four also reached out to friends to raise money, netting $7,000 at a tony Christmas benefit to fund a new organization called AIDS Project Los Angeles. They set up a Board of Directors with Weisman and longtime checkbook activist attorney Diane Abbitt as Board co-chairs. They gaveled their first Board meeting to order on January 14, 1983 with five clients. The following month, APLA produced and distributed a brochure about AIDS in both English and Spanish.
Four months later, in May, APLA and other activists organized the first candlelight march in Los Angeles at the Federal Building in Westwood and in four other cities. The LA event was attended by more than 5,000 people demanding federal action. The KS/AIDS Foundation in San Francisco was led by people with AIDS carrying a banner that read "Fighting For Our Lives." When the banner was unfurled at the National Lesbian and Gay Health Conference that June by activists presenting The Denver Principles, the crowd cried, with a 10-minute ovation.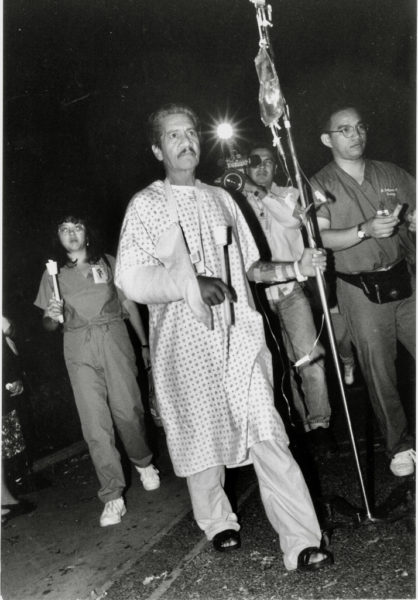 "If the word 'empowerment' hadn't yet been a part of the health care lexicon, it was about to be," HIV/AIDS activist Mark S. King wrote in POZ. The group took turns reading a document to the conference they had just created themselves, during hours sitting in a hospitality suite of the hotel. It was their Bill of Rights and Declaration of Independence rolled into one. It would be known as The Denver Principles, and it began like this:
'We condemn attempts to label us as 'victims,' which implies defeat, and we are only occasionally 'patients,' which implies passivity, helplessness, and dependence upon the care of others. We are 'people with AIDS.'"
While The Denver Principles were injecting self-empowerment into the growing movement of people with AIDS, the Reagan administration was infecting America through mass media association of homosexuality, AIDS and old myths of sexual perversion. Ronald Reagan was keenly aware of his anti-gay evangelical base, appointing Gary Bauer as a domestic policy advisor. Bauer was a close associate of James Dobson, president of the powerful Religious Right group Focus on the Family.
Reagan also picked anti-abortion crusader C. Everett Koop as Surgeon General — which turned into a mini-scandal when Koop agreed that sexually explicit AIDS education and gay-positive materials should be federally funded for schools. "You cannot be an efficient health officer with integrity if you let other things get in the way of health messages," Koop told the Village Voice. Koop was slammed by the Moral Majority's Rev. Jerry Falwell and other anti-gay evangelicals.
But perhaps one most egregious examples of the Reagan administration's homophobic callousness towards people with AIDS came from the persistent laughter emanating from the podium of White House Deputy Press Secretary Larry Speakes.
On Oct. 15, 1982, less than four weeks after Reps. Henry Waxman and Phillip Burton introduced a bill to allocate funds to the CDC for surveillance and the NIH for AIDS research, reporter Lester Kinsolving asked Speakes about the new disease called A.I.D.S..
Kinsolving: Larry, does the President have any reaction to the announcement — the Center for Disease Control in Atlanta, that AIDS is now an epidemic and have over 600 cases?
SPEAKES: What's AIDS?
Kinsolving: Over a third of them have died. It's known as "gay plague." (Laughter.) No, it is. I mean it's a pretty serious thing that one in every three people that get this have died. And I wondered if the President is aware of it?
SPEAKES: I don't have it. Do you? (Laughter.)
Kinsolving: You don't have it. Well, I'm relieved to hear that, Larry. (Laughter.) I'm delighted.
SPEAKES: Do you?
Kinsolving: No, I don't….In other words, the White House looks on this as a great joke?
SPEAKES: No, I don't know anything about it, Lester. What –
Kinsolving: Does the President, does anybody in the White House know about this epidemic, Larry?
SPEAKES: I don't think so. I don't think there's been any –
Kinsolving: Nobody knows?
SPEAKES: There has been no personal experience here, Lester.
The exchange goes on like that. For another two years. On World AIDS Day, Dec. 1, 2015, Vanity Fair debuted a 7:43 documentary directed and produced by Scott Calonico about that 1982 exchange between Kinsolving and Speakes. But Calonico also found audio of similar exchanges in 1983 and 1984 for his film, "When AIDS Was Funny."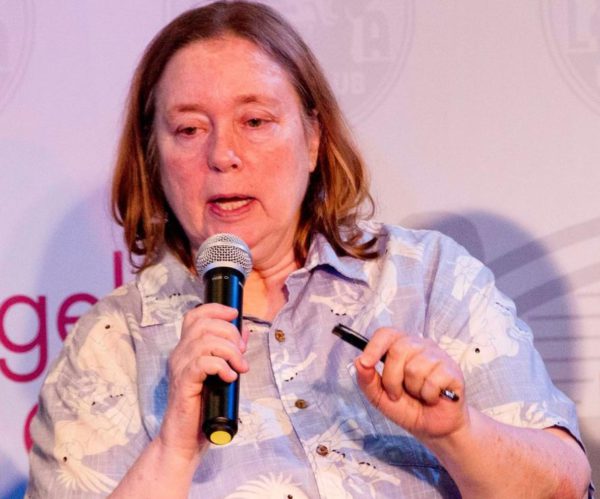 Karen Ocamb is the Director of Media Relations for Public Justice, a national nonprofit legal organization that advocates and litigates in the public interest. The former News Editor of the Los Angeles Blade, Ocamb is a longtime chronicler of the lives of the LGBTQ community in Southern California.
This is Part 4 of a series of 5 articles on AIDS @40.
HIV speeds up body's aging within three years after initial infection
Living with HIV infection is associated with early onset of aging-related chronic conditions, sometimes described as accelerated aging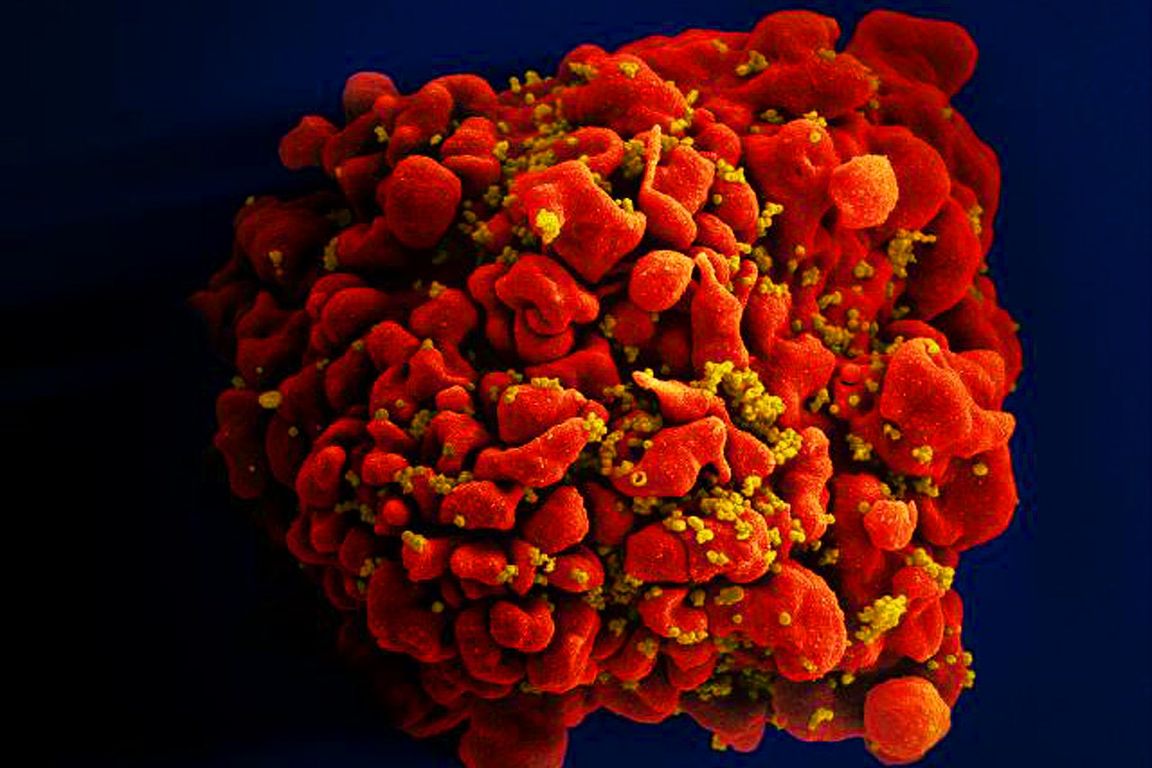 LOS ANGELES – A study published by researchers from the division of hematology and oncology at the David Geffen School of Medicine at UCLA at the end of June revealed that HIV has an "early and substantial" impact on aging in infected people, accelerating biological changes in the body associated with normal aging within just two to three years of infection.
"Our work demonstrates that even in the early months and years of living with HIV, the virus has already set into motion an accelerated aging process at the DNA level," said lead author Elizabeth Crabb Breen, a professor emerita at UCLA's Cousins Center for Psychoneuroimmunology and of psychiatry and biobehavioral sciences at the David Geffen School of Medicine at UCLA. "This emphasizes the critical importance of early HIV diagnosis and an awareness of aging-related problems, as well as the value of preventing HIV infection in the first place."
According to the results of the study published in the Cell Press open source journal iScience, the findings suggest that new HIV infection may rapidly cut nearly five years off an individual's life span relative to an uninfected person.
The study's authors noted that despite a significant increase in life expectancy because of treatment regimes now available to patients, there is mounting evidence that living long-term with Human Immunodeficiency Virus (HIV) and antiretroviral therapy, even when clinically well-controlled, is associated with an earlier than expected onset of chronic conditions such as heart and kidney disease, frailty, and neurocognitive difficulties.
The research team analyzed stored blood samples from 102 men collected six months or less before they became infected with HIV and again two to three years after infection. They compared these with matching samples from 102 non-infected men of the same age taken over the same time period.
The UCLA team said that this study is the first to match infected and non-infected people in this way. All the men were participants in the Multicenter AIDS Cohort Study, an ongoing nationwide study initiated in 1984.
"Our access to rare, well-characterized samples allowed us to design this study in a way that leaves little doubt about the role of HIV in eliciting biological signatures of early aging," said senior author Beth Jamieson, a professor in the division of hematology and oncology at the Geffen School. "Our long-term goal is to determine whether we can use any of these signatures to predict whether an individual is at increased risk for specific aging-related disease outcomes, thus exposing new targets for intervention therapeutics."
The researchers noted some limitations to the study. It included only men, so results may not be applicable to women. In addition, the number of non-white participants was small, and the sample size was insufficient to take into consideration later effects of highly active antiretroviral treatment or to predict clinical outcomes.
There is still no consensus on what constitutes normal aging or how to define it, the researchers wrote.
The full study is available here: (Link)
U.S. announces more funding for HIV/AIDS fight in Latin America
Jill Biden made announcement on Saturday in Panama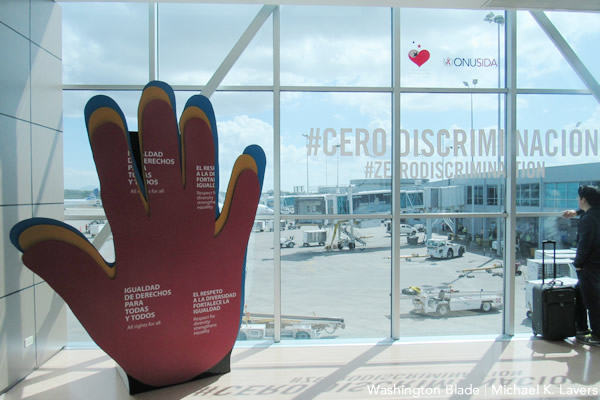 PANAMA CITY — First lady Jill Biden on Saturday announced the U.S. will provide an additional $80.9 million to the fight against HIV/AIDS in Latin America.
Biden during a visit to Casa Hogar el Buen Samaritano, a shelter for people with HIV/AIDS in Panama City, said the State Department will earmark an additional $80.9 million for President's Emergency Plan for AIDS Relief-funded work in Latin America. A Panamanian activist with whom the Washington Blade spoke said LGBTQ+ people were among those who met with the first lady during her visit.
Pope Francis visited the shelter in 2019.
"I'm glad we have the opportunity to talk about how the United States and Panama can work together to combat HIV," said the first lady.
Michael LaRosa, the first lady's spokesperson, noted Panama will receive $12.2 million of the $80.9 million in PEPFAR funding.
"This funding, pending Congressional notification, will support expanded HIV/AIDS services and treatment," said LaRosa.
UNAIDS statistics indicate an estimated 31,000 Panamanians were living with HIV/AIDS in 2020. The first lady's office notes the country in 2020 had the highest number of "newly notificated cases of HIV/AIDS" in Central America.
The first lady visited Panama as part of a trip that included stops in Ecuador and Costa Rica.
The Summit of the Americas will take place next month in Los Angeles. The U.S. Agency for International Development and PEPFAR in April announced they delivered more than 18 million doses of antiretroviral drugs for Ukrainians with HIV/AIDS.
New highly-infectious variant of HIV discovered by Dutch scientists
This new variant of HIV-1 damaged the immune system twice as fast, "placing individuals at risk of developing AIDS much more rapidly"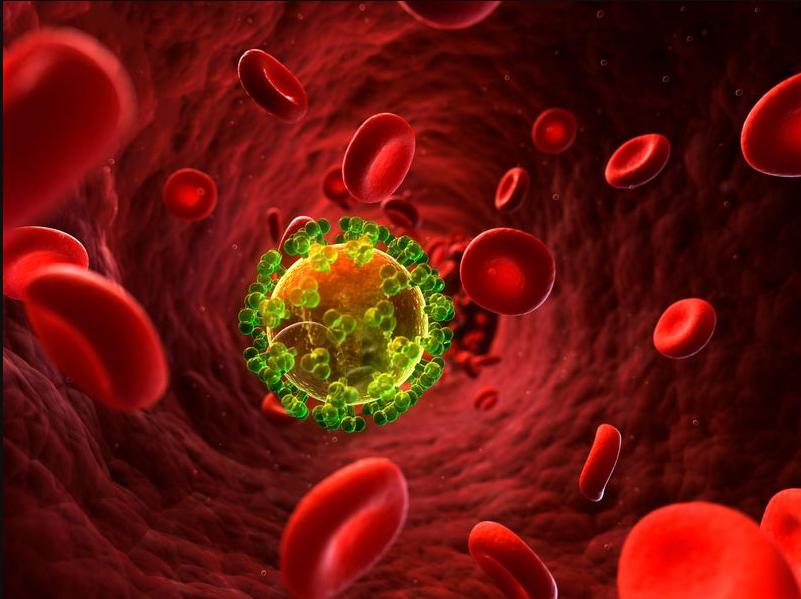 CAMBRIDGE, UK – A study published this week by Science (journal) detailed an alarming discovery by researchers, clinicians and epidemiologists in the Netherlands of a new, highly-infectious mutated variant strain of the human immunodeficiency virus, (HIV), circulating in the country.
The BEEHIVE project – which stands for "bridging the epidemiology and evolution of HIV in Europe and Uganda," detailed the findings which showed that a distinct subtype-B viral variant of HIV-1 damaged the immune system twice as fast, "placing individuals at risk of developing AIDS much more rapidly", and those with this variant were at a higher risk of transmitting the virus to others.
The variant, known as the "VB variant", causes CD4 cell decline to occur twice as fast in infected individuals compared with other viral variants. This is a clinical hallmark, or "signature" of the extent of damage caused by the HIV virus. In addition, those infected with the VB variant also demonstrated an increased risk of transmitting the virus to others, the data suggests.
Individuals infected with the new "VB variant" (for virulent subtype B) showed significant differences before antiretroviral treatment compared with individuals infected with other HIV variants:
Individuals with the VB variant had a viral load (the level of the virus in the blood) between 3.5 and 5.5 times higher.
In addition, the rate of CD4 cell decline (the hallmark of immune system damage by HIV) occurred twice as fast in individuals with the VB variant, placing them at risk of developing AIDS much more rapidly.
Individuals with the VB variant also showed an increased risk of transmitting the virus to others.
The project's researchers, clinicians and epidemiologists did determine however, that those infected with the VB variant had "similar immune system recovery and survival to individuals with other HIV variants."
However, the researchers stress that because the VB variant causes a more rapid decline in immune system strength, this makes it critical that individuals are diagnosed early and start treatment as soon as possible.
BEEHIVE project's lead author Dr Chris Wymant, from the University of Oxford's Big Data Institute and Nuffield Department of Medicine, said: "Before this study, the genetics of the HIV virus were known to be relevant for virulence, implying that the evolution of a new variant could change its impact on health. Discovery of the VB variant demonstrated this, providing a rare example of the risk posed by viral virulence evolution."
"Our findings emphasize the importance of World Health Organization guidance that individuals at risk of acquiring HIV have access to regular testing to allow early diagnosis, followed by immediate treatment. This limits the amount of time HIV can damage an individual's immune system and jeopardise their health. It also ensures that HIV is suppressed as quickly as possible, which prevents transmission to other individuals," Senior author Professor Christophe Fraser from the University of Oxford's Big Data Institute and Nuffield Department of Medicine, added.

In its Global HIV & AIDS statistics — Fact sheet, the UNAIDS Secretariat detailed the statistical data: 
GLOBAL HIV STATISTICS
28.2 million people were accessing antiretroviral therapy as of 30 June 2021.
37.7 million [30.2 million–45.1 million] people globally were living with HIV in 2020.
1.5 million [1.0 million–2.0 million] people became newly infected with HIV in 2020.
680 000 [480 000–1.0 million] people died from AIDS-related illnesses in 2020.
79.3 million [55.9 million–110 million] people have become infected with HIV since the start of the epidemic.
36.3 million [27.2 million–47.8 million] people have died from AIDS-related illnesses since the start of the epidemic.
People living with HIV
In 2020, there were 37.7 million [30.2 million–45.1 million] people living with HIV.

36.0 million [28.9 million–43.2 million] adults.
1.7 million [1.2 million–2.2 million] children (0–14 years).
53% of all people living with HIV were women and girls.

84% [67– >98%] of all people living with HIV knew their HIV status in 2020.
About 6.1 million [4.9 million–7.3 million] people did not know that they were living with HIV in 2020.
People living with HIV accessing antiretroviral therapy
As of 30 June 2021, 28.2 million people were accessing antiretroviral therapy, up from 7.8 million [6.9 million–7.9 million] in 2010.
In 2020, 73% [56–88%] of all people living with HIV were accessing treatment.

74% [57–90%] of adults aged 15 years and older living with HIV had access to treatment, as did 54% [37–69%] of children aged 0–14 years.
79% [61–95%] of female adults aged 15 years and older had access to treatment; however, just 68% [52–83%] of male adults aged 15 years and older had access.

85% [63– >98%] of pregnant women living with HIV had access to antiretroviral medicines to prevent transmission of HIV to their child in 2020.
New HIV infections
New HIV infections have been reduced by 52% since the peak in 1997.

In 2020, around 1.5 million [1.0 million–2.0 million] people were newly infected with HIV, compared to 3.0 million [2.1 million–4.2 million] people in 1997.
Women and girls accounted for 50% of all new infections in 2020.

Since 2010, new HIV infections have declined by 31%, from 2.1 million [1.5 million–2.9 million] to 1.5 million [1.0 million–2.0 million] in 2020.

Since 2010, new HIV infections among children have declined by 53%, from 320 000 [210 000–510 000] in 2010 to 150 000 [100 000–240 000] in 2020.
AIDS-related deaths
AIDS-related deaths have been reduced by 64% since the peak in 2004 and by 47% since 2010.

In 2020, around 680 000 [480 000–1 million] people died from AIDS-related illnesses worldwide, compared to 1.9 million [1.3 million–2.7 million] people in 2004 and 1.3 million [910 000–1.9 million] people in 2010.

AIDS-related mortality has declined by 53% among women and girls and by 41% among men and boys since 2010.