Next Generation of Pride means looking to the future
LA Community College students are true heroes overcoming seemingly insurmountable odds in pursuit of a college education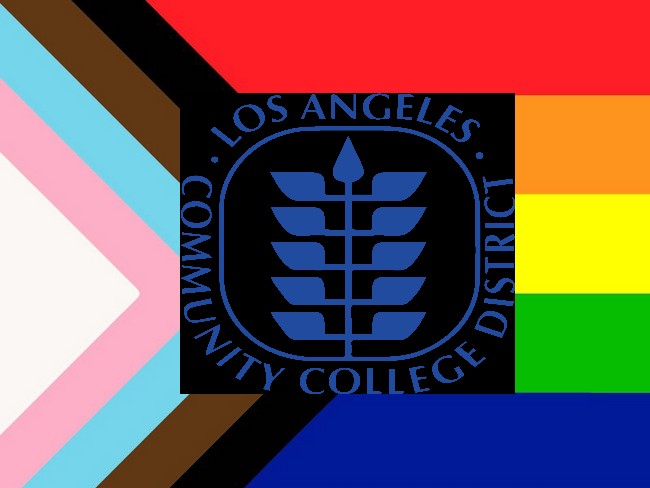 LOS ANGELES – Sofia C. Zaragoza is a 19 year old queer Latinx student from the LACCD's LA Pierce College. Zaragoza, an English major, is transferring from the Pierce campus to University of California, Berkeley in the Fall of 2021.
She has also been recently accepted in to the Mellon Mayes Undergraduate Research Fellowship where she will continue her research in English through what she calls "an interdisciplinary feminist lens." In an interview with the Los Angeles Blade on Wednesday, Zaragoza told the paper that her passion for social justice, equity and literature led her to hold various positions in her college including as a Student Senator, a Chair on a Student Government committee, where she has maintained inclusion as her top priority.
She believes that her intersectional identity has led her to provide a diverse and enriching perspective for any and all activities which she is a part of. Finally, she hopes to eventually provide this same supporting, enriching environment for future generations of students through her career, she says.
"In many ways I think I was privileged- in high school (Grover Cleveland Charter High School) with the program I was in- also the Gay-Straight Alliance," she said.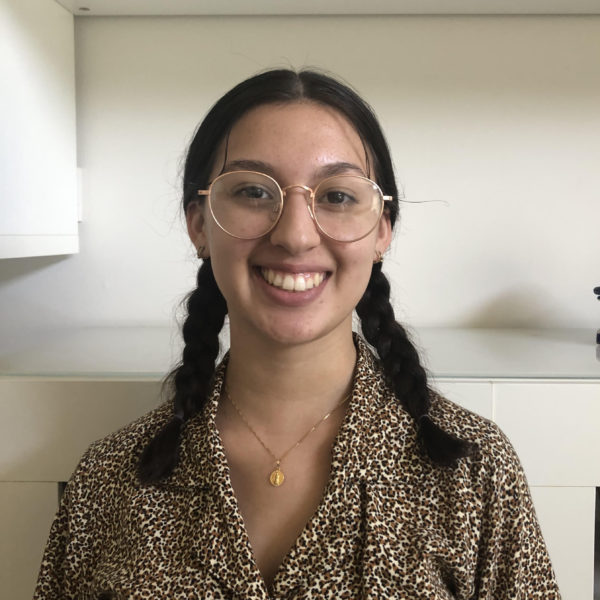 A spokesperson for the Los Angeles Unified School District told the Blade that it is committed to providing a safe learning environment for all of its students, so that in the case of Zaragoza, that commitment becomes foundational later on as the students enter college or continue on into a work environment. She told the Blade she did feel that support while attending Cleveland.
While attending LACCD's Pierce she says she very much felt the support for her identity as a queer Latinx. The only elements she felt represented a personal loss was the interruption of her academics by the coronavirus pandemic.
"The biggest loss was the in-person, oh! and social interactions," she said. She credits the educational opportunities that LACCD provided her as making admission to UC Berkley a reality.
Haunted by carrying the weight of navigating an often intolerant society as a gay, woman of
color, Nadia Noemi Martinez channels these ghosts both as an academic and as a writer.
Touching upon experience, vulnerability, and romance based upon these identities, her writing
attempts to capture these difficulties through vulnerable emotives and the embodiment of her
own intimate transparency with her readers, Noemi tells the Blade.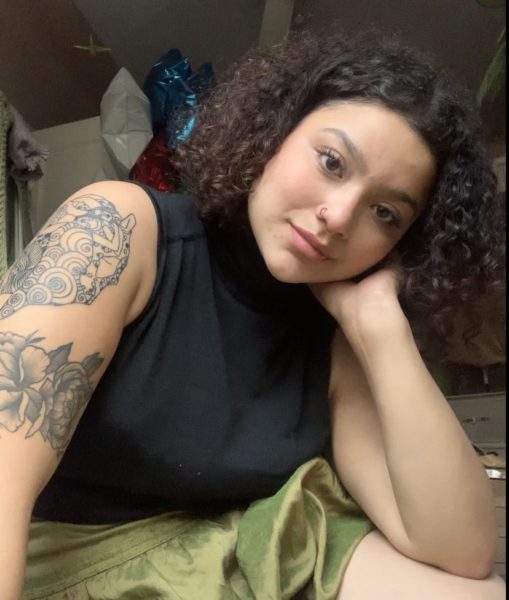 "The LACCD system prepared me," she said. "I found my ground, discovered, upholstered in life by my professors- letting me reach for what I will now experience."
In addition to her own personal life experiences, Nadia dedicates much of her growth and self-discovery to the narratives and work enacted by the queer activists before her–and certainly to those who will come after. With an acceptance into Hunter College in New York City as an English Literature major this upcoming Fall, she will continue the importance of challenging the literary canon and the structure of higher education itself in relation to marginalized identities.
Her central belief that through the outlet of creating art, such as prose and poetry, is one of the most profound ways to express what is foreign to those outside the confines of a queer body. While she hopes for her voice and her experiences to be heard, she wishes for the narratives of those closest and dear to her, to be heard, too.
"It was the discovery at ELAC in that Queer Lit class that gave me foundations," Noemi said.
A thirty-six year old single mom, with a bright sense of humor even as she battles a bit of a physical challenge, Jamey Sinardi, who told the Blade, "I choose to use "queer" to be all-inclusive" is grateful to LACCD and Pierce college for drastically improving her quality of life.
"LACCD helped me with my extreme dyslexia and made it possible for me to graduate Pierce college, which has been a blessing in my life," she said.
"I would love to continue to work to help LACCD and Pierce college in the future with my Law degree. I am starting Cal Lutheran in the fall and then plan to go to law school," she added. [California Lutheran University is a private liberal arts university in Thousand Oaks, California.] "I also want to help battered women and the queer community with pro bono law, as a way to help and give back."
Sinardi told the Blade that she went to school to help herself grow and expand her business opportunities. From her adolescence in Ventura County to bouncing around the Pacific Northwest and then back to California, Sinardi said that her journey was difficult. But when she was finally settled in and enrolled at Pierce, it was the Disabled Student Program and Services (DSPS) office and a kind staffer named David Phoenix who finally identified her severe case of dyslexia and then worked alongside her to ensure her academic success.
That sense of accomplishment coupled with a greater sense of stability, and a loving partner, led to her successful graduation from Pierce. "It's been beneficial, it has helped me, myself as I navigate my journey," she said.
Michael P Fuller, LACCD's Director of Institutional Advancement pointed out, "LA Community College students are true heroes overcoming seemingly insurmountable odds in pursuit of a college education."
Fuller, also noted; "During the past year of unprecedented challenges, foundations and individuals have stepped up to make 2020 the most successful fundraising year ever for the Foundation for the Los Angeles Community Colleges.
In turn, the Foundation gave out more than 25,000 awards directly to students including laptops, grocery gift cards, food deliveries, internet hotspots, and grants for emergency situations. These grants and awards change lives forever and affect generations to come."
Troy Masters, publisher of the Los Angeles Blade said that the Blade Foundation, a 501C3 arm of the Los Angeles Blade and Washington Blade, will support an LGBT scholarship program through the office of Director Fuller aimed at developing the academic careers of LGBTQIA students who wish to pursue journalism.
"Supporting LGBTQIA youth who show promise as journalists and who value media for its ability to further social justice and the needs of our people is something dear to my heart. It's time for my generation to pass the baton," said Masters. adding "and a scholars program to support community college students is the right way to go on so many levels."
Delivering justice and equity, Jasmyne Cannick has 'the receipts'
This fight is about getting justice for Ed Buck's victims & also calling out all of the people along the way who failed them & enabled him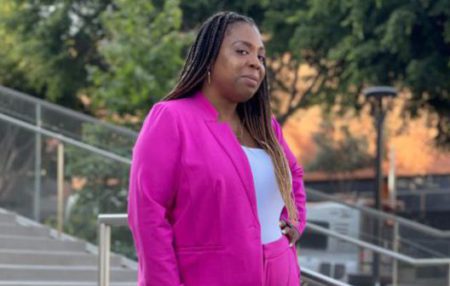 LOS ANGELES – In the world of popular culture the use of the slang phrase 'has the receipts' translates to bringing proof that someone was/is lying. Conversely it also is used to define that a person is being genuine.
Over the past several years as the crimes committed by West Hollywood resident and political activist Ed Buck, as he preyed on Black men were made public, the person holding the receipts was journalist turned advocate Jasmyne Cannick.
Frustrated and angered by what she perceived as lack of serious engagement by local law enforcement in the initial stages of the investigation into the death of 26-year-old Gemmel Moore, Cannick rallied the community and publicly called out law enforcement to take more aggressive action.
She orchestrated and led a grass-roots effort to get the criminal justice system of Los Angeles to listen to Gemmel's mother LaTisha Nixon's plea for justice. She used Gemmel's own words, written in his journal to alert authorities to the depths of the debauchery occurring inside that second floor flat in West Hollywood. She pleaded with law enforcement including the District Attorney for the County of Los Angeles Jackie Lacey to take action.
Her activism and fueling the rage of the greater community finally received the attention of Federal law enforcement and action that culminated in Buck's arrest and the trial.
She stood by the families even as to the horror of many, another Black man died nearly two years after Gemmel (2017) in January of 2019 and like that young life snuffed out too early, Timothy Dean, 55, was found deceased on the trash strewn floor of Buck's flat.
"The lives of Black gay men matter — no matter if they're homeless, survival sex workers or escorts — this is a case that transcends race, class, wealth. Our lives matter, our community matters, and just because someone is unhoused, an addict, may be a survival sex worker, or an escort, or HIV positive does not mean their lives don't matter and we should look the other way when they show up dead in a white Democratic donor's home." ~ Jasmyne Cannick.
In her owns words Cannick writes after the jury delivered guilty verdicts on nine separate federal counts; "It's been a long four years on this road for justice–justice that a guilty verdict would be but one small part off. Real justice is making sure that this never ever happens again. We can't do that with the enabling parties still acting like Ed Buck didn't happen"
She adds, "Ed Buck only got away with it for so long because he was white and because we still don't believe Black victims–even when they tell us what happened to them.
Gemmel Moore told us in his diary, "Ed Buck is the one to thank, he gave me my first injection of chrystal [sic] meth. It was very painful."
Buck was not all that he was portrayed as in the media, but he parlayed his influence, funneled through donations from others, and did ingratiate himself into the Democratic party in California over the years. There is plenty of photographic evidence to substantiate those claims to fame showing Buck rubbing elbows with politicians from all quarters.
Worse though was that rumours of Buck's fetishes were well known and yet even after the death of Gemmel Moore there seemed to be a collective shrugging of shoulders and zero calls for accountability. Cannick however, wasn't having it.
"Former district attorney Jackie Lacey was sitting on a mountain of evidence and still did nothing to prosecute Ed Buck for the deaths of Gemmel Moore and Timothy Dean," she said.
Appearing on BNC's Black News Tonight anchored by journalist Marc Lamont Hill last week, Cannick told Hill that the case intersected race and sexual orientation.
"As much as this case is about Ed Buck, it's also about our housing crisis, and what it makes people feel they have to do — play Russian roulette with their lives just to have a roof over their heads," she stressed.
Cannick is not just a gadfly community activist, in fact far from it. She is a powerful voice for those who have had no voice reminding people that Buck happened because the community allowed him to happen.
In her own words she points out, "Paul Koretz, a candidate for Controller in 2022, who is backed by the Black Democratic establishment and has taken thousands from Ed Buck, told a group that Buck's victims were all "disadvantaged Black hustlers."
"So while this fight is as much about getting justice for Ed Buck's victims it's also about calling out all of the people and entities along the way who failed them and enabled Ed Buck. Not doing so ensures a repeat of this situation because Ed Buck isn't the only Ed Buck," she pointed out. "Entities like the L.A. County Sheriff's Department who many of Ed Buck's victims said didn't take their complaints about Ed Buck seriously."
"But even though Ed Buck's crimes have been made public throughout his trial, not much has changed. The silence in Los Angeles' is deafening. If I wasn't sitting in the courtroom myself, I probably wouldn't know the trial was happening.
There's been no mention of the trial or justice for Ed Buck's victims from the Los Angeles County Democratic Party, California Democratic Party, Stonewall Democratic Club, or any of the dozens of elected officials he gave his money to," she noted.
In a conversation with the Blade on Monday Cannick said that the next phase for her advocacy is to seek financial compensation for Buck's victims. But beyond that is challenging community leaders and elected officials to address the very causes of what gave Buck ready access to the disadvantaged Black men in the first place; homelessness and helping the unhoused is her top priority.
She also serves now as an elected "At-Large" member of the leadership team of the Stonewall Democratic Club, the very place where Buck donated sums of money and rubbed elbows with Democratic Party leadership who gave Buck credibility and status.
For now there are some community leaders who are stepping up to acknowledge Cannick's holding the receipts including the City Council and Mayor of West Hollywood who honoured her community work during a regularly scheduled Council meeting Monday.
West Hollywood Mayor Linsey Horvath tweeted afterwards, "Thank YOU for your fearless leadership in pursuit of truth and justice, @Jasmyne Our community is safer, and survivors have more confidence that they will be heard & believed, because of you."
Thank YOU for your fearless leadership in pursuit of truth and justice, @Jasmyne Our community is safer, and survivors have more confidence that they will be heard & believed, because of you. #weho #believesurvivors #BlackLivesMatter #blackgaylivesmatter #AllBlackLivesMatter https://t.co/vq4t8IjLij

— Lindsey P Horvath (@LindseyPHorvath) August 3, 2021
BNT: Buck case highlights intersection of race & sexual orientation
Journalist Jasmyne Cannick, said that the case "intersected race." She joins "Black News Tonight" to discuss the case and its impact.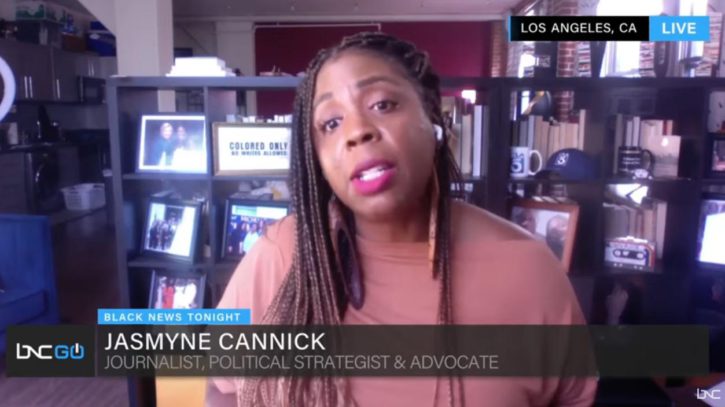 PHILADELPHIA – Appearing on BNC's Black News Tonight anchored by journalist Marc Lamont Hill Wednesday, Los Angeles based political strategist and journalist Jasmyne Cannick, who has covered the Ed Buck case, told Hill that the case intersected race and sexual orientation.
"As much as this case is about Ed Buck, it's also about our housing crisis, and what it makes people feel they have to do — play Russian roulette with their lives just to have a roof over their heads," Cannick stressed.
LA City Council votes to prevent sidewalk camping, Garcetti says he'll sign
The homeless crisis in California and in the greater Los Angeles region in particular has been exacerbated by the coronavirus pandemic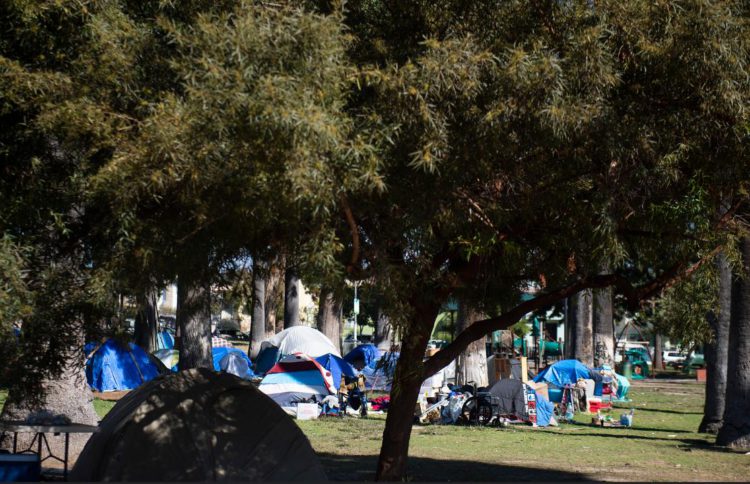 LOS ANGELES – In a 13-2 vote Wednesday, the Los Angeles City Council voted to stop people from camping in public spaces including the areas around parks, schools, homeless shelters, bridges and overpasses, and other similar structures, as well as any encampment that would block sidewalks in violation of the Americans with Disabilities Act.
A spokesperson for Los Angeles Mayor Eric Garcetti said that he will sign the ordinance.  Once signed, the measure will go into effect 30 days later. The ordinance bans encampments on sidewalks and driveways, freeway overpasses and on-ramps, and near libraries, parks, schools and homeless shelters.
It specifically bans homeless encampments from within 500 feet of schools, day care facilities, parks and libraries. Under the ordinance people who don't move would be fined, not arrested, and only after they are given two-weeks notice and offered shelter.
The homeless crisis in California and in the greater Los Angeles region in particular has been exacerbated by the coronavirus pandemic which saw thousands losing their jobs and some being evicted although moratoriums implemented by state and local officials have greatly reduced the evictions numbers.
Opponents of this ordinance are decrying it as another effort to criminalise the homeless population. Councilman Paul Krekorian who represents Council District 2, North Hollywood, Studio City, Sun Valley, Valley Glen, Valley Village, and Van Nuys, takes issue with that characterization saying;
"This ordinance, first of all, does not make homelessness illegal. It does not criminalize homelessness. It does not make any conduct that is fundamental to being human illegal. What it does do is it guarantees that we will reestablish passable sidewalks. It protects the users of our public infrastructure and the unhoused residents of our city from being put into positions of interaction with automobiles, around loading docks, driveways and so forth. It guarantees access to our fire hydrants, entrances to buildings."
Homeless and civil rights activist Eddie Cruz told KTLA, "this ordinance is targeting a specific group of people in the unhoused community. We believe that this is an irresponsible attack from the City Council and an irresponsible way to deal with the homelessness crisis that is occurring in Los Angeles," Cruz said.
Councilman Mitch O'Farrell, whose Council District encompasses Echo Park, scene of a series of confrontations over the homeless encampment that ultimately was cleared in part with the Los Angeles Police Department assisting, said in a statement that the ordinance "helps regulate shared public spaces while acting with compassion and purpose to help put people experiencing homelessness on a path to wellness."
"This ordinance establishes fair and clearly defined rules for how sidewalks in Los Angeles are regulated — while linking those rules to a comprehensive, compassionate strategy for street engagement that will establish reasonable pathways to positive outcomes and, ultimately, permanent homes," O'Farrell said.
L.A. City Council approves measure to bar homeless encampments: