Next Generation Pride; LA's Community Colleges embrace LGBTQ students
In its nearly eight decades, the Los Angeles Community College District has served as educator to more than three million students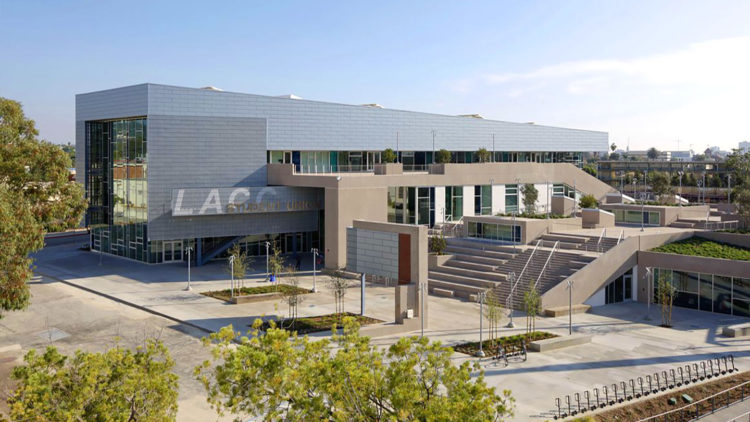 LOS ANGELES – It is entirely safe to argue that nowhere in the environs of higher education will a person find a greater reflection of the racial and ethnic diversity, jobless students, military-connected students, homeless and couch-surfing students, delayed-entry students, and older students than a community college. Also arguably a person seeking that diversity will also find a significant LGBTQ+ student body population.
As steadily increasing numbers students of color and first-generation students enroll in colleges, for many LGBTQ+ students a community college represents the first rung on the ladder of personal success by way of an attainable goal of a degree or certificate. A consideration of which is affordability which encompasses a whole person approach, especially for an LGBTQ+ identified student.
The First Lady, Dr. Jill Biden is a powerful education advocate and one who has on-the-job knowledge of the importance of higher learning having taught freshman English classes for a number of years in the Northern Virginia Community College system in suburban Fairfax County outside Washington D.C..
Earlier this Spring Dr. Biden, during a visit to Sauk Valley Community College in Dixon, Illinois renewed her call for affordable community college for all Americans who wish to attend, and also revisiting her support for free community colleges.
Speaking to students, faculty members, and staff, Biden noted that "Community colleges meet students where they are," saying, "We can't afford to exclude so many from continuing their education just because they come from certain areas or income brackets."
"I am — first, foremost and forever — their writing professor, Dr. B," Biden said. "In my class, my students don't take anything for granted. Some are there for a head start on a four-year degree, others for a much-needed fresh start." Biden said her students appreciate the affordability and flexibility of community college, and she understands the importance of education for overall economic growth.
According to research conducted by the American Association of Community Colleges, the average annual amount for tuition and fees for community college are $3,770, versus $10,560 per year for public, four-year college.
In its nearly eight decades, the Los Angeles Community College District (LACCD) has served as educator to more than three million students. Spread out over nine college campuses, LACCD educates almost three times as many Latino students and nearly four times as many African-American students as all of the University of California campuses combined.
The Los Angeles Community College District's nine community colleges are located throughout an area of more than 882 square miles within the County of Los Angeles; Los Angeles City College, East Los Angeles College, Los Angeles Harbor College, Los Angeles Mission College, ​Los Angeles Pierce College, Los Angeles ​Southwest College, ​Los Angeles Trade-Tech College, Los Angeles Valley College and West Los Angeles College.
Eighty percent of LACCD students are from underserved populations and more than half of all LACCD students are older than 25 years of age, with more than a quarter who are 35 or older.
The very factors that Dr. Biden pointed out in her speech at Sauk Valley Community College are core tenets for the trustees, faculty, and staff of the LACCD. Importantly as the LACCD notes in its handbook, "Community colleges serve adults of all ages, meeting the needs of a society where "lifelong learning" is the rule and multiple careers and continual retraining are the norm."
Beyond those factors are the complications that arose from the devastating affects of the global coronavirus pandemic, especially financial issues. Yet that term according to Inside Higher Education has dual meaning.
"Financial issues" can be a euphemism for deeper mental and emotional problems. Colleges need to be sure faculty and staff members are informed about all the potential signs of mental distress, as well as about resources for students who need support and assistance. Commuter and other students would benefit from campus counseling services online in addition to safely distanced in-person sessions. To meet overwhelming demand, colleges should consider adding services by online providers that work directly with counseling centers, Inside Higher Education noted in a July 23, 2020 article.
LGBTQ+ students face greater challenges
David Vela, the first openly LGBTQ+ Trustee in the LACC district, chairs the Chancellor's Advisory Committee on LGBTQ+ Affairs. On Monday Vela spoke with the Blade about the unique circumstances that confront LGBTQ+ students across all campuses.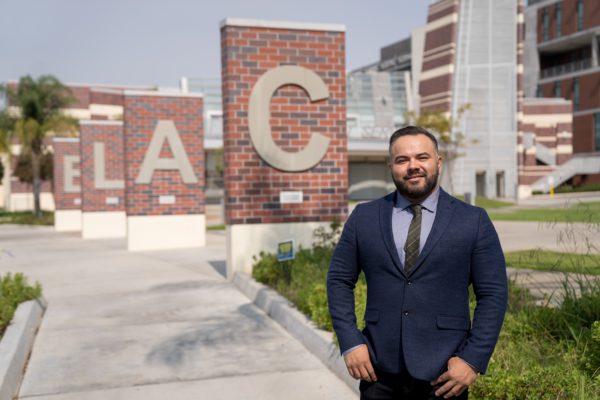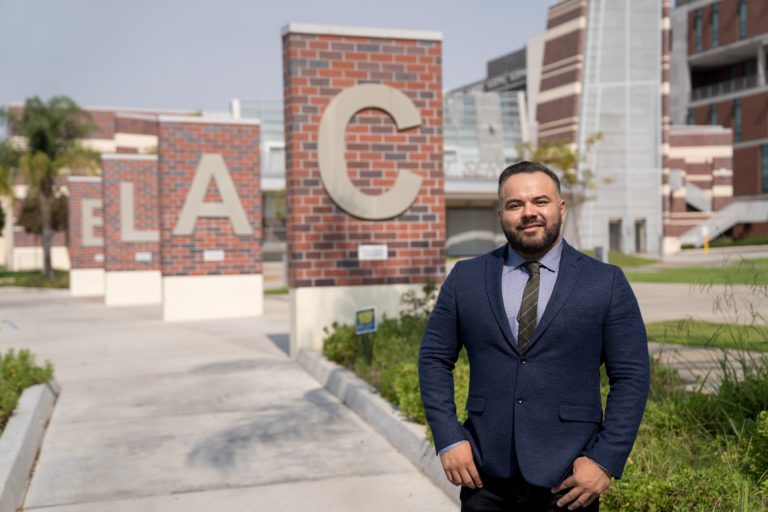 "The main focus for me as well as all of our trustees, the faculty, and staff is to ensure that the primary mission of the LACCD is met with each and every one of our students," Vela said. "The priority is 'completion,' whether it is a certificate, a two-year Associate degree or successfully transferring the student to either the UC system or Cal-State systems to finish out a 4 year degree."
Vela stressed that all of the LACCD students are assisted in three major ways; Academic, Housing and Food security and financial aid. " Our colleges are the number one alternative to the UC system and as such we are a critical element of ensuring a student's personal success," he said.
The LGBTQ+ students in fact, like most of the minority groups on the LACCD campuses, are faced with unique circumstances. But in addition, their status with their gender identity or sexual orientation often will complicate matters.
One of the primary considerations is housing, especially for students of color. A study by the Williams Institute at the University of California Los Angeles School of Law surveying a majority of providers of homeless youth services said that youth of color reported to be disproportionately overrepresented among LGBTQ clients accessing homelessness services.
Respondents reported a median 31% of their LGBTQ clients identifying as African American/Black, 14% Latino(a)/Hispanic, 1% Native American, and 1% Asian/Pacific Islander.
Access to safe spaces is a priority for LACCD says Vela. Beyond Housing security comes accompanying issues of broadband access and addressing food insecurity he added.
Focusing on safe housing by partnering with the City of Los Angeles, the County, and the State of California is an ongoing mission Vela told the Blade.
One of the primary ways to address these issues he said is by a total embracing of a student's experience within the LACCD system. Of special importance is to promote equity and equality for the LGBTQ communities across all nine campuses.
Delivering justice and equity, Jasmyne Cannick has 'the receipts'
This fight is about getting justice for Ed Buck's victims & also calling out all of the people along the way who failed them & enabled him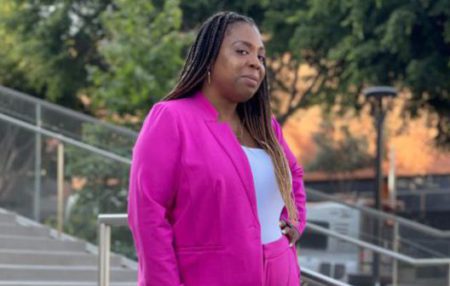 LOS ANGELES – In the world of popular culture the use of the slang phrase 'has the receipts' translates to bringing proof that someone was/is lying. Conversely it also is used to define that a person is being genuine.
Over the past several years as the crimes committed by West Hollywood resident and political activist Ed Buck, as he preyed on Black men were made public, the person holding the receipts was journalist turned advocate Jasmyne Cannick.
Frustrated and angered by what she perceived as lack of serious engagement by local law enforcement in the initial stages of the investigation into the death of 26-year-old Gemmel Moore, Cannick rallied the community and publicly called out law enforcement to take more aggressive action.
She orchestrated and led a grass-roots effort to get the criminal justice system of Los Angeles to listen to Gemmel's mother LaTisha Nixon's plea for justice. She used Gemmel's own words, written in his journal to alert authorities to the depths of the debauchery occurring inside that second floor flat in West Hollywood. She pleaded with law enforcement including the District Attorney for the County of Los Angeles Jackie Lacey to take action.
Her activism and fueling the rage of the greater community finally received the attention of Federal law enforcement and action that culminated in Buck's arrest and the trial.
She stood by the families even as to the horror of many, another Black man died nearly two years after Gemmel (2017) in January of 2019 and like that young life snuffed out too early, Timothy Dean, 55, was found deceased on the trash strewn floor of Buck's flat.
"The lives of Black gay men matter — no matter if they're homeless, survival sex workers or escorts — this is a case that transcends race, class, wealth. Our lives matter, our community matters, and just because someone is unhoused, an addict, may be a survival sex worker, or an escort, or HIV positive does not mean their lives don't matter and we should look the other way when they show up dead in a white Democratic donor's home." ~ Jasmyne Cannick.
In her owns words Cannick writes after the jury delivered guilty verdicts on nine separate federal counts; "It's been a long four years on this road for justice–justice that a guilty verdict would be but one small part off. Real justice is making sure that this never ever happens again. We can't do that with the enabling parties still acting like Ed Buck didn't happen"
She adds, "Ed Buck only got away with it for so long because he was white and because we still don't believe Black victims–even when they tell us what happened to them.
Gemmel Moore told us in his diary, "Ed Buck is the one to thank, he gave me my first injection of chrystal [sic] meth. It was very painful."
Buck was not all that he was portrayed as in the media, but he parlayed his influence, funneled through donations from others, and did ingratiate himself into the Democratic party in California over the years. There is plenty of photographic evidence to substantiate those claims to fame showing Buck rubbing elbows with politicians from all quarters.
Worse though was that rumours of Buck's fetishes were well known and yet even after the death of Gemmel Moore there seemed to be a collective shrugging of shoulders and zero calls for accountability. Cannick however, wasn't having it.
"Former district attorney Jackie Lacey was sitting on a mountain of evidence and still did nothing to prosecute Ed Buck for the deaths of Gemmel Moore and Timothy Dean," she said.
Appearing on BNC's Black News Tonight anchored by journalist Marc Lamont Hill last week, Cannick told Hill that the case intersected race and sexual orientation.
"As much as this case is about Ed Buck, it's also about our housing crisis, and what it makes people feel they have to do — play Russian roulette with their lives just to have a roof over their heads," she stressed.
Cannick is not just a gadfly community activist, in fact far from it. She is a powerful voice for those who have had no voice reminding people that Buck happened because the community allowed him to happen.
In her own words she points out, "Paul Koretz, a candidate for Controller in 2022, who is backed by the Black Democratic establishment and has taken thousands from Ed Buck, told a group that Buck's victims were all "disadvantaged Black hustlers."
"So while this fight is as much about getting justice for Ed Buck's victims it's also about calling out all of the people and entities along the way who failed them and enabled Ed Buck. Not doing so ensures a repeat of this situation because Ed Buck isn't the only Ed Buck," she pointed out. "Entities like the L.A. County Sheriff's Department who many of Ed Buck's victims said didn't take their complaints about Ed Buck seriously."
"But even though Ed Buck's crimes have been made public throughout his trial, not much has changed. The silence in Los Angeles' is deafening. If I wasn't sitting in the courtroom myself, I probably wouldn't know the trial was happening.
There's been no mention of the trial or justice for Ed Buck's victims from the Los Angeles County Democratic Party, California Democratic Party, Stonewall Democratic Club, or any of the dozens of elected officials he gave his money to," she noted.
In a conversation with the Blade on Monday Cannick said that the next phase for her advocacy is to seek financial compensation for Buck's victims. But beyond that is challenging community leaders and elected officials to address the very causes of what gave Buck ready access to the disadvantaged Black men in the first place; homelessness and helping the unhoused is her top priority.
She also serves now as an elected "At-Large" member of the leadership team of the Stonewall Democratic Club, the very place where Buck donated sums of money and rubbed elbows with Democratic Party leadership who gave Buck credibility and status.
For now there are some community leaders who are stepping up to acknowledge Cannick's holding the receipts including the City Council and Mayor of West Hollywood who honoured her community work during a regularly scheduled Council meeting Monday.
West Hollywood Mayor Linsey Horvath tweeted afterwards, "Thank YOU for your fearless leadership in pursuit of truth and justice, @Jasmyne Our community is safer, and survivors have more confidence that they will be heard & believed, because of you."
Thank YOU for your fearless leadership in pursuit of truth and justice, @Jasmyne Our community is safer, and survivors have more confidence that they will be heard & believed, because of you. #weho #believesurvivors #BlackLivesMatter #blackgaylivesmatter #AllBlackLivesMatter https://t.co/vq4t8IjLij

— Lindsey P Horvath (@LindseyPHorvath) August 3, 2021
BNT: Buck case highlights intersection of race & sexual orientation
Journalist Jasmyne Cannick, said that the case "intersected race." She joins "Black News Tonight" to discuss the case and its impact.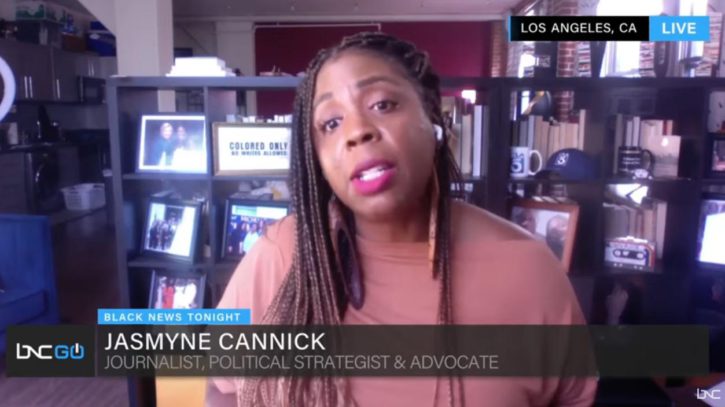 PHILADELPHIA – Appearing on BNC's Black News Tonight anchored by journalist Marc Lamont Hill Wednesday, Los Angeles based political strategist and journalist Jasmyne Cannick, who has covered the Ed Buck case, told Hill that the case intersected race and sexual orientation.
"As much as this case is about Ed Buck, it's also about our housing crisis, and what it makes people feel they have to do — play Russian roulette with their lives just to have a roof over their heads," Cannick stressed.
LA City Council votes to prevent sidewalk camping, Garcetti says he'll sign
The homeless crisis in California and in the greater Los Angeles region in particular has been exacerbated by the coronavirus pandemic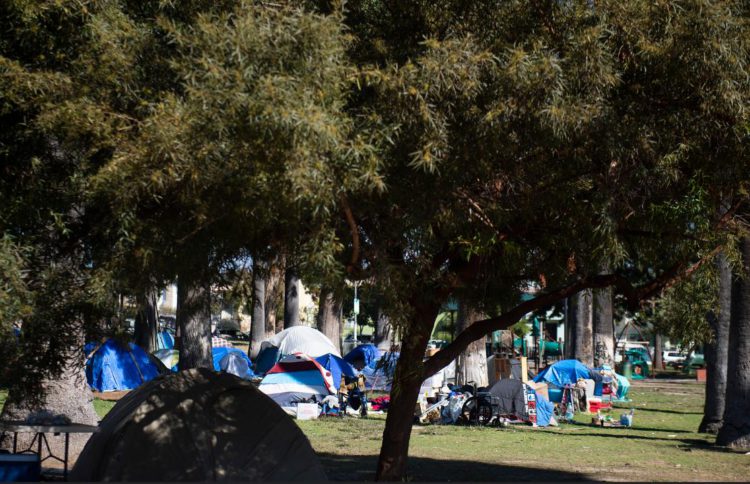 LOS ANGELES – In a 13-2 vote Wednesday, the Los Angeles City Council voted to stop people from camping in public spaces including the areas around parks, schools, homeless shelters, bridges and overpasses, and other similar structures, as well as any encampment that would block sidewalks in violation of the Americans with Disabilities Act.
A spokesperson for Los Angeles Mayor Eric Garcetti said that he will sign the ordinance.  Once signed, the measure will go into effect 30 days later. The ordinance bans encampments on sidewalks and driveways, freeway overpasses and on-ramps, and near libraries, parks, schools and homeless shelters.
It specifically bans homeless encampments from within 500 feet of schools, day care facilities, parks and libraries. Under the ordinance people who don't move would be fined, not arrested, and only after they are given two-weeks notice and offered shelter.
The homeless crisis in California and in the greater Los Angeles region in particular has been exacerbated by the coronavirus pandemic which saw thousands losing their jobs and some being evicted although moratoriums implemented by state and local officials have greatly reduced the evictions numbers.
Opponents of this ordinance are decrying it as another effort to criminalise the homeless population. Councilman Paul Krekorian who represents Council District 2, North Hollywood, Studio City, Sun Valley, Valley Glen, Valley Village, and Van Nuys, takes issue with that characterization saying;
"This ordinance, first of all, does not make homelessness illegal. It does not criminalize homelessness. It does not make any conduct that is fundamental to being human illegal. What it does do is it guarantees that we will reestablish passable sidewalks. It protects the users of our public infrastructure and the unhoused residents of our city from being put into positions of interaction with automobiles, around loading docks, driveways and so forth. It guarantees access to our fire hydrants, entrances to buildings."
Homeless and civil rights activist Eddie Cruz told KTLA, "this ordinance is targeting a specific group of people in the unhoused community. We believe that this is an irresponsible attack from the City Council and an irresponsible way to deal with the homelessness crisis that is occurring in Los Angeles," Cruz said.
Councilman Mitch O'Farrell, whose Council District encompasses Echo Park, scene of a series of confrontations over the homeless encampment that ultimately was cleared in part with the Los Angeles Police Department assisting, said in a statement that the ordinance "helps regulate shared public spaces while acting with compassion and purpose to help put people experiencing homelessness on a path to wellness."
"This ordinance establishes fair and clearly defined rules for how sidewalks in Los Angeles are regulated — while linking those rules to a comprehensive, compassionate strategy for street engagement that will establish reasonable pathways to positive outcomes and, ultimately, permanent homes," O'Farrell said.
L.A. City Council approves measure to bar homeless encampments: