California Legislative LGBTQ Caucus to Honor 12 Leaders in Online Event
Honoring our state's LGBTQ+ leaders and commemorate the vibrant community's strengths during an unprecedented year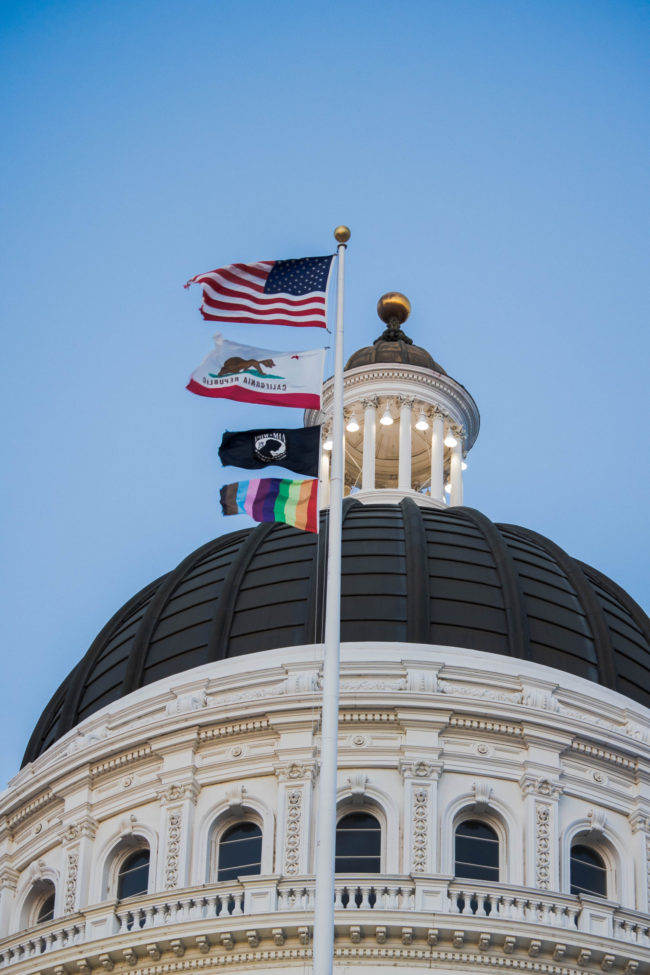 SACRAMENTO – In celebration of Pride Month, the California Legislative LGBTQ Caucus will host a virtual event at 6 p.m. Thursday to honor our state's LGBTQ+ leaders and commemorate the vibrant community's strengths during an unprecedented year.
On Monday, the Caucus introduced Senate Resolution 39 and House Resolution 51 to proclaim June as LGBTQ+ Pride month in the state of California. During that floor ceremony, the Caucus honored a dozen LGBTQ+ Californians for their outstanding work in the community.
The list of honorees, who will also be featured in the online event, included: Roberta Achtenberg, Luis Alfaro, Larry Baza, Robert Gentry, Dr. Lloyd Holmes, Drew Lloyd, Lange Luntao, Connor Maddocks, Gary McCoy, George Murphy, Dennis Sonney, and Kim Tran. Mr. Baza and Mr. Murphy were honored posthumously. Later that night, the celebration continued with the illumination of the Capitol Dome in rainbow colors for just the second time in state history.
Thursday's Pride celebration will be streamed here.
The intimate virtual ceremony will be dedicated to the 12 honorees and allow both Caucus members and honorees to speak about their unparalleled achievements and contributions to California's LGBTQ+ community.
Below is more information on each honoree:
Roberta Achtenberg (she/her)
Roberta Achtenberg has served in many roles during her extensive government and legal career, including the position of Fair Housing Assistant Secretary in 1993. She made history as the first openly LGBTQ+ person to be presidentially nominated and confirmed by the U.S. Senate.

Luis Alfaro (he/him)
Luis Alfaro is a Los Angeles-based author, poet and performer whose work has won numerous awards, including a MacArthur Fellowship. He is currently an Associate Professor at the University of Southern California.

Larry Baza (he/him) – Posthumous
Larry Baza was a dedicated LGBTQ+ activist who devoted his life to advancing civil and worker rights. He passed away in February, but his legacy continues to reverberate across California, especially in San Diego where he tirelessly advocated for the arts and greater access to education.

Robert Gentry (he/him)
Robert Gentry is a devoted public servant who became the first openly gay mayor in California for the City of Laguna Beach. Before and after his three consecutive terms as mayor, Gentry has worked tirelessly to increase equality and address issues impacting the LGBTQ+ community.

Dr. Lloyd Holmes (he/him)
Dr. Lloyd Holmes is a lifelong educator and community advocate who currently serves as President of De Anza College in Cupertino. He is the first openly gay Black man to hold this title, and he has dedicated his career to increasing student success and retention.

Drew Lloyd (he/him/his)
Drew Lloyd's work in the tech and legal industry has made him one the most influential communications consultants in Silicon Valley. He is the board President of BAYMEC, the oldest nonpartisan LGBTQ+ Political Action Committee in California.

Lange Luntao (he/him)
Lange Luntao has an extensive background in education and currently serves as the Director of External Relations for the Education Trust-West. In 2016, he became the first openly gay man elected to public office in Stockton.

Connor Maddocks (he/him)
Connor Maddocks is a transgender activist and recipient of the Harvey Milk Civil Rights Award. He has worked for numerous organizations to promote civil rights and equality, including the San Diego LGBTQ Center and the San Diego TRANS Masculine Discussion group.
Gary McCoy (he/him)
Gary McCoy is the Director of Public Affairs for HealthRIGHT 360, which focuses on mental health and substance abuse treatment. He has dedicated his career to public service, and he has worked in the office of House Speaker Nancy Pelosi in addition to serving as Co-President of the Alice B. Toklas LGBTQ Democratic Club.

George Murphy (he/him) – Posthumous
George Murphy was an icon in San Diego's LGBTQ+ community and a founding member of the San Diego LGBTQ Community Center. He worked as an academic counselor at Grossmont College and was heavily involved in his church.

Dennis Sonney (he/him)
Dennis Sonney is a Marine Corps veteran whose work with California's Manufacturing Network has led to numerous technological advancements in the Inland Empire. He has dedicated much of his career to advancing diversity and currently serves on the boards of The Science and Technology Education Partnership Foundation and The Garner Holt Foundation.

Kim Tran (she/her)
Kim Tran is a grassroots organizer, researcher and writer whose work has sparked social change through a unique approach to combating injustice and oppression, particularly with respect to Asian American solidarity and the Black Lives Matter movement.
If Temecula school board won't do its job, state will says Newsom
"State will deliver the books — and we'll send the district the bill and fine them for violating state law"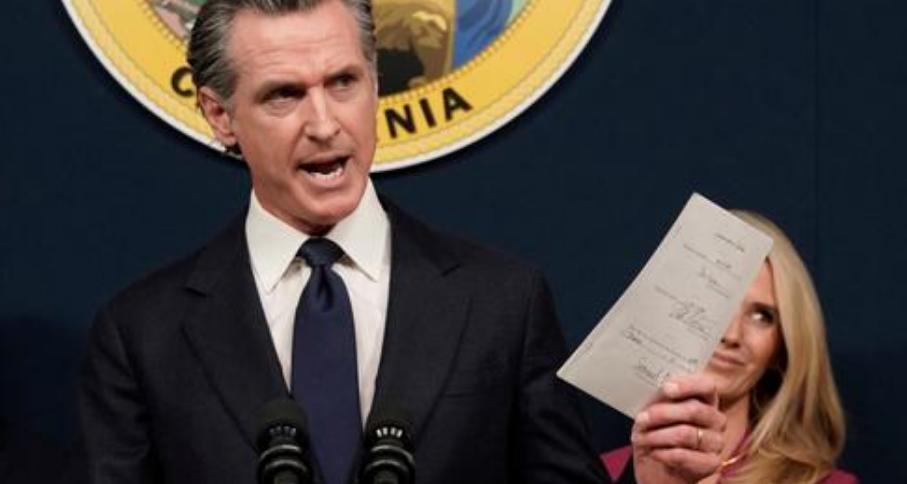 SACRAMENTO – Governor Gavin Newsom, joined by Superintendent of Public Instruction Tony Thurmond, Senate President pro Tempore Toni G. Atkins, Assembly Speaker Robert Rivas, and Assemblymember Dr. Corey Jackson today announced the State of California will begin the process of securing textbooks for students in the Temecula Valley Unified School District and enact legislation to fine school districts for failure to provide adequate instructional materials.
Elementary students in Temecula are slated to begin the school year on August 14, 2023, without enough textbooks for every student because of the school board's decision to reject a widely used social studies curriculum. 
"Cancel culture has gone too far in Temecula: radicalized zealots on the school board rejected a textbook used by hundreds of thousands of students and now children will begin the school year without the tools they need to learn," said Newsom. "If the school board won't do its job by its next board meeting to ensure kids start the school year with basic materials, the state will deliver the book into the hands of children and their parents — and we'll send the district the bill and fine them for violating state law." 
"I am glad to join in this action with Governor Newsom today and thank him for his leadership in calling for Temecula's school board to reverse course to prevent further harm to students," said State Superintendent Thurmond. "Inclusive education promotes the academic achievement and social development of our students.  School Districts should not ban books in California, especially as it harms students of color and LGBTQ+ youth.  AB1078 lays out the structure for today's action and I am proud to have sponsored this bill to protect our students from the harmful effects of book banning, exclusion of inclusive textbooks and discrimination." 
"Censoring learning materials based on bigotry and ignorance prevents our students from getting a good education," said Senate President pro Tempore Toni G. Atkins (D-San Diego). "Culture war extremism doesn't belong in the debate of how to teach our children and school districts should always put students first. That's why I'm pleased the Governor is stepping in to make sure the children in Temecula have textbooks to start the year, and I look forward to working with the Governor and the assembly on a clear legislative solution. We have a duty to help eliminate ignorance in all its forms."
"The antics of the Temecula Valley Unified School District are intolerable and damaging to its students' opportunities to grow, prosper, and succeed," said Assembly Speaker Robert Rivas. "Book bans betray the most basic of California's core values. I hope the members of the school board are able to reflect on their decisions and come to make better decisions for our children's futures."
"Book banning is not acceptable and will not stand in California," said Assemblymember Dr. Corey Jackson. "It is my honor to have the Governor's support of Assembly Bill 1078. This sends a clear message that such actions will not be tolerated. We stand united in our commitment to protect our students' access to diverse educational materials and ensure an inclusive educational environment. We will not go backward. We will meet this historical moment."
Temecula Valley Unified School District's current curriculum is outdated and in violation of state law. Students in the district are forced to use a textbook published in 2006. In the process of acquiring updated textbooks for students in grades one through five on May 16, 2023, school board President Joseph Komrosky asserted false claims about the instructional materials. The board voted by a 3-2 majority to reject the adoption of the new social studies curriculum that was recommended by teachers representing every elementary school in the district and overwhelmingly supported by parents and community members. The textbook, one of four standard programs approved by the state, is routinely and widely used across hundreds of school districts in California.
Following the school board's decision, Governor Newsom and state leaders wrote a letter to school districts statewide highlighting the legal obligations of districts and joined California Attorney General Rob Bonta in demanding information and answers from the board. The administration also began working with the Legislature and Superintendent Thurmond to advance AB 1078 (Jackson) to strengthen state law to ensure students in California have access to adequate instructional materials. Among other provisions, AB 1078 would:
Require a two-thirds supermajority vote for a school board to remove instructional materials or curriculum;
Establish a process for the California State Department of Education to purchase adequate standards-aligned instructional materials for a district, if the district has failed to provide them for students; and
Institute a funding penalty for school districts that do not sufficiently provide standards-aligned instructional materials.
California provides instruction and support services to roughly 5.9 million students in grades transitional kindergarten through twelve in more than 1,000 districts and over 10,000 schools throughout the state. Under Governor Newsom's leadership, education funding is at a record high in California, totaling $129.2 billion in the 2023-24 budget.
Governor Newsom released a video to Temecula parents that can be viewed here. 
Temecula's school board rejected a textbook used by thousands of students & now kids will begin the school year without the tools they need.

If the school board won't do its job, we'll get the book to kids & parents – then bill the district & fine them for violating state law. pic.twitter.com/gpN1TT7AVp

— Office of the Governor of California (@CAgovernor) July 13, 2023
Related: